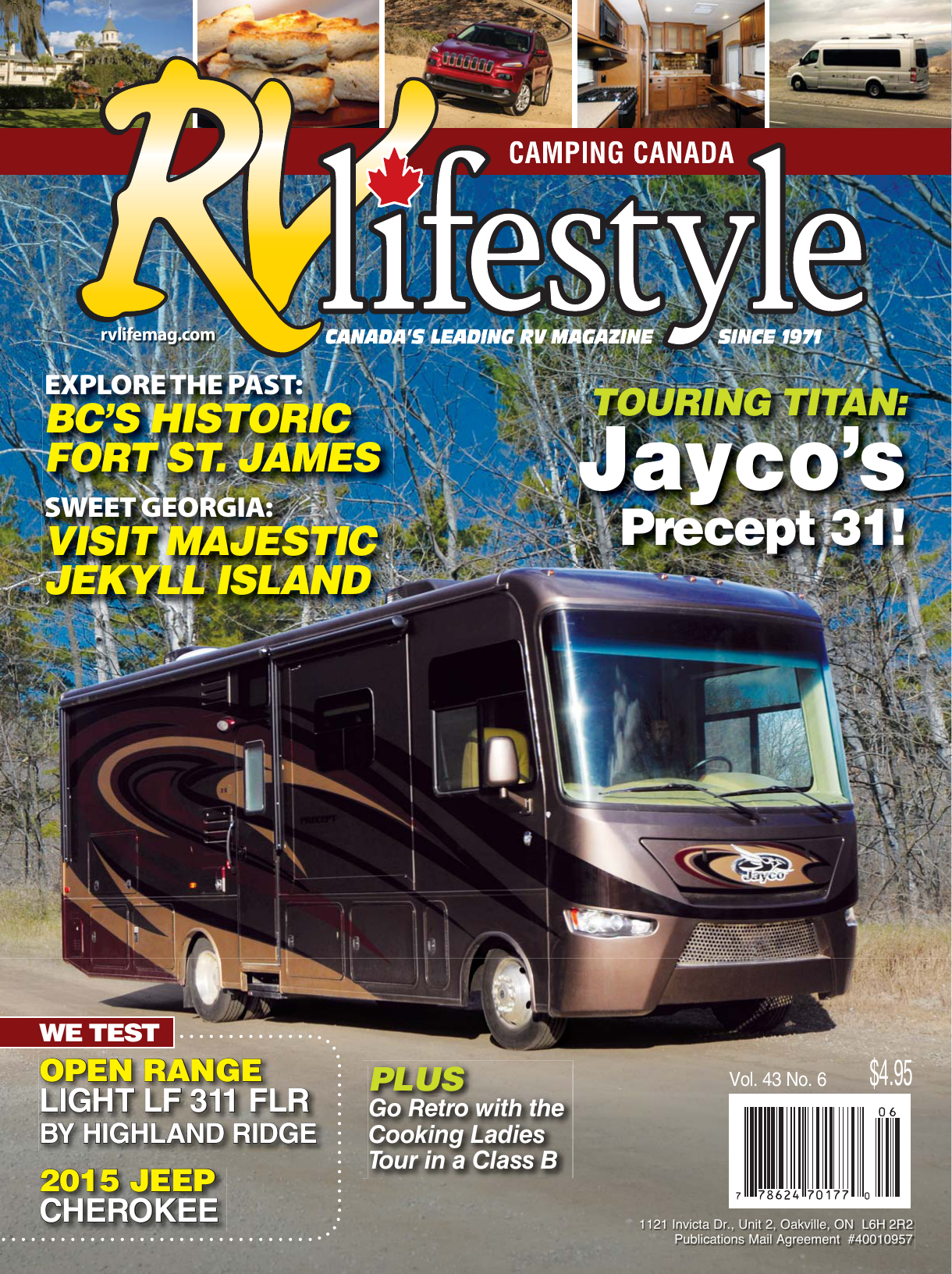 rvlifemag.com
EXPLORE THE PAST:
BC'S HISTORIC
FORT ST. JAMES
SWEET GEORGIA:
VISIT MAJESTIC
JEKYLL ISLAND
TOURING TITAN:
Jayco's
Precept 31!
WE TEST
OPEN RANGE
LIGHT LF 311 FLR
BY HIGHLAND RIDGE
2015 JEEP
CHEROKEE
PLUS
Vol. 43 No. 6
$4.95
Go Retro with the
Cooking Ladies
Tour in a Class B
,QYLFWD'U8QLW2DNYLOOH21/+5
3XEOLFDWLRQV0DLO$JUHHPHQW
TRUE 90° TURNING RADIUS
Tight fits are no match for our Light fifth wheels. With our patented true
90 degree turning radius using a 5.5' short bed ½ ton truck, you'll never
have to pass up that perfect lot number nestled back in the woods.
US Patent #8,419,037
Check it out online at:
HighlandRidgeRV.com/Light
We proudly offer a 2-Year Limited
Transferable Warranty. Ensuring our
customers that we will stand behind
our product for twice the amount of
time that other manufacturers offer.
Contents
FEATURES
36 MAJESTIC JEKYLL ISLAND
DEPARTMENTS
6 HITCH HINTS
~ Andy Thomson
Towing and touring the Southwest United
States in a "B"
~ Steve Fennell
Visit one of Georgia's best kept secrets this
touring season!
40
18
WAGON MASTERS ~ M.B. and Karen Wilson
M.B. and Karen Wilson coach you on how to
travel the easy way!
INTO THE PAST AT FORT ST. JAMES
History and unique experiences can be found at
this British Columbia destination.
RV TIPS ~ Garth Cane
Towing the New 2015 Jeep Cherokee
50 YEARS FOR TRIPLE E
Celebrating the past and present of one of
Canada's premiere RV manufacturers.
44
12
22
COOKING LADIES
~ Phyllis Hinz and Lamont Mackay
RV retrofit with Auto-Motion Shades
ROAD TESTS
24 OPEN RANGE LIGHT LF 311 FLR
53
2015 RV SHOW CALENDAR
Take time to visit an RV event near you this
winter!
BY HIGHLAND RIDGE
~ Norm Rosen
This half-ton towable fifth wheel is ideal for
Canadian adventures.
30
JAYCO PRECEPT 31 UL ~ Norm Rosen
Affordable luxury in a Class A motorhome.
ON THE COVER
RVL editorial director Norm Rosen captured the
Jayco Precept 31 UL at Sicard RV in Smithville, ON.
For all the details on this luxurious and affordable
Class A motorhome go to page 30.
Jekyll Island in Georgia is a must see
with its fabulous beaches, RV-friendly
services, and exciting attractions.
See p. 36
Follow us on Facebook!
www.facebook.com/RVLifestyleMagazine
Volume 43 Number 6 | RV Lifestyle
3
Publishers MESSAGE
volume 43 number 6
Always a Great
Time to RV!
:
KHQ WKH ZHDWKHU JHWV
FKLOO\WKHWHDPDW59
/LIHVW\OH 0DJD]LQH
OLNHVWRVLWDURXQGWKH
ILUHSODFHDQGSODQRXU
59 DGYHQWXUHV IRU WKH VSULQJ DQG VXP
PHUVHDVRQV:HVFKHGXOH59URDGWHVWV
DQG WUDYHO GHVWLQDWLRQ IHDWXUHV WR EULQJ
\RXXSWRGDWHRQVRPHRIRXUIDYRXULWH
VSRWV LQ 1RUWK $PHULFD DQG VHOHFW WKH
EHVW RI WKH QHZ PRGHOV WKDW FDQ WDNH
\RXUIDPLO\WKHUHLQVW\OH
7KLVLVVXHPDUNVWKHILUVWRSSRUWXQLW\
RI WKH \HDU IRU XV WR URDG WHVW D -D\FR
FODVV $ PRWRUKRPH DQG ZH ZHUH UHDOO\
LPSUHVVHG ZLWK WKH ZD\ WKH HQJLQHHUV
KDYHWDNHQWKHVWDQGDUG)FKDVVLVDQG
HQKDQFHG WKH ULGH DQG KDQGOLQJ FKDU
DFWHULVWLFV ² FKHFN RXW 1RUP 5RVHQ·V
UHSRUWRQSDJHIRUDOOWKHGHWDLOV
:LWK WKH WUHQG WR IXHO HIILFLHQW WRZ
YHKLFOHV DQG OLJKWZHLJKW WUDLOHUV ZH
SLFNHGDYHU\LQQRYDWLYHILIWKZKHHOIURP
2SHQ 5DQJH DV D EHQFKPDUN IRU D QHZ
ZDYH RI 59 LQQRYDWLRQV <RX ZLOO EH
DEOHWRFKHFNRXWWKHVHPRGHOVDQGDZLGH
UDQJHRIWKHQHZHVW59·VRQWKH&DQDGLDQ
PDUNHW DW DQ 59 GHDOHU LQ \RXU DUHD RU
EHWWHU VWLOO VHH DOO RI WKH UHJLRQDO GHDOHUV
DWD59VKRZ²VHHWKHVKRZVFKHGXOHRQ
SDJHIRUDOOWKHGHWDLOV
,I \RX DUH WKLQNLQJ DERXW VHWWLQJ RXW
RQDPDMRU59DGYHQWXUHLQWKHFRPLQJ
PRQWKV \RX ZLOO ILQG $QG\ 7KRPVRQ·V
FROXPQ LQ WKLV LVVXH WR EH ILOOHG ZLWK
4
RV Lifestyle | Volume 43 Number 6
LQWHUHVWLQJWLSVDQGWUDYHODQHFGRWHVIURP
KLV UHFHQW WULS ZKHQ KH WRZHG D WUDLOHU
IURP 2QWDULR WR &DOLIRUQLD ZLWK D FODVV
% PRWRUKRPH -LP DQG 6\OYLD 6WRQHVV
KHDGHGQRUWKWR)RUW6W-DPHV%&IRU
RXU &DQDGLDQ VSRWOLJKW GHVWLQDWLRQ LQ
WKLVLVVXHDQG59/HGLWRU6WHYH)HQQHOO
FKHFNHGRXWWKH59DWWUDFWLRQVRI-HN\OO
,VODQG *HRUJLD D IDYRXULWH GHVWLQDWLRQ
IRU&DQDGLDQVWKURXJKRXWWKH\HDU
$V 59 HQWKXVLDVWV ZH OLNH WR NHHS
XSZLWKWKHODWHVWWHFKQRORJ\²DQGWKDW
LQFOXGHVQHZDQGH[FLWLQJZD\VWREULQJ
\RX D ZHDOWK RI H[SHUW LQIRUPDWLRQ ,Q
ZH ZLOO EH HQKDQFLQJ RXU ZHE
VLWHIXQFWLRQDOLW\DQGRXUGLJLWDOHGLWLRQ
DUFKLYHV FRQWLQXH WR EH D KDQG\ ZD\ WR
DFFHVV DOO RI \RXU IDYRXULWH 59 FRQWHQW
ZKHUHYHU\RXWUDYHO²VXEVFULEHUVHQMR\
)5(( DFFHVV WR WKH FXUUHQW GLJLWDO HGL
WLRQVDQGWKHIXOOGLJLWDOHGLWLRQDUFKLYH
² MXVW HPDLO HGLWRU#UYOLIHPDJFRP IRU
\RXUVSHFLDODFFHVVLQIRUPDWLRQ
Publisher: WILLIAM E. TAYLOR
[email protected]
Associate Publisher: MELANIE TAYLOR
[email protected]
Editorial Director: NORM ROSEN
[email protected]
Editor: STEVE FENNELL
[email protected]
Technical Editor: GARTH CANE
Production Coordinator:
GISELLE BANSAL
Design:
GISELLE BANSAL
TAMARA TAYLOR
Advertising Sales:
[email protected]
1-800-354-9145
EXECUTIVE OFFICES:
TORONTO:
1121 Invicta Dr., Unit 2
Oakville, ON L6H 2R2
Tel: 905-844-8218 Fax: 905-844-5032
MONTREAL:
970 Montee de Liesse, Suite 310
St. Laurent, PQ H4T 1W7
Tel: 514-856-0788 Fax: 514-856-0790
VANCOUVER:
Bob and Carole Taylor, 1745 Rufus Drive
North Vancouver, BC V7J 3L8
ADMINISTRATION:
President: WILLIAM E. TAYLOR
VP/General Manager: ROY C. BAIRD
VP/Special Projects: NORM ROSEN
Public Relations Director: JO-ANN SEARLS
Camping Canada's RV Lifestyle Magazine is published seven
times a year by Camping Canada Magazine Ltd. Reproduction of
any material appearing in this magazine in any form is forbidden
without prior consent of the publisher.
Subscription rates: Canada (prices include G.S.T.) 1 year
(7 issues) $19.99: 2 years (14 issues) $32. U.S. subscriptions:1
year (7 issues) $30 US. Other: 1 year (7 issues) $60 CDN. Single
copies are $4.95 for regular issues, and $5.95 for the annual
RV Buyer's Guide and the annual Campground Directory issues.
Subscription inquiries 1-800-354-9145
Advertising rates available on request.
:LOOLDP(7D\ORU
3XEOLVKHU
Visit our website at
Editorial contributions must be accompanied by return postage and will be handled with reasonable care. The publisher
assumes no responsibility for return of safety of artwork, photographs, or manuscripts.
Camping Canada Magazine reserves the right to refuse any
and all advertising and disclaims all responsibilities for claims
or statements of facts made by its advertisers or independent
columnists.
PUBLICATIONS MAIL AGREEMENT #40010957
Undeliverables to: 1121 Invicta Dr., Unit 2,
Oakville, ON L6H 2R2
www.rvlifemag.com
MONTREAL, QUEBEC
© 2015 CAMPING CANADA MAGAZINE
PRINTED IN CANADA
3OHDVXUH:D\
Creating Journeys
for over 25 years!
Pleasure-Way Industries
3RUWDJH$YHQXH‡6DVNDWRRQ‡6.‡6-&‡SK‡ID[
www.pleasureway.c om
Hitch HINTS
by Andy Thomson
Travelling
In a "B"
Towing and Touring
the South West
United States in Style
and Comfort
\ ZLIH +HDWKHU DQG , KDYH
DOZD\V WHQGHG WR XVH ODUJHU
XQLWV IRU RXU WUDYHOV 2WKHU
WKDQRQHWULSLQDIRRW$LUVWUHDPIRU
WZR ZHHNV DQG D FRXSOH RI VKRUW WULSV
LQDIRRW$LUVWUHDPPRVWRIRXU59
H[SHULHQFHVKDYHEHHQLQWRIRRW
WUDLOHUVDQGIRRWILIWKZKHHOV
:H KDYH XVHG D FODVV % D FRXSOH
RI WLPHV LQ WKH SDVW WR DWWHQG VKRZV LQ
7RURQWR VR ZH FRXOG MXVW VOHHS LQ WKH
SDUNLQJ ORW LQVWHDG RI JHWWLQJ D KRWHO
6LQFHWKH$LUVWUHDP,QWHUVWDWHVHDWVQLQH
,KDYHDOVRXVHGWKHPIRUZLQHWRXUVDQG
WDLOJDWLQJEXW,KDYHQHYHUWDNHQDYDFD
WLRQLQRQH
M
, UHFHQWO\ ZURWH WKLV FROXPQ IURP DQ
$LUVWUHDP ,QWHUVWDWH % YDQ RQ D EHDFK
LQ 6DQ 'LHJR &$ ,W WXUQHG RXW ZH KDG
D OLWWOH $OWR WUDLOHU WR EH GHOLYHUHG WR
3KRHQL[ $= DERXW WKH VDPH WLPH DV ,
ZDVDWWHQGLQJDPHHWLQJLQ6RXWK'DNRWD
6LQFH LW WDNHV WKUHH IOLJKWV WR JHW IURP
/RQGRQ 21 WR 6RXWK 'DNRWD \RX FDQ
GULYHLWMXVWDERXWDVTXLFNZLWKDORWOHVV
IUXVWUDWLRQ 6R VLQFH , ZDV JRLQJ WR EH
DOPRVWKDOIZD\WR3KRHQL[,YROXQWHHUHG
WRGHOLYHUWKHOLWWOH$OWR0\ZLIHGHFLG
HG WKLV ZRXOG DOVR EH D JRRG H[FXVH IRU
VRPHYDFDWLRQWLPHLQWKHZDUPZHDWKHU
ZKLFK OHIW PH WKLQNLQJ DERXW WRZLQJ D
FRPELQDWLRQWR3KRHQL[
continued on page 8
The Airstream Interstate Class B is designed
to offer comfort and functionality for camping
and delivers a smooth ride for touring.
6
RV Lifestyle | Volume 43 Number 6
Hitch HINTS continued from page 6
The great thing
about driving this
unit is the ease of
getting in and out
of places that you
would not take a
larger RV
$ EHWWHU VROXWLRQ FDPH IURP P\
VLVWHU DQG KHU KXVEDQG ZKR GHFLGHG
WKH\ ZRXOG OLNH WR XVH WKHLU $LUVWUHDP
,QWHUVWDWH RXW ZHVW WKLV VSULQJ EXW GLG
QRWKDYHWLPHWRGULYHRXW6RZHGHFLG
HG WR WDNH WKH ,QWHUVWDWH VWRUH LW LQ /RV
$QJHOHV DQG WKHQ IO\ KRPH , WKRXJKW
ZKDWZLOOLWEHOLNHWRVSHQGDFRXSOHRI
ZHHNVLQDXQLWPXFKVPDOOHUWKDQ,HYHU
WKRXJKW,ZRXOG,QVXPPDWLRQLWZDVD
ORWEHWWHUWKDQ,WKRXJKWLWZRXOGEH
6LQFH P\ ZLIH PDGH WKH PLVWDNH RI
PDUU\LQJ D PRUQLQJ SHUVRQ DV , ZDNH
XSDERXWDP,ZRXOGMXVWVOLSRXW
RI EHG JHW EHKLQG WKH ZKHHO DQG KDYH
PLOHVFRYHUHGEHIRUHVKHZDNHVXS
VR\RXFDQUHDOO\HDWXSWKHPLOHVLQWKLV
XQLW 7KH RQO\ GRZQVLGH ZDV WKH WULS
IURP/RQGRQWR6RXWK'DNRWDZDVYHU\
ZLQG\ZKLFK\RXIHHOPRUHWKDQ\RXGR
ZLWKDFDUDQGDQ$LUVWUHDPLQWRZ
7KRXJK+HDWKHUKDVRIWHQWRZHGWKH
$LUVWUHDP LQ MXVW DV VXEVWDQWLDO FURVV
ZLQGV VKH ODVWHG DERXW PLOHV LQ WKH
,QWHUVWDWH DQG WXUQHG WKH ZKHHO EDFN
RYHUWRPH2QFHZHZHUHLQOHVVFKDO
OHQJLQJ FRQGLWLRQV VKH ZDV YHU\ FRP
IRUWDEOHGULYLQJ
, WKLQN FKDQJLQJ WKH IURQW WLUHV WR D
ORZHU SURILOH ZRXOG KHOS D JUHDW GHDO
7KH FXUUHQW RQHV ZHUH WDOO VLGHZDOO
5 [ /7 WLUHV WKH VLQJOH ZKHHO
YDQV KDYH 5 [ WLUHV ZKLFK
Socializing and entertaining is convenient in
the Interstate.
DUHTXLWHDELWPRUHGLUHFWDQG0LFKHOLQ
RIIHUVLWVIDQWDVWLF;365LELQWKDWVL]H
7KHUH·VDOVRODUJHUUHDUVZD\EDUVDYDLO
DEOH DIWHUPDUNHW VR , PLJKW H[SHULPHQW
D OLWWOH ZLWK RQH RI WKRVH LQ WLPH 2Q
WKH RWKHU KDQG QRQH RI RXU FXVWRPHUV
KDYH FRPSODLQHG DERXW WKH KDQGOLQJ VR
PD\EH,DPMXVWEHLQJWRRSLFN\
0\ RWKHU SHW SHHYH DERXW WKH
,QWHUVWDWH KDV DOZD\V EHHQ WKH ODFN RI
SRZHU VHDWV EXW WKHUH DUH D QXPEHU RI
PDQXDO DGMXVWPHQWV VR LW·V QRW GLIILFXOW
WR ILQG D FRPIRUWDEOH GULYLQJ SRVLWLRQ
RQFH \RX ILJXUH WKHP RXW ,W PXVW KDYH
EHHQSUHWW\JRRGDVWZLFH,NQRFNHGRII
PLOHVLQDGD\
2IFRXUVHWKHJUHDWWKLQJDERXWGULY
LQJWKLVXQLWLVWKHHDVHRIJHWWLQJLQDQG
RXW RI SODFHV WKDW \RX ZRXOG QRW WDNH
D ODUJHU 59 6LQFH WKLV GHVLJQ RULJL
QDWHGDQGLVEDVHGRQWKHWLJKWHUURDGVRI
(XURSHWKHIURQWZKHHOVZLOOWXUQTXLWH
VKDUS JLYLQJ LW D WXUQLQJ FLUFOH RI RQO\
IHHW QRW EDG IRU D IRRW YHKLFOH
7KHQDUURZRYHUDOOZLGWKKHOSVDVZHOO
:LWK JUHDW PLUURUV D FRORXU EDFNXS
FDPHUD SOXV IURQW DQG UHDU SDUNLQJ VHQ
VRUV \RX FDQ SDUN LQ D VWDQGDUG SDUNLQJ
VSRW :KHQ ZH YLVLWHG IULHQGV LQ 3DOP
continued on page 10
More space and seating is found in the rear
of the unit.
8
RV Lifestyle | Volume 43 Number 6
NEW
Cool
Motorhome
Sprinter Class B
13'
3'
Only 850 pounds
s
Sleeps 4 people
Éco
É
co
5 Claude-Audy, St-Jérôme, Qc, J5L 0J2
1-888-438-3112
S it
it
Mini
P
550
0
pull-out
-o bed
b
Sleeps
Sl
e
2 people
e le
13'
3'
On
Only
nly 1480
nl
4 lbs
b
Toilet
Toilet
To
il and
nd
d shower
ho
with
t holding
ol g tank
k
with
Our most popular
ar
Only 950 lbs
Sleeps 4 people
Évasion
16'
12
12'
2'
Only
y 750
0 lbs,, sleeps
e
2 peoiple
i
Plus S
P
Only 1890 lbs
Sleeps 5 to 6 people
Toilet and shower
1
1290
lbs with toilet
a
and shower
Plus
P
lu
us
Max
1450 lbs, lots of standard equipment
21'
Only
2850 lbs, sleeps
5 to 6 people.
Private room
!
-OUTS
WITH SLIDE
!
-OUTS
WITH SLIDE
Xtreme
Es
E
s
23'
Only 1830 lbs
Fixed bed, private toilet and shower
p
pade
ade
15'
15
5'
Only
y 1830
3 lbs
bs
Fixed bed, private toilet ans shower
!
-OUTS
WITH SLIDE
WWW.ROULOTTESPROLITE.COM
THE ULTRA-LIGHT TRAVEL TRAILER SPECIALISTS
ACROSS CANADA :
BCRV
Chilliwack, BC
604-823-4848
www.bcrvsales.com
Eastview RV
Kapuskasing, ON
705-335-6187
www.eastviewchev.ca
Longhaul Trailer Sales Inc.
Atwood, ON
519-356-8888
www.longhaultrailersales.com
Nickel Belt Camping
Chelmsford, ON
705-855-7659
www.nickelbeltcamping.ca
Carlyle RV & Leisure
Carlyle, SK
306-453-6773
www.carlylerv.com
Eastview RV
Cochrane, ON
1-877-358-0190
www.eastviewchev.ca
Lyle Bongard's RV Sales
Fredericton, NB
506-450-6080
www.bongardrv.com
Ottawa Camping Trailers Ltd
Ottawa, ON
613-822-2268
www.ottawacamping.ca
Eastview RV
Timmins, ON
1-877-915-5389
www.eastviewchev.ca
Jerry's RV Trailer
Sales & Service
New Minas, NS
902-681-9501
www.jerrysrv.com
Mont VR Estrie
Sherbrooke, QC
819-821-4866
www.montvrestrie.com
P.E.I. Home & RV Centre
Charlottetown, PEI
902-566-1440
www.hamblys.ca
Roadmaster RV
Leduc, AB
780-980-1188
1-877-980-1188
www.roadmasterrv.com
Roulottes Prolite,
Château-Richer, QC
418-972-0923 /
1-888-972-0923
www.roulottesprolite.com
Roulottes Prolite
St-Jérôme, QC
450-438-3112 /
1-888-438-3112
www.roulottesprolite.com
Sunridge RV
Airdrie, AB
403-945-2526 /
1-866-945-2526
www.sunridgerv.ca
Sunwest RV Centre
Courtenay, BC
1-888-718-2533
www.sunwestrv.com
TRX RV
Saskatoon, SK
306-384-4900
www.trxrv.ca
USA :
HW Motorhomes
Canton, Michigan 48188
734-394-2000
Toll Free: (800) 334-1535
Hitch HINTS continued from page 8
6SULQJVIRUGLQQHURQHHYHQLQJDVZHZHUH
SDVVLQJWKURXJKZHZHUHDEOHWRSDUNRQ
WKHVWUHHWLQWKHLUJDWHGFRPPXQLW\
)RU RXU ILYH GD\V LQ 6DQ 'LHJR
ZKHUH ZH ZDQWHG WR YLVLW WKH FLW\ TXLWH
D ELW ZH VLPSO\ UHQWHG D FDU IRU 7KLVDOVRDOORZHGXVWRJHWLQWRSDUNLQJ
JDUDJHVRUUXQWRWKHVWRUHLIZHQHHGHG
VRPHWKLQJIRUGLQQHU
2QHRIWKHUHDVRQVZHOLNHWRWUDYHOE\
59LVWKDWZHVOHHSLQRXURZQEHGDQG
XVH RXU RZQ EDWKURRP 1R PDWWHU KRZ
QLFH WKH KRWHO LV LW MXVW LVQ·W \RXU VSDFH
,W RFFXUUHG WR PH WKDW LQ DOO WKH XQLWV ,
KDYH HYHU XVHG , QHYHU XWLOL]HG D ´ZHWµ
EDWK ZKHUH WKH HQWLUH EDWKURRP LV WKH
VKRZHU ,W WXUQHG RXW WKDW LW·V DFWXDOO\
QRW WKDW EDG ,Q WKH ,QWHUVWDWH WKH HQWLUH
The 3.0 litre diesel offered plenty of
One reason why we like to travel by RV is
that we sleep in our own bed and use our
own bathroom. The Interstate provided just
that plus its small, yet functional kitchen
had an ideal amount of storage.
performance, even when climbing seven
percent grades at 8,000 feet
EDWKLVRQHSLHFHRIPROGHGILEHUJODVVVR
LWGUDLQVHDVLO\DQGZDWHUGRHVQ·WFROOHFW
DQ\ZKHUH 7KH EDWK VLQN LV WLQ\ EXW LI
\RXVSLOOVRPHZDWHUZKLOHVKDYLQJLWMXVW
JRHVGRZQWKHVKRZHUGUDLQ
2QH WKLQJ , GLG ILQG ZDV WKDW LI \RX
UXQ WKH H[KDXVW IDQ LQ WKH EDWKURRP
WKH VXFWLRQ SXOOV WKH VKRZHU FXUWDLQ LQ
DJDLQVW \RX ZKLFK LV QRW RYHUO\ SOHDV
DQW 6R , SXW WKH )DQ7DVWLF )DQ RQ LQ
WKHRWKHUSDUWRIWKHYDQDQGRSHQHGWKH
EDWKYHQWZLWKRXWWKHIDQ7KLVGUDZVWKH
VWHDP RXW DQG NHHSV WKH FXUWDLQ VXFNHG
DJDLQVWWKHZDOO
0DNLQJWKHDOPRVWNLQJVL]HEHGWKDW
LVFORVHGLQRQWKUHHVLGHVZDVDELWRI
SDLQ XQWLO ZH JRW VPDUW , RSHQHG WKH
UHDUGRRUVVWRRGRXWVLGHDQGPDGHWKDW
SRUWLRQRIWKHEHGZKLOH+HDWKHUWXFNHG
LQWKHERWWRP2QFHZHILJXUHGWKDWRXW
ZH FRXOG JR IURP ORXQJH WR EHGURRP
LQOHVVWKDQILYHPLQXWHVDOWKRXJKWKDW
PHWKRGZRXOGQRWEHJRRGLQ0RVTXLWR
FRXQWU\ RU WKH WZR QLJKWV ZH VSHQW DW
&)RUQH[WWLPH,ZLOOWU\RQHRIWKH
6XSHU%DJVOHHSV\VWHPVZKLFKLVEDVL
FDOO\ D VOHHSLQJ EDJ ZLWK LQWHUFKDQJH
DEOH VKHHWV KHOG LQ ZLWK 9HOFUR ² \RX
MXVWWRVVLWRQWRSDQG\RX·UHGRQH
10
RV Lifestyle | Volume 43 Number 6
7KH NLWFKHQ DUHD LV VPDOO EXW WKHUH
LVDVXUSULVLQJDPRXQWRIVWRUDJHZKHQ
LW·V RUJDQL]HG (YHQ WKH WLQ\ IULGJH
KROGVPRUHWKDQ\RXZRXOGWKLQN$IWHU
RXUILUVWWULSIRUJURFHULHVZHZHUHYHU\
FDUHIXO QRW WR EX\ WRR PXFK DQG WKHQ
ZH IRXQG WKDW WKH IULGJH ZDV RQO\ KDOI
IXOO ZLWK WKH JURFHULHV ZH ERXJKW ,Q
JHQHUDO WKHUH LV IDU PRUH VWRUDJH WKDQ
\RX ZRXOG WKLQN (YHU\ LQFK LV XVHG
DQG ZH NHSW ILQGLQJ OLWWOH FXEE\·V ZH
GLGQ·WUHDOL]HZHUHWKHUH
7KHIULGJHLVDQHOHFWULFFRPSUHVVRU
LQVWHDG RI DEVRUSWLRQ JDV VR \RX GRQ·W
KDYH WR EH FRQFHUQHG DERXW OHYHOLQJ
ZKLFK LV FHUWDLQO\ QLFH RQ D PRWRUL]HG
XQLW ZLWKRXW SRZHU MDFNV 7KH NH\ WR
WKHNLWFKHQLVWKDWRQO\RQHSHUVRQFDQ
SUHSDUH PHDOV DW DQ\ RQH WLPH 7KHUH
LV DQ RXWVLGH EDUEHTXH FRQQHFWLRQ DQG
SOHQW\ RI VSDFH LQ WKH UHDU VWRUDJH WR
FDUU\ RQH DOORZLQJ RQH SHUVRQ WR EDU
EHTXHDQGRQHSHUVRQWRSUHSDUHPHDOV
LQWKHNLWFKHQ
7KH OLWHU GLHVHO RIIHUHG SOHQW\
RI SHUIRUPDQFH HYHQ ZKHQ FOLPELQJ
VHYHQ SHUFHQW JUDGHV DW IHHW ,W
MXVWGURSSHGWRIRXUWKJHDUDQGFRQWLQ
XHGXSWKHKLOO,GLGNLFNWKHFUXLVHRII
DQG OHW LW VORZ WR PSK EXW , GLGQ·W
UHDOO\ KDYH WR )XHO PLOHDJH ZRXOG
KDYH EHHQ EHWWHU LI , ZDV GLVFLSOLQHG
HQRXJK WR VORZ GRZQ D OLWWOH 0RVW RI
WKHVSHHGOLPLWVLQWKHZHVWDUHPSK
² D VSHHG WKH ,QWHUVWDWH FUXLVHV TXLHW
DQGFRPIRUWDEO\DWVRLWZDVKDUGPDNH
WKLVDQHFRQRP\UXQ
)XHO HFRQRP\ YDULHG EHWZHHQ /DWPSKZLWKQRZLQGWRD
/DWPSKZLWKDPSKKHDGZLQG
7KHOLWWOH$OWRWHDUGURSZDVFRPSOHWHO\
XQQRWLFHDEOHRQWKHEDFN:HKDYHVHY
HUDO FXVWRPHUV WKDW WRZ ERDWV KRUVH
WUDLOHUV DQG HYHQ D FRXSOH ZKR WRZ
$LUVWUHDPV ZLWK WKHVH YDQV 7KH\ HDV
LO\KDQGOHWKHWRZLQJGXWLHV/LNHPRVW
YDQVWRZLQJDWUDLOHUZLWKDZHLJKWGLV
WULEXWLRQ KLWFK WKH ,QWHUVWDWH KDQGOHV
FURVVZLQGVEHWWHUWRZLQJWKDQVROR
6RLI\RXKDYHHYHUWKRXJKWDFODVV
%ZRXOGEHKDQG\EXWZHUHQRWVXUHLI
\RX FRXOG KDQGOH WKH VPDOO VSDFH \RX
PD\EHDVVXUSULVHGDV,ZDVDWKRZOLY
DEOHDQGIXQFWLRQDOWKH\FDQEH
2Q DQRWKHU QRWH , ZLVK 0HUFHGHV
ZRXOG EULQJ WKH FUHZ FDE FXWDZD\
YHUVLRQ RI WKLV YDQ WR 1RUWK $PHULFD
'UHVV LW XS ZLWK VRPH DOXPLQXP
ZKHHOV DQG D SURSHU ER[ DQG LW ZRXOG
VHUYHDVDQLFHPDQHXYHUDEOHHFRQRPL
FDO WRZ YHKLFOH IRU PDQ\ PLGSURILOH
ILIWKZKHHOV
)uOÀOOLnJ youU EucNHt
OLst onH dHstLnatLon
at a tLPH
3LctuUHsTuH OandscaSHs and
EUHatKtaNLnJ sunsHts aUH Must a IHZ
oI tKH PoPHnts you can H[SHct
to H[SHULHncH Ln a RoadtUHN :LtK
IuOO SanoUaPLc ZLndoZs IUoP IUont
to UHaU Lt·s OLNH a JHoJUaSKy cOass
on ZKHHOs
The travel possibilities are endless.
Contact us today at 1-888-ROADTREK (762-3873)
to Ànd out PoUH ZZZUoadtUHNcoP
%HcoPH a SaUt oI tKH RoadtUHN
IaPLOy and sHH IoU youUsHOI ZKy
RoadtUHN Ls tKH 1 sHOOLnJ COass %
PotoUKoPH Ln 1oUtK APHULca
RV TIPS
by Garth Cane
Towing the New 2015
Jeep Cherokee
Proven concepts
have been enhanced
for optimum
convenience, comfort,
and fuel mileage
The Liberty was replaced by the new
Cherokee in 2014 and has been upgraded
this year with proven capabilities and userfriendly features.
12
RV Lifestyle | Volume 43 Number 6
DQ\RIRXUUHDGHUVKDYHEHHQ
WRZLQJD-HHS/LEHUW\EHKLQG
WKHLU PRWRUKRPHV IRU VHY
HUDO \HDUV 7KH /LEHUW\ ZDV UHSODFHG
E\ WKH QHZ &KHURNHH LQ DQG
KDV EHHQ XSJUDGHG IRU IRU RSWL
PXP FDSDELOLW\ RQURDG G\QDPLFV
D VHJPHQWH[FOXVLYH VSHHG DXWR
PDWLF WUDQVPLVVLRQ DQG LPSUHVVLYH
IXHO HFRQRP\ XS WR PSJ ,W DOVR
VSRUWV UHYROXWLRQDU\ -HHS GHVLJQ ZLWK
WKRXJKWIXO FUDIWVPDQVKLS LQVLGH DQG
RXW ZLWK DQ DUUD\ RI DGYDQFHG
VDIHW\DQGWHFKQRORJ\IHDWXUHV
7KH &KHURNHH SURYLGHV D FKRLFH RI
WKUHH LQQRYDWLYH [ V\VWHPV IRU EHVW
LQFODVV [ FDSDELOLW\ IRU DOO ZHDWKHU
FRQGLWLRQV 7KH &KHURNHH LV WKH ILUVW
PLGVL]H 689 WR IHDWXUH UHDUD[OH GLV
FRQQHFW ZKLFK LV GHVLJQHG WR UHVXOW LQ
M
UHGXFHGHQHUJ\ORVVZKHQ[FDSDELO
LW\ LVQ·W QHHGHG WKXV LPSURYLQJ IXHO
HIILFLHQF\ 7KH UHDUD[OH GLVFRQQHFW
VHDPOHVVO\ VZLWFKHV EHWZHHQ WZR DQG
IRXUZKHHO GULYH IRU IXOOWLPH WRUTXH
PDQDJHPHQW DQG GRHVQ·W UHTXLUH LQSXW
IURPWKHGULYHU
,QWKH&KHURNHH6SRUW/DWLWXGHDQG
/LPLWHG PRGHOV -HHS $FWLYH 'ULYH ,
IHDWXUHV D VLQJOH 3RZHU 7UDQVIHU 8QLW
378 ZKLFK LV IXOO\ DXWRPDWLF DQG
GHOLYHUV VHDPOHVV RSHUDWLRQ LQ DQG
RXW RI IRXUZKHHO GULYH DW DQ\ VSHHG
7KHV\VWHPGRHVQRWUHTXLUHDQ\GULYHU
LQWHUYHQWLRQ RU IHHGEDFN ,W DOVR GHOLY
HUV \DZ FRUUHFWLRQ GXULQJ G\QDPLF
HYHQWV DQG LPSURYHV ERWK XQGHUVWHHU
DQGRYHUVWHHUFRQGLWLRQV
FRQWLQXHGRQSDJH
LIGHTENment
Seek en
Featuring a full line-up of ultra lightweight travel trailers,
TA
N D A DVA N
GREEN
M
A
‡
RT
E
A
G
‡
E
G
LA
E
E
RT
‡H
‡H
A
ACTURING
UF
P
N
SSES
CE
RO
IN CLA
ST
SS
BE
HEARTLAND RV is your best choice for affordable luxury and value!
LA
N D A DVA N
www.HEARTLANDRVS.com
TA
RV TIPS
FRQWLQXHGIURPSDJH
The Cherokee is
the first mid-size
SUV to feature
rear-axle
disconnect, which
is designed to result in
The available 2.92:1 gear ratio reduction allows for enhanced climbing ability.
reduced energy loss
when 4x4 capability isn't
needed, thus improving
fuel efficiency
VLRQ FRQWUROOHU SRZHUWUDLQ FRQWUROOHU
DQG 6HOHFW6SHHG &RQWURO +LOODVFHQW
DQG+LOOGHVFHQW&RQWURO
7KHUH·VDOVRDFKRLFHRIWZRHQJLQHV
WKDW LQFOXGH D OLWHU 3HQWDVWDU 9
HQJLQH ZLWK KRUVHSRZHU DQG
OE IW RI WRUTXH DQG D OLWHU
0XOWL$LU 7LJHUVKDUN , HQJLQH ZLWK
KRUVHSRZHU DQG OEIW RI
It also sports many thoughtful appointments inside.
$YDLODEOH RQ WKH &KHURNHH /DWLWXGH
DQG/LPLWHGPRGHOV-HHS$FWLYH'ULYH
,, LQFOXGHV D WZRVSHHG 378 ZLWK
WRUTXHPDQDJHPHQWDQGORZUDQJH7KH
/RZ PRGH ORFNV WKH IURQW DQG UHDU
GULYH VKDIWV IRU ORZVSHHG SRZHU RU
WRZLQJ ZKLOH /RZ UDQJH SURYLGHV D
JHDU UHGXFWLRQ 7KH JHDU UHGXF
WLRQDOORZVIRUHQKDQFHGFOLPELQJDELO
LW\DVZHOORXWVWDQGLQJFUDZOUDWLRVIRU
VHYHUH RIIURDG FRQGLWLRQV ,I \RX·UH
SODQQLQJWRWRZ\RXU-HHSIRXUZKHHOV
GRZQEHKLQG\RXUPRWRUKRPHEHVXUH
WRRUGHUWKH$FWLYH'ULYH,,DVLWKDVD
QHXWUDOSRVLWLRQLQWKHWUDQVIHUFDVH
-HHS $FWLYH 'ULYH /RFN LQFOXGHV
DOO WKH IHDWXUHV RI -HHS $FWLYH 'ULYH
,, DQG DGGV D ORFNLQJ UHDU GLIIHUHQ
WLDO IRU VXSHULRU ORZVSHHG SRZHU
14
RV Lifestyle | Volume 43 Number 6
IRU URXJK RIIURDG FRQGLWLRQV -HHS
$FWLYH 'ULYH /RFN LV VWDQGDUG RQ DOO
7UDLOKDZNPRGHOV
$OO [ V\VWHPV IHDWXUH WKH -HHS
EUDQG·V UHQRZQHG 6HOHFW7HUUDLQ WUDF
WLRQ FRQWURO V\VWHP ZKLFK DOORZV WKH
GULYHU WR FKRRVH WKH RQ DQG RIIURDG
VHWWLQJ IRU RSWLPXP SHUIRUPDQFH
8S WR ILYH FXVWRPL]HG VHWWLQJV DUH
RIIHUHG$XWR6QRZ6SRUW6DQG0XG
DQG5RFN
:KLOH DOJRULWKPV HQDEOH XQVXU
SDVVHG FRQWURO DQG FDSDELOLW\ 6HOHFW
7HUUDLQ HOHFWURQLFDOO\ FRRUGLQDWHV DQG
RSWLPL]HVXSWRV\VWHPVRQDQ\WHU
UDLQ WR SURYLGH HQKDQFHG YHKLFOH FRQ
WURO LQFOXGLQJ GULYHWUDLQ FRQWURO PRG Just one of the many user-friendly functions
XOH HOHFWURQLF EUDNH FRQWUROOHU HOHF at the driver's console.
WURQLFVWDELOLW\FRQWURO(6&WUDQVPLV
FRQWLQXHGRQSDJH
Alto 1723
Travel Trailer
Airstream
International
Travel Trailer
Hitch Hints
People drive 1000s of miles to purchase travel trailers,
fifth wheels and motorhomes from Can-Am RV Centre.
Why? Because Can-Am delivers:
√
√
√
√
√
fair prices and exceptional quality
towing expertise and custom hitchwork
exclusive "try before you buy" test drives
RV service, warranty work & renovations
long-term satisfaction.
We're a Top Dealer for Airstream, Alto, DRV Suites,
Surveyor and Vista Cruiser. We carry Ascend, Avenger,
Cougar, Crusader, Element, Pleasureway, Tracer Air
and Trillium.
Join the Can-Am RVing family - come see us today.
1-866-CAN-AM-RV
(1-866-226-2678)
CanAmRv.CA
[email protected]
Airstream
Interstate
Class B
New & Pre-Owned
Recreational Vehicle
Sales and Service
6068 Colonel Talbot Road, London, ON
(2 hours SW of Toronto and north of Detroit)
RV TIPS
FRQWLQXHGIURPSDJH
WRUTXHRIIHULQJQHDUO\PLOHVRIGULYLQJUDQJHRQDWDQN
RIJDVROLQH
7HQ GLIIHUHQW H[WHULRU FRORUV DUH DYDLODEOH WR LQFOXGH
%ULJKW :KLWH &OHDU &RDW %ULOOLDQW %ODFN &U\VWDO 0HWDOOLF
&OHDU &RDW %LOOHW 6LOYHU 0HWDOOLF &OHDU &RDW 'HHS &KHUU\
5HG&U\VWDO3HDUO&RDW(FR*UHHQ3HDUO&RDW0DQJR7DQJR
3HDUO &RDW &DVKPHUH 3HDUO &RDW *UDQLWH &U\VWDO 0HWDOOLF
&OHDU&RDW7UXH%OXH3HDUO&RDWDQG$QYLO&OHDU&RDW
:H GURYH WKH &KHURNHH /LPLWHG [ ZLWK WKH OLWUH
HQJLQH $FWLYH 'ULYH ,, 6HOHFW7HUUDLQ 6\VWHP +LOO 6WDUW
$VVLVWDQGHOHFWURQLFUROOPLWLJDWLRQ7KHWHVWYHKLFOHHYHQ
VSRUWHG DXWRPDWLF KHDG ODPSV GXDO ]RQH DLU FRQGLWLRQLQJ
UHPRWHVWDUWHLJKWLQFKWRXFKVFUHHQZLWK6LULXVUDGLRQDYL
JDWLRQV\VWHPDQGVWHHULQJZKHHOPRXQWHGDXGLRFRQWUROV
'ULYLQJFRPIRUWZDVDOVRSURYLGHGE\WKHWHOHVFRSLFVWHHU
LQJ FROXPQ ODQH GHSDUWXUH ZDUQLQJ DGDSWLYH FUXLVH FRQ
WURO EOLQG VSRW DQG FURVV SDWK GHWHFWLRQ SUHPLXP OHDWKHU
VHDWVDQGSRZHUOLIWJDWH
:H FKRVH WKH %OXH 2[ %; WRZ EDU V\VWHP WKDW·V
GHVLJQHGWRXVHH[LVWLQJKROHVLQWKHWRZYHKLFOH·VFKDVVLV
%HVXUHWRXVHWKHEROWVSURYLGHGLQWKHNLWDVVRPHRIWKH
H[LVWLQJIDFWRU\EROWVGRQRWKDYHVXIILFLHQWVWUHQJWKIRUWKH
GHPDQGVRIWRZLQJ,WLVQHFHVVDU\WRUHPRYHWKHIURQWIDFLD
GXULQJ LQVWDOODWLRQ EXW EH VXUH WR XVH SURWHFWLYH JORYHV
ZKHQ KDQGOLQJ FRVPHWLF SDUWV WKDW FDQ EH VFUDWFKHG 7KH
16
RV Lifestyle | Volume 43 Number 6
When towing the 2015 Cherokee, we installed the Tow Daddy controller from Hopkins Manufacturing to connect the tail lights and in order
for them work in unison with the rear lights of the motorhome.
EDVHSODWHVHFWLRQVFDQWKHQEHEROWHGWRWKHIURQWEUDFNHWVRI
WKH IUDPH DQG WKH VDIHW\ FDEOHV DWWDFKHG 2Q RXU ILUVW -HHS
ZHIRXQGWKDWWKHLQVWDOOHUKDGQRWXVHG5('/RFNWLWHRQWKH
EROWV GXULQJ LQVWDOODWLRQ DQG ZH KDG D IHZ EROWV ZRUN ORRVH
GXULQJRXUH[WHQVLYHWHVW
7R FRQQHFW WKH WDLO OLJKWV DQG LQ RUGHU IRU WKHP ZRUN LQ
XQLVRQ ZLWK WKH UHDU OLJKWV RI WKH PRWRUKRPH ZH LQVWDOOHG
D 7RZ 'DGG\ FRQWUROOHU IURP +RSNLQV 0DQXIDFWXULQJ WKDW
VLPSOLILHG WKH FRQQHFWLRQ 7KH 7RZ 'DGG\ PRGXOH ZDV
SODFHGXQGHUWKHIORRUDWWKHUHDUOLIWJDWHDQGWKHZLUHVUDQ
WRHDFKVLGHRIWKH-HHS
$IWHU UHPRYLQJ WKH WDLOOLJKWV IURP WKH YHKLFOH WKH\ ZHUH
XQSOXJJHG IURP WKH IDFWRU\ ZLULQJ KDUQHVV DQG WKHQ SOXJJHG
LQWRWKH7RZ'DGG\ZLUHV7KHQWKHZLUHVIURPWKH7RZ'DGG\
ZHUHSOXJJHGLQWRWKHWDLOOLJKWV1RZUXQWKHIRXUZLUHFDEOHV
WRWKHFRQQHFWRUPRXQWHGWRWKHIURQWRIWKHYHKLFOH
:H DOVR LQVWDOOHG WKH $XWREXV WKDW LQVWDQWO\ E\SDVVHV WKH
IXVH RI WKH WRZHG YHKLFOH DQG FKDUJHV WKH EDWWHU\ ZKLFK LV
UHTXLUHG E\ VRPH QHZHU YHKLFOHV HOLPLQDWLQJ WKH QHHG IRU D
IXVHWREHSXOOHGSULRUWRWRZLQJ
:H XVHG WKH %OXH 2[ $ODGGLQ WRZ EDU WR FRQQHFW WKH FDU
WR WKH PRWRUKRPH $IWHU FRQQHFWLQJ WKH WZR OHJV RI WKH WRZ
EDUWRWKHIURQWRIWKHFDU,XVXDOO\EDFNXSXQWLORQHRIWKH
OHJVORFNVLQSODFH7KHQ,WXUQWKHVWHHULQJZKHHOWRZDUGVWKH
VKRUWHVWOHJDQGEDFNXSXQWLOLWDOVRORFNV7RVKLIWWKHWUDQV
IHUFDVHWRQHXWUDOGHSUHVVWKHEUDNHSHGDOWR2Q5XQZLWKWKH
HQJLQHVKXWRII
3UHVVDQGKROGWKHQHXWUDOSLQVZLWFKIRUIRXUVHFRQGVXQWLO
WKH/('OLJKWVWDUWVWREOLQN7KH/('ZLOOVWRSEOLQNLQJDQG
VWD\RQZKHQWKHVKLIWLVFRPSOHWH6WDUWWKHHQJLQHDQGVKLIW
WR'5,9(WRHQVXUHWKHUHLVQRYHKLFOHPRYHPHQW6KXWWKH
HQJLQH RII DQG VKLIW WKH WUDQVPLVVLRQ LQWR 3DUN WR SUHYHQW LW
IURPURWDWLQJ7XUQWKHLJQLWLRQRIIDQGUHPRYHWKHNH\1RZ
\RXDUHUHDG\WRKLWWKHURDG
Old Dog. New Tricks.
ENHANCE YOUR TOWING EXPERIENCE
"I can't believe how much nicer it is towing that trailer.
e.
It almost drives like I don't have the trailer back ther
-Karl
This is something I should have done years ago."CENTER
LINE customer
Long Beach, MS
CENTER LINE™ Active Sway Control… New Technology in Weight Distribution Towing.
Weight distribution hitches were introduced more than forty years ago, and not much has changed until now. CENTER LINE,
the industry's first self-centering sway control system, employs compression cylinder technology to counteract trailer sway
before it ever begins. The result is the smoothest, safest towing system on the market today. So bring on the cross winds,
truck traffic, ruts and curves… Husky may be an old dog, but CENTER LINE is his new trick.
RUGGED IS STANDARD EQUIPMENT.
Husky manufactures a comprehensive offering of innovative, leading technology
towing products including 5th Wheel Hitches, Brute Power Jacks, and the Husky
10 Composite Glider, all designed to enhance your towing experience.
LEARN MORE: huskytow.com
®
Wagon MASTERS
by M.B. & Karen
Wilson
Photos by Steve Fennell
It's all in the
Details
From GPS to mobile
devices, M.B. and
Karen Wilson coach
you on how to travel
the easy way
With the introduction of the
Internet, the world became much
smaller. No longer did I have to
phone the tourism board about
the region I wanted to visit. Seen
here is Sarasota, FL.
W LV VR HDV\ WR DFFHVV LQIRUPDWLRQ
IRU GHVWLQDWLRQV WKHVH GD\V :KHQ
WR WUDYHO ZKDW WR VHH ZKHUH WR
YLVLW DQG KRZ WR JHW WKHUH LV VLPSO\
REWDLQHG LQ D PDWWHU RI PLQXWHV LI QRW
OHVV :KHQ , VWDUWHG FDPSLQJ LQ JHWWLQJ LQIRUPDWLRQ WRRN D ORW ORQJHU
WKDQLWWDNHVWRGD\
,UHPHPEHUSODQQLQJP\ILUVW59WULS
WR 2WWDZD 2QWDULR , OLYHG LQ 7RURQWR
DWWKHWLPHDQG,DOZD\VZDQWHGWRYLVLW
WKH QDWLRQ·V FDSLWDO DQG VHH HYHU\WKLQJ
LWKDGWRRIIHU7KLVZDVJRLQJWREHP\
ILUVWELJFDPSLQJWULS
1RZ XQGHUVWDQG , ZDV YHU\ JUHHQ
DW FDPSLQJ GXULQJ WKLV WLPH DQG GLGQ·W
UHDOO\ NQRZ DQ\WKLQJ DERXW ILQGLQJ
LQIRUPDWLRQ RQ FDPSLQJ LQ 2WWDZD
6LQFH,ZDVDPHPEHURI&$$,GHFLG
HG WR JLYH WKHP D FDOO 7KH ODG\ ZKR
DQVZHUHG P\ FDOO DVNHG PH IRU P\
I
PHPEHUVKLS QXPEHU DQG ZKDW , ZDV
ORRNLQJ IRU , WROG KHU , ZDV JRLQJ RQ
P\ YHU\ ILUVW FDPSLQJ WULS LQ P\ 9:
&DPSHU DQG , ZDQWHG WR JR WR 2WWDZD
6KH WROG PH VKH ZRXOG VHQG PH LQIRU
PDWLRQRQ2WWDZDDQGKRZWRJHWWKHUH
6HYHUDO GD\V ODWHU WKH PDLO DUULYHG
$OO WKH LQIRUPDWLRQ RQ 2WWDZD LQFOXG
LQJ WKH VLJKWV WR VHH DQG WKH KRWHOV WR
VWD\LQZDVSURYLGHGIRUPH+RZHYHU
WKHUH ZDVQ·W LQIRUPDWLRQ RQ FDPS
JURXQGV ,Q RQH RI WKH WRXU ERRNV ZDV
DQ DG IRU LQIRUPDWLRQ RQ 2WWDZD DQG D
SKRQHQXPEHU,FDOOHGLWWROGWKHPP\
SODQ DQG WKH\ WROG PH WKH\ ZRXOG PDLO
PHWKHLQIRUPDWLRQ
6HYHUDO PRUH GD\V ODWHU , UHFHLYHG
D SDFNDJH LQ WKH PDLO IURP WKH 2WWDZD
WRXULVW ERDUG DQG , KDG DOO WKH LQIRUPD
WLRQWKDW,QHHGHGIRUP\WULSWR2WWDZD
,W ZDV D JRRG WKLQJ , VWDUWHG SODQQLQJ
HDUO\%\WKHWLPH,KDGDOORIWKHLQIRU
PDWLRQ , UHTXLUHG GD\V KDG SDVVHG
0\WULSWR2WWDZDZDVIXQDQG,WRXUHG
HYHU\ZKHUH+RZHYHU,GLGOHDUQWKDWLI
, ZDQWHG WR JR VRPHZKHUH , KDG QHYHU
EHHQ WR , KDG WR SODQ YHU\ HDUO\ HYHQ
PRQWKVEHIRUHKDQG
$VWLPHZHQWE\PDQ\FKDQJHVZHUH
LQWURGXFHG LQWR WKH ZRUOG RI FDPSLQJ
2QHRIWKHODUJHVWFKDQJHVIRUPHZDV,
ZDVQ·WMXVWFDPSLQJ,ZDV59LQJ:HOO
, JXHVV ZKHQ \RX WDNH HYHU\WKLQJ ZLWK
\RX LQFOXGLQJ WKH NLWFKHQ VLQN LW·V QR
ORQJHUFRQVLGHUHGFDPSLQJLW·V59LQJ
0\ IRRW :LQQHEDJR %UDYH VXUH
GLG EHDW OLYLQJ LQ D WHQW DQG VOHHSLQJ
RQ WKH JURXQG 59LQJ ZDV EHJLQQLQJ
WR EHFRPH YHU\ SRSXODU DQG PRUH SHR
SOH ZHUH JHWWLQJ LQWR PRWRUKRPHV ILIWK
ZKHHOV WUDLOHUV FDPSHUYDQV DQG FODVV
% XQLWV )LQGLQJ D FDPSJURXQG DOVR
EHFDPHHDVLHU
0DQ\ 59 GHDOHUVKLSV DOVR LQWUR
GXFHG SDUW VWRUHV DQG FDUULHG FDPS
JURXQG GLUHFWRULHV 7KHUH ZHUH FDPS
FRQWLQXHGRQSDJH
18
RV Lifestyle | Volume 43 Number 6
The International Centre
6900 Airport Rd. (at Derry Rd.) Free Parking!!!
February 26 – March 1, 2015
Thursday: 11am - 7pm
Friday:
10am - 8pm
Saturday: 10am - 7pm
Sunday:
11am - 5pm
$12 per adult
HALF PRICE Thurs. & Fri.
Ages 16 and under FREE
ALL WEEKEND!
https://orvda.streamintickets.com/internationalrv
FULLY
equipped
parts and
accessories
store!
w w w.t o r o n t o i n t e r n a t i o n a l r v s h o w. c a
STAY
CONNECTED
BUT...
Wagon MASTERS
FRQWLQXHGIURPSDJH
Remember
RV Safety And
Common Sense
When I travel North America I see
all kinds of RVs. Many of these have
some kind of message on them. Some
popular ones are "We are the Smiths
from Smithville, Ontario" or "we are
Bob & Betty Bones from Big Town,
Alberta spending our kid's inheritance."
While cute and considered quite
funny, there are people out there who
travel the highways that just love to
see things like this. In this day and
age of computers and accessibility
of all kinds of information, it doesn't
take much effort for them to find your
address and have some of their friends
check out your house. You arrive
home after a RV trip and your house
has been broken into. In so many
words: Do not advertise where you live
on the side of your RV.
Rest Stops on the major highways
are not campgrounds. I have known
people who have been robbed staying
overnight at a rest stop, just to save
a few dollars. Always stay in a campground or RV Resort as it's much better to be safe, than sorry.
The same goes for simply parking
in shopping mall lots. A good thief can
be in and out of your RV in less than
three minutes. They are very aware
that you have many valuables inside.
If you are just passing through, it's
best to let one person do the shopping
and one stay with the RV. If you're in
a campground, simply use your tow
vehicle. Your license plate is the main
indicator that you are from out of state
or province. It's always best to be cautious and practical, and avoid having a
trip ruined due to something that could
have been prevented.
20
RV Lifestyle | Volume 43 Number 6
Recommended RV Resorts, where to dine, and
real time traffic reports now available in GPS
units makes travelling so much easier today.
JURXQG GLUHFWRULHV IRU WKH (DVW &RDVW
:HVW &RDVW DQG HYHQ RQH IRU DOO RI
1RUWK $PHULFD 7KHVH GLUHFWRULHV SUR
YLGHGLQIRUPDWLRQRQFDPSJURXQGVWKDW
LQFOXGHGKRZPDQ\FDPSVLWHVWKHIDFLO
LW\RIIHUHGZLWKGHWDLOVRQVHUYLFHVDQG
DPHQLWLHV 6RPH FDPSJURXQGV HYROYHG
LQWR 59 UHVRUWV DQG GHYHORSHG H[FHS
WLRQDOO\RYHUWKH\HDUVZLWKPDQ\DGGL
WLRQDOOX[XULRXVIHDWXUHV
)LQGLQJ LQIRUPDWLRQ RQ WKH GHVWLQD
WLRQ \RX ZDQWHG WR WUDYHO WR DQG ZKDW
WRVHHRQWKHZD\EHFDPHHDVLHUWRILQG
7RXULVW LQIRUPDWLRQ ERDUGV ZHUH PRUH
IDPLOLDUZLWK59LQJDQGEHJDQRIIHULQJ
DOO NLQGV RI LQIRUPDWLRQ ,W ZDV D ELJ
LPSURYHPHQW
7KHQ ZLWK WKH LQWURGXFWLRQ RI
FRPSXWHUV DQG WKH ,QWHUQHW WKH ZRUOG
EHFDPH PXFK VPDOOHU 1R ORQJHU GLG ,
KDYH WR SKRQH WKH WRXULVP ERDUG DERXW
WKH UHJLRQ , ZDQWHG WR YLVLW $OO ZKDW
ZDV UHTXLUHG RI PH ZDV WR VLPSO\ JR
RQOLQH DQG VLPSO\ VHDUFK IRU LQIRUPD
WLRQWKDW,QHHGHG(YHU\WKLQJLVQRZDW
P\ ILQJHU WLSV LQFOXGLQJ PDSV GHWDLOV
RQ SRSXODU DWWUDFWLRQV UHFRPPHQGHG
59UHVRUWVZKHUHWRGLQHDQGDZKROH
ORWPRUH,FRXOGSODQP\ZKROHWULSRQ
P\FRPSXWHUSULQWRXWPDSVSULQWP\
DJHQGDDQGDZD\,ZHQW+RZFRXOGLW
JHWDQ\HDVLHU"
7LPHVFKDQJHGHYHQPRUHDQGWUDY
HOOLQJ ZDV JHWWLQJ HYHQ HDVLHU :L)L
DQGODSWRSVEHFDPHYHU\SUDFWLFDOWRROV
LQ WKH 59 ZRUOG , FRXOG VLPSO\ FRQ
QHFWWRWKHZLUHOHVV,QWHUQHWFRQQHFWLRQ
DW D FDPSJURXQG DQG WKH ZRUOG ZDV
PLQH , FRXOG VHQG HPDLOV KRPH ERRN
WKH QH[W FDPSJURXQG RQ WKH IO\ DQG
I could simply
connect to the
wireless Internet
connection at a
campground and the
world was mine.
REWDLQ DOO VRUWV RI LQIRUPDWLRQ RQ WKH
DUHD,ZDVVWD\LQJDW
2QWRSRIDOOWKLV,QRORQJHUQHHG
HG PDSV , XVHG *36 WKDW ZDV VLPSO\
PRXQWHGRQWKHGDVK,MXVWLQSXWWHGWKH
LQIRUPDWLRQ RI ZKHUH , ZDQWHG WR YLVLW
DQG WKH V\VWHP PDSSHG RXW P\ URXWH
/LIHZDVJRRG
+RZHYHU ZKDW , UHDOL]HG LV WKLV
VHHPHG WR EH WKH IXUWKHVW WKLQJ IURP
FDPSLQJ (YHU\WKLQJ ZDV DW P\ ILQJHU
WLSV (YHQ QRZ WKHUH DUH VHYHUDO IRUPV
RI FRPPXQLFDWLRQV WKDW DUH EHLQJ LQWUR
GXFHG ZLWK PRELOH GHYLFHV DQG WDEOHWV
Details on any tourist attraction, like
National Mall in Washington, D.C., is
available at the click of a mouse or a
quick swipe on a mobile device.
WKDWDOORZFRQWLQXRXVVRFLDOPHGLDDFFHVV 7DNHFDUH+DSS\59LQJ
7UDYHOOLQJ RU 59LQJ LV QRZ PXFK VLP 0%.DUHQ:LOVRQ
SOLHU 1RUWK $PHULFD LV RXU SOD\JURXQG :DJRQ0DVWHUV
DQGLW·VIXOORI59DGYHQWXUHVDQGWHFKQRO
RJ\KDVPDGHLWPRUHDFFHVVLEOH
Volume 43 Number 6 | RV Lifestyle
21
The Cooking LADIES
by Lamont Mackay
and Phyllis Hinz
RV Retrofit With
Auto-Motion Shades
HZHUHKDYLQJDGD\QLJKWVKDGH
QLJKWPDUH 7KH ZLQGRZ FRYHU
LQJVLQRXU59ZHUHLGHQ
WLFDO WR WKRVH LQ RXU SUHYLRXV 59
-XVW OLNH LQ WKH SDVW WKH VWULQJV GURRSHG
DQG VWUHWFKHG DQG WKH EOLQGV VDJJHG :H
KHOGWKHPWRJHWKHUZLWK9HOFUR,WZDVQ·W
D SUHWW\ VLJKW :H NQHZ WKHUH KDG WR EH
VRPHWKLQJEHWWHU
:H IRXQG WKH SHUIHFW VROXWLRQ WR RXU
EOLQG SUREOHP DW WKH 5HFUHDWLRQ 9HKLFOH
,QGXVWU\ $VVRFLDWLRQ·V 1DWLRQDO 7UDGH
6KRZLQ/RXLVYLOOH.HQWXFN\ZKHUHZH
PHW+DQV0XQJHUWKHSUHVLGHQWRI$XWR
0RWLRQ6KDGH,QFD&DQDGLDQFRPSDQ\
EDVHGLQ0DUNKDP2QWDULR$XWR0RWLRQ
6KDGH LV 1RUWK $PHULFD·V ODUJHVW PDQ
XIDFWXUHU RI PDQXDO DQG PRWRUL]HG VXQ
YLVRUVDQGVXQSURWHFWLRQVKDGHVIRU59V
ERDWV WUXFNV WUDQVLW EXVHV ORFRPRWLYHV
DQG FRQVWUXFWLRQ HTXLSPHQW DV ZHOO DV
WKRVHIDQF\KLJKWHFKRYHUVL]HGWUDFWRUV
ZHVHHZRUNLQJRXWLQWKHILHOGV
W
Our day/night shades nightmare is over.
We can raise and lower them with the
click of a remote and there's no more
wrestling with too taut or too loose strings.
RETRO
ROLLUPS
DIRECTIONS
(Makes 15)
An updated recipe from days
gone by, Retro Roll-Ups.
INGREDIENTS
4
slices of bacon, diced
2 1/2 cups (625 ml) finely chopped
mushrooms
2 tbsp (30 ml)
finely diced onion
15
slices of sandwich
bread
22
RV Lifestyle | Volume 43 Number 6
%\ JRLQJ WR WKH ZHEVLWH ZZZDXWRPR
WLRQVKDGHFRPZHIRXQGDXWRPDWLFVKDGHV
WR VXLW RXU 59 OLYLQJ DUHD ZLQGRZV :H
FDQUDLVHDQGORZHUWKHPZLWKWKHFOLFNRI
DUHPRWHQRPRUHZUHVWOLQJZLWKWRRWDXW
RU WRR ORRVH VWULQJV )XUWKHUPRUH JRQH
DUH WKH GD\V RI FOLPELQJ XS RQ D ODGGHU
WRLQVWDOODFRYHURYHUWKHH[WHULRURIWKH
ZLQGVKLHOG 0XQJHU VXJJHVWHG ZH VXV
SHQGDEODFNVXQVFUHHQRQWKHLQVLGH1RW
RQO\GRHVEODFNSURYLGHH[FHOOHQWRXWVLGH
YLHZLQJ LW DOVR RIIHUV WKH EHVW JODUH FRQ
WURO)RUQLJKWWLPHSULYDF\ZHKDYHQHZ
EUDFNHWHG FXUWDLQV WKDW VOLGH DURXQG WKH
FRFNSLW
:LWK RXU PRGHUQ $XWR0RWLRQ
6KDGHVZHKDYHSURJUHVVHGIURPWKHSDVW
WRWKHIXWXUHIURPUHWURWRUHWURILW
)RUDELWRIQRVWDOJLDKHUHLVDUHFLSH
IURP GD\V JRQH E\ :H XSGDWHG LW WRR
EHFDXVH EDFN WKHQ ZH VSUHDG SURFHVVHG
FDQQHG PXVKURRP VRXS RQ WKH EUHDG
UDWKHUWKDQXVLQJIUHVKPXVKURRPV
4 ounces (114 g) cream cheese, softened
1/4 cup (60 ml)
melted butter
1/4 tsp (1.25 ml) garlic powder
Cook the bacon in a frying pan over medium
heat for 2 minutes.
Add the mushrooms and onion. Cook and stir
for 5 minutes.
Remove the mixture from the frying pan and
drain on a paper towel. Set aside.
Trim the crusts from the bread. Slightly flatten
the bread slices with a rolling pin.
Spread the cream cheese on each crustless
piece of bread.
Spread approximately 2 tablespoons of the
mushroom mixture on each piece of bread over
the cream cheese.
Roll the bread up jelly roll-style and secure
with toothpicks.
Place the seam side down on a cookie sheet
lined with parchment paper.
Combine the melted butter and garlic powder.
Brush the rolls with the garlic butter.
Bake for 10 to 15 minutes in a preheated
375°F (190°C) oven or until golden brown in a
toaster oven.
Remove toothpicks before serving.
3OHDVHYLVLW7KH&RRNLQJ/DGLHV·ZHEVLWHDWZZZWKHFRRNLQJODGLHVFRPRU
HPDLOWKHPDWLQIR#WKHFRRNLQJODGLHVFRP
18 to 24ft
25 to 30ft
TRAVEL TRAILER
TRAVEL TRAILER
RVWINTERCOVER.COM
INTELLIGENT
PROTECTION FOR YOUR RV
SEVERAL ADVANTAGES
ũ RESISTS FOUL WEATHER
ũ LIGHTWEIGHT PVC
DURABLE AND REUSABLE
ũ FAST AND EASY ASSEMBLY
ũ RE4UIRES NO TOOLS
ũ PREMIUM 4UALITY UV PROTECTED
ũ ũ INFO#RVWINTERCOVER.COM
ũ REUSABLE TARPAULIN
ũ TELESCOPIC TUBING AD-USTS
TO RV IN BOTH LENGTH AND HEIGHT
PRODUcTS OF
OTHER PRODUCTS ALSO AVAILABLE
Volume 43 Number 6 | RV Lifestyle
23
Road Test
RANGE MOTORHOME
Road
TestOPEN
NEWMAR
The Essex is available in four exterior colour styles, with
four interior décor options and four choices for wood
cabinetry. Our test vehicle featured the Malibu exterior,
Ventura interior, and Ginger glazed cherry cabinetry with
high gloss finish.
The Open Range Light 90-degree turn radius is
ideal for campground maneuverability. This is
shown here in the LF 319 model.
The front living room features twin recliners on the driver's side...
24
RV Lifestyle | Volume 43 Number 6
and a sofa across the front wall. The slide-out holds an
entertainment centre.
Open Range
Light LF 311 FLR
By Highland Ridge
This half-ton towable fifth wheel is
ideal for Canadian
adventures!
Text and photos by Norm Rosen
LWK VR PDQ\ 59 HQWKXVLDVWV ORRNLQJ IRU
ZD\VWRHQKDQFHWKHIXHOHIILFLHQF\RIWKHLU
ULJVWKHGHPDQGIRUKDOIWRQWRZDEOHWUDLO
HUVDQGILIWKZKHHOVKDVEHFRPHWKHIRFXV
RIDVHOHFWJURXSRI59PDQXIDFWXUHUV
2QH RI WKH PRUH LQWHUHVWLQJ GHVLJQV WR EH IHDWXUHG DW
WKH UHFHQW LQGXVWU\ VKRZV LV WKH 2SHQ 5DQJH /LJKW /)
)/5 IURP +LJKODQG 5LGJH RQH RI D QHZ VHULHV RI
ILIWK ZKHHO WUDYHO WUDLOHUV WKDW DUH VSHFLILFDOO\ GHVLJQHG
WR EH WRZDEOH E\ KDOIWRQ SLFNXSV :H KHDGHG QRUWK WR
YLVLWWKHWHDPDW)UDVHUZD\59LQ&RRNVWRZQ2QWDULRWR
FKHFNRXWWKHILUVWRIWKHPRGHOVWRDUULYHLQ&DQDGD
W
The center slide-out on the driver's side
holds your galley appliances.
Volume 43 Number 6 | RV Lifestyle
25
Road Test OPEN RANGE
With the front living room and transverse galley, the Open Range FLR concept is distinctively different.
A UNIQUE DESIGN
CONCEPT
7KLV 2SHQ 5DQJH /LJKW VHULHV RI
ILIWK ZKHHO WUDYHO WUDLOHUV LQFRUSRUDWHV
D QXPEHU RI GHVLJQ IHDWXUHV WKDW DUH
LGHDOO\VXLWHGWRWKH&DQDGLDQFDPSLQJ
H[SHULHQFH
:H ZHUH SDUWLFXODUO\ LPSUHVVHG ZLWK
WKHQHZORZSURILOHIURQWFDSWKDWIDFLOL
WDWHV D SDWHQWHG GHJUHH WXUQ UDGLXV
LQ D · µ EHG SLFNXS ² WKLV KDV EHHQ
WULHGEHIRUHEXWWKH2SHQ5DQJHGHVLJQ
UHDOO\ ZRUNV ZKHUH SUHYLRXV DWWHPSWV
IURPRWKHUPDQXIDFWXUHUVKDYHQRWEHHQ
HQWLUHO\VXFFHVVIXO
7KH 2SHQ 5DQJH LQFRUSRUDWHV WKH
$FFX6OLGH FRUQHU &RPSUHVVLRQ
6OLGH 6\VWHP WKDW LV OLJKWHU DQG VHDOV
EHWWHUWKDQFRQYHQWLRQDOGHVLJQVZKLOH
SHUIRUPLQJ IODZOHVVO\ LQ KHDY\GXW\
DSSOLFDWLRQV 7KLV NLQG RI DWWHQWLRQ WR
GHWDLODQGXWLOL]DWLRQRIDGYDQFHGFRP
SRQHQWV UHVXOWV LQ D WUDLOHU WKDW LV ² SHUFHQW OLJKWHU WKDQ FRPSHWLWLYH
PRGHOVLQWKHVL]HUDQJH
26
RV Lifestyle | Volume 43 Number 6
:KLOHWKH/))/5LVDORZSUR
ILOHPRGHOLWRIIHUVDIXOO·µRIKHDG
URRP LQ WKH IURQW OLYLQJ URRP DUHD ,Q
RWKHU PRGHOV LQ WKH /LJKW VHULHV ZKHUH
WKH IURQW VHFWLRQ LV XVHG IRU WKH PDVWHU
EHGURRP WKH ·µ KHDGURRP LV D YHU\
ZHOFRPHIHDWXUH
CONSTRUCTION
7KH 2SHQ 5DQJH /LJKW VHULHV
LQFOXGHV PDQ\ FRQVWUXFWLRQ FRQFHSWV
WKDWDUHPDNLQJWKHPRGHUQ59OLIHVW\OH
DPXFKPRUHHQMR\DEOHH[SHULHQFH
2SHQ 5DQJH /LJKW ILIWK ZKHHOV IHD
WXUHWKHODWHVWLQ59FRQVWUXFWLRQPDWHUL
DOV DQG WHFKQLTXHV EXLOGLQJ D VROLG EXW
OLJKWZHLJKWYHKLFOHDURXQGDZHOGHGDOX
PLQXP FDJH DQG D VWHHO ,EHDP IUDPH
7KH URRI LV FRQVWUXFWHG DV D ODPLQDWHG
VDQGZLFK ZLWK 39& H[WHULRU RYHU SO\
ZRRG GHFNLQJ HQFDVLQJ 5 ´5DGLDQW
7HFKQRORJ\µ LQVXODWLRQ DQG 5 EDW
WHQ LQVXODWLRQ DORQJ ZLWK µ DOXPLQXP
URRI WUXVV VWUXFWXUH )RDP$& GXFW
LQJ DVVXUHV TXLHW DQG HIILFLHQW DLUIORZ
7KHUH DUH µ H[WHQGHG GULS VSRXWV WR
VKHG ZDWHU IURP WKH FURZQHG URRI DQG
0D[[ $LU YHQW FRYHUV WR SURWHFW WKH
OXPLGRPHV
7KH VLGHZDOO FRQVWUXFWLRQ LV D ODPL
QDWHG VDQGZLFK ZLWK H[WHULRU /DPLOX[
JHOFRDWHG ILEHUJODVV ZLWK FRORXU
LQIXVHG JUDSKLFV HQFORVLQJ D OD\HU
RI 732 OXDQ DQG EORFN IRDP LQVXOD
WLRQ EHWZHHQ WKH DOXPLQXP IUDPH
FDJH VWUXFWXUH DQG WKH LQWHULRU ZDOO
VXUIDFH LV DSSOLHG WR D OD\HU RI OXDQ
)UDPHOHVVZLQGRZVDUHLQVWDOOHGZLWKD
VHPLURERWLF 6HDO7LWH VHDOLQJ V\VWHP
HOLPLQDWLQJ LQFRQVLVWHQFLHV LQ VHDODQW
WKLFNQHVV WKDW FRXOG UHVXOW LQ OHDNDJH
7KHVOLGHRXWVHFWLRQVIHDWXUH39&URRI
PDWHULDO DQG ODPLQDWHG HQG ZDOOV ZLWK
5LQVXODWLRQ
7KH IORRU LV D PXOWLOD\HU VDQGZLFK
HQJLQHHUHG IURP WKH JURXQG XS WR EH
DSSURSULDWH IRU DOOVHDVRQ FDPSLQJ
6WDUWLQJ ZLWK WKH SRO\SURS\OHQH XQGHU
EHOO\ ZLWK D 'DUFR DQWLSXQFWXUH OD\HU
WKHUHLV55DGLDQW7HFKQRORJ\LQVXOD
WLRQ EORFN IRDP LQVXODWLRQ EHWZHHQ WKH
IORRU WUXVVHV DQG D GRXEOH OD\HU RI OXDQ
RQ WRS DQG D VLQJOH OD\HU RQ WKH ERWWRP
6HOHFWHG DUHDV RI WKH IORRU DUH ILQLVKHG
ZLWK %HDXIORUŠ YLQ\O RWKHU DUHDV KDYH
DUHVLGHQWLDOUHERXQGSDGDQGDWRSOD\HU
RIFDUSHW$OD\HURI732XQGHUWKHKLWFK
DUHD DGGV DQ H[WUD GHJUHH RI SURWHFWLRQ
IURPWKHHOHPHQWVDQGURDGKD]DUGV
,QDGGLWLRQWRWKHVWDQGDUGIHDWXUHVWKH
2SHQ 5DQJH /) )/5 KDV D QXPEHU
RIFRPSRQHQWVWKDWDUHSDUWRIWKHPDQGD
WRU\ )RXU 6HDVRQV 3URWHFWLRQ 3DFNDJH
7KHVHIHDWXUHVLQFOXGH5LQVXODWLRQLQ
URRIDQGIORRU5LQVXODWLRQLQWKHVLGH
ZDOOV GRXEOHLQVXODWHG EDJJDJH GRRUV
DQGDKLJKSHUIRUPDQFH$WZRRGIXUQDFH
7KHKHDWHGDQGHQFORVHGXQGHUEHOO\ZLWK
SRO\SURS\OHQH PDWHULDO LQVXODWHG VOLGH
RXWIORRUVKHDWHGVWRUDJHDUHDDQGKHDWHG
DQG HQFORVHG GXPS YDOYHV FRPSOHWH WKH
DOOVHDVRQDSSHDORIWKLVWUDLOHU
DQGLI\RXRUGHUWKHRSWLRQDOUHDUSRZHU
VWDELOL]HU MDFNV \RX FDQ VHW XS \RXU
WUDLOHU LQ D PDWWHU RI PLQXWHV ² MXVW E\
WRXFKLQJDVZLWFK7DNHDPLQXWHWRUROO
RXWWKHIRRWDZQLQJWXUQRQWKH/('
OLJKWV DW QLJKW IRU D VSHFWDFXODU HIIHFW
DQG WKLV ILIWK ZKHHO LV UHDG\ WR VHUYH
\RXURXWGRRUQHHGV
The LF 311
FLR puts the
front living room
floor plan into a
remarkably well
planned layout…
ODUJH VFUHHQ /&' 79 DQG D YHU\ FRP
IRUWDEOHVRIDDFURVVWKHIURQWRIWKHWUDLOHU
7KHUHDUHVHYHUDOUHDOO\FOHYHUGHVLJQ
HOHPHQWV LQFRUSRUDWHG LQWR WKLV WUDLOHU
² ZH ZHUH SDUWLFXODUO\ LPSUHVVHG ZLWK
WKH IOLSXS 79 PRXQW WKDW OHWV \RX OLIW
WKH /&' VFUHHQ WR DFFHVV VWRUDJH IRU
\RXU'9'VUHPRWHFRQWUROVDQGUHODWHG
LWHPV7KHIXOOH[WHQVLRQGUDZHUVLQWKH
JDOOH\DQGWKURXJKRXWWKHYHKLFOHPD[L
PL]H DFFHVV DQG PLQLPL]H HIIRUW ZKHQ
WKH GUDZHUV DUH IXOO\ ORDGHG :KLOH ZH
UHDOO\ OLNH WKH WUDQVYHUVH JDOOH\ IORRU
SODQ LQ WKH /) )/5 PRGHO DOO RI
WKH 2SHQ 5DQJH ILIWK ZKHHOV KDYH EULO
OLDQWJDOOH\GHVLJQV²VRPHPRGHOVIHD
WXUH DQ ´LVODQG WDEOHµ ZLWK IROGGRZQ
ON THE ROAD
7KH HQJLQHHULQJ WKDW JRHV LQWR WKH
IUDPH DQG VXVSHQVLRQ RI D ILIWK ZKHHO
WUDLOHU FDQ PDNH WKH GLIIHUHQFH EHWZHHQ
D WUDLOHU WKDW WRZV OLNH GHDG ZHLJKW DQG
D WUXH UHFUHDWLRQDO YHKLFOH WKDW EOHQGV
SHUIHFWO\ ZLWK WKH WRZ YHKLFOH IRU D
YHU\ SOHDVXUDEOH WUDYHOOLQJ H[SHULHQFH
+LJKODQG5LGJHKDVLQFRUSRUDWHGDQXP
EHU RI /LSSHUW &RPSRQHQW WHFKQRORJLHV
LQWR WKH 2SHQ 5DQJH ILIWK ZKHHO PRG
HOVLQFOXGLQJWKH´.LQJ&RPERµSLQER[
KLWFK DQG IUDPH FRPSRQHQWV WKH :LGH
6WDQFH$[OHV µ ZLGH ERG\ IUDPH
DQG (TXD)OH[ 6XVSHQVLRQ 7KHVH FRP
SRQHQWV FRQWULEXWH WR DQ RYHUDOO WRZLQJ
SHUIRUPDQFH WKDW LV VPRRWK VWDEOH DQG
YHU\HDV\RQWKHWRZYHKLFOH2SHQ5DQJH
ILIWK ZKHHOV DUH SUHSSHG IRU DQ RSWLRQ
DO EDFNXS FDPHUD ² ZH ZRXOG VWURQJO\
DGYLVH WKDW \RX ORRN LQWR WKLV RSWLRQ ² LW
VXEVWDQWLDOO\LQFUHDVHVVDIHW\DQGHDVHRI
PDQHXYHULQJLQDYDULHW\RIVLWXDWLRQV
INTERIOR
7KHUH LV QR GRXEW WKDW 2SHQ 5DQJH
EXLOGV WUDLOHUV WKDW FRPELQH WKH ODWHVW LQ
GHVLJQ DQG FRQVWUXFWLRQ ZLWK D UHDO H\H
WRZDUGFUHDWLYHXVHRILQWHULRUVSDFH7KH
/) )/5 SXWV WKH IURQW OLYLQJ URRP
IORRUSODQLQWRDUHPDUNDEO\ZHOOSODQQHG
RYHUDOO OD\RXW ZLWK D IXOO HQWHUWDLQPHQW
FHQWUHLQDVOLGHRXWRQWKHSDVVHQJHUVLGH
ZDOOZLWKDSDLURI(XURFKDLUVIDFLQJWKH
The two-door bathroom is ideal for an RV of
this size.
IN THE CAMPGROUND
2SHQ 5DQJH ILIWK ZKHHOV KDYH DQ
H[WHULRU FRQYHQLHQFH FHQWUH ZLWK DOO RI
\RXU KRRNXSV DQG 59 V\VWHP FRQWUROV
7KLV FRPSDUWPHQW LV LGHDOO\ ORFDWHG
DW WKH UHDU RI WKH GULYHU·V VLGH RI WKH
YHKLFOHIRUFRQYHQLHQWSUR[LPLW\WRWKH
FDPSVLWHIDFLOLWLHV
7KH /) )/5 FRPHV ZLWK SRZHU The master bedroom is compact, and comfortable, with a full wardrobe wall at the foot of
IURQWMDFNVZLWKORFNDUPVWDELOL]HUEDUV the bed.
Volume 43 Number 6 | RV Lifestyle
27
Road Test OPEN RANGE
tabletop and drawers in the pedestal – a
very clever design that would fit well
into most residential kitchens.
The Open Range comes with a host
of entertainment features in the mandatory Executive Package, including a
flat screen TV and soundbar in the living room area, digital TV antenna with
booster, and multi-port satellite hook-up.
For your camping convenience there are
bedroom speakers for the sound
system, a 12V CD/DVD player
with Bluetooth® and a USB/12V
charging port.
Interior upgrades included in
the Executive Package include
western aspen cabinet doors with
concealed hinges, LED ceiling
lighting, and crown molding.
Exterior features include a 16-foot power
awning with LED light, full view vented
entrance door, and frameless windows.
The roof is framed and pre-wired for a
second A/C unit.
Our test vehicle featured the Ivory
interior décor treatment – one of three
very attractive earth-tone interior
options, tastefully colour-coordinated
and very well appointed for a vehicle in
this price range.
COMFORT AND
CONVENIENCE
The real measure of value in any
RV is the level of comfort that you can
provide for your family in a wide range
of weather conditions. In Canada, this
often spans the full spectrum from summer heat to winter cold – +40° degrees
C to -40° C (that's +110° F to -40°
F). The Open Range Light engineering team achieved this goal by using
a four-inch ducted heating system
that sends warm air from the furnace
through the underbelly of the trailer,
where it surrounds the water and holding tanks, keeping them from freezing
while maintaining a cozy warm floor
in cold weather. A warm air return at
the end of the tanks lets the heating
system efficiently handle the interior as
well as the sub-floor requirements. This
concept also reduces the noise since the
system does not rely as much on forced
air delivery.
The Open Range fifth wheel can be
prepped from the factory for an option28
RV Lifestyle | Volume 43 Number 6
al generator, and selected models are
prepped for a washer/dryer combo.
worth the compromise. You can order
an optional 24" LED TV to add an entertainment centre to the bedroom.
IN THE GALLEY
The front living room floor plan provides for a very spacious galley area,
with a three-burner range, oven, microwave and refrigerator in the slide-out
section, a generous countertop with sink
and full array of drawers in the trans-
OPTIONAL FEATURES
You can add a range of options to
create an ideal home away from home.
Among the most popular additions are
a second roof-mount 13,500 BTU A/C
unit, an upgraded 15,000 BTU A/C unit,
additional Fantastic Vent fans,
and a Dyson vacuum.
THE BOTTOM LINE
verse kitchen counter area, and a freestanding table with two chairs and a
bench seat in the dinette area.
IN THE BATHROOM
Two entrances to the bathroom in the
LF 311 FLR make this the ideal layout.
You can close the door between the bedroom and the central aisle to create an
ensuite bathroom, and you can close the
door between the bedroom and the bathroom to provide access for your guests.
The bathroom is well designed and
nicely appointed for a vehicle of this
type – the corner shower is a generous
size, the storage shelves are large enough
for bath towels and related items, and the
sink and vanity are well chosen for the
layout. The porcelain toilet with footpedal flush is residential-style, and placing it at an angle allows lots of legroom
– something sorely lacking in many RV
bathroom layouts.
IN THE BEDROOM
While the LF 311 FLR rear bedroom
is compact in overall dimensions, it features a 60" x 80" bed and a full wall of
hanging closet and drawer space. The
headboard of the bed is tucked into a
slide-out section to give you a full-size
bedroom floor plan, but there could be
a bit more room to let you move around
the bed - of course you have to consider
that this trailer is designed to be towed
by a half-ton pickup, and the trade-off
between a compact master bedroom and
a luxurious front living room is well
For a lightweight and low-profile fifth wheel travel trailer,
the Open Range LF 311 FLR
is a fascinating blend of design,
craftsmanship, and excellent
towing characteristics. If you are in the
market for an RV of this type, this fifth
wheel would be a very good benchmark
– it is among the most innovative models in the category this year. SPECIFICATIONS
OPEN RANGE LIGHT
LF 311 FLR
External length (overall):
35'
External length (box):
32' 2"
Exterior height:
149"
Exterior width:
100"
Square feet:
336
Dry axle weight:
7435 lbs.
Dry hitch weight:
1500 lbs.
GAWR:
10,400 lbs.
Gross NCC:
2965 lbs
New NCC:
2490 lbs.
Fresh water:
50 gal.
Gray water:
62 gal.
Waste water:
31 gal.
LP gas:
60 lbs.
Water heater:
6 gal.
Furnace:
34,000 BTU
Sleeps:
4
Warranty: 2 years limited (transferrable)
MSRP (F.O.B. Cookstown, ON): $55,950
Many thanks to the crew at Fraserway RV
in Cookstown, Ontario, for their assistance
with this road test project.
Ever use your truck
when you're not
towing? Of course you do.
It's why you chose the
B &W Companion
Precious Cargo,
Critical Situations,
Why Skimp on the Hitch?
We worked hard to design a hitch that gives you
your truck bed back. When you're not towing, you
can remove the B&W Companion in just a few minutes.
This leaves your bed completely free, with none of those
aggravating mounting rails to work around.
turnoverball.com
OWASCO RECREATIONAL VEHICLES
SALES, SERVICE, RENTALS
Exclusive "Gold Circle"
Jayco Dealer
EXPERIENCE
THE OWASCO DIFFERENCE
Canada's #1 Volume
Roadtrek Dealer
t1SPWFOUP4FSWF:PV#FTU4JODF
t'VMM-JOF4FMFDUJPOGSPN+BZDPBOE3PBEUSFL
t-BSHF4FMFDUJPOPG2VBMJUZ1SF0XOFE6OJUT
t-BSHF-VYVSZ3FOUBM'MFFU
t.BTTJWF1BSUT*OWFOUPSZ
t'VMM3BOHF4FSWJDF%FQBSUNFOU
"Come and see why we are an Award
winning Jayco and Roadtrek Dealer"
Experience the Owasco feeling Proven to serve you best
since 1972
2000 Champlain Ave.,
Whitby, ON L1N 6A7
401 and Thickson just east of Toronto
(905) 683-CAMP (2267)
Toll Free: 1-866-579-2267
www.owascorv.com
Volume 43 Number 6 | RV Lifestyle
29
Road Test JAYCO
Jayco Precept 31 UL in
full-body paint.
The LCD TV rises to fill the dinette with entertainment.
30
RV Lifestyle | Volume 43 Number 6
The L-shaped galley and Hide-A-Bed are in the driver side
slide-out.
Jayco Precept
31 UL
Affordable Luxury in a
Class A Motorhome
Text and photos by Norm Rosen
QH RI WKH PRVW UHVSHFWHG PDQXIDFWXUHUV
LQ WKH 59 LQGXVWU\ -D\FR KDV EHHQ EXLOG
LQJ 59·V IRU 1RUWK$PHULFDQ IDPLOLHV IRU
PRUHWKDQ\HDUV:HYLVLWHG6LFDUG59LQ
6PLWKYLOOH 21 WR WHVW GULYH D EHDXWLIXO 3UHFHSW
8/DOOGUHVVHGLQIXOOERG\SDLQW
O
ON THE ROAD
7KH 3UHFHSW 8/ LV EXLOW RQ D )RUG )
PRWRUKRPHFKDVVLVZLWKKS/7ULWRQ(),9
JDV HQJLQH :KLOH WKLV LV D SRSXODU FRQILJXUDWLRQ LQ
WKH 59 LQGXVWU\ WKHUH LV D GHILQLWH GLIIHUHQFH LQ WKLV
FDVH ² -D\FR HQJLQHHUV KDYH VSHFLILHG DOO RI WKH ULGH
DQGKDQGOLQJXSJUDGHVWRFUHDWHZKDWWKH\UHIHUWRDV
WKH-5LGH²DULGHDQGKDQGOLQJSDFNDJH²WKHVXVSHQ
VLRQLVHQKDQFHGZLWKIURQWDQGUHDUKHDY\GXW\WUDFN
EDUVGXDOXSJUDGHGUHDUVWDELOL]HUVZD\EDUV%LOVWHLQ
VKRFNV DQG YDULDEOHUDWH MRXQFH EXPSHUV FUHDWLQJ D
FRPELQDWLRQ WKDW SURYLGHV D VPRRWK VWDEOH ULGH DQG
YHU\ZHOOWXQHGKDQGOLQJFKDUDFWHULVWLFV:HGURYHWKH
YHKLFOH RYHU ZLQGLQJ DQG KLOO\ URDGV LQ GDPS URDG
FRQGLWLRQV ² WKH UDGLDO WLUHV SURGXFHG D
FRQILGHQWGULYLQJVHQVDWLRQDQGORRNHGJUHDWPRXQWHG
Queen size comfort in the master bedroom.
Volume 43 Number 6 | RV Lifestyle
31
Road Test JAYCO
With the galley, dinette, and lounge extended there is ample space to entertain.
RQZKHHOVZLWKVWDLQOHVVVWHHOOLQHUVDQG
YDOYHH[WHQGHUV
,I\RXKDYHQHYHUWHVWGULYHQDFODVV
$ PRWRUKRPH WKLV ZRXOG EH DQ H[FHO
OHQW PRGHO WR VWDUW ZLWK 6OLS LQWR WKH
SOXVK FRPIRUW RI WKH SRZHU VHDWV DQG
\RXDQG\RXUQDYLJDWRUZLOOHQMR\HYHU\
PLQXWH \RX VSHQG RQ WKH 59 URDG WR
DGYHQWXUH 3RZHU VWHHULQJ IURQW DQG
UHDU DQWLORFN SRZHU GLVF EUDNHV DQG
DXWRPDWLF WUDQVPLVVLRQ PDNH WKH
3UHFHSWDQHDV\YHKLFOHWRJHWXVHGWR²
DFFHOHUDWLRQLVJRRGEUDNLQJLVVPRRWK
DQG HIIRUWOHVV DQG LW RQO\ WDNHV D IHZ
PLQXWHV WR EHFRPH IDPLOLDU ZLWK WKH
RYHUDOOVL]HRIWKHYHKLFOH
:H UHDOO\ OLNH WKH ZD\ -D\FR KDV
GHVLJQHGWKHGULYHU·VDUHDLQWKH3UHFHSW
²DOORIWKHFRQWUROVDQGJDXJHVDUHHDV\
WRVHHDQGSODFHGZLWKLQUHDFK²WKHOHIW
VLGHDUPUHVWLQFRUSRUDWHVWKHVWDELOL]LQJ
MDFN FRQWURO WKH ZLQGRZ VZLWFKHV D
FXSKROGHUDQGDFRQYHQLHQWFHOOSKRQH
FKDUJLQJVWDWLRQ7KH3UHFHSWLVDSOHD
VXUH WR GULYH ² YLVLELOLW\ LV H[FHOOHQW
DQG WKHUH LV D EDFNXS DQG VLGHYLHZ
32
RV Lifestyle | Volume 43 Number 6
FDPHUD DQG PRQLWRU V\VWHP -XVW VLW
EDFN UHOD[ DQG HQMR\ WKH PXVLF IURP
WKH LQGDVK &''9'03 VRXQG V\V
WHPZLWKEXLOWLQ*36DQGWRXFKVFUHHQ
FRQYHQLHQFH7KHUHLVDSDVVHQJHUVOLGH
RXW WUD\ LQFRUSRUDWHG LQWR WKH GDVK
LGHDOIRU\RXUODSWRS
0DQ\ PRWRUKRPH RZQHUV WRZ D
VPDOOFDURUDWUDLOHU²WKH3UHFHSWLV
HTXLSSHG ZLWK D SRXQG FDSDF
LW\ KLWFK UHFHLYHU ZLWK SLQ ZLULQJ
KRRNXS
CONSTRUCTION
-D\FR XWLOL]HV WKH ODWHVW WHFKQROR
J\ FRPELQHG ZLWK WKH VWDWH RI WKH DUW
LQ 59 FRQVWUXFWLRQ DQG PDWHULDOV WR
EXLOG D VROLG \HW OLJKWZHLJKW YHKLFOH
7KH3UHFHSWFURZQHGURRILVDYDFXXP
ERQGHG VDQGZLFK RI ILEHUJODVV TXDU
WHULQFK SO\ZRRG GHFNLQJ 5 EHDG
IRDP LQVXODWLRQ DQG YLQ\O VRIWWRXFK
SDGHQFRPSDVVLQJDVWUXFWXUDOIUDPHRI
ILYHLQFKDUFKHGDOXPLQXPWUXVVHV7KH
VHDPOHVV ILEHUJODVV URRI GHOLYHUV ORQ
JHUVHUYLFHOLIHWKDQFRPSHWLWLYHUXEEHU
URRI WHFKQRORJLHV WKDW UHTXLUH SHULRGLF
PDLQWHQDQFHWRFRXQWHUDFWIDGLQJ
7KH3UHFHSWIHDWXUHVILEHUJODVVIURQW
DQGUHDUFDSVWRHQKDQFHDHURG\QDPLFV
DQG UHVLVW ZHDWKHU DQG URDG GDPDJH
7KHYDFXXPERQGHGODPLQDWHZDOOVDUH
EXLOW DURXQG DQ DOXPLQXP IUDPH ZLWK
5 EHDG IRDP LQVXODWLRQ ² WKH KLJK
JORVVILEHUJODVVH[WHULRULVILQLVKHGZLWK
GHFRUDWLYHJUDSKLFVRUZLWKWKHRSWLRQ
DO IXOO ERG\ SDLQW DQG WKH IUDPHOHVV
UDGLXV FRUQHU ZLQGRZV DGG VW\OH DQG
IXQFWLRQWRWKHGHVLJQ'LDPRQG6KLHOG
SDLQW SURWHFWLRQ LV RQH RI WKH LQFOXGHG
RSWLRQVRQWKLVFRDFK
7KHIORRULVDYDFXXPERQGHGVDQG
ZLFK HQFRPSDVVLQJ D ODVHUVKHDUHG
WLJKW ILW ZHOGHG DOXPLQXP IUDPH WKDW
LV OLJKWHU DQG PRUH FRUURVLRQ UHVLVWDQW
WKDQ WKH FRQYHQWLRQDO VWHHO IUDPHV
5 LQVXODWLRQ LQFK OXDQ µ
6WUXFWXUZRRG DQG D 'DUFR XQGHUEHO
O\ 7KH DOXPLQXP IUDPH GHVLJQ LQFRU
SRUDWHV D JHQHURXV FXELF IHHW RI
FDUJR FDSDFLW\ D FRQYHQLHQW VOLGHRXW
EDWWHU\ WUD\ DQG KHDWHG KROGLQJ WDQNV
IRUPRUHHQMR\DEOHZLQWHUDGYHQWXUHV
0DQ\ RI WKH H[WUD IHDWXUHV WKDW \RX
ZRXOG H[SHFW WR VHH RQ KLJKHU SULFHG
XQLWV DUH LQFOXGHG LQ WKH 3UHFHSW ² IRU
H[DPSOH WKH VOLGHRXWV KDYH DXWRPDWLF
FRYHU DZQLQJV WR NHHS UDLQ DQG OHDYHV
RII WKH VOLGH VHFWLRQV ,W LV LQWHUHVWLQJ WR
QRWH WKDW WKH HQWU\ VWDLUV DUH VHFXUHG WR
WKHIUDPHUDWKHUWKDQWRWKHIORRU
IN THE CAMPGROUND
:KHQ \RX DUULYH DW \RXU FDPSVLWH
VKLIWLQWRSDUNHQJDJHWKHSDUNLQJEUDNH
DQG D VLPSOH WRXFK LV DOO \RX QHHG WR
DFWLYDWH WKH DXWRPDWLF OHYHOLQJ V\VWHP
LQFOXGHGLQWKH&XVWRPHU9DOXH3DFNDJH
,Q D IHZ VHFRQGV \RX FDQ H[WHQG \RXU
VOLGHV DQG VWHS RXWVLGH WKH YHKLFOH WR
FRQQHFW\RXUZDWHUVHZHUDQGHOHFWULFDO
KRRNXSV$OORIWKH59VHUYLFHVDUHHDV
LO\DFFHVVHGIURPWKHH[WHULRUFRPPDQG
FHQWUH LQVLGH WKH FRPSDUWPHQW DW WKH
UHDU RI WKH GULYHU·V VLGH RI WKH YHKLFOH
2QFH WKH VOLGHV DUH RXW DQG WKH KRRN
XSV DUH FRQQHFWHG H[WHQG WKH HOHFWULF
DZQLQJWXUQRQWKHDZQLQJ/('OLJKWV
DQG\RXDUHUHDG\WRZHOFRPHJXHVWV
7KH3UHFHSWKDVODUJHH[WHULRUSDVV
WKURXJK VWRUDJH FRPSDUWPHQWV DQG
DQ H[WHULRU HQWHUWDLQPHQW FHQWUH WKDW DVVXUHV WKDW ZKHWKHU \RX WUDYHO LQ WKH
IHDWXUHVDµ/('79ZLWKUDGLRDQG GHDG RI ZLQWHU RU XQGHU WKH KHDW RI D
&'SOD\HU
VXPPHU VXQ WKH FOLPDWH FRQWURO V\V
WHP ZLOO NHHS WKH LQWHULRU RI WKH FRDFK
COMFORT AND
FRPIRUWDEOH ² WZLQ %78 URRI
CONVENIENCE
PRXQWHG$& XQLWV FRRO WKH 3UHFHSW LQ
-D\FR 59V DUH GHVLJQHG DQG HQJL WKH VXPPHU DQG D %78 DXWR
QHHUHG E\ SHRSOH ZKR HQMR\ WKH FDPS LJQLWLRQ IXUQDFH KDQGOHV WKH KHDWLQJ
LQJ OLIHVW\OH ² HYHU\ FRPSRQHQW LV DVVLJQPHQW 7KH IXUQDFH DQG DLU FRQ
VHOHFWHG IRU WKH EHVW FRPELQDWLRQ RI GLWLRQLQJ V\VWHPV DUH FRQWUROOHG E\ DQ
IXQFWLRQ DQG YDOXH DQG LW LV REYLRXV DXWRPDWLFWKHUPRVWDWVLPLODUWRWKHUHVL
IURPWKHRXWVHWWKDWWKHGHVLJQHQJLQHHUV GHQWLDOPRGHOLQPRGHUQKRPHV
KDYH EHQHILWWHG IURP GHFDGHV RI H[SHU 7KH OLYLQJ URRP DUHD RI WKH 3UHFHSW
WLVHLQDZLGHUDQJHRIFDPSLQJHQYLURQ LVOX[XULRXVO\DSSRLQWHGZLWKD+LGH$
PHQWV 7KH &XVWRPHU 9DOXH 3DFNDJH %HG VRID WKDW FRQYHUWV LQWR D µ [ µ
With the slides extended the Precept has a spacious living area.
Road Test JAYCO
WKHFDPSVLWHHOHFWULFDOJULG
7KH 3UHFHSW IHDWXUHV UHFHVVHG /('
FHLOLQJ OLJKWV UROOHU VKDGHV IRU SULYDF\
DQG YHU\ DWWUDFWLYH ZLQGRZ YDOHQFHV
7KH GpFRU SDFNDJH LQ RXU WHVW YHKLFOH
IHDWXUHG OHDWKHUOLNH XSKROVWHU\ ZLWK
FORWKLQVHUWV²DQLGHDOFRPELQDWLRQIRU
FRPIRUWDQGSDQDFKH
The separate bathroom and shower are
ideal in an RV of this size.
EHGDQGDYHU\FRPIRUWDEOHGLQHWWHWKDW
FDQ EH XVHG DV DQ DGGLWLRQDO VOHHSLQJ
ORFDWLRQ <RX FDQ RUGHU \RXU 3UHFHSW
ZLWK DQ RSWLRQDO GURSGRZQ RYHUKHDG
EXQN WKDW FRQYHUWV WKH VSDFH DERYH WKH
GULYHU·V DQG QDYLJDWRU·V FKDLUV LQWR D
YHU\FRPIRUWDEOHVOHHSLQJSRVLWLRQ
$µ/('79LVHQFORVHGLQDFDEL
QHWLQWHJUDWHGLQWRWKHGLQHWWHVOLGHRXW
EHQHDWK WKH ZLQGRZ RQ WKH SDVVHQJHU
VLGH RI WKH FRDFK -XVW WRXFK D VZLWFK
DQG WKH 79 ULVHV IURP WKH FDELQHW WR
EHFRPH WKH IRFDO SRLQW RI \RXU KRPH
WKHDWUH RQ WKH URDG ² LGHDO IRU YLHZLQJ
IURPWKHGLQHWWHRUIURPWKHIDFLQJVRID
7KH HOHFWULFDO V\VWHP LQFOXGHV
D $PS$OWHUQDWRU DQG D $03
3RZHU &RQYHUWHU 7KH &XVWRPHU 9DOXH
3DFNDJH LQFOXGHV D ZDWW LQYHUWHU
WKDW FDQ SRZHU \RXU HQWHUWDLQPHQW V\V
WHPZKHQ\RXDUHQRWDEOHWRFRQQHFWWR
34
RV Lifestyle | Volume 43 Number 6
HWDQGGUHVVHUV\VWHPDWWKHIRRWRIWKH
EHG 7KLV HOHJDQW DQG HIILFLHQW GHVLJQ
DOVRKRXVHVDµ/('79
IN THE BATHROOM
7KH 3UHFHSW 8/ IHDWXUHV D EDWK
URRP FRQILJXUDWLRQ WKDW VSDQV WKH FHQ
WUDOVHFWLRQRIWKHYHKLFOHZLWKWKHWRL
OHWVLQNDQGYDQLW\RQWKHGULYHU·VVLGH
IN THE GALLEY
DQG D JODVVGRRU VKRZHU RQ WKH SDV
$WMXVW·µWKH3UHFHSW8/LVD VHQJHUVLGH7KLVGHVLJQFRQFHSWFDQEH
FRPSDFW FODVV$ PRWRUKRPH EXW FOHY FORVHGRIIIURPWKHHQWHUWDLQLQJVHFWLRQ
HU LQWHULRU HQJLQHHULQJ PDNHV H[FHO RIWKHYHKLFOHWRFUHDWHDQHQVXLWHEDWK
OHQW XVH RI WKH LQWHULRU VSDFH 2QH RI URRPRUFORVHGRIIIURPWKHEHGURRPWR
WKH NH\ GHVLJQ HOHPHQWV LV WKH VOLGLQJ SURYLGHHDV\DFFHVVIRU\RXUJXHVWV
FRXQWHUWRSZLWKGUDZHUVWKDWH[WHQGVWR
PD[LPL]HWKHJDOOH\DUHDZKHQWKHVOLGH THE BOTTOM LINE
LV RXW DQG VOLGHV XQGHU WKH PDLQ JDO $W MXVW 0653 )2%
OH\ FRXQWHU ZKHQ WKH VOLGH LV UHWUDFWHG 6PLWKYLOOH21WKH3UHFHSWLVDQH[FHS
:KHQ ZH ILUVW HQWHUHG WKH YHKLFOH WKH WLRQDO YDOXH LQ D PLGUDQJH FODVV $
VOLGLQJFRXQWHUWRSKDGQRWEHHQUHWUDFW PRWRUKRPH 6XSHUEO\ HQJLQHHUHG ZLWK
HG DQG WKLV PDGH IURQWWREDFN DFFHVV WDVWHIXO DQG OX[XULRXV LQWHULRU DSSRLQW
ZLWK WKH VOLGHRXW VHFWLRQV YHU\ WLJKW« PHQWV LW LV DQ LGHDO VL]H IRU VHULRXV
ZLWK WKH VOLGLQJ FRXQWHUWRS UHWUDFWHG WRXULQJ \HW FRPSDFW HQRXJK WR EH IXQ
WKLV VXEVWDQWLDOO\ LQFUHDVHG WKH ZDON WRGULYHLQDZLGHYDULHW\RIWUDIILFFRQ
WKURXJKVSDFHDYDLODEOH
GLWLRQV
7KH JDOOH\ IHDWXUHV VROLGVXUIDFH
FRXQWHUWRSVDEXUQHU%78EXUQ
UDQJH DQG D FRQYHFWLRQ PLFURZDYH
$ERYH WKH JDOOH\ D NLWFKHQ YHQW IDQ
H[KDXVWV WKH DURPD RI \RXU JRXUPHW
SPECIFICATIONS
DFWLYLWLHV« D FHUDPLF PRVDLF EDFNV
SODVK LV D YHU\ GHFRUDWLYH DQG SUDFWLFDO
JAYCO PRECEPT 31 UL
IHDWXUH$FURVV WKH DLVOH D ODUJH WZR
GRRU 1RUFROG UHIULJHUDWRU ZLWK UDLVHG
Chassis:
Ford
ZRRGSDQHOGRRUVLVDFKHI·VGHOLJKW$Q
Engine:
362 hp 6.8L Triton EFI V-10
RQGHPDQG WDQNOHVV ZDWHU KHDWHU V\V
Fuel capacity: 80 gal. (gas).
WHP SURYLGHV DQ LQVWDQW DQG XQOLPLWHG
GVWR:
18,000 lbs.
VXSSO\ ZLWKRXW WKH ZHLJKW RU EXON RI D
GCWR:
23,000 lbs
Length:
32' 3"
FRQYHQWLRQDOV\VWHP7KH/3DSSOLDQFHV
Wheelbase:
190"
DUHIXHOOHGE\DJDOORQWDQN
IN THE BEDROOM
7KH UHDU EHGURRP LQ WKH 3UHFHSW
LV ZHOODSSRLQWHG DQG VSDFLRXV IRU D
PRWRUKRPHRIWKLVVL]H7KHµ[µ
TXHHQ VL]H EHG LV QHVWOHG LQWR D VOLGH
RXW VHFWLRQ DQG IHDWXUHV D YHU\ FRP
IRUWDEOH 3LOORZWRS 'HQYHU PDWWUHVV
$ERYH \RXU KHDG WKH VOLGH IHDWXUHV
D VWRUDJH FRPSDUWPHQW ZLWK RYHUKHDG
UHDGLQJ OLJKWV 7KHUH DUH VPDOO VKHOYHV
RQ HLWKHU VLGH RI WKH EHG WR KROG D
VQDFN\RXUUHDGLQJJODVVHVRUDERRN
$OORI\RXUZDUGUREHUHTXLUHPHQWVFDQ
EHDFFRPPRGDWHGLQWKHIXOOZDOOFORV
Exterior width (Slides in):
Exterior height (with A/C):
Interior height:
Furnace:
Fresh water:
Grey water:
Black water:
MSRP:
101"
149"
84"
31,000 BTU
71.5 gal.
41 gal.
51.5 gal.
$140,000 F.O.B. Smithville, ON.
Jayco motorhomes feature a Two-year warranty
and a Roadside Assistance Program.
Many thanks to the crew at Sicard RV in
Smithville, ON for their assistance with this
road test project.
Great Service & Great Prices meet at the corner of Hwy's 4 & 7, London, Ontario
www.fiammausa.com
The easy-to-use awning joining today's best
technologies, service and quality. Constantly renewed,
the F45S is compact, functional, and of superior quality,
assuring it to be the best choice for your holidays.
ELEGANT, STRONG, INTEGRATED
With its modern design, this awning
adapts easily to the new generation of
motorhomes with curved roofs. Smooth and
silent opening , finished in polar white, black enamel
paint, or aluminum anodized finish.
Contact: [email protected]fiammausa.com for more information
Volume 43 Number 6 | RV Lifestyle
35
4ǸȬȐɕɜȨȃ
Jekyll
Story by Steve Fennell
Photos by Georgia Department
of Economic Development
36
RV Lifestyle | Volume 43 Number 6
Escape from the ordinary
and visit the Georgia
Coast that's home to one
of the State's best kept
secrets and will keep you
coming back for more.
O
XWVLGH RI WKH EXV\ FHQWUHV
RI $WODQWD $XJXVWD DQG
&ROXPEXV DQG SDVW WKH
WRXULVW\ DWWUDFWLRQV RI 6DYDQQDK
$WKHQV DQG 0DFRQ LV WKH PDLQODQG
FLW\RI%UXQVZLFNDQGLWVIRXU%DUULHU
,VODQGV RII WKH *HRUJLD &RDVW ZKLFK
DUH FRQVLGHUHG WKH 6WDWH·V FURZQ MHZ
HOVWKDWDUHRIWHQRYHUORRNHGDVDJUHDW
59GHVWLQDWLRQ
7KLV LQIDPRXV FRDVWOLQH VWUHWFKHV
DSSUR[LPDWHO\ PLOHV ² IURP WKH
6DYDQQDK5LYHULQWKH1RUWKWRWKH6W
0DU\·V5LYHULQWKH6RXWKRUEHWZHHQ
6DYDQQDKDQG-DFNVRQYLOOH)/²DQG
LVKRPHWRIRXURIHLJKW%DUULHU,VODQGV
²6W6LPRQV6HD/LWWOH6W6LPRQVDQG
-HN\OOZKHUHVXEWURSLFDOFOLPDWHVSUH
YDLODQGWKHVXQDOZD\VVHHPVWRVKLQH
7KH VPDOOHVW RI WKH IRXU LV -HN\OO
:KLOH WKH RWKHU WKUHH LVODQGV SURYLGH
RQVLWH ILYHVWDU DPHQLWLHV DQG UHVRUWV
-HN\OO VKDUHV VRPH RI WKH ULFKHVW KLV
WRU\LQWKH6WDWHRI*HRUJLDDQGLVELJ
RQDWWUDFWLRQVWKDWDSSHDOVWRFRXQWOHVV
RIYLVLWRUVHYHU\VHDVRQ
/RFDWHG MXVW RII WKH PDLQ DUWHU\
RI , LW·V RQH RI RQO\ WKUHH RI WKH
EDUULHU LVODQGV WKDW·V DFFHVVLEOH E\
59DQGRQFHWKHUHVHWWOHLQDW-HN\OO
,VODQG &DPSJURXQG WKDW HQFRPSDVV
HV ZRRGHG DFUHV RI PDJQLILFHQW
RDN WUHHV DQG FDPSVLWHV UDQJLQJ
IURP WHQW VLWHV WR IXOO KRRNXS SXOO
WKURXJK VLWHV ZLWK SRZHU FDEOH 79
ZDWHU DQG VHZHUDJH :L)L DQG '6/
,QWHUQHW LV IUHH IRU UHJLVWHUHG JXHVWV
)RU DGGHG FRQYHQLHQFH DQ RQVLWH
JHQHUDO VWRUH LV DYDLODEOH IRU HVVHQ
WLDOVZKLOHDQ,*$LVQHDUE\IRUPRUH
VSHFLILFJURFHULHVRUVXSSOLHV
&DPSLQJ ² QRW WRR PHQWLRQ ILVK
LQJ NLWH IO\LQJ KLNLQJ ELNLQJ DQG
QXPHURXV ZDWHUEDVHG DFWLYLWLHV ² FDQ
EH HQMR\HG PRQWKV RI WKH \HDU )RU
59·HUV WKH ORFDO DQG RQO\ FDPS
JURXQG LV NQRZQ WR EH MXVW DV DFFRP
PRGDWLQJ DV WKH GHHS VRXWK7KH RQO\
SUREOHP DERXW YLVLWLQJ WKLV UHJLRQ LV
QRWZDQWLQJWROHDYH
Though Jekyll's history spans centuries, the
completion of the Jekyll Island Club in the late
1800s attracted some of the most prominent
families in the U.S. and made the island one of
the most exclusive destinations in the country.
Volume 43 Number 6 | RV Lifestyle
37
It was once an
acclaimed destination among the
social elite as resiJekyll's Driftwood Beach allows RV'ers to enjoy the
sun, cool off with a swim, or paddleboard, kayak, and
bike. Horseback riding is also available.
dents included some of
the most powerful
and leading families
in North America
DEOH UHJLRQV VXFK DV VRXWK )ORULGD7KH
,VODQG DQG DOO RI LWV SURSHUW\ ZDV WKHQ
DFTXLUHGE\WKH6WDWHRI*HRUJLDWXUQLQJ
WKH DUHD LQWR D 6WDWH 3DUN WKXV RIIHULQJ
DFFHVVWRWKHJHQHUDOSXEOLF
PɄɤɑȨɕȹɄɑȽ
Shorebirds, and many other species,
make Jekyll a birder's paradise.
ȨɕɜɄɑɴ
-HN\OO ,VODQG VKDUHV D ULFK KLVWRU\ ZLWK
*HRUJLDDQGWKHLQIDPRXVFRDVW3HUKDSV
ZKDW -HN\OO ,VODQG LV SURPLQHQWO\ QRWHG
IRU LV LWV QHDUO\ ILYHGHFDGH ´JLOGHG
SHULRGµIURPWKHODWHVWRWKHPLG
V 7KRXJK LWV KLVWRU\ VSDQV FHQWX
ULHV EHIRUH WKLV SHULRG ² WKH FRPSOHWLRQ
RIWKH-HN\OO,VODQG&OXELQODWHE\
HQJLQHHU 1HZWRQ )LQQH\ DQG KLV EURWK
HULQODZ-RKQ(XJHQH'X%LJQRQPDGH
-HN\OO RQH RI WKH PRVW VRXJKW DIWHU DQG
H[FOXVLYHRQO\ YDFDWLRQ GHVWLQDWLRQ LQ
1RUWK$PHULFDLIQRWWKHZRUOG
.QRZQIRULWVVDQGEHDFKHVDQGPDQ\
DFWLYLWLHV VXFK DV KXQWLQJ DV WKH LVODQG
ZDV FRPPRQO\ VWRFNHG HYHU\ VHDVRQ
ILVKLQJ ERDWLQJ VNHHW VKRRWLQJ JROI
DQG WHQQLV VRFLDOL]LQJ DW WKH SUHVWLJLRXV
-HN\OO,VODQG&OXEZDVWKHFRUHRIDFWLYL
WLHV IRU OLIH RQ -HN\OO ZLWK LWV H[SDQVLYH
JURXQGVJUDQGGLQLQJURRPVDQGXSVFDOH
DFFRPPRGDWLRQV
38
RV Lifestyle | Volume 43 Number 6
,W ZDV RQFH DQ DFFODLPHG GHVWL
QDWLRQ DPRQJ WKH VRFLDO HOLWH DV UHVL
GHQWV LQFOXGHG VRPH RI WKH PRVW SRZ
HUIXO DQG OHDGLQJ IDPLOLHV LQ 1RUWK
$PHULFDLQFOXGLQJ-30RUJDQ:LOOLDP
5RFNHIHOOHU 9LQFHQW $VWRU -RVHSK
3XOLW]HU DQG :LOOLDP . 9DQGHUELOW
WR QDPH MXVW D IHZ /DYLVK ZLQWHU UHVL
GHQFHV ´RU FRWWDJHVµ ZHUH EXLOW DQG WKH
QDWLRQ·V ULFKHVW ZRXOG HQMR\ HYHU\WKLQJ
WKHDUHDKDGWRRIIHU
7RXULVPZDVEDQQHGIURPWKHJHQHUDO
SXEOLFDQGWKH,VODQGZDVDFFHVVLEOHRQO\
E\ZDWHU²PDNLQJWKHLVODQGHYHQPRUH
SULYDWHDQGH[FOXVLYHIRUWKHOLPLWHG
RU VR UHVLGHQWV DQG YLVLWRUV WKDW ZHUH
DOORZHGDFFHVV
,W UHPDLQHG D SULYDWH SOD\JURXQG IRU
WKH DIIOXHQW XS XQWLO MXVW EHIRUH
WKH KHLJKW RI:RUOG:DU ,, ZKHQ WUDYHO
UHVWULFWLRQV UDWLRQLQJ DQG WKH VKLIW RI
ZRUNHUVWRVXSSRUWWKHZDUHIIRUWIRUFHG
WKHFOXEWRFORVH)ROORZLQJWKHZDUWKH
HOLWHQHYHUUHWXUQHG²DVPDQ\RSWHGIRU
WKH ZDUPHU WUHQGLHU DQG PRUH IDVKLRQ
:LWK WKH GHYHORSPHQW RI D FDXVHZD\
DQGPRGHVWFRPPHUFLDOGHYHORSPHQWWKH
LVODQGWRGD\DWWUDFWVWKRXVDQGVRIYLVLWRUV
DQGVHDVRQDOUHVLGHQWVHYHU\\HDUWRHQMR\
WKHH[FLWLQJDWWUDFWLRQVDQGDFWLYLWLHV
7R UHOLYH -HN\OO·V H[FLWLQJ SDVW VWDUW
DW WKH -HN\OO ,VODQG 0XVHXP ZKLFK
PDLQWDLQV WKUHH KLVWRULF VLWHV WKH +RUWRQ
+RXVH +LVWRULF 6LWH UXLQV WKH:DQGHUHU
0HPRULDODQGWKH-HN\OO,VODQG1DWLRQDO
+LVWRULF /DQGPDUN 'LVWULFW 7KHUH·V
PRUH WKDQ DUWLIDFWV VKRZFDVLQJ
WKH LVODQG·V XQLTXH KHULWDJH DQG VHDVRQDO
JXLGHG YLD WUDP DQG VHOIJXLGHG WRXUV
DUH DYDLODEOH 9LVLWRUV FDQ DGPLUH WKH
H[WUDYDJDQW ZLQWHU UHVLGHQFHV RI ´6DQV
6RXFLµ D VL[XQLW EXLOGLQJ RZQHG LQ
SDUW E\ -3 0RUJDQ ´,QGLDQ 0RXQGµ D
UHVLGHQFH RI WKH 5RFNHIHOOHU IDPLO\ WKH
*RRG\HDU &RWWDJH FRPSOHWHG LQ WKH&UDQH&RWWDJHFLUFDDQGPDQ\
RWKHUV
7KH,VODQGKRZHYHURIIHUVVRPXFK
PRUH ,WV HODERUDWH KLVWRU\ LV VKDUHG
ZLWKPRGHUQDWWUDFWLRQVWKDWFDWHUWRWKH
ZKROH IDPLO\ 3HUKDSV RQH RI WKH PRVW
SRSXODU DWWUDFWLRQV LV -HN\OO ,VODQG·V
PLOH VDQG EHDFK ZKLFK FRQVLVWV RI
WKUHHVHSDUDWHEHDFKHVSOXVPDQ\DPH
\Ȩȵȇ\ȨȵȇȵȨȘȐ
:KLOH RQO\ DSSUR[LPDWHO\ SHUFHQW
RI WKH LVODQG KDV EHHQ GHYHORSHG FRP
PHUFLDOO\ D ODUJH SRUWLRQ RI WKH LVODQG
FRQVLVWV RI OXVK ZLOGHUQHVV KRPH WR
PDQ\ VSHFLHV RI ZLOGOLIH ² IURP YDUL
RXV ELUGV VXFK DV 5RVHGDOH 6SRRQELOOV
ORFDOWRWKHUHJLRQ+DZNVDQG*UHDW
%OXH +HURQV WR DOOLJDWRUV DQG VHD WXU
WOHV 3RSXODU 7XUWOH :DONV FRQGXFWHG
WKURXJK7KH*HRUJLD6HD7XUWOH&HQWHU
DUHDYDLODEOHWRYLHZWKHVHPDJQLILFHQW
UHSWLOHVLQWKHLUQDWXUDOKDELWDW9LVLWRUV
FDQ FKHFN RXW WKH 6HD 7XUWOH &HQWHU
PHOTO BY: JEKYLL ISLAND AUTHORITY
VKULPSLQJ DQG ILVKLQJ ZKLOH VKRUHELUG
VLJKWLQJV VKHOOLQJ DQG HYHQ IUHTXHQW
GROSKLQVLJKWLQJVFDQDOVREHHQMR\HG
*UHDW 'XQHV %HDFK WRR RIIHUV HDV\
EHDFKDFFHVVDQGLVFRQYHQLHQWO\ORFDWHG
DFURVV IURP SOD\JURXQGV DQG D PLQL
JROI FRXUVH +RZHYHU UHJDUGOHVV RI
WKH EHDFK ORFDWLRQ HDFK RIIHUV VFHQLF
VXQVHWV DQG PDJQLILFHQW YLHZV RI WKH
$WODQWLF (G 1RWH DOO EHDFKHV DUH
JUHDWO\DIIHFWHGE\WLGHVVRDFFHVVPD\
EHOLPLWHGDWKLJKWLGH
PHOTO BY: JEKYLL ISLAND AUTHORITY
QLWLHVVHUYLFHVDQGDFWLYLWLHV
/RFDWHG DGMDFHQW WR WKH -HN\OO ,VODQG
&DPSJURXQG LV WKH &ODP &UHHN 3LFQLF
$UHDZKLFKSURYLGHVDFFHVVWRWKHSRS
XODU 'ULIWZRRG %HDFK )ROORZLQJ \HDUV
RI QDWXUDO HURVLRQ PDMHVWLF ² DOPRVW
KDXQWLQJ ² GULIWZRRG DQG WUHHV KDYH
EHHQ XSURRWHG DQG VFDWWHUHG DORQJ WKH
VDQG EHDFK 1RQHWKHOHVV WKH EHDFK
LV H[SDQVLYH ZKHUH YLVLWRUV FDQ SRS
XS D VXQ XPEUHOOD DQG FRRO RII ZLWK D
VZLP RU SDGGOHERDUG ND\DN DQG ELNH
+RUVHEDFNULGLQJLVDOVRDYDLODEOH
$ JUHDW VSRW IRU WKH ZKROH IDPLO\ WR
HQMR\ OXQFK RU WKH ZKROH GD\ WKLV DUHD
KDV SLFQLF DUHDVWDEOHV DQG JULOOV 7KH
ILVKLQJ SLHU LV DQRWKHU KLJKOLJKW )LVK
FUDE RU VKULPS WKH FKRLFH LV \RXUV DV
7KH -HN\OO ,VODQG )LVKLQJ &HQWHU VHOOV
LFHEDLWDQGDOOWKHJHDUWKDW·VUHTXLUHG
WR FDWFK DQG VHUYH D IUHVK ILVK GLQQHU
)LVKLQJOLFHQVHVDUHUHTXLUHG
$W WKH PRVW VRXWKHUQ HQG RI -HN\OO
LV DQRWKHU EHDFK DQG SLFQLF DUHD 6W
$QGUHZ·V 3LFQLF $UHD WKDW H[WHQGV
IURP *ORU\ %HDFK DQG RYHUORRNV -HN\OO
6RXQGWKHULYHUVLGHRIWKHLVODQG:LWK
PDQ\ VLPLODU DPHQLWLHV DV &ODP &UHHN
WKLVDUHDRIWKHLVODQGLVDOVRSRSXODUIRU
Settle in at Jekyll Island Campground
that encompasses 18 wooded acres
of magnificent oak trees and 206
campsites.
IURP 0DUFK WR 2FWREHU DQG 1RYHPEHU
WR )HEUXDU\ DP WR SP ZKLFK
ZDV RSHQHG LQ WR UDLVH DZDUH
QHVV LQ VXSSRUW RI WKH UHJLRQ·V KDELWDW
DQG ZLOGOLIH FRQVHUYDWLRQ FKDOOHQJHV
3ULYDWHWRXUVRIWKHFHQWHUDUHDYDLODEOH
DV DUH GDLO\ WRXUV EHKLQG WKH VFHQHV
WRXUVDQGDVHDWXUWOHFDPSIRUNLGVLQ
-XQHDQG-XO\
@ȵǸȽdɄɤɑɨȐȽɜ
Every year Jekyll Island raises the excitement level with a series of events to enhance your vacation time.
Here are just a few:
JANUARY 1-3, 2015
FALL 2015
38th ANNUAL NYE BLUEGRASS FESTIVAL
Evolving into a Jekyll Island tradition, the annual Bluegrass
Festival serves up a stompin' good time as this three-day
event attracts some of the biggest names in this musical
genre. Held at the Jekyll Island Convention Center.
For all the details visit www.exploregeorgia.org or
www.jekyllisland.com
THE WILD GEORGIA SHRIMP FESTIVAL
There's no better staple of the south than shrimp, a side of
grits, and perhaps an ice-cold lager to wash it down. Since
2006, The Wild Georgia Shrimp Festival has been celebrating
the taste of Georgia while pleasing visitors with great food and
guest chef demonstrations, live music, and beer samplings.
www.jekyllisland.com
MAY 16, 2015
NOVEMBER 2015
THE TURTLE CRAWL TRIATHLON AND NESTFEST
Get your heart pumping and enjoy the scenic region of
Jekyll at this unique triathlon that celebrates the start of the
sea turtle nesting season in Georgia. Sanctioned by USA
Triathlon, the event is held in Great Dunes Park and the races
take place along Jekyll Island's scenic shoreline and forests.
Proceeds of the event benefit the Jekyll Island Foundation
and endangered sea turtle research and conservation. Ideal
for families and children of all ages.
For more details visit www.jekyllisland.com
CHRISTMAS TREE LIGHTING FESTIVAL
Jekyll Island lights up every Christmas with this annual festival
that will provide seasonal cheer for visitors of all ages. With
such activities and attractions as Santa, live entertainment,
crafts, jingle bell tours, and much more, this is an event to
definitely plan your trip around.
www.jekyllisland.com
For all the details on jekyll island, including dining, shopping,
land- and water-based activities…and more navigate to
www.jekyllisland.com
Volume 43 Number 6 | RV Lifestyle
39
50 Years for
Triple E
What began as
a family-owned,
three-man operation
in 1965 has grown
into a true Canadian
success story as
Triple E celebrates
its 50th anniversary.
Compiled by Walter Siemens
T
ULSOH ( ZDV IRXQGHG E\ 3:
(QQV DQ HQWUHSUHQHXU DW KHDUW
ZKR RSHUDWHG D SOXPELQJ DQG
KHDWLQJ IDFLOLW\ LQ :LQNOHU 0DQLWRED
3:ILUVWWRRNDQLQWHUHVWLQPDQXIDFWXU
LQJ WUDYHO WUDLOHUV ZKLOH YLVLWLQJ (ONKDUW
,QGLDQD RQ D YROXQWHHU WULS %HLQJ DQ
LQTXLVLWLYH SHUVRQ KH ZDV DOZD\V HDJHU
WRWU\QHZWKLQJVVRKHERXJKWDWRUVLRQ
D[OH DQG EURXJKW LW KRPH WR LQFRUSRUDWH
LQWRKLVQHZO\GHVLJQHGWUDYHOWUDLOHU
(QQV UHFUXLWHG KLV WZR VRQVLQODZ
3KLO (QV DQG 3HWHU (OLDV DQG WRJHWKHU
WKH\ VHW RXW WR EXLOG D WUDYHO WUDLOHU ² D
IRRW DHURG\QDPLF GHVLJQ WKH\ FDOOHG
WKH &RPSDFW ZKLFK LQFRUSRUDWHG PDQ\
RIWKHIHDWXUHVVWLOOVRXJKWDIWHULQWRGD\·V
PDUNHW 7KH WKUHH (·V ² (QQV (QV DQG
(OLDV ² EHFDPH WKH FRPSRQHQWV RI WKH
QDPH7ULSOH(
40
RV Lifestyle | Volume 43 Number 6
,Q 7ULSOH (·V ILUVW \HDU WKH FRPSDQ\
PDQDJHG WR VHOO RI WKH VW\OLVK IRRW
&RPSDFWV 7KH IROORZLQJ \HDU 7ULSOH
( QHDUO\ GRXEOHG LWV VDOHV DQG D WRWDO RI
&RPSDFWV ZHUH SURGXFHG %XW LW ZDV
ZKHQWKLQJVUHDOO\EHJDQWRWDNHRII
IRU WKH IOHGJOLQJ FRPSDQ\ DV WKH FRP
ELQDWLRQ RI &DQDGD·V &HQWHQQLDO DQG WKH
0RQWUHDO ([SR GURYH &DQDGLDQ IDPLOLHV
WR WUDYHO DFURVV WKH FRXQWU\ LQ XQSUHF
HGHQWHG QXPEHUV $ IRRW WUDLOHU ZDV
DGGHGWRWKH7ULSOH(OLQHXSWKDW\HDUDQG
RYHUDOOSURGXFWLRQIRUWKHFRPSDQ\JUHZ
WRXQLWV²DOPRVWRQHDGD\
7KH \HDU ZDV VLJQLILFDQW IRU
7ULSOH ( LQ DQRWKHU ZD\ DV WKH FRPSD
Q\ PDGH KLVWRU\ E\ XQYHLOLQJ WKH ILUVW
&DQDGLDQEXLOW PRWRUKRPH 7KH IRRW
XQLW FDOOHG WKH &DUDYDQ ZDV IXOO\
HTXLSSHG DQG PRXQWHG RQ D PRGLILHG
*HQHUDO 0RWRUV PLON YDQ FKDVVLV VLQFH
*0 GLG QRW KDYH D PRWRUKRPH FKDV
VLV LQ SURGXFWLRQ DW WKDW WLPH /DWHU WKDW
\HDU *0 VHQW VHYHUDO GHVLJQ HQJLQHHUV
WR :LQNOHU WR VWXG\ DQG SKRWRJUDSK WKH
GHVLJQ UHILQHPHQWV WKDW 3: KDG PDGH
7KHVHUHILQHPHQWVZHUHWKHQLQFRUSRUDWHG
LQWR DOO IXWXUH *0 &ODVV $ FKDVVLV SUR
GXFWLRQ
7KH EXVLQHVV FRQWLQXHG WR JURZ DQG
LQWKHODWHV7ULSOH(FDXJKWWKHH\H
RI 9DQFRXYHUEDVHG HQWUHSUHQHXU -LP
3DWWLVRQ ZKR ZDV DFTXLULQJ &DQDGLDQ
UHFUHDWLRQDOYHKLFOHPDQXIDFWXUHUV7ULSOH
( VROG WKH EXVLQHVV WR 3DWWLVRQ LQ ZLWK WKH WKUHH (V UHPDLQLQJ ZLWK WKH
FRPSDQ\ DQG FRQWLQXLQJ WR GHYHORS QHZ
SURGXFWV ,W ZDV D SRVLWLYH WUDQVLWLRQ DV
3DWWLVRQEURXJKWWKHQHHGHGH[SHUWLVHDQG
PDUNHWLQJVNLOOVWRVXSSRUWWKHFRPSDQ\·V
DOORZHG 7ULSOH ( WR H[SDQG LWV GHDOHU
QHWZRUNDQGWDUJHWWKH8QLWHG6WDWHVPDU
NHW 6RRQ DIWHU WKH /HLVXUH 7UDYHO 9DQV
DFTXLVLWLRQ WKH RSHUDWLRQ ZDV DPDOJDP
DWHG LQWR WKH 7ULSOH ( PDQXIDFWXULQJ
IDFLOLWLHVLQ:LQNOHU
$V D FRPSDQ\ ZLWK PRUH WKDQ IRXU
GHFDGHV RI H[SHULHQFH LQ WKH 59 LQGXV
WU\7ULSOH(KDGVHHQLWVVKDUHRIXSVDQG
GRZQV DV HFRQRPLF IOXFWXDWLRQV FDPH
DQG ZHQW 7KH UHFHVVLRQ SURYHG
SDUWLFXODUO\GHYDVWDWLQJIRUWKH59LQGXV
UDSLGJURZWK7KDWSDUWQHUVKLSZDVWREH
WHVWHGRQ0DUFKZKHQDPDMRU
ILUHGHVWUR\HGWKHHQWLUHIDFWRU\
$IWHU PDNLQJ WKH GHFLVLRQ WR UHEXLOG
7ULSOH(SXUFKDVHGWKHIDFLOLWLHVRIDQRWK
HU 59 PDQXIDFWXUHU LQ :LQNOHU DQG WKH
EXVLQHVV ZDV VRRQ EDFN XS DQG UXQQLQJ
%XWLWZDVWRKLWDQRWKHUVQDJWKHIROORZ
LQJ \HDU ZKHQ WKH WKH RLO HPEDUJR
KLWWKHUHFUHDWLRQDOYHKLFOHLQGXVWU\KDUG
3DWWLVRQKDGKDGHQRXJKDQGVROG7ULSOH
(&DQDGD/WGEDFNWRWKHIDPLO\
)RU PDQ\ \HDUV 7ULSOH ( VROG LWV
SURGXFWV H[FOXVLYHO\ ZLWKLQ &DQDGD ,Q
WKH ODWH V WKH FRPSDQ\ HOHFWHG WR
VWUHWFKLWVKRUL]RQVDQGEHJDQH[SRUWLQJ
LQWRWKH6FDQGLQDYLDQPDUNHW$GGLWLRQDO
H[SRUWV LQWR *HUPDQ\ VRRQ IROORZHG
DORQJ ZLWK IXUWKHU YHQWXUHV LQWR RWKHU
PDUNHWV LQFOXGLQJ -DSDQ %XW WKH UHFHV
VLRQ RI WKH HDUO\ V OHG WR VHWEDFNV
WKDWFXOPLQDWHGLQWKHFRPSDQ\UHFRQVLG
HULQJLWVH[SRUWVWUDWHJ\%\7ULSOH
( PDGH WKH GHFLVLRQ WR H[LW WKDW OLQH RI
EXVLQHVV DQG IRFXV LWV IXOO DWWHQWLRQ DQG
UHVRXUFHVRQWKH&DQDGLDQPDUNHW
)RU WKH QH[W \HDUV 7ULSOH ( FRQ
WLQXHGWRGHYHORSDQGH[SDQGLWVSURGXFW
OLQH IURP WUDYHO WUDLOHUV WR ILIWK ZKHHOV
DQGFODVV$DQGFODVV&PRWRUKRPHV,Q
WKH FRUSRUDWLRQ DFTXLUHG /HLVXUH
7UDYHO9DQVDUHFUHDWLRQDOYHKLFOHPDQ
XIDFWXUHU EDVHG LQ 0RUGHQ 0DQLWRED
7KLV DFTXLVLWLRQ URXQGHG RXW WKH 7ULSOH
(SURGXFWOLQHJLYLQJ7ULSOH(DTXDOLW\
&ODVV%PRWRUKRPHWKDWKDGDQHVWDE
OLVKHGSUHVHQFHLQWKH8QLWHG6WDWHV7KLV
Philipp Ens, Chairman (left)
with Ryan Elias, VP and
General Manager (right).
Volume 43 Number 6 | RV Lifestyle
41
50 YEARS FOR TRIPLE E
Corporate Citizen
Triple E places value on fostering growth
and stability within its community. The
company supports many charitable
organizations and was instrumental in
developing community facilities, including city halls, care homes for the elderly,
health services and recreational sites.
"The City of Winkler is extremely proud
of Triple E and the owner group as valued corporate citizens of Winkler," said
Winkler Mayor, Martin Harder. "Triple E
continues to invest in Winkler through
their very generous donations to many
sports and cultural activities and facilities,
which make Winkler the place to be."
WU\0DQXIDFWXUHUVDFURVV1RUWK$PHULFD
ZHUH VKXWWLQJ GRZQ DQG OLNH VR PDQ\
RWKHUV 7ULSOH ( IRXQG LWVHOI VWUXJJOLQJ
7KH FRPSDQ\ DIWHU PXFK GHEDWH FRQ
WLQXHG WR RSHUDWH DV ZHOO DV SRVVLEOH LQ
RUGHU WR KHOS PLQLPL]H WKH LPSDFW RQ
WKH FRPPXQLW\ 7ULSOH ( PDGH WKH GHFL
VLRQ WR GLVFRQWLQXH &ODVV $ PRGHOV DQG
IRFXV RQ WKH VPDOOHU PRUH IXHO HIILFLHQW
FODVV%%DQG&PRWRUKRPHVWKDWZHUH
42
RV Lifestyle | Volume 43 Number 6
EHFRPLQJLQFUHDVLQJO\SRSXODU
:LWK UHQHZHG IRFXV 7ULSOH (·V
GHVLJQ DQG HQJLQHHULQJ WHDPV FRQFHQ
WUDWHGWKHLUHIIRUWVRQFUHDWLQJLQQRYDWLYH
IORRUSODQV7KHFXOPLQDWLRQRIWKLVHIIRUW
ZDV WKH IRRW 8QLW\ VROG XQGHU WKH
/HLVXUH 7UDYHO 9DQV EUDQGLQJ %XLOW RQ
WKH 0HUFHGHV%HQ] 6SULQWHU FDE FKDVVLV
WKH 8QLW\ IHDWXUHG DQ DXWRPDWLF TXHHQ
VL]H0XUSK\EHG²DQLQGXVWU\ILUVW7KH
GHVLJQSURYHGWREHVRXQLTXHWKDWDIWHU
LW KDG EHHQ ODXQFKHG DW WKH DQQXDO 59
H[KLELWLRQ LQ /RXLVYLOOH .HQWXFN\ WKH
8QLW\ TXLFNO\ EHFDPH UHFRJQL]HG DV
7ULSOH (·V PRVW VXFFHVVIXO QHZ SURGXFW
LQWURGXFWLRQ
%\ WKH /HLVXUH 7UDYHO 9DQV
EUDQG KDG JURZQ WR UHSUHVHQW PRUH WKDQ
SHU FHQW RI WKH 59 GLYLVLRQ·V SURGXFW
VDOHV GURSSLQJ RULJLQDO 7ULSOH (EUDQG
SURGXFWV WR OHVV WKDQ SHU FHQW ,Q WKH
VXPPHURI7ULSOH(FHDVHGSURGXF
Triple E
At A Glance
In 1989 P.W. Enns stepped down as
chairman of the board, and Phil Ens,
President and General Manager, was
appointed to the position. In 1993, Enns
appointed Terry Elias, the son of Peter
Elias and grandson of P.W. Enns, as
General Manager and Chief Operating
Officer – he holds the CEO position to
this day. In 2010, Ryan Elias, the son
of Terry Elias, was appointed VicePresident and General Manager.
WLRQRQWKH7ULSOH(&ODVV&5HJHQF\*7
WKH ODVW 7ULSOH (EUDQGHG SURGXFW LQ SUR
GXFWLRQHOHFWLQJWRIRFXVDOOLWVHIIRUWVRQ
WKH/HLVXUH7UDYHO9DQSURGXFWV
$V7ULSOH(·VSURGXFWPL[KDVFKDQJHG
RYHUWKH\HDUVDVWKHFRPSDQ\KDVDGDSWHG
WRDQHYHUFKDQJLQJODQGVFDSHVRWRRKDV
LWV DSSURDFK WR FRPPXQLFDWLQJ ZLWK LWV
FXVWRPHUV 6LQFH WKH FRPSDQ\ KDV
SODFHGDVWURQJHUHPSKDVLVRQRQOLQHPDU
NHWLQJ ZLWK DQ LQWHUDFWLYH LQIRUPDWLRQ
ULFK ZHEVLWH DQG VRFLDO PHGLD SODWIRUPV
LQFOXGLQJ )DFHERRN DQG <RX7XEH FRP
PXQLFDWLQJ EUDQG PHVVDJLQJ WR D FRQ
QHFWHGDXGLHQFH
7KURXJK LWV ILUVW \HDUV 7ULSOH (
KDV VHHQ PDQ\ FKDQJHV DQG RYHUFRPH
QXPHURXVFKDOOHQJHV7KHFRPSDQ\DWWUL
EXWHV PXFK RI LWV VXFFHVV WR LWV KLJKO\
VNLOOHG DQG GHGLFDWHG VWDII ZKR VKDUH D
FRPPLWPHQW WR HQVXUH WKDW HYHU\ 7ULSOH
( SURGXFW UROOLQJ RII WKH DVVHPEO\ OLQH
PHHWV ERWK WKH FRPSDQ\·V DQG LWV FXV
WRPHUV·KLJKHVWVWDQGDUGV
The corporation is built on a solid foundation – appropriately named "Our
Community" – built upon five key pillars
of equal importance. These are
1) Customers
2) Local Community
3) Dealers
4) Employees
5) Suppliers
The company has expanded from a
5,000 square-foot facility to more than
200,000 square feet, housing everything
from the fully-equipped production
facility with welding shop, fibreglass
and mold shop, and a sewing department, to customer service and corporate offices. Triple E currently employs
in excess of 280 people.
43
$ȽɜɄɜȣȐ@ǸɕɜǸɜ
FORT
ST. JAMES
By James Stoness
T
KH GHVLUH IRU IXUV LQ (XURSH ZDV
UHVSRQVLEOH IRU WKH ZHVWZDUG H[SORUD
WLRQ RI WKH ODQG WKDW ZRXOG EHFRPH
7KH 'RPLQLRQ RI &DQDGD $W ILUVW
H[SORUHUV DQG WUDSSHUV ZRUNHG WKHLU
ZD\ZHVWZDUGIROORZLQJULYHUVWKDWGUDLQHGIURPWKH
5RFNLHVDQGUDQHDVWZDUG$OZD\VVHDUFKLQJIRUQHZ
VRXUFHVRIIXUVWKH\FURVVHGWKHPRXQWDLQVLQWRWKH
3DFLILF 2FHDQ ZDWHUVKHG ZKHUH WKH\ IRXQG SHOWV LQ
QXPEHUVDOPRVWEH\RQGEHOLHI
7KHUH ZHUH WZR PDMRU SOD\HUV LQ WKH IXU
44
RV Lifestyle | Volume 43 Number 6
WUDGH WKH +XGVRQ %D\ &RPSDQ\ DQG WKH 1RUWK
:HVW &RPSDQ\ 7KH 1RUWK :HVW &RPSDQ\ VHQW
$OH[DQGHU 0DFNHQ]LH RYHU WKH 5RFNLHV WR ILQG D
ZD\ WR WKH 3DFLILF 2FHDQ ,Q 0DFNHQ]LH ZDV
WKHILUVWZKLWHPDQWRFURVV1RUWK$PHULFDE\ODQG
DQG GLG VR ZLWK D VPDOO SDUW\ RI KHOSHUV :KHUHDV
0DFNHQ]LH ZDV WKH H[SORUHU DQRWKHU PDQ ZHOO
NQRZQWR&DQDGLDQVDUULYHGRQWKHVFHQHWREHFRPH
WKHVHWWOHU
6LPRQ )UDVHU D \RXQJ LQWHOOLJHQW PDQ ZDV PDN
LQJKLVZD\LQWKHFRPSDQ\DQGEHFDPHDIXOOSDUWQHU
History, beautiful scenery and unique
experiences await RV'ers at this
North-Central British Columbia destination.
The scenic view of Stuart Lake. Walk down
the steps to observe that great dock which
at one time welcomed the trappers' canoes,
laden with furs.
ZKLOH KH ZDV LQ KLV HDUO\ WZHQWLHV +H ZDV JLYHQ WKH
MRERIH[SORULQJLQWKHODQGZHVWRIWKHPRXQWDLQVDQG
VHWWLQJ XS WUDGLQJ SRVWV DORQJ WKH ZD\ $URXQG DQGKHHVWDEOLVKHGDWUDGLQJSRVWRQWKHHGJHRI
6WXDUW/DNHDODNHWKDWKDVFRQQHFWLRQVWRDODUJHQHW
ZRUNRIULYHUVODNHVDQGVWUHDPV
7KH IRUW )RUW 6W -DPHV LV ORFDWHG NP QRUWK
ZHVWRISUHVHQWGD\3ULQFH*HRUJH7KH\EXLOWWKHIRUW
RQDOHYHOSODWHDXRYHUORRNLQJ6WXDUW/DNHZLWKYLHZV
WRWKHKLJKFOLIIRYHUVKDGRZLQJWKHODNHRQWKHQRUWK
,W·VDORQJODNHDQGFDQJHWTXLWHURXJKGXULQJVWRUP\
ZLQGV
7KH IXU WUDGH LV QRZ JRQH EXW WKH KLVWRULF EXLOG
LQJVVWLOOH[LVWDQGDUHPDLQWDLQHGIRU\RXUHQMR\PHQW
3HULRGFRVWXPHGVWDIIVKRZV\RXZKDWWKHEXLOGLQJKDG
EHHQXVHGIRUDQGLWVLPSRUWDQFHDWWKHIRUW6RPHRQH
ZLOO EH VXUH WR PHQWLRQ KRZ WKH\ NHSW UHSODFLQJ WKH
ORZHUORJVDVWKH\URWWHGWKXVNHHSLQJWKHXSSHUSDUWV
RIWKHEXLOGLQJLQJRRGFRQGLWLRQDQGOHYHO:HDUULYHG
DWWKHIRUWLQWKHIDOODTXLHWHUWLPHIRUWKHIRUWDQGVWDII
Volume 43 Number 6 | RV Lifestyle
45
One of the regular stunning
sunsets over Stuart Lake.
,Q WKH SUHVHQW GD\ IRUW WKH VWDII SUR
YLGHV D VHQVH RI UHDOLVP WR \RXU YLVLW
7KH ROG EXLOGLQJV DUH WKH ILUVW WR DWWUDFW
\RXUDWWHQWLRQ,WORRNVDVLI\RXKDGMXVW
GURSSHG EDFN WR WKH V 7KH QH[W
WKLQJ WKDW FDWFKHV \RXU H\H LV WKH JUHDW
VFHQLF YLHZ RI 6WXDUW /DNH :KHQ \RX
ZDON GRZQ WKH VWHSV \RX ZLOO REVHUYH
WKDW JUHDW GRFN ZKLFK DW RQH WLPH ZHO
FRPHG WKH WUDSSHUV· FDQRHV ODGHQ ZLWK
IXUV)URPWKHGRFNDIODWWUDLOWKDWZRXOG
KDYHEHHQXVHGWRUROOEDUUHOVRISURGXFH
OHDGV XS WR WKH ZDUHKRXVH DQG DOVR IRU
WKH PHQ FDUU\LQJ WKH KHDY\ VXSSOLHV RQ
WKHLUEDFNV
2QOHYHOJURXQGDERYH\RXZLOOFRPH
WR WKH JHQHUDO ZDUHKRXVH 7KLV EXLOGLQJ
ZRXOG EH D EHHKLYH RI DFWLYLW\ ,W KHOG
WKH WUDGH JRRGV WKDW ZRXOG EH VZDSSHG
IRUIXUVDVZHOODVLWHPVQHFHVVDU\WRUXQ
WKH IRUW DQG IHHG WKH ZRUNHUV :KHQ ZH
HQWHUZHVHHSLOHVRIEDJVWKDWPD\FRQ
WDLQ IORXU VPDOO EDUUHOV RI JXQ SRZGHU
ZRRGHQ FUDWHV RI :LQFKHVWHU FDUWULGJHV
DQG HQDPHOOHG NHWWOHV DQG FRRNLQJ YHV
VHOV 7KHVH ZRXOG EH XVHG WR VWRFN WKH
)RUW6WRUH
2I FRXUVH WKHUH DUH IXUV )XUV DUH
HYHU\ZKHUH +DQJLQJ LQ URZV LQ VWRU
DJH ZH VHH DQG WRXFK EHDXWLIXO IXUV
WKDW ZRXOG KDYH EHHQ LQ JUHDW GHPDQG
LQ (QJODQG $W WKH VWRUH \RX ZLOO ILQG
VHYHUDO LWHPV WKDW PLJKW EH IDPLOLDU DQG
FHUWDLQO\ ZRXOG KDYH PDGH WKHLU OLYHV
PRUHFRPIRUWDEOH7KHVWDIIFOHUNWROGXV
WDOHVRIWKHVWRUHDQGZKDWKDGKDSSHQHG
WKHUH 6KH HYHQ VXJJHVWHG WKH JKRVW RI
46
RV Lifestyle | Volume 43 Number 6
"…It's very enjoyable to visit these forts that
were so important to the discovery, and
development of early Canada.
It's important that our children learn
about the birth of our country and how
our history shapes what we do now…"
VRPH VWLOO UHWXUQHG WR WKHLU IDYRXULWH
SODFH $SSDUHQWO\ VRPHWLPHV ZKHQ QR
RQHFRXOGKDYHEHHQWKHUHWKHUHZDVVWLOO
WKHVPHOORIIUHVKO\EXUQHGSLSHWREDFFR
KDQJLQJLQWKHDLU
7DNHWLPHWRUHIOHFW3LFWXUHWKHKXVWOH
DQG EXVWOH DV WKH FDQRHV EHJLQ WR DUULYH
ZLWK WKH IXUV IURP WKH ZLQWHU·V KDU
YHVW +HDY\ EDOHV RI WLJKWO\ SDFNHG IXUV
KDYHWREHFDUULHGXSWKHUDPSIURPWKH
GRFN $V WKH\ DUH XQSDFNHG WKH\ ZRXOG
EH LQVSHFWHG IRU TXDOLW\ DQG DVVLJQHG
D YDOXH DQG WKH EDUWHULQJ EHJLQV 7KH
VKHOYHV DUH FUHDNLQJ IURP WKH ZHLJKW RI
JRRGV SLOHG UHDG\ DQG ZDLWLQJ IRU WKH
WUDGLQJWREHJLQ
7KH ZRUN LVQ·W FRPSOHWH ZKHQ WKH
EDUWHULQJLVGRQH7KHIXUVZRXOGEHSRV
VLEO\WULPPHGGULHGVRUWHGDQGUHSDFNHG
UHDG\IRUDORQJWULSHDVW,WZDVFRPPRQ
LQ PRVW RI WKHVH WUDGLQJ SRVWV WR KDYH
D IXU SUHVV ZKHUH WKH\ FRPSUHVVHG WKH
VWDFNRIEDOHVDQGERXQGWKHPXS7KHQ
VRPHYHU\PXVFXODUFDUULHUVORDGHGWKHP
LQWR FDQRHV DQG DW SRUWDJHV XQORDGHG
WKHPDQGFDUULHGWKHPRYHUURXJKWUDLOVWR
WKHQH[WERG\RIZDWHU7KHVWDQGDUGEDOH
ZDV SRXQGV DQG WKH FDUULHU RU YR\D
JHXUZRXOGFDUU\WZRRIWKHPDQGVRPH
HYHQPRUH
-XVWEHFDXVHWKLVLVDQRXWSRVWRIFLYL
OL]DWLRQ GLGQ·W PHDQ WKDW WKH SHRSOH WKDW
UDQWKHIRUWOLYHGLQSULPLWLYHZD\V:KHQ
\RX YLVLW WKH RIILFHUV· KRXVH \RX ZLOO EH
VXUSULVHG ,W ORRNV H[DFWO\ OLNH WKH KRPH
RI D SHUVRQ LQ DQ\ HDVWHUQ WRZQ ,W·V D
QLFHO\EXLOWORJKRPHZLWKFHGDUVKLQJOHV
RQWKHURRI<RXFDQVHHWKHVWURQJLQWHU
ORFNLQJORJVRQWKHFRUQHURIWKHEXLOGLQJ
DQGQRWHKRZWLJKWWKHORJVILWWRSUHYHQW
DV PDQ\ GUDIWV DV SRVVLEOH 7KH YHUDQGD
SURWHFWV WKH GRRUZD\ IURP WKH ZHDWKHU
DQG SURYLGHV D JUHDW SODFH IRU D URFNLQJ
FKDLU
,QVLGHWKHZDOOVDUHSDSHUHG7KHUH·V
DQLFHZDUPEHDUVNLQUXJDWWKHVLGHRI
WKHEHGVR\RXGRQ·WKDYHWRVWHSRXWRQ
DFROGIORRUDQGDFRQYHQLHQWFKDPEHU
$ȽɜɄɜȣȐ@ǸɕɜǸɜ
FORT
ST. JAMES
SRWDWWKHVLGHRIWKHEHG2QWKHEHGLV
D KDQGTXLOWHG TXLOW DQG D ODFH VSUHDG
DFURVVWKHERWWRP
7KHUHDUHVHYHUDOW\SHVRIZRRGVWRYHV
WRNHHSDZD\WKHZLQWHU·VFROG<RXFDQ
VSHQGTXLWHVRPHWLPHMXVWZDQGHULQJWKH
URRPV FRPSDULQJ WKH GLIIHUHQW W\SHV RI
VWRYHV7KHWDEOHLVVHWZLWKDZKLWHWDEOH
FORWK WKDW LV D EDFNGURS WR WKH UHG QDS
NLQVDWHDFKSODFHDQGWKHUHDOO\EHDXWLIXO
&KLQDSODWHVHWWLQJV1RWKLQJKHUHVSHDNV
RI SULPLWLYH /DWHU LQ WKH GD\ ZH ZRXOG
SXWWKHVHKLVWRULFURRPVWRWKHWHVW
7KH )LVK &DFKH LQ DQRWKHU RXWVLGH
EXLOGLQJ SOD\HG D YHU\ LPSRUWDQW UROH LQ
WKHLU OLYHV :KHQ PHDW ZDV VFDUFH WKH
ODNH EHFDPH LPSRUWDQW 7KH ODNH ZDV
DEXQGDQW ZLWK ILVK DQG WKHVH ZHUH GULHG
DQG PDGH UHDG\ IRU ZLQWHU PHDOV ,W·V
LPSRUWDQWWRQRWHWKDWWKHHDUO\IXUWUDGHUV
ZHUH QRW VNLOOHG LQ FDWFKLQJ ILVK LQ JUHDW
QXPEHUV 7KH\ UHOLHG XSRQ WKH ,QGLDQ·V
VNLOOLQFDWFKLQJWKHILVKIRUWKHLUVXUYLYDO
%X\LQJ WKH ILVK FXW GRZQ RQ WKH SURILWV
VRHYHQWXDOO\WKH\HVWDEOLVKHGJRRGURXWHV
WRWKHHDVWDQGUHFHLYHGHDVWHUQIRRGEDFN
DORQJ WKRVH URXWHV 7KLV LQFUHDVHG WKHLU
SURILWVVLQFHWKH,QGLDQVZHUHVHOOLQJOHVV
ILVK WR WKHP DQG KDG WR JHW RXW DQG GR
PRUH WUDSSLQJ LQRUGHU WR PDNH WUDGHVDW
WKH IRUW 7KH LQKDELWDQWV RI WKH IRUW DOVR
DWWHPSWHG JURZLQJ JUDLQ DQG YHJHWDEOH
FURSV 7KH JDUGHQ \RX VHH LQ \RXU YLVLW
The Fish Cache, which consists of a single
room, has cross beams at ceiling level that
were used for hanging fish and meat.
47
RV Lifestyle | Volume 43 Number 6
LV SUREDEO\ IDU EHWWHU DW SURGXFLQJ FURSV
WKDQWKRVHRIWKHYHU\HDUO\\HDUV
$VHYHQLQJDSSURDFKHGZHKHDGHGIRU
0XUUD\+RXVH:HZHUHJRLQJWREHVWD\
LQJWKHUHIRUWKHQLJKW)LUVWZHVWRSSHGDW
WKH2OG)RUW&DIpZKLFKZDVKHOGRSHQ
MXVW IRU XV 7KURXJK WKH ZLQGRZ ZH KDG
D JUHDW YLHZ DFURVV 6WXDUW /DNH DQG LW
ORRNHG OLNH WKHUH ZHUH HQRXJK FORXGV WR
PDNHDJUHDWVXQVHW
:HZHUHORRNHGDIWHUE\DGHOLJKWIXO
ODG\ ZKR PDGH VXUH WKDW ZH ZHUH FRP
IRUWDEOHDQGZHOOIHG7UDGLWLRQDOVXSSHUV
PLJKW EH VDOPRQ RU VWHZ DQG PD\EH
WDVW\ ULEV %UHDNIDVW ZRXOG JUHHW XV ZLWK
VDXVDJH DQG HJJV SDQFDNHV DQG ORWV RI
IUHVK FRIIHH <RX PD\ EH LQWHUHVWHG LQ
GRZQORDGLQJWKH´3DUNV&DQDGD+HULWDJH
*RXUPHW )RRG $SSµ ZLWK LWV HDUO\
UHFLSHVIRU\RXUH[SHULPHQWDWLRQ
$IWHU WKH VXSSHU PHDO ZH KHDGHG
LQWR WKH KRXVH ,W ZDV LQWHUHVWLQJ WR EH
OHIW DORQH LQ 0XUUD\ KRXVH DORQH ZLWK
WKHJKRVWVRIWKHORQJ GHSDUWHGSDVW$V
WKH VXQ ZHQW GRZQ WKH KRXVH EHFDPH
GDUNHU DQG UDWKHU WKDQ XVH WKH OLJKWV
ZH KHDGHG LQ WR WU\ WKH ROG PHWDO EHG
, GLGQ·W KDYH D EHDUVNLQ UXJ WR VWHS RQ
Just because this is an outpost of civilization didn't mean that the people that ran
the fort lived in primitive ways. Seen here
is an officer's house on the grounds.
EHVLGH WKH EHG DQG WKH IORRU ZDV FROG
EXW QRWKLQJ ZH ZHUH QRW XVHG WR 7KH
KRPHPDGH TXLOW DQG VSUHDG DVVXUHG XV
DV ZH VDQN LQWR WKH VRIW PDWWUHVV WKDW
ZH·G EH ZDUP XQWLO LW ZDV WLPH WR JHW
XS,WZDVQ·WHYHQQHFHVVDU\WRSXWRQD
VPDOOILUHLQWKHFRUQHUVWRYH
,W ZDV MXVW OLNH WKH KRPH ZH ZHUH
EURXJKW XS LQ ,W GLGQ·W KDYH LQGRRU
SOXPELQJ DQG WKH FKDPEHU SRW ZDV RXW
RI RUGHU ZHOO DFWXDOO\ LW ZDV PLVVLQJ
7KH QHDUHVW FRQYHQLHQFH ZDV DFURVV WKH
\DUGWRDQRWKHUEXLOGLQJDQGLWZDVQHF
HVVDU\WRSLFNXSWKHSURYLGHGIODVKOLJKW
DQGKHDGLQWKDWGLUHFWLRQ
:H GLGQ·W KDYH WURXEOH ZDNLQJ XS LQ
WKHPRUQLQJWKDQNVWR0LVWHU5RRVWHU+H
DQGKLVJURXSZHUHELOOHWHGMXVWQH[WGRRU
DQGZHUHXSHDUO\WRJHWWRZRUN%XW\RX
FDQ·W FRPSODLQ <RX·UH QRW JRLQJ WR JHW
PXFKIUHVKHUHJJVRQ\RXUEUHDNIDVWWDEOH
DQ\ZKHUH
)RUW 6W -DPHV LV PDNLQJ WKH 0XUUD\
+RXVHDYDLODEOHIURP-XQHWR6HSWHPEHU
7KHUH LV RQO\ RQH JURXS SHU QLJKW DQG
\RX QHHG WR ERRN DKHDG 7KLV LV D UHDOO\
H[FLWLQJ H[SHULHQFH HVSHFLDOO\ IRU WKRVH
SHRSOH ZKR KDYH QHYHU OLYHG LQ ROG
KRPHV,FHUWDLQO\UHFRPPHQGLW
,W·V YHU\ HQMR\DEOH WR YLVLW WKHVH IRUWV
WKDW ZHUH VR LPSRUWDQW WR WKH GLVFRYHU\
DQG GHYHORSPHQW RI HDUO\ &DQDGD ,W·V
LPSRUWDQWWKDWRXUFKLOGUHQOHDUQDERXWWKH
ELUWKRIRXUFRXQWU\DQGKRZRXUKLVWRU\
VKDSHVZKDWZHGRQRZ
)RUPRUHLQIRUPDWLRQYLVLW
ZZZIRUWVWMDPHVFD
Volume 43 Number 6 | RV Lifestyle
47
less is the new more.
VWRSSODQQLQJVWDUWOLYLQJ
toll free (877) 545-4897
visit golittleguy.com or tab-rv.comWR´QGDORFDOGHDOHU
48
RV Lifestyle | Volume 43 Number 6
RV PRODUCTS
6M_/MIZ
Accessorize at your campsite!
We present some of the latest gadgetry and tools to enhance your travels this season!
<7?16/
+76>-61-6+2ZQHUVRIWRZYHKLFOHVPD\ZDQWWRFKHFNRXW7KH(OHSKDQW6WDQGKLWFKZKLFK
RIIHUV D YHUVDWLOH VWHS IRU HDV\ DFFHVV LQWR WUXFN EHGV ZKLOH SURYLGLQJ D SRXQGWRZUDWLQJLQRQHFRPSOHWHSDFNDJH$FFRUGLQJWRWKHFRPSDQ\WKHXQLWKDV
DWZRLQFKEDOOPRXQWWKDWILWVWLJKWO\RYHUH[LVWLQJEDOOPRXQWVDVZLYHOVWDQGWKDW
KDVDUDWLQJRIDSSUR[LPDWHO\SRXQGVDQGDSODWIRUPRUVWHSWKDWPHDVXUHV
[LQFKHV7KHFRPSDQ\DOVRVD\VWKH(OHSKDQW6WDQGSURYLGHVDFXVKLRQHG
VWHSRUDQLFH´ERXQFHµDVWKHGHVLJQXWLOL]HVWKHVKRFNVRIWKHWUXFN,QVWDOODWLRQ
LVVDLGWREHHDV\ZLWKQRGULOOLQJLQWRWKHWUXFNIUDPHUHTXLUHG
www.elephantstand.com
01<+076<0-;41,-
%:7UDLOHU+LWFKHVRIIHUVLWVSRXQG3DWULRWUDLOPRXQWHGILIWKZKHHOVOLGHU
KLWFKIHDWXULQJWZRVROLGRQHLQFKWXEXODUVWHHOFDUULDJHUDLOVGHVLJQHGZLWKVWXUG\
FHQWHU VXSSRUWV WR SUHYHQW UDLOV IURP GHIRUPLQJ RU ELQGLQJ DV D UHVXOW RI IOH[LQJ
XQGHUORDG$XQLTXHIHDWXUHLVLWVKRXUJODVVVKDSHGUROOHUWKDWFRQYH\VWKHFDUULDJH
PHFKDQLVPZLWKDIOXLGPRWLRQDQGRQFHXQORFNHGWKHKLWFKLVIUHHWRVOLGHEDFN
LQWRLWVPDQHXYHULQJSRVLWLRQ,WDOVRPRYHVHIIRUWOHVVO\WRLWVORFNHGSRVLWLRQMXVW
LQIURQWRIWKHUHDUD[OH7KHXQLWFDQDFFRPPRGDWHLQFKHVRIVOLGHDQGLVLGHDO
IRUVKRUWEHGSLFNXSWUXFNVZKLFKDOORZVOHVVWUDYHOGLVWDQFHWRWKHFDE9HUWLFDO
DGMXVWPHQWVFDQDOVREHPDGHIURPWRLQFKHVRIIHULQJDPSOHFOHDUDQFHIRU
WDOOHUWUXFNEHGZDOOVwww.turnoverball.com
):-)4/);
7KHUHDUHPDQ\UHDVRQVWRUHPRYHRUWUDQVIHUIXHOIURPRQHYHKLFOH
WR DQRWKHU ZKHWKHU LW·V UHTXLUHG IRU D WRZ FDU WRZ YHKLFOH PRWRU
F\FOHDQ$79RURXWERDUGHQJLQHWDQN3HUKDSVRYHUFRPHWKLVFKDO
OHQJHZLWKWKH*DV7DSSHUZKLFKXWLOL]HVD9SRZHUHGSXPSDQG
KRVHWKDWE\SDVVHVILOOHUQHFNEORFNDJHUROORYHUYDOYHV7KHV\VWHPLV
VHOISULPLQJDQGFRPHVLQDIXPHSURRIVWRUDJHER[
www.gastapper.com
Volume 43 Number 6 | RV Lifestyle
49
RV PRODUCTS
2=;<16̉+);.HHS\RXUFRPSDFWPRELOHHOHFWURQLFVDQGDOORIWKHDVVRFLDWHG
FRUGVDQGDFFHVVRULHVRUJDQL]HGDQGVDIHIURPZDWHUGLUWDQG
VSLOOVZLWKWKH6.,766PDUW&DVHE\5HOLHI3RG$FFRUGLQJWR
WKHFRPSDQ\WKHFDVHKLJKOLJKWVDILYHOD\HUSURWHFWLYHPDWH
ULDO LV VWUHDPOLQHG WR ILW D YDULHW\ RI EDJV RU VPDOOHU VWRUDJH
DUHDV LQ \RXU 59 DQG H[SDQGDEOH HODVWLF SRFNHW GLYLGHUV WR
HDVLO\DGGDQGUHPRYHLWHPV$QDWWDFKHGORRSLVDOVRIHDWXUHG
WRKDQJWKHFDVHLQDYDULHW\RIFRQYHQLHQWORFDWLRQV
www.reliefpod.com
41/0<̉=8
$YRLGPDLQWHQDQFHRQ\RXU59RUHYHQVHWWLQJXSFDPSLQWKHGDUN
ZLWK WKH 0DJQHWLF 5HFKDUJHDEOH /(' :RUNODPS IURP 'HO &LW\ ,Q
DGGLWLRQ WR LWV KLJKLQWHQVLW\ OXPHQ IORRG EHDP WKH XQLW RIIHUV
59HUVWKUHHRSHUDWLQJPRGHVLQFOXGLQJSHUFHQWLQWHQVLW\SHU
FHQWLQWHQVLW\DQG626IODVKLQJLQWKHHYHQWRIUHTXLULQJLOOXPLQDWLRQ
GXULQJDURDGVLGHHPHUJHQF\0RELOHDQGOLJKWZHLJKWWKHXQLWKDVD
PDJQHWLFEDVH²DOORZLQJLWWREHPRXQWHGLQPDQ\ORFDWLRQV²DQGWKH
EDVHLVDGMXVWDEOHWRRIIHUDYDULHW\RIDQJOHV,WFRPHVZLWKILYHWKUHH
ZDWW/('VDQGFRQVLVWVRIDPSV
www.delcity.net
;<-8=8
7KHDXWRPDWLF&RDFK6WHSVIURP/LSSHUW&RPSRQHQWVLVWKH
LGHDOVROXWLRQZKHQVWHSVWR\RXU59QHHGWREHUHSODFHGRU
XSJUDGHG$YDLODEOHLQVLQJOHGRXEOHRUWULSOHVWHSPRGHOV
WKHXQLWVDUHVDLGWRH[WHQGRUUHWUDFWDXWRPDWLFDOO\ZKHQ\RX
RSHQRUFORVH\RXU59GRRU7KH\FDQDOVREHRYHUULGGHQYLD
WKHSRZHUVZLWFKDWWKHGRRUHQWUDQFHDQGDIHDWXUHGLJQLWLRQ
VDIHW\ VZLWFK ZLOO UHWUDFW WKH VWHSV LQ WKH HYHQW \RX VWDUW WR
WUDYHO ZLWK WKH VWHSV ORZHUHG 7KH VWHSV DUH VHOIOXEULFDWLQJ
IHDWXUH ZHDWKHUSURRI ZLULQJFRQQHFWRUV DQG WKH WUHDG PHD
VXUHV[LQFKHV
www.strombergcarlson.com
50
RV Lifestyle | Volume 43 Number 6
/:14476
<0-/7
7KHSHUIHFWDOWHUQDWLYHWRXVLQJDWUDGLWLRQDOEDU
EHFXHDW\RXUFDPSVLWHWKH6WDNH*ULOOIURP
6WURPEHUJ&DUOVRQPHDVXUHV[LQFKHVDQG
VWD\VVHFXUHO\LQSODFHRYHUDQRSHQILUHZLWKLWV
LQFKORQJVWDNH7KHVWDNHDOVRSLYRWVDZD\
IURPWKHILUHZKHQPHDOVDUHFRPSOHWHGDQGLW
HYHQ VOLGHV XS RU GRZQ WR HIIHFWLYHO\ FRQWURO
WKHDPRXQWRIKHDWWRWKHIRRG8SWXUQHGHGJHV
DOVR SUHYHQW PHDW DQG YHJHWDEOHV IURP UROOLQJ
RII WKH JULOO ,W KDV D FKURPH ILQLVK DOORZLQJ
IRUHDV\FOHDQXSVDQGDQ\ORQFDUU\LQJEDJLV
LQFOXGHG
www.strombergcarlson.com
4-<<0-:-*-
41/0<
7KH 7XEHH UHFKDUJHDEOH ODQWHUQ IURP &DQDGDEDVHG
1RUWKZD\ *OREDO LV D FRPSDFW SRUWDEOH OLJKWLQJ XQLW
GHVLJQHGWRLOOXPLQDWH\RXUFDPSVLWHDWDVHFRQG·VQRWLFH
$FFRUGLQJWRWKHFRPSDQ\WKHXQLWXWLOL]HV/('OLJKWQLQJ
DQGKDVDEDWWHU\OLIHRIVL[KRXUVZKHQVHWRQKLJKHLJKW
KRXUV ZKHQ VHW RQ ORZ DQG KRXUV XVLQJ WKH 5*%·V
+RZHYHUWRDFFRPPRGDWHWKHGDUNHVWVLWXDWLRQVWKHOLJKW
LVVDLGWRRIIHU/XPHQVZKHQVHWRQKLJK,WFDQDOVR
EHFKDUJHGE\VRODUSRZHURUYLDZDOODQGFDUSOXJV2QH
NH\IHDWXUHLVLWVDELOLW\WRFRQWUDFWWRDERXWDVHYHQWKRI
LWVVL]HIRUHDV\VWRUDJHDQGWUDQVSRUW
www.northwayglobal.com
Volume 43 Number 6 | RV Lifestyle
51
Get in the fast lane to
Class A comfort and
luxury with Jayco's line
of motorhomes.
Loaded with value,
both our Class C and
A motorhomes are
packed with everything
you need for your RV
adventures.
Both products carry
on our long-standing
tradition of quality
craftsmanship you can
count on.
AS
S
ON EEN
T
COV HE
ER
Your Jayco Motorized ALBERTA DEALERS
BUCARS RV CENTRE
262109 Balzac Blvd.
Balzac, AB T4B 2T3
403.207.1666 1.800.267.8348
www.bucarsrv.com
RV CITY
8704-100 Street
Morinville, AB T8R 1K6
780.939.2900 1.888.438.8588
www.rvcity.ab.ca
HAPPY TRAILS
15211-100 Street
Grande Prairie, AB T8V 7C2
780.538.2120 1.877.538.2120
www.happytrailsrv.ca
Tech Tips Road Tests Destinations Hitch Hints and More!
SUBSCRIBE TODAY!
UNDS
MPGRO
A'S CA
CANAD
UIDE TO
YOUR G
grounRdU\
Camp'
LUHFW
ing a
Choos PSITE
CAM
00+
4,5
AN
CANADIROUNDS t!
PG
as
CAMhern
Sout
ast to Co
From Co
L
SPE$5.9CIA
5
North Alabama
South California's
Anza-Borrego
State Park
SPECIAL EDITI
ON:
PLUS a FREE Digital Subscription!
2014
$4.95
T 3 years $45.00
FREE Digital Subscription
T
T
T
ESSEX 4503
MOTOR COACH
Cheque
1$0(3/($6(35,17&/($5/<
RV BUYER'S
GUIDE PLUS
RV Tips: Power to RVers!
The Cooking Ladies: Peace Among
the Grapes
,QYLFWD'U8QLW2DNYLOOH21/+5
rvlifemag.com
r.PUPSIPNFT
r'JGUI8IFFMT
r5SBWFM5SBJMFST
r5SVDL$BNQFST
r5PZ)BVMFST
r1BSL.PEFMT
r'PME%PXO$BNQ
JOH5SBJMFST
$''5(66
&,7<35293267$/&2'(7(/(3+21(12
3XEOLFDWLRQV0DLO$JUHHPHQW
&5(',7&$5'12
(;3,5<'$7(
&9&2'(
6,*1$785(
HQW
EMAIL ADDRESSR3/($6(6(1'0(7+(59/,)(67</(FREE DIGITAL ISSUE $1'(1(:6/(77(5
OLFDWLRQV0DLO$JUHHP
* Allow 4-6 weeks for processing. Taxes Included
21/+53XE
+PZWSH`\U[PS5V]L
TILY
$5.95
6HQG6SHFLDO2IIHUWR RV Lifestyle Magazine,,QYLFWD'U8QLW2DNYLOOH21/+5RUID[WR
=VS5V
,QYLFWD'U8QLW
2DNYLOOH
52
T 2 years $32.00
FREE Digital Subscription
NEWMAR
RV
BUYER'S
GUIDE
Vol. 43 No. 5
BEST DEAL
ES:
ATUR
IAL FE
SPEC
PLORE
ts, RV
ND
More!
HEARTLA
Hitch Hin
dRV
s….an
TORQUE
ing Ladie SS261
ok
The Co
TOY HAULER
W
WD'U8QL ,QYLF 1/+5 QW
HHPH
2DNYLOOH2
V0DLO$JU
3XEOLFDWLRQ
No. 3
Travel
ANNUAL RV BUYER'S GUIDE
CANADIAN CAMPGROUND DIRECTORY
EX
bia's
Colum
e
British rcle Rout
Ci
IC
'S SCEN
TARIO County
VISIT ONEdward
TEST
WE
Tips,
Prince
rvlifemag.com
Vol. 43
7 Issues per year Including:
PLUS:
r375*14
r)*5$))*/54
r5)&$0
r37130%6$ 0,*/(-"%*&4
54"/%.03&
w
RV Lifestyle | Volume 43 Number 6
For faster service call 1-800-354-9145
or visit rvlifemag.com
RV SHOW
CALENDAR 2015
JANUARY
JANUARY 16 – 18
Toronto RV Show and Extravaganza
International Centre
Mississauga, Ontario
(888) 331-8885
www.rvshowtoronto.ca
FEBRUARY 13 – 16
42nd Annual London
RV Show
Western Fair Agriplex
London, ON
(800) 668-4903
www.londonrvshow.com
FEBRUARY 19 - 22
JANUARY 22 – 25
Halifax RV Show
Exhibition Park
Halifax, NS
(888) 454-7469
[email protected]
www.arvda.ca
JANUARY 29 –
FEBRUARY 1
46th Annual Calgary RV Expo and Sale
BMO Center –
Stampede Park
Calgary, AB
(888) 858-8787
[email protected]
www.rvda-alberta.org
JANUARY 30 –
FEBRUARY 1
Hamilton RV Show and Sale
Player's Paradise
Stoney Creek, ON
(888) 331-8885
www.rvshowhamilton.ca
FEBRUARY
FEBRUARY 5 – 8
35th Annual Edmonton
RV Expo and Sale
Edmonton Expo Centre - Northlands
Edmonton, AB
(888) 858-8787
[email protected]
www.rvda-alberta.org
FEBRUARY 12 – 16
Red Deer RV Show
Westerner Park
Red Deer, AB
(888) 858-8787
[email protected]
www.rvda-alberta.org
Earlybird RV Show & Sale
Tradex Trade &
Exhibition Centre
Abbotsford, BC
(604) 870-4678
www.rvshowsbc.com
FEBRUARY 20 – 22
Central Alberta RV Show
and Sale
Westerner Park
Red Deer, AB
(888) 858-8787
[email protected]
www.rvda-alberta.org
FEBRUARY 20 – 22
Moncton RV Show
Moncton, NB
Moncton Coliseum Complex
(888) 454-7469
[email protected]
www.arvda.ca
FEBRUARY 26 – MARCH 1
Toronto International RV Show
The International Centre
Mississauga, ON
(888) 331-8885
www.torontointernationalrvshow.ca
MARCH
MARCH 5 – 8
Montreal RV Show
Montreal, QC
Olympic Stadium
(514) 338-1471
www.salonvr.com
MARCH 13 – 15
Manitoba RV Show and Sale
Winnipeg, MB
RBC Convention Centre
(204) 256-1916
[email protected]
www.manitobarvshow.com
MARCH 26 – 29
Quebec City RV Show
Quebec City, QC
Centre de foire ExpoCité
(514) 338-1471
www.salonvr.com
APRIL
APRIL 10 – 12
Vancouver Island RV Show & Sale
Nanoose Bay, BC
Arbutus Meadows Equestrian Centre
(604) 575-3868
[email protected]
www.rvda.bc.ca
APRIL 17 – 19
Kitchener RV Show & Sale
Kitchener Memorial Auditorium
Kitchener, ON
(888) 331-8885
www.rvshowkitchener.ca
Volume 43 Number 6 | RV Lifestyle
53
Ad INDEX
Alberta Jayco Motorized Dealers ............................................ 52
B&W Trailer Hitches............................................................... 29
BrakeBuddy/Hopkins Manufacturing Corporation .................. 48
Can-Am RV Centre ................................................................. 15
Dodge RAM............................................................................ 56
Earlton RV .............................................................................. 54
Fiamma .................................................................................. 35
Great Escape RV .................................................................... 35
Heartland Recreational Vehicles ............................................. 13
Highland Ridge RV ................................................................... 2
Husky Hitches ........................................................................ 17
Koolatron ............................................................................... 23
Little Guy Worldwide.............................................................. 48
McPhail's of Harriston ........................................................... 54
Navigloo ................................................................................. 23
Ontario Recreational Vehicles Dealer Association .................. 19
Owasco Recreational Vehicles ............................................... 29
Pleasure-Way Industries .......................................................... 5
Pro-Lite .................................................................................... 9
Roadtrek Motorhomes Inc. .................................................... 11
RVL Subscription ................................................................... 52
Sicard RV ............................................................................... 21
Safari Condo Recreational Vehicles........................................ 16
Snap-on Tools........................................................................ 55
Thor Motor Coach .................................................................... 7
McPhail's
of Harriston
IN THE HEART OF ONTARIO
3 km South of Harriston, on Cty. Rd. 109, old Hwy #9
Take a little drive to the country for big savings !!!
COACHMEN
CLASS C
Coachman
Catalina TT
ALLEGRO BUS
CEDAR CREEK
SURVEYOR
CHAPARRAL
R POD
s 20,000' INDOOR SHOWROOM
s FULL SERVICE – FROM LARGE MOTORHOMES
TO FOLDING TRAILERS
s SERVING OUR CUSTOMERS SINCE 1958
s LARGE PARTS & ACCESSORIES STORE
Where Service is our Motto
Phone (519) 338-3422 or Toll Free 1 (888) 665-2025
Fax (519) 338-2770 E-mail: [email protected] www.mcphails.on.ca
54
RV Lifestyle | Volume 43 Number 6
VIKING
HARDTOPS
ONLY ONE BUSINESS
CAN BE THE BEST.
WHY NOT OWN IT?
Snap-on is a trademark of Snap-on Incorporated, ©2013 Snap-on Incorporated. All rights reserved.
LEARN MORE HERE
Snap-on® is a world leader in the design, manufacture and marketing of innovative, top-quality, value-added tools,
software and services to the automotive, aviation, marine, RV, ATV, and related industries. Our unique network
of more than 350 franchisees in Canada is a crucial link to our customers. As a Snap-on franchisee you'll take
your well-merchandised "Mobile Store" to your customer's place of business and provide personalized service and
solutions associated with the world-renowned Snap-onBRAND#USTOMBUSINESSSOFTWAREFRANCHISEkNANCINGAND
CUSTOMERCREDITkNANCINGISOFFERED.OROYALTYORADVERTISINGFEESAPPLY)FYOUAREREADYTOBEYOUROWNBOSSAND
drive your own future, contact Snap-on today.
TO LEARN MORE ABOUT SNAP-ON FRANCHISE OPPORTUNITIES GO TO:
WWW.SNAPONFRANCHISE.CA
QUEBEC/ATLANTIC CANADA:
$%.)30%,,%4)%2 1-800-665-8665 x244
[email protected]
ONTARIO/WESTERN CANADA:
"),,02%34/. 1-800-665-8665 x351
[email protected]
HOW DO YOU BECOME THE MOST
p
pickup ever?
*
p
fuel-efficient
ram 1500
With hard work. And smart work. The 2015 Ram EcoDiesel is more fuel efficient
than F-150 EcoBoost.* Thanks in part to innovations like an 8-speed automatic transmission
and an available class-exclusive Active-Level Four-Corner Air Suspension with aero mode.1
The Active-Level Four-Corner Air Suspension automatically lowers the truck at highway speed,
helping to maximize aerodynamics for enhanced handling and fuel efficiency. Just another
reason why Ram has the highest customer loyalty of any full-size pickup.2
TM
TM
34 MPG HWY.
MORE FUEL EFFICIENT
THAN F-150
ECOBOOST*
9,200 lb
towing
3
420 lb-ft
torque
EXCLUSIVE
ACTIVE-LEVEL
4-CORNER
AIR SUSPENSION1
LONGEST
LASTING
LINE OF trucks
in canada4
RAMTRUCK.CA
*Based on a comparison of 2015 EnerGuide highway fuel consumption ratings for 2015 Ram 1500 4x2 with 3.0L EcoDiesel V6 and 8-speed automatic (up to 34 MPG highway) and 2015 Ford F-150 4x2 EcoBoost V6 6-speed automatic (up to 31 MPG highway). 1Based on 2014 Automotive News
Full-Size Pickup segmentation. Optional feature available. 2Based on third-party Canadian competitive 'trade-in' data for MY2008 to MY2013 new full-size pickups. 3When properly equipped. 4Based on longevity of entire Ram large pickup segment compared to all competitive large pickups on
the road since 1988. Longevity based on IHS Automotive: Polk Canadian Vehicles In Operation data as of July 1, 2013, for model years 1988-2013 for all large pickups sold and available in Canada over the last 26 years.