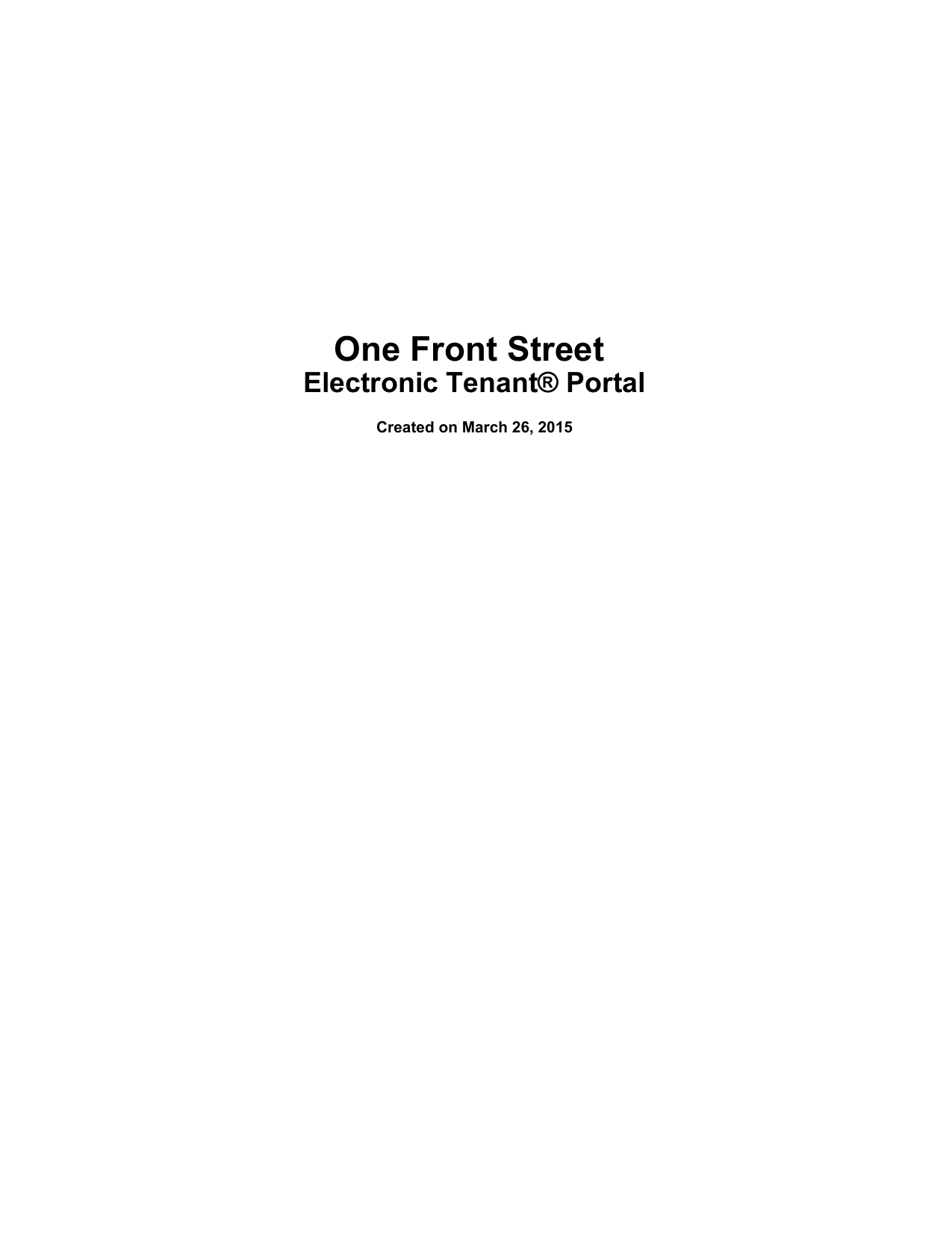 One Front Street
Electronic Tenant® Portal
Created on March 26, 2015
Building Amenities: Bicycles
It is building policy that no bicycles are allowed in the building lobby. Bicycles must be carried in and out of
the building at all times. Bike parking is available in the building garage.
We have provided a parking cage in the garage at 36 Battery Street where tenants may keep their bicycles
locked-up. This service is open to the tenants only on a first-come first-served basis.
Hours for bike parking is as the garage, 5:00AM - 8:00PM on weekdays (Monday - Friday) and closed
during weekend periods (Saturday and Sunday). The garage may be closed on certain holidays or offer
reduced operating hours - be sure to inquire during such periods. Bicycles are not allowed to be removed
after hours or on weekends without prior arrangement and authorization from the Building Management.
Riding through the garage is strictly prohibited. Cyclists are required to walk their bikes in the garage to
avoid accidents with incoming cars.
Building Management is not responsible for fire, theft, damage, or loss to bicycles and/or parts thereof.
Bicycles and locks left on rack more than 24 hours without prior approval will be removed.
If you have any questions, please do not hesitate to contact the Building Management Office (415)
391-4445.
Building Amenities: Flyers and Memorandums
From time-to-time the Building Management Office will email or deliver memorandums containing
information of interest to our Tenants. Please instruct your staff to deliver all such information to your
designated Tenant Administrator for internal distribution.
Building Amenities: On-Site Amenities
One Front Street is pleased to have fine service and retail establishments within the Building:
COFFEE SHOP & SANDWICHES
Front Door Cafe Main Lobby
SNACKS & SUNDRIES
John's Snack & Deli Exterior – 40 Battery Street
Based upon tenancy as of August 2014, and subject to change.
Building Operations: Building Management
On-Site Management Team
Jones Lang La Salle Americas Inc. operates a full-time Building Management Office located in Suite 960 at
One Front Street. Office hours are from 8:00 a.m. to 5:00 p.m. weekdays (excluding holidays). You can
reach the Building Management Office by:
Tel: (415) 391-4445
Fax: (415) 392-7550
The lobby security console is staffed 24/7 and can be reached at (415) 421-3058.
A full-time staff is dedicated to the One Front Street Building and consists of:
Administrative Management
David Starkey
Lya Terry
Jessie To
Kat Mendoza
General Manager
Property Manager
Property Accountant
Property Administrator
Engineering Department
Jose Luis Rojas
Jose Paredes
Mike Mitchell
Henry Lee
Chief Engineer
Assistant Chief Engineer
Engineer
Engineer
Security
Jason Chen
Site Security Director
TENANT ADMINISTRATOR
Each Tenant is responsible to designate at least two Tenant Administrators who shall have authority to
authorize certain types of activities on behalf of the Tenant.
The list of the Tenant Administrator(s) will be kept on file at the Building Management Office and at the Main
Lobby Security Console. Original issues and subsequent modifications to the above information will require
the signature approval of an authorized Tenant Administrator.
Select your Tenant Administrator(s) carefully, for they are empowered to determine for your firm:
Persons who will be granted after-hours guest access to the building
Persons who will be permitted to remove property from the building
Lock changes and/or the ordering of additional keys and access cards
Authorization for improvement work that billable to the Tenant
Persons who should be notified in case of an emergency
Persons who will comprise your emergency life-safety team
If you experience staff changes, which affect your Tenant Administrator designations, please contact the
Building Management Office immediately to ensure information on file is current.
Click here to download a Tenant Administrator Designation Form
Building Operations: Holidays
The Building Holidays observed each year are listed below in order to aid your planning operations during
the year.
New Year's Day
Martin Luther King Day
Memorial Day
Independence Day
Labor Day
Thanksgiving Day
Christmas Day
Certain services are not provided on weekends and the holidays listed above.
Building Operations: Leasing
The leasing company for One Front Street is also JLL, they are located at One Front Street, Suite 1100,
San Francisco, CA 94111. The main phone number is (415) 395-4900. Listed below is the contact
information for the authorized representatives.
Phone
Number
Regional Leasing
Wesley
(415)
Director
Powell
395-4901
Senior Vice President Ted Davies (415)
395-4972
Managing Director
Chris Roeder (415)
395-4971
Title
JLL Website
Name
E-mail
[email protected]
[email protected]
[email protected]
Building Operations: Rent Payments
Jones Lang LaSalle Americas Inc. provides monthly statements for leases and other miscellaneous
charges as a courtesy. Regardless of the actual invoice receipt date, all rental payments are due on the first
day of the month and may be subject to late fees or penalties if they become past due.
Important
If your lease payments are processed at an off-site location or invoices must be received by your office
significantly in advance of their due date for timely processing - do not await receipt of the Market Front
Associates LP monthly lease statement to process your rental payment. Refer to your lease agreement to
obtain the correct payment amount. If you have a question about the proper amount of your payment,
particularly for a pro-rated tenancy period, the Building Management Office will be happy to assist you.
Make all payments to the Landlord payable to:
Market Front Associates, L.P.
Mail all payments to the Landlord to the following address:
Market Front Associates, L.P.
Jones Lang LaSalle Americas, Inc. as Agent
Los Angeles Lockbox #742630
ERE FOR Market Front Associates
P.O. BOX 742630
Los Angeles, CA 90074-2630
All payments to the Landlord must be mailed to the off-site address indicated above. The Building
Management Office will not accept any lease payments.
Building Security: After Hours Access
Card-Key Only Building Access
Building Access to all areas allowed via Card-Key only. The procedure has been outlined below:
All building occupants will be expected to utilize their card key for access to their authorized locations.
This can be achieved by entering your destination floor at one of the four (4) keys pads provided in
each elevator bank, once you have entered your destination floor you will swipe your card at the
reader located within each key-pad and will be assigned an elevator which will take you to your
destination floor. If you are having issues with your card, please speak to our security for assistance.
Tenants Occupying Multiple Floors: Once the destination floor is reached, the user may travel
between Tenant floors without having to return to the main lobby. This ability is referred to an
"inter-floor matrix," where the system is programmed to allow a user to access multiple floors within
an authorized group.
For example, Company ABC has offices on Floors 1, 2, and 3. Employee of Company ABC is able to
access Floors 1, 2 and 3 only.
Access to floors outside of the authorized group will not be accessible.
Freight Elevator: All occupants who have been authorized to carry an access card for the building's
passenger elevators will also have access to the building's freight elevator. Any authorized access
that has been programmed into an individual's card-key applies to the Freight Elevator.
For example, employee from Company ABC can access offices for Company ABC on Floors 1, 2,
and 3 via Passenger Elevator.Employee of Company ABC can use Freight elevator to access Floors
1, 2 and 3.
All other building rules and regulations for the Freight elevator will remain unchanged.
Access Denied: In the event an individual receives an "Access Denied" reading, Security Personnel
is instructed to immediately contact one of the employee's Tenant Administrators to confirm the
individual is still authorized to enter the location. If the person is authorized, Security will provide
access, correct the problem within the system and return/replace the access card. If the person is not
authorized, entry will not be allowed and the card-key will be deactivated, returned to the Security
Office or the Tenant. This issue is sensitive and the building understands everyone needs to continue
to their destination. However, these measures are put in place for the benefit and safety of the entire
building. We ask you to partner with us to ensure a safer environment for all.
Visitor Management System: Occupants of One Front Street must please provide notice via e-mail
to our Security Director and Building Management Team of an anticipated guest. This information
should be provided at the earliest opportunity to allow for free flow of traffic in the building's main
lobby.
When guests arrive, their driver's license will be scanned and they will be provided a visitor
badge. Visitor's badges automatically expire within 12-hours of issuance.
In the event the visitor does not have a valid driver's license or State ID, other forms of
identification will be accepted but will require data entry by Security.
Once the visitor is checked in they will be directed to an elevator to travel to their pre-approved
destination.
For guest(s) and/or service delivery personnel you know will be arriving on certain days, their
information will be retained in our records and there will be no need for you to re-submit a
request. It is vitally important to notify Security and Building Management if an individual is no
longer an approved guest.
Please have your authorized Tenant Administrator (unless your company has a different procedure) email
our Security Director at [email protected] and the Property Administrator,
[email protected] with the following information for your guests:
Name
Date(s)
Approximate arrival time(s)
You will receive confirmation that your request is approved or requires additional information
Who can authorize a guest: All occupants of the building who have an authorized card key can
invite guests into the building. In the event an Occupant identifies that one of their employees needs
approval of a guest authorization, please notify our Security Director and Building Management so we
can ensure the procedure is in place. All guests must check-in with security and be issued a visitor
badge â even when accompanied by an Occupant of the building. This procedure is a benefit to our
occupants and allows us to identify all persons who have entered the premise should the need arise.
Occupant participation will make this procedure much more effective.
Click here to download the Tenant Administrator Designation
Out of Town and Contract Employees: Please have an authorized Tenant Administrator to notify
the Security Director and/or the Building Management of employees who are located out of town
and/or contract employee who require access. Make sure that you remember to provide such
individuals with a key to your suite for after-hours access purposes.
Vendor and Contractor Management: A Certificate of Insurance and in some instances prior
approval of work is required by Building Management. Otherwise the same process apply with the
Visitor Management System. The only change is we will have the ability to scan their information
directly into our database and assist them in accessing the floors they are authorized for.
Click here to download the Rules and Regulations – Contractors & Vendors
Surprise Visit: It is not always known in advance when a visitor will arrive and we understand! Our
Security Personnel retains a list of authorized Tenant Administrators who they will attempt to contact
and confirm authorization of visitors who have not been pre-approved. Please make sure you keep
this list up-to-date and add as many people as you'll allow us to contact under this circumstance. If
the visitor has the contact number of the individual they are visiting; we will also phone the authorized
occupant directly and confirm they are expecting someone.
Large Group: In the event you will be hosting a large group or conference, we ask for a minimum of
24 hour notice of the event to Building Management and Security. If you are unable to provide a
guest-list, we ask you to notify us of the upcoming event ASAP and we will work with you to ensure an
easy flow of traffic. All visitors and guests will be asked to check-in with security.
It is important to understand that the security program is implemented as a service for our Tenant. Please
contact Building Management to discuss any concerns you have with the system or special requirements.
Our Security Director, Jason Chen, is our primary contact for security-related requests including
access card-keys and building access notification. Office hours: Monday-Friday, 6:30 AM - 3:00 PM.
The email box for security requests will be monitored form 6:30 AM - 5:00 PM Monday-Friday.
Please CC: Property Admin, Kat Mendoza. Any requests after-hours should call the Building Office
at 415-391-4445, this number is answered 24/7.
Building Security: Building Access
One Front Street Building is open Monday-Friday from 7:00 AM to 6:00 PM (excluding holidays). During this
period, all lobby and garage doors remain unlocked for convenient access. After hours, Monday-Friday from
7:00 PM to 6:00 AM, entry is only available only through the Front St. entrance of the building.
Building Security: General Office Security
One Front Street provides Security service 24-hours a day, seven days a week. The security console is
located in the Main Lobby across the building directory. Security Officers are present to assist visitors,
monitor access, and prevent solicitors from entering the building.
You may telephone the security console directly at (415) 421-3058 or call the Building Management Office
at (415) 391- 4445 to provide a radio dispatch during office hours.
Contact Security and/or the Building Management Office if:
An emergency occurs. If the emergency is medical in nature Dial 911, then notify the Security
Console or Management Office. The Security Officers can assist medical technicians with parking,
dedicated elevator service, and directions to get help expedite the process.
You observe unusual activity or suspicious people around your Suite.
A solicitor enters your office and tries to sell something. (If you can provide a good description and
determine the direction they went, it would help us to quickly locate and remove them.)
Notify us of any crimes committed, after your notification to the police department.
Alarm Systems
If you are considering the installation of an alarm system for your suite, please contact the Building
Management Office. Special arrangements regarding janitorial and emergency access will be required.
Facts of Life
While our Security Staff is available to respond to emergencies, their primary function is to protect the
building. We cannot be responsible for the security of your property and furnishings. Although the presence
of security personnel may deter theft and vandalism, Security Officers do not have the authority to
apprehend and arrest suspects.
SECURITY CHECKLIST
The following checklist contains general office security suggestions. This checklist may be used as an aid in
establishing whether your internal security procedures are adequate.
Limit the number of keys issued to your office. Only those people requiring after-hours access should
be provided with a key.
Keep complete, up-to-date records of the disposition of all office keys.
Have adequate procedures for collecting keys, company I.D. cards, and/or Building passes from
terminated employees.
Security Checklist (continued)
Establish a rule that keys must not be left on unattended desks or cabinets.
Require that filing cabinet keys be removed from locks and placed in a secure location after opening
of cabinets in the morning.
A responsible person should be in charge of issuing all keys. (Only Tenant Administrators are
authorized to order additional keys.)
Store keys systematically in a secured wall cabinet.
Keep a record showing date/time of issuance and return of every key, including the name of person.
Consider using telephone locks if unauthorized calls are made when the office is unattended.
Provide at least one lockable drawer in every secretary's desk to protect purses and other personal
effects.
Establish a rule that purses and personal property such as cameras should be kept inside employee's
desks.
Never leave laptop computers or other portable computer equipment unattended in unlocked areas.
Due to the size of such items, their removal from the Building can be easily concealed.
Instruct employees to remove wallets from jackets hung in closets or on coat racks.
Security Checklist (continued)
Shred all confidential papers before discarding.
Insist on identification from repairpersons that come to work in your office.
Deposit incoming checks and cash each day so that you do not keep large sums in the office
overnight.
Never leave a petty cash fund in an unlocked drawer or cabinet.
Clear all desks of important papers every night and place them in locked, fireproof safes or cabinets.
Frequently change the combination of safes to prevent anyone from memorizing it or passing it on to
a confederate.
When working alone in the office at night, set the front door lock to prevent anyone else from entering
(excluding janitorial personnel).
Keep the police, fire department, and Building Security telephone numbers posted and handy.
Check that no one remains hiding behind you at night if you are the last to leave the office.
Double-check to see that all doors are securely locked before you leave.
Have an inventory listing all office equipment in your space including serial number and identification.
Require written authorization by a responsible person before any office equipment is released for
repair or maintenance.
For those offices that are equipped with an alarm system or protected by a security alarm service,
make sure the alarm equipment is property set each night.
Building Security: Key and Lock Policy
Security Officers do not have keys to Tenant offices. Persons who are granted after-hours access must
have their own key to enter their suite.
Building Security: Lost and Found
Any lost item(s) should be turned in to the Building Management Office, Suite 960 or the Security Desk in
the main lobby. Please contact the Management Office at (415) 391-4445 to claim items that have been
lost or found in the buildings.
Building Security: Solicitation
Under no circumstance solicitation of business, donations, recruitment, petition signing, etc is not permitted
inside or outside of the building without the Building Management authorization.
All violators should be reported to the Management Office at (415) 391-4445 immediately. Please provide
the description of the person(s), the last area in which they were observed and/or which direction they were
headed. We will send the appropriate personnel to escort them off the premises.
Building Services: Building Signage and Directory
One Front Street has standard signage criteria for the Main Lobby Building Directory, Floor Directory, and
Suite entrance locations. Tenant Administrators should submit all signage requests and/or signage changes
in writing to the Building Management Office.
Requests should include the exact spelling, punctuation, and capitalization, line presentation and spacing
requested. The request will be reviewed for compliance with building standards as well as conformance
with individual lease criteria. A quote will be provided for approval prior to placement or order.
Signage Cost is as follows:
Main Lobby
Elevator Lobby
Suite Signage
$22.00
$52.00
$62.00
Building Services: Cleaning
Nightly Janitorial Service
Nightly janitorial services are provided at One Front Street Monday through Friday evenings. Routine
cleaning includes dusting, vacuuming, emptying wastebaskets and damp-mopping your office. In addition,
all restrooms and common areas are cleaned and stocked each night. Additional cleaning services are
provided on a monthly, quarterly, and annual basis. If you discover that an area in your Suite has been
overlooked – the Building Management Office wants to know about it to ensure better service for you in the
future.
Day Porters
Accidents happen. If something spills in your Suite that requires immediate attention, please notify the
Building Management Office. We can dispatch a Day Porter to assist you.
Carpet Cleaning
Please call the Building Management Office to bring "carpet spots" to our attention. Our nightly cleaning
crew can treat them. If you would like to have your entire carpet shampooed, an additional charge will be
determined and submitted for your approval prior to the rendering of the service.
Window Cleaning
Interior windows and exterior window washing are cleaned on a semi-annual basis. The Building
Management Office can provide you with current scheduling information upon request. In the event of a
conflict with the weather, the weather wins and we will reschedule.
Trash Disposal
Never place any object near, against, or on top of trash receptacles if the material is not intended for
disposal. The building utilizes an on-site trash compactor. This means that even if we do manage to find the
"valuable material" which was accidentally thrown away - you will likely not appreciate its new condition.
Never leave items near the freight elevator to await disposal. This is not only an "eyesore" for other Tenants;
they can block access to restroom areas and constitute a fire hazard.
If you will be disposing of "unusual" items that will not fit into a standard trash receptacle, clearly mark the
items for disposal and place them in a logical area. The Building Management Office has bi-lingual "Trash"
stickers available free of charge for this purpose.
Your firm can be provided with large trash dumpsters for those occasional "spring cleaning" events. A
charge will apply for each dumpster load disposed to reimburse the building for excess disposal frequency
expenses. Contact the Building Management Office for your requests.
Annual memorandums will be distributed relative to holiday tree disposal.
Building Services: Elevators
One Front Street has a total of 16 passenger elevators and one freight elevator which accesses all floors of
the building. The physical features of the elevators are:
Passenger
Capacity:
Low and Midrise: 77" x 62" x 92"h
High-rise: 77" x 57" x 92"h
Freight
Capacity: 4,000 pounds
Dimension (floor area): 79" x 73"
Door Height: 7-feet
Interior Height: 13-feet
All elevators in One Front Street are maintained with the highest standards and should never be tampered
with by anyone other than a certified technician.
Construction workers should also be advised to use the freight elevator when traveling within the building.
Contact the building office for reservation assistance.
Building Services: Forms
For your convenience, we have included downloadable and printable PDF document forms that will expedite
various building management service requests. Hard copies of all forms are available from the Property
Management Office as well. To view and print PDF files, you need the Adobe Acrobat Reader software. If
not already installed on your computer, it can be obtained for free at www.adobe.com.
Bomb Threat Checklist
Building Access Request
Building Approved Contractors
Contractor & Vendor Insurance Requirements
Emergency Response Information
Moving, Delivery & Service Provider Requirements
Property Removal Pass
Relocation Symbols
Rules and Regulations – Contractors & Vendors
Tenant Administrator Contacts
Tenant Information Sheet
Tenant Insurance Requirements
Building Services: HVAC
HVAC services are provided Monday through Friday, from 7:00 a.m. to 6:00 p.m. and on Saturdays from
9:00 a.m. to 1:00 p.m., excluding holidays. Certain areas of the building may experience a slightly different
schedule due to varying mechanical systems.
After-hours HVAC service can be made available at the Tenant's expense, however, please keep the
following information in mind:
Ventilation service (fan only, no mechanical cooling) can be provided to you much more economically
than air conditioning service. This is because it is not necessary to retain an engineer on-site (at
overtime or double time wages) to run the cooling or heating equipment. In addition, the provision of
after-hours cooling services requires the engineer to cool a large portion of the building in order to
create a "load" on the chiller - regardless of the size of your office.
To provide after-hours cooling services, engineering labor must be scheduled in advance. To make
sure that an engineer is available to provide requested services, please submit your request at least
three days in advance to the Building Management Office.
Keep in mind that electricity rates during the summer period (May to October) can average 50%
higher than during the winter period. Costs are based upon the actual expenses incurred by the
building to provide the additional service you request.
Should your firm desire to obtain after-hours HVAC service, you can request Building Management
Office to prepare a written estimate for signature approval of your Tenant Administrator prior to the
rendering of the after- hours HVAC service. An invoice will be sent to your firm following the date of
service.
There is a 4-hour minimum for HVAC on Sundays.
Regarding Heating services, it is rare you will require it to remain comfortable at One Front Street
after-hours. We encourage you to discuss your situation with the Building Management Office prior to
scheduling after-hour heating services.
Building Services: Mail Service
Incoming Mail
Incoming Mail is delivered by the Postal Service directly to your Suite Monday thru Friday. If you have
problems with your mail relating to delivered material or delivery times, you will need to call the Post Office
directly at 1-800-ASK-USPS.
Please note that our Security Officers are not authorized to sign for any deliveries in your absence.
Outgoing Mail
An outgoing mail depository is located in the Building's freight lobby located on the main floor. The Post
Office projects one morning pick-up and two afternoon mail pick-ups, depending upon volume. The last mail
pick-up is at 4:30 p.m.
Express Mail Services
Three express mail services have drop-off boxes in the 36 Battery Street parking facility. You will find drop
boxes for Federal Express, UPS, and On-Trac located on the South garage wall, near the garage entrance
door. Please refer to the service schedule presented by each mail vendor at this location for information
regarding pick-up times and fees.
Building Services: Maintenance Requests
The One Front Street Building Management Office acts as a central dispatch center to take care of a
multitude of routine service requests including:
Response
Time
Lock and key requests (must be coordinated by the
building) (*)
Lighting requests (bulb out, ballast out) (*)
Temperature (hot or cold calls)
Electrical problems
Mechanical problems
Daytime janitorial "clean-ups"
Restroom supply requests (*)
Dumpster or recycling bins requests (*)
Picture hanging requests (1-2 pictures only please) (*)
Telephone Closet/Electrical Closet Access
After-hours HVAC (please refer to HVAC) (*)
24hrs
24hrs
24hrs
1hr
1hr
24hrs
1hr
24hrs
24hrs
1hr
24hrs
(*) These requests may be billable to Tenant. Fees are subject to current labor, materials cost and an
administrative fee.
Simply give us a call at (415) 391-4445 and we will dispatch the proper person to take care of your situation.
We will respond as quickly as possible, however emergency requests will have priority. Please keep the
following in mind:
Building personnel are not authorized to repair or move any personal property items including
furniture, equipment, etc.
Subtenants are required to route their requests through their Sub leaser. Requests for service should
then be directed from the Sub leaser to the Building Management Office. Tenants who assume
possession as the result of a Lease Assignment may contact the Landlord directly.
Common requests will be responded to as soon as possible, but may take up to 24 hours depending
on building activities.
Please provide the following: Name of the person calling, suite number, service request and the
location of the service request.
Fee Schedule
Effective January 1, 2013
Fee schedule is subject to change.
Access cards (i.e.
Replacements)
Carpet – Shampoo Cleaning
Door Keys (i.e. Suite or
Restroom)
Dumpster
Extra Janitorial
Extra Security Service
Elevator/ Main Lobby/ Suite
Signage
Engineering Labor
Hanging Boards
New Carpet
New Lock with cylinder
Repin Lock
$10.00 each
Contact Building Management
$4.00 each
$50.00 per dumpster
$38.00 per hour
$30.00 per hour (minimum 4
hours)
$52.00 – Elevator
$22.00 – Main Lobby
$62.00 – Suite
$89.57 per hour
$30.00 each item
Contact Building Management
$493.00 + 1 hour Engineering
Labor
$40.00 + 1 hour Engineering Labor
Please note that these prices DO NOT include Administration Fees:
$0.00 - $999.99 = 15%
$1,000 – over = 5%
Special Requests
From time-to-time, a Tenant may require special services including minor remodeling or other construction
work. Any such alterations must be submitted to the Building Management Office for approval prior to the
commencement of any work. In most cases, the Building Management Office will elect to coordinate the
work with outside vendors to ensure that it does not negatively impact the building electrical or mechanical
systems. A written cost quote will be forwarded to the Tenant Administrator for approval prior to the
commencement of any such work.
Tenants with specific questions regarding alteration work should consult their Lease to familiarize
themselves with applicable terms and conditions and contact the Building Management Office for
assistance.
Building Services: Parking
One Front Street is served by a parking facility located at 36 Battery Street to accommodate Tenants,
visitors and guests. All parking is provided on a valet basis. Accessible parking spaces for the disabled are
available.
The One Front Street Building garage is leased and managed by CityPark.
Daily Rates:
$4.00
$35.00
$25.00
Every 15 minutes
Maximum (after 9 am & lost ticket rate)
Early bird (in by 6:15 am, out by 7:30 pm)
Monthly Rates:
$415.00
$425.00
Tenant
Non Tenant
Parking rates are, of course, subject to change over time. Inquiries regarding monthly parking availability
and rates, validation programs, operations, etc. should be directed to City Park at (415) 989-6350. Your
lease document will describe the number of parking entitlements allocated to your firm.
The parking facility is open from 5:00 a.m. to 8:00 p.m. on weekdays (Monday - Friday) and is closed during
weekend periods (Saturday - Sunday). The garage may be closed on certain holidays or offer reduced
operating hours.
Cars left in the garage past 8:00 p.m. cannot be retrieved until the following normal business day.
Building Services: Recycling & Composting Program
One Front Street participates in a recycling and compost program through the building's trash disposal
contractor, Recology Golden Gate. The program will limit unnecessary refuse removal to landfill, directly
impact and support local business and achieve a direct savings to our bottom line financial performance. We
ask for everyone to partake by separating the recyclable, compostable and refuseable waste.
Recycling (BLUE) & Compost (GREEN)
The individual BLUE receptacles usually located underneath or beside an employee's desk are to be used
for all recyclable waste such as paper of all types, books, magazines, newspapers, file folders, cardboard,
used pens (if not leaking), aluminum cans, plastic bottles, and any of the other recyclable materials listed on
the Recyclable Materials Guide. At the end of the day, the night janitors place these recyclable items in the
dry compactor. When the dry compactor is picked-up, Golden Gate Debris sorts each item. Please keep in
mind that once wet trash is thrown with the recycle, the entire trash will be placed in the wet trash
compactor and is no longer recyclable. Please click here for the Recycling Flyer
The compost GREEN receptacles will be located in kitchens or break areas. Please dispose all compost
waste such as all food scraps (anything that used to be alive), soiled paper, yard trimmings (flowers and
floral trimmings, etc), other items labeled "Compostable", and any of the other compostable materials listed
on the Compost Materials Guide. Please click here for the Recycling Compost Flyer
Below is a review of the recycling, compost and refuse removal program for One Front Street:
All occupant work stations will be equipped with BLUE recycling and BLACK refuse receptacles.
All occupant break areas will be equipped with BLUE recycling, BLACK refuse and GREEN compost
receptacles.
All restrooms will be equipped with BLACK refuse and GREEN compost receptacles. Receptacles
will be labeled for easy identification
Occupants whose business creates a need for large item refuse removal i.e. carpet samples,
architectural models, steel parts etc. should bag these items and contact Building Management to
arrange for pick-up service by Golden Gate. This also applies to office "clean-ups" that will generate
items that can't be mixed in the recycling compactor or would create too much of a load for the refuse
container.
The following are a few ideas that will make this new program more easily adaptable:
Identify an employee who is passionate about environmental issues to educate and assist colleagues.
Clearly identify receptacles for easy identification by all.
Post signage in collection clarifying what is recycling, compost or other.
Encourage each employee to post the same signage in their work area.
Call the Building Office or Golden Gate Recycling if you need any assistance.
Chris Levaggi - Program Manager Golden Gate Disposal & Recycling
Phone: (415) 575-2437 Fax: (415) 934-8792
www.sfrecycling.com
Cardboard Box Recycling
Place cardboard boxes for disposal in a regularly serviced trash pick-up area such as a copy room or
kitchen and clearly mark the boxes as "TRASH/BASURA". Our janitorial staff is instructed not to dispose of
boxes which are not clearly indicated for removal. The Building Management Office has "TRASH/BASURA"
stickers available, however it is equally acceptable to write a note and tape it to the box, or just write
"TRASH/BASURA" on the boxes themselves.
We do not require you to "break down" your cardboard boxes if you only have a few, but we appreciate the
effort. Flattening boxes will also help to reduce office clutter. For large disposals of cardboard boxes a
dumpster may be required. Please call the Building Management Office at (415) 391-4445 if you have any
questions. Remember the Fire Code states that all aisles and hallways leading to emergency exits must
remain clear at all times.
DO NOT place empty boxes for disposal in the freight elevator vestibule. This poses a fire and a trip hazard.
If you have many boxes and you cannot keep them in your office until the evening pick-up, please call the
Building Management Office for a daytime pick up. We will be happy to dispatch a Day Porter to help you.
Boxes marked as "TRASH/BASURA" will be picked up every evening upon which janitorial service is
normally provided.
E-Waste, Equipment, Furniture, etc.
The Building Management organizes a quarterly E-Waste Collection Event free of service for our tenants to
dispose e-waste equipments such as fax machines, printers, computer components, CRTs (TV's &
Computer Monitors), cell phones, toner cartridges, power supplies, small household appliances and other
e-waste material listed on the E-Waste Guide.
We cannot dispose furniture such as desks, cabinets, chairs, etc. Personal arrangements will need to be
made with an outside vendor or mover to dispose of your furniture. Please contact the Building
Management Office if you need assistance.
Batteries
We encourage recycling of most business related materials at the building. However, batteries are not
accepted and collected by the Building Management.
For your convenience, you may drop them off at the nearby Walgreens stores who will accept them free of
charge. The two nearby Walgreens are located at 33 Drumm Street and 275 Sacramento Street. More
large-scale battery recycling can be done at any of the locations offered on the following website:
www.sfenvironment.com/directories/batteries.htm.
Containers
Recycling containers are the property of the Building and must not be removed from the premises. To obtain
containers, please call the Building Management Office at (415) 391-4445.
Building Services: Telecommunications and Riser Manager
For all telecommunication needs, tenants must include IMG Technologies to ensure a smooth transition into
the building. IMG Technologies serves as One Front Street's riser manager and thus helps design, install,
and maintain the telecommunication infrastructure of the building
Contact IMG Customer Service at 888-464-5520 or [email protected]
Click here to download the IMG Tenant Technology Handbook
Click here to download an IMG Technologies Cheat Sheet
Emergency Procedures: Overview
One Front Street has developed Fire and Life Safety Emergency Procedures as a guide to understanding
the life safety systems and procedures pertaining to the building.
Please ensure that all occupants are familiar with the enclosed material. We encourage you to duplicate it
and provide each employee with a copy. Each Tenant is required to provide the Building Management Office
with its own emergency team response information by utilizing the Emergency Response Information form.
We are required to have this information on file for inspection by the San Francisco Fire Department upon
request.
The building staff conducts an annual fire and earthquake drill, required by the State of California. We are
also required to conduct annual training for all Emergency Team members. Tenants will be provided with
advance notification of the scheduled classes and drills. Participation is mandatory.
Testing of the building's life safety system equipment is conducted on a quarterly basis for your safety.
Whenever possible, the Building Management Office will notify Tenants in advance of the testing dates.
Audible announcements will be provided prior to each actual test. In the event of an actual emergency
during this testing process you will be notified via the public address system.
Emergency Procedures: Bomb Threat
It is essential that the person in receipt of a bomb threat call not risk breaking the telephone connection by
attempting to transfer the call to another party.
In case a bomb threat is phoned into your office, attempt to obtain and record as much pertinent information
as possible:
Personal characteristics of person giving threat including sex, age, tone of voice, accent, etc.
Background noise or particular circumstances surrounding phone call.
Ask caller these questions, if possible:
1. Where is the bomb going to explode?
2. Where is it right now?
3. What does it look like?
4. What kind of bomb is it?
5. What will cause it to explode?
6. Did you (personally) place the bomb?
7. Why?
8. What is your name?
9. What is your address?
Building Management personnel will quickly make a search of the public areas involved. In addition, they
will assist the San Francisco Police and Fire Department in their search of the tenant areas. Whenever
possible, the tenant should have representatives available to assist with the search of their areas. Someone
familiar with the premises is helpful in determining what might be abnormal to the space. Do not take it upon
yourself to move or disturb anything.
Report any bomb threat to the San Francisco Police Department 911
Call the Property Management Office or Security after hours to inform them of the situation.
Keep your check list details available for the Police
Follow the directives from the San Francisco Police Department (SFPD) when they arrive.
Click here to download a Bomb Threat Checklist
Emergency Procedures: Chemical Accident
Chemical accidents would include tank truck accidents involving large quantities of toxic gases. Should
such an accident occur, the following actions should be taken:
Report suspicious odors to the Building Management or Security Desk.
Remain in place unless the spill is from within the office space. Leaving the premises into a more
concentrated hazardous environment could result in a more concentrated exposure.
Telephone the San Francisco Fire Department, the Lobby Security Console and the Building
Management Office giving full particulars.
If evacuation becomes necessary follow the attached Evacuation Procedures.
While evacuating move crosswind typically north or south, never up or down wind, avoid fumes.
Render first aid if it becomes necessary.
Emergency Procedures: Civil Disturbance
Since a Civil Disturbance is beyond our capability of the buildings security, we rely upon the San Francisco
Police Department for assistance. Our best efforts are made in the isolation of the building from public
access and maintaining a transparent, non-provoking environment. The slightest incident can bring an
overwhelming response.
Information concerning demonstrators inside or outside of the building should be reported to the Lobby
Security Console and the Building Management Office. The Police Department will be notified if the
situation warrants.
Employees should avoid the scene of a disturbance and any contact with the demonstrators to
preclude the possibility of incidents or injury. Employees within the building should stay from windows
and draw the curtains and blinds.
All disturbances and any related information will be monitored by the Buildings Security and the
Building Management Office with the possibility that certain building services will be limited in order to
ensure the security and safety of the occupants and property.
Employees should continue working, and be ready to follow instructions of authorized company
representatives.
Tenants may be required to physically verify their guests.
Communications with employees and floor evacuation personnel will be via the public address
system, or through management or their supervisory personnel.
Floor Wardens and Deputies should be prepared to assist in evacuation of a floor or of the building if
such is found necessary.
Do not get in an argument. Leave affected area.
If transportation access becomes restricted, consider keeping your employees at home or having
them work from another office or from their residence.
Emergency Procedures: Earthquake
Preparation
Earthquakes release tremendous amounts of energy primarily due to the massive weight of earth's
movement. During a seismic event there is little that we can do other than seek protection from falling or
breaking objects. Modern high-rise buildings are engineered to withstand seismic movement and not
collapse. The internal buildings are engineered and re-engineered to meet or exceed structural seismic
codes over time in order to withstand seismic motion with minimal damage. The most susceptible
components of a building are the exterior glass and the internal tenant furniture and equipment.
Part of a Floor Wardens responsibilities include the placement and anchorage of their office equipment i.e.
file cabinets, bookshelves, pictures and other decorative displays. Annual Fire Department Inspection while
helpful is not a substitute for an engineering or architectural survey leading to a mitigation plan. The
building management's responsibility is to provide as safe a structure as economically feasible. The
tenant's responsibility includes the provision of supplies to sustain their employees for a minimum of three
days. This includes water, food, blankets, portable battery operated radio, flashlight and medical supplies.
Employees, who are undertaking medication for heart condition, diabetes, epilepsy, etc., need to have their
medical supplies available for their continued health maintenance. The Association of Bay Area
Governments as well as the City of Los Angeles maintains web pages that are helpful with this preparation.
Businesses need to encourage their employees to make personal plans that including their families in order
to reduce the stress of not being able to communicate and know the status of their loved ones. This is a
major task that must first be budgeted for and implemented within each tenant's occupancy. This is a
responsibility that must involve senior management to be successful. The most important act one can take
to successfully deal with the overwhelming power of an earthquake is to prepare for it in advance
Most injuries incurred during an earthquake result from falling objects or debris dislodged by the quake.
During an earthquake, observe the following:
Remain composed and do not panic.
Remain in your office area.
Take cover under tables, desks, or under any close solid object.
Stay away from windows and glass doors.
Keep clear of file cabinets, shelves, and high-stacked material.
Check for any injured persons and administer first-aid where necessary.
Do not start or pass rumors
Floor Wardens should check damage and injuries and be prepared to expedite evacuation of serious
cases.
In case of a fire resulting from an earthquake, follow fire emergency procedures.
Elevators are equipped with seismic detectors and when activated will automatically stop at the
nearest floor. Persons in an elevator car at that time should exit the car and follow instruction from the
Floor Warden.
After an Earthquake
After an earthquake, there may be aftershocks. Generally, most are smaller than the main shock, but
some may be large enough to cause additional damage.
Gas: Inspect all gas equipment for broken or leaky pipes. Do not smoke, use matches, candles, or
any open flames. If you smell gas, call the Lobby Security Console and Building Management Office
immediately.
Electricity: Do not touch fallen of damaged electrical wires. Do not touch any wet electrical appliance,
which is plugged in until the electrical circuit has been reenergized. Unplug the appliance.
Appliances that have been wet must be safely checked before using.
Water: If pipes are broken inside your suite notify the Lobby Security Console and the Building
Management Office. Do not flush toilets until sewer lines have been inspected.
Clean up flammable liquids that have been spilled. Immediately clean up spilled medicines, drugs,
and other harmful materials. Open closet and storage doors carefully, as objects may fall from
shelves.
Turn on your portable radio for the most up to date information
Do not use the telephone except to report emergencies. Telephone lines should to be kept available.
Do not go sightseeing.
Emergency Procedures: Elevator Malfunction
If you are in the elevator and it stops for no apparent reason, remember to remain calm. Pressing the call
button within the cab will ring the Security Console telephone and you will be able to speak to the security
officer on duty who will contact the elevator technician. If for some reason no one is at the security console
then you can use the emergency button which would ring a loud bell which could be heard for several floors.
In the event of a power outage, elevators will continue to operate using our emergency power generator.
Should an outage occur, elevator lights will remain on, but the car itself will temporarily cease moving. Each
elevator will automatically return to the lobby, their doors will open, and they will remain inoperable until the
power has been restored.
IN THE EVENT OF A FIRE, ELEVATORS MUST NOT BE USED FOR EVACUATION. USE THE
STAIRWELLS.
Emergency Procedures: Emergency Contacts
One Front Street requests that each firm submit a Tenant Emergency Contact List for our records. This
information is considered confidential and will be used to notify designated individuals in the event of an
after-hours emergency.
Fire Department
911
(415)
Non-Emergency Fire
861-8020
Police Department
911
(415)
Non-Emergency Police
553-0123
Ambulance/Paramedic
911
(800)
Poison Control
523-2222
Hazardous Spill Clean Up (510)
633-0366
(415)
Lobby Security Console
421-3058
Building Management
(415)
Office
391-4445
Please make sure these telephone numbers are readily available in the event an employee requires
emergency medical care or the building is experiencing an emergency.
Emergency Procedures: Emergency Preparedness
Please click here for Emergency Preparedness Training for One Front Street.
Emergency Procedures: Explosion
Since the source of explosion may not be apparent, its cause could be from a gas leak or an explosive
material set to purposefully cause destruction. Until a source has been determined, it is wise to be watchful
of any suspicious persons that could inflict further harm on the structure or personnel. The response
appropriate for such an event is proportional to the damage inflicted.
Fall to the floor and take immediate shelter under tables, desks or other such objects that will offer
protection against flying glass or debris. Protect face and head with arms.
Provide first aid to stop bleeding or provide assistance
Operate the nearest fire alarm pull box and telephone the Fire Department, The Lobby Security
Console and the building Management Office.
Stay in place until a safe egress has been determined.
Perform an orderly evacuation when directed by the public address system.
Do not return to the building until the Fire Chief or Life Safety Director has given the all-clear signal.
Emergency Procedures: Fire and Life Safety
Building Design
Traditionally, the way to exit a fire is to walk down the stairwells and exit the building. In a high rise building
that tradition is replaced by relocating to a safe place within the building. Only a limited number of people
can pass down 38 stories using the stairwells at a given time. The number of people occupying a high-rise
building is too great to allow everyone to evacuate safely. The stairs are also needed for firefighting
operations.
High-rise buildings are specifically designed for relocation. The floors and framing are covered with fire
retardant allowing a fire to burn for two hours before penetrating a single floor. Pressurized corridors and
stairwells prevent smoke infiltration allowing safe egress. Total sprinkler coverage keeps the fire contained
by extinguishing the fire before it spreads. An automated fire alarm system dispatches the fire department
and notifies the occupants for early egress. All doors from the stairwells are locked for security purposes.
In the case of an emergency, they will release from their secure position allowing occupants free ingress
and egress. The doors from the elevator lobby into the corridor areas will automatically close preventing the
spread of smoke and fire.
Building Features
The high-rise building has the best safety record of any type of structure in the United States. One Front
Street was designed to be one of the safest high-rise buildings of its kind. The building is a steel, concrete
and aluminum structure, constructed in accordance with fire and earthquake codes. The building is fully
sprinklered. A modern Life Safety System automatically controls alarms and suppression 24 hours a day
seven days per week. The following list of features is designed to keep Tenants and visitors safe:
One hundred percent sprinkler coverage
Two 750 gpm Fire Pumps with a 15,000 gal reserve water tank
Fire Rated Construction
Pressurized Stairwells
Automated Fire Alarm including water flow, smoke, and manual alarms
Smoke Evacuation System
Automatic Elevator Operation
Public Address System
Emergency Generator
Automatic Damper and Compartmentalization Control
Building Features (continued)
Two Stairwells, which offer direct access to the street level, are designed are designed to withstand a fire
for two hours. Two-way communication is located on every fourth level of both stairwells, i.e. levels 2, 6, 10,
14, 18, 22, 26, 30, and 34. There are two or more fire cabinets located on each floor, each containing a
five-pound type ABC dry chemical extinguisher.
Smoke sensors are located on every floor. They continually measure for products of combustion. When a
sensor is activated, the Life Safety system will transmit a high-pitch warbling sound on the affected floor.
Elevators serving a floor where a smoke sensor in the affected elevator lobby has been activated will be
automatically recalled to the ground floor for use by the fire department.
A diesel generator is in place to provide back-up power in case of utility power loss. It will automatically
switch power to life safety components including a limited number of elevators, life safety controls,
emergency lighting, stairwell fans, water pumps, and sump pumps.
Emergency Procedures Fire
Detect a Fire, See or Smell Smoke, What to Do
Pull the Fire Alarm
Call the Fire Department (From a Safe Place) 911
Assist others in relocating if safe to do so.
Evacuate or extinguish small fire.
Restrict the spread of smoke and fire by closing doors behind you.
Now what happens?
Sounding the alarm will mobilize building operating personnel and the Fire Department.
Freight and passenger elevators will be recalled for use by the Fire Department.
Upon notification, building personnel will be dispatched immediately to the location of the fire.
Emergency communications will be given through the Public Address System. Follow direction from
your floor Warden or Deputy who will be directed by the Fire Department or life Safety Director.
If required, tenants not directly affected by the fire will be notified.
Important Tips
Keep calm - maintain order.
Walk quickly - do not run.
As you leave, close doors behind you, do not lock them - this will slow the spread of fire.
Feel the surface of every door before opening it. If it is hot — do not open it — proceed to a second
means of exit.
Do not return for personnel belongings.
If smoke is present — clearer air is near the floor — crawl. If forced to make an escape through
smoke or flames hold your breath. Cover your nose and mouth if possible.
In the event you are outside, it is important to stay clear of the building to avoid falling glass.
Know the exact locations of emergency exit stairwells.
Floor Wardens must account for all personnel and guests on arrival at a place of safety.
Follow all instructions given by the Fire Department and/or Life Safety Director.
Authority to Relocate
Usually the safety of personnel means the safe relocation of personnel within the building away from the
affected areas. Under normal conditions, the Fire Department will relocate occupants.
The Life Safety Director in coordination with the San Francisco Fire Department should have total control
over issuing and enforcing this kind of order, other than the floor of emergency.
The Floor Warden or Life Safety Director should evacuate the floor of emergency.
Click here for Emergency Preparedness Training
Emergency Procedures: Flooding
In the event of a flood that may cause damage to tenant property or affect the normal operation of the
building, designated tenant representatives will be contacted by Building Management personnel,
regardless of the time of day.
The first priority is to ensure that no personal injury occurs as the result of a flood. The second priority is to
discover the cause and prevent or minimize additional flooding.
Once the flooding has been contained, clean-up operations will be commenced. Tenants will need to
contact their insurance carrier for any damage to their property.
Emergency Procedures: Homeland Security
Jones Lang La Salle Americas Inc. recommends that each tenant have an emergency action plan in place
to help their employees prepare for, and react quickly to, a regional emergency, including terrorist attacks.
Click on the links below to access a variety of resources that aid in preparing for a regional emergency.
California Office of Emergency Services
http://www.oes.ca.gov
San Francisco Office of Emergency Services & Homeland Security
http://www.sfdem.org
Department of Homeland Security
http://www.dhs.gov/dhspublic
Federal Emergency Management Association
http://fema.gov/
American Red Cross
http://www.redcross.org/
Center for Diseases Control and Prevention Emergency Preparedness and Response
http://www.bt.cdc.gov/
Emergency Preparedness
http://72hours.org/
Local media outlets will provide important information during an emergency situation.
San Francisco Chronicle
http://www.sfgate.com/chronicle/
KCBS 740 AM
http://www.kcbs.com/
KGO-TV (ABC)
http://abclocal.go.com/kgo/
KPIX-TV (CBS)
http://www.cbs5.com/
KTVU-TV (FOX)
http://www.ktvu.com/index.html
Emergency Procedures: Media Inquiries
When a major crisis occurs that is likely to draw media and public attention to the property, the Property
Management Team must be prepared to provide honest, accurate information to the media in a timely
manner. The Property Management Team will also be prepared to assist the media in every way possible,
but not to the extent that such assistance infringe on a Tenant's rights or hinders the Team's ability to
handle the crisis at hand.
The Property Manager will have primary responsibility for dealing with the media. He/she will deliver all
public statements and conduct all interviews once he/she has final approval from management's corporate
communications individuals. Tenant's should refer all inquires to the Property Manager. If the media
inquiries pertain specifically to a Tenant and their operations, then the Tenant should follow their internal
policies and procedures. The Tenant should notify Property Management immediately on how to respond to
the media inquiries.
As soon as possible after a crisis occurs, the Property Manager will gather the necessary facts concerning
the incident and draft a statement of facts. This statement will then be provided to regional management,
corporate communications and legal counsel. While this process is occurring, the Property Manager will
assist and monitor the media at the incident site.
Once a statement is approved, the Property Manager will release it to the media only if they specifically
request the information. As new or updated information is received, the Property Management Team should
review it with Corporate Legal Counsel and the Regional Manager and, if appropriate, release it to the
media. In the days and weeks following a crisis, the Property Management Team will consult with the Legal
Counsel and Corporate Communications regarding the subsequent release of information to the media.
All media inquires for information should be forwarded to the building management office at (415) 391-4445.
Any occupant specific inquires should be directed to your manager of company information officer.
Emergency Procedures: Medical Emergency
We suggest you select a local doctor to service your Company. The closest full service hospital:
San Francisco General Hospital, 1001 Potrero Avenue, (415) 206-3409
If there is a "medical emergency" within your office or observed by you, call an ambulance at 911, and then
call the property management office at (415) 391-4445 and give the following information:
Nature of the "medical emergency".
Exact location and the name of the sick or injured person.
Whether an ambulance or doctor has been notified.
If no ambulance or doctor has been notified, the building management will contact an ambulance
service and allow unobstructed entrance into the building if necessary.
If the sick or injured person requests you to call their doctor, please notify the building management
office so assistance can be given to the doctor upon entering the building.
Assign one of your assistants to stand by on the floor where the sick or injured person is located in
order to guide the paramedic or doctor to the sick or injured person.
If the sick or injured person is to be sent to a hospital, try to send a friend or fellow employee along to
comfort the person and help him/her at the hospital until a relative arrives.
Following the conclusion of the medical emergency:
Consult with your assistants and determine if they encountered any special problems or incidents
during the performance of their responsibilities.
For future reference by the building management office, prepare a brief written report of your efforts
and actions in response to the emergency, including any special problems or incidents that you
encountered, and submit the tenant report to the building management office as soon as possible.
Retain copies of your report for future reference by yourself, your employer and/or any company
executives.
Security
Call security after you call 911 so that they may prepare for the emergency crew's arrival.
Security will open the buildings entry doors to assist with emergency equipment access.
Security will escort the paramedics to the exact location.
First Aid
Procedures are located in your San Francisco telephone directory or contact the American Red Cross.
Emergency Procedures: Pandemic Preparedness
What you Need to Know
An influenza (flu) pandemic is a worldwide outbreak of flu disease that occurs when a new type of influenza
virus appears that people have not been exposed to before (or have not been exposed to in a long time).
The pandemic virus can cause serious illness because people do not have immunity to the new virus.
Pandemics are different from seasonal outbreaks of influenza that we see every year. Seasonal influenza is
caused by influenza virus types to which people have already been exposed. Its impact on society is less
severe than a pandemic, and influenza vaccines (flu shots and nasal-spray vaccine) are available to help
prevent widespread illness from seasonal flu.
Influenza pandemics are different from many of the other major public health and health care threats facing
our country and the world. A pandemic will last much longer than most flu outbreaks and may include
"waves" of influenza activity that last 6-8 weeks separated by months. The number of health care workers
and first responders able to work may be reduced. Public health officials will not know how severe a
pandemic will be until it begins.
Importance and Benefits of Being Prepared
The effects of a pandemic can be lessened if you prepare ahead of time. Preparing for a disaster will help
bring peace of mind and confidence to deal with a pandemic.
When a pandemic starts, everyone around the world could be at risk. The United States has been working
closely with other countries and the World Health Organization (WHO) to strengthen systems to detect
outbreaks of influenza that might cause a pandemic.
A pandemic would touch every aspect of society, so every part of society must begin to prepare. All have
roles in the event of a pandemic. Federal, state, tribal, and local governments are developing, improving,
and testing their plans for an influenza pandemic. Businesses, schools, universities, and other faith-based
and community organizations are also preparing plans.
As you begin your individual or family planning, you may want to review your state's planning efforts and
those of your local public health and emergency preparedness officials. State plans and other planning
information can be found at www.pandemicflu.gov/plan/checklists.html.
The Department of Health and Human Services (HHS) and other federal agencies are providing funding,
advice, and other support to your state. The federal government will provide up-to-date information and
guidance to the public if an influenza pandemic unfolds.
Pandemic Flu Resources
There are many publicly available resources in place to help communities, companies, and individuals plan
for a possible pandemic flu outbreak. A few of the most useful sites are linked below:
Pandemicflu.gov
This is the official U.S. Government site for information on pandemic and avian influenza. The material on
this site is organized by topic for easy reference.
Centers for Disease Control and Prevention (CDC)
The CDC Web site is another primary source of information on pandemic influenza. They also have a
hotline—1-800-CDC-INFO (1-800-232-4636)—that is available in English and Spanish, 24 hours a day, 7
days a week (TTY: 1-888-232-6348). Or, if you prefer, questions can be e-mailed to [email protected]
Department of Homeland Security (DHS)
DHS is working on a "Business Planning Guide," which will be posted on the DHS home page and on
Pandemicflu.gov as soon as it is completed. Also, for business-specific questions, the DHS has created an
e-mailbox— [email protected]
BOMA Resources
BOMA/Greater Toronto Pandemic Flu Report
The report addresses the threat to commercial buildings from an avian flu pandemic.
The resources above will provide a lot of information, but we also encourage you to:
Listen to local and national radio
Watch news reports on television
Read your newspaper and other sources of printed and Web-based information
Look for information on your local and state government Web sites
Consider talking to your local health care providers and public health officials.
Emergency Procedures: Power Failure
Power failures are rare occurrences. The only utility shut down that occurred was after the Loma Prieta
Earthquake in 1989. The building has three underground utility transformers that are supplied from three
different sources. This makes it extremely reliable. In the event of a power failure call the Chief Engineer
then the Assistant Chief Engineer. Also, call the Property Manager at (415) 391-4445. CBF, Inc. is the
preferred electrical contractor (415) 495-3085.
Local Power failures are caused from equipment failure overloading circuits or a ground fault. Seek the
assistance of a professional electrician or the building engineers.
Tenants need to eliminate loads after a power interruption to reduce the utilities reconnect power draw.
Many electrical appliances draw a peak voltage when first energized. Incandescent lighting and motor
locked rotor current during initial energizing is inordinately high. This becomes problematic when it is
applied on a global scale to a utility. During normal usage these loads are applied at different intervals.
Following a power failure they are applied simultaneously.
Since the building is over five hundred and fifty feet in elevation, its water supply must be pressurized to
reach the top. Electricity is used to pump water up the buildings domestic water supply pressure. During a
power disruption the pumps will stop and water pressure will gradually decrease as it is used. During such
an emergency the building management team will call the tenants and ask them to try avoiding water
consumption. This is done to prevent too much system draw down. The buildings engineering team will go
to the buildings domestic water pump station shut off the pumps and then transfer the load to emergency
using the manual transfer switch. They will then start the pumps under emergency power checking their
operation. Following pump restoration the engineer will relieve air at the bladder tanks at the cooling tower
area.
Tenants are advised to have emergency supplies on hand in case of power outages. Flashlights, spare
batteries, cell phones, battery operated radios etc.
Important Tips:
Do not use lighters or candles.
Do not operate electrical switches or appliances.
Turn off all computers and appliances until full power is restored and an announcement is made that it
is safe to do so.
Emergency Procedures: Relocation/Evacuation
The Fire Department will inform you if relocation becomes necessary. This will probably include the fire
floor, one floor above and two below. Each floor is also fire rated for a period of at least two hours. For
example: If there were a fire on the 10th floor, we would relocate the 11th, 10th, 9th, and 8th floors. We
have approximately fifteen hundred people in this building and if every one were to try to leave at the same
time, mass confusion would take over; the streets would be jammed, restricting emergency vehicles from
the building.
Please always use the stairs, never the elevator during relocation and exit floor via either of the two
stairwells available to each floor.
The stairwells on each floor have color-coded symbol for easy identification. When relocation is necessary
please proceed four (4) floors down to the designated symbol and exit on that floor.
Click here to download the Relocation Symbols chart for the designated symbol(s) for your floor(s).
Emergency Procedures: Severe Weather
The likelihood of a hurricane wind force is highly unlikely. The main concern in case of a storm is window
breakage. Matter, rocks from roof coverings and unsecured materials, can be thrown into the exterior
window panels causing breakage. Due to the elevation of the building 550 feet, falling glass can be
propelled by gravity and wind velocity causing a cascading life threatening effect.
Before a windstorm, all exterior offices must be isolated from the interior office areas by closing the
individual office entrance doors.
Exterior drapery should be closed to reduce glass impact into the space. The Individual floor warden
team members will do this during occupied hours with security performing this on the night and
weekend.
During a storm, stay inside; do not wander around the exterior of the building. In case of a broken
window, security will call the Chief Engineer then the Assistant Chief Engineer. Also, call the Property
Manager at (415) 391-4445. Progress Glass is the preferred Glazing Vendor.
Get people away from the floors with broken glass.
Do not attempt to remove pieces of broken glass from the window frame the high wind velocity can
carry you out the window opening. If multiple windows are broken, call the police department 911 so
that they can assist in blocking off streets surrounding the area.
Have disaster supplies on hand:
Flashlight with extra batteries
Portable, battery operated radio and extra batteries
First aid kit
Emergency food and water
Non-electric can opener
Essential medicines
Cash and credit cards
Sturdy shoes
Emergency Procedures: Team Organization
Preface
Disaster is an unforeseen occurrence that can result in loss of life and destruction of property if not dealt
with by the use of good judgment and a plan of action.
The following information is offered to inform you of a need to set up a plan, which, in case of an
emergency, would be implemented to minimize the destruction of life and property.
Purpose
To establish a safe, orderly method for timely and systematic evacuation of an area of the building by its
occupants in case of an emergency in the least possible time, to a safe area by the nearest safe means of
egress. Additionally, to inform the tenants of the use of such available emergency appliances, alarms,
extinguishers, etc. which provide for the control of emergencies and the safeguarding of human life and
property.
Conduct earthquake take cover drills.
Recommend to all tenant companies, earthquake supplies for on-site storage.
Develop a program for the training of new building occupants or employees in the Emergency Plan.
Organize an emergency committee of building staff.
Duties of the Floor Warden
The Floor Warden is of vital importance to the total fire and emergency program for any building. He/she is
the person on the scene to take command and control of the occupants of the floor. It is the Floor Warden,
who every day works and who knows the people who populate the floor. The Floor Warden knows who is
mobility-impaired; the Floor Warden is the extension of the Fire Safety Director. The Floor Warden, who is
trained to do their duties in an emergency, will react in a positive and correct manner.
Pre-Emergency Duties of the Floor Warden:
Know the location of all fire and emergency-related equipment on the floor or in the area of
responsibility.
Know the use of all fire and emergency-related equipment on the floor or area of responsibility.
Appoint Area Wardens if the floor is extremely large beyond the control of one person (Greater than
4,000 sq. ft.)
Be completely familiar with the floor arrangement, the number of floor occupants, and the locations of
egress corridors and exits.
Be fully aware of the existing procedures of the building as they relater to the Floor Wardens Floor.
Train the floor occupants in fire prevention measures.
Train the floor occupants in safely using fire exit procedures.
Pre-Emergency Duties of the Floor Warden (continued)
Select and train the following to assist during emergencies:
1. Deputy Floor Warden
2. Searchers
3. Elevator Lobby Monitors
4. Aides for the Disabled
5. Exit Monitors
If the floor of occupancy does not have population to provide a full complement of floor emergency
staff, then attempt to provide a Floor Warden and Deputy to assist.
Divide the floor population into groups and formulate the traffic patterns to follow to the exit via
emergency stairways.
Daily, throughout the floor, conduct an inspection of exits, exit pathways, exit lighting, extinguishers,
and door closures. Report required repairs to the Fire Safety director via the building management
office. (391-4445)
Maintain an up-to-date list of all mobility-impaired persons on the floor; include usual break and lunch
times and location.
Establish a system of replacements for floor emergency organization because of vacations, sick or
disability leave, promotion, etc.
During a Fire Emergency the Floor Wardens Shall:
Maintain control of occupants.
Direct occupants to exits, if alerted.
Determine safe availability of exit stairways; if violated, use alternates.
In relocation-mode buildings, control occupants if not directed to move.
Be prepared to communicate vital information to the lobby or Fire Department.
If relocated, communicate to lobby your arrival at refuge area.
Determine by head count any missing occupants, and relay to lobby or to Fire Department.
Deputy Floor Warden Duties
Shall assume the duties of the Floor Warden in his/her absence.
Perform all tasks as assigned by the Floor Warden.
Searcher Duties
Search for occupants who may not have heard the fire alarm. Search remote floor areas, restrooms,
computer printer rooms, break rooms, and copy rooms, etc. Direct persons found to closest exit.
Maintain calm and keep others calm by example of your own composure.
Know the location of fire extinguishers, alarms and exits and their use.
Elevator Lobby Monitors Duties
Assist the Floor Wardens in any way directed.
Act as a crowd control monitor — directing people away from the elevators and to the nearest
stairwell for relocation or evacuation. Monitors must exit at their own discretion.
Maintain calm and keep others calm by your composure.
Exit Monitors
Test the exit door assigned for heat before allowing entry.
Verbally instruct exiting occupants about the correct stairwell procedures and floor of refuge.
Ensure that the automatic door-closure acts correctly and refrains from blocking the door in an open
position.
If exit stairway becomes violated with smoke or heat, direct occupants to alternate exit.
Exit at own discretion.
Maintain calm and keep others calm by composure.
Aides for Disabled
Disabled persons should be allowed to select their assigned aides.
The aides shall have knowledge of the exact location of the buildings safest exit, i.e., stairwell number
one or two.
The aides and disabled person shall be familiar with the assigned exit.
In a fire emergency, the disabled person shall be assisted by the aides to their assigned exit location.
When on site, they shall place disabled persons in a location away from the normal path of travel of
exiting occupants (At the corner of the stairwell landing) and await the arrival of the Fire Department.
The Disabled aides shall remain with their charge until relieved by direction of a Fire Officer.
Click here for Emergency Preparedness Training
Emergency Procedures: Toxic Hazards
If there is a toxic spill or exposure, proceed immediately to an area where you are no longer exposed. Call
911. Provide the building's address, your floor and phone number, and also what type of spill has occurred.
Take appropriate action to contain the hazard; close doors behind you, and always follow all safety
procedures when working with toxic materials.
Introduction: Welcome
Thank you for your tenancy at One Front Street! This Electronic Tenant® Handbook has been designed to
provide you with all the building information, procedures and policies that will assist you in operating your
business here at One Front Street. Should you have any questions or need additional information, please
contact theManagement Office at (415) 391-4445.
All of your employees should read and keep up to date with this handbook; so that they may be prepared to
effectively deal with any given situation. We recommend you to keep an up to date printed copy in your
workspace.
We look forward to working together to create a productive and enjoyable atmosphere for your company
and clients. Although the procedures that follow have been developed using Jones Lang LaSalle's in-depth
knowledge of building management, changes will inevitably occur. The Building Management Office will
promptly notify you of any such changes.
Welcome to One Front Street; a premier Jones Lang La Salle Americas Inc. property. If you have any
ideas, suggestions, compliments or complaints, please feel free to call us. We are always happy to hear
from you.
Introduction: About Jones Lang La Salle Americas Inc
Jones Lang LaSalle is a leading international real estate service and investment firm, operating across 100
markets on five continents. The company provides comprehensive integrated expertise, including
management services, implementation services and investment management services on a local, regional
and global level to owners, occupiers, and investors.
Jones Lang LaSalle manages several properties in the San Francisco market as well as the greater Bay
Area which includes One Front Street.
The Management Team of One Front Street has been chosen to provide you with the highest quality
service available to ensure your comfort and continued tenancy.
Introduction: About One Front Street
See About Jones Lang LaSalle Americas, Inc
Introduction: Operating Instructions
Navigation
You move through The Electronic Tenant® Handbook just as you would a traditional Internet site. It's as
simple as pointing and clicking. The main page features a Table of Contents that provides links to each
Chapter. Upon entering a Chapter, you will find links to the specific information provided in that chapter's
Sub-Sections. You may return to the Table of Contents or Chapter Overview at any time by clicking the
clearly labeled link on every page.
Special Features
This Electronic Tenant® Handbook has special features, such as a Forms Section that allows tenants to
download or print administrative forms and Search engine. In order to take advantage of these useful
features, you must have Adobe Acrobat Reader installed on your computer. This software is free and easy
to use, and can be obtained by clicking here.
Updates
The Electronic Tenant® Handbook is updated on a regular basis, so please be sure to periodically check for
updates and new information. In order to keep you informed about One Front Street, we have included a
monthly Building Calendar and Announcement Board. Here, you will find information regarding scheduled
maintenance and events taking place at the One Front Street.
If you are having trouble accessing the Electronic Tenant® Handbook or need assistance, please e-mail or
call the Management Office.
Policies and Procedures: Contractors
Due to liability issues One Front Street does not loan out and/or rent under any circumstances tools or
equipment to Tenants, its vendors or contractors for use.
Rules and Regulations – Contractors & Vendors
Building Approved Contractors
Contractor & Vendor Insurance Requirements
Policies and Procedures: Energy Conservation
Use Energy Responsibly
Your assistance toward our goal of conserving energy is important. In addition to the obvious environmental
benefits of energy conservation, your efforts will result in lower building operating costs.
Please turn your office lights off whenever you leave your office for a period of more than thirty
minutes.
Turn off computer equipment when not in use.
Electricity consumed by lighting fixtures is the second highest component of our building's total
energy consumption (following HVAC-related use). Turn off lights when departing your office for the
evening. Janitorial crews may not enter your area until several hours after your office has been closed.
Turn off appliances and machinery such as coffee-warmers, typewriters, and coffee pots when not in
use.
Control your window coverings to maintain your office temperature. Close draperies during periods of
direct sunlight and when departing your office for the evening. Your office will remain more
comfortable, particularly after a weekend, if you use your draperies to insulate the window area.
Policies and Procedures: Ground Floor and Satellite Tenants Rules and Regulations
Ground Floor and Satellite Tenants
One Front Street's Rules and Regulations are contained within each Lease document. Certain leases may
have additional or different Rules and Regulations more applicable to the type or location of the business.
The following information is presented as general information, and is not intended to supersede more
stringent policies, which may be included within actual lease documents.
1. The sidewalks, halls, passages, exits, entrances, elevators, and stairways of the Building shall not be
obstructed by any of the tenants or used by them for any purpose other than for ingress to and
egress from their respective premises. The halls, passages, exits, entrances, elevators, and stairways
are for the use of the general public, and the Landlord shall in all cases retain the right to control and
prevent access thereto of all persons whose presence in the judgment of Landlord shall be prejudicial
to the safety, character, reputation and interests of the Building and its tenants, provided that nothing
herein contained shall be construed to prevent such access to persons with whom any tenant
normally deals in the ordinary course of its business, unless such persons are engaged in illegal
activities. No tenant and no employee or invitee of any tenant shall go upon the roof of the Building.
2. The Landlord reserves entire control of all parts of the Building employed for the common benefit of
the tenants and without restricting the generality of the foregoing: the sidewalks, entries, corridors and
passages not within the leased premises, washrooms, lavatories, air conditioning closets, fan rooms,
janitor's closets, electrical closets, and other closets, stairs, elevator shafts, flues, stacks, pipe shafts,
and ducts and shall have the right to place such signs and appliances therein, as it may deem
advisable, provided that ingress to and egress from the Leased Premises is not unduly impaired
thereby.
3. No animals, other than service animals for the disabled, are permitted in the Building.
4. No awning, canopy or other projection of any kind over or around the windows or entrances to the
premises shall be installed by any Tenant without the prior consent of Landlord, and only such
window coverings as are approved by Landlord shall be used in the Leased Premises.
5. The Tenant shall permit window cleaners to clean the windows of the Leased Premises during normal
business hours.
6. The Leased Premises shall not be used for lodging and unless ancillary to a restaurant or other food
service use specifically authorized in the lease of a particular Tenant, no cooking shall be done or
permitted by any Tenant on the premises, except the preparation of coffee, tea, hot chocolate, and
similar items for tenants and their employees shall be permitted.
7. All janitor work for the Leased Premises shall be paid for by the Tenant. Any person or persons
employed by the Landlord to do janitor work shall be subject to the approval of Landlord, and shall be
subject to and under the control and direction of the Building superintendent while in the Building and
outside the premises.
8. Landlord will furnish each tenant with two keys free of charge. Landlord may make a reasonable
charge for any additional keys. No tenant shall alter any lock or install a new or additional lock or any
bolt on any door of its premises without the prior written consent of Landlord. Tenant shall, in each
case, furnish Landlord with a key for any such lock. Each Tenant, upon the termination of its tenancy,
shall deliver to Landlord all keys to doors in the Building, which shall have been furnished to Tenant.
9. The freight elevator shall be available for use by all Tenants in the Building, subject to such
reasonable scheduling as Landlord in its discretion shall deem appropriate. The persons employed to
move such equipment in or out of the Building must be acceptable to Landlord. Landlord shall have
the right to prescribe the weight, size and position of all equipment, materials, supplies, furniture, or
other property brought into the Building. Heavy objects shall, if considered necessary by Landlord,
stand on wood strips of such thickness as necessary to properly distribute the weight. Landlord will
not be responsible for loss or damage to any such property from any cause, and all damage done to
the Building by moving or maintaining such property shall be repaired at the expense of Tenant.
10. No tenant shall use or keep in the Leased Premises or the Building any kerosene, gasoline, or
flammable or combustible fluid or material or use any method of heating or air conditioning other than
that approved by Landlord. No tenant shall use, keep or permit or suffer the premises to be occupied
or used in a manner offensive or objectionable to the Landlord or other occupants of the Building by
reason of noise, odors, and/or vibrations or interference in any way with other tenants or those having
business therein.
11. In the case of invasion, mob, riot, public excitement, or other circumstances rendering such action
advisable in the Landlord's opinion, the Landlord reserves the right to prevent access to the Building
during the continuance of the same by such action as Landlord may deem appropriate, including
closing entrances to the Building.
12. No tenant (other than one in the restaurant or other food service business) shall obtain for use in the
premises ice, drinking water, food, beverage, towel or other similar services, except at reasonable
hours and under reasonable regulations fixed by the Landlord.
13. Each tenant shall see that the doors of its premises are closed and securely locked at such time as
such tenant's employees leave the premises.
14. The toilet rooms, toilets, urinals, wash bowls and other apparatus shall not be used for any purpose
other than that for which they were constructed, no foreign substance of any kind whatsoever shall be
thrown therein and the expense of any breakage, stoppage, or damage resulting from the violation of
this rule shall be borne by the tenant who, or whose employees or invitees, shall have caused it.
15. Except with the prior consent of the Landlord, no tenant shall sell, or permit the sale in the Leased
Premises, or use or permit the use of any sidewalk or mall area adjacent to the premises for the sale
of newspapers, magazines, periodicals, theater tickets or any other goods, merchandise or service,
nor shall any tenant carry on, or permit or allow any employee or other person to carry on the
business of stenography, typewriting, or any similar business in or from the Leased Premises for the
service or accommodation of occupants of any other portion of the Building, nor shall the premises of
any tenant be used for manufacturing of any kind, or any business or activity other than that
specifically provided for in such tenant's lease.
16. No tenant shall install any radio or television antenna, loudspeaker, or other device on the roof or
exterior walls of the Building.
17. There shall not be used in any space, or in the public halls or malls of the Building, either by any
tenant or others, any hand trucks except those equipped with rubber tires and side guards or other
such material handling equipment as Landlord may approve. No other vehicles of any kind shall be
brought by any tenant into the Building or kept in or about its Leased Premises.
18. Each tenant shall store all of their trash and garbage within their leased premises until removal of the
same to such location in the Building as may be designated from time to time by the Landlord. No
material shall be placed in the Building trash boxes or receptacles if such material is of such nature
that it may not be disposed of in the ordinary and customary manner of removing and disposing of
trash and garbage in the City of San Francisco without being in violation of any law or ordinance
governing such disposal.
19. All loading and unloading of merchandise, supplies, materials, garbage and refuse shall be made only
through such entryways and elevators between the hours of 10:00 a.m. and 3:00 p.m. unless special
arrangements are made with the Landlord, and delivery vehicles shall be no longer than 24-feet in
length and 12-feet in height. In its use of the loading areas the tenant shall not obstruct or permit the
obstruction of said loading area and at no time shall park or allow its officers, agents or employees to
park vehicles therein excepting for loading and unloading.
20. Canvassing, soliciting, peddling and distribution of handbills or any other written material in the
Building is prohibited and each tenant shall cooperate to prevent the same.
21. The requirements of tenants will be attended to only upon application by telephone, in writing, or in
person at the Office of the Building. Employees of the Landlord shall not perform any work or do
anything outside their regular duties unless under special instructions from the Landlord.
22. The Landlord may waive any one or more of these Rules and Regulations for the benefit of any
particular tenant or tenants, but no such waiver by the Landlord shall be construed as a waiver of
such Rules and Regulations in favor of any other tenant or tenants, nor prevent the Landlord from
thereafter enforcing any such Rules and Regulations against any or all of the tenants of the Building.
23. These Rules and Regulations are in addition to, and shall not be construed to in any way modify, alter
or amend, in whole or in part, the terms, covenants, agreements and conditions of any Lease of
premises in the Building.
24. Landlord reserves the right to make such other and reasonable rules and regulations as in its
judgment may from time-to-time be needed for the safety, care and cleanliness of the Building, and for
the preservation of good order therein.
Policies and Procedures: Insurance Protection
Certificate of Insurance
A valid certificate of insurance for the contractors or moving/delivery company must be provided to the
Building Management Office prior to any work activity. The certificate must include the following information
with respect to insurance coverage, additional insured endorsements, and certificate holder:
Certificate Holder:
Market Front Associates, LP
Jones Lang LaSalle Americas Inc.
One Front Street, Suite 960
San Francisco, CA 94111
Insurance Requirements
I. The Contractor/Vendor shall provide the following minimum insurance coverage:
A. Commercial General Liability - Combined Single Limit - $3,000,000 per occurrence and annual
aggregate per location. Such insurance shall be broad form and include, but not be limited to,
contractual liability, independent contractor's liability, products and completed operations
liability, and personal injury liability. A combination of primary and excess policies may be
utilized. Policies shall be primary and noncontributory.
B. Worker's Compensation - Statutory Limits
Insurance Requirements (Continued)
C. Employer's Liability - With minimum liability limits of $1,000,000 bodily injury by accident each
accident, $1,000,000 bodily injury by disease policy limit; $1,000,000 bodily injury each
employee.
D. Commercial Automobile Liability - Combined Single Limit - $1,000,000 per accident. Such
insurance shall cover injury (or death) and property damage arising out of the ownership,
maintenance or use of any private passenger or commercial vehicles and of any other
equipment required to be licensed for road use.
E. Property Insurance - All-risk, replacement cost property insurance to protect against loss of
owned or rented equipment and tools brought onto and/or used on any Property by the Service
Contractor.
II. Policies described in Sections I.A. and I.D. above shall include the following as "additional insured",
including their officers, directors and employees. A GL-2010 Endorsement shall be utilized for the
policy (ies) described in Section I.A. above. Please note that the spelling of these parties must be
exactly correct or the work will not be allowed to commence. Additional Insured:
1. Jones Lang LaSalle Americas Inc.
2. Market Front Associates Limited Partnership
3. Invesco Advisers, Inc
III. Service Contractor waives any and all rights of subrogation against the parties identified above in
Paragraph II above as additional insured.
IV. All policies will be written by companies licensed to do business in the State of California, which have
a rating by Best's Key Rating Guide not less than "A-/XII".
V. Service Contractor shall furnish to the Owner Certificate(s) of Insurance evidencing the above
coverage. Original Certificate(s) of Insurance must be provided before Service Contractor commences
Contract Duties or Contract Duties will not be allowed to commence.
VI. Certificate(s) of Insurance relating to policies required under this Agreement shall contain the
following words verbatim:
"It is agreed that this insurance will not be canceled, not renewed or the limits of coverage in any way
reduced without at least thirty (30) day's advance written notice ten (10) days for non-payment of
premium sent by certified mail, return receipt requested to: One Front Street, Suite 960, San
Francisco, CA 94111 Attn: General Manager -- Insurance." In addition, the language set forth in this
Paragraph VI shall also be added to each policy in the form of an endorsement.
Insurance Requirements (Continued)
Certificates of insurance are required from certain businesses/vendors/contractors that make deliveries to or
from, provide on-site services, or perform moving activities at the One Front Street Building as follows:
Moving and Delivery Companies: If you are unsure whether a Certificate of Insurance will be required
for a particular project, please contact the Building Management Office at 391-4445 for advice.
Telecommunication vendors who will have access to building phone closets or multi-tenant equipment
areas.
Contractors who provide tenant improvement services that impact building fixtures, mechanical
areas, or other equipment. In most cases, such services will be contracted through the Building
Management Office.
The Landlord may require that a Certificate of Insurance be required in other specific instances, at its
discretion.
Insurance Requirements (Continued)
Standard lease terms provide that each Tenant shall be liable to the Landlord for the acts of its guest and
invitees. Therefore, all Tenants should be aware of the potential for liability when considering the selection of
vendors and their internal policies with respect to the collection of Certificates of Insurance. In other words, if
damage or other liability is caused to the Landlord as a result of a vendor providing services to a Tenant –
the Landlord will hold the Tenant responsible. It is to every Tenant's advantage to ensure that the vendors
they have selected to serve them adequately protect them.
Keep in mind that the Building Management Office may already have certificates from many businesses on
file. Upon request, we will be happy to check our records for you to find out if one or more of your preferred
vendors already have an insurance certificate on file.
Click here to download a copy of the Insurance Requirements.
Policies and Procedures: Moving and Delivery Procedures
One Front Street's moving and delivery procedures have been developed to provide an efficient procedure
to remove or deliver furnishings and equipment to or from the building with a minimum amount of
disturbance to Tenants, and to provide adequate protection to the building, its owners and management.
Advance planning is the key to an efficient and well-orchestrated moving or delivery event. All moves must
enter through the garage entrance. The One Front and Market Streets entrances are not available for any
moves or deliveries. The Building Management Office must be notified in advance and in writing by the
Tenant of all moving and delivery activities to ensure that:
Elevators and/or the loading dock are properly reserved for your use
Security Officers are notified of persons authorized to remove or deliver property
Required insurance certificates are compliant and on-file
Your moving or delivery event does not conflict with another Tenant's pre-arranged schedule.
We appreciate the efforts required on your part to comply with these requirements. Feel free to copy and
provide this information directly to your moving company, whenever appropriate. In the event that property is
to be moved from your office, be sure to read this manual's section entitled "Authorization for Property
Removal" as well.
Scheduling
Normal moving and delivery activities must be scheduled at least 24-hours in advance. Additional advance
notice should be provided for "major" moving events involving more than one elevator load of material.
Notification must be issued by the Tenant (not by a vendor) and should be delivered to the Building
Management Office. Your notice should include:
Tenant Name, Suite, and Tenant Contact Name
Date and Time of Move
Name of Moving Company and contact information
Insurance Certificate(s)
Special Requirements (elevators, loading dock, etc.)
Scheduling is conducted on a first-come, first-served basis.
Major moving activity is generally defined as comprising "more than one elevator load" and is limited to
weekend periods or weekdays after 6:00 p.m.
Freight Elevator and Loading Dock
One Front Street has one freight elevator, which accesses all floors of the building.
The physical features of the elevators are:
Freight
Capacity: 4,000 pounds
Dimension (floor area): 79" x 73"
Door Height: 7-feet
Interior Height: 13-feet
Passenger
Low and Midrise: 77" x 62" x 92"h
Highrise: 77" x 57" x 92"h
The freight elevator is serviced every Wednesday from 2:00 p.m. to 5:00 p.m. Any deliveries scheduled for
Wednesdays must be made prior to 2:00 p.m.
Freight Elevator and Loading Dock (continued)
For after-hours moving activities, padded passenger elevators will be utilized. The freight elevator is to be
used only to accommodate items that are too large to fit into the passenger elevator. Please note that the
freight elevator may require sharing during normal building hours and with the evening janitorial staff during
afterhours.
A loading dock is located in the building's parking facility and is accessible at 36 Battery Street. Use of the
loading dock during normal business hours may be scheduled with the Building Management Office.
After-hours usage requires an extra security officer to be present and there is charge of $30.00 per hour
with a four hour minimum.
The building does not provide a parking area for contractors at any time. Contractors are advised to utilize
designated yellow loading curbs on adjacent street areas.
Instructions to Moving Company's
Floor Protection
The moving company must provide approximately 80 to 100-linear feet of Masonite for after-hour moving
activity to cover the following areas:
The marble floor from the glass entrance doors to the passenger elevators;
The elevator floors;
The elevator lobby floor to the Tenant's suite.
We require that movers wait until 6:00 p.m. to install Masonite and other protective coverings to avoid
causing potential trip hazards during normal business hours.
Other Protection
Areas that must be wrapped include the elevator doorframes, all other doorframes, corners on walls, and
any other exposed area which may be subject to damage.
PALLET JACKS OF ANY SIZE ARE PROHIBITED
Policies and Procedures: Office Tenants Rules and Regulations
One Front Street's Rules and Regulations are contained within each Lease document. Certain leases may
have additional or different Rules and Regulations more applicable to the type or location of the business.
The following information is presented as general information, and is not intended to supersede more
stringent policies, which may be included within actual lease documents.
1. Except as consented to in writing by Landlord or in accordance with Building Standard
Improvements, no draperies, curtains, blinds, shades, screens or other devises shall be hung at or
used in connection with any window or exterior door or doors of the Premises. Tenant acknowledges
that violation of this rule will directly and adversely affect the exterior appearance of the Building.
2. The bulletin board or directory of the Building shall be used primarily for display of the name and
location of tenants and Landlord reserves the right to exclude any other names therefrom, to limit the
number of names associated with Tenant to be placed thereon and to charge for names associated
with Tenant to be placed thereon at rates applicable to all tenants.
3. The sidewalks, halls, passages, exits, entrances, elevators and stairways to the Building shall not be
obstructed by tenants or used by them for any purpose other than for ingress and egress from their
respective premises. The halls, passages, exits, entrances, elevators, stairways, balconies and roof
of the Building are not for the use of the general public and Landlord in all cases reserves the right to
control the same and prevent access thereto by all persons whose presence, in the judgment of
Landlord, is or may be prejudicial to the safety, character, reputation or interests of the Building and
its tenants; provided, however, that Landlord shall not prevent such access to persons with whom
tenants deal in the ordinary course of business unless such persons are engaged in illegal activities.
No person shall go upon the roof of the Building unless expressly so authorized by Landlord.
4. Tenant shall not alter any lock nor install any new or additional locks or any bolts on any interior or
exterior door of the Premises.
5. The doors, windows, light fixtures and any lights or skylights that reflect or admit light into the halls or
other places of the Building shall not be covered or obstructed. The toilet rooms, toilets, urinals, wash
bowls and other apparatus shall not be used for any purpose other than that for which they were
constructed and no foreign substance of any kind whatsoever shall be thrown or placed therein. The
expense of any breakage, stoppage or damage resulting from the violation of this rule shall be borne
by the tenant who, or whose employees or invitees cause such expense.
6. Tenant shall not mark, drive nails, screw or drill into the walls, floors, ceilings, woodwork or plaster of
or in any way deface the Building or any premises, except that within their respective premises
tenants may affix to non-supporting partitions, pictures, paintings and other similar solely decorative
items.
7. Furniture, freight or equipment of every kind shall be moved into or out of the Building at such times
and in such manner, as Landlord shall designate. Landlord may prescribe and limit the weight, size
and position of all equipment to be used by tenants, other than standard office desks, chairs and
tables and portable office machines. Safes, batteries, and other heavy equipment shall, if considered
necessary by Landlord, stand on a framework of such thickness, as Landlord deems necessary to
distribute properly the weight thereof. All damage to the Building or premises occupied by tenants
caused by moving or maintaining any property of a tenant shall be repaired at the expense of such
tenant.
8. Tenant shall not employ any person, other than the janitor provided by Landlord, for the purpose of
cleaning the Premises unless otherwise agreed to by Landlord. Except with the written consent of
Landlord no person shall be permitted to enter the Building for the purpose of cleaning the same.
Tenant shall not cause any unnecessary labor by carelessness or indifference in the preservation of
good order and cleanliness. Landlord shall not be responsible to Tenant for loss of property on the
Premises or in the Building, however occurring, or for any damage to such property caused by the
employees or independent contractors of Landlord or by any other person. Janitor service shall
include ordinary dusting and cleaning and shall not include shampooing carpets or rugs, moving of
furniture or other special services. Janitor service will not be furnished when rooms are occupied
during the regular hours when janitor service is provided. Window cleaning shall be done only at the
regular and customary times determined by Landlord for such service.
9. Tenant shall not sweep or throw or permit to be swept or thrown any dirt or other substance into any
of the corridors, halls or elevators or out of the doors or stairways of the Building; use or keep or
permit to be used or kept any foul or noxious gas or substance; permit or suffer the premises
occupied by such tenant to be occupied or used in a manner offensive or objectionable to Landlord or
other tenants by reason of noise, odors or vibrations, interfere in any way with other tenants or
other tenants by reason of noise, odors or vibrations, interfere in any way with other tenants or
persons having business in the Building, or bring or keep or permit to be brought or kept in the
Building any animal life form, other than human, except seeing-eye dogs when in the company of their
masters.
10. No cooking shall be done or permitted in the Premises, nor shall the Premises be used for storage of
merchandise, washing clothes, lodging, or any improper, objectionable or immoral purposes.
11. No candles, sterno or open flames of any kind are permitted in the Building under any circumstances.
12. Tenant shall not use or keep in the Building any kerosene, gasoline or inflammable or combustible
fluid or material or use any method of heating or air-conditioning other than that supplied by Landlord.
13. No boring or cutting for telephone, telegraph or electric wires shall be allowed without the prior written
consent of Landlord and any such wires permitted shall be introduced at the place and in the manner
described by Landlord. The location of telephones, speakers, fire extinguishers and all other office
equipment affixed to the Premises shall be subject to Landlord's approval. Tenant shall pay all
expenses incurred in connection with the installation of its equipment, including any telephone,
telegraph and electricity distribution equipment.
14. Tenant shall not affix any floor covering in any manner except as approved by the Landlord. The
expense of repairing any damage caused by removal of any non-approved floor covering shall be
borne by Tenant.
15. No mail, furniture, packages, supplies, equipment, merchandise or deliveries of any kind will be
received in the Building or carried up or down in the elevators except between such hours and in
such elevators as shall be designated by Landlord.
16. The Normal Business Hours for the Building are 7:00 a.m. to 6:00 p.m. Monday through Friday, 9:00
a.m. to 1:00 p.m. Saturday, holidays excluded. Access to the Building may be refused outside of
Normal Business Hours unless the person seeking access is known to the person charged with
responsibility for the safety and protection of the Building and has a pass or is properly identified. In
no case shall Landlord be liable for any loss or damage for any error with respect to the admission to
or exclusion from the Building of any person. In case of invasion, mob, riot, public excitement or other
commotion and at such times as Landlord deems necessary for the safety and protection of the
Building, its tenants and all property located therein, Landlord may prohibit and prevent access to the
Building by all persons by any means Landlord deems appropriate.
17. Tenant shall be solely responsible to see that the exterior doors of its Premises are closed and
securely locked when they are unattended. Tenant shall exercise extraordinary care and caution that
all water faucets or water apparatus are entirely shut off each day before the Premises are left
unoccupied and that all electricity or gas shall likewise be carefully shut off so as to prevent waste or
damage to Landlord or to other tenants of the Building.
18. Landlord may exclude or expel from the Building any person who, in the judgment of Landlord, is
intoxicated or under the influence of liquor or drugs, or who shall in any manner do any act in
violation of any of the rules and regulations of the Building.
19. Tenant's requirements will be attended to only upon application to Landlord at the office of the
Building or such other place as Landlord may designate. Employees of Landlord shall not perform
any work outside of their regular duties unless under special instructions from Landlord, and no
employee of Landlord shall be required to admit any person (tenant or otherwise) to any premises in
the Building.
20. No vending or food or beverage dispensing machine or machines of any description shall be
installed, maintained or operated upon the Premises or in the Building without Landlord's prior written
permission.
21. Landlord, without notice and without liability to any tenant, at any time may change the name or the
street address of the Building.
22. Tenant shall be liable to Landlord and to each other tenant of the Building for any loss, cost, expense,
damage or liability, including attorney's fees, caused or occasioned by the failure of Tenant to comply
with these rules, but Tenant shall have no liability for failure or for failing or being unable to enforce
compliance therewith by any tenant and such failure by Landlord or noncompliance by any other
tenant shall not be a ground for termination of the Lease to which these rules are attached.
23. HVAC maintenance activities that interfere with normal operation or those producing odors and
emissions are performed during non-business hours.
24. General contractors are contractually obligated to maintain Material Safety Data Sheets for chemicals
stored and used during interior renovation/construction projects by themselves or their
subcontractors. The construction contract includes monetary penalties should the contractor fail to
comply.
25. Material Safety Data Sheets for chemical products in use at the property are immediately provided
(upon request) to building employees and/or tenants.
26. Uses of offensive cleaning and construction materials are limited to non-business hours.
27. Tenant shall be responsible for the purchase and procurement of any supplies, including, but not
limited to, paper towels, for Tenant's kitchen's and break rooms.
28. Uses of solvent-free maintenance and construction products are required when available.
29. Contractors are not allowed to collect air samples outside of their leased space without consulting
with Engineering, the Management Office or the knowledge and approval of ownership.
30. No animals, other than service animals for the disabled, are permitted in the Building.
31. No bicycles are allowed in the building at any time. Landlord has provided a location in the parking
garage at 36 Battery Street where tenants may keep their bicycles locked-up. Use of the bicycle
facility is subject to sign-in/sign-out procedures and other rules and regulations that may be
implemented from time to time.
32. Landlord reserves the right to update or change these Building Rules and Regulations from time to
time.
Copies of key guidance regarding indoor air quality can be obtained through ASHRAE at their website
www.ashrae.org in the bookstore. These guidance materials are publications of the American Society for
Heating, Refrigeration and Air-Conditioning Engineers.
Preventive measures that minimize indoor air quality problems include:
1. Maintenance activities that interfere with HVAC operation or produce odors and emissions are
scheduled during times when the building is unoccupied.
2. Use solvent-free maintenance and construction products.
3. Vendors are required to provide Material Safety Data Sheets to identify paints, solvents and other
chemicals that require ventilation during use (schedule for off-hours).
4. Equipment is inspected regularly, maintained in good condition, and operated as designed.
5. When feasible, renovated areas are ventilated with fresh air for several days to assist the dilution and
dispersal of organic chemicals released from the products and materials in the space.
Policies and Procedures: Smoking
One Front Street maintains a no smoking policy throughout the building, including all common areas, the
lobby, rest rooms, stairwells and elevators. Please do not smoke at building entrances.