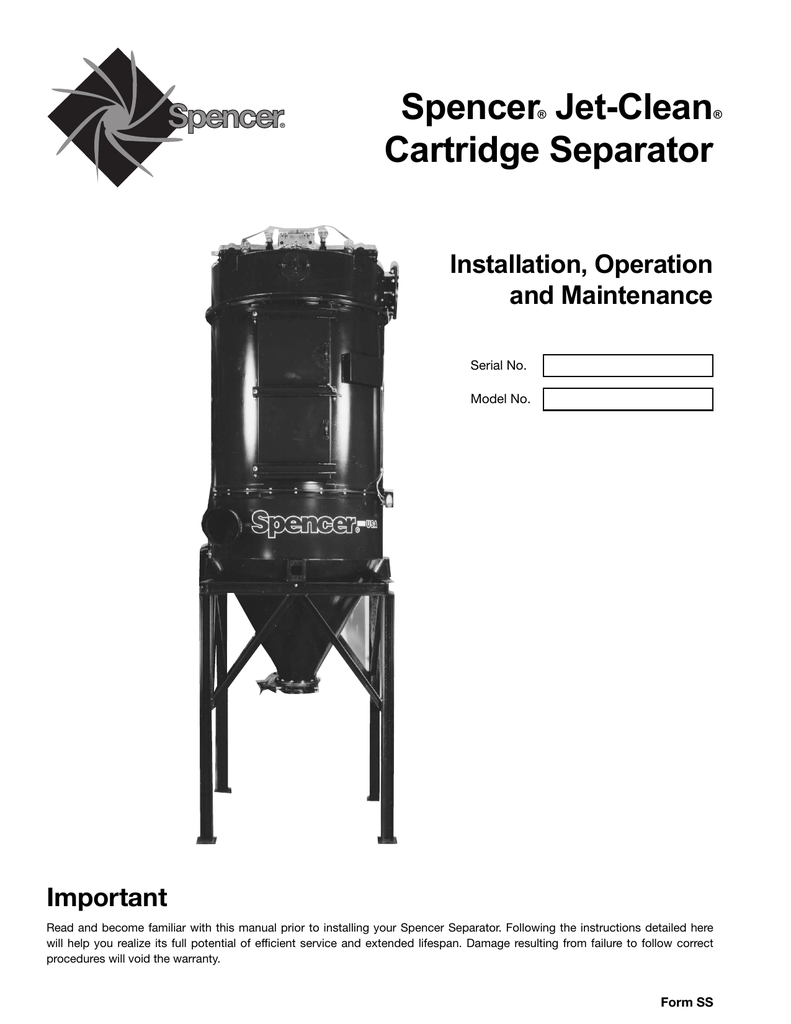 Spencer Jet-Clean
Cartridge Separator
®
®
®
Installation, Operation
and Maintenance
Serial No.
Model No.
Important
Read and become familiar with this manual prior to installing your Spencer Separator. Following the instructions detailed here
will help you realize its full potential of efficient service and extended lifespan. Damage resulting from failure to follow correct
procedures will void the warranty.
Form SS
Contents
Page
Product Description
Components of a Jet-Clean Cartridge Separator include:
I
Introduction ..........................................................2
Product Description............................................2
II
Limited Warranty ...................................................2
III
Safety Precautions and Operating Guidelines ........4
IV
Handling ...............................................................4
Shipment...........................................................4
Inspection .........................................................4
Unpacking .........................................................4
V
Installation ............................................................4
Location ............................................................4
Separator Setup.................................................5
VI
Operation and Adjustments ...................................6
Startup Precautions ............................................6
Separator Startup...............................................6
Normal Operating Limits .....................................7
VII Maintenance .........................................................7
VIII Troubleshooting Guide ..........................................8
Inlet section. Dust-laden air enters the separator via the inlet
section where its velocity is reduced. Heavier particles are
separated by centrifugal force and gravity, and fall into the
lower section. Lighter particles are carried upward and
deposited on the outside of the cartridge filter. Cleaned air
passes through the filter and out the discharge.
Cartridge section. The Jet-Clean Cartridge uses a pleated
filter similar to an automotive air cleaner. While in use this
filter is automatically, repetitively cleaned by powerful pulses
of compressed air.
Clean Air Plenum (CAP) is the chamber at the top of the
s e p a r a t o r. The CAP contains or supports the Jet-Clean
components that clea n the dirty c artri dge s o f t heir
accumulated dust. The Jet-Clean devices include:
1. Venturis, one per cartridge, are air amplifying devices that
augment the effect of the reverse pulse jet and direct air
through the cartridges for effective cleaning.
2. Solenoid Valves (A), acting upon signals from the timer,
control the air diaphragm valves.
3. Air Diaphragm Valves (B) release pulses of high pressure
air through the venturis to clean the filter cartridges.
4. Air Header (C) connects the air valves to a 90-100 psig
compressed air source. The header also acts as a surge
tank to maintain sufficient air volume at full pressure.
5. Sequence Timer (D), located outside the separator in a
NEMA 4 housing, is an electronic unit that determines the
frequency and duration of filter cleaning.
I. Introduction
II. Limited Warranty
Welcome as a Spencer customer and owner of a new
Jet-Clean Cartridge Separator. This manual contains information for handling, installing, operating and maintaining your
new equipment correctly, to ensure trouble-free operation
and long service life. Please read it through carefully.
We warrant that this product will be free from defects in
material and workmanship for a period of 18 months from
date of shipment or 12 months from date of startup,
whichever comes first. Within the warranty period, we shall
repair or replace, F.O.B. our Factory or authorized service
centers, such products that are determined by us to be
defective.
If you ha ve any que stio ns about the pro c e d u re s or
re comm end atio ns presented, call your S penc er
R e p re sentat ive for advice . The S pencer Service a nd
Engineering Departments are also available, through your
local representative, to provide assistance.
B e f o re proceeding with installation, be sure the model
number and serial number are correctly re c o rded in the
boxes on the front cove r of this manual. Having this
information easily accessible will expedite parts orders and
other communication with the factory.
2
This warranty will not apply to any product which has been
subjected to misuse, negligence or accident, or misapplied
or improperly installed. This warranty will not apply to any
product which has been disassembled, repaired or otherwise
a l t e red by any persons not authorized by the Spencer
Service Department. For complete warranty information,
including our limitation of liability, consult Spencer's Terms
and Conditions of Sales.
Soleniod Valves (A)
Air Header (C)
Differential Pressure Gauge
Sequence Timer (D)
Air Diaphragm Valves (B)
Access Door
Air Outlet
Cartridge Support Frame
Cartridge
Cartridge Access Door
Air Inlet
Mounting Pads
Flanged Material Discharge
Air Header (C)
Air Diaphragm Valves (B)
Lifting Lugs
Clean Air Plenum
Solenoid Valve Assembly (A)
Air Header
Air Pressure Gauge
Pressure Relief Valve
Compressed Air Inlet
Drain Plug
Low
High
}
Pressure Taps
Clean Air Plenum
3
III. Safety Precautions
and Operating
Guidelines
• Read and follow all instructions in this manual. If you have
any questions, consult your Spencer Representative.
• Perform all installing and operating procedures with care,
following safe practices to avoid accidents and damage.
• Use adequately rated lifting equipment for installation,
removal or disassembly of heavy components.
• Make sure the separator is securely bolted to the frame and
the frame is bolted to the floor.
• Obtain approval by insurance carrier for installations
involving flammable or explosive dust collection.
• Inspect all openings for objects and foreign matter before
connecting accessories or piping.
• Install filter cartridges (shipped separately) in the separator
after vertical installation and before startup.
• Check components and accessories for proper operation
before startup.
• Do not vacuum burning materials into the separator.
• Lock electrical circuits open and tag them during servicing
of equipment.
• Ensure that tubing and accessories such as filters or valves
are properly installed and fastened.
• Use only genuine Spencer original equipment parts for
repairs and replacements.
IV. Handling
Shipment
To minimize on-site assembly, Spencer separators are
typically shipped assembled except for the filter cartridges.
Air headers, solenoids, air piping, air pressure gauges and
sequence timers are premounted, piped and ready for
connection to compressed air and power supplies.
For protection during shipping, filter cartridges and their
mounting hardware are shipped separately; these packages
a re cle arly marked. If the sep arator is no t installed
immediately, the filter cartridges should be stored in a dry,
indoor location.
Inspection
Spencer separators are inspected and securely crated before
shipment. Because damage may occasionally occur in
transit, inspect the separator carefully upon arrival. Note any
damage on the bill of lading. Damage incurred in transit is the
responsibility of the common carrier, there f o re damage
claims should be filed against the carrier as soon as possible.
Since Spencer ships F.O.B factory, any claims must be
initiated against the carrier by the purchaser, as stated in
Spencer's Terms and Conditions of Sales.
4
Unpacking
1. Uncrate the separator, saving all literature, boxes and
parts.
2. Remove inlet and discharge protective caps and all
packing materials. Check inside the separator for loose
parts.
3. Use the packing slip to check off and confirm the presence
of all ordered components.
4. Read any instructional and warning labels on the separator
before installation and operation.
V. Installation
NOTE: If any problems are encountered during installation or
startup, consult your local Spencer Representative.
Location
The separator's exterior finish, a polyurethane topcoat over
epoxy primer, is suitable for most environments. If the
separator will be subject to corrosive atmospheres or other
adverse conditions, additional protective coating may be
required.
If the separator will be used to collect flammable dust or if
there is an explosion risk, consider locating the separator
outdoors.
Caution: Your insurance underwriter should examine and
approve any proposed installation when the application
involves flammable or explosive materials.
Caution: If explosion relief vents are required, consult the
N F PA or your insurance underwriter re g a rding pro p e r
venting requirements.
WARNING: IF EXPL OSION RE LIEF VEN TS A RE
INSTALLED ON EQUIPMENT INSIDE A BUILDING, THEY
MUST BE LOCATED NEXT TO AN EXTERIOR WALL AND
P R O P E R LY VENTED TO TH E OU TSI DE , TO AVOID
DAMAGE TO EQUIPMENT OR PERSONNEL. CONSULT
LOCAL CODE AND NFPA CODE.
Separator Setup
1. Separator Installation
1. Mount separator on a suitable support frame.
2. Bolt separator securely to the frame and the frame to the
floor.
3. Connect the inlet and discharge piping. Make sure the
connections do not leak.
2. Filter Elements
1. Carefully place the cartridge assembly over the cartridge
support frame.
2. Using a gasket, two washers and wing nut, secure the
cartridge to the support frame.
3. Turn the wing nut clockwise until the gasket is compressed
about 1/4".
Seal Washer (1/2" thick)
Cartridge
Close valves to
take reading
Cartridge Support Frame
Bolt
Rubber Washer
Optional setup with 3-way valves which bleed air continuously except
when reading gauge; airflow minimizes dust plugging.
Steel Washer
4. Discharge Valve
Wing Nut
If an optional rotary feeder or other discharge valve has been
supplied, it should be bolted to the discharge flange of the
separator according to manufacturer's instructions.
3. Differential Pressure (∆P) Gauge
5. Electrical
All accessories and a detailed instruction sheet are packed
with your gauge.
CAUTION: All wiring and electrical adjustments or
installations must be done by a qualified electrician in
accordance with the National Electrical Code and local
codes.
1. Mount the gauge in a location f ree fro m excessive
vibration, where the temperature does not exceed 140°F
(60°C). Avoid direct sunlight.
2. Co nnect the gauge using 1/4" plastic tubing a nd
compression fittings or 1/4" copper tubing and fittings.
NOTE: In addition to Spencer's standard NEMA 4 enclosure
for the sequence timer and solenoids, optional NEMA 7/9
enclosures are also available.
3. Place a loop in the high pressure line from the dirty air
housing to keep dust out of the gauge line (see diagram
below; also note the two additional, optional techniques
shown).
4. Adjust the differential pressure gauge to zero reading when
there is no flow through the separator.
By Spencer
Hot
OFF ON
115/1/60 Power
High
Low
Loop in tubing (dirty air side) should be at least 12" higher than clean
air connection to keep dust out of gauge line.
Neutral
Connect 115 volt, single phase, 60 Hz, 10 amperes power
supply to sequence timer terminals marked Line L1 and L2.
In grounded systems, connect neutral of line to L2.
I n t e rconnecting wiring between the sequence timer and
solenoid valves is installed at the factory. In operation, the
sequence timer signal starts at Solenoid 1, then activates
Solenoid 2 and continues in sequence to the last selected
solenoid, then recycles. Turning the sequence timer switch
OFF, then ON, resets the sequence; the cycle begins again at
Solenoid 1.
Sequence Timer adjustments are:
Filter
Small in-line filter (not provided) may also be used at inlet to dirty
side tubing.
Pulse Time, duration of each air pulse, is factory preset
at 100 milliseconds, adjustable from 50 to 500 ms via
potentiometer (see diagram above).
Step Time, interval between pulses, is factory preset at
a p p roximately 20 seconds, adjustable from 8.5 to 180
seconds via potentiometer (see diagram above).
5
6. Compressed Air
Connect a source of cle an, d ry (instrum ent qualit y)
c o m p ressed air to the air header. Air consumption is
approximately 1.9 scfm per pulse when the pulse duration is
100 ms. The compressor and its piping must be adequately
sized to deliver a constant pressure of 90 to 100 psig at the
header, even with other users on line.
7. Optional Accessories
D i ff e rential Pre s s u re (∆P) Switch senses pre s s u re dro p
through the filter cartridge and activates the sequence timer.
This switch should be connected to the pressure switch input
terminals on the timer (see diagram on page 5). When the ∆P
rises to a preset point, the cleaning cycle is initiated.
Cleaning continues until the differential pressure drops below
the low set point.
No te: If a ∆P switch is not used, the pre s s u re switch
terminals on the sequence timer should be shorted out with a
jumper (see diagram on page 5).
A i r l o c k s should be electrically inte rlocked to sta rt
simultaneously with the vacuum producer. They should also
be furnished with a time delay to permit them (and the
pulsing action of the separator) to continue for two to three
minutes after the vacuum producer shuts down.
VI. Operation and
Adjustments
Startup Precautions
Make an operational check of all components to detect any
problems before the unit goes on line. Check the following:
Blower or vacuum producer, airlock and other accessories
d i ffer from system to system. Perform the appro p r i a t e
checks, which may include:
Check for proper direction of rotation as marked on the
equipment.
Inspect rotating equipment and remove foreign objects.
Be sure all guards and other safety equipment are in
place.
WA R N I N G : KEEP HANDS OUT OF AIRLOCKS TO
AVOID INJURIES.
Separator Startup
1. Close all doors and ports, with sequence timer and
auxiliary equipment off.
2. Turn on compressed air to separator and inspect the jet
pulse system for leaks. If air is leaking through any valve
with the timer off, there may be a leak between the
solenoid and diaphragm valve. Inspect the 1/4" tubing
between the solenoids and diaphragm valves to be
certain all connections are tight and leak-free. The tubing
must not be crimped. Shut off compressed air supply.
3. Turn on sequence timer. The red "power on" indicator
should light. Individual timing lights should blink, one at a
time, at preset intervals. The corresponding solenoid
valves will be activated; clicking of the solenoid valves
should be clearly audible.
4. Turn the air supply to the air header on again. All solenoid
valves should be cycling. Feel for the exhaust air from
each valve.
Sequence Timer. When power is switched on, the re d
"power on" indicator should light. The individual timing lights
should blink, one at a time, at the preset intervals.
5. Confirm the STEP time is between 10-20 seconds (preset
at factory). This may be adjusted later, based on the dust
loading in your particular system. Let the separator pulse
for ten minutes to clear all lines.
Solenoids. Clicking of solenoid valves should be clearly
audible during operation. Exhaust air from each valve can be
felt at the discharge port when the valve is pulsed.
6. Confirm that all dust discharge equipment such as rotary
valves and conveyors is interlocked to start with the
vacuum producer. If not, turn them on.
Air Diaphragm Valves. When actuated, each valve emits a
blast of air that can be heard clearly.
7. Start the vacuum producer with the butterfly valve set at
about 50% of maximum airflow and allow equipment to
run for 30 minutes.
Cartridges. Inspect cartridges to be sure:
Cartridges are tightly seated with proper gasket and
washers.
Wing nut is hand-tightened securely.
Tubing and/or Ductwork. Be sure all connections are tight
and all cleanout ports are closed. (Leaky tubing can result in
poor overall system performance.) Tubing, piping and
ductwork must be free of debris. Make sure access doors are
closed. Check all gaskets for leakage.
6
Note: It is good practice to introduce the dust stream to
new filters gradually. This is particularly true with very fine
solids (less than 2 microns) or high dust concentrations.
8. Check vacuum producer exhaust line for dust. If present,
shut off system and correct problem.
9. Observe the differential pressure gauge. At startup the
pressure drop will be low, approximately 1/2" to 1" H20.
After 30 minutes of operation, the cartridges will start
to coat with filtered dust. The filtering efficiency and
d i ff e rential pre s s u re will increase. At this point, open
the butterfly valve of the vacuum producer to its design
setting.
10. Recheck the ∆P gauge after the separator has run for
several hours and the differential pressure has stabilized.
If the ∆P is below 3-4" H20, gradually increase the STEP
time (interval between pulses), using a screwdriver. If the
∆P is higher than 4" H20, decrease the STEP time. After
each change, let the system stabilize before making
further adjustments.
Note: A pressure drop of 3-4" H20 across the cartridge
will generally provide good results although 1-6" is
c o n s i d e red normal. With any new system, a certain
amount of trial and error may be necessary for optimum
operation.
Normal Operating Limits
Temperature of the system must remain below the maximum
temperature rating of the filter cartridges used in your separator. Check the information furnished with your cartridges for
their characteristics and operating limits.
The differential pressure gauge must be located away from
excessive vibration, where the temperature does not exceed
140°F (60°C). Avoid direct sunlight.
WARNING: NEVER VACUUM BURNING MATERIALS INTO
THE SYSTEM.
The system is now ready for use.
VII. Maintenance
WARNING: DISCONNECT AND LOCK OUT ELECTRICAL
POWER BEFORE PERFORMING ANY MAINTENANCE
PROCEDURE.
Your separator should provide many years of excellent
performance. To assure trouble-free operation, perform the
following preventive maintenance steps as indicated:
Daily
Check timer, adjust if necessary.
Check the ∆P gauge for pressure drop across
cartridges.
Check for proper discharge of collected material
from the separator.
Weekly
Check timer and solenoids for proper operation.
Monthly
Lubricate rotary airlock if present.
Inspect seals for dust leaks.
Quarterly Inspect cartridges for damage or leaks.
Inspect, clean or replace ∆P gauge air filters.
Lubric ate vacuum producer ac cording to
instructions in vacuum producer manual.
During these regular checks, be alert to problems such as the
following that may arise or become worse over time.
Filter Blinding. (Filter medium is filled with dust that cannot
be removed by cleaning pulses.) Blinding is indicated by a
high ∆P that does not drop when the filters are pulsed for a
period with the vacuum producer turned off. Two common
causes are filter overloading and moisture pickup from the
dust-laden air or the compressed air. Also, certain dusts have
high blinding tendencies. If blinding is severe, consult your
Spencer Representative for assistance and a possible
change of filter media.
Dust Re-entrainment. (Dust loosened during cleaning
redeposits on the filter medium.) Re-entrainment leads to unusually high filter loading and often a high pressure drop. One
possible cause of re-entrainment is discharge hopper overfilling. There may be bridging of collected material in the hopper
or an inadequate dust discharge system. Also, some types
of dust are more susceptible to re-entrainment than others.
Remedies may involve increasing the capacity of the dust
d i s c h a rge system, installing a high level alarm, adding a
debridger in the hopper, and/or changing the filter medium.
7
VIII. Troubleshooting Guide
PROBLEM
EXCESSIVE
DUST LEAKAGE
INADEQUATE
FILTER CLEANING
UNUSUALLY HIGH
PRESSURE DROP
Possible Cause
Corrective Action
• Improper cartridge installation.
Seat cartridge, gasket and washers properly
and hand-tighten wing nut securely.
• Holes in filter caused by abrasion or
mechanical damage.
Replace cartridge.
• Missing filter cartridge.
Install cartridge.
• Dust in clean air plenum left from earlier leak
in cartridge.
Clean plenum completely before restarting
separator.
• Insufficient air pressure.
Verify 90-100 psig air delivery at air header
even with all users on line
• Faulty air diaphragm valve operation due to
foreign material from the air supply piping
(especially in new systems).
Clean valve, blow down lines before
connecting.
• Malfunctioning solenoid valve due to dirt in
the valve plunger.
Clean plunger.
• Faulty sequence timer operation.
Check timer wiring.
• Excessively long intervals between cleaning
pulses.
Adjust timer potentiometer with screwdriver
to reduce STEP setting.
• Excessive airflow.
Match system airflow to separator rating.
• Low compressed air pressure.
Ensure 90-100 psig air is constantly available
at the air header.
• Moist air causing filter clogging.
Eliminate moisture in air supply.
• Solenoid valve malfunction.
Feel for air pulses at discharge of each valve;
clean or replace valve or solenoid if faulty.
• Rotary valve air leakage caused by
increased clearances due to wear.
Repair or replace airlock.
• Blinding of filter medium due to excessive
dirt load.
Decrease STEP interval.
• Blinding of filter medium caused by mixture
of dust and moisture.
Eliminate moisture in system airflow or
compressed air.
• Blinding of filter medium due to unusually
fine or difficult dust.
Consult Spencer Representative for
alternative filter medium.
• Dust re-entrainment due to hopper
overfilling.
Check dust discharge system; consider
hopper debridger or high level alarm.
• Defective or misadjusted sequence timer
Check timer operation and settings; readjust
or replace timer.
SHORT CARTRIDGE • Cartridge temperature or chemical resistance
not matched to actual operating conditions.
LIFE
Consult Spencer Representative for
alternative filter medium.
• Localized cartridge wear caused by
excessive material buildup in hopper.
Check dust discharge system; consider
hopper debridger or high level alarm.
• Blinding of filter medium.
See Blinding topics above.
For the name and telephone number of your local
Spencer Representative, call 1-800-232-4321.
Since 1892 moving air and gas for a cleaner environment
The
Turbine Company, 600 Day Hill Road, Windsor, CT 06095-4706
TEL 800-232-4321 ◆ 860-688-8361 ◆ FAX 860-688-0098 ◆ www.spencerturbine.com
Form SS, 399CF1
Copyright © 1999 The Spencer Turbine Company
Printed in U.S.A.