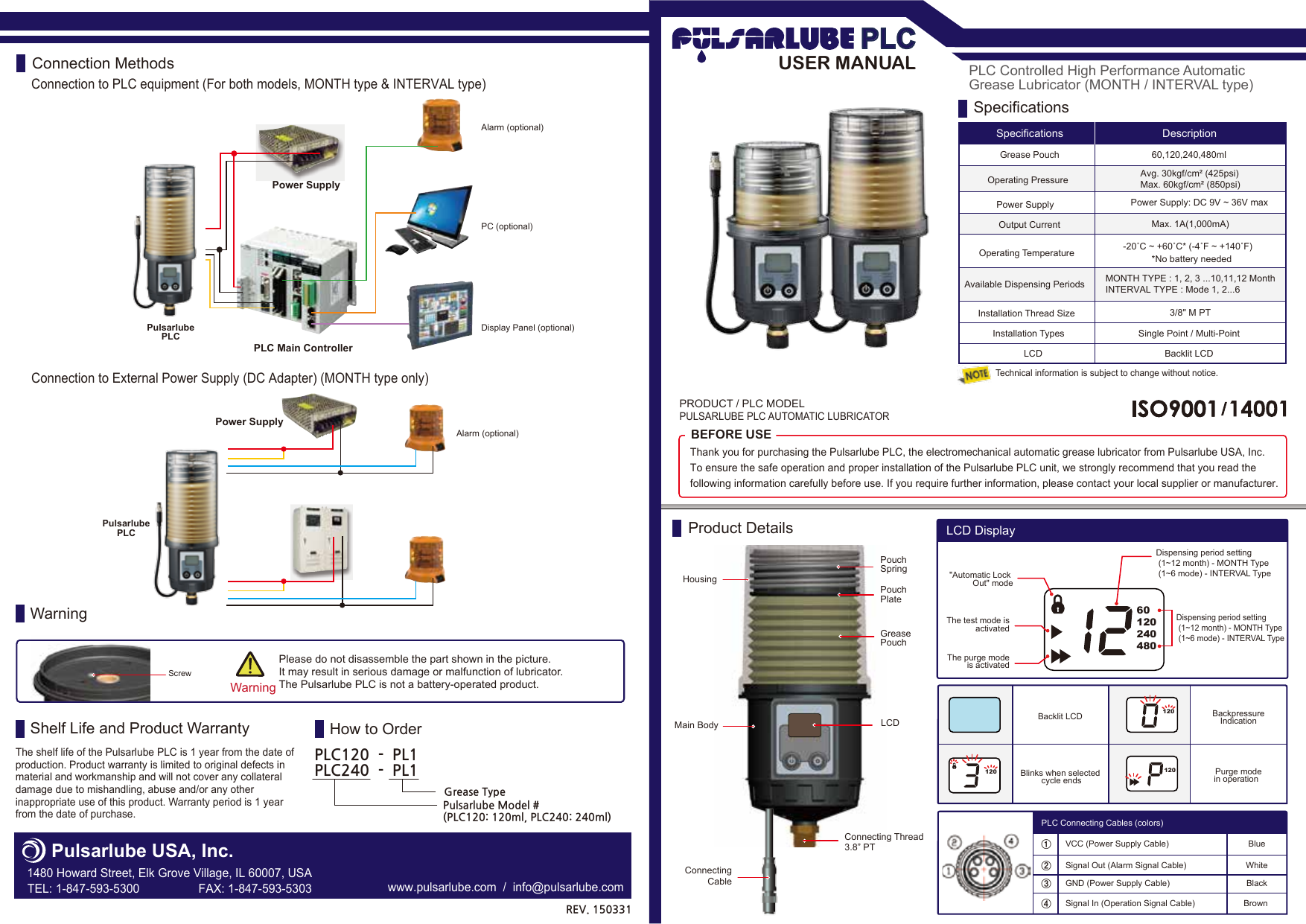 PLC
USER MANUAL
Connection Methods
Connection to PLC equipment (For both models, MONTH type & INTERVAL type)
PLC Controlled High Performance Automatic
Grease Lubricator (MONTH / INTERVAL type)
Specifications
Alarm (optional)
Power Supply
Specifications
Description
Grease Pouch
60,120,240,480ml
Operating Pressure
Avg. 30kgf/cm² (425psi)
Max. 60kgf/cm² (850psi)
Power Supply: DC 9V ~ 36V max
Power Supply
Pulsarlube
PLC
Max. 1A(1,000mA)
Output Current
PC (optional)
Display Panel (optional)
Operating Temperature
-20˚C ~ +60˚C* (-4˚F ~ +140˚F)
*No battery needed
Available Dispensing Periods
MONTH TYPE : 1, 2, 3 ...10,11,12 Month
INTERVAL TYPE : Mode 1, 2...6
Installation Thread Size
3/8" M PT
Installation Types
Single Point / Multi-Point
PLC Main Controller
Backlit LCD
LCD
Technical information is subject to change without notice.
Connection to External Power Supply (DC Adapter) (MONTH type only)
PRODUCT / PLC MODEL
PULSARLUBE PLC AUTOMATIC LUBRICATOR
Power Supply
BEFORE USE
Alarm (optional)
Thank you for purchasing the Pulsarlube PLC, the electromechanical automatic grease lubricator from Pulsarlube USA, Inc.
To ensure the safe operation and proper installation of the Pulsarlube PLC unit, we strongly recommend that you read the
following information carefully before use. If you require further information, please contact your local supplier or manufacturer.
Pulsarlube
PLC
Product Details
Housing
Warning
LCD Display
Pouch
Spring
Pouch
Plate
Grease
Pouch
Screw
The shelf life of the Pulsarlube PLC is 1 year from the date of
production. Product warranty is limited to original defects in
material and workmanship and will not cover any collateral
damage due to mishandling, abuse and/or any other
inappropriate use of this product. Warranty period is 1 year
from the date of purchase.
How to Order
Main Body
60
120
240
480
The test mode is
activated
Backlit LCD
LCD
PLC120 - PL1
PLC240 - PL1
120
Grease Type
Pulsarlube Model #
(PLC120: 120ml, PLC240: 240ml)
www.pulsarlube.com / [email protected]
REV. 150331
Dispensing period setting
(1~12 month) - MONTH Type
(1~6 mode) - INTERVAL Type
120
Backpressure
Indication
120
Purge mode
in operation
Blinks when selected
cycle ends
PLC Connecting Cables (colors)
Connecting Thread
3.8" PT
Pulsarlube USA, Inc.
1480 Howard Street, Elk Grove Village, IL 60007, USA
TEL: 1-847-593-5300
FAX: 1-847-593-5303
"Automatic Lock
Out" mode
The purge mode
is activated
Please do not disassemble the part shown in the picture.
It may result in serious damage or malfunction of lubricator.
Warning The Pulsarlube PLC is not a battery-operated product.
Shelf Life and Product Warranty
Dispensing period setting
(1~12 month) - MONTH Type
(1~6 mode) - INTERVAL Type
Connecting
Cable
①
VCC (Power Supply Cable)
Blue
②
Signal Out (Alarm Signal Cable)
White
③
GND (Power Supply Cable)
Black
④
Signal In (Operation Signal Cable)
Brown
Service Pack Installation
Button & LCD Functions
Power
All icons
Mode
Button press instructions
Short press
Press for 3 seconds
Press for 5 seconds
Blinking
If the Pulsarlube PLC unit is provided with a replaceable Service Pack, the following procedure is required before step #2 of the above instructions.
For complete Service Pack installation instructions, please refer to the Service Pack user manual, step #2~6 in the section of "How to Replace a Service Pack".
2
1
3
3
4
4
60
120
240
480
( To be able to perform the functions below, please make sure that the lubricator's auto lock function is deactivated by pressing the MODE button for 3 seconds. )
Functions
Buttons
Programming Instructions
LCD Indications
ON)
120
120
120
120
120
120
Power ON - Press for 3
seconds to power on.
Power
ON/OFF
Power OFF – Press for 5
seconds to power off.
Troubleshooting Guidelines
(Interval Type)
1. Please take the following steps to troubleshoot a malfunctioning unit.
LCD Indications
OFF)
120
60
120
240
480
6 continuous cycles
Normal
Stop
Please until Lock icon '
Lubricator goes
back to normal setting
120
120
Operating
120
120
Unlocked
' disappears.
ㆍPossible electrical malfunction of CPU or circuitry
LCD Indications
Possible Causes of Error Messages
If technical difficulty continues, please contact your
local supplier or manufacturer for further assistance.
Troubleshooting Steps
Remove the lubricator from the lube point.
120
Extreme backpressure encountered.
Check for causes of high backpressure such as …
120
(The backlight will stay on for 5 seconds. )
120
ㆍOver lubrication
ㆍHardened grease at the lube point
ㆍKinked lube line
ㆍMax lube line distance on remote installation
exceeded, etc.
3
60
120
5
If technical difficulty continues, please contact your
local supplier or manufacturer for further assistance.
Inspect unit for tampering or water damage.
Installation Instructions
4
Reset the unit.
Re-set to default setting
120
Press the MODE button while holding
down the POWER button,
2
Troubleshooting Steps
2. Please take the following steps if there is a grease dispensing failure.
+
1
ㆍPossible contact problem (open circuit) with
programming buttons on the lubricators' control panel.
Blank LCD
After lock function has been
deactivated, press the MODE
button for 5 seconds.
Reset
120
If LCD displays improperly
ㆍElectrical malfunction of CPU
If unit displays a blank screen
Short press of the MODE button to
program the dispensing period.
*1~12 month for MONTH type
*Mode 1~6 for INTERVAL type
Unlock
Backlight
120
Short press of the button to stop.
Mode Setting
Possible Causes
120
Hold the button until 'P'
appears on the screen.
Activate
Purge
Mode
(Month Type)
If the lubricator reaches the end of its lube cycle
and there is lubricant still remaining in the grease pack
ㆍCheck for grease hardening within the grease pack
or in the lube line.
ㆍCheck how long your unit has been in operation.
6
Press for 2
seconds
120
Ensure that lubricator is dispensing properly.
Reinstall the lubricator after resolving the cause
of backpressure.
Remove grease pack from lubricator.
Manually purge hardened grease out of grease pack then
reinstall.
If the lubricator is still not dispensing properly,
replace used grease pack with new one.
Lubricator may have reached its end of life cycle and
may have to be replaced.
120
120
When the selected dispensing period ends,
LCD backlight will activate and display will blink.
Replace the empty grease pack with new one,
then reset the unit.

* Your assessment is very important for improving the work of artificial intelligence, which forms the content of this project