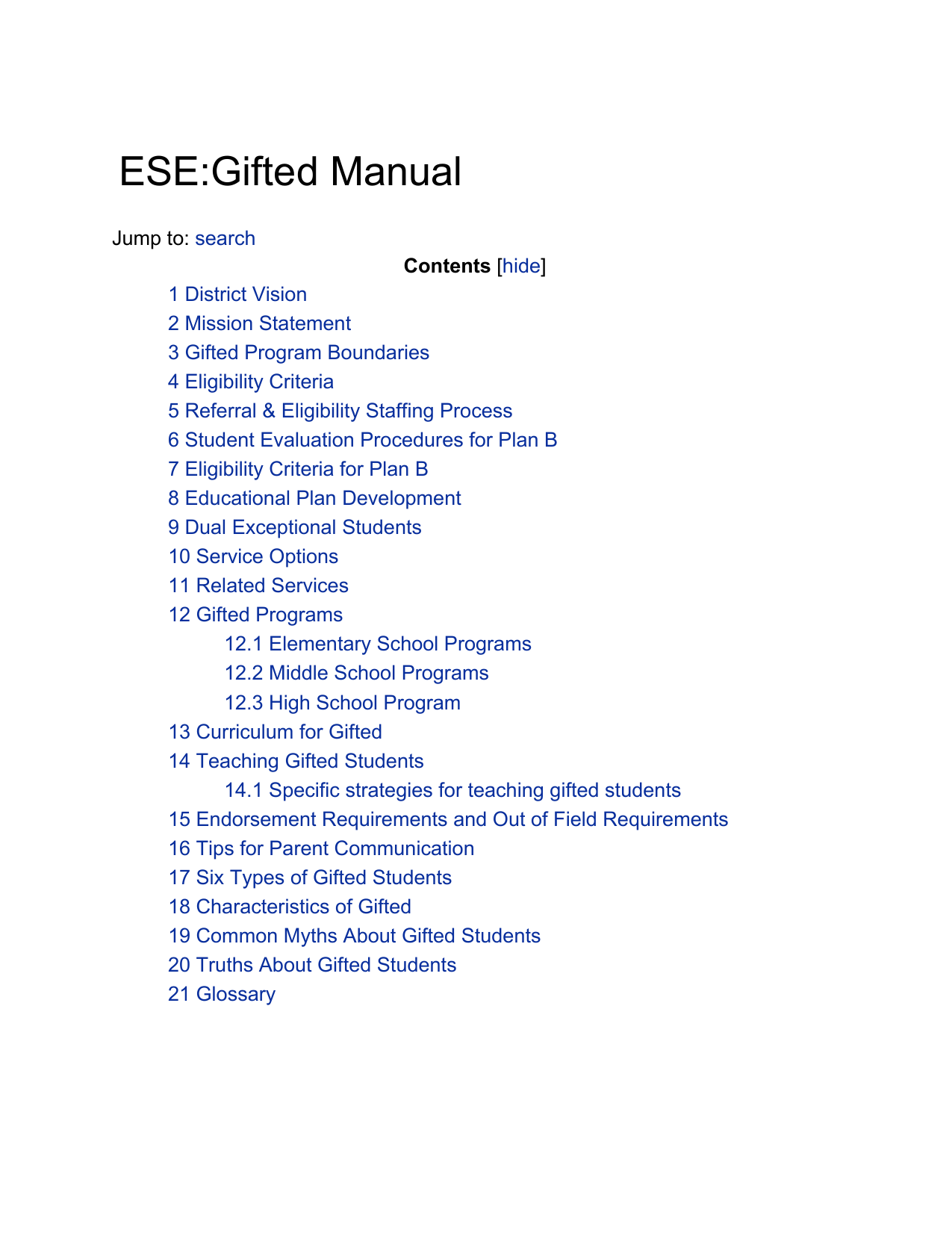 ESE:Gifted Manual ​
Jump to: ​
search Contents​
[​
hide​
] 1 District Vision 2 Mission Statement 3 Gifted Program Boundaries 4 Eligibility Criteria 5 Referral & Eligibility Staffing Process 6 Student Evaluation Procedures for Plan B 7 Eligibility Criteria for Plan B 8 Educational Plan Development 9 Dual Exceptional Students 10 Service Options 11 Related Services 12 Gifted Programs 12.1 Elementary School Programs 12.2 Middle School Programs 12.3 High School Program 13 Curriculum for Gifted 14 Teaching Gifted Students 14.1 Specific strategies for teaching gifted students 15 Endorsement Requirements and Out of Field Requirements 16 Tips for Parent Communication 17 Six Types of Gifted Students 18 Characteristics of Gifted 19 Common Myths About Gifted Students 20 Truths About Gifted Students 21 Glossary District Vision [​
Back to top​
] We exist to provide a world class education for all students. Our vision is… All our students achieve sucess...in college...in career… and in life. Pasco Vision Mission Statement [​
Back to top​
] To provide the opportunity for specialized instruction in order to address the unique needs of our gifted students promoting their academic, social and emotional growth within the global community. Gifted Program Boundaries [​
Back to top​
] Each student's zoned school will provide information on available service models and their locations. Gifted Boundaries Eligibility Criteria [​
Back to top​
] The Florida Department of Education has determined that a student may be eligible for gifted per​
​
State Rule 6A­6.03019​
if he or she meets the following criteria: •​
​
The student demonstrates a majority of gifted characteristics as measured by a checklist. The District School Board of Pasco County uses the Renzulli­Hartman Checklist​
​
MIS 743​
to assess this requirement. •​
​
The student has a full scale IQ, as evaluated by a standardized intellectual assessment, two standard deviations above the mean. This computes to an IQ score of 130 or higher. If a student evaluated for gifted eligibility fails to meet the required criteria, he or she may be considered for eligibility under Plan B. The Florida Department of Education has approved each school district to develop a Plan B to assist with the identification of underrepresented gifted eligible students. Underrepresented students are defined as those who fall within the low socio­economic status (SES) category and are eligible for free or reduced lunch and/or English Language Learners (ELL). The District School Board of Pasco County has a Plan B for considering these two subgroups of students when initial eligibility criteria are not met. Referral & Eligibility Staffing Process​
(Pasco SSPS Gifted Eligibility) [​
Back to top​
] Students may be referred for gifted evaluation consideration for any of the following reasons: •​
​
Self nomination •​
​
Parent request •​
​
Teacher request The​
​
Gifted Evaluation Consideration Packet​
should be used with referring a student for gifted evaluation. •​
​
Upon receipt of a referral, the In­School Staffing (ISS) team reviews a completed Renzulli­Hartman Checklist and the academic history of the student to determine if a psychological evaluation is appropriate. If a student is referred for evaluation and fails to meet the initial criteria for eligibility, he or she may be considered under the District School Board of Pasco County's Plan B. If a student is not referred, the parent has the right to pursue a private evaluation at his or her own expense, in which case the district must consider the student for eligibility​
[AS1] ​
. Student Evaluation Procedures for Plan B [​
Back to top​
] A Matrix is required for all eligible ELL or low SES students considered for Plan B evaluation. The following are required components of the Plan B Matrix: •​
​
A standardized assessment used to evaluate a student's IQ. •​
​
Typical evaluations used by the District School Board of Pasco County to evaluate IQ are the Reynolds Intellectual Assessment Scale (RIAS) or the Wechsler Intellectual Scale for Children (WISC). The following completed Behavior Rating Scales: 1.​
Teacher 2.​
Parent​
[AS2] 3.​
Student​
or ​
Second Rater Form​
​
[AS3], ​
which can include Music, Art and/or P.E.​
​
(at least one form must be completed) The rating scales are designed to measure characteristics of leadership, motivation, academic performance, and creativity. These characteristics are measured under the subheadings of "Knowledge and Learning Style," "Personal Characteristics," and "Work Habits." The focus of these areas was adopted from work conducted by New Mexico Highlands University, which identified these characteristics as being evident in underrepresented gifted students. A standardized academic achievement score in the area of reading comprehension or math applications is also ascertained to assist with calculating a student's total Matrix score. A standardized assessment such as the Woodcock Johnson Test of Achievement is used to evaluate the student's achievement level. If evidence is not clearly present, as measured by the Renzulli­Hartman, the Students Underrepresented in Gifted Education (S.U.R.G.E.) checklist [AS5] ​
can be used to gather additional information regarding the characteristics required for eligibility​
[AS6] ​
. Eligibility Criteria for Plan B [​
Back to top​
] The following criteria are required of a student found eligible for gifted services under the Plan B model: Student must be a member of an identified underrepresented category – ELL or low SES. The student must receive a total score of 30 or higher on his or her Teacher Behavior Rating Scale​
. The student must receive a total score of 30 or higher on his or her​
​
Parent Behavior Rating Scale​
. A potential candidate for Plan B consideration will need to have a composite/full scale IQ score of 115 or higher as evidenced by a standardized assessment. A total score of 11 or higher must be obtained on the​
​
Plan B Matrix​
. For students who receive a total score of 9 or 10 on the Plan B Matrix, a case review might be conducted to consider other factors that may influence a student's eligibility. At the request of the school based evaluation team, a case review is conducted at district office. The Case Review Committee may be comprised of ESE/Student Services Administrators and applicable school based evaluation team members. The request is made based on the team's identification of an extraneous factor that is believed to signify a student's need for specialized instruction. The team conducting the case review examines the facts of the evaluation and investigates any additional objective data that may indicate a demonstrated need. The outcome of the review is summarized in a written document that is disseminated to the referring evaluation team, which includes the parent and student when appropriate. Initial​
[AS7] ​
Eligibility Staffing (Elementary Non­Gifted Sites) Once a determination is made that a student meets gifted eligibility criteria, the guidance secretary contacts the guidance secretary at the designated gifted site within the feeder pattern and informs her that the student's file is being sent to her. Upon receipt of the student's file, the gifted site guidance secretary gives it to the assigned teacher of gifted. The teacher of gifted reviews the file and verifies that all required paperwork (teacher input, parent input, and student input forms) is complete. The teacher of gifted then contacts the parent to schedule an Education Plan (EP) meeting. During the EP meeting, the teacher of gifted develops the plan with the parent and the student. The teacher also reviews the Consent for Services form (​
MIS #755​
) with them and has the parent sign it. If the parent consents to gifted services, they must then decide if the student will participate in the gifted program. Once the initial EP meeting has taken place and all required documents have been signed, the teacher of gifted returns the student's file to the guidance secretary. Educational Plan Development [​
Back to top​
] Each gifted eligible student is required to have an Education Plan (EP) developed for his or her unique needs. A new plan needs to be developed whenever a student articulates from one level of school to another ­­ primary to intermediate (2­3), elementary to middle school, and middle to high school. It is the responsibility of the gifted­endorsed teacher at the sending school to complete an articulation packet for the student to be used in the formation of the new plan. It is the responsibility of the gifted teacher at the receiving school to complete the new EP.​
​
The Florida Department of Education has outlined in its state rules the​
​
requirements for developing an EP​
. Each EP is required to have the following minimal requirements: •​
​
EP development team should consist of the parent (or provided written input), a teacher of gifted, a basic education teacher (or provided written input) and the student, when applicable •​
​
Present Level of Performance (PLS) statement (​
download sample​
) •​
​
Two or more measurable goals that are related to the priority needs identified in the PLS •​
​
Two or more measurable benchmarks for each goal •​
​
Description of how the service is provided, its frequency, and location •​
​
Whether or not the student requires related services to access gifted services •​
​
Description of how student progress toward goal mastery will be reported and frequency of reporting EPs are required to be reviewed and updated a minimum of once every three years; however, a member of the EP development team may request that a review meeting be held more frequently. EPs should also be reviewed and updated when the student transitions from 2nd to 3rd grade, 5th to 6th grade, and 8th to 9th grade. EPs may be written to cover the four (4) year period a gifted student is expected to attend high school. EPs should only be developed with the guidance of a teacher of gifted. [​
Back to top​
] Dual Exceptional Students It is possible for a student with a disability, as defined by IDEA, to also be eligible for gifted services. The student must meet the same state criteria for gifted eligibility as non­disabled students. Any student defined as being dual­exceptional will not have an EP, but instead have a T/IEP (Transitional/Individual Educational Plan) developed. A T/IEP is significantly different than an EP. An ESE teacher, one who is trained to work with students with disabilities, should work collaboratively with the teacher of gifted to develop an appropriate T/IEP. The T/IEP should still contain 2 gifted goals with 2 benchmarks for each goal. The gifted services should also be included on the services page. Service Options​
[AS8] [​
Back to top​
] Pasco County currently provides a continuum of service to its gifted eligible students. The continuum of service model is made up of the following services: Consultation​
– There is a monthly meeting between the teacher of gifted ­­ teacher that has additional certification or endorsement in the area of gifted education ­­ and the basic education teacher directly serving the student. The teacher of gifted provides the basic education teacher with strategies and techniques for addressing the gifted student's needs within a basic education classroom. The teacher of gifted does not directly serve the student​
[AS9] ​
. Consultation services are documented using the Goal Tracker program. Additionally quarterly reports are sent home once per quarter to report student progress towards EP goals. Cumulative Consultation Logs and Quarterly reports are placed in the EP folder at the end of each school year. Inclusion​
(Instruction in differentiated/ compacted curriculum) – Gifted services are provided in the basic education classroom by a teacher who has additional certification or endorsement in the area of gifted education. The classroom is comprised of students that have been identified as gifted as well as non­gifted peers. Quarterly reports prepared by the teacher are sent home once per quarter to report student progress towards EP goals. A cumulative Quarterly report is to be placed in the EP folder at the end of each school year. Self­Contained​
(Instruction in accelerated enriched curriculum)– Services are provided to gifted students within a classroom setting that has been designated as gifted. This environment is made up exclusively of gifted eligible students and facilitated by a teacher of gifted. If found eligible for Gifted Services, your child may choose to attend their designated self­contained program. Quarterly reports are sent home once per quarter to report student progress towards EP goals. A cumulative Quarterly report is to be placed in the EP folder at the end of each school year. Related Services [​
Back to top​
] Gifted eligible students are considered exceptional students as defined under state rule, 6A­6.0311,​
​
Eligible Special Programs for Exceptional Students​
, which allows for the provision of related services. Related services include transportation, speech as a related service, occupational therapy, physical therapy, assistive technology and behavioral support. An evaluation should be conducted by the appropriate professional prior to the inclusion of any related service to an EP. Gifted students are eligible to receive transportation services to the gifted site within their assigned feeder pattern. Gifted eligible students who receive related services such as occupational and/or physical therapies continue to have an EP developed every 3 years. The Plan of Care developed by the therapist is updated annually to outline the individual treatment plan and service being provided. Gifted Programs [​
Back to top​
] Elementary School Programs [​
Back to top​
] Gifted Elementary services vary from school to school. Your child's school may contain one or more of the following service models. * Consult * Inclusion *Self Contained Gifted students who attend a gifted consult or inclusion site have the option of attending their home school, or attending a designated self­contained site within their feeder pattern. Middle School Programs [​
Back to top​
] Gifted middle school students can receive services that range from monthly consultative services to self­contained gifted courses. The designated gifted course is only open to gifted eligible students. Each middle school throughout the county has gifted services available, although course options vary from school to school.​
[AS17] High School Program [​
Back to top​
] Monthly consultation services are available to our gifted high school students. Curriculum for Gifted [​
Back to top​
] All gifted students are required to master the grade level expectations for his or her appropriate grade level. However, there are various strategies teachers of gifted use for differentiating the instruction for gifted students. These strategies include enrichment, acceleration, and compacting the curriculum. Professional development opportunities are extended to teachers of gifted throughout the school year for increasing their proficiency when using these strategies.​
[AS20] In addition to gifted courses, gifted students may be eligible to take courses that are designated as either advanced, honors, ​
advanced placement​
, or they may participate in the ​
IB program​
at the secondary level. Other options include ​
Cambridge​
, ​
dual enrollment​
, ​
eSchool​
, and ​
Florida Virtual School​
. Teaching Gifted Students​
[AS21] [​
Back to top​
] Gifted students need to be with other gifted students according to research. Research has shown that one of the most important things for gifted students is to be with other gifted students, the more often the better. This entails having cluster groups within a grade level in which the gifted students are grouped together in the areas of their strengths while the rest of the grade level students are grouped heterogeneously. It provides the gifted students with the same learning challenges that other students have. Other techniques that are helpful when planning and executing lessons for the high ability students include curriculum compacting, creating learning contracts, designing independent study contracts, and evaluating the work of gifted students. In Teaching Gifted Kids in the Regular Classroom, Susan Winebrenner clearly defines and demonstrates, with specific examples, each of these approaches to teaching. She offers many non­traditional types of scoring options to use when evaluating and grading products. Specific strategies for teaching gifted students​
[AS22] [​
Back to top​
] 1.​
Familiarize Yourself with the Characteristics of Intellectually Gifted Students​
­ Not all gifted students in your classroom will be identified, and even those who are may not always appear to be gifted. As such, it is important that you don't allow yourself to be distracted by false stereotypes. Gifted students come from all ethnic groups, they are both boys and girls, they live in both rural and urban areas, and they aren't always straight "A" students. Students who are intellectually gifted demonstrate many characteristics which include: a precocious ability to think abstractly, an extreme need for constant mental stimulation, an ability to learn and process complex information very rapidly, and a need to explore subjects in depth. Students who demonstrate these characteristics learn differently; therefore, they have unique academic needs. What if you were Mozart and you were told you had to take beginning music classes because of your age. This is often the experience of the gifted child. Some choose to be successful given the construct of public school and others choose to rebel. Either way, a few simple changes to their academic experience can dramatically improve the quality of their lives and, most likely, yours. 2.​
Let Go of "Normal"​
­ In order to be an effective teacher, ​
[AS23] ​
whether it's your first year or your 30th, the best thing you can do for yourself is to let go of the idea of "normal". All students should be given the opportunity to grow from where they are, not from where your teacher training courses say they should be. You will not harm a student by offering him/her opportunities to complete work that is more advanced. Research consistently shows that curriculum based on development and ability is far more effective than curriculum based on age, and research indicates that giftedness occurs along a continuum. As a teacher, you will likely encounter students who are moderately gifted, highly gifted and, perhaps if you're lucky, even a few who are profoundly gifted. Strategies that work for one group of gifted students won't necessarily work for all gifted students. Don't be afraid to think outside the box. Just as athletes are good at athletics, gifted students are good at thinking. We would never dream of holding back a promising athlete, so don't be afraid to encourage your brightest by providing them with opportunities to soar. 3.​
Conduct Informal Assessments​
­ One of the easiest ways to better understand how to provide challenging material is to conduct informal whole class assessments on a regular basis. For example, before beginning any unit, administer the end of the unit test. Students who score above 80% should not be forced to "re­learn" information they already know. Rather, these students should be given parallel opportunities that are challenging. You will save them an entire year of frustration and boredom if you can determine exactly what their ability level is and then offer them curriculum that allows them to move forward. 4.​
Re­Familiarize Yourself with Piaget & Bloom​
­ When it comes to teaching gifted students, take a few moments to review the work of Jean Piaget and Benjamin Bloom. Jean Piaget offers a helpful description of developmental stages as they relate to learning. Gifted students are often in their "formal operations" stage when their peers are still in their "pre­operational" or "concrete operations" stages. When a student is developmentally advanced, he/she has different learning abilities and needs. This is where Bloom's Taxonomy can be particularly useful. Students in the "formal operations" developmental stage need learning experiences at the upper end of Bloom's Taxonomy. Essentially, all assignments should offer the student the opportunity to utilize higher level thinking skills like analysis, synthesis, and evaluation as defined by Bloom. 5. ​
Involve Parents as Resource Locators​
­ Parents of gifted students are often active advocates for their children. The good news is that what they want most is to be heard and to encounter someone who is willing to think differently. Generally, if they are offered the opportunity to collaborate, they are willing to work with the teacher to see that their child's needs are met. 6.​
Learn About Distance Learning Opportunities​
­ The choices available to teachers and parents in this area have exploded in the past several years. Distance learning opportunities have dramatically increased options for meeting the needs of gifted students. Programs such as the Johns Hopkins Writing Tutorials, as well as online high school and college courses, including online AP classes, are a great way to substitute more challenging curriculum for students who demonstrate proficiency with grade level material. Of course, these classes generally aren't free, but they are an option that many parents are willing to fund. 7. ​
Explore Acceleration ~ It's Free and It Works!​
­ Education should be about creating true learning opportunities for ALL students, including gifted students. This also applies to students in high school. If a student is ready for college work, encourage them to take college courses, or to consider an early college entrance program.​
[AS24] 8.​
Utilize Outside Resources​
­ There are several national organizations devoted entirely to assisting young gifted students and the professionals who serve them. The three most notable organizations are the​
​
National Association for Gifted​
,​
​
Belin­Blank Center for Gifted Education and Talent Development​
, and the​
​
Davidson Institute for Talent Development​
. You may also wish to investigate organizations at the state and local levels that focus on meeting the needs of gifted students. It isn't necessary to turn your world upside down to be an effective teacher of gifted students; you just have to be flexible, knowledgeable, and willing to try new things. 9.​
Learning from the Experiences of Others​
­ •​
​
Asking Your Gifted Students To Serve As Tutors For Students Who Are Struggling. Gifted students think and learn differently than other students. Asking them to serve as tutors can be a frustrating experience for all parties involved. •​
​
Giving Your Gifted Students More Work When They Finish Early. It is common practice to give students more work if they complete their assignments early. This is counterintuitive if you consider that, if the student is completing his/her work in an efficient manner, it is likely that the work is too easy. •​
​
Only Allowing Gifted Students To Move Ahead When They Complete The Grade/Age Designed Work Assignments With 100% Accuracy. It is important to remember that gifted students think and learn differently and can be extremely rebellious. No one ­ not adults, not students, and especially not gifted students ­ wants to be bored! Gifted students, because of their ability to reason, will purposely choose not do something merely because they "must" do it, particularly if it seems pointless to them. They would rather spend their time thinking or reading instead of completing worksheets that are too easy. It is imperative that you focus on their strengths, not their shortcomings. Offer them opportunities that are consistent with their abilities ­ lead them from where they are. Endorsement Requirements and Out of Field Requirements [​
Back to top​
] A teacher assigned to provide specialized instruction to gifted eligible students is required to have completed the requirements for gifted endorsement per​
​
State Rule 6A­4.01791​
, Specialization Requirements for the Gifted Endorsement ­ Academic Class Beginning July 1, 1992. A non­gifted endorsed teacher assigned to provide specialized instruction to gifted students must complete two gifted endorsement courses per school year until endorsement requirements are met, per​
​
State Rule 6A­1­0503​
, Definition of Qualified Instructional Personnel Amended May 25, 2004. (link to web) The five courses required for gifted endorsement are: Nature & Needs of the Gifted, Curriculum Development for the Gifted, Guidance & Counseling for the Gifted, Education of Special Populations of Gifted Students, and Theory & Development of Creativity. Teachers may take the required courses through the district and receive in­service points. Teachers may elect to take gifted endorsement courses through a university and earn college credit. In addition, teachers may choose to take courses outside of the district for the purpose of convenience. Any coursework taken outside of the district must be pre­approved by the program administrator. Contact the Department of Professional Development and/or your Gifted Resource Teacher for available courses. [AS25] Tips for Parent Communication​
[AS26] [​
Back to top​
] Gifted students need strong, responsible advocates and parent groups. Collaboration between parents, educators and community stakeholders is essential.​
​
Parents of students who are gifted need opportunities to share parenting experiences with each other, and parent groups can provide that opportunity. It is important for parents of any student with special needs to meet with the teachers early in the school year. Conducting an open house and/or parent meetings enables the teacher to make connections and open communication with parents. It will help foster an understanding of the gifted program at your school and provide resources to foster an understanding of the characteristics and needs of these students. Emails, websites, and newsletters are other ways of reaching out to parents with the latest research in the areas of teaching strategies, student social/emotional needs, and fostering creative thinking. When parents and teachers work together, appropriate programs can be developed and problems can be discovered sooner. It is helpful for parents to offer assistance to their child's teacher by making or locating supplemental materials, helping in the classroom or library, offering expertise to small groups of students, or finding others who can provide additional enrichment experiences. Effective parents stay involved in their children's education and constantly updated regarding gifted education in general. Parents may want to check out the following link to an article called the​
​
Ten Tips for Parents of Gifted Students​
by Monique Prevost Lloyd. Six Types of Gifted Students [​
Back to top​
] Successful Gifted Student Personality Type​
­ These students are usually academically successful and identified as gifted at school. They are high achievers and perfectionists who seek the approval of others. However, the problem is that with time they often get bored and devote minimum effort to achieving. At home these gifted students need independence and freedom of choice, as well as, time for personal interests and risk taking experiences. Challenging Gifted Student Personality Type​
­ This personality type includes very creative, but often frustrated or bored, gifted students. They question the system around them and are often rebellious because their abilities are unrecognized. Impatient, direct, and competitive, such students have low self­esteem. They need acceptance, understanding, and advocacy from their parents. Family activities and positive examples of behavior are what the family should provide for such gifted students. Underground Gifted Student Personality Type​
­ Many of these students are never identified as gifted since they are usually quiet and insecure. They often hide their talents, resist challenges, and drop out of gifted school programs because of their shyness. These gifted students should be supported at home and be given freedom to choose and to spend time with friends their own age. Ideally, parents should provide them with gifted role models of life­long learning. At­Risk Gifted Student Personality Type​
­ These gifted students are angry and depressed because the school system does not recognize their abilities and does not address their special educational needs. That is why they resist the system by refusing to complete school assignments or to attend school. Being considered average or below average, they have poor self­esteem, are defensive, and self abusive. Professional counseling is recommended for such students. Double­Labeled Gifted Student Personality Type​
­ This type of gifted student is often unrecognized because they have a physical, emotional, or learning disability. Adults fail to notice giftedness because they are focused on the areas where the student is less able. Parents of such students should provide them with recognition of their abilities, risk­taking opportunities, advocacy, and family activities to challenge the student. Family counseling may also be a good option. Autonomous Gifted Student Personality Type​
­ These are self­confident and independent students who are academically successful, motivated, goal­oriented, and responsible. At home, these gifted students need family support, advocacy, family activities, and opportunities related to their interests. They should be allowed to have friends of all ages and have no time or space restrictions. Each subtype of giftedness can be strongly pronounced in one personality. At the same time, combinations are possible since the subtypes are not mutually exclusive. Therefore, a gifted or talented student may possess the characteristics of more than one type of giftedness. The personality type may change with time as the student grows and develops. Therefore, parents should be attentive to their gifted students in order to provide timely support and advocacy. Autonomous and successful personality types of gifted students are usually easy to recognize and work with. The achievements of these students cannot go unnoticed. Challenging, underground, double­labeled and at­risk personalities of gifted students require special attention. They should be recognized as early as possible so parents know what measures need to be taken to address all the special needs of these students. Betts, George, and Maureen Neihart. "Profiles of the Gifted and Talented". Gifted Child Quarterly 32.2 (1988): 248­253. Characteristics of Gifted [​
Back to top​
] •​
​
Learns rapidly •​
​
Extensive vocabulary •​
​
Excellent memory •​
​
Reasons well •​
​
Curiosity •​
​
Mature for age •​
​
Sense of humor •​
​
Keen observation •​
​
Compassion for others •​
​
Vivid imagination •​
​
Long attention span •​
​
Ability with numbers •​
​
Concern with justice, fairness •​
​
Sensitivity •​
​
Wide range of interests •​
​
Ability with puzzles •​
​
High energy level •​
​
Perfectionism •​
​
Perseverance in interests •​
​
Questions authority •​
​
Avid reader •​
​
Prefers older companions Characteristics of Giftedness Scale: Research and Review of the Literature Linda Kreger Silverman, Gifted Development Center Characteristics of Underrepresented Populations of Gifted Myths and Truths about Gifted Learners NAGC Myths and Truths Glossary [​
Back to top​
] ability grouping​
­ Class or group assignment based on observed behavior or performance. Ability grouping is not the same as tracking. accelerated learning​
­ A strategy of progressing through education at rates faster or ages younger than the norm. advanced placement (AP)​
­ A program developed by the College Board where high schools offer courses that meet criteria established by institutions of higher education. In many instances, college credit may be earned with the successful completion of an AP exam in specific content areas. authentic assessment​
­ Evaluating student learning through the use of student portfolios, performance, or observations in place of, or in conjunction with, more traditional measures of performance such as tests and written assignments. The process allows students to be evaluated using assessments that more closely resemble real world tasks, such as a scientific experiment to demonstrate understanding of the laws of motion. Bloom's Taxonomy​
­ Developed in 1956 by Benjamin Bloom, the taxonomy is often used to develop curriculum for gifted students. There are six levels within the taxonomy that move from basic to high levels of thinking. These include knowledge, comprehension, application, analysis, synthesis, and evaluation. cluster grouping​
­ A grouping assignment for gifted students in the regular heterogeneous classroom. Typically, five or six gifted students with similar needs, abilities, or interests are "clustered" in the same classroom which allows the teacher to more efficiently differentiate assignments for a group of advanced learners rather than just one or two students. Click here for more information. creativity​
­ The process of developing new, uncommon, or unique ideas. The federal definition of giftedness identifies creativity as a specific component of giftedness. Criterion­Referenced Testing​
­ An assessment that compares a student's test performance to their mastery of a body of knowledge or specific skill rather than relating their scores to the performance of other students. curriculum compacting​
­ After showing a level of proficiency in the basic curriculum, a student can then be allowed to exchange instructional time for other learning experiences. differentiation ­ Modifying curriculum and instruction according to content, pacing, and/or product to meet unique student needs in the classroom. dual enrollment​
­ Most often refers to high school students taking college courses, often for college credit. Dual enrollment is viewed as providing high school students benefits such as greater access to a wider range of rigorous academic and technical courses, savings in time and money on a college degree, promoting efficiency of learning, and enhancing admission to and retention in college. English Language Learner (ELL)​
– Students who require academic, cultural, social, and support services due to limited English language proficiency. Education Plan (EP)​
– The plan is developed to identify a gifted student's present level of performance, academic strengths, interests, and areas of need. The plan is used by both the teacher and student to measure the student's progress toward identified individual goals over a three year period. enrichment​
­ Activities that add to or go beyond the existing curriculum. Activities may occur in the classroom or in a separate setting. flexible grouping ­ An instructional strategy where students are grouped together to receive appropriately challenging instruction. True flexible grouping permits students to move in and out of various grouping patterns, depending on the course content. Grouping can be determined by ability, size, and/or interest. gifted inclusion​
­ The practice of providing specialized instruction to gifted eligible students within a heterogeneous classroom (basic education) during specific assignments or activities that address their Education Plan goals. independent study​
­ A self­directed learning strategy where the teacher guides or facilitates and the student plays a more active role in designing and managing his or her own learning. International Baccalaureate (IB) Program​
­ A demanding pre­university program where, upon completion, students can earn college credit. IB emphasizes critical thinking and understanding of other cultures or points of view. A diploma is awarded at the completion of the IB program which allows graduates access to universities worldwide. learning styles​
­ Preferred way(s) in which individuals interact or process new information across the three domains of learning identified in the taxonomy of education objectives: cognitive (knowledge), psychomotor (skills), and affective (attitude). An individual's preferred learning style is how he/she learns best. Present Level of Performance Statement (PLS)​
​
[AS27] ​
­ A required summary in a gifted student's Education Plan (EP) that describes: student strengths, interests, performance on district wide assessments, statewide assessments, and need for specialized instruction. It is used to assist with developing a student's measurable goals, benchmarks, and determining required services. portfolio assessment​
– As an alternative or supplement to traditional measures of giftedness, portfolios offer a collection of student work over time that can help to determine achievement and progress. Many of the elements found in portfolios cannot be captured by a standardized test. Social Economic Status (SES)​
­ A measure of an individual's or family's relative economic and social ranking. social­emotional needs ­ Gifted and talented students may have affective needs that include heightened or unusual sensitivity to self­awareness, emotions, and expectations of themselves or others, and a sense of justice, moral judgment, or altruism. Counselors working in this area may address issues such as perfectionism, depression, underachievement, or career planning. tiered assignments​
­ A differentiated instructional strategy in which all students work toward the same goal, but activities are geared toward each student's level of understanding. twice exceptional​
­ A term used to describe a student that is both gifted and disabled. These students may also be referred to as having dual exceptionalities or as being GT/LD. Click here for more information. underachieving​
­ A term used to describe the discrepancy between a student's performance and their potential or ability to perform at a much higher level.