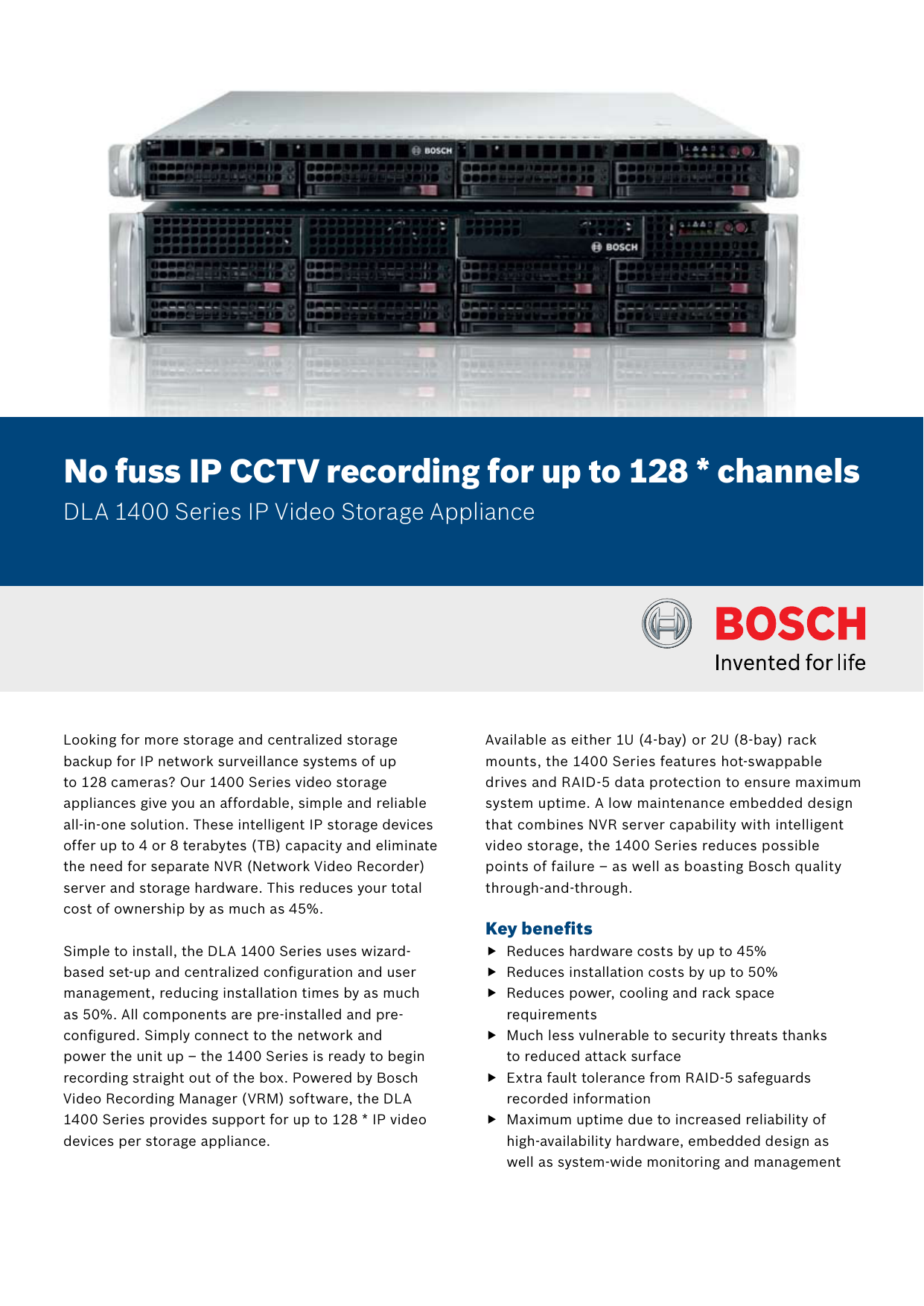 No fuss IP CCTV recording for up to 128 * channels
DLA 1400 Series IP Video Storage Appliance
Looking for more storage and centralized storage
Available as either 1U (4-bay) or 2U (8-bay) rack
backup for IP network surveillance systems of up
mounts, the 1400 Series features hot-swappable
to 128 cameras? Our 1400 Series video storage
drives and RAID-5 data protection to ensure maximum
appliances give you an affordable, simple and reliable
system uptime. A low maintenance embedded design
all-in-one solution. These intelligent IP storage devices
that combines NVR server capability with intelligent
offer up to 4 or 8 terabytes (TB) capacity and eliminate
video storage, the 1400 Series reduces possible
the need for separate NVR (Network Video Recorder)
points of failure – as well as boasting Bosch quality
server and storage hardware. This reduces your total
through-and-through.
cost of ownership by as much as 45%.
Key benefits
Simple to install, the DLA 1400 Series uses wizard-
ff Reduces hardware costs by up to 45%
based set-up and centralized configuration and user
ff Reduces installation costs by up to 50%
management, reducing installation times by as much
ff Reduces power, cooling and rack space
as 50%. All components are pre-installed and preconfigured. Simply connect to the network and
power the unit up – the 1400 Series is ready to begin
recording straight out of the box. Powered by Bosch
Video Recording Manager (VRM) software, the DLA
1400 Series provides support for up to 128 * IP video
devices per storage appliance.
requirements
ff Much less vulnerable to security threats thanks
to reduced attack surface
ff Extra fault tolerance from RAID-5 safeguards
recorded information
ff Maximum uptime due to increased reliability of
high-availability hardware, embedded design as
well as system-wide monitoring and management
Designed for systems up to 128 * Bosch IP cameras and/
or encoders per unit *, the 1400 Series Video Storage
System scenario – distributed recording
solution
Appliance is easy to install, use and manage. Complete
with Bosch VRM, it delivers a unique IP video storage
solution for the small- to medium-sized business market.
H.264 IP Camera
Its "plug & play" network-based recording makes it the
DLA 1400 Series
Locations, 1,2,3
ideal solution for IT-minded customers.
The 1400 Series includes Bosch Video Recording
Manager (VRM) software, pre-installed and configured,
with a 64 camera license. And if you want to create
H.264 IP Encoder
a complete video management solution, just add
BVMS Server
Bosch VMS (Video Management System) Lite –
BVMS Client
Workstation
Control Room
for up to 64 cameras – or Bosch VMS Professional
Edition – for larger systems.
Key features
ff All-in-one IP recording solution for up to
Adding Bosch BVMS turns the 1400 Series into
a scalable IP video management solution. Bosch VMS
manages all your IP and digital video and audio, plus
all the security data being transmitted across your IP
network. BVMS allows the user to view a mix of HD
128 channels
ff All systems include 64 channel VRM software
pre-installed and configured
ff Optional 32 and 64 channel expansion licenses
for easy upgrade to maximum 128 channels
(1080p and 720p) and SD cameras at the same time.
ff 4TB or 8TB raw storage capacity
Users can quickly create display views by simply
ff Redundant dual Gigabit Ethernet network ports
dragging cameras from the device tree and dropping
ff RAID-5 (hardware) redundancy
them on a number of fixed layouts. These views can
ff Dedicated storage operating system delivers
be saved as 'favorites', and allow one-click display
of logically related camera images.
hardened, secure operation
ff Field-replaceable, hot-swap hard drives
ff Remote monitoring via browser or desktop
The Bosch VMS provides system-wide event and
application
alarm management, system health monitoring, user
and priority management. Bosch VMS uses industry-
Warranty and service
standard IT components, so you can use your existing
DLA 1400 Series video storage appliances come
vendors and service agreements. Alternatively, Bosch
with a full 3 year warranty on all components
can provide you with fully configured servers and
including hard disk drives.
To learn more about our
product offering, please visit
www.boschsecurity.com
* Footnote:
Capability is per unit. When VRM load balancing is required amongst other storage arrays,
only 50% of the channel capacity can be used.
www.boschsecurity.com
VS-EH-en-06_F01U558734_01
workstations.

* Your assessment is very important for improving the work of artificial intelligence, which forms the content of this project