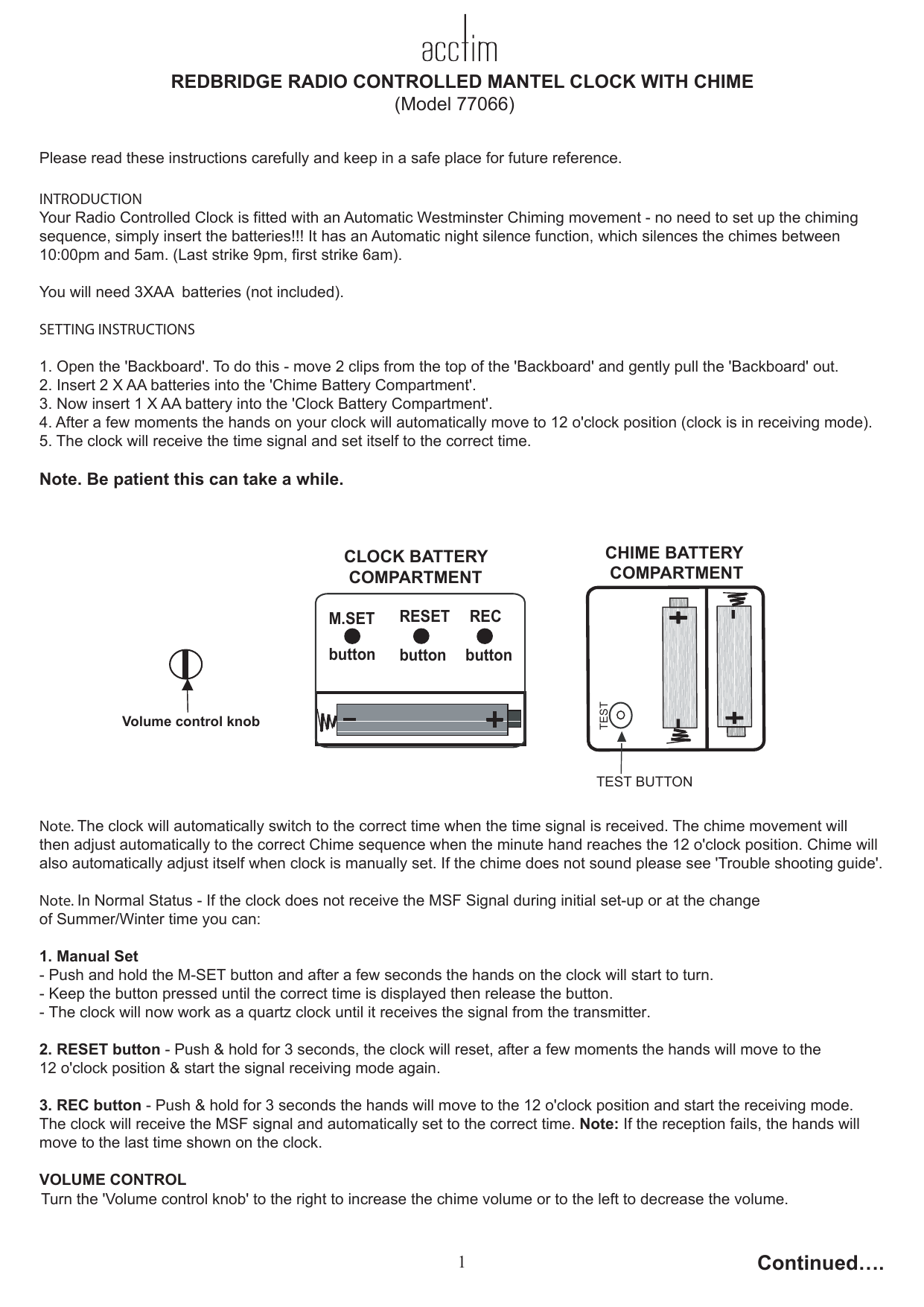 REDBRIDGE RADIO CONTROLLED MANTEL CLOCK WITH CHIME
(Model 77066)
Please read these instructions carefully and keep in a safe place for future reference.
INTRODUCTION
Your Radio Controlled Clock is fitted with an Automatic Westminster Chiming movement - no need to set up the chiming
sequence, simply insert the batteries!!! It has an Automatic night silence function, which silences the chimes between
10:00pm and 5am. (Last strike 9pm, first strike 6am).
You will need 3XAA batteries (not included).
SETTING INSTRUCTIONS
1. Open the 'Backboard'. To do this - move 2 clips from the top of the 'Backboard' and gently pull the 'Backboard' out.
2. Insert 2 X AA batteries into the 'Chime Battery Compartment'.
3. Now insert 1 X AA battery into the 'Clock Battery Compartment'.
4. After a few moments the hands on your clock will automatically move to 12 o'clock position (clock is in receiving mode).
5. The clock will receive the time signal and set itself to the correct time.
Note. Be patient this can take a while.
CLOCK BATTERY
COMPARTMENT
RESET
REC
button
button
button
TEST
M.SET
CHIME BATTERY
COMPARTMENT
Volume control knob
TEST BUTTON
Note. The clock will automatically switch to the correct time when the time signal is received. The chime movement will
then adjust automatically to the correct Chime sequence when the minute hand reaches the 12 o'clock position. Chime will
also automatically adjust itself when clock is manually set. If the chime does not sound please see 'Trouble shooting guide'.
Note. In Normal Status - If the clock does not receive the MSF Signal during initial set-up or at the change
of Summer/Winter time you can:
1. Manual Set
- Push and hold the M-SET button and after a few seconds the hands on the clock will start to turn.
- Keep the button pressed until the correct time is displayed then release the button.
- The clock will now work as a quartz clock until it receives the signal from the transmitter.
2. RESET button - Push & hold for 3 seconds, the clock will reset, after a few moments the hands will move to the
12 o'clock position & start the signal receiving mode again.
3. REC button - Push & hold for 3 seconds the hands will move to the 12 o'clock position and start the receiving mode.
The clock will receive the MSF signal and automatically set to the correct time. Note: If the reception fails, the hands will
move to the last time shown on the clock.
VOLUME CONTROL
Turn the 'Volume control knob' to the right to increase the chime volume or to the left to decrease the volume.
1
Continued….

* Your assessment is very important for improving the work of artificial intelligence, which forms the content of this project