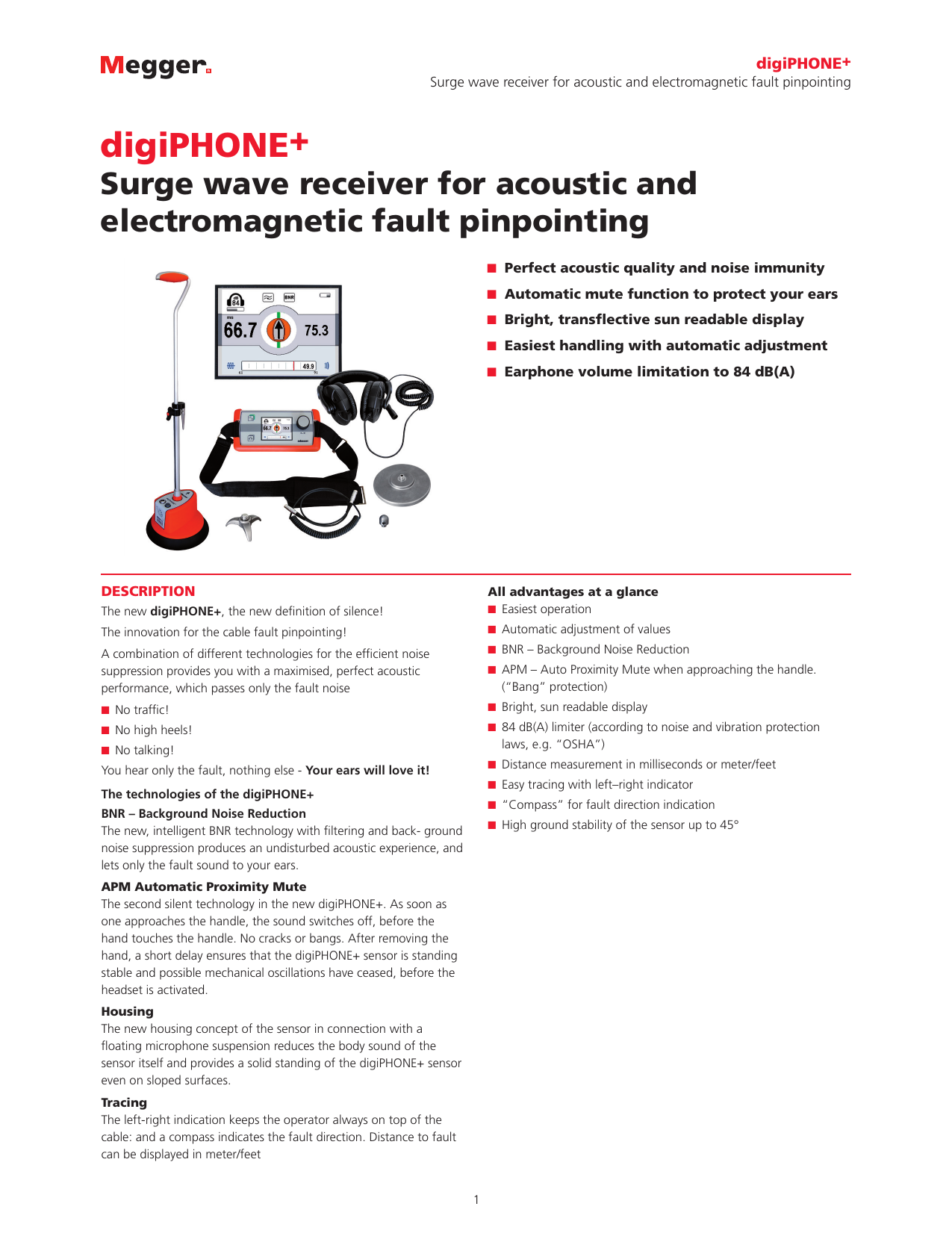 digiPHONE+
Surge wave receiver for acoustic and electromagnetic fault pinpointing
digiPHONE+
Surge wave receiver for acoustic and
electromagnetic fault pinpointing
■■ Perfect acoustic quality and noise immunity
■■ Automatic mute function to protect your ears
■■ Bright, transflective sun readable display
■■ Easiest handling with automatic adjustment
■■ Earphone volume limitation to 84 dB(A)
DESCRIPTION
The new digiPHONE+, the new definition of silence!
All advantages at a glance
■■ Easiest operation
The innovation for the cable fault pinpointing!
■■ Automatic adjustment of values
A combination of different technologies for the efficient noise
suppression provides you with a maximised, perfect acoustic
performance, which passes only the fault noise
■■ BNR – Background Noise Reduction
■■ No traffic!
■■ Bright, sun readable display
■■ No high heels!
■■ 84 dB(A) limiter (according to noise and vibration protection
■■ APM – Auto Proximity Mute when approaching the handle.
("Bang" protection)
laws, e.g. "OSHA")
■■ No talking!
■■ Distance measurement in milliseconds or meter/feet
You hear only the fault, nothing else - Your ears will love it!
■■ Easy tracing with left–right indicator
The technologies of the digiPHONE+
■■ "Compass" for fault direction indication
BNR – Background Noise Reduction
The new, intelligent BNR technology with filtering and back- ground
noise suppression produces an undisturbed acoustic experience, and
lets only the fault sound to your ears.
■■ High ground stability of the sensor up to 45°
APM Automatic Proximity Mute
The second silent technology in the new digiPHONE+. As soon as
one approaches the handle, the sound switches off, before the
hand touches the handle. No cracks or bangs. After removing the
hand, a short delay ensures that the digiPHONE+ sensor is standing
stable and possible mechanical oscillations have ceased, before the
headset is activated.
Housing
The new housing concept of the sensor in connection with a
floating microphone suspension reduces the body sound of the
sensor itself and provides a solid standing of the digiPHONE+ sensor
even on sloped surfaces.
Tracing
The left-right indication keeps the operator always on top of the
cable: and a compass indicates the fault direction. Distance to fault
can be displayed in meter/feet
1
digiPHONE+
Surge wave receiver for acoustic and electromagnetic fault pinpointing
SPECIFICATIONS
Receiver DPP-CU
Display
TFT-color display, 320 x 240 pixel
Safety
Volume limitation to 84dB(A)
Gain
>120 dB, automatic
Supply
6 x R6 Alkali-Mangan batteries
Operating time
>10 hours
Protection rating
IP 54
Dimension (H x W x D)
65 x 225 x 100 mm
Weight
0.9 kg (including batteries)
Sensor DPP-SU
Dimensions
Diameter 230 mm (outer ring)
Height
140 mm
Handle length
450 ... 750 mm adjustable
Weight
2.2 kg (including batteries and
handle)
Dynamic range
Magnetic channel >110 dB
Acoustic channel >110 dB
Frequency range
100 … 1500 Hz
Filter stages
OFF
Low pass
Band pass
High pass
Protection rating
100 … 1500 Hz
100 … 400 Hz
150 … 600 Hz
200 … 1500 Hz
IP 65
Fully automatic trigger level adjustment for acoustic as well
as for magnetic channel
Intelligent noise suppression (Background Noise Reduction)
Automatic headset mute function during the handling of the
sensor (Automatic Proximity Mute)
ORDERING INFORMATION
Item
Cat. No.
DigiPHONE+1003316-S
Receiver unit with shoulder strap
Headset
Sensor unit with:
Telescopic handle
Tips (18 mm and 75 mm), tripod
Sensor connection cable
Set of batteries
Carrying bag with foam inserts
Manual
Accessories
Ground plate
Vehicle installation kit (instead of carrying case)
SebaKMT
Dr.-Herbert-Iann-Str. 6
96148 Baunach / Germany
T +49 (0) 95 44 6 80
F +49 (0) 95 44 22 73
sales@sebakmt.com
UNITED STATES
4271 Bronze Way
Dallas TX 75237-1019 USA
T 800 723 2861 (USA only)
T +1 214 333 3201
F +1 214 331 7399
USsales@megger.com
OTHER TECHNICAL SALES OFFICES
Dover UK, Valley Forge USA, College Station USA,
Sydney AUSTRALIA, Täby SWEDEN,
Ontario CANADA, Trappes FRANCE,
Oberursel GERMANY, Aargau SWITZERLAND,
Kingdom of BAHRAIN, Mumbai INDIA,
Johannesburg SOUTH AFRICA, Chonburi THAILAND
2
Registered to ISO 9001:2000 Cert. no. 10006.01
digiPHONE+_DS_en_V02
www.megger.com
Megger is a registered trademark
Specifications are subject to change
without notice.

* Your assessment is very important for improving the work of artificial intelligence, which forms the content of this project