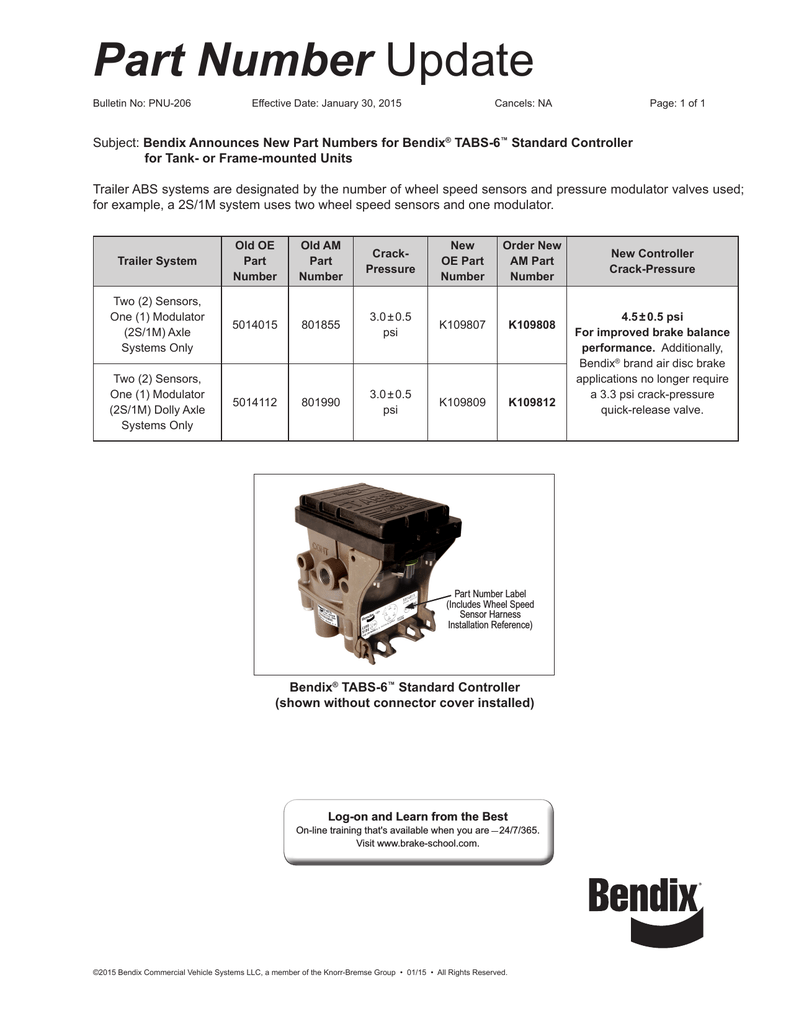 Part Number Update
Bulletin No: PNU-206
Effective Date: January 30, 2015
Cancels: NA
Page: 1 of 1
Subject: Bendix Announces New Part Numbers for Bendix® TABS-6™ Standard Controller
for Tank- or Frame-mounted Units
Trailer ABS systems are designated by the number of wheel speed sensors and pressure modulator valves used;
for example, a 2S/1M system uses two wheel speed sensors and one modulator.
Trailer System
Old OE
Part
Number
Old AM
Part
Number
CrackPressure
New
OE Part
Number
Order New
AM Part
Number
Two (2) Sensors,
One (1) Modulator
(2S/1M) Axle
Systems Only
5014015
801855
3.0 ± 0.5
psi
K109807
K109808
Two (2) Sensors,
One (1) Modulator
(2S/1M) Dolly Axle
Systems Only
5014112
801990
3.0 ± 0.5
psi
K109809
K109812
Part Number Label
(Includes Wheel Speed
Sensor Harness
Installation Reference)
Bendix® TABS-6™ Standard Controller
(shown without connector cover installed)
Log-on and Learn from the Best
On-line training that's available when you are
Visit www.brake-school.com.
24/7/365.
©2015 Bendix Commercial Vehicle Systems LLC, a member of the Knorr-Bremse Group • 01/15 • All Rights Reserved.
New Controller
Crack‑Pressure
4.5 ± 0.5 psi
For improved brake balance
performance. Additionally,
Bendix® brand air disc brake
applications no longer require
a 3.3 psi crack-pressure
quick-release valve.

* Your assessment is very important for improving the work of artificial intelligence, which forms the content of this project