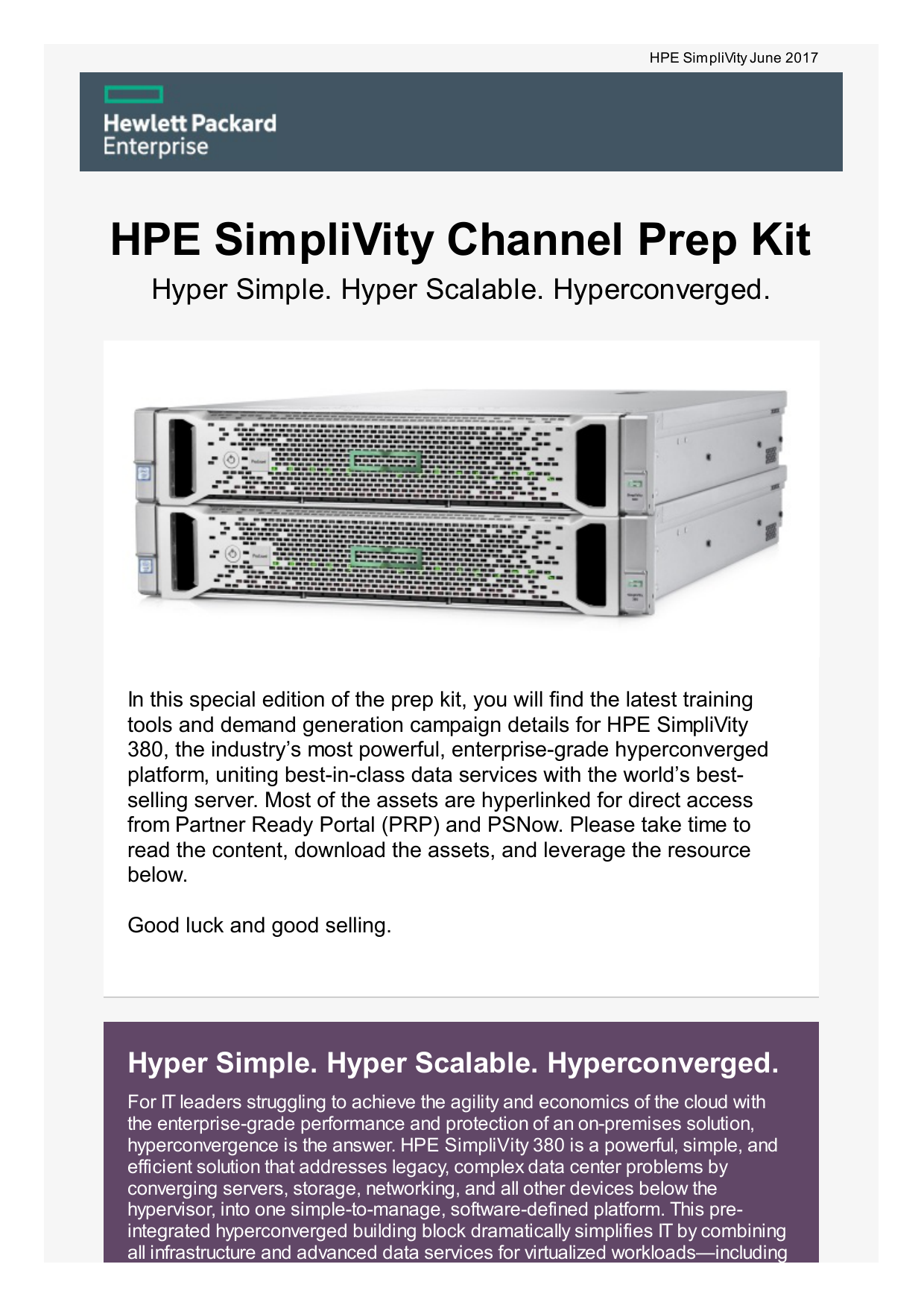 HPE SimpliVity June 2017
HPE SimpliVity Channel Prep Kit
Hyper Simple. Hyper Scalable. Hyperconverged.
In this special edition of the prep kit, you will find the latest training
tools and demand generation campaign details for HPE SimpliVity
380, the industry's most powerful, enterprise-grade hyperconverged
platform, uniting best-in-class data services with the world's bestselling server. Most of the assets are hyperlinked for direct access
from Partner Ready Portal (PRP) and PSNow. Please take time to
read the content, download the assets, and leverage the resource
below.
Good luck and good selling.
Hyper Simple. Hyper Scalable. Hyperconverged.
For IT leaders struggling to achieve the agility and economics of the cloud with
the enterprise-grade performance and protection of an on-premises solution,
hyperconvergence is the answer. HPE SimpliVity 380 is a powerful, simple, and
efficient solution that addresses legacy, complex data center problems by
converging servers, storage, networking, and all other devices below the
hypervisor, into one simple-to-manage, software-defined platform. This preintegrated hyperconverged building block dramatically simplifies IT by combining
all infrastructure and advanced data services for virtualized workloads—including
guaranteed data efficiency, data protection, and VM-centric management and
mobility—with the world's best-selling server platform, the HPE ProLiant DL380
Gen9 Server.
Who should you talk to?
1) Prospective customers who are considering moving from traditional IT
infrastructure to a hyperconverged solution:
Midmarket organizations that are looking to consolidate their data center
Large enterprise organizations that are looking to simplify and consolidate
infrastructure for some or all of their virtualized workloads, including Tier-1 and
mission critical applications, along with specific projects or use cases,
including VDI, DevOps, Disaster Recovery, and ROBO
2) Existing SimpliVity customers that are interested in expanding their footprint
with an HPE ProLiant-based, HPE SimpliVity solution
Why do customers need it?
The digital evolution is putting pressure on IT to move faster. Businesses are
weighed down by an IT infrastructure not designed to meet the requirements of
today's virtual environments. Through hyperconverged solutions that bring
together servers, storage and networking in one simple platform, customers can
now streamline complex manual processes and non-integrated IT infrastructure to
support the business.
However, the majority of today's hyperconverged solutions are solving only part of
the problem. With the growth of virtualization, more appliances have been added
to the legacy infrastructure stack to manage increasing demand. These
appliances include solutions for backup and deduplication, WAN optimization,
storage caching, and others.
Today's businesses need a powerhouse hyperconverged solution that combines
not only servers and storage, but all other IT devices below the hypervisor—a
powerful, simple, and efficient platform with the agility and economics of the cloud
in an on-premises environment. That's exactly what the HPE SimpliVity 380
provides.
Why should you sell HPE SimpliVity 380?
Powerful: HPE SimpliVity Data Virtualization Platform
At the core of HPE SimpliVity 380 is the HPE SimpliVity Data Virtualization
Platform, a revolutionary technology that provides:
Guaranteed 90% capacity savings across VM storage and backup through
de-duplication, compression, and optimization
Highest levels of data integrity and availability ensured by built-in resilience,
backup, and replication
Global VM-centric management and mobility that simplifies day-to-day
operations and enables seamless data mobility
Simple: Intuitive VM management with rapid deployment and scale
Simple, global management through VMware vCenter enables quick deployment,
backup, cloning, movement, and restoration of VMs.
8-node cluster deployment (1,000 VMs) in less than an hour
53% increase in staff productivity
1 TB VM restore in under 60 seconds
Efficient: Better TCO than both traditional and public cloud deployments
Dramatically improve overall efficiency with TCO savings of 73% compared to
traditional infrastructure and 49% compared to public cloud.
Storage efficiency increased by 40:1
Data center footprint reduced by 10:1
Backup management saving of 3 hours per day
HPE SimpliVity 380 is built on the world's best-selling server, the HPE ProLiant
DL380, along with HPE's global support, delivery, and financing options to ensure
long-term viability and financial stability.
Start selling HPE SimpliVity 380 today!
Get informed
Latest training and enablement
Sales training 101: What is hyperconverged?
HPE SimpliVity 380 Sales/Presales Training
TekTalk: HPE SimpliVity 380 under the hood
Technical video: HPE SimpliVity Data Virtualization Deep Dive
HPE SimpliVity 20 minute sales pitch
HPE SimpliVity 380 Competitive Battlecard
HPE SimpliVity Fast 5 sales guide
HPE SimpliVity 380 Sales play card
Other tools and guides
HPE SimpliVity 380 solution brief
HPE SimpliVity 380 data sheet
HPE SimpliVity Customer Presentation
IDC Report: Using HPE SimpliVity Hyperconverged Infrastructure to Improve
Data Protection
Get engaged and get the deal
Campaign Call To Action (CTA)
HPE recommends that you gate the following CTAs to capture prospects' contact
information:
Dummies guide – Dummies Guide to Hyperconverged Infrastructure
TechTarget whitepaper: Comparing Hyperconverged Options for Virtual
Environments
Event and webinar invitation
The following CTAs can be shared with customers without gate:
TechValidate Case Study Library
HPE SimpliVity Data Virtualization Platform white paper
HPE SimpliVity Client Virtualization planning guide
Gorilla guide to Hyper converged Infrastructure for Data Center Consolidation
Gorilla guide to Hyper converged Infrastructure for IT Administrators
Co-marketing assets on PSNow
Click the Hyper-Converged FY17-Q3 (170805) on PSNow to get the latest
campaign assets:
eDMs for Dummies guide, TechTarget Whitepapers and Event/Webinar
Invitation
Copy deck
Call guide
Prep kit
Campaign guide
Digital banner*
Social card*
*Assets will be available on PSNow soon.
Latest posts and social content:
Just announced! HPE SimpliVity 380 delivers speed, security and simplicity
Extra, extra! Press and analysts spread the news about the new HPE
SimpliVity 380
When IT nightmares become disasters
Easing the journey to complete client virtualization
Paying the price of a taxed infrastructure
Follow HPE SimpliVity on Social Media:
Blog: HPE Converged Data Center Infrastructure
Twitter: @HPEConvergedDI, @HPE_SimpliVity
LinkedIn: HPE Converged Data Center Infrastructure, HPE SimpliVity
Facebook: HPE Converged Data Center Infrastructure, HPE SimpliVity
Resource and access information
For more product and case study information, please go to:
hpe.com/info/simplivity
Link to HPE Hyper Converged solution page on PRP: NA, EMEA, LAR, APJ
Link to the campaign assets on PSNow via PRP:
Navigation: Partner Ready Portal -> Sales & Marketing -> Products &
Solutions Now -> Click on the "Go" button -> Click on "Co-marketing" ->
Select "Hyper-Converged FY17-Q3 (170805)" under "Campaign Names"
area.
Or click the direct PSNow link to get the campaign assets: Hyper-Converged
FY17-Q3 (170805)
HPE.com
Privacy
Support
Update Profile
Hewlett Packard Enterprise respects your privacy. If you'd like to discontinue receiving e-mails
from Hewlett Packard Enterprise regarding special offers and information, please click here.
For more information regarding Hewlett Packard Enterprise's privacy policies and practices,
please visit our Privacy Statement.
To exercise your rights of access, rectification, opposition or deletion, please use the 'Privacy
Feedback Form' available from Hewlett Packard Enterprise's Personal Data Rights Notice.
© Copyright 2017 Hewlett Packard Enterprise Development LP. The information contained herein
is subject to change without notice.