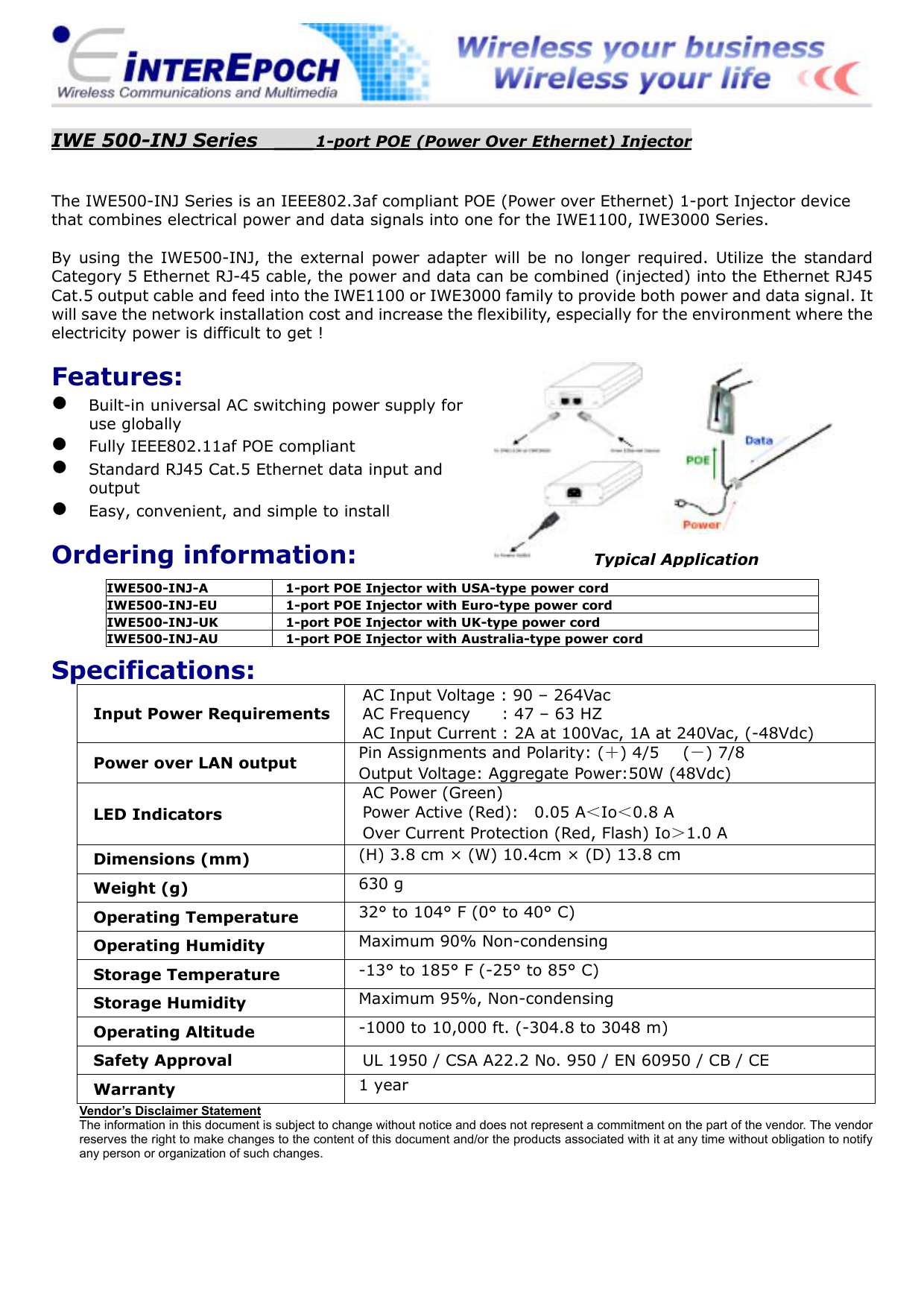 IWE 500-INJ Series ___1-port POE (Power Over Ethernet) Injector
The IWE500-INJ Series is an IEEE802.3af compliant POE (Power over Ethernet) 1-port Injector device
that combines electrical power and data signals into one for the IWE1100, IWE3000 Series.
By using the IWE500-INJ, the external power adapter will be no longer required. Utilize the standard
Category 5 Ethernet RJ-45 cable, the power and data can be combined (injected) into the Ethernet RJ45
Cat.5 output cable and feed into the IWE1100 or IWE3000 family to provide both power and data signal. It
will save the network installation cost and increase the flexibility, especially for the environment where the
electricity power is difficult to get !
Features:
Built-in universal AC switching power supply for
use globally
Fully IEEE802.11af POE compliant
Standard RJ45 Cat.5 Ethernet data input and
output
Easy, convenient, and simple to install
Ordering information:
IWE500-INJ-A
IWE500-INJ-EU
IWE500-INJ-UK
IWE500-INJ-AU
1-port
1-port
1-port
1-port
Typical Application
POE
POE
POE
POE
Injector
Injector
Injector
Injector
with
with
with
with
USA-type power cord
Euro-type power cord
UK-type power cord
Australia-type power cord
Specifications:
Dimensions (mm)
AC Input Voltage : 90 – 264Vac
AC Frequency
: 47 – 63 HZ
AC Input Current : 2A at 100Vac, 1A at 240Vac, (-48Vdc)
Pin Assignments and Polarity: (+) 4/5
(-) 7/8
Output Voltage: Aggregate Power:50W (48Vdc)
AC Power (Green)
Power Active (Red): 0.05 A<Io<0.8 A
Over Current Protection (Red, Flash) Io>1.0 A
(H) 3.8 cm × (W) 10.4cm × (D) 13.8 cm
Weight (g)
630 g
Operating Temperature
32° to 104° F (0° to 40° C)
Operating Humidity
Maximum 90% Non-condensing
Storage Temperature
-13° to 185° F (-25° to 85° C)
Storage Humidity
Maximum 95%, Non-condensing
Operating Altitude
-1000 to 10,000 ft. (-304.8 to 3048 m)
Safety Approval
UL 1950 / CSA A22.2 No. 950 / EN 60950 / CB / CE
Warranty
1 year
Input Power Requirements
Power over LAN output
LED Indicators
Vendor's Disclaimer Statement
The information in this document is subject to change without notice and does not represent a commitment on the part of the vendor. The vendor
reserves the right to make changes to the content of this document and/or the products associated with it at any time without obligation to notify
any person or organization of such changes.

* Your assessment is very important for improving the work of artificial intelligence, which forms the content of this project