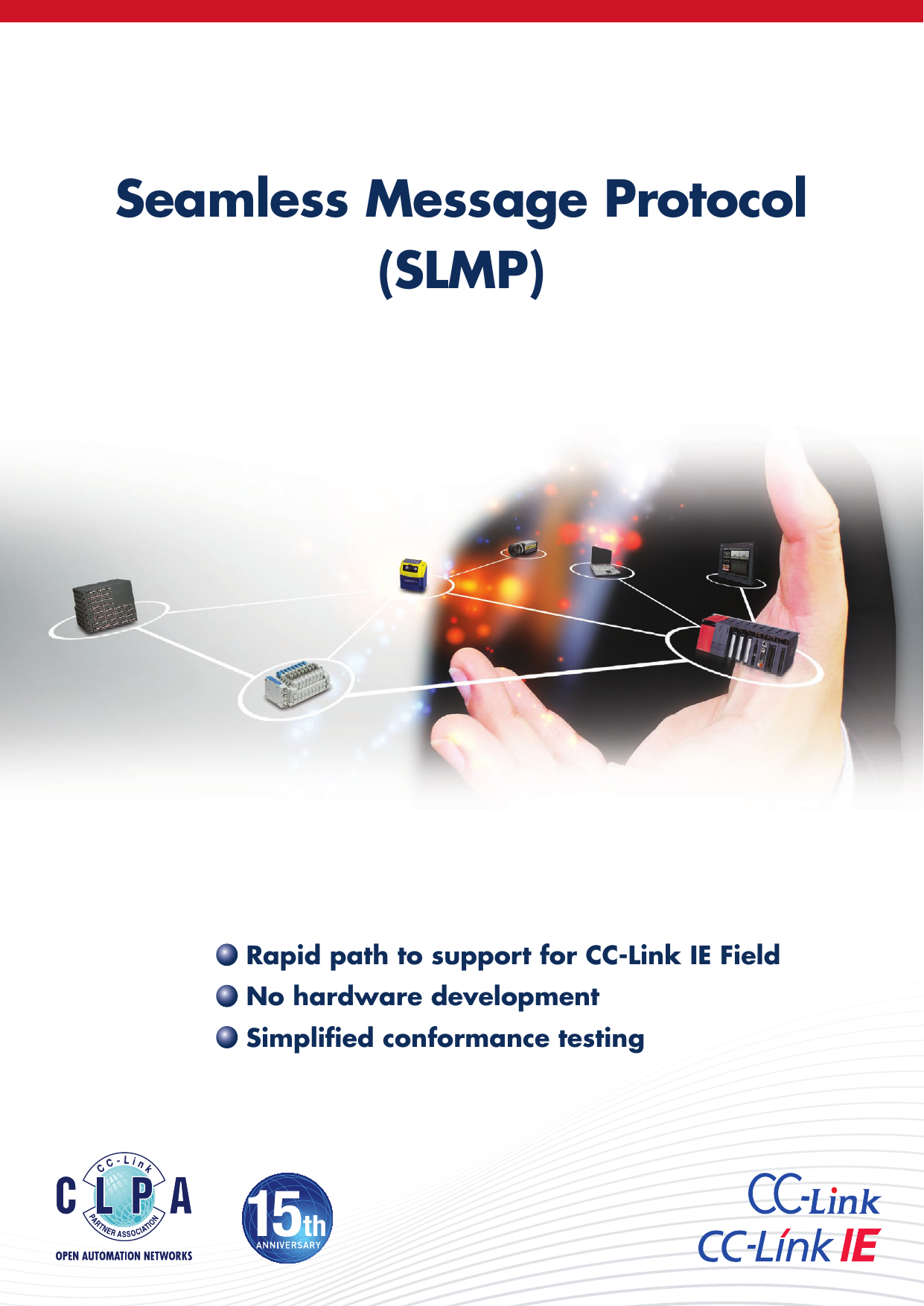 Seamless Message Protocol
(SLMP)
Rapid path to support for CC-Link IE Field
No hardware development
Simplified conformance testing
15th
The fast way to a CC-Link IE
Field product
Overview
CC-Link IE is the open industrial
Ethernet version of the globally
successful open fieldbus, CC-Link. The
two networks have a leading share in
the Asia Pacific market, where it has
been estimated that approximately
half of the world's spending on
automation takes place. Furthermore,
independent research has shown
that CC-Link IE is experiencing
the fastest growth of any type of
industrial Ethernet. Finally, CC-Link
IE is unique in being the only open
industrial Ethernet type that operates
at gigabit speeds, allowing it to offer
productivity benefits around ten times
greater than the competition.
CC-Link IE is divided into two main
types. CC-Link IE Control is a high
speed, high capacity optical fibre
"backbone" that is intended for
the real-time sharing of information
across production lines, factories and
beyond. CC-Link IE Field provides
the link between controllers and
field devices to bring the benefits of
industrial Ethernet to machines and
systems. However, no matter which
one (or both) is the best fit for your
application, the key benefit is that
both operate at gigabit Ethernet
speed, meaning both provide industry
leading productivity benefits.
Product development
When it comes to offering a CC-Link
IE product, companies can take the
usual route and develop hardware
and software to produce the required
product. However, since CC-Link IE
uses the standard Ethernet physical
layer, the CC-Link Partner Association
(CLPA) also offers a faster route to
offering a product. The Seamless
Message Protocol (SLMP) is a way to
offer a product that is compatible with
the CC-Link IE Field network without
having to undertake any hardware
development.
FA network is fully covered by CC-Link IE.
Equipment Control
(Setting and Monitoring)
Equipment Maintenance
Watching and
Failure Detection
Data Acquisition
(Operation Status)
Upper Information System
SLMP
Seamless communication is realized by common protocol.
HMI for
operating
equipment
PLC
Equipment control/
Monitoring (PC)
SLMP
Seamless
Message
Protocol
PLC (Master)
Ethernet adapter
Switching hub
Motion network
Barcode reader
RFID
Vision sensor Label printer
Display
PC
General-Ethernet products compatible with SLMP
General-Ethernet products
compatible with SLMP
General-Ethernet products
compatible with SLMP
HTTP
HTTP
Application Common Protocol
Seamless Message Protocol (SLMP)
FTP
Application Common Protocol
Controller network
Field network
Seamlesscommunication
Message
Protocol
(SLMP)
protocol
communication
protocol
TCP/UDP
FTP
IP
Communication protocol
Ethernet
TCP/UDP
IP
Motion network
communication protocol
Controller network
communication protocol
Field network
communication protocol
EIA-485 (RS485)
Motion network
communication protocol
Communication protocol
Ethernet
EIA-485 (RS485)
SLMP Stack Configuration
How does it work?
Since SLMP is only a protocol and
not a set of hardware specifications,
implementation only relies on
supporting this protocol in software
on your existing Ethernet enabled
device. Hence a product can be
more quickly developedServer
at lower
(Controller)
cost than is involved with
hardware
development. Once
developed,
Master
the product simplyStation
connects to an
Ethernet network in the usual way
and can exchange information
1Gbps
with other CC-Link IE Field
devices. A further benefit is that the
conformance testing requirements
are simplified, as only the software
functions need to be tested.
SLMP
SLMP
Server
(Controller)
TCP/UDP
HMI
IP
Master
Station
SLMP
No Need
to Develop
Hardware
Ethernet
1Gbps
Ethernet
No Need
to Develop
Switching
hub
Hardware
SLMP
10M/100Mbps
TCP/UDP Ethernet adapter
IP
Ethernet
Ethernet
SCADA
HMI
RFID controller
OPC server
Software
Switching hub compatible with SLMP Vision sensor
Ethernet adapter
10M/100Mbps
Easy to Develop Compatible Products
SCADA
The benefits
OPC server
Help from
the CLPA
CC-Link IE is seeing rapid growth
in the Asia-Pacific market. Any
company looking to increase their
business globally needs to include
this vital technology in their portfolio
or risk missing a growth opportunity.
SLMP provides a rapid, simplified
way to take advantage of this
opportunity and extend the market
reach of your existing industrial
Ethernet products. Whether it is a
vision system, PLC, inverter, servo or
something else, these products are
all likely to be capable of supporting
SLMP and seizing this opportunity.
with with
SLMP SLMP
To assist compatible
companies
products expand their business in
Client
Asia, the CLPA offers the "Gateway
to Asia" programme (G2A). This
takes advantage of our market
leading position in Asia and works
with companies to promote sales
of their SLMP enabled devices in
this critical global market. The only
conditions are to pass the SLMP
conformance test and become a
Regular member of the CLPA (a fee
of EUR 1,000.00 per year). After
this, the CLPA can work with you in
key Asian markets to help develop
your business in this region.
Software
Client
Barcode reader
Label printer
Gateway
Ethernet devices
compatible with SLMP
RFID controller
Vision sensor
Barcode reader
Label printer
Gateway
Ethernet devices
compatible with SLMP
Your gateway to Asia
The CC-Link Partner Association has a leading position in the Asian market with its
open networks CC-Link and CC-Link IE. Working with us to add our technology to
your products can help to significantly increase your business there.
If you would like to know how our European member companies are increasing
their sales in Asia, visit: cc-link-g2a.com or email [email protected]
for more information.
NE
TI
R A S S O CIA
ON
PA
RT
CC-Link Partner Association - Europe I Tel: +49 2102 486 1750 or +44 1707 278953
email: [email protected] I www.clpa-europe.com
All third party trademarks and/or registered trademarks are the property of their respective owners and acknowledged. Terms and conditions apply.

* Your assessment is very important for improving the work of artificial intelligence, which forms the content of this project