T2RO tutorial EN:Mise en page 1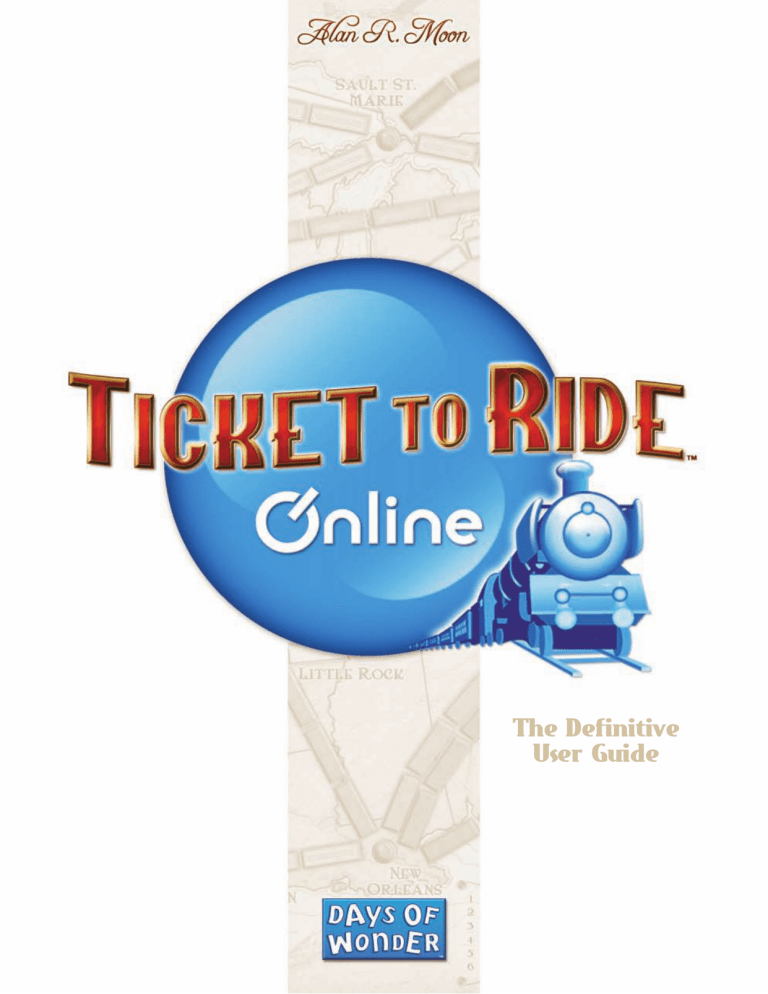 v1.0 Manual
The Definitive
User Guide
Table of Contents
Introduction
- 3
A Brief History of the Game
Trying the Game Out
The Play Page: Getting Started
The Game
- 5
Object of the Game
The Game Interface
The Game Start
The Game Turn
The Game's End
3
3
4
6
6
5
5
7
The USA 1910 Expansion
- 14
The 1910 Variant
The Mega Game Variant
The Big Cities Variant
k
The Online Community
& Lobby Features
- 15
14
14
14
The Lobby
- 15
The Downloadable Version
- 8
The Games Table List
The Game Creation Panel
The Game at a Glance 9
The Bots
- 17 k
Karma
Scores and Ranking
16
16
Karma, Score and Ranking
- 17
17
17
The Expansions
- 10
Buddies - 18
The Europe Map
- 11
Ferries
Tunnels
Stations
Additional Game Changes
The Swiss Map
- 13
12
12
11
11
k
New Features for existing Players
- 19
A Shorter Game
12 Country Tickets
New locomotives
Tunnels
13
13
14
14
Ticket to Ride Online v1.0 Manual
2
I.
Introduction
Welcome!
A Brief History of the Game
Welcome to Ticket to Ride Online, the computer adaptation of Days of Wonder's best-selling board game:
Ticket to Ride™.
Launched to critical acclaim in 2004, Alan R. Moon's board game quickly leaped to the forefront of a new wave of board games that has gained popularity worldwide during the past decade. Translated into 14 different languages, sold in over 80 countries, Ticket to Ride won
Germany's prestigious Spiel des Jahres, the world's most coveted game prize, making Days of Wonder the youngest publisher to ever receive this recognition.
The board game went on to sell over 1,000,000 copies and spun off countless expansions and variants, all of which can be discovered on the Days of Wonder web site at: www.daysofwonder.com
If you are reading this User Guide, you have either already played the board game, or you have heard about it and are curious to discover what's all the fuss about and maybe learn how it's played. With over 15,000,000 games played online already and a vibrant, multi-national player community, the Online version you are about to discover is the perfect way to get a... Ticket to Ride!
So hop aboard and read on...
3.
4.
Once you have completed this first trial game
(which is very short and can be interrupted at anytime if you feel you already got the hang of things), you will be ushered into the game lobby, where you will discover countless fellow players, many of whom will be happy to teach you the ropes of the game and help you perfect your skills.
You will have the chance to play an additional three full games, giving you a complete trial before deciding whether Ticket to Ride Online is for you or not before you purchase.
But first go ahead, and create a free account and screen name for yourself. To do so, please:
1.
Point your browser to www.daysofwonder.com
2.
Click on Play in the blue Days of Wonder navigation bar at the top of your screen.
3.
Now click on Sign up here to play online and follow the instructions.
Note that we won't share your e-mail with others or bombard you with junk mail.
Trying the Game Out
Ticket to Ride Online differs from many other fine casual games such as Bejeweled™ in that it was truly designed from the ground up as a pure multi-player experience, to be enjoyed playing against other live human opponents. While this might sound intimidating at first (How will I fare? What will others think?), we have taken special steps to make your first foray into the world of Ticket to Ride Online especially easy.
1.
All you need to get started is a valid e-mail address and a live Internet connection. You will first be invited to observe a game if you'd like (in much the same way you might observe family and friends playing a board game you've heard about but never yet played).
Once your account has been created, you will land on our Play page. From there you will be able to observe, launch and try any of our online games. Those available for sale (Ticket to Ride Online and Gang of Four Online) have a limited number of free trials after which you will be asked to pay a modest fee to gain permanent access to them.
Note that Ticket to Ride Online is available both as a web game playable directly from within your browser, and as a higher resolution, full music, bells & whistles downloadable game (see The Downloadable Version on p. 8). Purchasing the game will immediately give you permanent access to both versions.
But for the purpose of the introduction that follows, we will assume you haven't purchased Ticket to Ride Online yet, and will be trying the game out in its web incarnation, described below.
2.
You'll then have a chance to play a trial game on your own (the computer will act as your friendly opponent and advisor there).
© 2004-2009 Days of Wonder, Inc.
All names are trademarks or registered trademarks of Days of Wonder, Inc.
or their respective owners. All rights reserved.
Ticket to Ride Online v1.0 Manual
3
The Play Page Getting Started
Once your account has been created, clicking on Play in the Days of Wonder navigation bar will get you to a page that looks like this:
Note that while your mouse pointer will be active, it has no in-game effect while you are in Observe mode. You should feel free to close the window or leave the game once you've seen enough of it, as this will not interrupt the players' game, just your view of it.
The Play Page of Days of Wonder Online
Most of the content on that page is self-explanatory, though we would like to call your attention to a couple of items...
Observing
Clicking on the Observe button will open a new window on your browser and jump you directly into a live game in progress, allowing you to (virtually) watch "over the shoulder" of an existing Ticket to Ride player. From there you will be able to observe this live game to completion, with each of the different players taking their turns, etc.
The rhythm of play will vary depending on the players' experience, but observing them should give you a feel for the game and how it's played - especially if you look at the message window, down in the middle lower portion of the screen. It should also help you familiarize yourself with the game's main interface components (see The
Game Interface, on p. 5).
Playing - The First Time
Once you have observed a game or two (or if you feel confident, right after finishing reading this User Guide), you should click on the Play button.
The very first time you click on the Play button, you will bypass the Ticket to Ride Online Lobby (see Ticket
to Ride Online - The Online Community & Lobby Fea-
tures on p. 15 for more details) where players gather in between games and be taken directly into a trial game with no live player other than yourself. This trial game will give you a chance to explore Ticket to Ride Online's interface and gameplay at your own pace, without fear of interfering with or slowing down others, since your only opponent in this first game will be a computer opponent
(whom we will familiarly refer to as one of our "bots", a common abbreviation for the Robots on our team).
At the very start of this first game, a couple of quick onscreen tips will appear to help you grasp the game basics.
From there you will be taken into the game's interface proper, a quick summary of which is given on page 9 of this User guide.
Upon finishing that first game - or quitting it midway if you feel ready - you will be dropped back into our Ticket to Ride Online lobby. There you will discover fellow players who gather to chat, observe and start new games.
Early on in your budding Ticket to Ride career, you may want to be on the look out for games titled "For Begin-
ners". These games feature fellow beginning players only
(or friendly bots), all with less than 20 games under their belt. As a consequence, the pace and competitiveness of these games will often be more "newbie friendly" and forgiving than others.
You are now equipped with all the knowledge you need to start rolling on the tracks to fame and success. Good
Luck!
What follows in the rest of this Guide is not required reading for getting started, though we recommend at least giving it a glance since it explains the game's rules in considerably more detail than the Online help or any fellow player might be able to provide you with.
On page 9 of this Guide, you will also find a quick ata-glance summary of the in-game interface.
Ticket to Ride Online v1.0 Manual
4
II.
The Game
Object of the Game
Ticket to Ride Online is played on a US map of train routes at the turn of the 20 th century. Each turn, players draw or play Train cards to claim routes between Cities, trying to complete the objectives set by the Tickets they were dealt. The player(s) with the highest number of total points at game's end wins.
Points are scored by:
N Claiming a route between two adjacent cities on the map;
N
Successfully connecting two cities listed on one of your Tickets with trains of your own color;
N Having the longest continuous set of trains on the map at game's end.
Beware though - you will also lose points each time you fail to successfully connect two cities listed on one of your Tickets at game's end!
The Game Interface
The game is played inside a single window, split into four distinct areas:
–
The Map area of the game in play, with routes of different colors connecting the various cities;
—
The Draw section, made of 5 Train cards face up and a blind draw for the Train cards; and a blind draw for the Tickets;
˜
Your hand, composed of the Tickets and Train cards you hold in hand;
™
And a Message and Scoring section, featuring a discussion or chat area, a message area listing all the players' actions taken to date, and a scoring section displaying each player's screen name, number of Tickets/Train cards in hand, Trains still available for placement on the map, and current score.
The Game Interface
Ticket to Ride Online v1.0 Manual
5
The Game Start
Selecting Tickets
At game start, each player is dealt 3
Tickets, each listing 2 Cities on the map. The Points value listed in the lower right corner of each Ticket dictates how many points you will score if you successfully connect these cities (and lose if you fail to connect them!) during the game.
You must select at least 2 of these Tickets and keep them as your own secret objectives for the game. Once your selection is made, click on the Done button. Once all players have done so, the game starts. Any Ticket discarded goes back to the bottom of the Ticket draw pile, where plenty more await to be drawn later (there are a total of 30 different Tickets in the base game of Ticket to
Ride Online).
k
To help you make your choice, all the cities appearing on any of the Tickets you can select are automatically highlighted as red dots on the map. You can also highlight just the 2 cities listed on a specific Ticket, by simply Rightclicking on that Ticket (Control-click on the Mac). Its 2 cities will blink as purple dots on the map. These visual aids are available at all time during the game, not just during Ticket selection.
While your opponents will be able to see how many
Tickets you have in hand at any time, their precise destination is and should always remain secret from others until game's end. You do not want to make it too easy for others to mess with your plans and block you by taking routes you were hoping to claim for yourself!
by looking at the colored square immediately in front of their screen name, in the Scoring section.
Likewise, you can easily check how many trains you or any of your opponents - have left at any point, by looking at the number listed in the column with a Wagon icon, in the Scoring section. You will want to pay attention to this number from time to time, because the moment one of the players' Train count falls down to 2 or less, it signals the last and final turn of the game for all players!
The Game Turn
A game of Ticket to Ride Online is made up of a series of turns, played in succession by each player until one player runs low on Trains (2 or less, as indicated above); this triggers a final round for all, himself included.
Each turn, a player may do one and only one of three things - and this is where all of the game's tension comes from, as you will always be wanting to do more than one thing, but are never allowed to do so! You may either:
Train Cards
You are also dealt 4 Train cards in your hand, at game start. These Train cards have 1 of 8 possible distinct background colors, each featuring a different wagon illustration and matching the colors of some routes on the map, or are Locomotive wild cards, recognizable to their multi-colored background.
Trains
Finally, you have a set of 45 Trains of one of five possible colors (red, green, blue, yellow or black) that indicate your player's color for this game. Note that your
Trains' color has no game effect whatsoever, other than helping you distinguish them from others. It is in no way connected to - nor does it impact - the colors of the Train cards you may receive or play during the game.
These trains are not visible on the screen - at least not until some of them appear on a route in the map area, once you claim a route (see Claim a route, p. 7) - but you can easily see your - and your opponents - Trains color,
Draw Train cards
You may draw any 2 Train cards from among the five face up and/or the blind draw, in the Draw section of the screen.
The only exception is if you choose to pick a Locomotive card face-up, in which case that is the only card you may draw this turn. (Because Locomotives are wild cards, they cost more to pick, unless you are lucky enough to get one from the blind draw!) This means that if you already picked a Train card this turn, and a Locomotive now appears in its place in the draw section, you won't be able to pick this
Locomotive as your second card.
To draw a card, simply double-click on it (you may also choose to drag the card into your hand, if you prefer); the card is automatically added to your hand, where it will be kept sorted with Train cards of the same color until you use it to claim a route, in a later turn.
There is no limit to how many Train cards you may hoard in your hand during the game (other than cards running out from the Draw pile). But you will only be able to take a maximum of 2 each turn, and each turn spent drawing these cards is one that isn't spent claiming
Routes other players may also desire.
Note:
In a few instances, you may see the 5 face up
Train cards get flushed out and disappear before you have had a chance to make your second card selection. This occurs automatically anytime a 3rd Locomotive appears face up in the draw section, as the computer discards all
5 Train cards and draws new ones for you to pick from.
Ticket to Ride Online v1.0 Manual
6
OR
Claim a Route
Alternatively you may use your turn to Claim a Route.
To claim a Route and connect 2 adjacent cities with
Trains of your own color, play from your hand a set of
Train cards (collected in prior turns) whose color and quantity matches the color and number of spaces on that route.
You may never claim multiple routes, nor connect 2 cities that are not adjacent to each other in a single turn, so plan ahead!
Note that gray routes are neutral; they can be claimed with any single color of your choice.
Important Note:
In 2 and 3 player games, only one of each double-route may be used. The moment a player claims one, the other becomes unavailable to all others. In
4 and 5 player games, both double-routes are in play, though a single player may never claim both for himself, even in 2 separate turns.
Upon successfully claiming a route, you will immediately score a number of points that varies with the length of the route according to this table.
Route scoring
Or Or
x3 x3 x3
Scores are automatically updated each time that a player claims a route.
This gray route can be claimed with a set of three cards of any single color.
Also remember that Locomotives are wild and automatically adjust to the color required to claim a route, when played.
The cards you played are then automatically discarded, and will be shuffled back into a new Train cards Draw pile once the current pile runs out. For those card counters among you, know that there are 12 colored Train cards of each color, plus 14 Locomotive wild cards, for a total 110 Train cards in the base game deck.
OR
Draw new Tickets
Thanks to 1 yellow cards and a locomotive, the player claims this yellow route.any single color.
Alternatively, you may choose to spend your turn drawing new Tickets to add to your hand and set of objectives for the game. To do so, simply double-click on the Tickets draw pile.
Three new Tickets will appear. You must select and keep at least one of them (and thus run the risk of losing the points marked on it, if you can't complete it by game's end), though you may keep 2 or even all 3 if you feel lucky or confident. Once the tickets you wish to keep are selected, click on Done.
To claim a route, click on a card of the required color in your hand and drag it onto the route you wish to claim. If you have enough Train cards in hand (and/or Locomotive wild cards), and enough Trains left, the game will automatically remove the required cards from your hand, and place a corresponding number of Trains of your own color onto the route you just claimed. The game will not use any of your Locomotives, unless it needs too, though. k
If a route is hard to see or claim, double-click on the map to zoom in. Double-clicking again will zoom back out. To pan the map around while zoomed in, simply click and drag on it.
The Game's End
As mentioned earlier, once one of the players' Train count falls down to 2 Trains or less, there is one final turn for all players, including that player, and the game ends.
The computer automatically tallies up everyone's final score, by adding points for each completed Ticket and subtracting points for each uncompleted Ticket still in hand; and by giving a bonus of 10 points to any player(s) with the longest continuous set of trains placed on the map.
Ticket to Ride Online v1.0 Manual
7
The player with the highest score wins. In the case of a tie between players, all tied players win. (In a departure from the rules of the Ticket to Ride board game, there are no tie-breakers currently implanted in Ticket to Ride Online).
The score table appears, detailing each player's score.
To see an opponent's tickets, simply click on his name in this table.
A final click will dismiss the score table and send you back into the Lobby where the community of players gathers in between games. Enjoy!
III.
The downloadable version
When you purchase Ticket to Ride Online, you not only get permanent access to the Web version described in the previous pages, but also a link to the downloadable version for your own computer (Mac or PC).
This link is available on any machine you connect on, provided you identify yourself under your account. So no worries if you upgrade or change computers. You will be able to download and play the game there just like on your old machine.
The downloadable version has a few bells & whistles that could not be included in the Web version. The most noticeable ones include:
N Higher resolution graphics, including the ability to play in full screen mode
N
A more polished Lobby and In-game interface
N Better animation, sounds and music
N
The capability to play solo games off-line, with no
Internet connection
N Several high quality video tutorials from Days of
Wonder
If you opt to purchase new maps and expansions for
Ticket to Ride Online, these will be automatically be added to this version of the game (as well as to the web version when you access it under your account name).
Ticket to Ride Online v1.0 Manual
8
IV.
The game at a glance
DRAW
CARDS PILE
+ blind draw
DRAW PILE
STATUS
Full > Empty
Zoom in/out
YELLOW PLAYER
OPPONENT
SCORE
Train Cards
Tickets
Trains
HELP
BUTTON
YOUR AVATAR
Your Current Score
TICKETS
New Tickets Draw pile
Your Tickets
ROUTE INFORMATION
Show city connections with mouse rollover
TRAIN CARDS IN HAND
YOUR
REMAINING
TRAINS
Ticket to Ride Online v1.0 Manual
9
Ticket to Ride Online v1.0 Manual
The expansions
G iven the success of the original Ticket to Ride board game, a bevy of supplements and variants have been produced to great acclaim over the years. Many of these now have an Online equivalent, with others to follow...
Once you have purchased the base game, you can try any of these new maps and expansions a limited number of times each before committing to their purchase for a modest fee. Note that all three of the USA 1910 play options come as part of the same package.
If you decide you like a map or expansion, simply visit our web store or click on the Buy button in Solo mode of the Downloadable version, or in the Banner section of the
Web version. Upon payment, the new map or expansion is automatically added to your list of Online Features, and available from the Lobby of any version of the game.
Here below, in chronological order, is the list of the Online expansions released to date, along with their rules and most significant additions to game play.
Europe Swiss USA 1910
10
I.
The Europe Map
The map of Europe takes you to the craggy hillsides of
Edinburgh and the sunlit docks of Constantinople, to the dusty alleys of Pamplona and a windswept station in
Berlin. Published as a stand-alone board game a year after the original Ticket to Ride, Ticket to Ride Europe quickly grew in popularity, not just because of its geographical appeal, but also thanks to the three key new game play additions it introduced to the game: Ferries, Tunnels and
Train Stations.
To claim a Ferry Route, you must play a Locomotive card for each Locomotive symbol on the route, along with the usual set of cards of proper color for the remaining spaces of that Ferry route. Aside from this additional requirement, the route behaves like any other route in the base game, in all respects (same point scoring depending on length, same limitations regarding Double routes, etc).
Ferries
Ferries are special neutral Gray routes that link two adjacent cities across a body of water, such as the channel between France and England. They are easily identified by the Locomotive icon(s) featured on at least one of the spaces making the route.
Claiming the Ferry Route from Smyrna to Palermo requires four Train cards of any one color and two Locomotives.
Tunnels
Tunnels are special routes, easily identified by the special tunnel marks and outlines surrounding each of the spaces on the route. What makes a tunnel special is that you will never be quite certain just how long the route is until you try to claim it!
When you try to claim a Tunnel route, the computer will first draw 3 Train cards from the top of the blind draw and show them to you. For each card thus revealed whose color matches the color of the cards you played to claim the Tunnel, an additional card of the same color (or a Locomotive) will need to be played from your hand. If you have those cards available, you will be asked if you want to play them. Once you confirm your play, you will successfully claim the Tunnel route!
If it turns out that you do not have enough additional
Train cards of the matching color (or that you do not wish to play them), the card you dragged onto the Tunnel route
Ticket to Ride Online v1.0 Manual
11
Cards drawn Cards drawn Cards drawn
Example 1
Playing 2 red cards, 1 red card revealed :
1 more red needed
Example 2
Playing 2 green cards played, 1 loco revealed :
1 more green needed
Example 3
Playing 2 loco played, 1 loco revealed :
1 more loco needed
to initially claim it will automatically go back to your hand. No other Train card will be taken from there, but the turn will immediately end with you not able to take any other action: In other words, you will have just wasted a turn!
Remember that Locomotives are multi-colored wild cards. As such, any Locomotive card drawn from the top of the Train draw pile during an attempt to go through a tunnel will automatically match the color of the train cards you played on the route, and force you to pony up an additional card.
If you attempt to go through a Tunnel using Locomotive cards exclusively, you will only be required to play additional cards (which must be additional Locomotives in this case) if Locomotives show up among the three cards drawn for the Tunnel.
In the rare event there would not be enough cards available in the draw and discard piles to reveal 3 cards and determine the effect of the Tunnel, then only those cards that are available will be revealed.
If, as a result of players hoarding cards, there are none to be revealed, a tunnel can be claimed without risking additional cards.
N Each player may build a maximum of one Station per turn, and three Stations throughout the course of the game.
To build your first Station, play one Train card from your hand, by dragging it onto the city (not an adjacent route, but rather the city itself, as identified by its round circle on the map). A Station whose color matches your trains will automatically appear in this spot, claiming the city for yourself.
To build a second Station, repeat the same process but beware - this requires 2 cards of the same color, rather than a single one like the first Station did; and to build a third and final Station will require a set of three Train cards of any one color.
To build this 2 nd
Station, drag one blue Card onto the City - and make sure you have another blue Train card in hand, or the Computer will use one of your Locomotives to claim the Station.
Stations
The Europe map is often thought of as less cutthroat than the US map, because of the presence of Stations, which limit the risk of being entirely cut-off from a route one would need to fulfill his Tickets.
While this is not necessarily the case, as the Stations come at a price, it definitively gives the game a new twist:
N
A Train Station allows its owner to use one, and only one, of the routes belonging to another player, into (or out of) that city to help him connect the cities on his Tickets.
N Stations may be built on any unoccupied city, even if it currently has no claimed routes into it. Two players may never build a Station in the same city.
Ticket to Ride Online v1.0 Manual
As usual, if you are short of Train cards in the color you played, Locomotives may be used up in their stead.
If you use the same Station to help connect cities on several different Tickets, you must use the same route into the city with the Station on it, for all of those Tickets.
The route used out of the city you built your Station on will not be decided until the end of the game. At that point, the computer will automatically determine for you
(if there are multiple viable routes) which one will grant you the most point and best score.
Of course, you are never required to build any Stations.
For each Station you have not used by game's end, 4
12
points will be added to your score. So use them sparingly and wisely!
Additional Game Changes
There are a few additional game tweaks made when playing the Europe map.
While the distribution of Train cards is left unchanged, the game now contains a total of 46 Tickets. Six of those are special Long Routes Tickets, identifiable by their blue background, and each worth a large number of points.
At the start of the game, each player will receive at random one Long Route Ticket, in addition to his 3 regular Tickets. Each player must select and keep at least 2 out of these total 4 Tickets.
One route on the Europe map, between Stockholm and
Petrograd, is especially long and challenging, since it is an 8 space-long Tunnel. It is worth 21 points however!
At the end of the game, if 2 players are tied for the best score, and have both also completed the same number of
Tickets, then the one who has used the fewest Stations wins the game. If still tied, then the one with the longest continuous route of trains on the map wins.
II.
The Swiss Map
Released as an expansion map compatible with all stand-alone versions of Ticket to Ride, Ticket to Ride
Switzerland owes its popularity to its single-minded focus on making 2 and 3 player games especially exhilarating.
It has quickly become the favorite way to play with 3, for many players.
And of course, it introduces a few new twists to the game.
In addition, there are 46 Tickets in the game, only 34 of which are standard Tickets, connecting one city to another like in other versions of the game. The remaining 12 additional Tickets are Tickets connecting either city-tocountry or country-to-country.
A Shorter Game
First, the game is shorter (and not just because of the smaller number of players in it): There are only 40 Trains available for each player to place on the map, instead of the standard 45!
12 Country Tickets
To complete a city-to-country ticket you must connect from the city named on the ticket to any one of the countries listed on the ticket. To complete a country-tocountry ticket you must connect from the primary country on the ticket to one of the other countries listed. The points earned at game's end are those of the highest scoring connection completed from among the possible country destinations marked on the ticket. If none of the
Ticket to Ride Online v1.0 Manual
13
possible connections was made, the points lost are those corresponding to the lowest value on the ticket.
At the start of the game, each player is dealt 5 Tickets of which he must keep at least 2. During the game, if a player wishes to draw additional Tickets he draws 3 new
Tickets, of which he must keep at least 1. Tickets rejected, either at game's start or following a draw of new Destination Tickets in mid-game, are not placed back at the bottom of the Tickets draw pile as in other Ticket to Ride games. Instead, they are immediately removed from the draw pile for the rest of the game. As such, it is possible to run out of Destination Tickets entirely during the course of a game!
from the five Train cards face up just like any standard
Train cards. You may thus pick 2 face-up Locomotives during your turn, if you wish to.
But in Switzerland, Locomotives are not truly wild anymore - they may only be played on Tunnel routes (see
Tunnels below). Your Locomotives can complement or replace the colored cards required to claim a Tunnel route, but you can never use them to claim a regular (non-Tunnel) route!
This means that if there is a standard Red 3 space Route you wish to claim, you will have to somehow first gather
3 Red Train cards as your Locomotives won't be of any help there!
New Locomotives
The 14 traditional Locomotive wild cards present in other versions of the game are played differently on the
Swiss map. Unlike the standard Locomotives of other versions, Locomotives in the Swiss map can be picked
Tunnels
In the Swiss Map, tunnels play just as they do in the
Europe map where they were first introduced (see Tun-
nels, on p. 11).
III.
The USA 1910 expansion
Initially designed as a replacement deck for the (smallsized) Train cards and Tickets that were included in the original Ticket to Ride board game, the USA 1910 expansion became extremely popular with players because of the much greater variability of Tickets it introduced to the game, making it that much more difficult, even for veteran players, to discern all of their opponents possible destinations ahead of time.
In addition to the Tickets from the original US map, this expansion adds 35 all new Tickets, and a new end-game bonus, the Globetrotter, worth 15 points for whoever ends the game with the most Tickets completed.
This version also introduces three new types of game play, namely:
The 1910 Variant
The 35 new Tickets replace the old ones, and the Globetrotter bonus replaces the Longest Route (longest continuous set of trains on the map) bonus.
stead of 2 in the standard game). And during the game, whenever a player chooses to draw new Tickets, he will be dealt 4, not 3, of which at least 1 must be selected and kept in hand. The others are discarded back under the
Tickets draw pile.
The Big Cities Variant
Only those Tickets whose cities feature at least one
Big City (Chicago, Dallas, Houston Los Angeles,
Miami, New York or Seattle) are in play. There are 35 such Tickets, 15 from the original set and 20 from the new set. No bonus (Globetrotter or Longest Route) is used in this variant.
At game start, each player is dealt 4 Tickets and must select and keep at least 2. During the game, whenever a player chooses to draw new Tickets, he will be dealt 4, not
3, of which at least 1 must be selected and kept in hand.
The others are discarded back under the Tickets draw pile.
The Mega Game Variant
Both the Globetrotter and the Longest Route bonuses are in play. All Tickets, both old and new, are in play, and at game start each player is dealt 5 Tickets instead of the standard 3. Each player must keep at least 3 of these (in-
Ticket to Ride Online v1.0 Manual
14
The Online Community
& Lobby Features
I.
The Lobby
The Lobby is where Ticket to Ride Online players gather between games to chat and observe games, as well as create new ones. This window is split into three distinct areas:
–
A Game Tables list, listing all the new games being started and those already under way.
—
A Game Creation panel, where all the parameters
Ticket to Ride Online v1.0 Manual and options for a new game are set, before starting.
˜
A Chat section, where players can chat with each others, while in the Lobby.
While the Chat section is self-explanatory, the other two areas warrant a bit more explanation...
15
The Game Tables List
This list is where all the Ticket to Ride Online games appear. By default, the Open Tables tab, showing all the games that are about to start, is selected. If you wish to see a game that is already underway, simply click on the
Games in progress tab. The number in parenthesis, next to each tab's title, shows you how many games are about to start or already under way.
Because the community of Ticket to Ride Online players is often extremely active, there will be times where so many games are listed that it might become difficult to find the exact game you are looking for: The list of games will just keep refreshing too quickly!
That's due to the fact that by default, all games appear in the Game Tables list. But you can easily whittle this down by selecting specific criteria for the games you are looking for... To do this, simply click on the Filters dropdown menu in the upper left corner of the Game Tables display and deselect those criteria whose games you do not want to see in the list. Say you are only interested in
2 player games: simply deselect the Multiplayer option.
Just remember that the more selective you are, the fewer games there may be to join at any given time.
The Game Tables list itself displays 4 columns of information:
N
The Games column, which displays the name given by its creator to each Game.
N
The Map column, which displays the map on which each Game is played (in addition to the default USA map that comes with Ticket to Ride
Online, there are many additional maps of Europe,
Switzerland, ... and other expansions that can be purchased).
N
The Players column, which lists the screen name of each player in the game, along with his/her current rank score (for Open tables) or current in game score (for Games in progress), in parenthesis next to it.
N
And finally an Options column, listing the various options for games that are about to start, such as whether they are Private or Public games, how many players can join them, the minimum level of Karma required to join each, etc. If the games are already in progress, a % will show you their relative completion rate (i.e. how close the game is to ending).
To join a game that is about to start, select it by clicking on its name in the Game Tables list, and click on the
Join button. Or simply double-click on the name itself.
If you match the players' criteria set by the game creator and there are some seats left at this game table, you will automatically enter that game.
If you are rejected and asked for a password, it means the game is private and password protected. if you don't have enough Karma (see Karma p. 17) to join a certain game, look for some others to play first.
To look at a game that is in the Games in progress list, simply select that game and click on the Observe button - or double-click on the game's name - to watch it being played.
The Game Creation Panel
This panel is normally hidden from view and only appears when you decide to click on the Create Game button to start a new game.
You must give the game a name and select the map on which you wish to play (if you have purchased additional maps, they will be listed here; likewise, new maps and expansions for which you haven't used up all your Trials yet will also be listed here).
If you choose to make your game private by checking the corresponding checkbox, you will be asked to enter a password, which other players will have to enter before joining the game.
If you don't want your game to impact your ranking among other Ticket to Ride Online players (see Scores
and ranking, on p. 17), be sure to uncheck the Ranked checkmark.
If you wish to set a minimum (or maximum) number of players for your game, select the desired number in the corresponding pop-up menu.
If you wish your players to have a minimum Karma threshold in order to join your game, select it from the
Karma pop-up.
By default, your game is observable by any one. This does not mean that people will necessarily be able to watch the game from your perspective as the Observe function usually shows the game from the highest ranked players' perspective only). If you wish to make it observable only to friends, established players, or even by no one, select the appropriate item in the Observable by menu.
If you don't want to have the first turn in the game, check the Others start first check box.
Likewise, if you don't want observers to be able to see your Train cards and Tickets in Observable mode, make sure to check the Hide cards option.
Ticket to Ride Online v1.0 Manual
16
II.
The Bots
Ticket to Ride Online was designed to be played against live human opponents, because that interaction is often just plain more fun. But there might be times when you'll wish to just practice or play non-competitively. In those instances, you can invite some Robots to join your game as sparring partners.
The Robots (often affectionately named bots) come in a variety of flavors, and each have their own game play tactics (and scoring in the ranking ladder). They are usually fairly mindless in how they play, but if you wish to have fun, select the Talking bots option and engage your bots in small talk during your game. You might be surprised by their conversational skills. Just make sure to preface any address with a robot with the ":" or ";" prefix or with a blank space preceding each new line of text, as in ":hello DumbBot", ";nice to see you again,
DumbBot", and "<blank_space>How does it feel to be losing again, DumbBot?"
There is one additional instance when the bots come in handy. That is when you are engaged in a game and for some reason, accidentally or otherwise, one or more of the players stop playing mid-way through the game (due to an Internet connection loss, a kid crying in the background, the dog needing to go outside, etc...). In this case, after a reasonable delay, a bot will automatically step in to continue the game on behalf of the lost or interrupted player. This feature proves itself especially handy in longer multiplayer games, where you'd hate a single player drop-off to cause another 3 or 4 to abandon the game!
The bot that steps in will systematically be ranked lower than the player it replaces, so as to discourage voluntary game drops in the hopes of improving one's score.
And if the player manages to get back on line before the game ends, he can simply step back into the game midway and replace the bot that took his place, by simply locating his game in the Games in progress list and clicking on the Resume button (or double-clicking on the game's name, or clicking on the Join button).
III.
Karma, Score and Ranking
Karma
To encourage good, friendly behavior throughout the games, each player is assigned a Karma value (from 1 • to 5 •••••, with 3 ••• being the initial value by default).
For additional details on the Karma system, simply click on
The Karma System
link just below the Days of Wonder navigation bar on the Play page.
Scores and Ranking
Part of the fun of playing Ticket to Ride Online is to keep track of your performance in a variety of games and against an array of opponents. Days of Wonder has established a fairly sophisticated and competitive Ranking
Ladder, that will help you measure yourself against some of the world's best players. Just be forewarned that many of them have thousands, if not ten of thousands, of games under their belt. But as experienced as they are, they are often happy to help you master the art of the game.
Your Score and Rank is easily accessible from anywhere on the Days of Wonder web site, under My Ac-
count/My Score and Ranks. To get started, all you need to know is that your first 20 games (including your first trial games if any) are treated as provisional games, in which the scoring system will be fairly lax with you, as it attempts to determine your base level or natural skill for the game. From then on the ranking mechanism tightens up, with your score usually going up the most when defeating higher ranked opponents, and dropping the most when losing to lower ranked opponents.
All the gory details about this scoring and ranking system can be found under
The Ranking System
page on our web site.
Note that to encourage regular play, the ranking ladders only display the name and score of active players, i.e. those who have played at least once in the past 15 days. This also prevents a strong player from resting on his laurels. No worries though - even when you are no longer ranked, your score is not lost. It is just not displayed in the ranking ladder, but will be taken into account again the moment you join a new (ranked) game.
And of course, games that are played against bots only are not ranked; you must play against live human opponents to earn your chops!
Ticket to Ride Online v1.0 Manual
17
IV.
Buddies
Another neat feature of the thriving Ticket to Ride
Online players community is that you are likely to make lots of friends from around the world there, many of whom you might want to play with again day after day. To help you keep track of them, we have implemented a Buddy system.
Whenever you see someone you would like to play with again, select their name (either in the Lobby's Player list, or In-Game, while you're playing) and click on the
Buddies button. They will be automatically added.
When you come back to the Lobby another day, click on the Buddies button to see whether your buddies are present and whether they are in a game or not, etc. You will even see the name of the game they are playing, if they are in the midst of one, and be able to observe them play, if the game they joined is observable.
Of course, as with all Internet player communities, there are bound to be a few rotten tomatoes or people you would rather not play - or even interact with. When you face such an individual, add him or her to your Ignore list. From then on that person will not be able to join any game you create, and your Chat window will automatically ignore any comments they make.
As always, remember to be courteous toward fellow players, and especially helpful to new players once you're part of the more experienced crowd. The more vibrant and healthy our community is, the more resources we'll be able to devote to it.
Ticket to Ride Online v1.0 Manual
18
New Features for Existing Players
For existing players of previous versions (1.0 and earlier), here is a brief summary of the most substantive new additions to Ticket to Ride Online:
N No more worry about running out of Time
Credits! Your one time purchase gives you permanent access to the game you bought!
N
Numerous new power-user options for creating games have been added (who starts, min/max players, observable features to prevent cheating, etc...)
N New filters have been added to the Game Tables list, to help you quickly find the game you want to join.
N
People on your Ignore list can no longer join games you create, and their messages no longer appear in your Chat!
N You can kick out any player joining your game, without quitting your game, before game start and not lose any Karma in the process.
N
You can add people to your Buddy or Ignore lists while in game.
N
Typing offending words will temporarily block the offender from typing new messages in the chat window. Furthermore, all offending messages are now automatically logged and will be reviewed and used by Administrators to resolve complaints and take potential action against offending players.
N Players are now ranked from their 1 st
Trial game on, and automatically appear in the Ranking ladders, provided they played at least one game against live opponents during the past 15 days.
N
For beginners, beginner-friendly games titled
"For Beginners" will always be visible in the
Lobby, during the first 20 games of their career.
N Robots can now chat with you, if you address them properly! They might even remember you over time. To try them, address them in the Chat window, prefacing all your lines with a ":", ";" or a blank space, such as in ":Hello DumbBot!"
Ticket to Ride Online v1.0 Manual
19
* Your assessment is very important for improving the work of artificial intelligence, which forms the content of this project