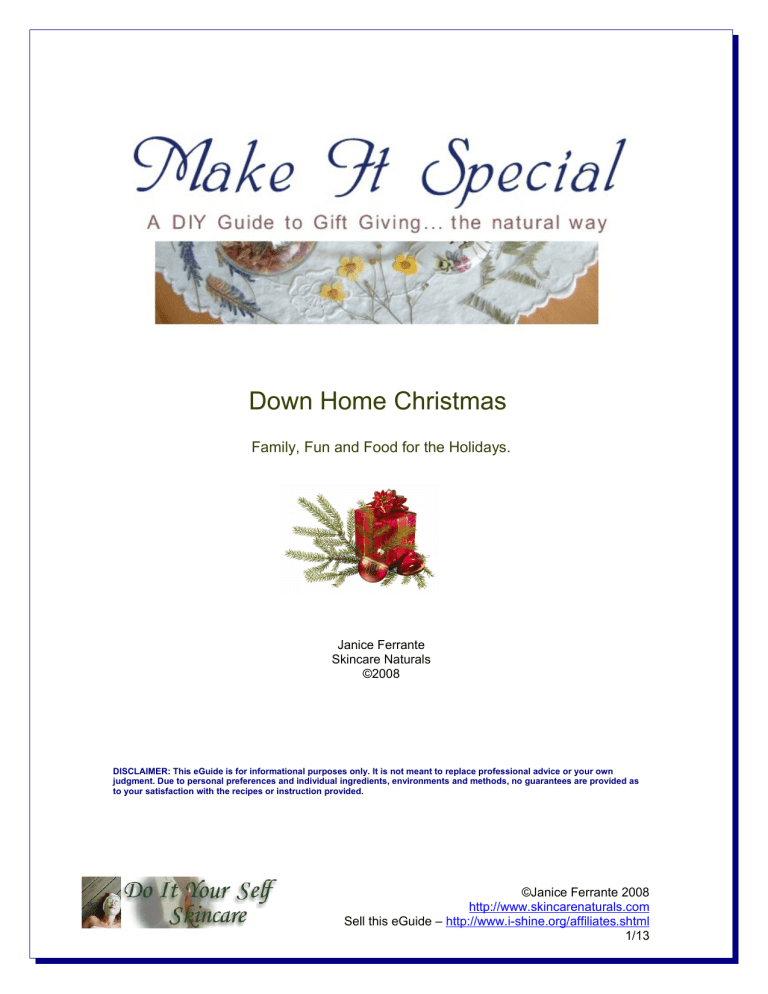 Down Home Christmas
Family, Fun and Food for the Holidays.
Janice Ferrante
Skincare Naturals
©2008
DISCLAIMER: This eGuide is for informational purposes only. It is not meant to replace professional advice or your own judgment. Due to personal preferences and individual ingredients, environments and methods, no guarantees are provided as to your satisfaction with the recipes or instruction provided.
©Janice Ferrante 2008 http://www.skincarenaturals.com
Sell this eGuide – http://www.i-shine.org/affiliates.shtml
1/13
DOWN HOME CHRISTMAS
Christmas Crafts for Kids...
Christmas Party Game Ideas for Kids...
6 Tips for Sticking to Your Budget This Christmas...
Homemade Christmas Gift Ideas...
Christmas Party Ideas for Kids...
Christmas Dinner Menu Ideas...
RECIPES
Reindeer Bread...
Chocolate Raspberry Ornaments...
Candy Cane Marble...
Cherries In The Snow...
©Janice Ferrante 2008 http://www.skincarenaturals.com
Sell this eGuide – http://www.i-shine.org/affiliates.shtml
2/13
5 CHRISTMAS CRAFTS FOR KIDS
The kids are home for Christmas break and are bored already. The weather is cold, wet and nasty. What do you do? Keep them busy making something with their hands, instead of you tearing your hair out. Here are some fun ideas that kids will love.
1. Christmas cards are always a great craft. Provide the kids supplies like construction paper, card stock, scissors, glue, glitter (the bottles of glitter/glue in one package are a very nice low-mess way to dress up a project), pencils, crayons or markers and old Christmas cards. Let the kids use their creative energy to make wonderful handmade cards that can be shared with family and friends. By cutting pictures out of old cards, even the younger children can make something really nice (and recycle at the same time).
2. Snow globes are a favorite. If you want to make your own, gather glass or clear plastic containers, like baby food jars or mustard or mayonnaise jars.
Wash and dry them completely. Gather small plastic Christmas or winter decorations. Try to find some that float. Winter themed stickers or small foam cutouts are also nice. Decorate the outside of the jar with stickers or glue a few of the foam pieces on it. Attach a couple of the floating pieces (things like snowflakes or stars work well) to string and glue a figure to the inside with the string underneath the figure to anchor it (which will become the base). Fill the jar with water and some glitter. Carefully glue the lid in place using waterproof glue and let dry. Once dry, shake it, set it lid down and watch the glitter swirl around.
3. Candy crafts can be fun, as well as a tasty gift. A train can be a quick craft that can be used as a decoration or gift. Use a roll of hard candy (like
Lifesavers) for the main part of the train. Use individually wrapped round candy, like peppermints for the wheels. For the front, glue a square candy, such as a caramel or a Starburst with a Hershey kiss on top. If you add a string, they can be used as a tree decoration. Experiment with other kinds of candy to create other things, like robots, animals or even angels.
4. Garland trees can be a great project for the kids, especially if there is limited room for a Christmas tree. Take a large piece of green poster board and cut a circle, with a slit out to make a cone. Tape it with clear packing tape.
©Janice Ferrante 2008 http://www.skincarenaturals.com
Sell this eGuide – http://www.i-shine.org/affiliates.shtml
3/13
Take an artificial pine garland and wrap it around the cone, completely covering it to create a small tree. Fasten the ends in place so it doesn't unwrap. The tree can be decorated with lightweight paper ornaments that the children can also make.
5. A cozy fireplace can warm up any room but not everyone has one. Let the kids make one. Find a large cardboard box and cut an opening in the one side for the fireplace. Using sponges, paint bricks on the box, leaving space in between to be the mortar. Paint the inside black if you want. Paint flames on the inside back section of the box. Use paper towel rolls to stack up in the fireplace as logs. Decorate the top to look like a mantel.
Get creative and think up your own Christmas crafts as well. Children will love the fun involved in creating these crafts and so will you. You can even give the crafts as a gift which will warm even the scroogiest of hearts.
CHRISTMAS PARTY GAME IDEAS FOR KIDS
What is a party without party games? Boring, right? Why not plan on adding some fun to the party by including a few entertaining games this year. Here are a few fun games to get the party hopping this year.
Dream Gifts - give everyone a slip of paper to write down their dream gift, if money were no object. Put them all in a Santa hat. Have each person draw a gift and then try to match the gift with the person who wants it. It can be fun seeing how well they know each other. The kids may surprise you as to what they come up with for their dream gift.
Pin the Tail Variations - there are many variations of "Pin the Tail on the
Donkey" that could be played. Use a picture of reindeer and play "Pin the Nose on Rudolph". Another way to play is to put Santa's hat on his head. You could have a package that needs a bow on top. If you want to make it more complicated, for older kids, have a picture tree with several decorations that need to be hung on the tree. Whoever gets the most on the tree wins.
Shake, Rattle and Know - take some small dollar store type gifts, enough for one for each guest, wrap them in small boxes and number them. Give each guest a piece of paper and pencil. Pass the gifts around and allow them to shake them and see if they can guess what is inside. Once everyone has had a chance to guess all the gifts then start with the youngest to the oldest (or draw
©Janice Ferrante 2008 http://www.skincarenaturals.com
Sell this eGuide – http://www.i-shine.org/affiliates.shtml
4/13
numbers) and let each child select a gift. Once everyone has a gift, unwrap them to see how many gifts everyone got right. Each child gets to keep the gift they unwrap.
Snowman Scramble - divide the children into two teams, with one person from each team as the "snowman". Put the snowmen at one end of the room, with a box of clothes and other things to dress the snowman in. You could use hats, scarves, jackets, even a nose on a string, like a clown nose. Have a relay race to see which team can completely dress their snowman first.
Freehand Frosty - give each child a piece of paper and pencil and a blindfold.
Tell them to draw a snowman, telling them which part to draw next. Younger children could be given a paper with the outline of the snowman already in place and some eyes, nose and other parts cut out of sticker paper to add to the snowman. The winner is the child who has the most parts in the correct place.
Blizzard Blitz - this is a game for those who have a large area and don't mind a bit of a mess. Get a bag of packing popcorn and spread it out on the floor. Give each child a bucket and a toy shovel. There are a number of ways to play the game, as a relay race (from the pile to the bucket, handing off the shovel), see who can get the most in a certain amount of time or come with another creative variation on your own.
Christmas party games are great for get-to-know-you times and just keeping things moving along and guests entertained. So, why not add a few to your list this year?
6 TIPS FOR STICKING TO YOUR BUDGET THIS YEAR
Every year there are reports on the news about how deeply in debt people become every Christmas. It is possible to have a nice Christmas without maxing out the credit cards. Here are a few simple tips that could save you a bundle.
Hide the credit cards - By not using credit cards you are already a step ahead of the game. There's no worry about the interest and all those payments that come due after the first of the year. If you are already using credit cards carefully you might be able to continue using them for Christmas gifts, just be sure to pay it off when the bill comes due.
©Janice Ferrante 2008 http://www.skincarenaturals.com
Sell this eGuide – http://www.i-shine.org/affiliates.shtml
5/13
Make a list - Sit down and make a list of all the people you would like to give gifts. Once the list is made, stick to it. Decide how much to spend on each person and write it beside each name. Then when you go shopping there will be a price range for each gift. It will help avoid overspending. Even a dollar over expected spending can add up if there is a large shopping list.
Draw names - Many families help cut back on holiday spending by drawing names. Each person in the family only shops for one other person whose name they have drawn. Instead of buying several gifts, even if they are inexpensive, each person can get one nicer gift. This makes shopping easier too. Instead of trying to fill a huge list, just take your time and focus on getting that "perfect" gift for just one person.
Shop ahead - Get organized and have good hiding places. By doing this you can purchase Christmas gifts all year round, taking advantage of after Christmas sales, out of season and clearance sales. Go ahead and wrap and label the gifts. This helps keep people from seeing what was purchased and you won't forget which gift was for whom.
Lay-away - Some stores offer a lay-away program, so you can pay a little at a time each month. By doing this, you can budget things out over a period of time. By combining this with the list and budget plan, you can cut out the interest incurred using credit cards and still make a monthly payment.
Gift cards - While gift cards are convenient for gift giving, many people feel they are impersonal. Gift cards can also help you shop on a budget, if shopping ahead of time. Purchase the gift cards in the amount you can afford each week or month. Tuck them away in an envelope in a safe place until you have the amount needed to purchase the gifts. You can keep an eye out for sales on certain items this way, as well. Be sure to check to see if the cards have an expiration date. Some expire after a certain time once activated and others have no expiration date at all. Some are even "rechargeable" and more money can be added as needed.
No matter what plan you choose, the best thing is to get organized and plan ahead. Spur of the moment shopping is the worst for anyone's budget. It's too easy to just grab something on impulse and blow the best of intentions.
©Janice Ferrante 2008 http://www.skincarenaturals.com
Sell this eGuide – http://www.i-shine.org/affiliates.shtml
6/13
HOMEMADE CHRISTMAS GIFT IDEAS
Everyone loves getting gifts that come from the heart. What shows this better than gifts made by hand? While this may make some people panic at the thought of trying to make something arts and crafts, it really isn't that hard to make a nice gift for someone.
An excellent gift for a new bride in the family would be a cookbook of all the family favorites. Add some stories and maybe old photos of family gatherings to go along with the recipes. Put together some dry mixes of some of the recipes to get her started. Wrap it in a nice apron, maybe even one that belonged to a relative.
For kids, a great gift that can be added to is a Dress Up Kit. Get an old suitcase or two and fill it with old clothes that you don't wear anymore. Include hats and shoes. Now and then, add more items to the box. Ask other relatives to contribute to it as well. If you have pictures of family members wearing the clothes, print them out and decoupage them on the outside of the suitcase and then coat with a clear finish.
Do you have a flower garden during the year? Save the petals, dry them and make your own potpourri. You could buy cinnamon sticks to add another scent and texture. Put it in small containers or mesh bags.
Everyone likes to snuggle up with a soft blanket on a cold evening. You can make a blanket and never sew or crochet a stitch. Purchase a piece of fleece the size that you want your blanket (the clerks at the store can help you figure out the right amount). Simply cut fringe in about two inches from all the edges about an inch apart. You can either let the fringes hang loose, or tie knots to make a pattern around.
Homemade cookies, fresh from the oven, are a great treat. A lot of people just don't have the time to make them. You can make a frozen cookie kit. Mix up a batch of their favorite cookies. Roll them out into balls and flatten them slightly.
Flash freeze them by putting them on wax paper on a cookie sheet until they are solid. Remove them from the sheets and place them in a freezer bag. Bake for two to three minutes more than the normal time or until golden brown. They can be baked in small batches, even in the toaster over, or all at the same time.
©Janice Ferrante 2008 http://www.skincarenaturals.com
Sell this eGuide – http://www.i-shine.org/affiliates.shtml
7/13
Another nice handmade gift could be writing a poem for a family member.
Poems don't even have to rhyme. Print it out in a nice font or in calligraphy if you know how, and put it in a nice frame. It's a gift someone will treasure for years to come. You can have kids help write one for different family members.
An easy poem type project is to take someone's first name, write it along the left margin and then think of a word associated with that person for each letter. For example, Sue could be Sweet, Upbeat and Energetic or Bob could be Brave,
Outgoing and Baseball.
No matter what your homemade gift, be sure to include lots of love in the making and it will sure to be a hit with it's recipient.
CHRISTMAS DINNER MENU IDEAS
Every family has its favorite dishes for the holidays, traditions that have been passed down year after year. Maybe it is time to spice things up and introduce some new recipes or at least make some variations to some favorites. It's a good idea to incorporate family favorites from your spouse's family (if you can get them to share the recipes), especially if you can't get together with that side of the family. Here are a few different ideas to help you find your own groove this holiday season.
Appetizers - Why not have a few appetizers set out, so people can snack while dinner is finishing up? Set out some healthy things to munch on, like fruit and veggies with family favourite dips dressed with some crackers on the side. It's easy to set up a nice tray; even just a foil lined pizza pan covered in clear plastic with Christmas designs on it can dress up the table.
Side Dishes - Tired of the same old stuffing or mashed potatoes? Try some souped up stuffing. Take some precooked chicken (or left over turkey from
Thanksgiving), picked off the bone and then mix that with your favorite cream soup (chicken, mushroom or celery) and some sour cream, top with stuffing, add a little water and bake according to the directions on the stuffing box.
Other side dishes can feature different vegetables, noodles or potatoes. You could also have some fruit side dishes, like baked apples. If it's a family gathering where everyone brings a different dish, then try out that recipe you've been wanting to make but haven't.
©Janice Ferrante 2008 http://www.skincarenaturals.com
Sell this eGuide – http://www.i-shine.org/affiliates.shtml
8/13
Main Dishes - While a ham or turkey may be traditional for Christmas dinner, how about a roast? It's simple to cook a nice, moist roast using a slow cooker.
Place the meat in the slow cooker, add some broth or au jus, some favorite spices and let it cook while you are enjoying the family. Add some vegetables; simply select ones that cook well in the slow cooker and there is one less dish to make.
Desserts - Everybody loves desserts, especially at the holidays. We tend to overindulge in them. Try to find some desserts that are still delicious, yet a little less filling. Gelatin, especially if you make red or green, is always a hit around the holidays. Add fruit or make it into squares or even fun shapes with cookie cutters.
Instead of having very heavy desserts try having an angel food cake. Adding red and green candy or sugar sprinkles gives it a festive look. Have a variety of bite-size desserts, such as mints, chocolate covered nuts or peanut butter balls.
Bake some of your favourites and cut them into bite size pieces. This will give guests a variety and help curb the need to overindulge as well.
Try some of the goodies below.
©Janice Ferrante 2008 http://www.skincarenaturals.com
Sell this eGuide – http://www.i-shine.org/affiliates.shtml
9/13
BAKE IT UP!
Reindeer Bread
Ingredients:
1/2 cup butter, softened
1 cup white sugar
2 eggs
1 1/2 cups all-purpose flour
1 teaspoon baking soda
1/2 teaspoon salt
1 teaspoon ground cinnamon
1/2 teaspoon ground nutmeg
1/4 teaspoon ground ginger
3/4 cup pumpkin puree
6 ounces semi-sweet chocolate chips
1 cup chopped pecans, divided
1/4 cup confectioners' sugar
2 tablespoons heavy cream
1/4 teaspoon ground nutmeg
1/4 teaspoon ground cinnamon
Instructions:
Cream butter and sugar until fluffy. Add one egg at a time mix well after each addition.
In a separate bowl blend together flour, baking soda, salt, 1 teaspoon of cinnamon, 1/2 teaspoon of nutmeg and the ginger.
Slowly stir 1/3 of the flour mixture into the sugar mixture. Then stir 1/3 of the pumpkin into the sugar mixture.
Next stir in 1/3 of the flour and then the rest of the pumpkin. Finally stir in the last of the flour mixture. Gently fold in chocolate chips and 3/4 cup of pecans.
Grease and flour a 9x5 inch loaf pan.
Preheat the oven to 350 degrees. Pour mixture into loaf pan and sprinkle with remaining pecans. Bake for one hour until a knife inserted in the middle of the loaf comes out clean. Cool completely. For the icing stir together the
©Janice Ferrante 2008 http://www.skincarenaturals.com
Sell this eGuide – http://www.i-shine.org/affiliates.shtml
10/13
confectioners' sugar and heavy cream. Add cinnamon and nutmeg and stir until smooth. Drizzle icing over bread loaf when completely cooled.
Chocolate Raspberry Ornaments
Ingredients:
1 cup semisweet chocolate chips
1 (8 ounce) package cream cheese, softened
15 vanilla wafers with creme, crushed
1/3 cup seedless raspberry jam
Finely chopped toasted almonds
Toasted coconut OR coating of your choice.
Instructions:
Melt chocolate chips until completely melted and smooth.
Allow cooling slightly.
Place cream cheese in a large mixing bowl.
Pour melted chocolate over cream cheese and mix together until very smooth.
Fold in vanilla wafer crumbs being sure to cover all the crumbs with the chocolate mixture.
Refrigerate 3 to 4 hours or until chocolate is firm.
Once firm, shape chocolate mixture into balls.
Roll half the candy balls in the toasted almonds and the other half in the toasted coconut or coating of your choice. Red, White and Green sprinkles can be nice, or icing sugar.
Store in the refrigerator to keep them from becoming too soft.
©Janice Ferrante 2008 http://www.skincarenaturals.com
Sell this eGuide – http://www.i-shine.org/affiliates.shtml
11/13
Candy Cane Marble
Ingredients:
1 pound dark chocolate
1 pound white chocolate
30 small peppermint candy canes
Instructions:
Put dark chocolate in a microwave bowl and heat on high setting in microwave 2 to 3 minutes or until chocolate is melted and smooth.
Stir chocolate about every 30 seconds to make sure lumps are melting. Put white chocolate in microwave bowl and heat like dark chocolate. Put candy canes in a large freezer bag.
Using a rolling pin break the candy canes into different size pieces. Place half the crushed candy canes in a strainer and shake small crumbs into dark chocolate.
Place the remaining crushed candy into strainer and shake crumbs into white chocolate.
Line a 9X9X9 baking pan with heavy aluminum foil. Spread dark chocolate out into bottom of pan.
Spread white chocolate over the dark chocolate in pan. Sprinkle the rest of the crushed candy canes over the top.
Cover and refrigerate for about 2 hours. When hardened break up pieces of candy by dropping straight down on the counter.
©Janice Ferrante 2008 http://www.skincarenaturals.com
Sell this eGuide – http://www.i-shine.org/affiliates.shtml
12/13
Cherries In The Snow
Ingredients:
1 can cherry pie filling
1 small jar of green Marcino cherries
1 small package chopped pecans
1/2 bag of miniature marshmallows
1 container of whip topping, thawed
Instructions:
Place cherry pie filling in a mixing bowl. Mix in green Marcino cherries. Add pecans and marshmallows. Fold in whip topping being sure to mix well so all ingredients are incorporated together. Cover and refrigerate until ready to serve.
I hope this guide has given you some additional ideas to use this
Christmas to Make It Special with your family and friends.
Wishing you and your family All The Best and a Very Merry Christmas!
Jan Ferrante
©Janice Ferrante 2008 http://www.skincarenaturals.com
Sell this eGuide – http://www.i-shine.org/affiliates.shtml
13/13
* Your assessment is very important for improving the work of artificial intelligence, which forms the content of this project