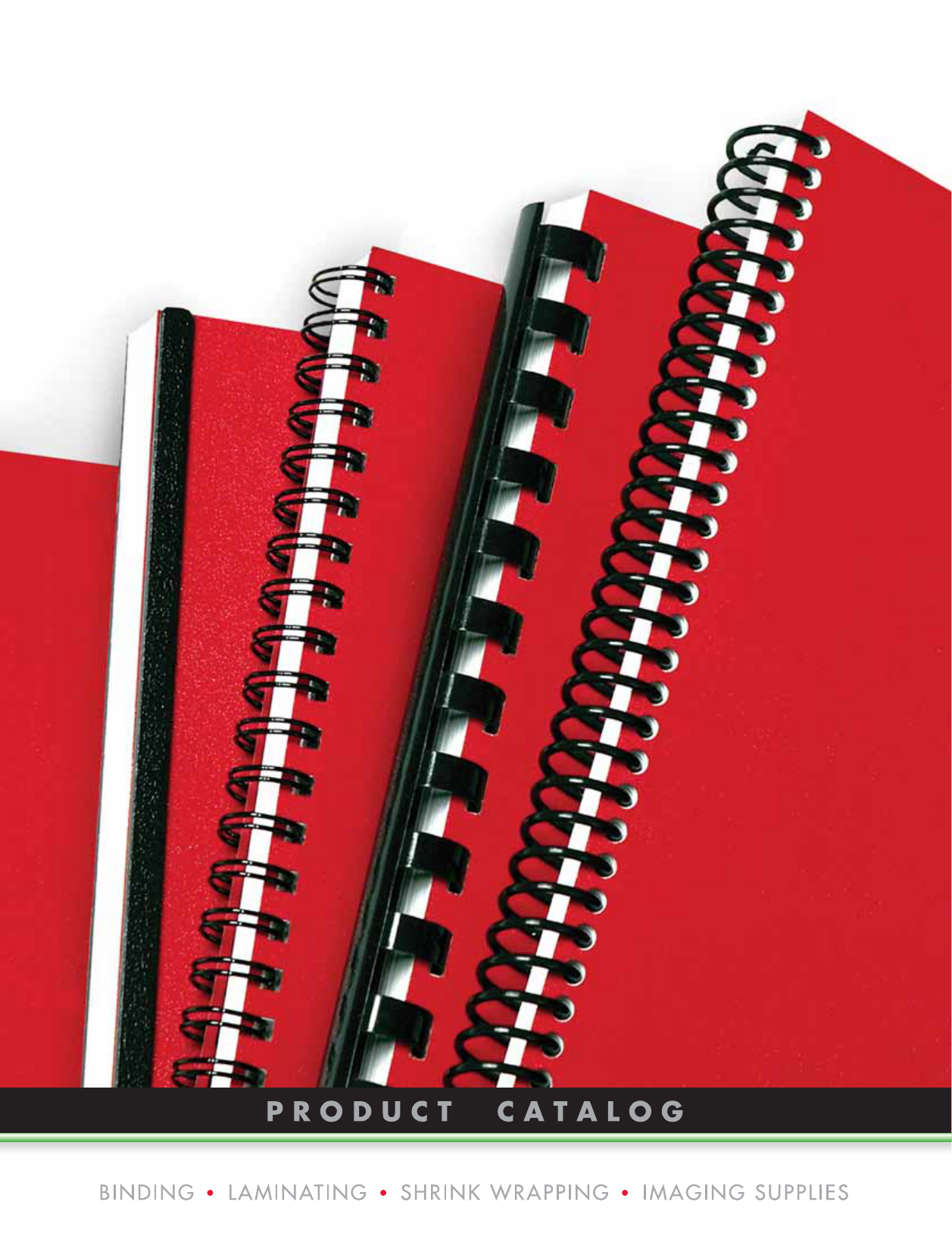 BINDING SUPPLIES
Binding Supplies
For Every Binding Style
Binding Elements
EZ COIL ®
Our plastic coil binding elements
are popular for documents that
need to lie flat even when opened
cover to cover (360°). We manufacture plastic coil in a large
variety of colors and sizes to suit
your needs. Plastic coil is flexible
in nature and withstands the wear
and tear that comes from rough
handling or shipping and mailing.
Plastic coil always springs right
back into shape. Looks great on
calendars, cookbooks, instruction
manuals and more.
Available in 4:1 and 5:1 pitch
and 12" and 36" lengths
EZ Coil® Colors
Standard Colors:
Premium Colors*:
Black
Alpine Green
White
Orange
Navy
Mushroom
Clear
Purple
Red
Teal Green
Blue
Forest Green
Maroon
Custom Colors*:
Yellow
Brown
Gold
Silver
*Produced to order
2
What is the
difference between
4:1 and 5:1 pitch?
Pitch refers to how many
holes per inch a binding
element uses.
4:1 pitch means the plastic
coil element has 4 loops
per inch.
Elements with a 5:1 pitch
have loops that are closer
together (5 loops per inch).
BINDING SUPPLIES
PLASTIC COMB
This classic binding solution
allows for the addition or
removal of pages even after the
document is bound. Perfect for
reports, books, surveys, sales
presentations, cookbooks,
calendars and more.
The standard length is 19 rings
(for an eleven inch binding edge)
with custom lengths available.
Custom options shown on page 22.
Plastic Comb Colors:
Black
Navy
White
Maroon
Blue
Red
Clear
Forest Green
ULTRABIND STRIPS
UltraBind binding strips are
compatible with all VeloBind®
hot knife systems. We manufacture our strips from top
grade polymer for strength
and durability. UltraBind strips
are secure, tamper-resistant,
permanent bindings with a
professional, upscale appearance.
They are used for:
●
Financial Reports/Statements
●
Engineering Surveys
●
Legal/Court Documents
●
Education Thesis
●
Sales Presentations
●
Government Publications
Available in 1" and 2" diameter.
UltraBind Colors:
Black
Maroon
White
Navy
3
BINDING SUPPLIES
DOUBLE LOOP WIRE
The premier choice in wire to use
in your binding systems, Double
Loop wire is available in diameters
ranging from 1/4" through 1".
This permanent binding choice
creates true lay-flat documents,
opened or closed. Used with equipment that punches either a round
or square hole pattern and crimps
the wire closed. Double Loop wire
comes in 11" standard lengths,
with custom lengths available.
Double Loop Wire Colors:
Standard Colors:
Premium Colors*:
Black
Blue
White
Light Blue
Silver
Brown
Clear Coat Copper
Copper
Gold
Green
Light Green
Gray
Ivory
What is the
difference between
Double Loop
and 19-Loop wire?
Red
Yellow
*Special pricing and minimums
apply to premium colors.
Double Loop wire has
more loops per inch than
19-Loop wire. It creates a
"fuller-looking" bound
document edge.
Double Loop wire comes
in 3:1 pitch (32 loops /
11") and 2:1 pitch (21
loops / 11") and uses
either square or round
hole punching dies.
19-Loop wire uses the
same rectangular punch
pattern as plastic
comb binding.
4
BINDING SUPPLIES
19-LOOP WIRE
19-Loop wire is compatible with
equipment for plastic comb
binding, using a rectangular, 19hole punch pattern. A permanent
binding choice that creates true
lay-flat documents, opened or
closed. Available in diameters
ranging from 1/4" through 1".
19-Loop Wire Colors
Standard Colors:
Premium Colors*:
Black
Silver
White
Blue
Gray
*Special pricing and minimums
apply to premium colors.
TAPE BINDING
LOOSE-LEAF RINGS
SCREW POSTS
Tape binding strips are designed
specifically for use in thermal tape
binding machines. Specially
formulated thermo-plastic
adhesives produce long lasting
binds on a broad range of stocks.
100 pieces per box.
Nickel-plated steel rings, also
referred to as "book rings," feature
easy opening and secure closure.
They are ideal for swatches, bulky
loose-leaf materials, samples and
more. The rings feature a
snapping end piece that snaps
shut and lifts open.
Removable aluminum fasteners for
photo albums, sample books,
swatch books, etc. that consist of
two pieces (screw and post)
inserted into round hole punched
paper and covers. 100 per package.
Available Sizes:
Narrow: Up to 1/2"
(approx. 3 - 125 sheets)
Medium: 1/2" - 1"
(approx. 125 - 250 sheets)
Large: 1" - 1 1/2"
(approx. 250 - 350 sheets)
Lengths:
●
1/4"
●
7/8"
●
2"
●
3/8"
●
1"
●
2 1/4"
●
1/2"
●
1 1/4"
●
2 1/2"
●
5/8"
●
1 1/2"
●
2 3/4"
●
3/4"
●
1 3/4"
●
3"
Extensions:
1/4", 1/2", 3/4" and 1"
Tape Binding Colors:
Black
*Dark Blue
White
*Red
*Non-stock – minimums apply
5
COVERS
Covers
For Professional Looking Presentations
DELUXE LINEN COVER
(#315)
CLEAR COVER
(#400)
DELUXE EMBOSSED
COVER (#300)
Classy, durable, coated 86 lb. &
11 pt. cover stock with a linentexture finish.
The perfect clear cover to
visually enhance the first page
of your document. Matte finish
available in heavy weight only.
Economical and durable 86 lb.,
11 pt., coated cover stock with
an embossed texture pattern.
100 sets per box (200 pieces).
Linen Colors:
Black
Navy
White
Forest Green
Gray
Maroon
100 sets per box (200 pieces).
Choose from three thicknesses:
heavy, medium, and light weight.
100 sets per box (200 pieces).
Embossed Colors:
Black
White
HEAT RESISTANT
CLEAR COVERS
Heat resistant clear covers
are designed to be used in any
thermal tape binding system
without distortion (i.e. Fastback®
or AccuBind® machines). They
are .007 mil polyester covers 8.5"
x 11" with square corners.
Navy
Maroon
Gray
Forest Green
100 pieces per package, tissue
interleave.
GLOSSKOTE COVER
(#100)
12 point cover stock. Lustrous,
satin gloss finish with a coated
surface that wipes clean with a
damp cloth. Won't crack or scuff.
Available in white only.
50 sets per box (100 pieces).
12
- Windows are available upon request.
COVERS
POLY COVERS (#700)
Extremely durable, linear
polyethylene (LP) cover that
will not break. Common
thicknesses are 23 and 35 gauge,
others available on request.
FLEXIGRAIN COVER
(#800)
THERMAL BIND
COVERS
A popular vinyl look commonly
referred to as "Composition" or
"Report" covers.
Specify any of our cover styles
for the front and back of your
Thermal Bind covers and we'll
make them to order. Thermal
Bind covers accommodate 18
to 475 sheets of paper.
100 pieces per box.
Custom order (100 piece minimum).
Flexigrain Colors:
Polyethylene Colors:
Black
Black
Gray
White
White
Royal Blue
Navy
Red
Green
Red
Natural
Yellow
Maroon
Light Gray
Azure Blue
Forest Green
Colonial Blue
Orange
Ivory
Beige
100 pieces per box.
Maroon
Custom colors and gauges also available.
Cover Style Selector
Glosskote (#100)
Clear Cover (#400)
Linen (#315)
Embossed (#300)
Flexigrain (#800)
Poly (#700)
13
LAMINATING
Laminating
For Protecting Important Documents
Pouch Laminating
LAMINATING
POUCHES
Our pouches assure high quality
clear lamination because they are
made of the best polyester/
adhesive composition. Pre-cut in
a variety of sizes, our pouches are
open on three sides and sealed on
one. Simply insert your item into
the pouch, place the pouch in a
carrier and run it through a
pouch laminator.
Pouches are an easy way to
laminate menus, covers, maps,
certificates, drawings, newspaper
articles, charts, diplomas, ID
cards, licenses, membership cards, etc.
ADHESIVE BACK
POUCHES
Adhesive back laminating pouches
(Sticky Lam) are useful for signs
and for adhering documents to any
surface. Available in 2 thicknesses:
3 mil and 5 mil. Available in
letter, legal and menu sizes.
14
LAMINATING
POUCH ACCESSORIES
A
VINYL BADGE
& STRAP CLIPS (A)
Same as mylar strap and badge clip
but with a clear and supple vinyl strap.
MYLAR STRAP
& BADGE CLIPS (B)
Used with pouch laminated ID's and
badges for attaching to a pocket or
collar. Mylar strap is opaque.
12" HEAVY DUT Y
POUCH LAMINATOR
This laminator is a heavy-duty unit
designed for versatility and durability.
The 4-roller design results in higher
quality lamination, and an independent heat/run switch saves wear
and tear on the motor. Temperature is
easily maintained with adjustable
controls and a thermometer for
constant monitoring.
B
D
PRESSURE SENSITIVE
PIN (C) & CLIP (D)
Sticky backing adheres to a
laminated badge and is then pinned
to or clipped on a shirt or blouse.
LEATHER
LUGGAGE STRAP (E)
C
Other pouch laminator sizes available.
Call for additional information.
E
Used with pouch laminated luggage
tags to affix a laminated tag to luggage.
F
PLASTIC LUGGAGE LOOP (F)
An economical way to affix a
laminated tag to luggage.
MOUNT-A-SIGN TM
Mount-A-Sign is the simple and
effective way to create professional
looking signs using your pouch
laminator. It consists of a white, 28
point, SBS board that has a heat
activated adhesive and comes with or
without a 5 mil gloss pouch overlay
on the front. Perfect for making
counter top signs, displays, wall
mounts, etc. Choose from two types:
TM
HAND SLOT PUNCH (G)
This tool makes punching slots in
laminating pouches easy.
TABLE TOP SLOT PUNCH (H)
This stapler-style Table Top Slot
Punch has an adjustable guide that
makes it easy to cut precise holes
into any ID card or other document.
Mount-A-Sign with Pouch Overlay
TM
Mount-A-Sign (without laminate)
G
TM
H
Available in 9"x 11.5" and 11.5" x
17.5" in white only.
Attach an easel (see page 17) to the back of
Mount-A-Sign to display on a counter.
TM
15
LAMINATING
Mounting and Laminating Products
SELF-STICK ADHESIVE
FOAM BOARD
This foam board is coated with a
pressure sensitive adhesive for "cold"
laminating. It is sticky to the touch.
Boards are sturdy 3/16" thick,
lightweight and easy to cut. All sizes
are available with a repositionable
or hi-tack adhesive.
Available sizes (in both black and white):
●
8.5" x 11"
●
11" x 17"
●
24" x 36"
●
●
32" x 40"
36" x 48"
DOUBLE-SIDED
MOUNTING
ADHESIVE SHEETS
These sheets are high quality
double-sided film with silicon liners
on both sides. They are safe to use
on any board and can be used both
indoors and outdoors.
PRESSURE SENSITIVE
ROLL FILM
High quality pressure sensitive
film featuring permanent acrylic
adhesive on a 3" core size.
Available in a 2 mil gloss or a 3
mil matte finish.
Available sizes:
●
8.5" x 11"
●
18" x 24"
●
11" x 17"
●
24" x 36"
MOUNTING BOARDS
FLEXIBLE POUCHES
EASELS
Used for signage, presentations,
and legal exhibits. Available in
3/16" white or black foam board
with heat-activated adhesive.
Used for window displays, maps,
menus, travel presentations and
photos. Flexible pouches are clear
with a 5 mil gloss laminate top
and bottom.
For signs, counter displays and point of
purchase, simply affix a self-stick easel
to the back of a pouch board, mounting
board or other display. Self-stick, double
winged easel backs are available in 7"
and 9" heights.
LAMINATING POUCH
BOARDS
25 pieces per box.
Used for sales presentations,
posters (in house and corporate),
retail counter signs, trade show
graphics and photos. The UV
inhibitors provide long lasting
protection against the sun.
Clear
3/16" white or black
foam board with attached
5 mil gloss laminate
Matte
3/16" white or black foam
board with attached 6 mil
matte laminate
17
INDEX TABS
Index Tabs
For Organizing Records and Presentations
STANDARD
COPIER TABS
Index Tabs are a must to assure
organization in 3-ring binders, and
documents bound in comb, plastic
coil, and wire.
Plain white tabs.
Designed to work with major
copiers (i.e. Xerox® 5090, 5100,
Docutech) they are 1/5 cut and
stocked in white, clear mylar, and
rainbow mylar. Styles are available
in several collating patterns
pictured below.
CLEAR MYLAR
COPIER TABS
When ordering, specify either
punched or unpunched and the
collating pattern.
White tab with clear mylar
extensions for protection
and durability.
Packaged:
●
5 tabs per set
●
50 sets per box
●
5 boxes per carton
●
250 sets (1250 tabs) per carton
RAINBOW MYLAR
COPIER TABS
Our large selection and variety
ensures you will find the index
tabs you are looking for. Call us
today for advice on which tabs will
work with your copier.
Mylar tab extensions in a
rainbow of colors to make
files easily identifiable.
Custom cuts available for copier tabs.
Custom tabs available on page 23.
Collating
Pattern
Guide
Single tab
position
Double
Reverse
Collated
Single
Reverse
Collated
Forward
Collated
21
CUSTOMIZATION
Customization
For Enhancing Documents and Presentations
COMPLETE CUSTOM
SOLUTIONS
When it comes to customizing
your presentations you have
several exciting choices. You can
choose from customizing binding
combs, presentation covers,
3-Ring binders and index tabs.
When you call us, we will take
time to discuss your project in
detail and recommend the
solution that suits your needs.
We make custom work easy and
create a seamless process from
start to finish.
You will also benefit from
our years of customization
experience. Rest assured that your
job will be completed
with the high-level of quality
we are known for.
Call us today to discuss your
project and we will provide
the solution!
CUSTOM
PLASTIC COMB
BINDING ELEMENTS
CUSTOM COVERS
Make your comb-bound
documents identifiable on
a shelf or in a file drawer
with custom imprinted comb
binding elements. Perfect for
cookbooks, manuals, and
proposals. Combine with
custom covers for a unique
and stylish presentation.
Select a style, color and size from
our large selection of covers on
pages 12 and 13 and customize
them with the options below.
Custom lengths are also available.
Embossing
Imprinting
●
Foil Stamping
●
Silk Screening
●
Raised Embossing
●
Debossed Effect
Punching and Scoring
●
19-hole Punch (for plastic
comb and 19-Loop wire)
●
3-hole Punch
●
VeloBind®/UltraBind Punch
●
Scoring (makes opening the
document easier and cleaner)
Die Cut Windows
●
Standard Window
(1 3/4" x 4" round corner)
●
Custom Window
(any size available)
Custom Sizes
●
22
We will cut covers to any size
IMAGING SUPPLIES
Imaging Supplies
For Printed Graphics
MAILING AND
ADDRESS LABELS
TRANSPARENCIES
Our transparencies run efficiently
through the most popular copiers,
printers, and other output devices.
Combined with your overhead
projector our transparencies will
give your presentation the impact
it needs whether it's in the
classroom or for your next
corporate presentation.
Choose Type
●
●
●
●
Plain Paper Copier (PPC)
Color Laser Copier (CLC)
Laser Printer
Ink Jet Printer
HEAT/PHOTO
TRANSFERS
We offer the most popular sizes to
accommodate all your addressing
needs. Our sizes conform to today's
industry standard so you can use
your software to configure your
labels. Choose labels to run through
your copier, laser, or inkjet printer.
Run heat transfer papers through
a color copier to pick up an image.
Then pressure fuse with heat to
transfer the image to a T-shirt, tote
bag, or other object. For best
results a heat press is recommended.
Available in 8 1/2" x 11" and
11" x 17" sizes. Order opaque when
transferring to dark color objects.
Packaged 100 per box.
Choose Style
●
●
●
No Stripe
Removable Stripe
Paperback
Choose Size
●
●
●
●
24
8 1/2" x 11"
11" x 17"
8 1/2" x 14"
13" x 19"
Spirit Masters
Spirit Master units produce sharp, clean copies on all makes of duplicator
spirit machines. Each spirit master is specially coated to protect your hands
and clothing. All masters are packed 100 sheets per box. One case contains
10 boxes. 8 1/2" x 11" thermal reprofax spirit masters.
Thermal Spirit Masters are designed to be used with all one-step thermal
(infrared) copy machines. In seconds, you can image these masters from any
original that is suitable for thermal imaging. You can also add information to
your copy by typing or using a ball point pen. For runs up to 100 copies.