Carrier CVL185 User's Manual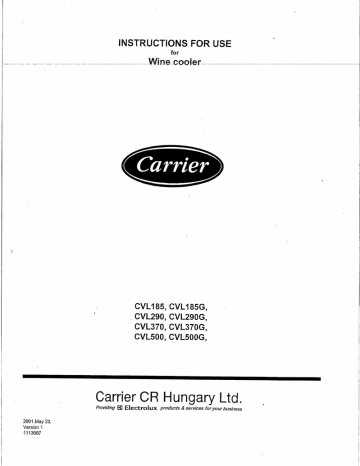 INSTRUCTIONS FOR USE
for
Wine cooler
—_—— —— — — -
CVL185, CVL185G,
-CVL290, CVL290G,
CVL370, CVL370G,
CVL500, CVL500G,
er ни:
Carrier CR Hungary Ltd.
Providing Hl Electrolux products 4 services for your business
2001.May 23.
Version 1
1113087
TEMPERATURE ZONES FOR YOUR CELLAR
K/SAELF |
N°1 Wine-tasting temperature << Chambrée >>
N°2 Bordeaux, Burgundy, Beaujolais, etc...
N°3 Bordeaux, Burgundy, Beaujolais, etc...
N°4 Wine-tasting temperature << cool >>
N°5 Alsace, Provence, Champagne, etc...
SERVING TEMPERATURE FOR YOUR WINES
Vintage Bordeaux wines - Red
Vintage Burgundy wines - Red
Vintage dry white wines
Light red wines, fruity, young
Provence rosé and early harvest wines
Dry white wines and red 'Vin de Pays"
White "Vin de Pays'
Champagne and sparkling wines
Mellow wines
16 - 17°C
15-16°C
14 - 16°C
11 - 12°С
10 - 12°C
10 - 12°C
8 — 10°C
7-8°C
6°C
o |
Remarks: The above mentioned temperatures must be raised by one or two degrees if the wine is old.
In all circumstances one must take into account the ambient temperature, and in heat waves, it is
recommended to serve the wine two degrees above suggested temperature. Never serve wine warmer
than +20°C as the quality of the wine is likely to be altered.
Your wine cabinet has been specially designed to obtain optimum maturing of your best
vintages as well as with an adaptable temperature control mechanism. The cabinet
reproduces the ideal conditions of a real underground cellar and its thermostat allows you to
adjust the inside temperature according to your vintages or personal taste.
OPERATING INSTRUCTIONS
The air conditioning system:
Your wine cellar will keep your wine at an ideal temperature, recommended by wine
connoisseurs; that is to say between +10°C and +16°C for red wines (top racks) and between
+6°C and +12°C for white and rosé wines (lower racks). | |
It is particularly important to avoid sudden variations in temperature and this is one of the
reasons this wine cabinet has been designed.
When your wine cabinet is exposed to outside temperatures superior to those programmed
inside the appliance, the cooling circuit, controlled by the thermostat, starts up automatically
thus guaranteeing a constant temperature inside the appliance. In the opposite situation, the
heating circuit will start up instead. (if option chosen at purchase).
The heating circuit is controlled by a factory set thermostat situated at the back of the
appliance (inaccessible)
In the event that the model purchased is not equipped with the heating circuit and the
appliance is to be placed in an unheated locality where the temperature could go below
+10°C,.your wine cellar is designed in such a way that it can be equipped with this option at a
later date simply by getting in touch with your local after sales service.*
* (paying option)
Anti-vibrating system:
The refrigerated compressor is equipped with special shock absorbers and the inside cavity
is insulated from the outside frame work by a thick layer of polyurethane foam. These
~ characteristics isolate your wine from vibrations.
Ventilation system:
The ventilation system renews the air in your cellar permanently, thus maintaining a correct
level of hygrometry.
Your cabinet is alsp equipped with two charcoal filters to filter and purify the air, eliminating
unpleasant odours incompatible with the full maturing of your wine.
To ensure efficiency, we recommend renewing filters once a year (easy to change, they are
available at your local after sales service*)
* (paying option)
Humidifying system:
A special system combining a mineral diffuser with an automatic defrosting system maintains
a constant degree of humidity of about 70% (ambient temperature of +25°C, thermostat
position n°4). The development of the "bouquet" of your wine is achieved through a process
of reduction" conditioned by a lotal lack of oxygen. This is the role of the cork used by cork
manufacturers. À good cork is measured by its flexibility and elasticity which allows it to
adhere perfectly to the bottleneck, ensuring that the wine is hermetically sealed. Yet, to
preserve its qualities, the cork must remain damp. It is therefore important that the bottle be
kept lying down and that the level of humidity in the cabinet always be above 50%.
Recommended hygrometry is situated between 50% and 70%.
7
Anti "Ultra Violet" system:
Light accelerates the maturing of your wine. In our full-door wine cabinets, your wine is
protected naturally on the condition that the door is not opened too often. The glass on our
glass-door models has been specially treated to filter the harmful rays, thus ensuring total
protection of your wine. |
INSTALLATION
Operating instructions:
In order to get the most out of your cellar while keeping energy consumption at its lowest, do
not place your appliance near a heat source, in direct sunlight or in a very cold room. Optimal
performance is obtained at temperatures between +16°C and +32°C. If you place your
appliance in premises where the temperature could occasionally drop below +16°C (but not
lower than +10°C), you must remember to adjust the thermostat to modify the inside
temperature. In premises where the temperature could often drop below +16°C and at times
below + 10°C (but never under 0°C) get in touch with your local after sales service and have
the automatic "winter system" installed (available on option) if your model has not
already been equipped with it.
A space of 70 mm must be left between the wall and the rear of the appliance. This must be
left unobstructed to allow air to circulate otherwise the appliance will not work correctly.
The appliance must be kept in a level upright position to avoid possible vibrations or noises.
Electrical connections:
Your appliance is equipped with a mains lead and fitted with a 230V / 50Hz mono-phased
plug. The wall socket must be connected to the earth and have a 10A minimum fuse
protection.
Connect the appliance to the mains and check that the thermostat is in a position other than
"1". (see Temperature settings for different possibilities)
Warning:
As your appliance is equipped with an electric starter, in the event of a power cut, the
compressor will not switch on immediately. You must wait for the automatic start-up.
Temperature setting:
The thermostat situated in the upper part of the appliance maintains a constant temperature
without undue variations harmful for your wine. If the temperature drops too low, the
thermostat cuts the cooling system. On the contrary, if the temperature rises, it starts the
cooling system up again. The refrigerating compressor cannot function if the thermostat is
on "0".
The desired temperature is obtained by setting the thermostat between "1" and "7". "7" being
the coolest setting. The median setting of "4", with an ambient temperature of +25°C,
corresponds to an average inside temperature of +10°C in the middle of the cabinet. (The
temperature being higher on the top racks and lower on the bottom racks). However, these
indications can vary according to different criteria (outside temperature, amount of bottles
stored, number of times doors are opened etc.)
Important
The thermostat must not remain for any length of time on setting "6" or "7" (max. 24H)
otherwise the temperature is likely to be far too cold for your wine.
Hygrometry setting:
Before using the appliance, spread the lava stone over the defrosting drain (on the inside of
the appliance, below the evaporator at. the rear), then dampen the volcanic rock with pure
water,
How to fill the cabinet:
The maximum recommended filling capacity of 80, 130, 180 or 250 bottles is given as an
indication and is non-binding. It allows a rapid estimate (as with capacity ratings for
refrigerators) of the size of the wine cellar. The cabinets are tested with a standard bottle of
the "claret light" type (standardisation classifies each type of bottle according to its
geographical origin: Bordeaux, Burgundy, Provence region etc. and its type / shape:
traditional, heavy, light, flute glass etc., each one corresponding to a standard diameter and
height). In reality, one could probably store more bottles by pilling them up one on top of each
other leaving out the racks, but a "diversifed wine cellar" is made up of a wide variety of
bottles and the practical aspect of a day-to-day organisation of a cellar limits its storage
capacity. You will therefore probably store less bottles than the maximum quotas announced.
We suggest that you begin loading the appliance from the bottom upwards. Depth permitting,
(larger models) place a first row of 8 bottles at the back, then by lifting the bottom of these
bottles with a 2.5 cm x 2.5 cm lintel, place 7 bottles in staggered rows. (Do not hesitate to use
bits of wood to steady your precious bottles!) Simply continue stacking the bottles - 2 new
rows in the back, one in front. If there is insufficient depth (smaller models) we would suggest
an one-way stacking system with the bottom of the bottles facing the rear.
Next you can slide in the racks. They are resistant, plastic coated and adjustable in height.
We suggest that you place them at 22 cm intervals (to adapt depending on size of cellar and
different types of bottles it contains) without exceeding a maximum of 60 kg per rack. Failure
to observe these recommendations could result in breakage for which the manufacturer
declines all responsibility.
'stacking the first layer on each rack with 5 bottles in front and 4 bottles at the rear. For the
- recommended by the manufacturer. (Do not cover the charcoal filters!)
—|f you area ferventadeptof "noble materials" (andif you did not choose this optionon —
* (paying option)
Before cleaning your wine cabinet (fo be done regularly) disconnect the appliance from the
| Important: Only use erasable felt pen (dry, water-resistant ink)
Before use: we recommend that you test the felt pen (in a corner) to make sure it can
Stacking in staggered rows of 7 bottles, rear and front, is recommended in the larger models
(the addition of the lintel is only necessary if the depth of the cabinet or the size of the bottles
does not allow for level stacking in staggered row). For the smaller models, we recommend
safety of your wine and to optimise your wine cellar, do not exceed the total volume
purchase) you can replace your metal racks with wooden ones (solid steam-treated beech)
by simply contacting your local after sales service*
This option adds to the aesthetic and security aspect while facilitating the storage and
accessibility of your precious botties.
Care and maintenance:
mains or remove corresponding fuse.
Before using the appliance and afterwards on a regular basis, we recommend cleaning the
inside as well as the outside (front, top and sides) of your cellar with a solution of warm water -
and a neutral detergent. Rinse with clear water and leave to dry before reconnecting. Do not
use solvents or abrasive products. Once or twice a year, clean the rear of the appliance
taking care not to damage any electrical leads or bend any pipes. Dust the compressor and
condenser with a brush or soft cloth.
Cellar register:
The inside of the cellar door (except glass door models) has been designed to record all the
necessary information for the smooth running of your wine cellar; Helpful tips / guidelines
contained in the different charts / tables as well as your own hand written annotations.
Concerning the erasable felt pen models (cream coloured inside door):
be easily wiped off.
Concerning the chalk models (slate covered inside door):
Important: do not clean using abrasive products, to remove all old traces of chalk
periodically clean with almost undiluted washing-up liquid.
Reversible door:
Our wine cabinets are delivered with door opening from left to right.
To reverse door opening:
- Remove hinge cover
- Unscrew hinge
- Remove door
- Invert handle
- Unscrew lower hinge-joint / pivot and screw it on the opposite side
- Replace hinge cover
- Conceal holes with covers
Storage or prolonged disuse:
If your wine cellar is to remain unused for a certain length of time, make sure that the
thermostat is on "0" and that the appliance is disconnected from the mains. Take care to
remove all bottles, to clean and dry the inside and in particular the defrosting drain. Leave the
'door slightly ajar to avoid formation of damp and unpleasant odours.
In the event of breakdown:
Despite all the care that is taken by the manufacturers, problems could be encountered.
Before contacting your local after sales service, please check the following items:
- Plug is properly inserted
- There is not a power failure
- The thermostat is not on "0".
The compressor does not work continuously. It switches itself on and off. This is perfectly
normal and necessary. Unusual noises may also be heard. This is not a malfunction; it is the
refrigerant gas contained in the pipes or in the evaporator.
ATTENTION!
Do not leave the key* near the wine cabinet.
Disconnect appliance from mains before carrying out maintenance or cleaning.
This equipment is intended for the storage and display of non-potentially
hazardous, bottled or canned products only.
The faulty appliance -including the connecting cable - can be repaired only by
the servicestaff indicated under the guarantee conditions or a competent
serviceman!
* (not available on glass door models)
APOGEE FOR WINES (in years)
APPELATION White / Rosé Red
Alsace 1-2
Vintage-Alsace 1-4
Alsace late harvest 8-12
Beaujolais (vintage) 1-4
Beaujolais early harvest 1-2
Bergerac 2-3 3-4
Bordeaux 2-3 3-4
Burgundy 5 7
Cahors | 5-10
Cotes de Provence 1-2 2-5
Cóte Rotie, Hermitage 8 8-15
Vintage Burgundy 8-10 10-15
Vintage Bordeaux 8-10 10-15
Sweet, mellow Jurançon 6-10
Dry Jurancon 2-4
Languedoc 1-2 2-4
Loire 5-10 5-12
Sweet, mellow Loire 10-15
Macon 2-3 1-2
Montbazillac 6-8
Savoy 1-2 2-4
|Rhône valley 2 4-8
Yellow wine 20
Remarks : The apogee for a wine is not its maximum life span. The above mentioned
indications are averages to be used as a basis to adjust / adapt according to ones cellar and _
information given on Millesime charts.

* Your assessment is very important for improving the workof artificial intelligence, which forms the content of this project