Quest - FastFuel OPT v9 (web)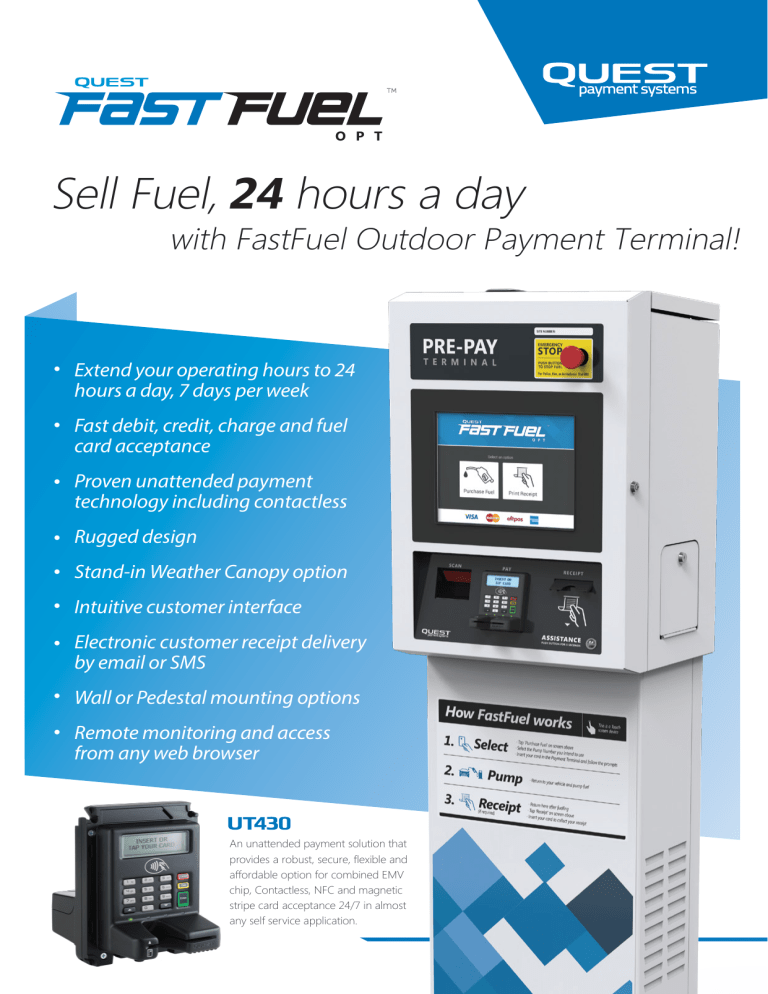 O P T
Sell Fuel, 24 hours a day
with FastFuel Outdoor Payment Terminal!
• Extend your operating hours to 24
hours a day, 7 days per week
• Fast debit, credit, charge and fuel
card acceptance
• Proven unattended payment
technology including contactless
• Rugged design
• Stand-in Weather Canopy option
• Intuitive customer interface
• Electronic customer receipt delivery
by email or SMS
• Wall or Pedestal mounting options
• Remote monitoring and access
from any web browser
An unattended payment solution that
provides a robust, secure, flexible and
affordable option for combined EMV
chip, Contactless, NFC and magnetic
stripe card acceptance 24/7 in almost
any self service application.
www.questpaymentsystems.com
FEATURES & BENEFITS
RELIABILITY
Highly reliable design means less downtime and lost sales. FastFuel OPT has been tested to withstand the
harshest environmental conditions including temperatures of up to 60°C. At the heart of the system is a solid
state industrial controller with no moving parts for greater dependability.
FLEXIBLE DESIGN
Can be installed in either a Pedestal or Wall-Mount configuration, with options for
weather shield, help phone, barcode scanner and corporate branding. FastFuel OPT
supports a wide range of pumps and international forecourt protocols, and can
operate in shared-retail or stand alone modes in either manned or unmanned sites.
REAL TIME CARD PROCESSING
Accepts debit, credit and charge cards for payment. Proprietary fuel cards may
also be accepted, where applicable. Transactions are processed using wireless 3G
internet, or optional wired broadband. Dialup backup option also available,
where applicable. E-receipt options available using email or SMS.
EASE OF USE
Colour LCD with touch input, simple user interface and backlit payment terminal
make it easy for customers to use FastFuel OPT both day and night.
IMPROVED SITE MANAGEMENT
Site operators can remotely manage and monitor FastFuel OPT devices from anywhere in
the world using the FastFuel Web Portal. This internet based service provides secure real
time access for site operators to maintain pump prices, collect sales data, and much more.
MONITORING AND ALERTS
FastFuel OPT can send real time alerts to site operators by email and SMS in the event of
system problems such as a paper low, paper out, printer jam, or pumps offline. This enables
site operators to proactively respond to issues based on the severity level of the alert.
AUSTRALIAN MADE BY QUEST
Quest is the leading provider of payment systems for the fuel, retail and hospitality markets in
Australia. FastFuel OPT is an Australian product built using industry standard and proven technology
components. Quest provides direct engineering support for all components of the solution.
SPECIFICATIONS
SIZE & WEIGHT
DISPLAY
PC
Height: 680 mm (with Pedestal: 1820mm)
Width: 450 mm
Depth: 380mm
Weight: 30kg (with Pedestal: 75kg)
12.1" TFT Color LCD with Projected Capacitive Touch screen
800 x 600px User interface
Protected with Toughened Glass
Rugged Industrial type, fan less (contact Quest for detailed specifications)
PRINTER
Hengstler C-56 Thermal Receipt Printer. Printer roll access via separate keyed door
PAYMENT TERMINAL
QUEST UT430
All-in-one design. Hybrid ICC / MSR (3 Track Head) Card reader, Contactless/ NFC
reader, Backlit display, Backlit / Abrasive resistant keymat, PCI-PTS v3.x
approved, APCA IAC approved, CE, UL**, FCC**
CARD ACCEPTANCE
POWER & BATTERY
SUPPORTED FORECOURT
CONTROLLER
SUPPORTED FUEL PUMPS
COMMUNICATIONS
EMERGENCY STOP
COMPLIANCE
OPERATING TEMPERATURE
MOUNTING OPTIONS
CONSTRUCTION
FINISH
INSTALLATION
REQUIREMENT
UPGRADE OPTIONS*
FastFuel OPT
Fitted with weather
canopy and lighting kit
Financial Debit and Credit cards
Fuel Cards (contact Quest for supported cards)
Locally issued White Cards
Input voltage: 190-265V AC, Power: 275W, 12Ah backup battery
ITL Enabler; Postec PCC4**
Gilbarco, PEC, Compac, Transponder, Email, Dresser Wayne and others (contact
Quest to discuss your requirements)
3G, Wired Broadband
Push Button with twist release
National Measurement Institute (NMI)
-20°C to +60°C
Pedestal, Wall
Aluminium / Steel. Corrosion resistant
Powder coated White Satin (Custom colour option available subject to MOQ)
To be installed in non-hazardous zone in accordance with "AS NZS 60079.10.1-2009
Explosive atmospheres - Classification of areas - Explosive gas atmospheres"
Single touch help phone / loud speaker; Industrial 3G; Dialup EFT modem;
Webcam; 2D barcode scanner; Weather canopy with lighting; Custom vinyl
branding decals, Custom on screen UI branding
Ph:
03 8807 4400
Email:
[email protected]
Web:
www.questpaymentsystems.com
Specifications are subject to change without notice. Copyright 2016 Quest Payment Systems. All Rights Reserved. All product & company names including logos are the property of their respective owners. Reproduction of this document is prohibited without
consent from Quest. *Contact Quest for availability. **Certifications targeted for Q3 2016.

* Your assessment is very important for improving the work of artificial intelligence, which forms the content of this project