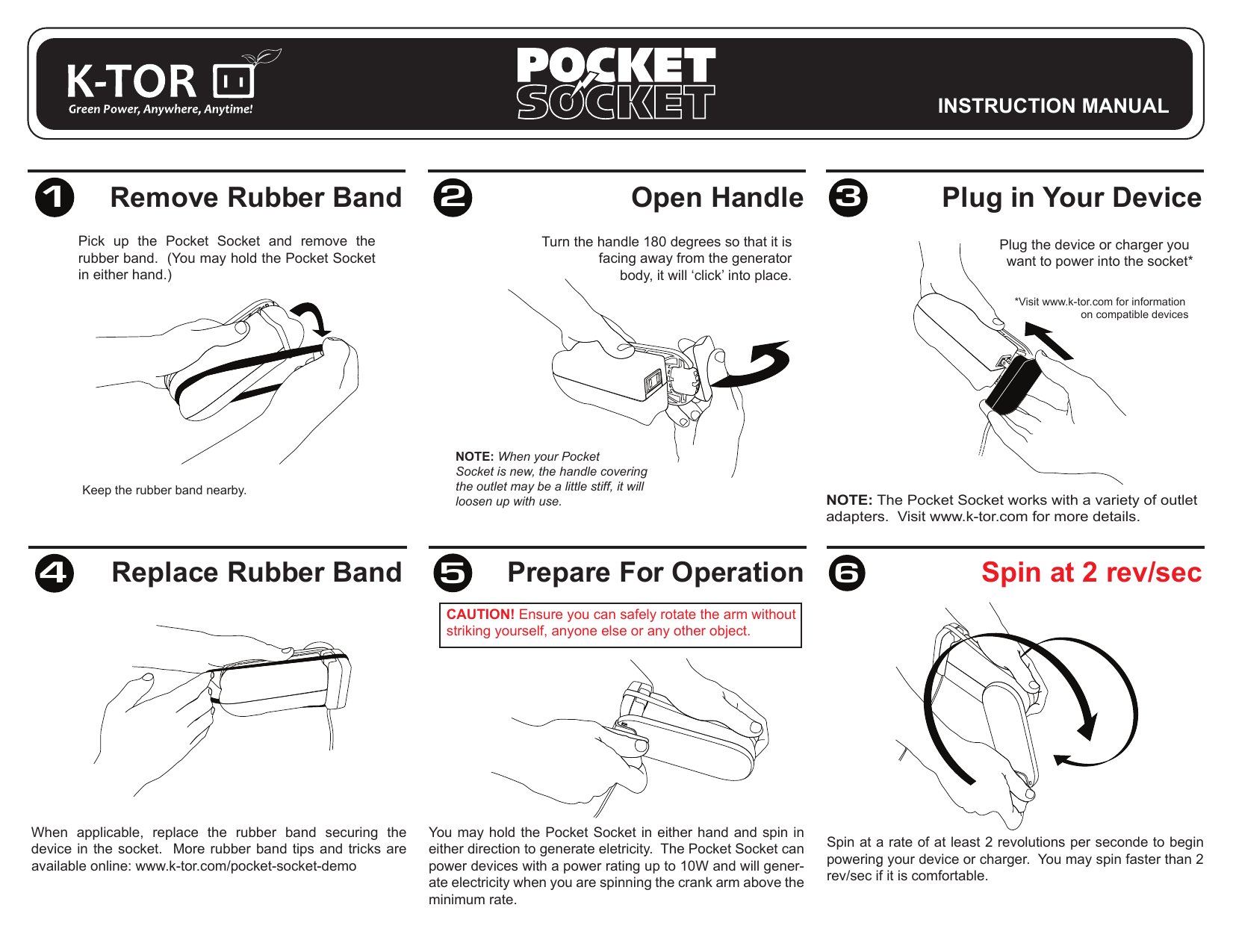 INSTRUCTION MANUAL
1
Remove Rubber Band
2
Pick up the Pocket Socket and remove the
rubber band. (You may hold the Pocket Socket
in either hand.)
Open Handle
3
Turn the handle 180 degrees so that it is
facing away from the generator
body, it will 'click' into place.
Plug in Your Device
Plug the device or charger you
want to power into the socket*
*Visit www.k-tor.com for information
on compatible devices
Keep the rubber band nearby.
4
Replace Rubber Band
NOTE: When your Pocket
Socket is new, the handle covering
the outlet may be a little stiff, it will
loosen up with use.
5
Prepare For Operation
NOTE: The Pocket Socket works with a variety of outlet
adapters. Visit www.k-tor.com for more details.
6
Spin at 2 rev/sec
CAUTION! Ensure you can safely rotate the arm without
striking yourself, anyone else or any other object.
When applicable, replace the rubber band securing the
device in the socket. More rubber band tips and tricks are
available online: www.k-tor.com/pocket-socket-demo
You may hold the Pocket Socket in either hand and spin in
either direction to generate eletricity. The Pocket Socket can
power devices with a power rating up to 10W and will generate electricity when you are spinning the crank arm above the
minimum rate.
Spin at a rate of at least 2 revolutions per seconde to begin
powering your device or charger. You may spin faster than 2
rev/sec if it is comfortable.
GRIP
HERE
GRIP
HERE
REST AFTER 3-5 MINS OF
CRANKING, OR AS NEEDED.
TAKE BREAKS!
Turn 2 cranks per second
to charge your device
(INSTRUCTIONS - TURN OVER)
www.k-tor.com
PLEASE WATCH THE ONLINE DEMONSTRATION VIDEO
PRIOR TO USING THE K-TOR POCKET SOCKET
CONNECTED TO THE INTERNET?

* Your assessment is very important for improving the work of artificial intelligence, which forms the content of this project