Revised Case Type Classification for 2009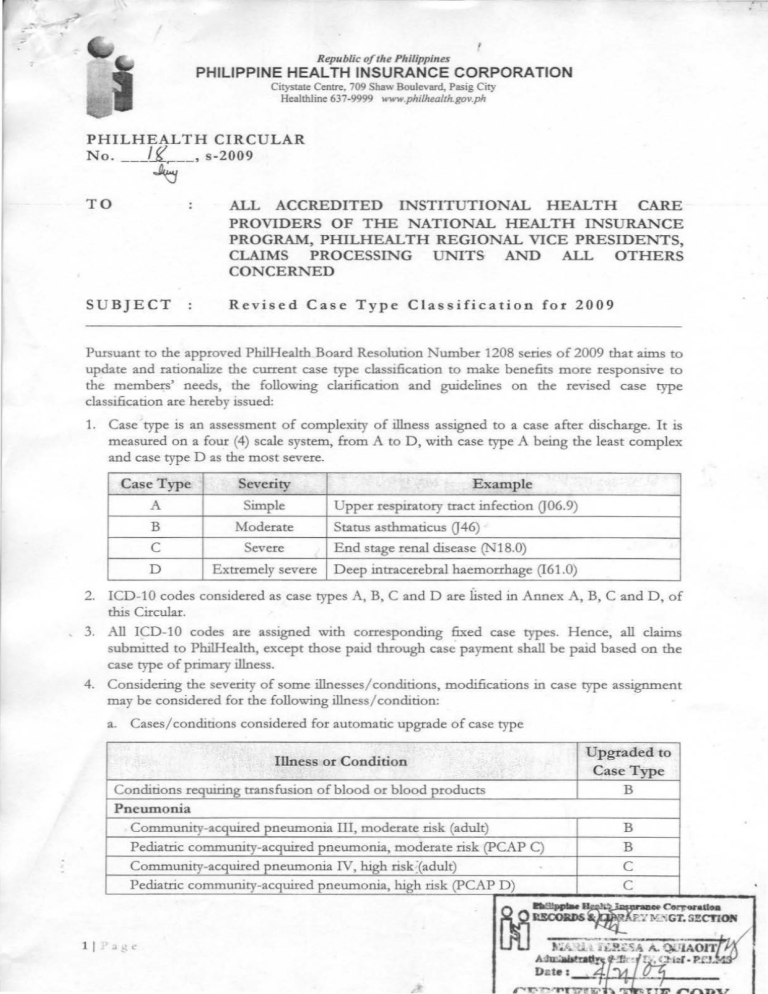 Republi c of
PHILIPPINE HEALTH INSURANCE CORPORATION
Citystate Centre. "09 Shaw Boulevard, Pasig City
Healthline 637-9999
www philhealth.gov.ph
PHILHEAL TH CIRCULAR
No
.
_JL __
,
s
-2009
~
TO
ALL ACCREDITED INSTITUTIONAL HEALTH CARE
PROVIDERS OF THE NATIONAL HEALTH INSURANCE
PROGRAM, PHILHEALTH REGIONAL VICE PRESIDENTS,
CLAIMS PROCESSING UNITS AND ALL OTHERS
CONCERNE
D
SUB
JECT
Revised Case
Type C l assi fi cation
for
2009
Pursuant to r:he approved PhilHealr:h Board Resoluoon Number 1208 series of 2009 that aims to update and rationalize rhe current case type classtfication to make benefits more responsive to the members' needs, the following clarification and guidelines on the revised case type classllication are hereby issued:
1.
Case type is an assessment of complexity of illness assigned to a case after discharge. It is measured on a four ( 4 ) scale system, from A to D, with case type A being the least complex and case type D as the most severe.
Case Type
A
B c
D
Severity
Simple
Example
Upper respuatory tract infection (J06.9)
Moderate
Severe
Status asthmaticus (J46)
End stage renal disease (N18.0)
Extremely severe Deep intracerebral haemorrhage (161.0
)
2. ICD-10 codes considered as case types A, B, C and Dare listed in Annex A, B, C and D, of this Circular.
3. All ICD-10 codes are assigned wir:h corresponding fixed case types. Hence, all claims submitted to PhilHealth , except those paid through case pa y ment shall be paid based on the case type of primary illness.
4. Considering the severity of some illnesses / conditions, modifications in case type assignment may be considered for the following illness / condition: a. Cases / conditions considered for automatic upgrade of case type
Illn ess
or Condition
U pgraded to
Case Type
B
Co nditions requu:ing transfusion of blood or blood products
Pneumonia
1 1
Community-acquired pneumonia III , moderate risk ( adult ) B
Pediatric commuruty-acquired pneum onia, moderate risk (PCAP
C)
B
Community-acquired pneumonia IV, high risk : (adult) c
.-:;~
Pediatric community -a cquired pneumonia, high risk (PCAP D)
00 c llt.
"!
:pp!M~-~-u..
llliVOIIDS
" .
';'
¥~\ GT. o• cnON
~~
~:~
<. ~ -; ~';A
"-
~1A t!:!~~u l·P
OIT
.£J
..
af'
v:
l
. r~-
.....
~h
re.nn''
~
'
.
':'
•
:
•
.
.
Illness or Condition
Upgraded to
Case Type
Malignant ne oplasm
Cancerwi tb metastasis
Che m otb session for neoplasm
Radiothera py sess10n
Dial ysis sessi on ie. perit o neal dialysis and hemodialysis
In the event of death regardless of illness or conchtion c c c c
D b. For the £ illness/ condition , the corresponding case type sh all be considered applicable, provided the diagnosis and ICD-1 0 code are clearly stat ed in the claim form.
Description
Chronic re s p 1.tatory insufficiency
Multiple Dru Tuberculosis confirmed by culture
Nosocomial pneumorua
Multiple o rg an failure
Case Type
B
B
B c
ULES FOR CASE
TYPING
A. Medical
1. For coding and reimbursement of medical claims, case type will be based on the ICD-10 of the p
nmary
illness or main conditi on. The primary illness or
main
condition
is
the condition i denti.fied at the time of discharge as being the main reason for the patient's con£nem e nt, whether it is for receiving care or for in vestiga ti on of a current illness or injury
(pie ase see Phi/He a lth
Circular
No.
4
s-2002).
Example
1:
Hyperten s t on
Final
Diagnosis ICD-10 Code Case Type
110 .9
A
Acute py elonephritis (Main condition) NlO
The final case type for this example is
B.
B
Example 2:
Final
Diagnosis
End stage renal disease (ESRD)
Acute p ha.ryngitis (Main condition)
ICD-10 Code Case Type
N18.0
]02.9
The final case type for this example is A. c
A
2. In cases wherein the hospital claimed for a lower reimbursement, PbilHealth shall reimbur se to the member within the amount of the remaining benefit, provided the claim is s upp or ted by an Official Rece ipt (OR) and Statement of Account (SoA) issued by the hospital
3. For cases w herein there is a discrepan cy between the final chagnosis and the management based on part three
(III)
and four
(IV)
of the Claim F orm 2, PbilHealth ma y return the claim t o the hospital with request for l! properly accomplished PbilHealth Claim Form 3 and other approp riat e documents e.g
., ~. copy of clinical chart, laboratory result, radiology
2
I
J> .. g c: r esult and other ancillary procedures, co mpl ete clinical abstract deemed nec ess for proper evaluation.
Pl.:3!wiu u ~
.:.•e:.
Imunu:ct"
Cocporau~ l1tJ l. .. .....
:1.
,_ _ _
!t ... ,A
~
... rtAOll
11
M•sc:
~~:~; ,-
:T-~£
~JON
/5,"'-:u:s
,.-..
p~ • ";f'n~...
..
T
~n,,
'
.
:;-.
\
..
.
•
-:
4. For claims wherein the member or hospital request for a higher case type other than those specified in this circular, PRO -Benefit Administrative Sections may Iefer such requests to the Quality Assurance Committee (QAC) for their evaluation and recommendation. For such claims, it is reiterated that the complete diagnosis an d its applicable lCD 10 code should be clearly stated in the PhilHealth Claim Form 2 and a properl y accomplished PhilHealth Claim Form 3 should be submitted.
B. Surgical
1.
For claims with surgical procedure / s and other services, the case type shall be based on d1e corresponding Relative V alue Unit (R VU) assigned to the procedure.
Case Type
A
B c
D
RVU
Example
80 and below
Simple repair of wound (R
81 up to 200
Appendectomy (RVU 1 00)
201 up to 500
Whipple-type procedure (RVU 450 )
501 and above Surgery intracranial aneurysm (RVU 600)
2. For claims with two ( 2) or more surgical procedure / s (multipl e surg erie s ) , the case type shall be based on the procedure with the highest RVU.
Example 3:
Procedure
Excision of brea s t lesions with frozen section
RVU
Case Type
25 A
B
Modified radical maste c tomy
Pathology consultation with frozen section , 1 block
The final case type for this example is B .
150
20 A
3. In cases where the case type for the medical diagnosis and the surgical procedure are different, the higher case type shall predominate.
Example 4:
Diagnosis:
End stage renal disease (ICD 10 code= N18.0)
Pro ce dure don e
: Hemodialysis CR:VU 1 0)
The final case type for this example is C.
Case Type c
A
E 1 5
Diagnosis:
A cute appendicitis without perforation (lCD 10 code= K35.9
)
Pro ce dure don e :
Appendectom y (RVU 150 )
The final case type for this example is B.
Case Type
A
B
C. Other Rules
1. For case typeD a.
It is reiterated that all claims with primary illness / condition classified a s case type D shall be required submission of PhilHealth Claim Form 3 or Clinical Abstract for proper e v aluation and a s se s sment. If PhilHealth Claim Form 3 or Clinical Abstract is not attached in the
claim,
i~ shall be returned t o the hospital for completion.
~ b. For multiple surgical procedures wherein on e procedure has an RVU of 501 and above, only the pr o cedure a b ov e RVU 5 0 1 will use the peso c o nversion fact o r (PCF)
31
p""'
s pecific f o r case type D (PCF o f 80 ) . Computation of pnofessioaal-fe~~ -----
\ 1 eo~~ -
... o;o.--r.aratbn
OTI~.·-
- ~
~~ ."'·~CfiON
~~
I
A::!;;;;~-
Unte :
. 4~'
1 -n
I
I n
.
.
~i:71%
procedures below 501
will
use the baseline PCP of 40 depending on the tier category of the doctor.
Ex 16
..
Case Type
Diagnosis:
D ee p intra c erebral ha e m o rrhage (161.0
)
Proced11n done:
Cutdown (RVU
10) performed by a smgeon
D
A
The
final
case type for this example
1S
D, however the computation ofPF for cutdown will be based on baseline PCF of 56 (RVU
10 x PCF
56=
PF of 560). c. It is reiterated that benefits for case typeD can only be paid for patients admitted in
Level 3 and 4 ( tertiary ) hospitals. Case type D in Level 1
(primary)
and 2 (secondary) hospitals shall be paid as case type Band C, respectively. d. For medical conditions classified as case type D payment of doctor's daily visit
will
depend on the rates provided for case type D.
2. For primary h os pitals a. For all cases classified as case type C and D the maximum benefit is still based on case type B. b. Claims for Level 1
(primary)
hospitals are still required to submit Claim Form 3 or
Clinical Abstract except for claims paid tbru case payment e.g., NSD, BTL,
Vasectomy, etc.
This
Circular
shall be applicable to all admissions effective July 1, 2009.
All othe r provisions and issuances inconsistent with this
circular
are hereby repealed, modified and amended accordingly.
Please be guide accordingl y.
President and CEO •
Dare signed:
At
4 l l' age
ANNEX A
2009 CASE TYPE CLASSIFICATION
CASE TYPE A
21
22
23
19
20
17
18
15
16
26
27
24
25
28
29
10
11
8
9
12
13
14
3
4
1
2
5
6
7
A
A31.0
A36.8
A42.7
A44.9
A49.9
A51.5
A54.1
A56.1+
A60.0
A66.3
A67.3
A70
A75.3
A79.1
A92.1
A94
A15.1
A16.1
A18.2
A19.9
A23.1
A25.0
A28.8
A00.0
A02.8
A04.2
A05.2
A06.7
A08.2
D
A31.9
A37.1
A43.0
A48.4
A50.6
A52.2
A54.4+
A56.4
A63.0
A66.6
A68.1
A71.9
A77.1
A80.4
A92.4
A15.4
A16.4
A18.6+
A21.2
A23.8
A26.0
A30.1
A01.0
A03.1
A04.5
A05.8
A07.1
A08.5
C
A31.8
A37.0
A42.9
A48.2
A50.2
A52.0+
A54.3
A56.3
A60.9
A66.5
A68.0
A71.1
A77.0
A79.9
A92.3
A15.3
A16.3
A18.5+
A21.1
A23.3
A25.9
A30.0
A00.9
A03.0
A04.4
A05.4
A07.0
A08.4
B
A31.1
A36.9
A42.8
A46
A50.1
A51.9
A54.2+
A56.2
A60.1
A66.4
A67.9
A71.0
A75.9
A79.8
A92.2
A99
A15.2
A16.2
A18.4
A21.0
A23.2
A25.1
A28.9
A00.1
A02.9
A04.3
A05.3
A06.9
A08.3
--- END / TOTAL NO. OF CODES (this page) = 282 ---
G
A32.7
A38
A43.9
A49.1
A51.1
A52.9
A54.8
A58
A65
A66.9
A69.1
A74.9
A77.8
A91
A93.0
A15.7
A16.8
A19.0
A21.8
A24.1
A26.9
A30.4
A01.3
A03.8
A04.8
A06.1
A07.8
A09.1
F
A32.1+
A37.9
A43.8
A49.0
A51.0
A52.8
A54.6
A57
A64
A66.8
A69.0
A74.8
A77.3
A90
A92.9
A15.6
A16.7
A18.8+
A21.7
A24.0
A26.8
A30.3
A01.2
A03.3
A04.7
A06.0
A07.3
A09.0
E
A32.0
A37.8
A43.1
A48.8
A50.7
A52.7
A54.5
A56.8
A63.8
A66.7
A68.9
A74.0+
A77.2
A80.9
A92.8
A15.5
A16.5
A18.7+
A21.3
A23.9
A26.7
A30.2
A01.1
A03.2
A04.6
A05.9
A07.2
A09
A
H
A32.8
A42.0
A44.0
A49.2
A51.2
A53.0
A54.9
A59.0
A66.0
A67.0
A69.2
A75.0
A77.9
A91.0
A93.1
A15.8
A16.9
A19.1
A21.9
A24.2
A28.0
A30.5
A01.4
A03.9
A04.9
A06.2
A07.9
A09.3
J
A36.3
A42.2
A44.8
A49.8
A51.4
A54.0
A56.0
A59.9
A66.2
A67.2
A69.9
A75.2
A79.0
A92.0
A93.8
A16.0
A18.1+
A19.8
A23.0
A24.4
A28.2
A30.9
A02.2+
A04.1
A05.1
A06.4
A08.1
A15.0
I
A32.9
A42.1
A44.1
A49.3
A51.3
A53.9
A55
A59.8
A66.1
A67.1
A69.8
A75.1
A78
A91.9
A93.2
A15.9
A18.0+
A19.2
A22.9
A24.3
A28.1
A30.8
A02.0
A04.0
A05.0
A06.3
A08.0
A09.9
ANNEX A - Page 1 of 31
CASE TYPE A
C
B42.8
B46.2
B48.4
B55.0
B57.4
B60.2
B67.9
B71.0
B75
B78.7
B82.0
B85.1
B87.8
B00.2
B05.9
B08.8
B18.9
B26.9
B30.9
B34.8
B35.9
B37.4+
B39.5
B90.1
B94.9
B96.0
B97.1
B
B42.1
B45.9
B48.3
B54
B57.3
B60.1
B67.8
B70.1
B74.9
B78.1
B81.8
B85.0
B87.4
B00.1
B05.3+
B08.5
B18.8
B26.8
B30.8+
B34.4
B35.8
B37.3+
B39.4
B90.0
B94.8
B95.8
B97.0
25
26
27
23
24
28
21
22
19
20
14
15
12
13
16
17
18
7
8
5
6
9
10
11
1
2
3
4
A
B41.9
B45.8
B48.2
B53.8
B57.2+
B60.0
B67.7
B70.0
B74.8
B78.0
B81.4
B83.9
B87.3
B00.0
B04
B08.4
B18.2
B26.0+
B30.3+
B34.3
B35.6
B37.2
B39.1
B89
B94.2
B95.7
B96.8
B99
D
B42.9
B46.3
B48.8
B55.1
B57.5
B60.8
B68.0
B71.1
B76.0
B78.9
B82.9
B85.2
B87.9
B00.5+
B06.8
B09
B19.9
B27.0
B33.0
B34.9
B36.0
B37.8
B39.9
B90.2
B95.0
B96.1
B97.2
F
B43.2
B46.8
B50.9
B55.9
B58.1+
B65.3
B68.9
B71.9
B76.8
B80
B83.1
B85.4
B88.1
B00.9
B07
B16.9
B25.0+
B27.8
B33.3
B35.1
B36.2
B38.1
B40.2
B90.9
B95.2
B96.3
B97.4
E
B43.0
B46.5
B49
B55.2
B58.0+
B64
B68.1
B71.8
B76.1
B79
B83.0
B85.3
B88.0
B00.8
B06.9
B15.9
B24
B27.1
B33.1
B35.0
B36.1
B37.9
B40.1
B90.8
B95.1
B96.2
B97.3
B
H
B43.9
B47.9
B52.9
B56.1
B58.3+
B65.9
B69.1
B73
B77.0
B81.1
B83.3
B87.0
B88.3
B02.3+
B08.1
B17.8
B25.2+
B30.0+
B34.0
B35.3
B36.8
B38.3
B40.8
B92
B95.4
B96.5
B97.6
G
B43.8
B46.9
B51.9
B56.0
B58.2+
B65.8
B69.0
B72
B76.9
B81.0
B83.2
B86
B88.2
B01.9
B08.0
B17.2
B25.1+
B27.9
B33.8
B35.2
B36.3
B38.2
B40.3
B91
B95.3
B96.4
B97.5
I
B44.9
B48.0
B53.0
B56.9
B58.8
B66.9
B69.8
B74.3
B77.8
B81.2
B83.4
B87.1
B88.8
B02.8
B08.2
B18.0
B25.8
B30.1+
B34.1
B35.4
B36.9
B38.8
B40.9
B94.0
B95.5
B96.6
B97.7
J
B45.2
B48.1
B53.1
B57.1
B58.9
B67.4
B69.9
B74.4
B77.9
B81.3
B83.8
B87.2
B88.9
B02.9
B08.3
B18.1
B25.9
B30.2
B34.2
B35.5
B37.0
B38.9
B41.8
B94.1
B95.6
B96.7
B97.8
1
2
3
4
5
A
D10.0
D11.7
D12.8
D13.9
D15.9
B
D10.1
D11.9
D12.9
D14.0
D16.0
D
C D E F G H
D10.2
D12.0
D13.0
D14.1
D10.3
D12.1
D13.1
D14.2
D10.4
D12.2
D13.2
D14.3
D10.5
D12.3
D13.3
D14.4
D10.6
D12.4
D13.4
D15.0
D10.7
D12.5
D13.5
D15.1
D16.1
D16.2
D16.3
D16.4
D16.5
--- END / TOTAL NO. OF CODES (this page) = 321 ---
D16.6
I
D10.9
D12.6
D13.6
D15.2
D16.7
J
D11.0
D12.7
D13.7
D15.7
D16.8
ANNEX A - Page 2 of 31
26
27
24
25
28
29
19
20
17
18
21
22
23
12
13
10
11
14
15
16
6
7
8
9
A
D38.2
D40.0
D41.9
D48.9
D51.9
D55.0
D56.4
D58.2
D59.8
D61.8
D71
D73.9
D76.1
D89.2
D16.9
D18.0
D21.2
D22.4
D23.5
D26.1
D29.1
D30.4
D31.9
D37.1
5
6
7
8
9
3
4
1
2
A
E00.0
E03.1
E04.9
E06.3
E10.8
E12.8
E14.8
E20.8
E22.2
CASE TYPE A
B
D38.3
D40.1
D45
D50.0
D52.0
D55.1
D56.8
D58.8
D59.9
D61.9
D72.0
D74.0
D76.2
D89.8
D17.0
D18.1
D21.3
D22.5
D23.6
D26.7
D29.2
D30.7
D34
D37.2
E
D38.6
D41.0
D48.2
D50.9
D52.9
D55.8
D57.1
D59.1
D60.8
D64.2
D72.9
D75.0
D83.9
D17.3
D19.7
D21.6
D22.9
D24
D28.0
D29.7
D31.1
D35.9
D37.5
D
D38.5
D40.9
D48.1
D50.8
D52.8
D55.3
D57.0
D59.0
D60.1
D64.1
D72.8
D74.9
D80.9
D17.2
D19.1
D21.5
D22.7
D23.9
D27
D29.4
D31.0
D35.8
D37.4
C
D38.4
D40.7
D48.0
D50.1
D52.1
D55.2
D56.9
D58.9
D60.0
D64.0
D72.1
D74.8
D76.3
D89.9
D17.1
D19.0
D21.4
D22.6
D23.7
D26.9
D29.3
D30.9
D35.7
D37.3
D
H
D39.2
D41.3
D48.5
D51.2
D53.2
D56.1
D57.8
D59.4
D61.1
D64.8
D73.2
D75.8
D86.9
D17.6
D20.1
D22.1
D23.2
D25.2
D28.7
D30.1
D31.4
D36.7
D37.9
F
D39.0
D41.1
D48.3
D51.0
D53.0
D55.9
D57.2
D59.2
D60.9
D64.3
D73.0
D75.1
D86.1
D17.4
D19.9
D21.9
D23.0
D25.0
D28.1
D29.9
D31.2
D36.0
D37.6
I
D39.7
D41.4
D48.6
D51.3
D53.8
D56.2
D58.0
D59.5
D61.2
D64.9
D73.4
D75.9
D89.0
D17.7
D21.0
D22.2
D23.3
D25.9
D28.9
D30.2
D31.5
D36.9
D38.0
G
D39.1
D41.2
D48.4
D51.1
D53.1
D56.0
D57.3
D59.3
D61.0
D64.4
D73.1
D75.2
D86.3
D17.5
D20.0
D22.0
D23.1
D25.1
D28.2
D30.0
D31.3
D36.1
D37.7
B
E00.1
E03.2
E05.0
E06.4
E10.9
E12.9
E14.9
E20.9
E22.8
E
C D E F G H
E00.2
E03.3
E05.1
E06.5
E11.3+
E13.3+
E00.9
E03.4
E05.2
E06.9
E11.4+
E13.4+
E01.0
E03.8
E05.3
E07.1
E11.6
E13.6
E01.1
E03.9
E05.4
E07.8
E11.8
E13.8
E01.2
E04.0
E05.8
E07.9
E11.9
E13.9
E16.0
E21.0
E16.1
E21.1
E16.2
E21.2
E16.3
E21.3
E16.8
E21.4
E16.9
E21.5
E22.9
E23.0
E23.1
E23.2
E23.3
--- END / TOTAL NO. OF CODES (this page) = 323 ---
E23.6
E01.8
E04.1
E05.9
E10.3+
E12.3+
E14.3+
I
E02
E04.2
E06.1
E10.4+
E12.4+
E14.4+
E20.0
E22.0
E23.7
J
E03.0
E04.8
E06.2
E10.6
E12.6
E14.6
E20.1
E22.1
E24.0
J
D39.9
D41.7
D48.7
D51.8
D53.9
D56.3
D58.1
D59.6
D61.3
D70
D73.8
D76.0
D89.1
D17.9
D21.1
D22.3
D23.4
D26.0
D29.0
D30.3
D31.6
D37.0
D38.1
ANNEX A - Page 3 of 31
23
24
21
22
25
26
27
30
31
28
29
16
17
14
15
18
19
20
10
11
12
13
A
E64.9
E67.3
E71.1
E72.9
E74.8
E76.1
E78.1
E79.8
E83.0
E85.1
E87.5
E89.1
E24.2
E26.8
E28.2
E30.8
E34.1
E44.1
E50.7
E53.9
E60
E61.9
D
E66.1
E70.0
E72.0
E73.8
E75.1
E76.8
E78.4
E80.1
E83.3
E85.4
E87.8
E89.4
E24.8
E27.3
E28.9
E31.1
E34.4
E50.0
E51.1
E55.9
E61.2
E63.8
B
E65
E67.8
E71.2
E73.0
E74.9
E76.2
E78.2
E79.9
E83.1
E85.2
E87.6
E89.2
E24.3
E26.9
E28.3
E30.9
E34.2
E45
E50.8
E54
E61.0
E63.0
C
E66.0
E68
E71.3
E73.1
E75.0
E76.3
E78.3
E80.0
E83.2
E85.3
E87.7
E89.3
E24.4
E27.0
E28.8
E31.0
E34.3
E46
E50.9
E55.0
E61.1
E63.1
CASE TYPE A
E
E66.2
E70.1
E72.1
E73.9
E75.2
E76.9
E78.5
E80.2
E83.4
E85.8
E88.0
E89.5
E24.9
E27.4
E29.0
E31.8
E34.5
E50.1
E51.8
E56.0
E61.3
E63.9
E
F
E66.8
E70.2
E72.2
E74.0
E75.3
E77.0
E78.6
E80.3
E83.5
E85.9
E88.1
E89.6
E25.0
E27.5
E29.1
E31.9
E34.8
E50.2
E51.9
E56.1
E61.4
E64.0
7
8
9
5
6
10
11
3
4
1
2
A
F00.0*
F02.0*
F05.8
F06.8
F10.2
F11.2
F12.2
F13.2
F14.2
F15.2
F16.2
B
F00.1*
F02.1*
F05.9
F06.9
F10.3
F11.3
F12.3
F13.3
F14.3
F15.3
F16.3
F
C D E F G H
F00.2*
F02.2*
F06.0
F07.0
F10.4
F11.4
F12.4
F13.4
F00.9*
F02.3*
F06.1
F07.1
F10.5
F11.5
F12.5
F13.5
F01.0
F02.4*
F06.2
F07.2
F10.6
F11.6
F12.6
F13.6
F01.1
F02.8*
F06.3
F07.8
F10.7
F11.7
F12.7
F13.7
F01.2
F03
F06.4
F07.9
F10.8
F11.8
F12.8
F13.8
F01.3
F04
F06.5
F14.4
F15.4
F14.5
F15.5
F14.6
F15.6
F14.7
F15.7
F14.8
F15.8
F14.9
F15.9
F16.4
F16.5
F16.6
F16.7
F16.8
--- END / TOTAL NO. OF CODES (this page) = 329 ---
F16.9
F09
F10.9
F11.9
F12.9
F13.9
G
E66.9
E70.3
E72.3
E74.1
E75.4
E77.1
E78.8
E80.4
E83.8
E87.0
E88.2
E89.8
E25.8
E27.8
E29.8
E32.0
E34.9
E50.3
E52
E56.8
E61.5
E64.1
I
E67.1
E70.9
E72.5
E74.3
E75.6
E77.9
E79.0
E80.6
E84.9
E87.3
E88.9
E90*
E26.0
E28.0
E30.0
E32.8
E35.8*
E50.5
E53.1
E58
E61.7
E64.3
H
E67.0
E70.8
E72.4
E74.2
E75.5
E77.8
E78.9
E80.5
E83.9
E87.1
E88.8
E89.9
E25.9
E27.9
E29.9
E32.1
E35.0*
E50.4
E53.0
E56.9
E61.6
E64.2
J
E67.2
E71.0
E72.8
E74.4
E76.0
E78.0
E79.1
E80.7
E85.0
E87.4
E89.0
E26.1
E28.1
E30.1
E32.9
E44.0
E50.6
E53.8
E59
E61.8
E64.8
I
F01.8
F05.0
F06.6
F10.0
F11.0
F12.0
F13.0
F14.0
F15.0
F16.0
F17.0
J
F01.9
F05.1
F06.7
F10.1
F11.1
F12.1
F13.1
F14.1
F15.1
F16.1
F17.1
ANNEX A - Page 4 of 31
B
F41.9
F43.9
F44.9
F48.8
F51.0
F52.2
F53.8
F60.5
F63.0
F17.3
F18.3
F19.3
F20.3
F23.0
F25.8
F31.1
F32.1
F33.8
F40.0
F64.9
F66.0
F70.1
F72.9
F79.1
F81.1
F84.3
F90.9
F93.0
F94.9
F98.4
36
37
38
34
35
32
33
30
31
39
40
41
25
26
23
24
27
28
29
18
19
16
17
20
21
22
12
13
14
15
A
F41.8
F43.8
F44.8
F48.1
F50.9
F52.1
F53.1
F60.4
F62.9
F17.2
F18.2
F19.2
F20.2
F22.9
F25.2
F31.0
F32.0
F33.4
F39
F64.8
F65.9
F70.0
F72.8
F79.0
F81.0
F84.2
F90.8
F92.9
F94.8
F98.3
1
2
3
A
G10
G12.2
G22*
B
G11.0
G12.8
G23.0
CASE TYPE A
D
F42.1
F44.1
F45.1
F50.0
F51.2
F52.4
F54
F60.7
F63.2
F17.5
F18.5
F19.5
F20.5
F23.2
F28
F31.3
F32.3
F34.0
F40.2
F65.1
F66.2
F70.9
F73.1
F79.9
F81.3
F84.5
F91.1
F93.2
F95.1
F98.6
C
F42.0
F44.0
F45.0
F48.9
F51.1
F52.3
F53.9
F60.6
F63.1
F17.4
F18.4
F19.4
F20.4
F23.1
F25.9
F31.2
F32.2
F33.9
F40.1
F65.0
F66.1
F70.8
F73.0
F79.8
F81.2
F84.4
F91.0
F93.1
F95.0
F98.5
G
C D E F G H
G11.1
G12.9
G11.2
G20
G11.3
G21.0
G11.4
G21.1
G11.8
G21.2
G11.9
G21.3
G23.1
G23.2
G23.8
G23.9
G24.0
--- END / TOTAL NO. OF CODES (this page) = 327 ---
G24.1
G
F42.9
F44.4
F45.4
F50.3
F51.5
F52.7
F60.0
F61
F63.9
F17.8
F18.8
F19.8
F20.9
F23.9
F30.1
F31.6
F33.0
F34.9
F41.0
F65.4
F68.0
F71.8
F78.0
F80.2
F82
F88
F91.8
F93.9
F95.9
F99
E
F42.2
F44.2
F45.2
F50.1
F51.3
F52.5
F55
F60.8
F63.3
F17.6
F18.6
F19.6
F20.6
F23.3
F29
F31.4
F32.8
F34.1
F40.8
F65.2
F66.8
F71.0
F73.8
F80.0
F81.8
F84.8
F91.2
F93.3
F95.2
F98.8
F
F
F42.8
F44.3
F45.3
F50.2
F51.4
F52.6
F59
F60.9
F63.8
F17.7
F18.7
F19.7
F20.8
F23.8
F30.0
F31.5
F32.9
F34.8
F40.9
F65.3
F66.9
F71.1
F73.9
F80.1
F81.9
F84.9
F91.3
F93.8
F95.8
F98.9
H
F43.0
F44.5
F45.8
F50.4
F51.8
F52.8
F60.1
F62.0
F64.0
F17.9
F18.9
F19.9
F21
F24
F30.2
F31.7
F33.1
F38.0
F41.1
F65.5
F68.1
F71.9
F78.1
F80.3
F83
F89
F91.9
F94.0
F98.0
I
G12.0
G21.8
G24.2
J
G12.1
G21.9
G24.3
I
F43.1
F44.6
F45.9
F50.5
F51.9
F52.9
F60.2
F62.1
F64.1
F18.0
F19.0
F20.0
F22.0
F25.0
F30.8
F31.8
F33.2
F38.1
F41.2
F65.6
F68.8
F72.0
F78.8
F80.8
F84.0
F90.0
F92.0
F94.1
F98.1
J
F43.2
F44.7
F48.0
F50.8
F52.0
F53.0
F60.3
F62.8
F64.2
F18.1
F19.1
F20.1
F22.8
F25.1
F30.9
F31.9
F33.3
F38.8
F41.3
F65.8
F69
F72.1
F78.9
F80.9
F84.1
F90.1
F92.8
F94.2
F98.2
ANNEX A - Page 5 of 31
CASE TYPE A
17
18
15
16
19
20
21
24
25
22
23
10
11
8
9
12
13
14
4
5
6
7
A
G54.1
G56.1
G57.4
G59.8*
G62.0
G63.8*
G72.0
G73.5*
G81.0
G83.1
G90.8
G99.0*
G24.4
G25.6
G31.2
G37.0
G40.2
G41.2
G44.1
G45.8
G50.1
G52.0
C
G54.3
G56.3
G57.6
G60.1
G62.2
G70.8
G72.2
G73.7*
G81.9
G83.3
G93.9
G99.2*
G24.8
G25.9
G31.9
G37.2
G40.4
G41.9
G44.3
G47.0
G50.9
G52.2
B
G54.2
G56.2
G57.5
G60.0
G62.1
G64
G72.1
G73.6*
G81.1
G83.2
G90.9
G99.1*
G24.5
G25.8
G31.8
G37.1
G40.3
G41.8
G44.2
G45.9
G50.8
G52.1
D
G54.4
G56.4
G57.8
G60.2
G62.8
G70.9
G72.3
G80.0
G82.0
G83.4
G95.9
G99.8*
G24.9
G26*
G32.0*
G37.3
G40.5
G43.0
G44.4
G47.1
G51.0
G52.3
F
G54.6
G56.9
G58.0
G60.8
G63.2*
G71.1
G72.8
G80.2
G82.2
G83.9
G97.0
G25.1
G30.1
G35
G37.5
G40.7
G43.2
G45.0
G47.3
G51.2
G52.8
E
G54.5
G56.8
G57.9
G60.3
G62.9
G71.0
G72.4
G80.1
G82.1
G83.8
G96.9
G25.0
G30.0
G32.8*
G37.4
G40.6
G43.1
G44.8
G47.2
G51.1
G52.7
G
H
G54.8
G57.1
G58.8
G61.1
G63.4*
G71.3
G73.0*
G80.4
G82.4
G90.1
G97.8
G25.3
G30.9
G36.1
G37.9
G40.9
G43.8
G45.2
G47.8
G51.4
G53.0*
G
G54.7
G57.0
G58.7
G60.9
G63.3*
G71.2
G72.9
G80.3
G82.3
G90.0
G97.1
G25.2
G30.8
G36.0
G37.8
G40.8
G43.3
G45.1
G47.4
G51.3
G52.9
J
G56.0
G57.3
G59.0*
G61.9
G63.6*
G71.9
G73.4*
G80.9
G83.0
G90.3
G98
G25.5
G31.1
G36.9
G40.1
G41.1
G44.0
G45.4
G50.0
G51.9
G54.0
I
G54.9
G57.2
G58.9
G61.8
G63.5*
G71.8
G73.3*
G80.8
G82.5
G90.2
G97.9
G25.4
G31.0
G36.8
G40.0
G41.0
G43.9
G45.3
G47.9
G51.8
G53.8*
7
8
9
5
6
10
11
3
4
1
2
A
H00.0
H02.4
H04.1
H05.4
H10.2
H11.4
H15.8
H17.8
H18.8
H20.8
H22.0*
B
H00.1
H02.5
H04.2
H05.5
H10.3
H11.8
H15.9
H17.9
H18.9
H20.9
H22.1*
H
C D E F G H
H01.0
H02.6
H04.3
H05.8
H10.4
H11.9
H16.1
H18.0
H01.1
H02.7
H04.4
H05.9
H10.5
H13.0*
H16.2
H18.1
H01.8
H02.8
H04.5
H06.0*
H10.8
H13.1*
H16.3
H18.2
H01.9
H02.9
H04.6
H06.1*
H10.9
H13.2*
H16.4
H18.3
H02.0
H03.0*
H04.8
H06.2*
H11.0
H13.3*
H16.8
H18.4
H02.1
H03.1*
H04.9
H06.3*
H11.1
H13.8*
H16.9
H18.5
H19.0*
H21.0
H19.1*
H21.1
H19.2*
H21.2
H19.3*
H21.3
H19.8*
H21.4
H20.0
H21.5
H22.8* H25.0
H25.1
H25.2
H25.8
--- END / TOTAL NO. OF CODES (this page) = 324 ---
H25.9
I
H02.2
H03.8*
H05.1
H10.0
H11.2
H15.0
H17.0
H18.6
H20.1
H21.8
H26.0
J
H02.3
H04.0
H05.3
H10.1
H11.3
H15.1
H17.1
H18.7
H20.2
H21.9
H26.1
ANNEX A - Page 6 of 31
CASE TYPE A
5
6
7
8
9
3
4
1
2
A
I00
I07.8
I09.8
I15.8
I25.8
I34.9
I36.9
I44.6
I45.9
32
33
30
31
34
35
25
26
23
24
27
28
29
18
19
16
17
20
21
22
12
13
14
15
A
H53.2
H54.3
H58.0*
H60.4
H62.0*
H65.4
H67.8*
H70.9
H73.9
H80.0
H81.8
H90.1
H91.2
H93.3
H26.2
H28.1*
H31.2
H33.3
H35.5
H40.4
H47.0
H49.1
H50.4
H52.0
C
H53.4
H54.5
H58.8*
H60.8
H62.2*
H66.0
H68.1
H72.0
H74.1
H80.2
H82*
H90.3
H91.8
H93.9
H26.4
H28.8*
H31.4
H33.5
H35.7
H40.6
H47.2
H49.3
H50.6
H52.2
B
H53.3
H54.4
H58.1*
H60.5
H62.1*
H65.9
H68.0
H71
H74.0
H80.1
H81.9
H90.2
H91.3
H93.8
H26.3
H28.2*
H31.3
H33.4
H35.6
H40.5
H47.1
H49.2
H50.5
H52.1
D
H53.5
H54.6
H59.0
H60.9
H62.3*
H66.1
H69.0
H72.1
H74.2
H80.8
H83.0
H90.4
H91.9
H94.0*
H26.8
H30.0
H31.8
H34.0
H35.8
H40.8
H47.3
H49.4
H50.8
H52.3
F
H53.8
H55
H59.9
H61.1
H62.8*
H66.3
H69.9
H72.8
H74.4
H81.0
H83.2
H90.6
H92.1
H95.0
H27.0
H30.2
H32.0*
H35.0
H36.0*
H42.0*
H47.5
H49.9
H51.0
H52.5
E
H53.6
H54.7
H59.8
H61.0
H62.4*
H66.2
H69.8
H72.2
H74.3
H80.9
H83.1
H90.5
H92.0
H94.8*
H26.9
H30.1
H31.9
H34.9
H35.9
H40.9
H47.4
H49.8
H50.9
H52.4
H
H
H54.0
H57.1
H60.1
H61.3
H65.1
H66.9
H70.1
H73.0
H74.9
H81.2
H83.8
H90.8
H93.0
H95.8
H27.8
H30.9
H33.0
H35.2
H40.0
H45.0*
H47.7
H50.1
H51.2
H52.7
G
H53.9
H57.0
H60.0
H61.2
H65.0
H66.4
H70.0
H72.9
H74.8
H81.1
H83.3
H90.7
H92.2
H95.1
H27.1
H30.8
H32.8*
H35.1
H36.8*
H42.8*
H47.6
H50.0
H51.1
H52.6
J
H54.2
H57.9
H60.3
H61.9
H65.3
H67.1*
H70.8
H73.8
H75.8*
H81.4
H90.0
H91.1
H93.2
H28.0*
H31.1
H33.2
H35.4
H40.2
H45.8*
H49.0
H50.3
H51.9
H53.1
I
H54.1
H57.8
H60.2
H61.8
H65.2
H67.0*
H70.2
H73.1
H75.0*
H81.3
H83.9
H91.0
H93.1
H95.9
H27.9
H31.0
H33.1
H35.3
H40.1
H45.1*
H48.8*
H50.2
H51.8
H53.0
B
I02.9
I07.9
I10.0
I15.9
I25.9
I35.0
I37.0
I44.7
I51.5
I
C D E F G H
I06.0
I08.0
I10.1
I20.8
I27.0
I35.1
I06.1
I08.1
I10.2
I25.0
I27.1
I35.2
I06.2
I08.2
I10.3
I25.1
I27.8
I35.8
I06.8
I08.3
I10.9
I25.2
I27.9
I35.9
I06.9
I08.8
I11.9
I25.3
I34.0
I36.0
I37.1
I45.0
I37.2
I45.1
I37.8
I45.2
I37.9
I45.3
I44.0
I45.4
I44.3
I45.5
I51.7
I51.9
I69.0
I69.1
I69.2
--- END / TOTAL NO. OF CODES (this page) = 329 ---
I69.3
I07.0
I08.9
I15.0
I25.4
I34.1
I36.1
I
I07.1
I09.1
I15.1
I25.5
I34.2
I36.2
I44.4
I45.6
I69.4
J
I07.2
I09.2
I15.2
I25.6
I34.8
I36.8
I44.5
I45.8
I69.8
ANNEX A - Page 7 of 31
10
11
12
13
16
17
14
15
A
I70.0
I77.1
I78.9
I80.9
I84.3
I86.2
I88.8
I97.2
14
15
16
12
13
17
18
10
11
8
9
3
4
1
2
5
6
7
A
J34.3
J37.1
J40
J44.0
J62.0
J65
J67.5
J68.9
J84.8
J98.3
J00
J02.9
J10.0
J14
J18.1
J20.6
J30.2
J32.4
3
4
1
2
5
A
K00.0
K01.0
K03.1
K04.1
K05.1
B
K00.1
K01.1
K03.2
K04.2
K05.2
B
J34.8
J38.1
J41.0
J44.8
J62.8
J66.0
J67.6
J69.1
J84.9
J98.4
J01.0
J03.0
J10.1
J15.3
J18.2
J20.7
J30.3
J32.8
B
I70.1
I77.2
I79.0*
I82.8
I84.4
I86.3
I88.9
I97.8
CASE TYPE A
C
I70.2
I77.3
I79.1*
I82.9
I84.5
I86.4
I89.0
I97.9
D
I70.8
I77.5
I79.2*
I83.0
I84.6
I86.8
I89.1
I98.0*
D
J35.1
J38.3
J41.8
J45.0
J63.1
J66.2
J67.8
J70.3
J92.9
J98.9
J01.2
J03.9
J11.1
J15.7
J18.9
J20.9
J31.0
J33.0
E
J35.2
J39.0
J42
J45.1
J63.2
J66.8
J67.9
J70.4
J94.1
J99.0*
J01.3
J04.0
J12.0
J15.8
J20.0
J21.0
J31.1
J33.1
J
E
I70.9
I77.6
I79.8*
I83.1
I84.7
I87.0
I89.8
I98.1*
I
F
I73.0
I77.8
I80.0
I83.2
I84.8
I87.2
I89.9
I98.2*
G
I73.1
I77.9
I80.1
I83.9
I84.9
I87.8
I95.0
I98.8*
C
J35.0
J38.2
J41.1
J44.9
J63.0
J66.1
J67.7
J70.1
J92.0
J98.8
J01.1
J03.8
J11.0
J15.4
J18.8
J20.8
J30.4
J32.9
K
C D E F G H
K00.2
K02.0
K03.3
K00.3
K02.1
K03.4
K00.4
K02.2
K03.5
K00.5
K02.3
K03.6
K00.6
K02.4
K03.7
K00.7
K02.8
K03.8
K04.3
K05.3
K04.4
K05.4
K04.5
K05.5
K04.6
K05.6
K04.7
K06.0
--- END / TOTAL NO. OF CODES (this page) = 305 ---
K04.8
K06.1
H
J01.9
J06.0
J12.8
J16.8
J20.3
J22
J32.1
J34.0
J35.9
J39.3
J43.2
J47
J63.5
J67.2
J68.3
J82
J95.4
G
J35.8
J39.2
J43.1
J45.9
J63.4
J67.1
J68.2
J70.9
J95.3
J99.8*
J01.8
J04.2
J12.2
J16.0
J20.2
J21.9
J32.0
J33.9
F
J35.3
J39.1
J43.0
J45.8
J63.3
J67.0
J68.0
J70.8
J94.9
J99.1*
J01.4
J04.1
J12.1
J15.9
J20.1
J21.8
J31.2
J33.8
H
I73.8
I78.0
I80.2
I84.0
I85.9
I87.9
I95.1
I99
I
J02.0
J06.8
J12.9
J17.3*
J20.4
J30.0
J32.2
J34.1
J36
J39.8
J43.8
J60
J63.8
J67.3
J68.4
J84.0
J95.8
I
I73.9
I78.1
I80.3
I84.1
I86.0
I88.0
I95.8
I
K00.8
K02.9
K03.9
K04.9
K06.2
J
K00.9
K03.0
K04.0
K05.0
K06.8
J
I77.0
I78.8
I80.8
I84.2
I86.1
I88.1
I95.9
J
J02.8
J06.9
J13
J18.0
J20.5
J30.1
J32.3
J34.2
J37.0
J39.9
J43.9
J61
J64
J67.4
J68.8
J84.1
J95.9
ANNEX A - Page 8 of 31
4
5
6
7
8
1
2
3
A
L01.0
L03.1
L04.9
L10.3
L12.1
L20.0
L23.2
L24.2
28
29
30
26
27
24
25
19
20
17
18
21
22
23
12
13
10
11
14
15
16
6
7
8
9
A
K36
K41.2
K51.1
K52.8
K57.5
K59.9
K61.3
K62.9
K70.0
K06.9
K08.0
K09.9
K11.3
K13.0
K14.2
K22.0
K25.7
K28.9
K30
K73.1
K76.4
K82.3
K86.1
K90.3
K91.9
B
K37
K41.9
K51.2
K52.9
K57.9
K60.0
K61.4
K63.2
K70.1
K07.0
K08.1
K10.0
K11.4
K13.1
K14.3
K22.1
K25.9
K29.1
K31.0
K73.2
K76.8
K82.4
K86.2
K90.4
K92.8
C
K38.0
K42.9
K51.3
K55.1
K58.0
K60.1
K62.0
K63.3
K70.9
K07.1
K08.2
K10.1
K11.5
K13.2
K14.4
K22.4
K26.3
K29.2
K31.1
K73.8
K76.9
K82.8
K86.3
K90.8
K92.9
F
K38.3
K45.8
K51.8
K56.3
K59.1
K60.4
K62.3
K63.8
K71.4
K75.3
K80.8
K83.4
K87.0*
K91.1
K07.4
K08.9
K10.8
K11.8
K13.5
K14.8
K22.9
K27.3
K29.5
K31.4
E
K38.2
K44.9
K51.5
K55.9
K59.0
K60.3
K62.2
K63.5
K71.3
K07.3
K08.8
K10.3
K11.7
K13.4
K14.6
K22.8
K26.9
K29.4
K31.3
K75.2
K80.5
K83.3
K86.9
K91.0
K93.8*
K
D
K38.1
K43.9
K51.4
K55.8
K58.9
K60.2
K62.1
K63.4
K71.0
K07.2
K08.3
K10.2
K11.6
K13.3
K14.5
K22.5
K26.7
K29.3
K31.2
K73.9
K80.2
K82.9
K86.8
K90.9
K93.1*
H
K38.9
K50.8
K52.0
K56.7
K59.3
K61.0
K62.6
K66.8
K71.6
K75.9
K81.8
K83.8
K90.0
K91.4
K07.6
K09.1
K11.0
K12.0
K13.7
K20
K23.1*
K27.9
K29.7
K31.8
G
K38.8
K46.9
K51.9
K56.4
K59.2
K60.5
K62.4
K63.9
K71.5
K75.8
K81.1
K83.5
K87.1*
K91.2
K07.5
K09.0
K10.9
K11.9
K13.6
K14.9
K23.0*
K27.7
K29.6
K31.6
J
K40.9
K51.0
K52.2
K57.3
K59.8
K61.2
K62.8
K67.8*
K73.0
K76.1
K82.1
K86.0
K90.2
K91.8
K07.9
K09.8
K11.2
K12.2
K14.1
K21.9
K25.3
K28.7
K29.9
K35.9
I
K40.2
K50.9
K52.1
K57.1
K59.4
K61.1
K62.7
K66.9
K71.9
K76.0
K81.9
K83.9
K90.1
K91.5
K07.8
K09.2
K11.1
K12.1
K14.0
K21.0
K23.8*
K28.3
K29.8
K31.9
B
L01.1
L03.2
L05.0
L10.4
L12.2
L20.8
L23.3
L24.3
CASE TYPE A
L
C D E F G H
L02.0
L03.3
L05.9
L10.5
L12.3
L02.1
L03.8
L08.0
L10.8
L12.8
L02.2
L03.9
L08.1
L10.9
L12.9
L02.3
L04.0
L08.8
L11.0
L13.0
L02.4
L04.1
L08.9
L11.1
L13.1
L20.9
L23.4
L21.0
L23.5
L21.1
L23.6
L21.8
L23.7
L21.9
L23.8
L22
L23.9
L24.4
L24.5
L24.6
L24.7
L24.8
--- END / TOTAL NO. OF CODES (this page) = 325 ---
L24.9
L02.8
L04.2
L10.0
L11.8
L13.8
I
L02.9
L04.3
L10.1
L11.9
L13.9
L23.0
L24.0
L25.0
J
L03.0
L04.8
L10.2
L12.0
L14*
L23.1
L24.1
L25.1
ANNEX A - Page 9 of 31
33
34
31
32
29
30
27
28
22
23
20
21
24
25
26
15
16
13
14
17
18
19
9
10
11
12
A
L57.9
L60.3
L63.8
L66.0
L67.9
L70.3
L72.1
L74.1
L75.9
L25.2
L27.8
L29.9
L40.1
L41.3
L43.8
L50.0
L51.8
L54.8*
L56.4
L81.8
L85.9
L90.2
L92.0
L94.1
L95.8
L98.8
B
L58.0
L60.4
L63.9
L66.1
L68.0
L70.4
L72.2
L74.2
L80
L25.3
L27.9
L30.0
L40.2
L41.4
L43.9
L50.1
L51.9
L55.0
L56.8
L81.9
L86*
L90.3
L92.1
L94.2
L95.9
L98.9
CASE TYPE A
C
L58.1
L60.5
L64.0
L66.2
L68.1
L70.5
L72.8
L74.3
L81.0
L25.4
L28.0
L30.1
L40.3
L41.5
L44.0
L50.2
L52
L55.1
L56.9
L82
L87.0
L90.4
L92.2
L94.3
L97
L99.0*
F
L59.8
L62.0*
L65.0
L66.8
L68.8
L71.0
L73.1
L74.9
L81.3
L25.9
L29.0
L30.4
L40.8
L42
L44.3
L50.5
L53.2
L55.9
L57.2
L85.0
L87.8
L90.8
L92.9
L94.6
L98.2
E
L59.0
L60.9
L64.9
L66.4
L68.3
L70.9
L73.0
L74.8
L81.2
L25.8
L28.2
L30.3
L40.5+
L41.9
L44.2
L50.4
L53.1
L55.8
L57.1
L84
L87.2
L90.6
L92.8
L94.5
L98.1
L
D
L58.9
L60.8
L64.8
L66.3
L68.2
L70.8
L72.9
L74.4
L81.1
L25.5
L28.1
L30.2
L40.4
L41.8
L44.1
L50.3
L53.0
L55.2
L57.0
L83
L87.1
L90.5
L92.3
L94.4
L98.0
L99.8*
G
L59.9
L62.8*
L65.1
L66.9
L68.9
L71.1
L73.2
L75.0
L81.4
L26
L29.1
L30.5
L40.9
L43.0
L44.4
L50.6
L53.3
L56.0
L57.3
L85.1
L87.9
L90.9
L93.0
L94.8
L98.3
3
4
5
1
2
6
7
A
M00.0
M02.0
M05.0
M06.8
M08.1
M10.0
M11.9
B
M00.1
M02.1
M05.1+
M06.9
M08.2
M10.1
M12.0
M
C D E F G H
M00.2
M02.2
M05.2
M07.0*
M00.8
M02.3
M05.8
M07.1*
M00.9
M02.8
M05.9
M07.2*
M01.2*
M02.9
M06.0
M07.3*
M01.4*
M03.0*
M06.1
M07.4*
M01.5*
M03.1*
M06.2
M07.5*
M08.3
M10.2
M08.4
M10.3
M08.8
M10.4
M08.9
M10.9
M09.0*
M11.0
M09.1*
M11.1
M12.1
M12.2
M12.3
M12.4
M12.5
--- END / TOTAL NO. OF CODES (this page) = 324 ---
M12.8
I
M01.6*
M03.2*
M06.3
M07.6*
M09.2*
M11.2
M13.0
J
M01.8*
M03.6*
M06.4
M08.0
M09.8*
M11.8
M13.1
H
L60.0
L63.0
L65.2
L67.0
L70.0
L71.8
L73.8
L75.1
L81.5
L27.0
L29.2
L30.8
L41.0
L43.1
L44.8
L50.8
L53.8
L56.1
L57.4
L85.2
L89
L91.0
L93.1
L94.9
L98.4
J
L60.2
L63.2
L65.9
L67.8
L70.2
L72.0
L74.0
L75.8
L81.7
L27.2
L29.8
L40.0
L41.2
L43.3
L45*
L51.0
L54.0*
L56.3
L57.8
L85.8
L90.1
L91.9
L94.0
L95.1
L98.6
I
L60.1
L63.1
L65.8
L67.1
L70.1
L71.9
L73.9
L75.2
L81.6
L27.1
L29.3
L30.9
L41.1
L43.2
L44.9
L50.9
L53.9
L56.2
L57.5
L85.3
L90.0
L91.8
L93.2
L95.0
L98.5
ANNEX A - Page 10 of 31
CASE TYPE A
32
33
34
30
31
28
29
26
27
37
38
35
36
39
40
41
42
21
22
19
20
23
24
25
14
15
12
13
16
17
18
8
9
10
11
A
M30.2
M32.9
M35.5
M40.1
M41.5
M43.4
M45.5
M46.9
M48.8
M13.8
M15.0
M16.3
M17.4
M19.0
M20.5
M21.8
M23.1
M24.2
M25.2
M51.4
M54.1
M60.2
M62.0
M63.1*
M65.9
M67.3
M70.4
M71.4
M72.8
M75.5
M76.7
M77.9
M81.0
M82.1*
M84.0
B
M30.8
M33.1
M35.6
M40.2
M41.8
M43.5
M45.6
M47.2
M48.9
M13.9
M15.1
M16.4
M17.5
M19.1
M20.6
M21.9
M23.2
M24.3
M25.3
M51.8
M54.2
M60.8
M62.1
M63.2*
M66.0
M67.4
M70.5
M71.5
M72.9
M75.8
M76.8
M79.0
M81.1
M82.8*
M84.1
M
C D E F G H
M31.4
M33.9
M35.8
M40.4
M42.0
M43.8
M45.8
M47.9
M49.2*
M14.1*
M15.3
M16.6
M18.0
M19.8
M21.1
M22.1
M23.4
M24.5
M25.5
M53.0
M54.4
M61.0
M62.3
M63.8*
M66.2
M67.9
M31.5
M34.2
M35.9
M40.5
M42.1
M43.9
M45.9
M48.0
M49.3*
M14.2*
M15.4
M16.7
M18.1
M19.9
M21.2
M22.2
M23.5
M24.6
M25.6
M53.1
M54.5
M61.1
M62.4
M65.0
M66.3
M68.0*
M31.0
M33.2
M35.7
M40.3
M41.9
M43.6
M45.7
M47.8
M49.1*
M14.0*
M15.2
M16.5
M17.9
M19.2
M21.0
M22.0
M23.3
M24.4
M25.4
M51.9
M54.3
M60.9
M62.2
M63.3*
M66.1
M67.8
M70.6
M71.8
M73.0*
M75.9
M70.7
M71.9
M73.1*
M76.0
M70.8
M72.0
M73.8*
M76.1
M70.9
M72.1
M75.0
M76.2
M71.0
M72.2
M75.1
M76.3
M71.1
M72.3
M75.2
M76.4
M76.9
M79.1
M81.2
M77.0
M79.2
M81.3
M77.1
M79.3
M81.4
M77.2
M79.4
M81.5
M77.3
M79.5
M81.6
M77.4
M79.6
M81.8
M83.0
M84.2
M83.1
M84.3
M83.2
M84.4
M83.3
M84.8
M83.4
M84.9
--- END / TOTAL NO. OF CODES (this page) = 350 ---
M83.5
M85.0
M31.6
M34.9
M36.2*
M41.0
M42.9
M45.0
M46.0
M48.1
M49.8*
M14.3*
M15.8
M16.9
M18.2
M20.0
M21.3
M22.3
M23.6
M24.7
M25.7
M53.2
M54.6
M61.2
M62.5
M65.1
M66.4
M68.8*
M31.8
M35.1
M36.3*
M41.1
M43.0
M45.1
M46.1
M48.2
M51.0+
M14.4*
M15.9
M17.0
M18.3
M20.1
M21.4
M22.4
M23.8
M24.8
M25.8
M53.3
M54.8
M61.3
M62.6
M65.2
M66.5
M70.0
M31.9
M35.2
M36.4*
M41.2
M43.1
M45.2
M46.4
M48.3
M51.1
M14.5*
M16.0
M17.1
M18.4
M20.2
M21.5
M22.8
M23.9
M24.9
M25.9
M53.8
M54.9
M61.4
M62.8
M65.3
M67.0
M70.1
J
M32.8
M35.4
M40.0
M41.4
M43.3
M45.4
M46.8
M48.5
M51.3
M14.8*
M16.2
M17.3
M18.9
M20.4
M21.7
M23.0
M24.1
M25.1
M30.1
M54.0
M60.1
M61.9
M63.0*
M65.8
M67.2
M70.3
M71.3
M72.5
M75.4
M76.6
M77.8
M79.9
M82.0*
M83.9
M85.2
I
M32.0
M35.3
M36.8*
M41.3
M43.2
M45.3
M46.5
M48.4
M51.2
M14.6*
M16.1
M17.2
M18.5
M20.3
M21.6
M22.9
M24.0
M25.0
M30.0
M53.9
M60.0
M61.5
M62.9
M65.4
M67.1
M70.2
M71.2
M72.4
M75.3
M76.5
M77.5
M79.8
M81.9
M83.8
M85.1
ANNEX A - Page 11 of 31
43
44
45
46
47
48
49
A
M85.3
M89.4
M91.9
M92.9
M94.9
M96.1
M99.2
B
M85.4
M89.6
M92.0
M93.0
M95.0
M96.2
M99.3
C
M85.5
M89.8
M92.1
M93.1
M95.1
M96.3
M99.4
D
M85.6
M89.9
M92.2
M93.8
M95.2
M96.4
M99.5
CASE TYPE A
E
M85.8
M90.8*
M92.3
M93.9
M95.3
M96.5
M99.6
M
F
M85.9
M91.0
M92.4
M94.0
M95.4
M96.6
M99.7
G
M89.0
M91.1
M92.5
M94.1
M95.5
M96.8
M99.8
H
M89.1
M91.2
M92.6
M94.2
M95.8
M96.9
M99.9
I
M89.2
M91.3
M92.7
M94.3
M95.9
M99.0
J
M89.3
M91.8
M92.8
M94.8
M96.0
M99.1
15
16
17
13
14
20
21
18
19
22
23
24
25
26
6
7
8
4
5
1
2
3
11
12
9
10
A
N80.1
N81.2
N82.3
N83.8
N85.2
N87.2
N89.1
N42.9
N48.1
N49.2
N60.0
N64.0
N73.8
N76.2
N90.2
N91.2
N92.6
N00.9
N11.9
N13.9
N23
N30.2
N32.0
N34.3
N36.9
N40
B
N80.2
N81.3
N82.4
N83.9
N85.3
N87.9
N89.2
N43.0
N48.2
N49.8
N60.1
N64.1
N73.9
N76.3
N90.3
N91.3
N93.0
N01.9
N12
N14.0
N25.9
N30.3
N32.1
N35.0
N37.0*
N41.0
N
C D E F G H
N02.9
N13.0
N14.1
N26
N30.4
N32.2
N35.1
N37.8*
N41.1
N03.9
N13.1
N14.2
N27.0
N30.8
N32.3
N35.8
N39.0
N41.3
N04.9
N13.2
N14.3
N27.9
N30.9
N32.8
N35.9
N39.1
N41.8
N05.9
N13.3
N14.4
N28.1
N31.0
N32.9
N36.0
N39.2
N41.9
N06.9
N13.4
N15.0
N28.8
N31.1
N33.0*
N36.1
N39.3
N42.0
N80.3
N81.4
N82.5
N84.0
N85.4
N88.0
N89.3
N43.1
N48.3
N49.9
N60.2
N64.2
N74.0*
N76.4
N43.2
N48.4
N50.0
N60.3
N64.3
N74.8*
N76.5
N80.4
N81.5
N82.8
N84.1
N85.5
N88.1
N89.4
N43.3
N48.5
N50.8
N60.4
N64.4
N75.0
N76.6
N80.5
N81.6
N82.9
N84.2
N85.6
N88.2
N89.5
N43.4
N48.6
N50.9
N60.8
N64.5
N75.1
N76.8
N80.6
N81.8
N83.0
N84.3
N85.8
N88.3
N89.6
N45.9
N48.8
N51.0*
N60.9
N64.8
N75.8
N77.0*
N80.8
N81.9
N83.1
N84.8
N85.9
N88.4
N89.8
N46
N48.9
N51.1*
N61
N64.9
N75.9
N77.1*
N90.4
N91.4
N90.5
N91.5
N90.6
N92.0
N90.7
N92.1
N90.8
N92.2
N90.9
N92.3
N93.8
N93.9
N94.0
N94.1
N94.2
--- END / TOTAL NO. OF CODES (this page) = 328 ---
N94.3
N80.9
N82.0
N83.2
N84.9
N86
N88.8
N89.9
N07.9
N13.5
N15.8
N28.9
N31.2
N33.8*
N36.2
N39.4
N42.1
J
N81.1
N82.2
N83.4
N85.1
N87.1
N89.0
N90.1
N48.0
N49.1
N51.8*
N63
N72
N76.1
N80.0
N91.1
N92.5
N94.5
N11.8
N13.8
N16.8*
N30.1
N31.9
N34.2
N36.8
N39.9
N42.8
I
N81.0
N82.1
N83.3
N85.0
N87.0
N88.9
N90.0
N47
N49.0
N51.2*
N62
N71.9
N76.0
N77.8*
N91.0
N92.4
N94.4
N11.0
N13.7
N15.9
N30.0
N31.8
N34.1
N36.3
N39.8
N42.2
ANNEX A - Page 12 of 31
27
28
29
A
N94.6
N97.0
N98.3
B
N94.8
N97.1
N98.8
19
20
21
17
18
15
16
13
14
24
25
22
23
26
27
28
29
30
8
9
6
7
10
11
12
3
4
5
1
2
A
O35.7
O36.7
O42.9
O60
O62.8
O64.4
O65.8
O28.4
O30.1
O32.6
O33.7
O34.7
O02.0
O04.8
O07.3
O11
O21.1
O22.8
O24.1
O26.4
O67.8
O71.5
O73.1
O81.5
O83.4
O86.2
O89.5
O91.1
O98.0
O99.1
B
O35.8
O36.8
O43.0
O61.0
O62.9
O64.5
O65.9
O28.5
O30.2
O32.8
O33.8
O34.8
O02.1
O04.9
O07.4
O12.0
O21.2
O22.9
O24.2
O26.5
O67.9
O71.6
O80.0
O82.0
O83.8
O86.3
O89.6
O91.2
O98.1
O99.2
CASE TYPE A
C
N94.9
N97.2
N98.9
D
N95.0
N97.3
N99.1
E
N95.1
N97.4
N99.2
N
F
N95.2
N97.8
N99.3
G
N95.3
N97.9
N99.4
H
N95.8
N98.0
N99.5
O
C D E F G H
O36.0
O40
O43.8
O61.8
O63.1
O64.9
O66.1
O28.9
O30.9
O33.0
O34.0
O35.0
O02.9
O05.4
O07.9
O12.2
O21.9
O23.1
O24.4
O26.7
O35.9
O36.9
O43.1
O61.1
O63.0
O64.8
O66.0
O28.8
O30.8
O32.9
O33.9
O34.9
O02.8
O05.3
O07.8
O12.1
O21.8
O23.0
O24.3
O26.6
O03.3
O05.8
O08.5
O13
O22.0
O23.2
O24.9
O26.8
O29.3
O32.0
O33.1
O34.1
O35.1
O36.1
O41.0
O43.9
O61.9
O63.2
O65.0
O66.2
O03.4
O05.9
O08.7
O16
O22.1
O23.3
O25
O26.9
O29.5
O32.1
O33.2
O34.2
O35.2
O36.2
O41.8
O44.0
O62.0
O63.9
O65.1
O66.3
O70.0
O71.7
O80.1
O82.1
O83.9
O86.4
O89.8
O70.1
O71.8
O80.8
O82.2
O84.0
O86.8
O90.0
O70.2
O71.9
O80.9
O82.8
O84.1
O87.0
O90.1
O70.3
O72.0
O81.0
O82.9
O84.2
O87.1
O90.2
O70.9
O72.1
O81.1
O83.0
O84.8
O87.2
O90.5
O92.0
O98.2
O92.1
O98.3
O92.2
O98.4
O92.3
O98.5
O92.4
O98.6
O92.5
O98.8
O99.3
O99.4
O99.5
O99.6
O99.7
--- END / TOTAL NO. OF CODES (this page) = 328 ---
O99.8
O71.2
O72.2
O81.2
O83.1
O84.9
O87.3
O90.8
O36.3
O41.9
O47.0
O62.1
O64.0
O65.2
O66.4
O29.6
O32.2
O33.3
O34.3
O35.3
O03.8
O06.3
O08.9
O20.0
O22.2
O23.4
O26.0
O28.0
O36.4
O42.0
O47.1
O62.2
O64.1
O65.3
O66.5
O29.8
O32.3
O33.4
O34.4
O35.4
O03.9
O06.4
O10.3
O20.8
O22.3
O23.5
O26.1
O28.1
I
N95.9
N98.1
N99.8
J
N96
N98.2
N99.9
J
O36.6
O42.2
O48
O62.4
O64.3
O65.5
O66.9
O30.0
O32.5
O33.6
O34.6
O35.6
O04.4
O06.9
O10.9
O21.0
O22.5
O24.0
O26.3
O28.3
O71.4
O73.0
O81.4
O83.3
O86.1
O87.9
O91.0
O92.7
O99.0
I
O36.5
O42.1
O47.9
O62.3
O64.2
O65.4
O66.8
O29.9
O32.4
O33.5
O34.5
O35.5
O04.3
O06.8
O10.4
O20.9
O22.4
O23.9
O26.2
O28.2
O71.3
O72.3
O81.3
O83.2
O86.0
O87.8
O90.9
O92.6
O98.9
ANNEX A - Page 13 of 31
B
P29.3
P37.0
P39.4
P51.9
P58.0
P61.1
P70.8
P72.1
P74.9
P78.9
P83.4
P92.3
P96.2
P00.1
P01.1
P02.1
P03.1
P04.2
P05.9
P11.9
P13.2
P14.9
P22.8
14
15
12
13
16
17
18
21
22
19
20
23
7
8
5
6
9
10
11
1
2
3
4
A
P28.9
P35.9
P39.3
P51.8
P55.8
P61.0
P70.4
P72.0
P74.8
P78.3
P83.3
P92.2
P94.9
P00.0
P01.0
P02.0
P03.0
P04.1
P05.2
P11.4
P13.1
P14.8
P22.1
6
7
8
4
5
9
10
1
2
3
A
Q07.8
Q11.0
Q12.9
Q14.1
Q16.2
Q17.5
Q18.7
Q24.4
Q26.6
Q28.1
B
Q07.9
Q11.1
Q13.0
Q14.2
Q16.3
Q17.8
Q18.8
Q24.5
Q26.9
Q28.2
CASE TYPE A
D
P29.8
P37.2
P39.9
P54.0
P58.5
P61.3
P71.0
P72.8
P76.0
P80.8
P83.6
P92.5
P96.4
P00.3
P01.3
P02.3
P03.3
P04.4
P08.0
P12.1
P13.4
P15.3
P26.9
E
P29.9
P37.8
P50.0
P54.5
P59.0
P61.4
P71.1
P72.9
P76.1
P80.9
P83.8
P92.8
P96.5
P00.4
P01.4
P02.4
P03.4
P04.5
P08.1
P12.2
P13.8
P15.4
P27.9
P
C
P29.4
P37.1
P39.8
P53
P58.3
P61.2
P70.9
P72.2
P75*
P80.0
P83.5
P92.4
P96.3
P00.2
P01.2
P02.2
P03.2
P04.3
P07.1
P12.0
P13.3
P15.2
P22.9
Q
C D E F G H
Q10.0
Q11.2
Q13.1
Q14.3
Q16.4
Q17.9
Q18.9
Q10.1
Q11.3
Q13.2
Q14.8
Q16.5
Q18.0
Q21.9
Q10.2
Q12.0
Q13.3
Q14.9
Q16.9
Q18.1
Q22.9
Q10.3
Q12.1
Q13.4
Q15.0
Q17.0
Q18.2
Q23.9
Q10.4
Q12.2
Q13.5
Q15.8
Q17.1
Q18.3
Q24.0
Q24.9
Q27.0
Q25.0
Q27.1
Q25.8
Q27.2
Q25.9
Q27.3
Q26.1
Q27.4
Q26.3
Q27.8
Q28.3
Q28.8
Q28.9
Q30.0
Q30.1
--- END / TOTAL NO. OF CODES (this page) = 327 ---
Q30.2
Q10.5
Q12.3
Q13.8
Q15.9
Q17.2
Q18.4
Q24.1
G
P35.1
P38
P50.2
P54.8
P59.2
P70.0
P71.3
P74.2
P76.8
P81.8
P91.3
P93
P96.9
P00.6
P01.6
P02.6
P03.6
P04.8
P10.9
P12.4
P14.0
P15.6
P28.2
H
P35.2
P39.0
P50.5
P54.9
P59.3
P70.1
P71.4
P74.3
P76.9
P81.9
P91.9
P94.1
P00.7
P01.7
P02.7
P03.8
P04.9
P11.1
P12.8
P14.1
P15.8
P28.3
F
P35.0
P37.9
P50.1
P54.6
P59.1
P61.5
P71.2
P74.1
P76.2
P81.0
P83.9
P92.9
P96.8
P00.5
P01.5
P02.5
P03.5
P04.6
P08.2
P12.3
P13.9
P15.5
P28.1
I
Q10.6
Q12.4
Q13.9
Q16.0
Q17.3
Q18.5
Q24.2
Q26.4
Q27.9
Q30.3
J
Q10.7
Q12.8
Q14.0
Q16.1
Q17.4
Q18.6
Q24.3
Q26.5
Q28.0
Q30.8
I
P35.3
P39.1
P50.8
P55.0
P59.8
P70.2
P71.8
P74.4
P78.1
P83.0
P92.0
P94.2
P00.8
P01.8
P02.8
P03.9
P05.0
P11.2
P12.9
P14.2
P15.9
P28.4
J
P35.8
P39.2
P50.9
P55.1
P59.9
P70.3
P71.9
P74.5
P78.2
P83.1
P92.1
P94.8
P00.9
P01.9
P02.9
P04.0
P05.1
P11.3
P13.0
P14.3
P21.1
P28.8
ANNEX A - Page 14 of 31
35
36
37
33
34
31
32
29
30
40
41
38
39
42
43
44
45
24
25
22
23
26
27
28
17
18
15
16
19
20
21
11
12
13
14
A
Q50.1
Q51.4
Q52.4
Q54.0
Q55.3
Q56.4
Q61.3
Q62.5
Q64.0
Q30.9
Q33.1
Q35.1
Q36.1
Q38.0
Q39.1
Q40.2
Q42.1
Q43.5
Q44.5
Q65.0
Q66.1
Q67.1
Q68.2
Q70.1
Q71.5
Q72.6
Q74.3
Q75.9
Q76.9
Q77.9
Q79.0
Q80.1
Q81.9
Q83.1
Q84.5
B
Q50.2
Q51.5
Q52.5
Q54.1
Q55.4
Q60.0
Q61.4
Q62.6
Q64.1
Q31.0
Q33.5
Q35.2
Q36.9
Q38.1
Q39.2
Q40.3
Q42.2
Q43.6
Q44.6
Q65.1
Q66.2
Q67.2
Q68.3
Q70.2
Q71.6
Q72.7
Q74.8
Q76.0
Q77.0
Q78.0
Q79.1
Q80.2
Q82.0
Q83.2
Q84.6
CASE TYPE A
Q
C D E F G H
Q50.4
Q51.7
Q52.7
Q54.3
Q55.6
Q60.3
Q61.8
Q62.8
Q64.3
Q31.2
Q33.8
Q35.4
Q37.1
Q38.3
Q39.4
Q40.9
Q42.8
Q43.8
Q45.0
Q65.3
Q66.4
Q67.4
Q68.5
Q70.4
Q71.9
Q72.9
Q50.5
Q51.8
Q52.8
Q54.4
Q55.8
Q60.4
Q61.9
Q63.0
Q64.4
Q31.3
Q33.9
Q35.5
Q37.2
Q38.4
Q39.5
Q41.0
Q42.9
Q43.9
Q45.1
Q65.4
Q66.5
Q67.5
Q68.8
Q70.9
Q72.0
Q73.0
Q50.3
Q51.6
Q52.6
Q54.2
Q55.5
Q60.2
Q61.5
Q62.7
Q64.2
Q31.1
Q33.6
Q35.3
Q37.0
Q38.2
Q39.3
Q40.8
Q42.3
Q43.7
Q44.7
Q65.2
Q66.3
Q67.3
Q68.4
Q70.3
Q71.8
Q72.8
Q74.9
Q76.1
Q77.1
Q78.1
Q75.0
Q76.2
Q77.2
Q78.2
Q75.1
Q76.3
Q77.3
Q78.3
Q75.2
Q76.4
Q77.4
Q78.4
Q75.3
Q76.5
Q77.5
Q78.5
Q75.4
Q76.6
Q77.6
Q78.6
Q79.2
Q80.3
Q82.1
Q79.3
Q80.4
Q82.2
Q79.4
Q80.8
Q82.3
Q79.5
Q80.9
Q82.4
Q79.6
Q81.0
Q82.5
Q79.8
Q81.1
Q82.8
Q83.3
Q84.8
Q83.8
Q84.9
Q83.9
Q85.0
Q84.0
Q85.1
Q84.1
Q85.8
--- END / TOTAL NO. OF CODES (this page) = 350 ---
Q84.2
Q85.9
Q50.6
Q51.9
Q52.9
Q54.8
Q55.9
Q60.5
Q62.0
Q63.1
Q64.5
Q31.8
Q34.0
Q35.6
Q37.3
Q38.5
Q39.6
Q41.1
Q43.0
Q44.0
Q45.2
Q65.5
Q66.6
Q67.6
Q69.0
Q71.0
Q72.1
Q73.1
Q51.0
Q52.0
Q53.0
Q54.9
Q56.0
Q60.6
Q62.1
Q63.2
Q64.6
Q31.9
Q34.1
Q35.7
Q37.4
Q38.6
Q39.8
Q41.2
Q43.1
Q44.1
Q45.3
Q65.6
Q66.7
Q67.7
Q69.1
Q71.1
Q72.2
Q73.8
Q51.1
Q52.1
Q53.1
Q55.0
Q56.1
Q61.0
Q62.2
Q63.3
Q64.7
Q32.0
Q34.8
Q35.8
Q37.5
Q38.7
Q39.9
Q41.8
Q43.2
Q44.2
Q45.8
Q65.8
Q66.8
Q67.8
Q69.2
Q71.2
Q72.3
Q74.0
J
Q51.3
Q52.3
Q53.9
Q55.2
Q56.3
Q61.2
Q62.4
Q63.9
Q64.9
Q32.2
Q35.0
Q36.0
Q37.9
Q39.0
Q40.1
Q42.0
Q43.4
Q44.4
Q50.0
Q66.0
Q67.0
Q68.1
Q70.0
Q71.4
Q72.5
Q74.2
Q75.8
Q76.8
Q77.8
Q78.9
Q80.0
Q81.8
Q83.0
Q84.4
Q86.1
I
Q51.2
Q52.2
Q53.2
Q55.1
Q56.2
Q61.1
Q62.3
Q63.8
Q64.8
Q32.1
Q34.9
Q35.9
Q37.8
Q38.8
Q40.0
Q41.9
Q43.3
Q44.3
Q45.9
Q65.9
Q66.9
Q68.0
Q69.9
Q71.3
Q72.4
Q74.1
Q75.5
Q76.7
Q77.7
Q78.8
Q79.9
Q81.2
Q82.9
Q84.3
Q86.0
ANNEX A - Page 15 of 31
B
R47.0
R49.8
R54
R60.9
R63.3
R69
R75
R77.9
R78.9
R82.4
R23.2
R26.1
R29.8
R39.0
R41.3
R44.3
R45.8
R00.1
R04.1
R06.5
R09.1
R13
R19.3
R21
13
14
15
11
12
9
10
7
8
18
19
16
17
20
21
22
23
24
1
2
3
4
5
6
A
R46.8
R49.2
R53
R60.1
R63.2
R68.8
R74.9
R77.8
R78.8
R82.3
R23.1
R26.0
R29.4
R36
R41.2
R44.2
R45.7
R00.0
R04.0
R06.4
R09.0
R12
R19.2
R20.8
46
47
48
49
52
53
50
51
54
A
Q86.2
Q89.1
Q90.9
Q92.1
Q93.1
Q95.1
Q96.3
Q98.0
Q99.0
B
Q86.8
Q89.2
Q91.0
Q92.2
Q93.2
Q95.2
Q96.4
Q98.1
Q99.1
CASE TYPE A
C
Q87.0
Q89.3
Q91.1
Q92.3
Q93.3
Q95.3
Q96.8
Q98.2
Q99.2
D
Q87.1
Q89.4
Q91.2
Q92.4
Q93.4
Q95.4
Q96.9
Q98.3
Q99.8
E
Q87.2
Q89.7
Q91.3
Q92.5
Q93.5
Q95.5
Q97.0
Q98.4
Q99.9
Q
F
Q87.3
Q89.8
Q91.4
Q92.6
Q93.6
Q95.8
Q97.1
Q98.5
G
Q87.4
Q89.9
Q91.5
Q92.7
Q93.7
Q95.9
Q97.2
Q98.6
R
C D E F G H
R23.3
R26.2
R30.0
R39.1
R41.8
R44.8
R46.0
R00.2
R04.2
R06.6
R09.3
R14
R19.4
R22.0
R23.4
R26.8
R30.1
R39.2
R42
R45.0
R46.1
R00.8
R04.8
R06.7
R09.8
R15
R19.5
R22.1
R23.8
R27.0
R30.9
R39.8
R43.0
R45.1
R46.2
R01.0
R04.9
R06.8
R10.0
R16.0
R19.6
R22.2
R25.0
R27.8
R31
R40.0
R43.1
R45.2
R46.3
R01.1
R05
R07.0
R10.1
R16.1
R19.8
R22.3
R25.1
R29.0
R32
R40.1
R43.2
R45.3
R46.4
R01.2
R06.0
R07.1
R10.2
R16.2
R20.0
R22.4
R47.1
R50.0
R55
R61.0
R63.4
R70.0
R76.0
R47.8
R50.1
R56.0
R61.1
R63.5
R70.1
R76.1
R48.0
R50.9
R56.8
R61.9
R63.8
R71
R76.2
R48.1
R51
R58
R62.0
R64
R72
R76.8
R48.2
R52.0
R59.0
R62.8
R68.0
R73.0
R76.9
R78.0
R79.0
R78.1
R79.8
R78.2
R79.9
R78.3
R80
R78.4
R81
R78.5
R82.0
R82.5
R82.6
R82.7
R82.8
R82.9
--- END / TOTAL NO. OF CODES (this page) = 325 ---
R83.0
R48.8
R52.1
R59.1
R62.9
R68.1
R73.9
R77.0
R25.2
R29.1
R33
R40.2
R43.8
R45.4
R46.5
R02
R06.1
R07.2
R10.3
R17
R20.1
R22.7
H
Q87.5
Q90.0
Q91.6
Q92.8
Q93.8
Q96.0
Q97.3
Q98.7
I
Q87.8
Q90.1
Q91.7
Q92.9
Q93.9
Q96.1
Q97.8
Q98.8
J
Q89.0
Q90.2
Q92.0
Q93.0
Q95.0
Q96.2
Q97.9
Q98.9
I
R49.0
R52.2
R59.9
R63.0
R68.2
R74.0
R77.1
R78.6
R82.1
R83.1
R25.3
R29.2
R34
R41.0
R44.0
R45.5
R46.6
R03.0
R06.2
R07.3
R10.4
R19.0
R20.2
R22.9
J
R49.1
R52.9
R60.0
R63.1
R68.3
R74.8
R77.2
R78.7
R82.2
R83.2
R25.8
R29.3
R35
R41.1
R44.1
R45.6
R46.7
R03.1
R06.3
R07.4
R11
R19.1
R20.3
R23.0
ANNEX A - Page 16 of 31
B
S38.0
S41.0
S42.8
S44.0
S45.1
S46.7
S50.9
S20.7
S22.4
S24.2
S27.7
S31.1
S32.4
S33.7
S52.5
S54.0
S55.7
S00.1
S01.2
S02.9
S04.9
S05.9
S09.1
S11.7
S15.9
14
15
16
12
13
10
11
8
9
19
20
17
18
21
22
23
24
25
3
4
1
2
5
6
7
A
S37.9
S40.9
S42.7
S43.7
S45.0
S46.3
S50.8
S20.4
S22.3
S24.1
S27.6
S31.0
S32.3
S33.6
S52.4
S53.4
S55.2
S00.0
S01.1
S02.6
S04.8
S05.8
S09.0
S10.9
S14.6
25
26
27
28
31
32
29
30
A
R83.3
R84.3
R85.3
R86.3
R87.3
R89.3
R92
R94.0
B
R83.4
R84.4
R85.4
R86.4
R87.4
R89.4
R93.0
R94.1
CASE TYPE A
C
R83.5
R84.5
R85.5
R86.5
R87.5
R89.5
R93.1
R94.2
D
R83.6
R84.6
R85.6
R86.6
R87.6
R89.6
R93.2
R94.3
E
R83.7
R84.7
R85.7
R86.7
R87.7
R89.7
R93.3
R94.4
R
F
R83.8
R84.8
R85.8
R86.8
R87.8
R89.8
R93.4
R94.5
G
R83.9
R84.9
R85.9
R86.9
R87.9
R89.9
R93.5
R94.6
S
C D E F G H
S00.2
S01.3
S03.0
S05.0
S06.0
S09.2
S11.8
S16
S00.3
S01.4
S03.1
S05.1
S06.2
S09.7
S11.9
S19.7
S00.4
S01.5
S03.2
S05.2
S06.3
S09.8
S12.9
S19.8
S00.5
S01.7
S03.3
S05.3
S06.9
S09.9
S13.4
S19.9
S00.7
S01.8
S03.4
S05.4
S08.0
S10.0
S13.5
S20.0
S38.1
S41.1
S42.9
S44.1
S45.2
S46.8
S51.0
S20.8
S22.8
S24.3
S27.8
S31.2
S32.5
S34.0
S21.0
S22.9
S24.4
S27.9
S31.3
S32.8
S34.1
S38.2
S41.7
S43.0
S44.2
S45.3
S46.9
S51.7
S21.1
S23.0
S24.5
S30.0
S31.4
S33.0
S34.3
S39.0
S41.8
S43.1
S44.3
S45.7
S49.7
S51.8
S21.2
S23.2
S24.6
S30.1
S31.5
S33.1
S34.4
S39.8
S42.0
S43.2
S44.4
S45.8
S49.8
S51.9
S21.7
S23.3
S26.9
S30.2
S31.7
S33.2
S34.5
S39.9
S42.1
S43.3
S44.5
S45.9
S49.9
S52.0
S21.8
S23.4
S27.3
S30.7
S31.8
S33.3
S34.6
S52.6
S54.1
S52.7
S54.2
S52.8
S54.3
S52.9
S54.7
S53.0
S54.8
S53.1
S54.9
S55.8
S55.9
S56.0
S56.1
S56.2
--- END / TOTAL NO. OF CODES (this page) = 329 ---
S56.3
S40.0
S42.2
S43.4
S44.7
S46.0
S50.0
S52.1
S00.8
S01.9
S03.5
S05.5
S08.1
S10.1
S13.6
S20.1
H
R84.0
R85.0
R86.0
R87.0
R89.0
R90.0
R93.6
R94.7
I
R84.1
R85.1
R86.1
R87.1
R89.1
R90.8
R93.7
R94.8
J
R84.2
R85.2
R86.2
R87.2
R89.2
R91
R93.8
I
S40.7
S42.3
S43.5
S44.8
S46.1
S50.1
S52.2
S21.9
S23.5
S27.4
S30.8
S32.1
S33.4
S34.8
S53.2
S55.0
S56.4
S00.9
S02.2
S04.2
S05.6
S08.8
S10.7
S14.4
S20.2
J
S40.8
S42.4
S43.6
S44.9
S46.2
S50.7
S52.3
S22.2
S24.0
S27.5
S30.9
S32.2
S33.5
S36.9
S53.3
S55.1
S56.5
S01.0
S02.5
S04.7
S05.7
S08.9
S10.8
S14.5
S20.3
ANNEX A - Page 17 of 31
B
S76.2
S80.8
S82.4
S83.5
S85.1
S86.2
S90.2
S92.0
S93.2
S94.8
S96.2
S98.3
S56.8
S61.0
S62.5
S63.6
S65.0
S66.1
S67.8
S70.8
S72.4
S74.8
39
40
37
38
41
42
43
46
47
44
45
32
33
30
31
34
35
36
26
27
28
29
A
S76.1
S80.7
S82.3
S83.4
S85.0
S86.1
S90.1
S91.7
S93.1
S94.7
S96.1
S98.2
S56.7
S60.9
S62.4
S63.5
S64.9
S66.0
S67.0
S70.7
S72.3
S74.7
7
8
9
5
6
10
11
3
4
1
2
A
T00.0
T01.3
T02.9
T06.3
T09.9
T11.9
T13.9
T14.9
T17.4
T18.8
T20.4
B
T00.1
T01.6
T03.0
T06.4
T10.0
T12.0
T14.0
T15.0
T17.5
T18.9
T20.5
CASE TYPE A
D
S76.4
S81.0
S82.7
S83.7
S85.3
S86.7
S90.7
S92.2
S93.4
S95.0
S96.8
S99.7
S59.8
S61.7
S62.7
S64.0
S65.2
S66.3
S68.1
S71.0
S72.8
S75.0
E
S76.7
S81.7
S82.8
S84.0
S85.4
S86.8
S90.8
S92.3
S93.5
S95.1
S96.9
S99.8
S59.9
S61.8
S62.8
S64.1
S65.3
S66.4
S68.2
S71.1
S72.9
S75.1
S
C
S76.3
S80.9
S82.5
S83.6
S85.2
S86.3
S90.3
S92.1
S93.3
S94.9
S96.7
S98.4
S59.7
S61.1
S62.6
S63.7
S65.1
S66.2
S68.0
S70.9
S72.7
S74.9
T
C D E F G H
T00.2
T01.8
T03.1
T06.8
T10.1
T12.1
T14.1
T15.1
T00.3
T01.9
T03.2
T07
T11.0
T13.0
T14.2
T15.8
T00.6
T02.2
T03.3
T09.0
T11.1
T13.1
T14.3
T15.9
T00.8
T02.3
T03.4
T09.1
T11.2
T13.2
T14.4
T16
T00.9
T02.4
T03.8
T09.2
T11.3
T13.3
T14.5
T17.0
T01.0
T02.5
T03.9
T17.8
T19.0
T17.9
T19.1
T18.0
T19.2
T18.1
T19.3
T18.2
T19.8
T18.3
T19.9
T21.0
T21.1
T21.2
T21.3
T21.4
--- END / TOTAL NO. OF CODES (this page) = 326 ---
T21.5
T09.4
T11.4
T13.4
T14.6
T17.1
G
S79.8
S81.9
S83.0
S84.2
S85.7
S89.7
S91.0
S92.5
S94.0
S95.7
S97.1
S60.1
S62.0
S63.1
S64.3
S65.5
S66.6
S69.8
S71.8
S73.1
S75.7
F
S79.7
S81.8
S82.9
S84.1
S85.5
S86.9
S90.9
S92.4
S93.6
S95.2
S97.0
S99.9
S60.0
S61.9
S63.0
S64.2
S65.4
S66.5
S69.7
S71.7
S73.0
S75.2
H
S79.9
S82.0
S83.1
S84.7
S85.8
S89.8
S91.1
S92.7
S94.1
S95.8
S97.8
S60.2
S62.1
S63.2
S64.4
S65.7
S66.7
S69.9
S72.0
S74.0
S75.8
I
T01.1
T02.6
T04.9
T09.5
T11.5
T13.5
T14.7
T17.2
T18.4
T20.0
T21.6
J
T01.2
T02.8
T06.2
T09.8
T11.8
T13.8
T14.8
T17.3
T18.5
T20.1
T22.0
I
S80.0
S82.1
S83.2
S84.8
S85.9
S89.9
S91.2
S92.9
S94.2
S95.9
S98.0
S60.7
S62.2
S63.3
S64.7
S65.8
S66.8
S70.0
S72.1
S74.1
S75.9
J
S80.1
S82.2
S83.3
S84.9
S86.0
S90.0
S91.3
S93.0
S94.3
S96.0
S98.1
S60.8
S62.3
S63.4
S64.8
S65.9
S66.9
S70.1
S72.2
S74.2
S76.0
ANNEX A - Page 18 of 31
36
37
38
34
35
32
33
30
31
41
42
39
40
43
44
45
46
25
26
23
24
27
28
29
18
19
16
17
20
21
22
12
13
14
15
A
T39.9
T40.9
T42.3
T43.4
T44.5
T45.5
T46.5
T47.5
T48.5
T22.1
T23.6
T25.4
T27.7
T30.4
T33.2
T35.2
T36.4
T37.4
T38.6
T49.7
T50.7
T52.1
T53.4
T55
T56.9
T59.2
T60.2
T62.0
T63.5
T65.5
T67.5
T70.0
T73.2
T75.0
T79.2
B
T40.0
T41.0
T42.4
T43.5
T44.6
T45.6
T46.6
T47.6
T48.6
T22.2
T24.0
T25.5
T28.9
T30.5
T33.3
T35.3
T36.5
T37.5
T38.7
T49.8
T50.8
T52.2
T53.5
T56.0
T57.0
T59.3
T60.3
T62.1
T63.6
T65.6
T67.6
T70.1
T73.3
T75.1
T79.3
CASE TYPE A
T
C D E F G H
T40.2
T41.2
T42.6
T43.8
T44.8
T45.8
T46.8
T47.8
T49.0
T22.5
T24.2
T26.0
T29.1
T30.7
T33.5
T35.5
T36.7
T37.9
T38.9
T50.0
T51.0
T52.4
T53.7
T56.2
T57.2
T59.5
T40.3
T41.3
T42.7
T43.9
T44.9
T45.9
T46.9
T47.9
T49.1
T22.6
T24.4
T26.4
T29.4
T31.0
T33.6
T35.6
T36.8
T38.0
T39.0
T50.1
T51.1
T52.8
T53.9
T56.3
T57.3
T59.6
T40.1
T41.1
T42.5
T43.6
T44.7
T45.7
T46.7
T47.7
T48.7
T22.4
T24.1
T25.6
T29.0
T30.6
T33.4
T35.4
T36.6
T37.8
T38.8
T49.9
T50.9
T52.3
T53.6
T56.1
T57.1
T59.4
T60.4
T62.2
T63.8
T65.8
T60.8
T62.8
T63.9
T65.9
T60.9
T62.9
T64
T66
T61.0
T63.0
T65.0
T67.0
T61.1
T63.1
T65.1
T67.1
T61.2
T63.2
T65.2
T67.2
T67.7
T70.2
T73.8
T67.8
T70.3
T73.9
T67.9
T70.4
T74.0
T68
T70.8
T74.1
T69.0
T70.9
T74.2
T69.1
T71
T74.3
T75.2
T79.6
T75.3
T79.7
T75.4
T79.8
T75.8
T79.9
T78.1
T80.1
--- END / TOTAL NO. OF CODES (this page) = 350 ---
T78.4
T80.3
T40.4
T41.4
T42.8
T44.0
T45.0
T46.0
T47.0
T48.0
T49.2
T23.0
T24.5
T26.5
T29.5
T31.1
T33.7
T35.7
T36.9
T38.1
T39.1
T50.2
T51.2
T52.9
T54.0
T56.4
T57.8
T59.7
T40.5
T41.5
T43.0
T44.1
T45.1
T46.1
T47.1
T48.1
T49.3
T23.1
T24.6
T26.8
T30.0
T32.0
T33.8
T36.0
T37.0
T38.2
T39.2
T50.3
T51.3
T53.0
T54.1
T56.5
T57.9
T59.8
T40.6
T42.0
T43.1
T44.2
T45.2
T46.2
T47.2
T48.2
T49.4
T23.2
T25.0
T26.9
T30.1
T32.1
T33.9
T36.1
T37.1
T38.3
T39.3
T50.4
T51.8
T53.1
T54.2
T56.6
T58
T59.9
J
T40.8
T42.2
T43.3
T44.4
T45.4
T46.4
T47.4
T48.4
T49.6
T23.5
T25.2
T27.6
T30.3
T33.1
T35.1
T36.3
T37.3
T38.5
T39.8
T50.6
T52.0
T53.3
T54.9
T56.8
T59.1
T60.1
T61.9
T63.4
T65.4
T67.4
T69.9
T73.1
T74.9
T78.9
T80.8
I
T40.7
T42.1
T43.2
T44.3
T45.3
T46.3
T47.3
T48.3
T49.5
T23.4
T25.1
T27.3
T30.2
T33.0
T35.0
T36.2
T37.2
T38.4
T39.4
T50.5
T51.9
T53.2
T54.3
T56.7
T59.0
T60.0
T61.8
T63.3
T65.3
T67.3
T69.8
T73.0
T74.8
T78.8
T80.6
ANNEX A - Page 19 of 31
53
54
51
52
55
56
57
47
48
49
50
A
T80.9
T82.3
T83.3
T84.4
T85.4
T87.4
T88.9
T91.1
T92.3
T93.4
T95.3
B
T81.0
T82.4
T83.4
T84.5
T85.5
T87.5
T90.0
T91.2
T92.4
T93.5
T95.4
C
T81.3
T82.5
T83.5
T84.6
T85.6
T87.6
T90.1
T91.3
T92.5
T93.6
T95.8
D
T81.4
T82.6
T83.6
T84.7
T85.7
T88.0
T90.2
T91.4
T92.6
T93.8
T95.9
CASE TYPE A
E
T81.5
T82.7
T83.8
T84.8
T85.8
T88.1
T90.3
T91.5
T92.8
T93.9
T96
T
F
T81.8
T82.8
T83.9
T84.9
T85.9
T88.3
T90.4
T91.8
T92.9
T94.0
T97
G
T81.9
T82.9
T84.0
T85.0
T87.0
T88.4
T90.5
T91.9
T93.0
T94.1
T98.0
11
12
13
9
10
16
17
14
15
18
19
20
21
22
1
2
3
4
7
8
5
6
A
V23.4
V25.0
V26.3
V27.9
V29.2
V30.3
V31.4
V32.5
V33.6
V34.7
V01.0
V04.1
V09.2
V11.0
V12.3
V13.9
V15.2
V16.5
V18.1
V19.4
V20.5
V22.1
B
V23.5
V25.1
V26.4
V28.0
V29.3
V30.4
V31.5
V32.6
V33.7
V34.9
V01.1
V04.9
V09.3
V11.1
V12.4
V14.0
V15.3
V16.9
V18.2
V19.5
V20.9
V22.2
V
C D E F G H
V14.1
V15.4
V17.0
V18.3
V19.6
V21.0
V22.3
V01.9
V05.0
V09.9
V11.2
V12.5
V14.2
V15.5
V17.1
V18.4
V19.8
V21.1
V22.4
V02.0
V05.1
V10.0
V11.3
V12.9
V14.3
V15.9
V17.2
V18.5
V19.9
V21.2
V22.5
V02.1
V05.9
V10.1
V11.4
V13.0
V14.4
V16.0
V17.3
V18.9
V20.0
V21.3
V22.9
V02.9
V06.0
V10.2
V11.5
V13.1
V14.5
V16.1
V17.4
V19.0
V20.1
V21.4
V23.0
V03.0
V06.1
V10.3
V11.9
V13.2
V23.9
V25.2
V26.5
V28.1
V29.4
V30.5
V31.6
V24.0
V25.3
V26.9
V28.2
V29.5
V30.6
V31.7
V24.1
V25.4
V27.0
V28.3
V29.6
V30.7
V31.9
V24.2
V25.5
V27.1
V28.4
V29.8
V30.9
V32.0
V24.3
V25.9
V27.2
V28.5
V29.9
V31.0
V32.1
V32.7
V33.9
V32.9
V34.0
V33.0
V34.1
V33.1
V34.2
V33.2
V34.3
V33.3
V34.4
V35.0
V35.1
V35.2
V35.3
V35.4
--- END / TOTAL NO. OF CODES (this page) = 330 ---
V35.5
V24.4
V26.0
V27.3
V28.9
V30.0
V31.1
V32.2
V14.9
V16.2
V17.5
V19.1
V20.2
V21.5
V23.1
V03.1
V06.9
V10.4
V12.0
V13.3
H
T82.0
T83.0
T84.1
T85.1
T87.1
T88.5
T90.8
T92.0
T93.1
T95.0
T98.1
I
T82.1
T83.1
T84.2
T85.2
T87.2
T88.7
T90.9
T92.1
T93.2
T95.1
T98.2
J
V24.9
V26.2
V27.5
V29.1
V30.2
V31.3
V32.4
V33.5
V34.6
V35.7
V15.1
V16.4
V18.0
V19.3
V20.4
V22.0
V23.3
V04.0
V09.1
V10.9
V12.2
V13.5
I
V24.5
V26.1
V27.4
V29.0
V30.1
V31.2
V32.3
V33.4
V34.5
V35.6
V15.0
V16.3
V17.9
V19.2
V20.3
V21.9
V23.2
V03.9
V09.0
V10.5
V12.1
V13.4
J
T82.2
T83.2
T84.3
T85.3
T87.3
T88.8
T91.0
T92.2
T93.3
T95.2
T98.3
ANNEX A - Page 20 of 31
47
48
49
45
46
43
44
41
42
52
53
50
51
54
55
56
57
36
37
34
35
38
39
40
29
30
27
28
31
32
33
23
24
25
26
A
V47.0
V48.1
V49.2
V50.3
V51.4
V52.5
V53.6
V54.7
V55.9
V35.9
V37.0
V38.1
V39.2
V40.3
V41.4
V42.5
V43.6
V44.7
V45.9
V57.0
V58.1
V59.2
V60.3
V61.4
V62.5
V63.6
V64.7
V65.9
V67.0
V68.1
V69.2
V70.3
V71.4
V72.5
V73.6
B
V47.1
V48.2
V49.3
V50.4
V51.5
V52.6
V53.7
V54.9
V56.0
V36.0
V37.1
V38.2
V39.3
V40.4
V41.5
V42.6
V43.7
V44.9
V46.0
V57.1
V58.2
V59.3
V60.4
V61.5
V62.6
V63.7
V64.9
V66.0
V67.1
V68.2
V69.3
V70.4
V71.5
V72.6
V73.7
CASE TYPE A
V
C D E F G H
V47.3
V48.4
V49.5
V50.6
V51.7
V52.9
V54.0
V55.1
V56.2
V36.2
V37.3
V38.4
V39.5
V40.6
V41.7
V42.9
V44.0
V45.1
V46.2
V57.3
V58.4
V59.5
V60.6
V61.7
V62.9
V64.0
V47.4
V48.5
V49.6
V50.7
V51.9
V53.0
V54.1
V55.2
V56.3
V36.3
V37.4
V38.5
V39.6
V40.7
V41.9
V43.0
V44.1
V45.2
V46.3
V57.4
V58.5
V59.6
V60.7
V61.9
V63.0
V64.1
V47.2
V48.3
V49.4
V50.5
V51.6
V52.7
V53.9
V55.0
V56.1
V36.1
V37.2
V38.3
V39.4
V40.5
V41.6
V42.7
V43.9
V45.0
V46.1
V57.2
V58.3
V59.4
V60.5
V61.6
V62.7
V63.9
V65.0
V66.1
V67.2
V68.3
V65.1
V66.2
V67.3
V68.4
V65.2
V66.3
V67.4
V68.5
V65.3
V66.4
V67.5
V68.6
V65.4
V66.5
V67.6
V68.7
V65.5
V66.6
V67.7
V68.9
V69.4
V70.5
V71.6
V69.5
V70.6
V71.7
V69.6
V70.7
V71.9
V69.8
V70.9
V72.0
V69.9
V71.0
V72.1
V70.0
V71.1
V72.2
V72.7
V73.9
V72.9
V74.0
V73.0
V74.1
V73.1
V74.2
V73.2
V74.3
--- END / TOTAL NO. OF CODES (this page) = 350 ---
V73.3
V74.4
V47.5
V48.6
V49.8
V50.9
V52.0
V53.1
V54.2
V55.3
V56.4
V36.4
V37.5
V38.6
V39.8
V40.9
V42.0
V43.1
V44.2
V45.3
V46.4
V57.5
V58.6
V59.8
V60.9
V62.0
V63.1
V64.2
V47.6
V48.7
V49.9
V51.0
V52.1
V53.2
V54.3
V55.4
V56.5
V36.5
V37.6
V38.7
V39.9
V41.0
V42.1
V43.2
V44.3
V45.4
V46.5
V57.6
V58.7
V59.9
V61.0
V62.1
V63.2
V64.3
V47.7
V48.9
V50.0
V51.1
V52.2
V53.3
V54.4
V55.5
V56.6
V36.6
V37.7
V38.9
V40.0
V41.1
V42.2
V43.3
V44.4
V45.5
V46.6
V57.7
V58.9
V60.0
V61.1
V62.2
V63.3
V64.4
J
V48.0
V49.1
V50.2
V51.3
V52.4
V53.5
V54.6
V55.7
V56.9
V36.9
V38.0
V39.1
V40.2
V41.3
V42.4
V43.5
V44.6
V45.7
V46.9
V58.0
V59.1
V60.2
V61.3
V62.4
V63.5
V64.6
V65.7
V66.9
V68.0
V69.1
V70.2
V71.3
V72.4
V73.5
V74.6
I
V47.9
V49.0
V50.1
V51.2
V52.3
V53.4
V54.5
V55.6
V56.7
V36.7
V37.9
V39.0
V40.1
V41.2
V42.3
V43.4
V44.5
V45.6
V46.7
V57.9
V59.0
V60.1
V61.2
V62.3
V63.4
V64.5
V65.6
V66.7
V67.9
V69.0
V70.1
V71.2
V72.3
V73.4
V74.5
ANNEX A - Page 21 of 31
CASE TYPE A
71
72
69
70
73
74
75
76
77
78
64
65
62
63
66
67
68
58
59
60
61
A
V85.5
V86.6
V87.7
V88.7
V90.2
V91.2
V92.2
V93.2
V94.2
V95.2
V97.0
V74.7
V75.9
V77.0
V78.1
V79.2
V80.3
V81.3
V82.3
V83.3
V84.4
C
V85.7
V86.9
V87.9
V88.9
V90.4
V91.4
V92.4
V93.4
V94.4
V95.4
V97.2
V75.0
V76.1
V77.2
V78.3
V79.4
V80.5
V81.5
V82.5
V83.5
V84.6
B
V85.6
V86.7
V87.8
V88.8
V90.3
V91.3
V92.3
V93.3
V94.3
V95.3
V97.1
V74.9
V76.0
V77.1
V78.2
V79.3
V80.4
V81.4
V82.4
V83.4
V84.5
D
V85.9
V87.0
V88.0
V89.0
V90.5
V91.5
V92.5
V93.5
V94.5
V95.8
V97.3
V75.1
V76.2
V77.3
V78.4
V79.5
V80.6
V81.6
V82.6
V83.6
V84.7
6
7
4
5
1
2
3
8
9
10
11
12
A
W00.0
W01.0
W02.0
W03.0
W04.0
W05.0
W06.0
W07.0
W08.0
W09.0
W10.0
W11.0
B
W00.1
W01.1
W02.1
W03.1
W04.1
W05.1
W06.1
W07.1
W08.1
W09.1
W10.1
W11.1
E
V86.0
V87.1
V88.1
V89.1
V90.6
V91.6
V92.6
V93.6
V94.6
V95.9
V97.8
V75.2
V76.3
V77.4
V78.5
V79.6
V80.7
V81.7
V82.7
V83.7
V84.9
V
F
V86.1
V87.2
V88.2
V89.2
V90.7
V91.7
V92.7
V93.7
V94.7
V96.0
V98
V75.3
V76.4
V77.5
V78.6
V79.8
V80.8
V81.8
V82.8
V83.9
V85.0
W
C D E F G H
W00.2
W01.2
W02.2
W03.2
W04.2
W05.2
W06.2
W07.2
W08.2
W00.3
W01.3
W02.3
W03.3
W04.3
W05.3
W06.3
W07.3
W08.3
W00.4
W01.4
W02.4
W03.4
W04.4
W05.4
W06.4
W07.4
W08.4
W00.5
W01.5
W02.5
W03.5
W04.5
W05.5
W06.5
W07.5
W08.5
W00.6
W01.6
W02.6
W03.6
W04.6
W05.6
W06.6
W07.6
W08.6
W00.7
W01.7
W02.7
W03.7
W09.2
W10.2
W09.3
W10.3
W09.4
W10.4
W09.5
W10.5
W09.6
W10.6
W09.7
W10.7
W11.2
W11.3
W11.4
W11.5
W11.6
--- END / TOTAL NO. OF CODES (this page) = 327 ---
W11.7
W04.7
W05.7
W06.7
W07.7
W08.7
G
V86.2
V87.3
V88.3
V89.3
V90.8
V91.8
V92.8
V93.8
V94.8
V96.1
V99
V75.4
V76.5
V77.6
V78.7
V79.9
V80.9
V81.9
V82.9
V84.0
V85.1
H
V86.3
V87.4
V88.4
V89.9
V90.9
V91.9
V92.9
V93.9
V94.9
V96.2
V75.5
V76.6
V77.7
V78.9
V80.0
V81.0
V82.0
V83.0
V84.1
V85.2
J
V86.5
V87.6
V88.6
V90.1
V91.1
V92.1
V93.1
V94.1
V95.1
V96.9
V75.7
V76.9
V78.0
V79.1
V80.2
V81.2
V82.2
V83.2
V84.3
V85.4
I
V86.4
V87.5
V88.5
V90.0
V91.0
V92.0
V93.0
V94.0
V95.0
V96.8
V75.6
V76.7
V77.9
V79.0
V80.1
V81.1
V82.1
V83.1
V84.2
V85.3
I
W00.8
W01.8
W02.8
W03.8
W04.8
W05.8
W06.8
W07.8
W08.8
W09.8
W10.8
W11.8
J
W00.9
W01.9
W02.9
W03.9
W04.9
W05.9
W06.9
W07.9
W08.9
W09.9
W10.9
W11.9
ANNEX A - Page 22 of 31
37
38
39
35
36
33
34
31
32
42
43
40
41
44
45
46
47
26
27
24
25
28
29
30
19
20
17
18
21
22
23
13
14
15
16
A
W22.0
W23.0
W24.0
W25.0
W26.0
W27.0
W28.0
W29.0
W30.0
W12.0
W13.0
W14.0
W15.0
W16.0
W17.0
W18.0
W19.0
W20.0
W21.0
W31.0
W32.0
W33.0
W34.0
W35.0
W36.0
W37.0
W38.0
W39.0
W40.0
W41.0
W42.0
W43.0
W44.0
W45.0
W49.0
B
W22.1
W23.1
W24.1
W25.1
W26.1
W27.1
W28.1
W29.1
W30.1
W12.1
W13.1
W14.1
W15.1
W16.1
W17.1
W18.1
W19.1
W20.1
W21.1
W31.1
W32.1
W33.1
W34.1
W35.1
W36.1
W37.1
W38.1
W39.1
W40.1
W41.1
W42.1
W43.1
W44.1
W45.1
W49.1
CASE TYPE A
W
C D E F G H
W22.3
W23.3
W24.3
W25.3
W26.3
W27.3
W28.3
W29.3
W30.3
W12.3
W13.3
W14.3
W15.3
W16.3
W17.3
W18.3
W19.3
W20.3
W21.3
W31.3
W32.3
W33.3
W34.3
W35.3
W36.3
W37.3
W22.4
W23.4
W24.4
W25.4
W26.4
W27.4
W28.4
W29.4
W30.4
W12.4
W13.4
W14.4
W15.4
W16.4
W17.4
W18.4
W19.4
W20.4
W21.4
W31.4
W32.4
W33.4
W34.4
W35.4
W36.4
W37.4
W22.2
W23.2
W24.2
W25.2
W26.2
W27.2
W28.2
W29.2
W30.2
W12.2
W13.2
W14.2
W15.2
W16.2
W17.2
W18.2
W19.2
W20.2
W21.2
W31.2
W32.2
W33.2
W34.2
W35.2
W36.2
W37.2
W38.2
W39.2
W40.2
W41.2
W38.3
W39.3
W40.3
W41.3
W38.4
W39.4
W40.4
W41.4
W38.5
W39.5
W40.5
W41.5
W38.6
W39.6
W40.6
W41.6
W38.7
W39.7
W40.7
W41.7
W42.2
W43.2
W44.2
W42.3
W43.3
W44.3
W42.4
W43.4
W44.4
W42.5
W43.5
W44.5
W42.6
W43.6
W44.6
W42.7
W43.7
W44.7
W45.2
W49.2
W45.3
W49.3
W45.4
W49.4
W45.5
W49.5
W45.6
W49.6
--- END / TOTAL NO. OF CODES (this page) = 350 ---
W45.7
W49.7
W22.5
W23.5
W24.5
W25.5
W26.5
W27.5
W28.5
W29.5
W30.5
W12.5
W13.5
W14.5
W15.5
W16.5
W17.5
W18.5
W19.5
W20.5
W21.5
W31.5
W32.5
W33.5
W34.5
W35.5
W36.5
W37.5
W22.6
W23.6
W24.6
W25.6
W26.6
W27.6
W28.6
W29.6
W30.6
W12.6
W13.6
W14.6
W15.6
W16.6
W17.6
W18.6
W19.6
W20.6
W21.6
W31.6
W32.6
W33.6
W34.6
W35.6
W36.6
W37.6
W22.7
W23.7
W24.7
W25.7
W26.7
W27.7
W28.7
W29.7
W30.7
W12.7
W13.7
W14.7
W15.7
W16.7
W17.7
W18.7
W19.7
W20.7
W21.7
W31.7
W32.7
W33.7
W34.7
W35.7
W36.7
W37.7
J
W22.9
W23.9
W24.9
W25.9
W26.9
W27.9
W28.9
W29.9
W30.9
W12.9
W13.9
W14.9
W15.9
W16.9
W17.9
W18.9
W19.9
W20.9
W21.9
W31.9
W32.9
W33.9
W34.9
W35.9
W36.9
W37.9
W38.9
W39.9
W40.9
W41.9
W42.9
W43.9
W44.9
W45.9
W49.9
I
W22.8
W23.8
W24.8
W25.8
W26.8
W27.8
W28.8
W29.8
W30.8
W12.8
W13.8
W14.8
W15.8
W16.8
W17.8
W18.8
W19.8
W20.8
W21.8
W31.8
W32.8
W33.8
W34.8
W35.8
W36.8
W37.8
W38.8
W39.8
W40.8
W41.8
W42.8
W43.8
W44.8
W45.8
W49.8
ANNEX A - Page 23 of 31
72
73
74
70
71
68
69
66
67
77
78
75
76
79
80
81
82
61
62
59
60
63
64
65
54
55
52
53
56
57
58
48
49
50
51
A
W60.0
W64.0
W65.0
W66.0
W67.0
W68.0
W69.0
W70.0
W73.0
W50.0
W51.0
W52.0
W53.0
W54.0
W55.0
W56.0
W57.0
W58.0
W59.0
W74.0
W75.0
W76.0
W77.0
W78.0
W79.0
W80.0
W81.0
W83.0
W84.0
W85.0
W86.0
W87.0
W88.0
W89.0
W90.0
B
W60.1
W64.1
W65.1
W66.1
W67.1
W68.1
W69.1
W70.1
W73.1
W50.1
W51.1
W52.1
W53.1
W54.1
W55.1
W56.1
W57.1
W58.1
W59.1
W74.1
W75.1
W76.1
W77.1
W78.1
W79.1
W80.1
W81.1
W83.1
W84.1
W85.1
W86.1
W87.1
W88.1
W89.1
W90.1
CASE TYPE A
W
C D E F G H
W60.3
W64.3
W65.3
W66.3
W67.3
W68.3
W69.3
W70.3
W73.3
W50.3
W51.3
W52.3
W53.3
W54.3
W55.3
W56.3
W57.3
W58.3
W59.3
W74.3
W75.3
W76.3
W77.3
W78.3
W79.3
W80.3
W60.4
W64.4
W65.4
W66.4
W67.4
W68.4
W69.4
W70.4
W73.4
W50.4
W51.4
W52.4
W53.4
W54.4
W55.4
W56.4
W57.4
W58.4
W59.4
W74.4
W75.4
W76.4
W77.4
W78.4
W79.4
W80.4
W60.2
W64.2
W65.2
W66.2
W67.2
W68.2
W69.2
W70.2
W73.2
W50.2
W51.2
W52.2
W53.2
W54.2
W55.2
W56.2
W57.2
W58.2
W59.2
W74.2
W75.2
W76.2
W77.2
W78.2
W79.2
W80.2
W81.2
W83.2
W84.2
W85.2
W81.3
W83.3
W84.3
W85.3
W81.4
W83.4
W84.4
W85.4
W81.5
W83.5
W84.5
W85.5
W81.6
W83.6
W84.6
W85.6
W81.7
W83.7
W84.7
W85.7
W86.2
W87.2
W88.2
W86.3
W87.3
W88.3
W86.4
W87.4
W88.4
W86.5
W87.5
W88.5
W86.6
W87.6
W88.6
W86.7
W87.7
W88.7
W89.2
W90.2
W89.3
W90.3
W89.4
W90.4
W89.5
W90.5
W89.6
W90.6
--- END / TOTAL NO. OF CODES (this page) = 350 ---
W89.7
W90.7
W60.5
W64.5
W65.5
W66.5
W67.5
W68.5
W69.5
W70.5
W73.5
W50.5
W51.5
W52.5
W53.5
W54.5
W55.5
W56.5
W57.5
W58.5
W59.5
W74.5
W75.5
W76.5
W77.5
W78.5
W79.5
W80.5
W60.6
W64.6
W65.6
W66.6
W67.6
W68.6
W69.6
W70.6
W73.6
W50.6
W51.6
W52.6
W53.6
W54.6
W55.6
W56.6
W57.6
W58.6
W59.6
W74.6
W75.6
W76.6
W77.6
W78.6
W79.6
W80.6
W60.7
W64.7
W65.7
W66.7
W67.7
W68.7
W69.7
W70.7
W73.7
W50.7
W51.7
W52.7
W53.7
W54.7
W55.7
W56.7
W57.7
W58.7
W59.7
W74.7
W75.7
W76.7
W77.7
W78.7
W79.7
W80.7
J
W60.9
W64.9
W65.9
W66.9
W67.9
W68.9
W69.9
W70.9
W73.9
W50.9
W51.9
W52.9
W53.9
W54.9
W55.9
W56.9
W57.9
W58.9
W59.9
W74.9
W75.9
W76.9
W77.9
W78.9
W79.9
W80.9
W81.9
W83.9
W84.9
W85.9
W86.9
W87.9
W88.9
W89.9
W90.9
I
W60.8
W64.8
W65.8
W66.8
W67.8
W68.8
W69.8
W70.8
W73.8
W50.8
W51.8
W52.8
W53.8
W54.8
W55.8
W56.8
W57.8
W58.8
W59.8
W74.8
W75.8
W76.8
W77.8
W78.8
W79.8
W80.8
W81.8
W83.8
W84.8
W85.8
W86.8
W87.8
W88.8
W89.8
W90.8
ANNEX A - Page 24 of 31
83
84
85
86
87
A
W91.0
W92.0
W93.0
W94.0
W99.0
B
W91.1
W92.1
W93.1
W94.1
W99.1
C
W91.2
W92.2
W93.2
W94.2
W99.2
D
W91.3
W92.3
W93.3
W94.3
W99.3
B
X19.4
X20.4
X21.4
X22.4
X23.4
X24.4
X25.4
X26.4
X27.4
X28.4
X12.3
X13.3
X14.4
X15.4
X16.4
X17.4
X18.4
X00.1
X01.1
X02.1
X03.1
X04.1
X05.1
X06.1
X08.1
X09.1
X10.1
X11.2
17
18
19
15
16
13
14
11
12
22
23
20
21
24
25
26
27
28
6
7
4
5
1
2
3
8
9
10
A
X19.3
X20.3
X21.3
X22.3
X23.3
X24.3
X25.3
X26.3
X27.3
X28.3
X12.2
X13.2
X14.3
X15.3
X16.3
X17.3
X18.3
X00.0
X01.0
X02.0
X03.0
X04.0
X05.0
X06.0
X08.0
X09.0
X10.0
X11.0
CASE TYPE A
E
W91.4
W92.4
W93.4
W94.4
W99.4
W
F
W91.5
W92.5
W93.5
W94.5
W99.5
G
W91.6
W92.6
W93.6
W94.6
W99.6
H
W91.7
W92.7
W93.7
W94.7
W99.7
I
W91.8
W92.8
W93.8
W94.8
W99.8
J
W91.9
W92.9
W93.9
W94.9
W99.9
X
C D E F G H
X12.4
X13.4
X14.5
X15.5
X16.5
X17.5
X18.5
X00.2
X01.2
X02.2
X03.2
X04.2
X05.2
X06.2
X08.2
X09.2
X10.2
X11.3
X12.5
X13.5
X14.6
X15.6
X16.6
X17.6
X18.6
X00.3
X01.3
X02.3
X03.3
X04.3
X05.3
X06.3
X08.3
X09.3
X10.3
X11.4
X12.6
X13.6
X14.7
X15.7
X16.7
X17.7
X18.7
X00.4
X01.4
X02.4
X03.4
X04.4
X05.4
X06.4
X08.4
X09.4
X10.4
X11.5
X12.7
X13.7
X14.8
X15.8
X16.8
X17.8
X18.8
X00.5
X01.5
X02.5
X03.5
X04.5
X05.5
X06.5
X08.5
X09.5
X10.5
X11.6
X12.8
X13.8
X14.9
X15.9
X16.9
X17.9
X18.9
X00.6
X01.6
X02.6
X03.6
X04.6
X05.6
X06.6
X08.6
X09.6
X10.6
X11.7
X19.5
X20.5
X21.5
X22.5
X23.5
X24.5
X25.5
X19.6
X20.6
X21.6
X22.6
X23.6
X24.6
X25.6
X19.7
X20.7
X21.7
X22.7
X23.7
X24.7
X25.7
X19.8
X20.8
X21.8
X22.8
X23.8
X24.8
X25.8
X19.9
X20.9
X21.9
X22.9
X23.9
X24.9
X25.9
X26.5
X27.5
X26.6
X27.6
X26.7
X27.7
X26.8
X27.8
X26.9
X27.9
X27.0
X28.0
X28.5
X28.6
X28.7
X28.8
X28.9
--- END / TOTAL NO. OF CODES (this page) = 330 ---
X29.0
X20.0
X21.0
X22.0
X23.0
X24.0
X25.0
X26.0
X12.9
X13.9
X15.0
X16.0
X17.0
X18.0
X19.0
X00.7
X01.7
X02.7
X03.7
X04.7
X05.7
X06.7
X08.7
X09.7
X10.7
X11.8
I
X20.1
X21.1
X22.1
X23.1
X24.1
X25.1
X26.1
X27.1
X28.1
X29.1
X13.0
X14.0
X15.1
X16.1
X17.1
X18.1
X19.1
X00.8
X01.8
X02.8
X03.8
X04.8
X05.8
X06.8
X08.8
X09.8
X10.8
X11.9
J
X20.2
X21.2
X22.2
X23.2
X24.2
X25.2
X26.2
X27.2
X28.2
X29.2
X13.1
X14.2
X15.2
X16.2
X17.2
X18.2
X19.2
X00.9
X01.9
X02.9
X03.9
X04.9
X05.9
X06.9
X08.9
X09.9
X10.9
X12.0
ANNEX A - Page 25 of 31
53
54
55
51
52
49
50
47
48
58
59
56
57
60
61
62
63
42
43
40
41
44
45
46
35
36
33
34
37
38
39
29
30
31
32
A
X39.3
X40.3
X41.3
X42.3
X43.3
X44.3
X45.3
X46.3
X47.3
X29.3
X30.3
X31.3
X32.3
X33.3
X34.3
X35.3
X36.3
X37.3
X38.3
X48.3
X49.3
X50.3
X58.3
X59.3
X60.3
X61.3
X62.3
X63.3
X64.3
X65.3
X66.3
X67.3
X68.3
X69.3
X70.3
B
X39.4
X40.4
X41.4
X42.4
X43.4
X44.4
X45.4
X46.4
X47.4
X29.4
X30.4
X31.4
X32.4
X33.4
X34.4
X35.4
X36.4
X37.4
X38.4
X48.4
X49.4
X50.4
X58.4
X59.4
X60.4
X61.4
X62.4
X63.4
X64.4
X65.4
X66.4
X67.4
X68.4
X69.4
X70.4
CASE TYPE A
X
C D E F G H
X39.6
X40.6
X41.6
X42.6
X43.6
X44.6
X45.6
X46.6
X47.6
X29.6
X30.6
X31.6
X32.6
X33.6
X34.6
X35.6
X36.6
X37.6
X38.6
X48.6
X49.6
X50.6
X58.6
X59.6
X60.6
X61.6
X39.7
X40.7
X41.7
X42.7
X43.7
X44.7
X45.7
X46.7
X47.7
X29.7
X30.7
X31.7
X32.7
X33.7
X34.7
X35.7
X36.7
X37.7
X38.7
X48.7
X49.7
X50.7
X58.7
X59.7
X60.7
X61.7
X39.5
X40.5
X41.5
X42.5
X43.5
X44.5
X45.5
X46.5
X47.5
X29.5
X30.5
X31.5
X32.5
X33.5
X34.5
X35.5
X36.5
X37.5
X38.5
X48.5
X49.5
X50.5
X58.5
X59.5
X60.5
X61.5
X62.5
X63.5
X64.5
X65.5
X62.6
X63.6
X64.6
X65.6
X62.7
X63.7
X64.7
X65.7
X62.8
X63.8
X64.8
X65.8
X62.9
X63.9
X64.9
X65.9
X63.0
X64.0
X65.0
X66.0
X66.5
X67.5
X68.5
X66.6
X67.6
X68.6
X66.7
X67.7
X68.7
X66.8
X67.8
X68.8
X66.9
X67.9
X68.9
X67.0
X68.0
X69.0
X69.5
X70.5
X69.6
X70.6
X69.7
X70.7
X69.8
X70.8
X69.9
X70.9
--- END / TOTAL NO. OF CODES (this page) = 350 ---
X70.0
X71.0
X39.8
X40.8
X41.8
X42.8
X43.8
X44.8
X45.8
X46.8
X47.8
X29.8
X30.8
X31.8
X32.8
X33.8
X34.8
X35.8
X36.8
X37.8
X38.8
X48.8
X49.8
X50.8
X58.8
X59.8
X60.8
X61.8
X39.9
X40.9
X41.9
X42.9
X43.9
X44.9
X45.9
X46.9
X47.9
X29.9
X30.9
X31.9
X32.9
X33.9
X34.9
X35.9
X36.9
X37.9
X38.9
X48.9
X49.9
X50.9
X58.9
X59.9
X60.9
X61.9
X40.0
X41.0
X42.0
X43.0
X44.0
X45.0
X46.0
X47.0
X48.0
X30.0
X31.0
X32.0
X33.0
X34.0
X35.0
X36.0
X37.0
X38.0
X39.0
X49.0
X50.0
X58.0
X59.0
X60.0
X61.0
X62.0
J
X40.2
X41.2
X42.2
X43.2
X44.2
X45.2
X46.2
X47.2
X48.2
X30.2
X31.2
X32.2
X33.2
X34.2
X35.2
X36.2
X37.2
X38.2
X39.2
X49.2
X50.2
X58.2
X59.2
X60.2
X61.2
X62.2
X63.2
X64.2
X65.2
X66.2
X67.2
X68.2
X69.2
X70.2
X71.2
I
X40.1
X41.1
X42.1
X43.1
X44.1
X45.1
X46.1
X47.1
X48.1
X30.1
X31.1
X32.1
X33.1
X34.1
X35.1
X36.1
X37.1
X38.1
X39.1
X49.1
X50.1
X58.1
X59.1
X60.1
X61.1
X62.1
X63.1
X64.1
X65.1
X66.1
X67.1
X68.1
X69.1
X70.1
X71.1
ANNEX A - Page 26 of 31
88
89
90
86
87
91
92
84
85
82
83
77
78
75
76
79
80
81
70
71
68
69
72
73
74
64
65
66
67
A
X81.3
X82.3
X83.3
X84.3
X85.3
X86.3
X87.3
X88.3
X89.3
X71.3
X72.3
X73.3
X74.3
X75.3
X76.3
X77.3
X78.3
X79.3
X80.3
X90.3
X91.3
X92.3
X93.3
X94.3
X95.3
X96.3
X97.3
X98.3
X99.3
B
X81.4
X82.4
X83.4
X84.4
X85.4
X86.4
X87.4
X88.4
X89.4
X71.4
X72.4
X73.4
X74.4
X75.4
X76.4
X77.4
X78.4
X79.4
X80.4
X90.4
X91.4
X92.4
X93.4
X94.4
X95.4
X96.4
X97.4
X98.4
X99.4
3
4
1
2
A
Y00.0
Y01.0
Y02.0
Y03.0
B
Y00.1
Y01.1
Y02.1
Y03.1
CASE TYPE A
D
X81.6
X82.6
X83.6
X84.6
X85.6
X86.6
X87.6
X88.6
X89.6
X71.6
X72.6
X73.6
X74.6
X75.6
X76.6
X77.6
X78.6
X79.6
X80.6
X90.6
X91.6
X92.6
X93.6
X94.6
X95.6
X96.6
X97.6
X98.6
X99.6
C
X81.5
X82.5
X83.5
X84.5
X85.5
X86.5
X87.5
X88.5
X89.5
X71.5
X72.5
X73.5
X74.5
X75.5
X76.5
X77.5
X78.5
X79.5
X80.5
X90.5
X91.5
X92.5
X93.5
X94.5
X95.5
X96.5
X97.5
X98.5
X99.5
Y
C D E F G H
Y00.2
Y01.2
Y02.2
Y00.3
Y01.3
Y02.3
Y00.4
Y01.4
Y02.4
Y00.5
Y01.5
Y02.5
Y00.6
Y01.6
Y02.6
Y00.7
Y01.7
Y02.7
Y03.2
Y03.3
Y03.4
Y03.5
Y03.6
--- END / TOTAL NO. OF CODES (this page) = 327 ---
Y03.7
H
X82.0
X83.0
X84.0
X85.0
X86.0
X87.0
X88.0
X89.0
X90.0
X91.0
X92.0
X93.0
X94.0
X95.0
X96.0
X97.0
X98.0
X99.0
X72.0
X73.0
X74.0
X75.0
X76.0
X77.0
X78.0
X79.0
X80.0
X81.0
G
X81.9
X82.9
X83.9
X84.9
X85.9
X86.9
X87.9
X88.9
X89.9
X71.9
X72.9
X73.9
X74.9
X75.9
X76.9
X77.9
X78.9
X79.9
X80.9
X90.9
X91.9
X92.9
X93.9
X94.9
X95.9
X96.9
X97.9
X98.9
X99.9
E
X81.7
X82.7
X83.7
X84.7
X85.7
X86.7
X87.7
X88.7
X89.7
X71.7
X72.7
X73.7
X74.7
X75.7
X76.7
X77.7
X78.7
X79.7
X80.7
X90.7
X91.7
X92.7
X93.7
X94.7
X95.7
X96.7
X97.7
X98.7
X99.7
X
F
X81.8
X82.8
X83.8
X84.8
X85.8
X86.8
X87.8
X88.8
X89.8
X71.8
X72.8
X73.8
X74.8
X75.8
X76.8
X77.8
X78.8
X79.8
X80.8
X90.8
X91.8
X92.8
X93.8
X94.8
X95.8
X96.8
X97.8
X98.8
X99.8
I
Y00.8
Y01.8
Y02.8
Y03.8
J
Y00.9
Y01.9
Y02.9
Y03.9
J
X82.2
X83.2
X84.2
X85.2
X86.2
X87.2
X88.2
X89.2
X90.2
X91.2
X92.2
X93.2
X94.2
X95.2
X96.2
X97.2
X98.2
X99.2
X72.2
X73.2
X74.2
X75.2
X76.2
X77.2
X78.2
X79.2
X80.2
X81.2
I
X82.1
X83.1
X84.1
X85.1
X86.1
X87.1
X88.1
X89.1
X90.1
X91.1
X92.1
X93.1
X94.1
X95.1
X96.1
X97.1
X98.1
X99.1
X72.1
X73.1
X74.1
X75.1
X76.1
X77.1
X78.1
X79.1
X80.1
X81.1
ANNEX A - Page 27 of 31
29
30
31
27
28
25
26
23
24
34
35
32
33
36
37
38
39
18
19
16
17
20
21
22
11
12
9
10
13
14
15
5
6
7
8
A
Y14.9
Y15.9
Y16.9
Y17.9
Y18.9
Y19.9
Y20.9
Y21.9
Y22.9
Y04.0
Y05.0
Y06.0
Y07.9
Y08.9
Y09.9
Y10.9
Y11.9
Y12.9
Y13.9
Y23.9
Y24.9
Y25.9
Y26.9
Y27.9
Y28.9
Y29.9
Y30.9
Y31.9
Y32.9
Y33.9
Y34.9
Y36.1
Y40.1
Y41.1
Y42.3
B
Y15.0
Y16.0
Y17.0
Y18.0
Y19.0
Y20.0
Y21.0
Y22.0
Y23.0
Y04.1
Y05.1
Y06.1
Y08.0
Y09.0
Y10.0
Y11.0
Y12.0
Y13.0
Y14.0
Y24.0
Y25.0
Y26.0
Y27.0
Y28.0
Y29.0
Y30.0
Y31.0
Y32.0
Y33.0
Y34.0
Y35.0
Y36.2
Y40.2
Y41.2
Y42.4
CASE TYPE A
Y
C D E F G H
Y15.2
Y16.2
Y17.2
Y18.2
Y19.2
Y20.2
Y21.2
Y22.2
Y23.2
Y04.3
Y05.3
Y06.8
Y08.2
Y09.2
Y10.2
Y11.2
Y12.2
Y13.2
Y14.2
Y24.2
Y25.2
Y26.2
Y27.2
Y28.2
Y29.2
Y30.2
Y15.3
Y16.3
Y17.3
Y18.3
Y19.3
Y20.3
Y21.3
Y22.3
Y23.3
Y04.4
Y05.4
Y06.9
Y08.3
Y09.3
Y10.3
Y11.3
Y12.3
Y13.3
Y14.3
Y24.3
Y25.3
Y26.3
Y27.3
Y28.3
Y29.3
Y30.3
Y15.1
Y16.1
Y17.1
Y18.1
Y19.1
Y20.1
Y21.1
Y22.1
Y23.1
Y04.2
Y05.2
Y06.2
Y08.1
Y09.1
Y10.1
Y11.1
Y12.1
Y13.1
Y14.1
Y24.1
Y25.1
Y26.1
Y27.1
Y28.1
Y29.1
Y30.1
Y31.1
Y32.1
Y33.1
Y34.1
Y31.2
Y32.2
Y33.2
Y34.2
Y31.3
Y32.3
Y33.3
Y34.3
Y31.4
Y32.4
Y33.4
Y34.4
Y31.5
Y32.5
Y33.5
Y34.5
Y31.6
Y32.6
Y33.6
Y34.6
Y35.1
Y36.3
Y40.3
Y35.2
Y36.4
Y40.4
Y35.3
Y36.5
Y40.5
Y35.4
Y36.6
Y40.6
Y35.5
Y36.7
Y40.7
Y35.6
Y36.8
Y40.8
Y41.3
Y42.5
Y41.4
Y42.6
Y41.5
Y42.7
Y41.8
Y42.8
Y41.9
Y42.9
--- END / TOTAL NO. OF CODES (this page) = 350 ---
Y42.0
Y43.0
Y15.4
Y16.4
Y17.4
Y18.4
Y19.4
Y20.4
Y21.4
Y22.4
Y23.4
Y04.5
Y05.5
Y07.0
Y08.4
Y09.4
Y10.4
Y11.4
Y12.4
Y13.4
Y14.4
Y24.4
Y25.4
Y26.4
Y27.4
Y28.4
Y29.4
Y30.4
Y15.5
Y16.5
Y17.5
Y18.5
Y19.5
Y20.5
Y21.5
Y22.5
Y23.5
Y04.6
Y05.6
Y07.1
Y08.5
Y09.5
Y10.5
Y11.5
Y12.5
Y13.5
Y14.5
Y24.5
Y25.5
Y26.5
Y27.5
Y28.5
Y29.5
Y30.5
Y15.6
Y16.6
Y17.6
Y18.6
Y19.6
Y20.6
Y21.6
Y22.6
Y23.6
Y04.7
Y05.7
Y07.2
Y08.6
Y09.6
Y10.6
Y11.6
Y12.6
Y13.6
Y14.6
Y24.6
Y25.6
Y26.6
Y27.6
Y28.6
Y29.6
Y30.6
J
Y15.8
Y16.8
Y17.8
Y18.8
Y19.8
Y20.8
Y21.8
Y22.8
Y23.8
Y04.9
Y05.9
Y07.8
Y08.8
Y09.8
Y10.8
Y11.8
Y12.8
Y13.8
Y14.8
Y24.8
Y25.8
Y26.8
Y27.8
Y28.8
Y29.8
Y30.8
Y31.8
Y32.8
Y33.8
Y34.8
Y36.0
Y40.0
Y41.0
Y42.2
Y43.2
I
Y15.7
Y16.7
Y17.7
Y18.7
Y19.7
Y20.7
Y21.7
Y22.7
Y23.7
Y04.8
Y05.8
Y07.3
Y08.7
Y09.7
Y10.7
Y11.7
Y12.7
Y13.7
Y14.7
Y24.7
Y25.7
Y26.7
Y27.7
Y28.7
Y29.7
Y30.7
Y31.7
Y32.7
Y33.7
Y34.7
Y35.7
Y36.9
Y40.9
Y42.1
Y43.1
ANNEX A - Page 28 of 31
C
Y55.1
Y56.3
Y57.3
Y58.3
Y59.8
Y60.8
Y61.8
Y62.9
Y64.0
Y43.5
Y44.6
Y45.9
Y47.0
Y48.2
Y49.6
Y51.1
Y52.1
Y53.1
Y54.1
Y65.8
Y71.2
Y73.2
Y75.2
Y77.2
Y79.2
Y81.2
Y83.2
Y84.3
Y87.0
Y90.0
Y91.0
B
Y55.0
Y56.2
Y57.2
Y58.2
Y59.3
Y60.7
Y61.7
Y62.8
Y63.9
Y43.4
Y44.5
Y45.8
Y46.8
Y48.1
Y49.5
Y51.0
Y52.0
Y53.0
Y54.0
Y65.5
Y71.1
Y73.1
Y75.1
Y77.1
Y79.1
Y81.1
Y83.1
Y84.2
Y86
Y89.9
Y90.9
64
65
66
62
63
60
61
58
59
69
70
67
68
71
53
54
51
52
55
56
57
46
47
44
45
48
49
50
40
41
42
43
A
Y54.9
Y56.1
Y57.1
Y58.1
Y59.2
Y60.6
Y61.6
Y62.6
Y63.8
Y43.3
Y44.4
Y45.5
Y46.7
Y48.0
Y49.4
Y50.9
Y51.9
Y52.9
Y53.9
Y83.0
Y84.1
Y85.9
Y89.1
Y90.8
Y98
Y65.4
Y71.0
Y73.0
Y75.0
Y77.0
Y79.0
Y81.0
1
A
Z00.0
B
Z00.1
CASE TYPE A
E
Y55.3
Y56.5
Y57.5
Y58.5
Y60.0
Y61.0
Y62.0
Y63.1
Y64.8
Y43.8
Y44.9
Y46.1
Y47.2
Y48.4
Y49.8
Y51.3
Y52.3
Y53.3
Y54.3
Y69
Y71.8
Y73.8
Y75.8
Y77.8
Y79.8
Y81.8
Y83.4
Y84.5
Y87.2
Y90.2
Y91.2
Y
F
Y55.4
Y56.6
Y57.6
Y58.6
Y60.1
Y61.1
Y62.1
Y63.2
Y64.9
Y43.9
Y45.0
Y46.2
Y47.3
Y48.5
Y49.9
Y51.4
Y52.4
Y53.4
Y54.4
Y70.0
Y72.0
Y74.0
Y76.0
Y78.0
Y80.0
Y82.0
Y83.5
Y84.6
Y88.0
Y90.3
Y91.3
D
Y55.2
Y56.4
Y57.4
Y58.4
Y59.9
Y60.9
Y61.9
Y63.0
Y64.1
Y43.6
Y44.7
Y46.0
Y47.1
Y48.3
Y49.7
Y51.2
Y52.2
Y53.2
Y54.2
Y66
Y71.3
Y73.3
Y75.3
Y77.3
Y79.3
Y81.3
Y83.3
Y84.4
Y87.1
Y90.1
Y91.1
Z
C D E F G H
Z00.2
Z00.3
Z00.4
Z00.5
Z00.6
--- END / TOTAL NO. OF CODES (this page) = 321 ---
Z00.8
I
Y55.7
Y56.9
Y57.9
Y59.0
Y60.4
Y61.4
Y62.4
Y63.5
Y65.2
Y44.2
Y45.3
Y46.5
Y47.8
Y49.2
Y50.2
Y51.7
Y52.7
Y53.7
Y54.7
Y70.3
Y72.3
Y74.3
Y76.3
Y78.3
Y80.3
Y82.3
Y83.9
Y84.9
Y88.3
Y90.6
Y96
H
Y55.6
Y56.8
Y57.8
Y58.9
Y60.3
Y61.3
Y62.3
Y63.4
Y65.1
Y44.1
Y45.2
Y46.4
Y47.5
Y49.1
Y50.1
Y51.6
Y52.6
Y53.6
Y54.6
Y70.2
Y72.2
Y74.2
Y76.2
Y78.2
Y80.2
Y82.2
Y83.8
Y84.8
Y88.2
Y90.5
Y95
G
Y55.5
Y56.7
Y57.7
Y58.8
Y60.2
Y61.2
Y62.2
Y63.3
Y65.0
Y44.0
Y45.1
Y46.3
Y47.4
Y49.0
Y50.0
Y51.5
Y52.5
Y53.5
Y54.5
Y70.1
Y72.1
Y74.1
Y76.1
Y78.1
Y80.1
Y82.1
Y83.6
Y84.7
Y88.1
Y90.4
Y91.9
J
Y56.0
Y57.0
Y58.0
Y59.1
Y60.5
Y61.5
Y62.5
Y63.6
Y65.3
Y44.3
Y45.4
Y46.6
Y47.9
Y49.3
Y50.8
Y51.8
Y52.8
Y53.8
Y54.8
Y70.8
Y72.8
Y74.8
Y76.8
Y78.8
Y80.8
Y82.8
Y84.0
Y85.0
Y89.0
Y90.7
Y97
I
Z01.0
J
Z01.1
ANNEX A - Page 29 of 31
26
27
28
24
25
22
23
20
21
31
32
29
30
33
34
35
36
15
16
13
14
17
18
19
8
9
6
7
10
11
12
2
3
4
5
A
Z22.6
Z23.7
Z25.1
Z27.8
Z29.8
Z31.0
Z32.1
Z35.5
Z36.5
Z01.2
Z02.2
Z03.2
Z04.3
Z08.8
Z10.0
Z11.5
Z12.6
Z13.7
Z20.7
Z37.7
Z38.8
Z41.3
Z43.0
Z44.0
Z45.8
Z46.8
Z50.2
Z51.5
Z52.6
Z54.1
Z55.3
Z56.6
Z57.8
Z58.9
Z59.9
B
Z22.8
Z23.8
Z25.8
Z27.9
Z29.9
Z31.1
Z33
Z35.6
Z36.8
Z01.3
Z02.3
Z03.3
Z04.4
Z08.9
Z10.1
Z11.6
Z12.8
Z13.8
Z20.8
Z37.9
Z39.0
Z41.8
Z43.1
Z44.1
Z45.9
Z46.9
Z50.3
Z51.6
Z52.7
Z54.2
Z55.4
Z56.7
Z57.9
Z59.0
Z60.0
CASE TYPE A
Z
C D E F G H
Z23.0
Z24.1
Z26.8
Z28.1
Z30.1
Z31.3
Z34.8
Z35.8
Z37.0
Z01.5
Z02.5
Z03.5
Z04.6
Z09.1
Z10.3
Z11.9
Z13.0
Z20.0
Z21
Z38.1
Z39.2
Z42.0
Z43.3
Z44.3
Z46.1
Z47.8
Z23.1
Z24.2
Z26.9
Z28.2
Z30.2
Z31.4
Z34.9
Z35.9
Z37.1
Z01.6
Z02.6
Z03.6
Z04.8
Z09.2
Z10.8
Z12.0
Z13.1
Z20.1
Z22.0
Z38.2
Z40.0
Z42.1
Z43.4
Z44.8
Z46.2
Z47.9
Z22.9
Z24.0
Z26.0
Z28.0
Z30.0
Z31.2
Z34.0
Z35.7
Z36.9
Z01.4
Z02.4
Z03.4
Z04.5
Z09.0
Z10.2
Z11.8
Z12.9
Z13.9
Z20.9
Z38.0
Z39.1
Z41.9
Z43.2
Z44.2
Z46.0
Z47.0
Z50.4
Z51.8
Z52.8
Z54.3
Z50.5
Z51.9
Z52.9
Z54.4
Z50.6
Z52.0
Z53.0
Z54.7
Z50.7
Z52.1
Z53.1
Z54.8
Z50.8
Z52.2
Z53.2
Z54.9
Z50.9
Z52.3
Z53.8
Z55.0
Z55.8
Z57.0
Z58.0
Z55.9
Z57.1
Z58.1
Z56.0
Z57.2
Z58.2
Z56.1
Z57.3
Z58.3
Z56.2
Z57.4
Z58.4
Z56.3
Z57.5
Z58.5
Z59.1
Z60.1
Z59.2
Z60.2
Z59.3
Z60.3
Z59.4
Z60.4
Z59.5
Z60.5
--- END / TOTAL NO. OF CODES (this page) = 350 ---
Z59.6
Z60.8
Z23.2
Z24.3
Z27.0
Z28.8
Z30.3
Z31.5
Z35.0
Z36.0
Z37.2
Z01.7
Z02.7
Z03.8
Z04.9
Z09.3
Z11.0
Z12.1
Z13.2
Z20.2
Z22.1
Z38.3
Z40.8
Z42.2
Z43.5
Z44.9
Z46.3
Z48.0
Z23.3
Z24.4
Z27.1
Z28.9
Z30.4
Z31.6
Z35.1
Z36.1
Z37.3
Z01.8
Z02.8
Z03.9
Z08.0
Z09.4
Z11.1
Z12.2
Z13.3
Z20.3
Z22.2
Z38.4
Z40.9
Z42.3
Z43.6
Z45.0
Z46.4
Z48.8
Z23.4
Z24.5
Z27.2
Z29.0
Z30.5
Z31.8
Z35.2
Z36.2
Z37.4
Z01.9
Z02.9
Z04.0
Z08.1
Z09.7
Z11.2
Z12.3
Z13.4
Z20.4
Z22.3
Z38.5
Z41.0
Z42.4
Z43.7
Z45.1
Z46.5
Z48.9
J
Z23.6
Z25.0
Z27.4
Z29.2
Z30.9
Z32.0
Z35.4
Z36.4
Z37.6
Z02.1
Z03.1
Z04.2
Z08.7
Z09.9
Z11.4
Z12.5
Z13.6
Z20.6
Z22.5
Z38.7
Z41.2
Z42.9
Z43.9
Z45.3
Z46.7
Z50.1
Z51.4
Z52.5
Z54.0
Z55.2
Z56.5
Z57.7
Z58.8
Z59.8
Z61.0
I
Z23.5
Z24.6
Z27.3
Z29.1
Z30.8
Z31.9
Z35.3
Z36.3
Z37.5
Z02.0
Z03.0
Z04.1
Z08.2
Z09.8
Z11.3
Z12.4
Z13.5
Z20.5
Z22.4
Z38.6
Z41.1
Z42.8
Z43.8
Z45.2
Z46.6
Z50.0
Z51.2
Z52.4
Z53.9
Z55.1
Z56.4
Z57.6
Z58.6
Z59.7
Z60.9
ANNEX A - Page 30 of 31
61
62
63
59
60
57
58
55
56
50
51
48
49
52
53
54
43
44
41
42
45
46
47
37
38
39
40
A
Z80.3
Z81.3
Z82.7
Z84.0
Z85.5
Z86.5
Z87.7
Z88.8
Z89.8
Z90.8
Z92.1
Z93.3
Z94.4
Z61.1
Z62.1
Z63.2
Z64.2
Z65.9
Z71.3
Z72.3
Z73.4
Z74.9
Z76.1
Z95.4
Z96.6
Z97.8
Z99.9
CASE TYPE A
E
Z80.7
Z82.1
Z83.2
Z84.8
Z85.9
Z87.1
Z88.2
Z89.2
Z90.2
Z61.5
Z62.5
Z63.6
Z65.1
Z70.3
Z71.7
Z72.8
Z73.9
Z75.3
Z76.5
Z91.3
Z92.5
Z93.8
Z94.8
Z96.0
Z97.0
Z98.8
Z
F
Z80.8
Z82.2
Z83.3
Z85.0
Z86.0
Z87.2
Z88.3
Z89.3
Z90.3
Z61.6
Z62.6
Z63.7
Z65.2
Z70.8
Z71.8
Z72.9
Z74.0
Z75.4
Z76.8
Z91.4
Z92.8
Z93.9
Z94.9
Z96.1
Z97.1
Z99.0
D
Z80.6
Z82.0
Z83.1
Z84.3
Z85.8
Z87.0
Z88.1
Z89.1
Z90.1
Z61.4
Z62.4
Z63.5
Z65.0
Z70.2
Z71.6
Z72.6
Z73.8
Z75.2
Z76.4
Z91.2
Z92.4
Z93.6
Z94.7
Z95.9
Z96.9
Z98.2
C
Z80.5
Z81.8
Z83.0
Z84.2
Z85.7
Z86.7
Z88.0
Z89.0
Z90.0
Z61.3
Z62.3
Z63.4
Z64.4
Z70.1
Z71.5
Z72.5
Z73.6
Z75.1
Z76.3
Z91.1
Z92.3
Z93.5
Z94.6
Z95.8
Z96.8
Z98.1
B
Z80.4
Z81.4
Z82.8
Z84.1
Z85.6
Z86.6
Z87.8
Z88.9
Z89.9
Z61.2
Z62.2
Z63.3
Z64.3
Z70.0
Z71.4
Z72.4
Z73.5
Z75.0
Z76.2
Z91.0
Z92.2
Z93.4
Z94.5
Z95.5
Z96.7
Z98.0
--- END / TOTAL NO. OF CODES (this page) = 261 ---
G
Z80.9
Z82.3
Z83.4
Z85.1
Z86.1
Z87.3
Z88.4
Z89.4
Z90.4
Z61.7
Z62.8
Z63.8
Z65.3
Z70.9
Z71.9
Z73.0
Z74.1
Z75.5
Z76.9
Z91.5
Z92.9
Z94.0
Z95.0
Z96.2
Z97.2
Z99.1
H
Z81.0
Z82.4
Z83.5
Z85.2
Z86.2
Z87.4
Z88.5
Z89.5
Z90.5
Z61.8
Z62.9
Z63.9
Z65.4
Z71.0
Z72.0
Z73.1
Z74.2
Z75.8
Z80.0
Z91.6
Z93.0
Z94.1
Z95.1
Z96.3
Z97.3
Z99.2
J
Z81.2
Z82.6
Z83.7
Z85.4
Z86.4
Z87.6
Z88.7
Z89.7
Z90.7
Z62.0
Z63.1
Z64.1
Z65.8
Z71.2
Z72.2
Z73.3
Z74.8
Z76.0
Z80.2
Z92.0
Z93.2
Z94.3
Z95.3
Z96.5
Z97.5
Z99.8
I
Z81.1
Z82.5
Z83.6
Z85.3
Z86.3
Z87.5
Z88.6
Z89.6
Z90.6
Z61.9
Z63.0
Z64.0
Z65.5
Z71.1
Z72.1
Z73.2
Z74.3
Z75.9
Z80.1
Z91.8
Z93.1
Z94.2
Z95.2
Z96.4
Z97.4
Z99.3
ANNEX A - Page 31 of 31
4
5
6
7
8
1
2
3
A
C00.0
C02.0
C04.0
C06.1
C09.1
C11.0
C13.8
C15.5
5
6
7
8
3
4
1
2
A
A02.1
A20.7
A39.4
A41.0
A50.0
A81.2
A95.9
A98.5
B
A06.5+
A20.8
A39.5+
A41.1
A50.3
A81.8
A96.0
A98.8
C
A06.6+
A20.9
A39.8
A41.2
A50.4
A81.9
A96.1
ANNEX B
2009 CASE TYPE CLASSIFICATION
D
A06.8
A27.9
A39.9
A41.3
A50.5
A88.0
A96.2
CASE TYPE B
E
A09.2
A34
A40.0
A41.4
A50.9
A88.1
A96.8
A
F
A18.3
A35
A40.1
A41.5
A80.1
A88.8
A96.9
G
A20.0
A36.0
A40.2
A41.8
A80.2
A89
A98.0
H
A20.1
A36.1
A40.3
A41.9
A80.3
A91.1
A98.1
1
2
3
4
5
6
7
8
A
B00.7
B22.1
B37.6+
B41.7
B45.7
B52.0
B66.3
B74.0
B
B01.2+
B22.2
B37.7
B42.0+
B46.0
B52.8
B66.4
B74.1
C
B01.8
B22.7
B38.0
B42.7
B46.1
B57.0+
B66.5
B74.2
D
B02.7
B23.0
B38.7
B44.0
B46.4
B59
B66.8
E
B05.2+
B23.1
B39.0
B44.1
B47.0
B65.0
B67.0
B
F
B05.4
B23.2
B39.2
B44.2
B47.1
B65.1
B67.1
G
B05.8
B23.8
B39.3
B44.7
B48.7
B65.2
B67.2
H
B16.1
B26.3+
B40.0
B44.8
B50.8
B66.0
B67.3
I
B17.0
B33.2
B40.7
B45.0
B51.0
B66.1
B67.5
I
A20.2
A36.2
A40.8
A48.0
A81.0
A95.0
A98.2
B
C00.1
C02.1
C04.1
C06.2
C09.8
C11.1
C13.9
C15.8
C
C D E F G H
C00.2
C02.2
C04.8
C06.8
C00.3
C02.3
C04.9
C06.9
C00.4
C02.4
C05.0
C07
C00.5
C02.8
C05.1
C08.0
C00.6
C02.9
C05.2
C08.1
C00.8
C03.0
C05.8
C08.8
C09.9
C11.2
C14.0
C10.0
C11.3
C14.2
C10.1
C11.8
C14.8
C10.2
C11.9
C15.0
C10.3
C12
C15.1
C10.4
C13.0
C15.2
C15.9
C16.0
C16.1
C16.2
C16.3
--- END / TOTAL NO. OF CODES (this page) = 225 ---
C16.4
I
C00.9
C03.1
C05.9
C08.9
C10.8
C13.1
C15.3
C16.5
J
A20.3
A39.3
A40.9
A48.1
A81.1
A95.1
A98.3
J
C01
C03.9
C06.0
C09.0
C10.9
C13.2
C15.4
C16.6
J
B17.1
B37.1
B41.0
B45.3
B51.8
B66.2
B67.6
ANNEX B - Page 1 of 7
34
35
36
31
32
33
26
27
28
29
30
23
24
25
40
41
42
37
38
39
43
20
21
22
17
18
19
12
13
14
15
16
9
10
11
A
C67.0
C68.0
C69.6
C71.4
C72.4
C75.2
C46.3
C47.6
C49.3
C50.4
C52
C54.9
C57.9
C62.9
C32.8
C38.0
C40.1
C41.8
C43.8
C44.8
C16.8
C18.2
C21.0
C22.9
C25.4
C31.0
C76.4
C81.9
C83.4
C84.4
C88.7
C91.5
C92.9
C94.4
C96.2
B
C67.1
C68.1
C69.8
C71.5
C72.5
C75.3
C46.7
C47.8
C49.4
C50.5
C53.0
C55
C58
C63.0
C32.9
C38.1
C40.2
C41.9
C43.9
C44.9
C16.9
C18.3
C21.1
C23
C25.7
C31.1
C76.5
C82.0
C83.5
C84.5
C88.9
C91.7
C93.0
C94.5
C96.3
CASE TYPE B
C
C D E F G H
C67.3
C68.9
C70.0
C71.7
C72.9
C75.5
C46.9
C48.0
C49.6
C50.8
C53.8
C57.0
C60.1
C63.2
C34.0
C38.3
C40.8
C43.1
C44.1
C45.1
C17.1
C18.5
C21.8
C24.1
C25.9
C31.3
C67.4
C69.0
C70.1
C71.8
C73
C75.8
C47.0
C48.1
C49.8
C50.9
C53.9
C57.1
C60.2
C63.7
C34.1
C38.4
C40.9
C43.2
C44.2
C45.2
C17.2
C18.6
C22.0
C24.8
C26.0
C31.8
C67.2
C68.8
C69.9
C71.6
C72.8
C75.4
C46.8
C47.9
C49.5
C50.6
C53.1
C56
C60.0
C63.1
C33
C38.2
C40.3
C43.0
C44.0
C45.0
C17.0
C18.4
C21.2
C24.0
C25.8
C31.2
C76.7
C82.1
C83.6
C85.0
C90.0
C91.9
C76.8
C82.2
C83.7
C85.1
C90.1
C92.0
C80
C82.7
C83.8
C85.7
C90.2
C92.1
C81.0
C82.9
C83.9
C85.9
C91.0
C92.2
C81.1
C83.0
C84.0
C88.0
C91.1
C92.3
C93.1
C94.7
C93.2
C95.0
C93.7
C95.1
C93.9
C95.2
C94.0
C95.7
C96.7
C96.9
C97
--- END / TOTAL NO. OF CODES (this page) = 345 ---
C94.1
C95.9
C81.2
C83.1
C84.1
C88.1
C91.2
C92.4
C67.5
C69.1
C70.9
C71.9
C74.0
C75.9
C47.1
C48.2
C49.9
C51.0
C54.0
C57.2
C60.8
C63.8
C34.2
C38.8
C41.0
C43.3
C44.3
C45.7
C17.3
C18.7
C22.1
C24.9
C26.1
C31.9
C67.6
C69.2
C71.0
C72.0
C74.1
C76.0
C47.2
C48.8
C50.0
C51.1
C54.1
C57.3
C60.9
C63.9
C34.3
C39.0
C41.1
C43.4
C44.4
C45.9
C17.8
C18.8
C22.2
C25.0
C26.8
C32.0
C67.7
C69.3
C71.1
C72.1
C74.9
C76.1
C47.3
C49.0
C50.1
C51.2
C54.2
C57.4
C61
C64
C34.8
C39.8
C41.2
C43.5
C44.5
C46.0
C17.9
C18.9
C22.3
C25.1
C26.9
C32.1
J
C67.9
C69.5
C71.3
C72.3
C75.1
C76.3
C47.5
C49.2
C50.3
C51.9
C54.8
C57.8
C62.1
C66
C81.7
C83.3
C84.3
C88.3
C91.4
C92.7
C94.3
C96.1
C37
C40.0
C41.4
C43.7
C44.7
C46.2
C18.1
C20
C22.7
C25.3
C30.1
C32.3
I
C67.8
C69.4
C71.2
C72.2
C75.0
C76.2
C47.4
C49.1
C50.2
C51.8
C54.3
C57.7
C62.0
C65
C81.3
C83.2
C84.2
C88.2
C91.3
C92.5
C94.2
C96.0
C34.9
C39.9
C41.3
C43.6
C44.6
C46.1
C18.0
C19
C22.4
C25.2
C30.0
C32.2
ANNEX B - Page 2 of 7
12
13
14
9
10
11
15
16
17
4
5
6
7
8
1
2
3
A
D33.0
D35.3
D43.3
D44.6
D46.9
D66
D00.0
D01.9
D03.4
D04.4
D06.0
D07.6
D69.1
D77*
D81.0
D82.0
D83.8
1
2
3
4
A
E05.5
E12.5
E34.0
E86
B
D33.1
D35.4
D43.4
D44.7
D47.0
D67
D00.1
D02.0
D03.5
D04.5
D06.1
D09.0
D69.2
D80.0
D81.1
D82.1
D84.0
C
D33.2
D35.5
D43.7
D44.8
D47.1
D68.0
D00.2
D02.1
D03.6
D04.6
D06.7
D09.1
D69.3
D80.1
D81.2
D82.2
D84.1
D
D33.3
D35.6
D43.9
D44.9
D47.2
D68.1
D01.0
D02.2
D03.7
D04.7
D06.9
D09.2
D69.4
D80.2
D81.3
D82.3
D84.8
CASE TYPE B
E
D33.4
D42.0
D44.0
D46.0
D47.3
D68.2
D01.1
D02.3
D03.8
D04.8
D07.0
D09.3
D69.5
D80.3
D81.4
D82.4
D84.9
D
F
D33.7
D42.1
D44.1
D46.1
D47.7
D68.3
D01.2
D02.4
D03.9
D04.9
D07.1
D09.7
D69.6
D80.4
D81.5
D82.8
D86.0
B
E06.0
E12.7
E35.1*
E87.2
C
E07.0
E13.2+
E40
D
E10.2+
E13.5
E41
G
D33.9
D42.9
D44.2
D46.2
D47.9
D68.4
D01.3
D03.0
D04.0
D05.0
D07.2
D09.9
D69.8
D80.5
D81.6
D82.9
D86.2
E
E10.5
E13.7
E42
E
F
E10.7
E14.2+
E43
G
E11.2+
E14.5
E51.2
H
E11.5
E14.7
E84.0
H
D35.0
D43.0
D44.3
D46.3
D62
D68.8
D01.4
D03.1
D04.1
D05.1
D07.3
D32.0
D69.9
D80.6
D81.7
D83.0
D86.8
J
D35.2
D43.2
D44.5
D46.7
D63.8*
D69.0
D01.7
D03.3
D04.3
D05.9
D07.5
D32.9
D73.5
D80.8
D81.9
D83.2
I
D35.1
D43.1
D44.4
D46.4
D63.0*
D68.9
D01.5
D03.2
D04.2
D05.7
D07.4
D32.1
D73.3
D80.7
D81.8
D83.1
I
E11.7
E24.1
E84.1
J
E12.2+
E27.1
E84.8
3
4
5
1
2
6
A
G13.0*
G46.6*
G55.8*
G91.1
G93.4
G96.1
B
G13.1*
G46.7*
G61.0
G91.2
G93.7
G96.8
C
G13.2*
G46.8*
G63.0*
G91.3
G93.8
G97.2
D
G13.8*
G53.1*
G63.1*
G91.8
G94.0*
E
G46.0*
G53.2*
G70.0
G91.9
G94.1*
G
F
G46.1*
G53.3*
G70.1
G92
G94.2*
G
G46.2*
G55.0*
G70.2
G93.0
G94.8*
H
G46.3*
G55.1*
G73.1*
G93.1
G95.2
I
G46.4*
G55.2*
G73.2*
G93.2
G95.8
J
G46.5*
G55.3*
G91.0
G93.3
G96.0
1
2
A
H05.0
H43.3
B
H05.2
H43.8
H
C D E F G H
H16.0
H34.1
H34.2
H34.8
H40.3
H43.0
H43.9
H44.0
H44.1
H44.2
H44.3
--- END / TOTAL NO. OF CODES (this page) = 273 ---
H44.4
I
H43.1
H44.5
J
H43.2
H44.6
ANNEX B - Page 3 of 7
3
A
H44.7
B
H44.8
C
H44.9
D
H46
CASE TYPE B
E
H48.0*
H
F
H48.1*
G H
9
10
11
6
7
8
12
13
14
3
4
5
1
2
A
I42.3
I43.8*
I49.2
I51.3
I67.8
I01.0
I05.9
I24.1
I30.9
I33.0
I40.1
I72.0
I74.3
I82.3
B
I42.4
I44.1
I49.3
I51.4
I67.9
I01.1
I09.0
I24.8
I31.0
I33.9
I40.8
I72.1
I74.4
I85.0
D
I42.6
I47.0
I49.5
I51.8
I68.1*
I01.8
I12.9
I26.9
I31.2
I39.0*
I41.0*
I72.3
I74.8
I95.2
C
I42.5
I44.2
I49.4
I51.6
I68.0*
I01.2
I09.9
I24.9
I31.1
I38
I40.9
I72.2
I74.5
I87.1
E
I42.7
I47.1
I49.8
I52.0*
I68.2*
I01.9
I13.9
I28.0
I31.3
I39.1*
I41.1*
I72.4
I74.9
I97.0
I
F
I42.8
I47.2
I49.9
I52.1*
I68.8*
I02.0
I20.0
I28.1
I31.8
I39.2*
I41.2*
I72.8
I77.4
I97.1
E
J15.0
J38.4
J70.2
J93.0
J95.5
J
F
J15.1
J38.5
J81
J93.1
J96.1
G
I42.9
I47.9
I50.9
I52.8*
I71.2
I72.9
I81
I05.0
I20.1
I28.8
I31.9
I39.3*
I41.8*
4
5
6
1
2
3
A
J05.0
J17.1*
J68.1
J86.0
J94.8
J98.5
B
J05.1
J17.2*
J69.0
J86.9
J95.0
J98.6
C
J10.8
J17.8*
J69.8
J90
J95.1
D
J11.8
J38.0
J70.0
J91*
J95.2
G
J15.2
J38.6
J85.0
J93.8
J96.9
4
5
6
7
8
1
2
3
A
K22.2
K26.1
K27.6
K35.1
K42.1
K50.1
K57.4
K67.0*
B
K22.3
K26.2
K28.0
K40.0
K43.0
K55.0
K57.8
K67.1*
K
C D E F G H
K22.6
K26.4
K28.1
K40.1
K25.0
K26.5
K28.2
K40.3
K25.1
K26.6
K28.4
K40.4
K25.2
K27.0
K28.5
K41.0
K25.4
K27.1
K28.6
K41.1
K25.5
K27.2
K29.0
K41.3
K43.1
K55.2
K62.5
K44.0
K56.0
K63.0
K44.1
K56.1
K63.1
K45.0
K56.2
K65.0
K45.1
K56.5
K65.8
K46.0
K56.6
K65.9
K67.2* K67.3* K70.2
K70.3
K71.1
--- END / TOTAL NO. OF CODES (this page) = 274 ---
K71.2
H
J15.5
J38.7
J85.1
J93.9
J98.0
H
I43.0*
I48
I51.0
I64
I71.4
I74.0
I82.0
I05.1
I20.9
I28.9
I32.0*
I39.4*
I42.0
I
I
I43.1*
I49.0
I51.1
I67.0
I71.6
I74.1
I82.1
I05.2
I21.9
I30.0
I32.1*
I39.8*
I42.1
I
J15.6
J44.1
J85.2
J94.0
J98.1
J
I
K25.6
K27.4
K31.5
K41.4
K46.1
K57.0
K66.0
K71.7
J
K26.0
K27.5
K35.0
K42.0
K50.0
K57.2
K66.1
K71.8
J
J17.0*
J46
J85.3
J94.2
J98.2
J
I43.2*
I49.1
I51.2
I67.2
I71.9
I74.2
I82.2
I05.8
I24.0
I30.8
I32.8*
I40.0
I42.2
ANNEX B - Page 4 of 7
9
10
11
12
A
K74.0
K76.3
K81.0
K92.2
B
K74.1
K76.5
K82.0
K93.0*
C
K74.2
K76.6
K82.2
D
K74.3
K76.7
K83.0
CASE TYPE B
E
K74.4
K77.0*
K83.1
K
F
K74.5
K77.8*
K83.2
G
K74.6
K80.0
K85
H
K75.0
K80.1
K91.3
I
K75.1
K80.3
K92.0
J
K76.2
K80.4
K92.1
1
A
L00
E
L
B
L51.1
C
L51.2
D
L88
F G H I J
3
4
1
2
5
6
7
A
M01.0*
M35.0
M50.0+
M80.4
M86.6
M88.8
M90.7*
B
M01.1*
M36.0*
M50.1
M80.5
M86.8
M88.9
M93.2
C
M01.3*
M36.1*
M50.2
M80.8
M86.9
M89.5
D
M05.3+
M46.2
M50.3
M80.9
M87.0
M90.0*
E
M30.3
M46.3
M50.8
M86.0
M87.1
M90.1*
M
F
M31.1
M47.0+
M50.9
M86.1
M87.2
M90.2*
G
M32.1+
M47.1
M80.0
M86.2
M87.3
M90.3*
H
M33.0
M49.0*
M80.1
M86.3
M87.8
M90.4*
I
M34.1
M49.4*
M80.2
M86.4
M87.9
M90.5*
J
M34.8
M49.5*
M80.3
M86.5
M88.0
M90.6*
10
11
12
13
14
7
8
9
1
2
3
4
5
6
A
N00.0
N01.1
N02.2
N03.3
N04.4
N05.5
N06.6
N07.7
N11.1
N17.9
N22.0*
N32.4
N71.1
N74.3*
B
N00.1
N01.2
N02.3
N03.4
N04.5
N05.6
N06.7
N07.8
N13.6
N19
N22.8*
N34.0
N73.0
N74.4*
C
N00.2
N01.3
N02.4
N03.5
N04.6
N05.7
N06.8
N08.0*
N15.1
N20.0
N25.0
N41.2
N73.1
N83.5
D
N00.3
N01.4
N02.5
N03.6
N04.7
N05.8
N07.0
N08.1*
N16.0*
N20.1
N25.1
N44
N73.2
N83.6
E
N00.4
N01.5
N02.6
N03.7
N04.8
N06.0
N07.1
N08.2*
N16.1*
N20.2
N25.8
N45.0
N73.3
N83.7
N
F
N00.5
N01.6
N02.7
N03.8
N05.0
N06.1
N07.2
N08.3*
N16.2*
N20.9
N27.1
N50.1
N73.4
N85.7
G
N00.6
N01.7
N02.8
N04.0
N05.1
N06.2
N07.3
N08.4*
N16.3*
N21.0
N28.0
N70.0
N73.5
N89.7
H
N00.7
N01.8
N03.0
N04.1
N05.2
N06.3
N07.4
N08.5*
N16.4*
N21.1
N29.0*
N70.1
N73.6
I
N00.8
N02.0
N03.1
N04.2
N05.3
N06.4
N07.5
N08.8*
N16.5*
N21.8
N29.1*
N70.9
N74.1*
J
N01.0
N02.1
N03.2
N04.3
N05.4
N06.5
N07.6
N10
N17.8
N21.9
N29.8*
N71.0
N74.2*
1
A
O00.0
B
O00.1
O
C D E F G H
O00.2
O00.8
O00.9
O01.0
O01.1
--- END / TOTAL NO. OF CODES (this page) = 245 ---
O01.9
I
O03.0
J
O03.1
ANNEX B - Page 5 of 7
5
6
7
2
3
4
10
11
8
9
A
O03.2
O05.0
O06.6
O08.2
O29.1
O45.8
O68.8
O71.0
O74.9
O85
B
O03.5
O05.1
O06.7
O08.6
O29.2
O45.9
O68.9
O71.1
O75.0
O89.0
C
O03.6
O05.2
O07.0
O08.8
O29.4
O46.0
O69.0
O74.0
O75.2
O89.1
3
4
5
1
2
6
7
8
A
P07.0
P22.0
P24.0
P25.8
P36.3
P51.0
P58.2
P83.2
B
P07.2
P23.0
P24.1
P27.0
P36.4
P54.1
P58.4
P90
1
2
3
4
5
6
7
8
A
Q01.0
Q04.0
Q05.1
Q07.0
Q21.0
Q22.6
Q25.6
Q33.4
B
Q01.1
Q04.1
Q05.2
Q20.0
Q21.1
Q22.8
Q25.7
Q60.1
C
Q01.2
Q04.2
Q05.3
Q20.1
Q21.2
Q23.1
Q26.0
C
P07.3
P23.1
P24.2
P27.1
P36.5
P54.2
P58.8
P91.0
D
Q01.8
Q04.3
Q05.4
Q20.2
Q21.3
Q23.3
Q26.2
D
P10.0
P23.2
P24.3
P27.8
P36.8
P54.3
P58.9
P91.1
D
O03.7
O05.5
O07.1
O10.0
O31.0
O46.8
O69.1
O74.2
O75.3
O89.2
CASE TYPE B
E
O04.0
O05.6
O07.2
O10.1
O31.1
O46.9
O69.2
O74.3
O75.4
O89.3
O
F
O04.1
O05.7
O07.5
O10.2
O31.2
O67.0
O69.3
O74.4
O75.5
O89.4
E
P10.4
P23.3
P24.8
P28.0
P36.9
P54.4
P61.6
P91.2
P
F
P10.8
P23.4
P24.9
P29.1
P37.3
P55.9
P61.8
P91.4
E
Q01.9
Q04.4
Q05.5
Q20.3
Q21.4
Q23.8
Q26.8
Q
F
Q02
Q04.5
Q05.6
Q20.4
Q21.8
Q24.6
Q31.4
B C D E
R
F
1
A
R18
G
P11.0
P23.5
P25.0
P29.2
P37.4
P57.0
P61.9
P91.8
G
O04.2
O06.0
O07.6
O14.0
O31.8
O68.0
O69.4
O74.5
O75.6
O89.9
H
O04.5
O06.1
O07.7
O14.1
O41.1
O68.1
O69.5
O74.6
O75.7
O90.3
I
O04.6
O06.2
O08.0
O14.9
O44.1
O68.2
O69.8
O74.7
O75.8
J
O04.7
O06.5
O08.1
O29.0
O45.0
O68.3
O69.9
O74.8
O75.9
H
P20.0
P23.6
P25.1
P36.0
P37.5
P57.8
P74.0
P94.0
I
P20.1
P23.8
P25.2
P36.1
P50.3
P57.9
P78.0
P96.0
G
Q03.0
Q04.6
Q05.7
Q20.5
Q22.1
Q24.8
Q32.3
H
Q03.1
Q04.8
Q05.8
Q20.6
Q22.2
Q25.1
Q32.4
I
Q03.8
Q04.9
Q05.9
Q20.8
Q22.3
Q25.3
Q33.0
J
Q03.9
Q05.0
Q06.9
Q20.9
Q22.5
Q25.4
Q33.2
G
--- END / TOTAL NO. OF CODES (this page) = 251 ---
H I J
J
P20.9
P23.9
P25.3
P36.2
P50.4
P58.1
P78.8
P96.1
ANNEX B - Page 6 of 7
9
10
11
12
4
5
6
7
8
1
2
3
A
S34.2
S36.0
S37.1
S47
S68.3
S88.1
S02.0
S04.6
S13.0
S15.3
S25.0
S26.8
B
S35.0
S36.1
S37.2
S48.0
S68.4
S88.9
S02.1
S06.1
S13.1
S15.7
S25.1
S27.0
C
S35.1
S36.2
S37.3
S48.1
S68.8
S02.3
S11.0
S13.2
S15.8
S25.2
S27.1
D
S35.2
S36.3
S37.4
S48.9
S68.9
S02.4
S11.1
S13.3
S17.0
S25.3
S27.2
CASE TYPE B
E
S35.3
S36.4
S37.5
S57.0
S77.0
S02.8
S11.2
S14.0
S17.8
S25.4
S29.0
S
F
S35.4
S36.5
S37.6
S57.8
S77.1
S04.0
S12.0
S14.1
S17.9
S25.5
S29.7
G
S35.5
S36.6
S37.7
S57.9
S77.2
S04.1
S12.1
S14.3
S22.0
S25.7
S29.8
H
S35.7
S36.7
S37.8
S58.0
S87.0
S04.3
S12.2
S15.0
S22.1
S25.8
S29.9
I
S35.8
S36.8
S38.3
S58.1
S87.8
S04.4
S12.7
S15.1
S22.5
S25.9
S32.0
6
7
8
9
10
1
2
3
4
5
A
T02.0
T05.1
T09.3
T23.3
T26.7
T28.4
T31.3
T34.3
T79.0
T86.1
B
T02.1
T05.2
T11.6
T23.7
T27.0
T28.5
T31.4
T34.4
T79.1
T86.2
1
A
Z49.0
B
Z51.3
C
T02.7
T05.3
T13.6
T24.3
T27.1
T28.6
T31.5
T34.5
T80.0
T86.3
C
D
T04.1
T05.4
T20.2
T24.7
T27.2
T28.7
T32.2
T34.6
T80.2
T86.4
E
T04.2
T05.5
T20.3
T25.3
T27.4
T28.8
T32.3
T34.7
T80.4
T86.8
T
F
T04.3
T05.6
T20.6
T25.7
T27.5
T29.2
T32.4
T34.8
T80.5
T86.9
E
Z
F D G
--- END / TOTAL NO. OF CODES (this page) = 212 ---
G
T04.4
T05.9
T20.7
T26.1
T28.0
T29.3
T32.5
T34.9
T81.2
T88.2
H
T04.7
T06.5
T21.7
T26.2
T28.1
T29.6
T34.0
T78.0
T81.6
T88.6
H
I
T04.8
T08.0
T22.3
T26.3
T28.2
T29.7
T34.1
T78.2
T81.7
J
T05.0
T08.1
T22.7
T26.6
T28.3
T31.2
T34.2
T78.3
T86.0
I J
J
S35.9
S37.0
S39.7
S58.9
S88.0
S04.5
S12.8
S15.2
S23.1
S26.0
S32.7
ANNEX B - Page 7 of 7
ANNEX C
2009 CASE TYPE CLASSIFICATION
3
4
1
2
5
A
A17.0+
A27.8
A82.1
A83.9
A87.0+
B
A17.1+
A33
A82.9
A84.0
A87.1+
C
A17.8+
A39.0+
A83.0
A84.1
A87.2
D
A17.9+
A39.1+
A83.1
A84.8
A87.8
CASE TYPE C
E
A22.0
A39.2
A83.2
A84.9
A87.9
A
F
A22.1
A48.3
A83.3
A85.0+
A91.2
G
A22.2
A52.1
A83.4
A85.1+
A91.3
H
A22.7
A52.3
A83.5
A85.2
A98.4
I
A22.8
A80.0
A83.6
A85.8
J
A27.0
A82.0
A83.8
A86
1
2
3
4
A
B00.3+
B06.0+
B20.5
B21.8
B
B00.4+
B15.0
B20.6
B21.9
C
B01.0+
B16.0
B20.7
B22.0
D
B01.1+
B16.2
B20.8
B26.1+
E
B02.0+
B19.0
B20.9
B26.2+
B
F
B02.1+
B20.0
B21.0
B37.5+
G
B02.2+
B20.1
B21.1
B38.4+
1
2
3
A
C77.0
C78.2
C79.3
B
C77.1
C78.3
C79.4
C
C77.2
C78.4
C79.5
D
C77.3
C78.5
C79.6
E
C77.4
C78.6
C79.7
C
F
C77.5
C78.7
C79.8
G
C77.8
C78.8
H
C77.9
C79.0
H
B03
B20.2
B21.2
B43.1
I
B05.0+
B20.3
B21.3
B45.1
J
B05.1+
B20.4
B21.7
B50.0
I
C78.0
C79.1
J
C78.1
C79.2
B C D E
D
F G H I J
1
A
D65
1
2
A
E03.5
E14.1
B
E10.0
E15
C
E10.1
E27.2
D
E11.0
E
E11.1
E
F
E12.0
G
E12.1
H
E13.0
I
E13.1
J
E14.0
3
4
1
2
A
G00.0
G03.0
G05.0*
G93.5
B
G00.1
G03.1
G05.1*
G93.6
G
C D E F G H
G00.2
G03.2
G05.2*
G00.3
G03.8
G05.8*
G00.8
G03.9
G06.0
G00.9
G04.0
G06.1
G01*
G04.1
G06.2
G95.0
G95.1
--- END / TOTAL NO. OF CODES (this page) = 162 ---
G02.0*
G04.2
G07*
I
G02.1*
G04.8
G08
J
G02.8*
G04.9
G09
ANNEX C - Page 1 of 3
1
2
3
4
5
6
A
I11.0
I22.8
I26.0
I63.3
I65.8
I67.3
B
I12.0
I22.9
I30.1
I63.4
I65.9
I67.4
C
I13.1
I23.0
I46.0
I63.5
I66.0
I67.5
D
I21.0
I23.1
I46.1
I63.6
I66.1
I67.6
CASE TYPE C
E
I21.1
I23.2
I46.9
I63.8
I66.2
I67.7
I
F
I21.2
I23.3
I50.0
I63.9
I66.3
I71.0
D E
J
F
G
I21.3
I23.4
I50.1
I65.0
I66.4
I71.1
1
A
J80
B
J96.0
C G H
1
A
K70.4
1
A
N17.0
B
N17.1
1
2
A
O08.3
O88.2
B
O08.4
O88.3
1
2
3
A
P10.1
P26.8
P52.8
1
2
A
Q00.0
Q22.4
B
Q00.1
Q23.0
1
A
R09.2
B
K72.0
1
A
M31.2
B
M31.3
B
P10.2
P28.5
P52.9
B
R57.0
E
K
F C
K72.1
D
K72.9
G H
E
M
F C
M34.0
D G H
C
N17.2
C
O15.0
O88.8
D
N18.0
D
O15.1
O90.4
E
N18.8
N
F
N18.9
E
O15.2
O95
O
F
O15.9
O96
E
P15.0
P52.1
P60
P
F
P15.1
P52.2
P77
G
N99.0
G
O74.1
O97
H
H
O75.1
C
P10.3
P29.0
P56.0
D
P11.5
P52.0
P56.9
G
P21.0
P52.3
P91.5
H
P21.9
P52.4
P95
C
Q00.2
Q23.2
D
Q06.0
Q23.4
E
Q06.1
Q25.2
Q
F
Q06.2
Q25.5
G
Q06.3
Q33.3
H
Q06.4
R
C D E F G
R57.1
R57.8
R57.9
--- END / TOTAL NO. OF CODES (this page) = 141 ---
H
H
I21.4
I23.5
I63.0
I65.1
I66.8
I71.8
I
I22.0
I23.6
I63.1
I65.2
I66.9
I
I
I
I
I
O88.0
J
O88.1
I
P26.0
P52.5
J
P26.1
P52.6
I
Q06.8
J
Q22.0
I
J
J
J
J
J
J
I22.1
I23.8
I63.2
I65.3
I67.1
ANNEX C - Page 2 of 3
1
2
A
S02.7
S28.0
B
S06.4
S28.1
1
2
A
T04.0
T32.8
B
T05.8
T32.9
1
A
Z49.1
B
Z49.2
C
S06.5
S39.6
D
S06.6
S78.0
CASE TYPE C
E
S06.8
S78.1
S
F
S07.0
S78.9
G
S07.1
H
S07.8
C
T06.1
T79.4
D
T09.6
T79.5
E
T31.6
T81.1
T
F
T31.7
G
T31.8
H
T31.9
Z
C D E F G
Z51.0
Z51.1
--- END / TOTAL NO. OF CODES (this page) = 35 ---
H
I
S07.9
J
S14.2
I
T32.6
J
T32.7
I J
ANNEX C - Page 3 of 3
1
2
3
A
I13.0
I60.8
I61.9
1
A
R95
1
A
S06.7
1
A
T06.0
B
I13.2
I60.9
I62.0
B
R96.0
B
S18
C
I60.0
I61.0
I62.1
ANNEX D
2009 CASE TYPE CLASSIFICATION
D
I60.1
I61.1
I62.9
CASE TYPE D
E
I60.2
I61.2
I71.3
I
F
I60.3
I61.3
I71.5
G
I60.4
I61.4
H
I60.5
I61.5
C
R96.1
C
D
R98
D
E
R99
R
F
E
S
F
G
G
H
H
B C D E
T
F G H
--- END / TOTAL NO. OF CODES (this page) = 34 ---
I
I60.6
I61.6
J
I60.7
I61.8
I
I
I
J
J
J
ANNEX D - Page 1 of 1
* Your assessment is very important for improving the work of artificial intelligence, which forms the content of this project