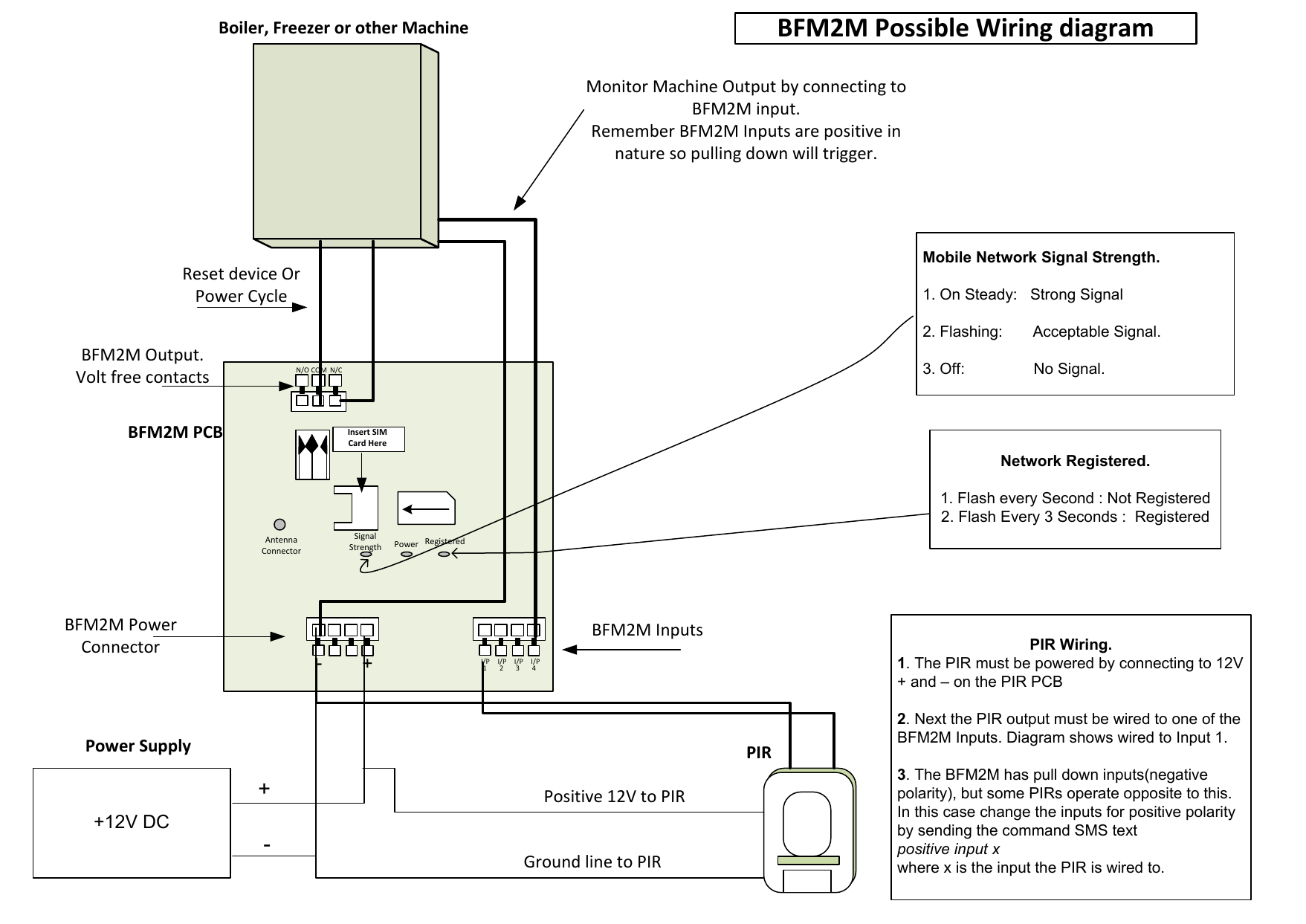 BFM2M Possible Wiring diagram
Boiler, Freezer or other Machine
Monitor Machine Output by connecting to
BFM2M input.
Remember BFM2M Inputs are positive in
nature so pulling down will trigger.
Mobile Network Signal Strength.
Reset device Or
Power Cycle
BFM2M Output.
Volt free contacts
1. On Steady: Strong Signal
N/O COM N/C
BFM2M PCB
2. Flashing:
Acceptable Signal.
3. Off:
No Signal.
Insert SIM
Card Here
Network Registered.
1. Flash every Second : Not Registered
2. Flash Every 3 Seconds : Registered
Signal
Strength
Antenna
Connector
BFM2M Power
Connector
Power Registered
BFM2M Inputs
-
+
PIR Wiring.
1. The PIR must be powered by connecting to 12V
+ and – on the PIR PCB
I/P I/P I/P I/P
1
2
3
4
Power Supply
PIR
+
Positive 12V to PIR
+12V DC
-
Ground line to PIR
2. Next the PIR output must be wired to one of the
BFM2M Inputs. Diagram shows wired to Input 1.
3. The BFM2M has pull down inputs(negative
polarity), but some PIRs operate opposite to this.
In this case change the inputs for positive polarity
by sending the command SMS text
positive input x
where x is the input the PIR is wired to.

* Your assessment is very important for improving the work of artificial intelligence, which forms the content of this project