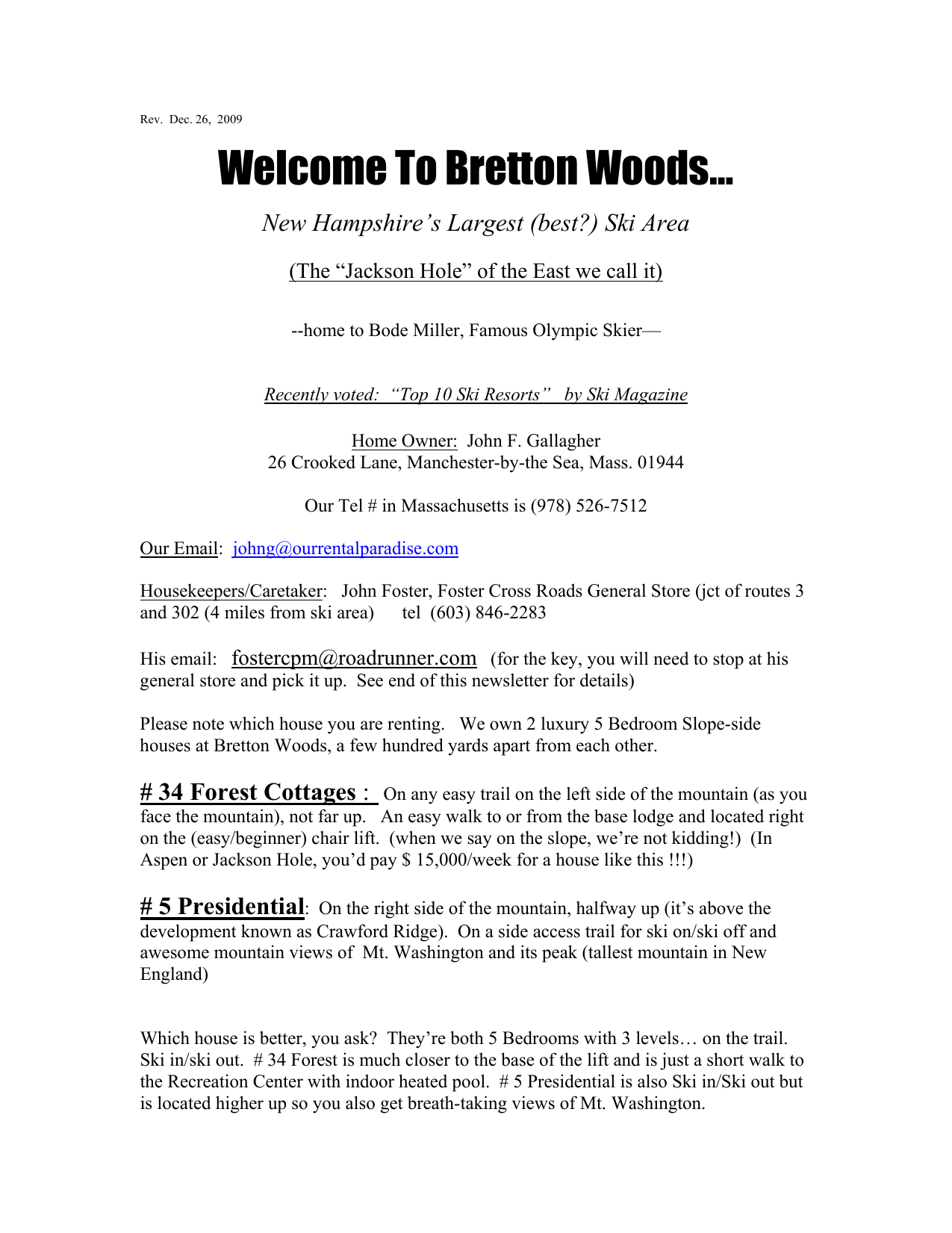 Rev. Dec. 26, 2009
Welcome To Bretton Woods…
New Hampshire's Largest (best?) Ski Area
(The "Jackson Hole" of the East we call it)
--home to Bode Miller, Famous Olympic Skier—
Recently voted: "Top 10 Ski Resorts" by Ski Magazine
Home Owner: John F. Gallagher
26 Crooked Lane, Manchester-by-the Sea, Mass. 01944
Our Tel # in Massachusetts is (978) 526-7512
Our Email: [email protected]
Housekeepers/Caretaker: John Foster, Foster Cross Roads General Store (jct of routes 3
and 302 (4 miles from ski area) tel (603) 846-2283
His email: [email protected] (for the key, you will need to stop at his
general store and pick it up. See end of this newsletter for details)
Please note which house you are renting. We own 2 luxury 5 Bedroom Slope-side
houses at Bretton Woods, a few hundred yards apart from each other.
# 34 Forest Cottages :
On any easy trail on the left side of the mountain (as you
face the mountain), not far up. An easy walk to or from the base lodge and located right
on the (easy/beginner) chair lift. (when we say on the slope, we're not kidding!) (In
Aspen or Jackson Hole, you'd pay $ 15,000/week for a house like this !!!)
# 5 Presidential:
On the right side of the mountain, halfway up (it's above the
development known as Crawford Ridge). On a side access trail for ski on/ski off and
awesome mountain views of Mt. Washington and its peak (tallest mountain in New
England)
Which house is better, you ask? They're both 5 Bedrooms with 3 levels… on the trail.
Ski in/ski out. # 34 Forest is much closer to the base of the lift and is just a short walk to
the Recreation Center with indoor heated pool. # 5 Presidential is also Ski in/Ski out but
is located higher up so you also get breath-taking views of Mt. Washington.
Both houses have the same luxury amenities: All new interiors, new leather furniture, 2
Master suites with private bathrooms, 10 Foot High Def TV with Dolby digital surround
sound, new pool table, Egyptian cotton sheets 600 thread count, Gourmet kitchen,
Fireplaces (2) with hardwood provided, fine china, crystal wine glasses—and awesome
views ! let me repeat: breath-taking views from each house.
---------------------------------------------------Tel # at each house: # 34 Forest is (603) 278-2334
Phone # at 5 Presidential: (603) 278-3880
Each house has unlimited long distance dialing so go ahead and call anywhere in the
continental United States. (not international however)
When you stop at Fosters Cross Roads General Store to pick up the key, you probably
will want to buy some basic groceries like milk, bread, eggs, cereals etc.
Year-round, the house is stocked with toilet paper, cleaning supplies, soaps, dishwasher
and laundry detergent, fresh towels.
There is also another real good grocery/"gourmet" store right near the entrance to Bretton
Woods ski area. It's located at the Irving gas station 100 yards from the entrance to BW
(coming out of BW ski area, you take a left and it's down the road slightly on the right)
and it's called "Bretton Woods Station". This little store has awesome cuts of steaks,
filet mignon, fresh vegetables, gourmet coffees and fresh baked goods. The guy who
owns it is quite a character (Mark Catalano) and he'll personally cut the steaks for you
and is quite personable (I was kidding him, all good butchers are Italian). For a few
bucks, he'll probably deliver for you also, set you up with
Snowmobiles, etc. (603) 846-5055. I think he's a former Wall St. shark who got out of
the rat race and became a ski bum and gourmet entrepreneur at Bretton Woods. Sure
you'll pay a few cents more for luxury grocery items but his meats and deli cannot be
beat. He also has salads, potatoes and veggies, etc. does a hell of a good job for a
"convenience" store.
If you need a (real) big grocery shopping trip, the big Shaws market is about 7 miles
west of the ski area on route 302 over in Littleon, but frankly, the meats are probably
better at this little gourmet/convenience store. (you can also walk to it from either of our
2 houses. Look for the Irving gas station sign. The ski shop Drummonds is across the
street).
Discounted Lift Tickets: sometimes on line they give you a good discount
by buying your lift tickets in advance. Check out this website:
http://www.mountwashingtonresort.com/winter_sports/alpine/lift_tickets_on
line
You can also get a discount on lift tickets by buying them at Foster's
General Store where you get the key.
Ski Equipment Rentals/Sales: I think the best spot for ski or snowboard rentals is
the store called Drummond's Mountain Shop (603-278-7547), located just 100 yards
from the entrance to Bretton Woods Ski area (across from the Irving gas station). The
two owners Bob and Jim Drummond are super people. You might want to swing in there
the night you arrive and pick up your rental gear so the kids can be out skiing at 7:30 am
when the lifts open. I just bought an awesome pair of Nordica skis there for $ 600 which
were $ 1,000 elsewhere so they always give a good deal, and awesome personal service.
Best skiing of the day I think is early morning when the sun is bright. They get you in
and out real fast I've found. Drummonds also does ski sharpening, repairs, sales,
clothing, goggles, etc.
You can also rent right in the Bretton Woods Main lodge but the crowds can be lengthy
on a Saturday or Sunday morning.
---------------------------------------------Beds are made up clean when guests change. It would be a help to the maids if you
stripped your bed the day you leave and start one or two loads of sheets in the washer.
There is a washer and dryer in each house you're welcome to use—so don't pack too
much.
Any bed made up is deemed to be clean and not used.
The king and queen beds have high quality Egyptian cotton luxury linens.
Gourmet Kitchen fully stocked with utensils, pots and pans, etc. We don't throw
away condiments like olive oil, salt and pepper, sodas, beers, etc. between guests. The
maids are instructed not to throw out items such as mustard, ketchup, sodas, or any sealed
(unopened) foods and drinks etc. They do throw out any perishable foods left between
guests. We have a new blender, coffee maker, grinder, toaster, microwave, carving
knives, etc. Coffee is usually left in the freezer and we ask you leave some gourmet
coffee in the freezer for the next guests (Starbucks or superior grinds preferably).
Gas Grilles: Each house has a brand new stainless steel high intensity gas grille. At 5
Presidential it's in the garage and of course needs to be wheeled outside prior to usage.
At 34 Forest, it's on the back deck. In winter it may not start if the temps are below zero
so you need to wheel it inside for 10 minutes, then wheel it outside to light it. Never use
in the house of course. This gas grille (at 34 Forest) is a bit weird to use as you need to
"hold in" (press it in) each front handle for 30-40-50 seconds to get the pilot to light.
Then turn up the gas. Steaks and chops are normally cooked at high temps so 5 minutes
each side usually does it. 6 minutes at most when heat is at full blast. Chicken and
lamb and fish etc should be cooked at lower temps with cover up.
------------------------------------There is also a "crock pot" at each house you can load with pot roast or lamb and
veggies, etc and it will slow cook it over 4/5 hours.
Each house has china place settings for 12 guests. There are also crystal wine glasses
which need to be hand washed. Do Not put these in the dishwasher. If you break a glass,
please vacuum it up totally as people tend to walk around barefoot..
There is a fire extinguisher under the kitchen sink cabinets and near the
wood fireplaces.
There is a wood burning fireplace in the great room. Hardwood is stacked outside by our
association. Of course, be sure the flue is open before you light the fireplace. Always
keep the screen in front of the fireplace so ashes don't shoot out into the room.
The lower level game room and playroom also have a gas fireplace near the pool table.
The switch to turn it on is on the wall to the right side and looks like a light switch.
(At house # 5 Presidential there is also a ping pong table and air hockey game in the
garage, and the keg and firewood are kept in the garage)
Home Theater:
Each house has a high def Projector TV, with ten foot movie
screen, Dolby digital 5.1 surround system, and DVD player. This is a state of the art
system so please supervise children, and please don't touch the wiring in the back of
units. There are a number of DVD movies on hand. We also have Direct TV satellite
with free HBO and Cinemax (channels 500-600) . There are also a number of music
channels from XM satellite on the Direct TV upper channels—commercial free: jazz,
oldies, blues, rock, classical, etc all in CD quality with no commercials. Channels 600700 are the XM radio stations on Direct TV and sound comes through our Receiver for
excellent quality.
Please turn off the Projector TV after using it, by hitting the "off"
button twice. The bulbs are $ 400 each.
Other popular Direct TV channels: CNN 202. Fox News and Bill O'Reilly 360.
Cartoon Network and Disney kids channels 290-300.
Football games: Both houses have the NFL Sunday ticket package and the high def
package known as Super Fan. This means you can get every NFL game, and most in
high definition--which makes an incredible difference. The high def channels include
uncut movies with no commercials on the channels between 70-80 such as TNT and
HDN Movie theater. The high def football games could be on ESPN on channel 70-80
Or in the high def channels 700-730's. Our beloved Boston Red Sox are also in high def
on Direct TV ch. 623/624.
Local channels in high def I think are 6.1, 8.1 and 13.1
(the point one means it's a high def channel).
One Remote: you will find one remote near each TV and receiver which controls
everything, if you select the buttons at the top. Pressing the ON switch usually turns on
all the components. Check to see if the power light is on for the projector, the receiver,
the satellite box and the dvd player. If not, you can manually press the power button.
Then just control things on the receiver by selecting "TV/Satellite" or "dvd" as you
choose. Everything is connected with the new HDMI cords for perfect sound and high
def picture.
If you get sound and no picture, usually it's the "input" on the TV or ceiling mounted
projector. In this case, use the remote or press the input button on the projector until you
get a picture.
Note on 34 Forest plasma TV in living room:
the equipment is behind
you (as you face the TV.) It's in the wine cabinet off the dining room. To change the
channel on Direct TV you must point the remote control behind you—not at the TV.
Adjust the volume on the receiver in that same wine cabinet manually I recommend.
Big Sound: Kids today listen to music on their low quality I-pods, but I like high
fidelity surround sound and CD quality. So you'll find such name brand components
such as Onkyo receivers, Polk speakers, Klipsch, and the above mentioned XM radio
stations on the Direct TV upper channels played through our kick-ass dolby digital
surround sound system.
In the kids bedroom is a TV with a Nintendo game player and a bunch of game
cartridges.
Electricity: please turn off all tv's, stereos, exterior lights,
indoor lights, etc when not in use as electric costs are very high
up in the White Mountains.
Sleeping arrangements: Each house has 5 Bedrooms, two of which are master suites
with their own private bathroom. There is one King, two rooms with a queen, one BR
with a queen and a twin, and one BR with a set of twin beds. Little kids often just sleep
on the big couches in the downstairs media room. Each house can sleep 12
Open Bar: please replace the liquors with other premium liquors for the next guests
(e.g., Jack Daniels, Dewars Scotch, Stoli vodka, etc). Good idea to bring your own in
case our bar gets depleted.
Beer keg: Due to legal liability issues, we no longer supply kegs of beer at each of our
ski houses. Sorry.
Liquor stores in NH are all owned by the state so you might want to stop on the major
highways and stock up as there is no local liquor store near Bretton Woods ski area.
Please leave some liquor for the next guests.
Internet access: Yes, of course, both our Bretton Woods houses have a computer and
web access (fastest speed we can get locally) via DSL. If you use your own laptop don't
forget to put the internet connection plug back into our computer. Both houses also have
a new wireless device if you bring your own laptop and if it asks you for a password, type
the digit 2 ten times 2222222222. (note: your computer may be picking up the Mt.
Washington hotel signal and not our wireless). Check the monitor on our computer in
case any wireless code has changed.
Good Reading: Among the magazines we leave include: Architectural Digest,
Modern Home, Traditional Home, Inc, Fortune, BusinessWeek, Departures, Travel and
Leisure, Robb Report, Fine Home-building, Cigar Afficianado (if you partake, please do
so outside of course), Whiskey Magazine (this you can enjoy indoors), Wine Spectator,
Wine Enthusiast, Boston Magazine, etc, etc. If you bring some interesting magazines,
please leave them for the next guests. (and don't read the fitness magazine while you're
polishing off a bottle of fine chardonnay and munching on French brie and aged
cheddars!)
I also keep a few interesting books around each house.
(Many, many) Fun Things to Do (besides skiing):
Winters, obviously skiing is top priority and our 2 houses are located right on ski trails.
Walk out the door, strap on your skis and you're ready to ski down to the lifts.
Bretton Woods is an excellent ski area for beginners also as they have some easy trails
where you won't pick up too much speed.
There are many intermediate trails and a few black diamonds and a few double black
diamonds for a real challenge.
The Bretton Woods ski area usually opens for the season around Nov. 15, weather
permitting of course. There is substantial snow making capability so long as it's cold
enough (and that's seldom a problem). Last year the ski area remained open until the
26th of April for spring skiing ! Note, in January and February temps of 10 below zero
are not uncommon so dress super warm with multiple layers in those months. March
skiing is much nice weather usually and April is skiing with temps normally in the 25 to
40 degree F range). Season ends around May 1 or so.
Snowmobiling: Twin Mountain Snowmobiling call (603) 846-5790. Also, try
Northern Extremes Snowmobiling at (603) 278-8975. This can be real fun but be
careful, especially on lakes. You can also book through the Mt. Washington hotel I
think.
Skating: there's some ponds nearby and they rent skates at the Mt. Washington hotel
which is only a 2 minute ride down the road. Call the Mt. Washington hotel.
Other ski areas: Loon Mountain, Waterville Valley, Cannon and Attitash are each only
about a 30-40 minute ride from Bretton Woods. If you like Black Diamonds and double
black Diamonds, you might want to take a 25 minute ride down I-93 to Cannon Mountain
which is extremely challenging (but you won't find me there !) Cannon also has a real
nice aerial tram ride which runs year round and I think non-skiiers can also ride it, which
is recommended for breath-taking views.
Our Recreation Center: You can use the Rec Center by paying per person, per day.
We no longer have free passes as they've just changed the rules. They also have a gym
with free weights, treadmills, and some Cybex machines. The Rec Center is located at
the base lodge near the very entrance to Bretton Woods ski area.
The Canopy tour/Zip lines: this is a new attraction at Bretton Woods where you ride
these elevated "sky bridges" connected with zip lines. It looks like fun so long as you're
not afraid of heights of course. Open year round. For reservations, call (603) 278-4947.
You'll see a lot of nature on this also.
Mt Washington Hotel: This Grand Dame was the site of the famous international
conference with Presidents Roosevelt, Churchill (and I think Stalin ???) where the world
was carved up after WW II. It's a huge classic hotel with a lot to offer and they
welcome non hotel guests for their 27 hole golf course, cross country skiing, outdoor pool
in the summer months, fine dining in their formal dining room, etc.
Note: a sports jacket is no longer required for their formal dining room in the evening.
The hotel has new owners so some things will surely change. They want the ski area
guests to use the hotel's facilities which of course generates income for the hotel, so don't
think you're intruding. They welcome you.
The entire ski area and hotel were sold 2 years ago for some $ 85 million to a big national
company (Celebration from Orlando Florida) so you'll see a lot of improvements at
Bretton Woods pretty soon: even more trails, more local restaurants, more bars. BW is
already NH's largest ski area, acreage-wise and they're now talking about creating a
dozen more trails on the adjacent mountain on the left side. Since then, the Omni hotels
has taken over as the bad economy soured their plans to develop the entire ski area with
more housing, retail, etc.
If you get a spa treatment at the hotel, you can use all their indoor facilities
free of charge I believe, so that can be a good deal. Mommy can get a facial
or massage and kids can use the indoor pool and game rooms.
There is also a big year round outdoor heated pool at the big Mt. Washington
hotel and if you get a spa treatment, your family can use the outdoor pool for
free—even in the middle of winter, which is quite interesting.
Their spa is very reasonable for a good massage, lower level, near the indoor pool.
The new spa at the big Mt. Washington hotel (one mile from our two houses
down the highway) is being all done over and is much larger and nicer than
before so we suggest you try it.
Dog Sled Rides: Often the big hotel has several teams of sleighs with 16 Alaskan
huskies pulling them. A fun time… so call the hotel for reservations. Weekends usually
late in the afternoon Friday and Saturdays but call the hotel for a reservation.
Summers: great area for walking and hiking; bicycling; try fly-fishing with a guide if
you've never done it before. A really cool place is Clark's Trading Post (40 minute ride
from Bretton Woods) where they have live (huge) bears that put on a show which is
incredible. These bears are enormous. There's a train ride also with a Wolfman chasing
the train and parents will enjoy this place as much as kids.
Cannon Mountain has an aerial tram that is open summers for some outstanding views.
It's about a 20 minute ride over there from Bretton Woods. In winter, Cannon Mountain
can get real cold and windy and it's a pretty steep mountain for a beginner but experts
love Cannon.
I'm told the restaurant on top of Bretton Woods ski mountain will stay open year round
now and the quad chair lift will also operate in the summer months to take you up there
for lunch and the awesome views. You can have lunch at the restaurant at the top of the
mountain when skiing.
Horseback-riding: nearby. See our local phone book or call the Mt. Washington hotel
activities desk. Very reasonably priced and great for kids.
Bike Rentals: Franconia Sports Shop…nearby (603) 823-5241. rents Trek bikes and
fishing gear, Kayaks, ski rentals, snowboard rentals, etc.
Six Gun City & Fort Splash Waterpark: (603) 586-4592 (open mid june thru
September 4). A tourist trap but little kids will really like it. Real close to BW.
Story Land (603) 383-4293
Route 16, Glen, New Hampshire. This is a very popular
tourist attraction.
Clark's Trading Post: (603) 745-8913 This place is a must (closed in winter) in
summer months. Real live bears, put on quite a show. Plus a railroad ride very cool with
a "Wolfman" chasing you trying to "hi jack" the train. Open every day in summer, and
weekends in late Spring and early fall thru mid October.
Mini-golf and Driving Range: (603) 846-2244 very close. Miniature golf and a
driving range at "Buddy's Hole in One".
Golf: locally there's quite a few really good courses. The best probably is the Mt.
Washington hotel course which has a classic 18 hole and a new additional 9 hole course.
There is also a good public course/and a separate luxury semi-private course both on
route 302 over in Bethlehem 5 miles from BW. Another real nice course is south to
Waterville Valley area 45 minutes and play Owl's Nest.
Fun Towne (603) 846-2212. indoor games and skeeball, 18 hole mini golf, great fun
for kids and young teens. Open May thru October.
Ice Skating info: Try the Mt. Washington Hotel activities center for skate rentals and
info.
Year-round shopping: If you want the Designer Stores at discounts, take a 35 minute
ride over to North Conway. You'll find Ralph Lauren, Tommy Hilfiger, etc etc. Many
really good restaurants also in North Conway. To get to North Conway, coming out of
Bretton Woods ski area, you take a right onto Route 302 east and you'll drive by Attitash
ski area. Proceed another 7-8 miles. This is outlet shopping at its best ! many good
casual and gourmet restaurants in this shopping strip area also.
Lake Winapasaukee is about a one hour ride and worth checking out for its immense
size and water sports in summer. There are many multi million homes on the lake,
including one owned by Mass. Governor Mitt Romney.
The Cog Railway is very close to Bretton Woods ski area and our 2 houses. It's a
small train that actually climbs the mountain. Very famous and very cool. The train
runs year round.
The Foliage Train and Dinner Train: runs between Bretton Woods and North
Conway. June thru October.
Fishing and Hunting: everywhere around Bretton Woods. Try fly fishing with a
guide for a real interesting experience.
Santa's Village (603) 586-4445 is about a half hour drive away.
Hiking: Yes, you can climb Mt. Washington for an exhilarating hike up and down in
one day. Nice weather only if you value your life ! do NOT attempt this in winter
months or you'll be on the front page of the newspapers as "missing"
Giant Chess Set: both houses have a huge chess set in the lower level game room for
the kids. The "chess pieces" are about a foot tall and made of plastic.
For adults, there's a professional chess set and game table in the family room (under the
coffee table) or in one of the drawers.
-----------------------------------------------------------
Or try something you don't do at home, and prepare a nice big meal at noon
with a few great bottles of wine followed by a siesta.
Watch a movie on our 10 foot high Def Home theater System. Both houses have Direct
TV satellite with some channels in high definition. There is of course a DVD player and
awesome Dolby digital surround system in each house. We keep a few movies at each
house.
There is a new pool table in each house, lower level. Please be sure kids don't abuse it,
or break the sticks.
--------------------------------------------------------But the best thing to do at each house is to just relax with a drink and watch the skiers
come down the mountain.
In the evening, watch the grooming machines go up and down the mountain.
Take an early morning ski run at 8 AM as soon as the lifts open for a real rush.
The views from the top of the mountain are breath-taking.
Or just walk around the ski area on the roads and you'll get plenty of exercise with the
hills. If you like treadmills, the Rec Center has them and Cybex exercise equipment.
Restaurants: Best local (real close) fine dining restaurant:
the Mt. Washington Hotel, formal dining room (jackets no longer required for
men). They also have some occasional wine dinners, and Big Smokers for cigar lovers.
A lot of "theme" weekends like old cars, etc. Very good food, great service and usually
a piano player or small trio playing background music. Fine dining at its best….and only
a 2 minute ride from our 2 slopeside houses. (Note: if you don't feel like driving over to
the hotel, call and they'll send the shuttle over to pick you up at no charge.)
The Restaurant at Shakespeare's Motel: Just 2 miles south of Foster's
general store on route 3, this casual restaurant is amazingly good. The chef
is from Jamaica and she's an excellent cook who can make everything it
seems. You can bring the kids and it's very casual for families.
Cantina di Gerardo: a great little authentic Tuscan restaurant in Littleton. The chefowner is from Italy so this is about as real as Italian can get. He serves your dinner in the
big pans in which he cooks. An excellent bargain and great food if you've been in small
villages in italy you'll like this place. Nothing fancy at all (the place looks like a pizza
parlor but the food is awesome). Well worth a 30 min ride over to Littleton. Take 302
west (left out of BW), to Route 93. go north 2 exits to exit 42 and follow into Littleton a
short ways and restaurant is on your right. A small hole in the wall but great food. Call
first as he's not always open (603) 444-7700. (note chef is a big guy and that is probably
a good sign as I worry when I see a "skinny" chef)
Beal's Inn and Martini Bar:
This place has really good food though the
atmosphere is like a country inn and quite casual. It's about a 25 minute ride over to
Littleton but well worth it if you like interesting cuisine and really good wines, all at
decent prices. You can even bring kids as it's quite casual and funky. For reservations
call (603) 444-2661. Website is www.bealhouseinn.com. There are new owners but
hopefully the kitchen staff will stay the same. The Previous owners were outstanding
restaurant operators so hopefully the new owners will carry on this tradition?
To get to Littleton, take a left coming out of Bretton Woods ski area onto Route 302
west, 8-9 miles over to I-93 (keep straight on 302 after Fosters General Store). go north
two exits to exit 42. Follow it into Littleton downtown and Beal's is on the left as road
merges with Main St. (it's very close to Cantine de Gerardo)
Rosa Flamingo's restaurant is just a few miles away from Bretton Woods, on the
main road to Littleton, Route 302. (call 603-869-3111). This is a really good casual
restaurant with interesting food, a step above pub grub. Serves dinner 7 nights a week,
and outdoors in summer. (adjacent town to Bretton Woods is called Bethlehem).
Coming out of Bretton Woods you take a left on route 302 going west about 6-7 miles to
Bethlehem.
Cold Mountain Café: funky little bistro/restaurant on route 302 (take a left out of
the ski area and go 6 miles into Bethlehem town). The Foley sisters own it. They are
real folksy and food is always interesting and reasonable. A modest wine list I think but
you may be able to also buy wine next door at the little store???
Pizza: Shakespeare's motel restaurant, just a few miles south of Foster's General store
on route 3 has very good pizza and real good casual food. But they don't deliver.
Sunset Resort at Sugar Hill: a real nice country inn located on the other side of I93 in the town of Sugar Hill, which is a few miles west of I-93. a 25 minute ride from
our houses at Bretton Woods. In summers and fall they also have a 9 hold par 3 course
which is quite famous. They also have a Wine Spectactor award of Excellence.
Grand Depot Café: In Littleton, a 25 minute ride from our house. Real good French
style cuisine. Pretty good wine list also. Dining room is kind of wide open and not real
comfortable but food is very good I'm told.
Riverview Restaurant at the Wayside Inn (603-869-3364. A very nice setting
overlooking the river with American and Swiss cuisine in a casual setting (sure, you can
bring kids). Call for reservations. Just 15 min. ride from our house
North Conway Restaurants and Shopping: (about a 30 minute drive from BW)
If you're a non skier and want to spend a great day shopping and walking around, take
route 302 east to North Conway. This is Outlet Shopping Heaven ! You name the
designer and they have an outlet here. Ralph Lauren, Hilfiger, Dansk, Name brand shoes,
Home goods stores like LL Bean, Orvis, etc etc. www.northconwayconnect.com
www.settlersgreen.com is a shopping plaza with a slew of outlet stores in North
Conway and some interesting restaurants.
Real interesting restaurants in North Conway: Flatbreads, perhaps the best pizza you'll
ever have. (www.flatbreadcompany.com). I highly recommend this place for pizza and
a few cold ones with the family.
Stonehurst Manor www.stonehurstmanor.com is both casual and fine dining and
has great wood fired pizzas and aged prime rib cooked on wood. North Conway on the
Main St.
Bellini's Italian Restaurant: family style casual but also gourmet www.bellinis.com
North Conway location
Moat Mountain Smokehouse & Brewing Company www.moatmountain.com
real good BBQ and crafted local beers brewed on the premises. North Conway
If you have a morning to kill, take a 30 minute ride over to Polly's Pancake Parlor, to the
west of Bretton Woods in Sugar Hill area (west of I-93). These are reported to be the
best pancakes in the world by the NY Times, etc. and the views are pretty good also.
www.pollyspancakeparlor.com (of course you want a big mound of whipped cream on
your blue-berry pancakes, right ???). I believe however they are closed in the winter for
some crazy reason.
Train ride and dinner train: from North Conway
www.conwayscenic.com (june
thru October only)
To the North of Bretton Woods, there's a huge resort similar to the Mt. Washington Hotel
known as the Mountain View Grand. Some crazy person (from Massachusetts I hear)
pumped $ 20 million into this place a few years ago and made it gorgeous. I've never
been there but it's only a 20 minute ride (north) from BW. It's a grand hotel with golf,
spa, fine dining restaurant, horse stables, cross country skiing, etc. Worth a 20 min. ride
if you have some time to explore.
www.mountainviewgrand.com
Local Events: check out this website: www.franconianotch.org
----------------------------------Of course, you'll be so comfortable at our luxury house(s)/chalet that you may not want
to go out at all. We have a designer kitchen in each house and a new stainless steel gas
grille outside. Extra tanks of propane in the garage if they run out.
Note: the new gas grille at 34 Forest is a bit strange (to light it) so listen for the click on
each button. You can also light it with a match or the long electronic lighters inside the
house kitchen drawers. (in extreme temps below zero, gas grille may not work….sorry!)
(unless you wheel it in the house and let it warm up, then wheel it outside to light it—
never light the gas grille indoors of course)
Trash: please use the large plastic bags. There are bears in the area so don't leave any
trash outside. If you want to see a live wild bear, check the dumpsters at dusk and early
morning. But don't try to pet them whatever you do. Dumpsters are located behind the
Rec Center. If the dumpster is locked leave bags in front of the gate, sealed up tight.
There's also a lot of Moose around, particularly around the rivers and streams, and many
deer, coyotes, raccoons, hawks, eagles, etc. There's a momma black bear with two cubs
often seen around the 5 Presidential house.
Utilities: Electricity is expensive up north, so please put out
lights and other power items when not in use.
You also get good prices on everything at the hotel: all their restaurants including the
fancy gourmet one. Golf discounts, pool, horseback riding, babysitting special low rates,
teenager evening programs, body massages at the hotel, carriage rides, kids camp, and
cross country (Nordic) skiing at the hotel. Also, fly fishing discount, their shops at the
hotel and golf club. Special low rates on golf fees and their 27 holes of golf are gorgeous
!
Remember, the hotel owners want you over there to spend money and enjoy
the large hotel. The big hotel and we homeowners have a very close and
warm working relationship so use the hotel facilities and enjoy it.
To book any activities at the hotel, call (603) 278-1000.
Directions ( & Key info) & Check-in:
To pick up the key and check into either of our 2 houses, stop at Foster's Cross Roads
General Store, junction of route 3 and 302, about four miles from the Bretton Woods ski
slopes. They are open until 11pm Fri and Saturday nights (9pm on weekdays so if you're
going to be late, please call them). Walk into the general store and the nice girl at the
cash register will direct you to the rear of the store where a lady will check you in to our
house.
While you check in, you can buy some groceries like milk, breads, eggs, beer, wine, etc
at Foster's Crossroads General Store (for fresh meats and veggies, the other convenience
store at the Irving gas station 200 yards from base of Bretton Woods area has these items.
Every place takes credit cards. You can buy discounted ski lift tickets (at Fosters) also
while you check in (cheaper than at the mountain).
Liquor Stores: the convenience stores sell beer and wine. But in NH only state liquor
stores can sell hard liquor so you can bring your own spirits. We also keep some stocked
for you in each house but ask that you replace them with other premium spirits for the
next guests. Closest NH state liquor store are on the highways on your way up, and there
is one in Littleton near the Stop and Shop/Walmart/Home Depot shopping area. The big
NH state liquor stores on Route 93 on your way up are good places to stop for discounted
liquors and wines (and to let the kids go potty).
Bretton Woods is best reached by I-93. From Boston it's about 2 hours 30 minute ride, a
straight shot up route 93.
(going north) You'll go past Loon Mountain ski area, then past Cannon Mtn ski area,
then follow signs for Bretton Woods/Twin Mountain. It's about 15 minutes from I -93
going east to Bretton Woods. Off I-93 (past Franconia Notch), take Route 3 north (this
cuts out a few miles), then Route 302 east . . (here you stop for the key to the house at
Foster's Cross Roads General Store). After you get the key, take route 302 east about 4
miles to Bretton Woods ski area.
34 Forest Cottages:
enter the ski area main entrance, go 300 yards straight in past
the sign that says Welcome to Bretton Woods (big lodge is on your right). After that
sign, go 100 yards and take a right on Forest Lane. Ours is the first building on the right.
Big stone chimney faces the road. There are 2 houses attached. Ours is the one facing
the slopes so walk up a few steps on the right side of the house.
# 5 Presidential Views:
enter the main entrance of Bretton Woods ski area.
Then take your first right, past the Rec Center and proceed to climb the right side of the
mountain. Keep going on the road past a number of condos. Our house is 2nd from last
house on the right side. # 5 next to front door. We do not use the garage for parking as
it's heated and there are games in there, firewood and the keg of beer-- so keep that door
down in winter at all times.
--------------------------------------------If you're flying in, you're best off landing in Manchester, New Hampshire. From there
it's about a one hour 15 minute ride to Bretton Woods. You can also land in Boston at
Logan Airport and rent a car to drive up I-93, a little less than 3 hours from Boston's
Logan Airport.
Other Vacation Houses We Own: We have three big ski houses in Stowe Vermont
great for winter or summers (heated in-ground pool in the summer months. Awesome
views of the slopes and Stowe ski mountain (Mt. Mansfield). Plus a huge 8 BR ski house
at Sunday River, Maine.
We also have 2 big luxury houses on St. Maarten at Dawns Beach, one of the world's
finest beaches. These houses are booked fully 6-7 months in advance so please book well
ahead and email us for availability.
And we have two luxury ocean-view houses on St. John in the U.S. Virgin Islands.
See them all on our website: www.OurRentalParadise.com
Dealing with the local people: people who live in vacation areas whether it's Stowe
or Bretton Woods or St. Maarten tend to be very friendly and helpful. Get to talk with
them and try and give them your business as they depend on tourist dollars. It's a
different pace of life in these areas and the folks are very down-to-earth I find. Give
them a smile, inquire how they are and what's going on locally. Try and remember their
name and tip well when service is good—as it almost always is. These people choose to
live in these areas for the quality of life.
John Foster who owns the General Store is quite a local character. He's a big guy who's
pushing 60 but doesn't look a day over 59 (ha ha). He and his wife run the place and are
great people. They are extremely helpful and pleasant and they employ the several
cleaning people who will make sure the house is immaculate for you. He also drives the
town ambulance and is the local bail bondsman (hopefully you won't need either of those
services). The last time he played golf years ago his ball hit someone in the head so don't
invite him to play. (he's the Gerry Ford of Bretton Woods).
Fosters also books several other Bretton Woods houses so if ours are booked, you can
contact them about other houses (our houses are super luxurious which is very rare for a
"rental" property)
Before You Leave:
1. check for all your personal belongings, though leaving a few DVD movies etc for
the next guests is appreciated (don't throw away condiments or unopened foods
and please leave gourmet coffee in the freezer even if opened). The cleaning
people arrive around 10:30 am as these are big houses to clean and make up many
beds, etc as the next guest often arrives as early as 3pm that same day.
2. Please strip beds and throw soiled sheets on the floor. Please fill and start the
dishwasher also.
3. Return the key back to Foster's General Store.
4. a little gratuity for the cleaning person is greatly appreciated, $ 20-30 or so.
Michelle is our cleaning person for both houses and I find she does an excellent
job, consistently.
5. Be sure all trash is put in the outside dumpsters (behind the Rec Center)
6. have a safe trip home with a lot of good digital photos and memories
7. Shut off all lights and turn down thermostats.
8. Email john when you get home and book your next trip to Stowe, Bretton Woods
or our St. Maarten houses !
Best Regards,
John F. Gallagher
Owner & Bon Vivant
Please conserve electricity as it's very dear and expensive
up in the White Mountains of NH. Shut off lights, etc
when not using them.