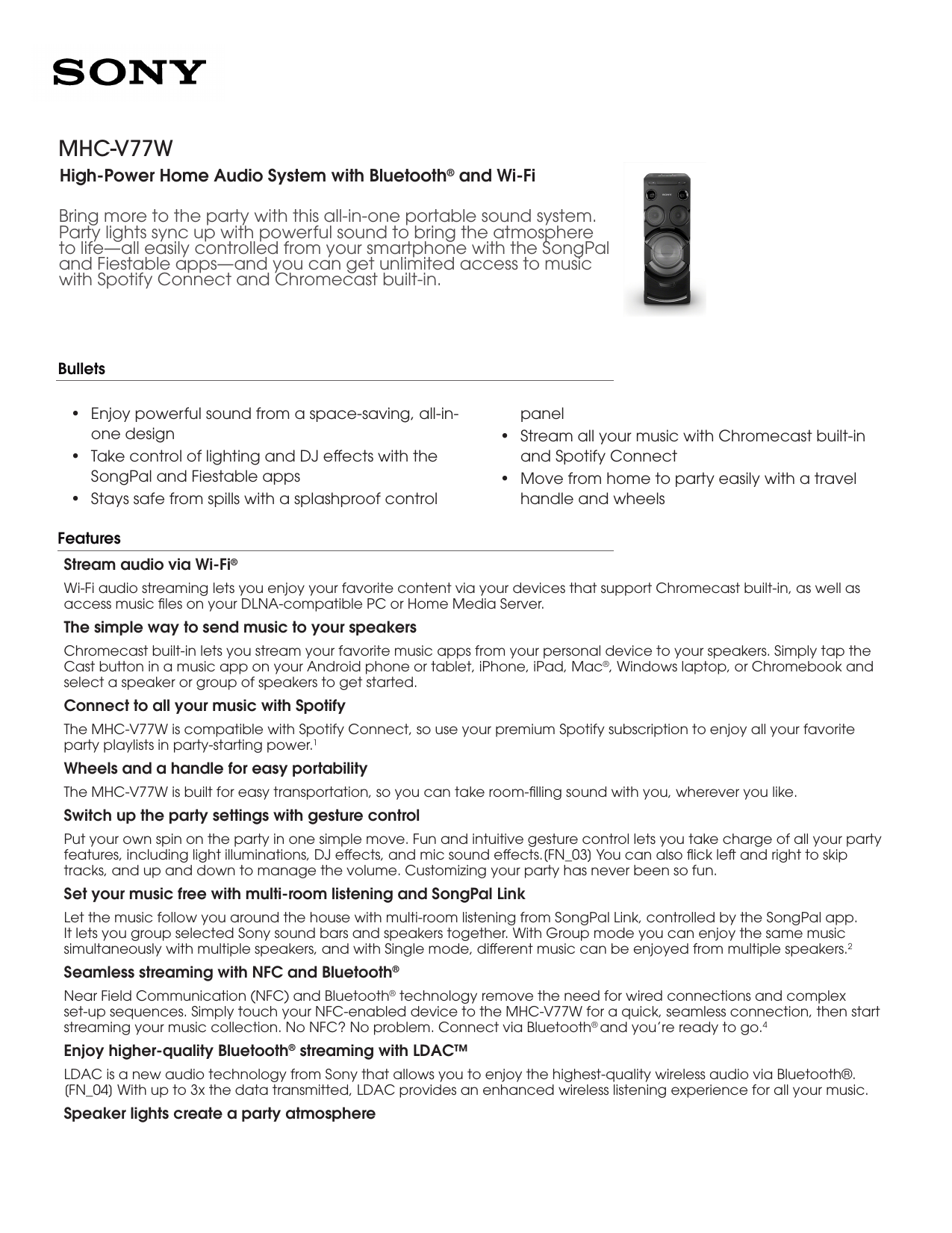 MHC-V77W
High-Power Home Audio System with Bluetooth® and Wi-Fi
Bring more to the party with this all-in-one portable sound system.
Party lights sync up with powerful sound to bring the atmosphere
to life—all easily controlled from your smartphone with the SongPal
and Fiestable apps—and you can get unlimited access to music
with Spotify Connect and Chromecast built-in.
Bullets
• Enjoy powerful sound from a space-saving, all-inone design
• Take control of lighting and DJ effects with the
SongPal and Fiestable apps
• Stays safe from spills with a splashproof control
panel
• Stream all your music with Chromecast built-in
and Spotify Connect
• Move from home to party easily with a travel
handle and wheels
Features
Stream audio via Wi-Fi®
Wi-Fi audio streaming lets you enjoy your favorite content via your devices that support Chromecast built-in, as well as
access music files on your DLNA-compatible PC or Home Media Server.
The simple way to send music to your speakers
Chromecast built-in lets you stream your favorite music apps from your personal device to your speakers. Simply tap the
Cast button in a music app on your Android phone or tablet, iPhone, iPad, Mac®, Windows laptop, or Chromebook and
select a speaker or group of speakers to get started.
Connect to all your music with Spotify
The MHC-V77W is compatible with Spotify Connect, so use your premium Spotify subscription to enjoy all your favorite
party playlists in party-starting power.1
Wheels and a handle for easy portability
The MHC-V77W is built for easy transportation, so you can take room-filling sound with you, wherever you like.
Switch up the party settings with gesture control
Put your own spin on the party in one simple move. Fun and intuitive gesture control lets you take charge of all your party
features, including light illuminations, DJ effects, and mic sound effects.[FN_03] You can also flick left and right to skip
tracks, and up and down to manage the volume. Customizing your party has never been so fun.
Set your music free with multi-room listening and SongPal Link
Let the music follow you around the house with multi-room listening from SongPal Link, controlled by the SongPal app.
It lets you group selected Sony sound bars and speakers together. With Group mode you can enjoy the same music
simultaneously with multiple speakers, and with Single mode, different music can be enjoyed from multiple speakers.2
Seamless streaming with NFC and Bluetooth®
Near Field Communication (NFC) and Bluetooth® technology remove the need for wired connections and complex
set-up sequences. Simply touch your NFC-enabled device to the MHC-V77W for a quick, seamless connection, then start
streaming your music collection. No NFC? No problem. Connect via Bluetooth® and you're ready to go.4
Enjoy higher-quality Bluetooth® streaming with LDAC™
LDAC is a new audio technology from Sony that allows you to enjoy the highest-quality wireless audio via Bluetooth®.
[FN_04] With up to 3x the data transmitted, LDAC provides an enhanced wireless listening experience for all your music.
Speaker lights create a party atmosphere
Pump up the atmosphere with club-like speaker illuminations. Lights are directed through a lens to spread a wide light
pattern in lines. You can control the lights with the Fiestable app or on the system, and watch them sync to the beat of
the music for a club-style dance floor at home.
USB port lets you plug in and play
With a USB port, you'll be able to plug in a USB device, smartphone, tablet, or laptop and play all your digital files. It's
compatible with MP3, AAC, WMA, WAV/AIFF, FLAC, ALAC, and DSD formats, so you can keep the party moving with your
favorite playlists.5
Karaoke features let you sing along
Karaoke competitions with your friends are easy: use the two mic inputs, scoring, and sound effects to team up with
friends for the ultimate sing-off. A built-in vocal fader function turns down the voice on all your favorite songs so you can
sing along, and you can even sing along to tracks from YouTube™ via Bluetooth®.
FM radio tuner for your favorite shows
Want to hear your favorite DJs? Simply tune in using the FM radio dial and see what's out there.
Splashproof control panel for durability
The MHC-V77W's top surface is splashproof, dustproof, and easy to clean, so you can keep the party going all night even
if you spill a drink.
Fiesta Mode recreates party sound anywhere
Hit the Fiesta Mode button to enjoy the high sound pressure of the party hall in any environment, even outside.
Specifications
Amplifier
Convenience Features
Display Specs
Function
Inputs and Outputs
Karaoke
Timer Sleep (Source)
Yes (For all function)
Built in demo
Yes
Demo Mode
Yes
Gesture control
Yes
GUI Language (Main display)
English
Home Network
DLNA
Music Services
Yes
USB1
Yes
Audio In
Audio In1
Bluetooth
Yes (iAP1/ iAP2 over BT)
CD
Yes
FM
Yes
Analog Audio Input(s)
1
Analog Audio Output(s)
1
Speaker Output(s) Front
1
USB Port(s)
1
Ethernet Port
1
Microphone Input(s)
2 (6φ)
Echo
Yes (for all function)
Karaoke-PON
Yes (Vocal fader, for all function)
Key control
Yes(for all function)
Mic Volume
Yes (for all function)
Scoring
Yes (for all function)
PARTY LIGHT
Yes (RBG/for top & floor)
SPEAKER LIGHT
Yes (Flash)
Illuminated keys
Fiesta / Gesture control / Function keys and more
Power Illuminator (color)
Yes
Touch keys
Yes
Auto Standby Mode
Yes
Power Consumption (in Operation)
220W
Power Consumption (in Standby)
0.5W
Flanger
Yes
Isolator
Yes
Pan
Yes
Wah
Yes
Sampler
Yes (Scratch and more)
Bass Boost function
Mega Bass
ClearAudio+
Yes
Equalizer
Music
Party chain
Yes
Sound Enhancement
DSEE (AUTO)
Power Requirement
AC120V-240V, 50/60Hz
D/A Converter
Audio
96kHz/24bit
Decoding Format(s) for Sound
(Playback)
MP3
Yes
Tray Type
1 Disc Tray
Child Lock
Yes
Tray Lock
Yes
8cm Disc (CD)
Yes
CD
Yes
CD-R
Yes
CD-RW
Yes
Play Mode(s)
Normal / Shuffle / Repeat
Resume
Yes
ID3Tag Ver. 1.1
Yes
ID3Tag Ver. 2.0
Yes
MP3 File name
Yes
Quantity
1
System
3 Way
Mid Unit Size
12 cm x 2
Subwoofer Unit Size
25 cm x 1
Tweeter Unit Size
4 cm x 2
Sound pressure horn(BLH)
Yes
Dust Proof
Dust proof / Splash proof (Control panel only)
Carrying Handle
Yes
Lighting Effect
Power
Power Consumption
Sound Entertainment
Sound Features
Common Item
General Features
DVD/SA-CD/VCDCD Player
General
Playable Discs for Audio
Playback Features
Text Information
Front Speaker
General Features
Speaker Spec
Other Functions
Dust Proof
Other Information
General
Tuner
Tuner
Band
FM
External Antenna
Yes (75 ohm)
Preset Channel
20 FM
Tuning Range (FM)
87.5-108MHz / 100KHz
Model Number
RMT-AM330U
AAC
Yes
MP3
Yes
Walkman
Yes
AIFF
Yes
ALAC
Yes
DSD/DSDIFF
Yes (DSD)
Remote Commander
General
USB Port(s)
Decoding Format(s) for Sound
(Playback)
Decoding Format(s) for Sound
(Playback)
FLAC
Yes
WAV
Yes
WMA
Yes
Editing Features
Erase
Yes
Encoding Format(s) for Sound (Record)
MP3
Yes
Play Mode(s)
Normal (USB / Folder)
Shuffle (USB / Folder)
Repeat
Resume
Yes
Playback Features
Power
Charge
1A
Recording Specs
MP3 Encording Bit Rates
128k/256k
Recording Features
Recording Mode(s)
Normal (1 Disc / 1 Folder)
REC 1 (1 Track)
CD
x3 (Approx.)
MP3CD
x20 (Max)
ID3Tag Ver. 1.1
Yes
ID3Tag Ver. 2.0
Yes
MP3 File name
Yes
A2DP(SINK)
Yes
AVRCP
Yes (Ver1.5)
LDAC
Yes
AAC
Yes
SPP
Yes
AAC
Yes
AIFF
192/176.4/96/88.2/48/44.1 kHz 24/16bit
ALAC
192/176.4/96/88.2/48/44.1 kHz 24/16bit
DSD (DSF / DSDIFF)
2.8MHz/5.6MHz
FLAC
192/176.4/96/88.2/48/44.1 kHz 24/16bit
MP3
Yes
WAV
192/176.4/96/88.2/48/44.1 kHz 24/16bit
WMA
Yes
Music Service Platform
Yes
Recording Speed
Text Information
Wireless Connection
Bluetooth
Spotify Connect
Yes
NFC
Bluetooth connection
Yes
Application
Apps
Yes (SongPal & Fiestable)
WiFi
IEEE802.11a/b/g/n
Yes
Supplied Accessories
AC Cord
FM Antenna
Battery (AAA/Manganese)
Remote Control
Operating Instructions
Instruction Manual (English, French, Spanish)
Dimensions (WxHxDcm)(Approx.) incl.
projecting parts
Main Unit: 34.0 x 92.4 x 37.8 cm
Weight (kg)(Approx.)
Main Unit: 22 kg
Accessories
Accessories
Weight and Measurements
Main Unit
1. Some of the listed services are not available in Canada.
2. Requires download of SongPal app for iPhone from the App Store or for Android from Google Play. User must link compatible devices in order to control operation. Subject to app
terms and conditions.
3. DJ sound effects require the SongPal app, available for Android and iOS. Requires download of SongPal app for iPhone from the App Store or for Android from Google Play. User must
link compatible devices in order to control operation. Subject to app terms and conditions.
4. Interoperability and compatibility between Bluetooth® devices vary.