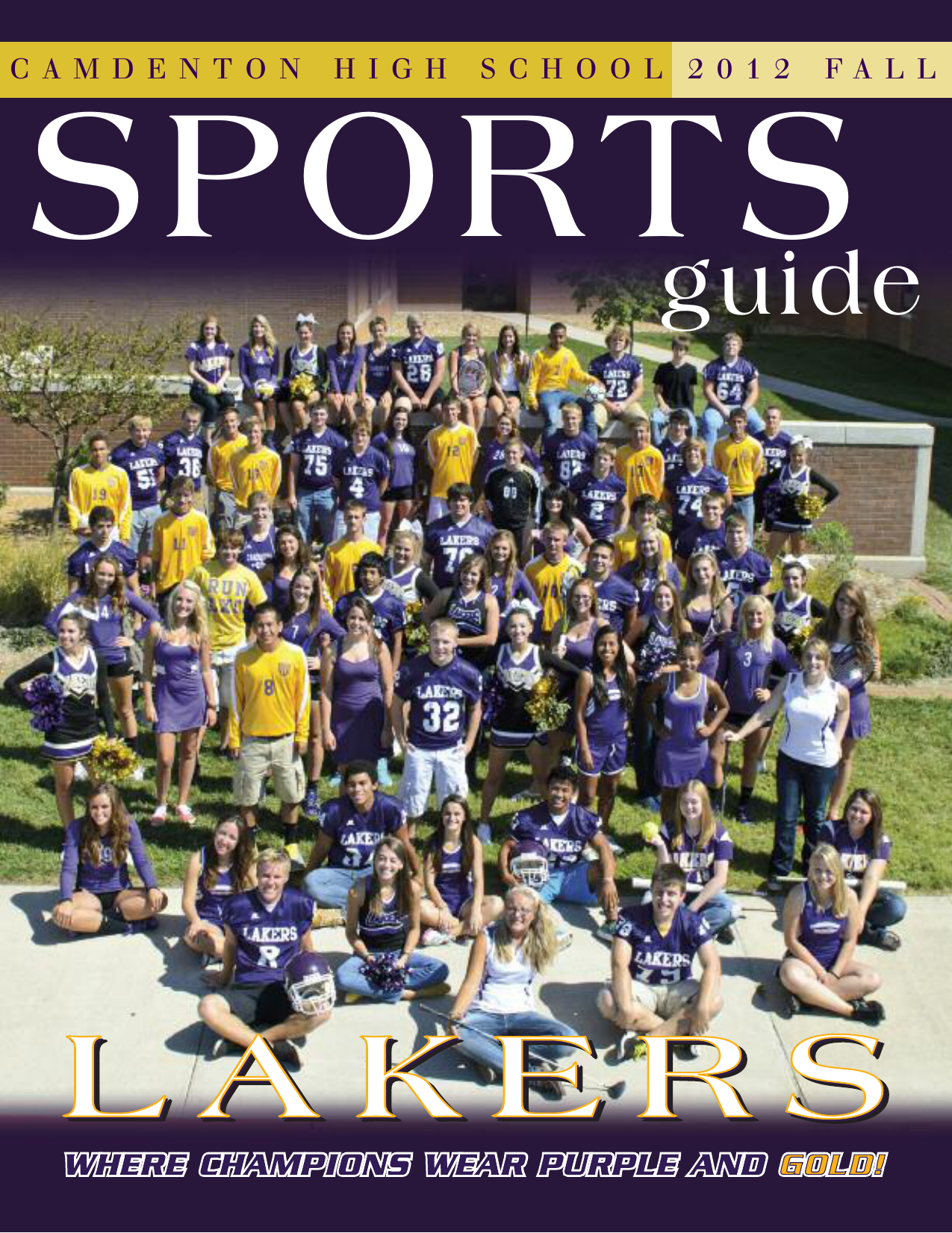 C A M D E N T O N
H I G H
S C H O O L 2 0 1 2
FA L L
SPORTS
guide
Laker Athletic Boosters, Inc., Benefitting the Camdenton R-III Athletic Programs
The following Gold and Purple Sponsors' contributions benefit every Camdenton Laker Student
Athlete by providing needs such as equipment, facilities, special programs, and improvements.
Contributions from sponsors like these, along with the Camdenton Athletic Booster Club, have
exceeded $740,000 from 1987 through 2011. On behalf of the Camdenton Athletic Boosters, we
would like to say THANKS to all of our sponsors. If anyone would like more information about the
Laker Invitational Golf Tournament, or about being on our sponsor list, please contact Jason Hulett at
346-7272 or John Blair at 346-2235.
2011 GOLD SPONSORS
1150 KRMS-93.5 Mike FM
92.7/Classic Hits 102.7 FM
ACI Frangkiser Hutchens
All American Termite and
Pest Control
All Pro Homes
Alpha Graphics
Andy's Frozen Custard
John Beckett Motor Co.
Bednara, Vanderveld & Company
Herb and Janet Baker
Jim and C.J. Blair
Blair Cedar
Blair's Landing
Camdenton Rotary
Todd and Michelle Campbell
Central Bank of Lake of
the Ozarks
Clark's Concrete Const. Co.
Mac Decker
Denny's Dairy Queen
W. Gary Drover
Ezard's Inc.
First National Bank
Dr. Chris and The Honorable
Diane Franklin
G & G Marina
George K. Baum & Co.
Tim and Amy Hadfield
Hedge's-Scott Funeral Home
Matt and Jeane Herfurth
HMI Fireplace Shop
Hulett Chevrolet-Buick-GMC
Innovative Procurement
Jack's Sporting Goods
Jiffy Stop Food Marts
Lake Dental Clinic
Lake Oasis Convenience Stores
Lake Ozark Anesthesiology
Lake Professional Engineering
Lake Regional Health System
Lake Regional Orthopedics
Lakeland Oil
Lens Mart Optical
Leslie Orthopedics
Main Street Road and Asphalt
Marty's Marine
McDuffey Law Firm
McGrath Insurance Group
Med Pay, Inc.
Ronda Miller
Missouri Bell Telecom
Missouri Builder's Service
Missouri Eagle
Naught Naught InsuranceJay Jennings
Robert Nielson, DO
Ozark Ford, Lincoln, Mercury
Ozark Ready Mix
Ozarkland
Ozark's Coca Cola/Dr. Pepper
Company
Phillips, McElyea, Carpenter &
Welch, P.C.
Stover Carpet and Drapery
Tan-Tar-A Resort
WeHoop - Rogie Carlock
Yacht Club Marina
2011 PURPLE SPONSORS
A-B Rental
Selynn Barbour
Econo Lift Boat Hoist
Evers and Company
Graves and Associates
Jim and Marjorie Herfurth
Innovative Real Estate
Lake Digestive Health
Dr. Kevin Byrne
Ozark Trophy and Engraving
SAMCO Business Products
Sleep Inn - Inn and Suites
Carl and Jan Tidgren
Westport Construction
Support Project Graduation
Raffle
2013 Chevy Camero
Project Graduation is an all-night, chaperoned, substance-free celebration for the graduating
seniors of Camdenton High School. The purpose of the evening is to congratulate the seniors
for completing their high school curriculum as well as to provide a safe, enjoyable
environment for these students on their graduation night. The hope is that these young
adults will carry into the future the message that a good time can be had without the use of
drugs and alcohol.
Tickets only $10 Each
May be purchased at various high
school events.
For more information visit:
camdentonprojectgrad.com
Photo provided by: DLJonesPhotography.com
Welcome to Camdenton High School
"Home of the Lakers"
Brett Thompson, Principal
Welcome to Camdenton
High School, Home of the
Lakers! It is an exciting
time to be a Laker, and we
are looking forward to a
successful fall season of
CHS activities. With the
hard work and commitment
of our students, coaches, and
sponsors we are sure to continue that winning
Laker tradition that is second to none.
As we look forward to a new season of activities,
we want to thank our community for the
continuous support provided to our students and
our school. By working together, we are sure to
maintain a positive learning community for our
students and help them achieve great successes
both in the classroom and on the field.
Extra-curricular programs are an extension of
the classroom, and they play a significant role in
our students' education. Participation in these
activities allows students to realize the importance
of individual responsibility, competition, and
teamwork - all of which will contribute to their
future accomplishments. Through their
commitment to team success, students also
learn valuable lessons regarding character and
sportsmanship that not only help them succeed
on the field of play, but also provide them
experiences that allow them to become productive
citizens and adults. I encourage you to continue
to support our students and recognize their efforts
by displaying that positive "Laker Pride" for your
school, your teams, and your community. We look
forward to seeing you at our events this fall.
Go Lakers!!!
Jeff Whitney, Director of Athletics and Activities
Welcome to another great
season of activities in the
Camdenton School District!
My name is Jeff Whitney.
As the Camdenton R-III
Athletic Director, I would
like to take this opportunity
to welcome our fans and
guests to this interscholastic
activity. Extra-curricular
activities play a special part in our school's
educational program. Our school and
community are dedicated to our students'
pursuit of excellence and the values taught by
interscholastic competition. The playing arena
is viewed as an extension of the classroom where
lessons about sportsmanship, self-discipline and
perseverance are often learned. In addition, these
competitive endeavors offer opportunities for
students from diverse backgrounds to learn the
value of teamwork, cooperation and mutual
respect for teammates, opponents and officials.
As spectators we are also an important component
in the lessons taught to our student-athletes. The
constructive actions we show and the positive
words we use at athletic events and other activities
help create a productive atmosphere, of which our
students can be proud. Officials, coaches and
athletes will often fall short of perfection just as
we all do in our daily lives. With this in mind it is
important that we continue to serve as a positive
example for our student body.
Our coaches and students as well as those from
visiting schools have worked extremely hard
and put in many hours to give us their best
performances. Enjoy these contests and cheer
on our student-athletes! GO LAKERS!
Camdenton R-III School District
Everyone Learning Every Day
C A M D E N TO N
MIS
SOU RI
PO Box 1409
Camdenton, MO 65020-1409
Phone: 573-346-9213
Fax: 573-346-9211
Superintendent
Tim Hadfield, Ed.D.
Deputy Superintendent
Brian Henry, Ed.D.
Assistant Superintendents
Roma Lee France
Jim Rich, Ph.D.
Dear Patrons,
On the pages that follow, you will be introduced to the greatest resources of
the Camdenton R-III School District: our students and staff. Our students
are dedicated to the activities in which they participate and strive to
represent our District in a positive manner. They are supported by skilled
coaches, directors, and sponsors. These dedicated staff members not only
teach the necessary skills of the activities they promote, they also instill
life-long values. "Purple Pride" runs deep in our community and we thank
you for your support of our students and staff.
Camdenton is one of the premier school districts in the state. We are fortunate to have
first-class facilities, thanks to the support of our patrons. Last year we experienced one
of the most successful years ever for our District. We look forward to surpassing these
accomplishments this school year.
Please continue to support our students and staff by displaying positive Laker Pride. Your
example assists our students in continuing the proud traditions of "Laker Nation." Our entire
school community encourages you to enjoy our activities. We look forward to cheering with
you to support our amazing students.
It's a Great Day to be a Laker!
Tim Hadfield, Superintendent
Board of Education
Nancy A. Masterson
Chris C. McElyea
Selynn Barbour
John L. Beckett
Jim Besancenez
Laura Martin
Jackie Schulte
Linda Leu
President
Vice-President
Treasurer
Director
Director
Director
Director
Secretary
VARSITY CHEERLEADERS
Seniors
Ashlei Bruewer
Brett Helms
Amber Lucas
Mariah McWhirter
Shae Smith
Hannah Whitney
Juniors
McKena Baumert Samantha Holmes
Tatum Donald
Macy Sparks
Sophomores
Shelby Briscoe
Danaelyn Flint
JUNIOR VARSITY CHEERLEADERS
Junior
Sabrina Looney
Freshmen
Bradi Brewster
Bailey Cairns
Abbie Kenniston
Sophomores
Devon Brown
Nikki LeMay
Crystal Marval
Melissa Oakes
The Laker Cheerleading
program has been built on
a long-standing tradition of
high expectations. Each year,
the girls strive to raise the
skill level and continually
pursue excellence in
tumbling, stunts, and cheers.
This year is no exception.
Tayla Ford
Cassi Reed
FRESHMAN CHEERLEADERS
Mikayla Oakley
Corrine Rogers
Lacey Schmidt
Tiffanie Sheets
Kassi Denny
Kayla Frentzel
Sara Hamilton
Ashley Jackson
Jenna Sims
Jennifer Taylor
2012 Laker Cheerleaders
In June, the girls attended
National Cheerleaders
Association (NCA) camp.
They received several
superior ribbons. Seven
girls were selected as
All-Americans and three of
those were recommended for
NCA Staff.
The Competition Squad will
compete in January at the
NCA Competition in St.
Charles, Missouri. They are
working hard, knowing perfect
practice make for a perfect
performance. They hope to
make Laker Nation proud!
We are looking forward to an
exciting year! Whether it's
the competition floor or the
sideline of a game, the Laker
Cheerleaders aim to raise the
spirit and enthusiasm for all
Laker fans! Let's Go Lakers!
The Laker Cheerleaders are
coached by Head Coach
Michelle Neal, Junior Varsity
Coach LuTana Griffin, and
Freshman Coach Cara Enos.
T
his year's Laker Dance team is looking
forward to a fabulous year! We have a variety
of routines lined up for this year's football
performances, including a special feature with the drum
line and a fantastic routine for the Purple Goes Pink
event.
This past summer the Dance Team attended camp in
Springfield on the Missouri State University campus.
Dance Team
The team worked really hard at becoming a unit and
Coaches:
learned many new routines. During camp the girls
Lydia Briscoe
learned, performed, and were evaluated individually
Jamie Hedrick
on routines, earning a total of 30 blue ribbons! As a
result of their hard work, the team earned a Superior Trophy. They were also
evaluated as a team and earned the Full Out Team Award, given only to a select few.
The team is very excited to share these routines with the Camdenton Laker crowd.
The Laker Dance team is a very talented group of girls who not only participate
on our school team, but also are very involved at their dance studios. They are an
amazing group of young women who give 110% to the dance team, their studios,
schoolwork, and community functions. They are energetic and so "pumped up"
about trying new things this school year! I am very proud of each individual girl
and all of the work they have done to make this the best Dance Team yet!
2012
Dancers
Freshman
Katie Sanders
Sophomores
Megan Gericke
Felicia Roberts
Erin Robbins
Maddison Sherrow
Juniors
Danielle Spanburg
Becca Woltemath
Seniors
*Sarah Gericke
*Olivia Oliver
*Jordyn Schell
* Captains
LAKERS
DANCE TEAM
THE PRIDE OF THE LAKE MARCHING BAND
FALL
2012
The 160-member Pride of the Lake Marching Band
takes the field again this fall after surviving one of
the hottest pre-seasons on record. Working through
the high heat and hot sun, the group has emerged on
the other side with another halftime show that
exemplifies the drama and spectacle of the modernday marching band. The show, entitled Guardians,
is a narrative of redemption that takes the ensemble
through the transitions from evil to good, from dark
to light, and from predator to guardian.
The selections for this year's musical tale are all taken
from the works of Johann Sebastian Bach, one of the
most prolific and influential composers of the last
five-hundred years. It has been adapted specifically
for the Pride of the Lake Marching Band by Don
Hill, one of the marching band world's most highlysought arrangers.
This year, the band will compete in Missouri and
Oklahoma against some of the top bands in the
nation. The festival outings include the St. Charles
West Marching Warrior Festival and the Lafayette
Contest of Champions, both in the St. Louis area.
The band will also travel to the Broken Arrow
Invitational in Broken Arrow, Oklahoma, and the
Bands of America Super Regional held at the Edward
Jones Dome in St. Louis.
The band is directed by Paul Baur, with assistants
Amanda Fall and Mike Fenn. The percussion
instructor and frontline arranger is Alisha Baur.
Additional percussion staff includes clinicians Tom
Pannullo, and Pride of the Lake alumni Aaron Short
and Kristi Patrickus. Our battery arranger is Chad
Schaedler. Our color guard instructor is Chris
Garstang along with designer and clinician Tim
Roettgen. Other staff members include Jennifer
Canfield and Austin Jay. Our drill is written by Brian
Youngblood and our show designer is Wes Cartwright.
PRIDE OF THE LAKE MARCHING BAND
Fall
2012
DRUM MAJORS
Kyle Gulshen
Bobby Johnson
Victoria Robinson
CLARINET
FLUTE
Rachel Danforth
Karen Diaz
Rodrigo Diaz
Montana Huston
Alex Jenkins
Karol Knierim
Tristan Newman
Jessica Ogden
Elvy Ramirez
Sheila Reynolds
Gabie Schulte
Jill Shepherd
Marcus Wyatt
Kate Zgiet
Crystal Andrews
Katie Barnstable
Autumn Bellew
Ashley Bledsoe
Shayla Brock
Stephanie Creach
Paige Davis
Karrie Dodson
Allyson Donley
Sarah Fuller
Chelsea Goodman
Meghan Harmann
Rachel Harmon
McKayla Humiston
Judy Keys
Brionna Lizotte
Lacey Lopez
Fernanda Mendez
Ryne Myers
Victoria Potter
Rebecca Reed
Randi Sheppard
Jacob Stauch
Autumn Stelmaszak
Mikale Ward
Jamie Wiggs
Ashley Willis
Jordan Zedaker
ALTO SAX
Alisha Allen
Garret Brown
Emily Burke
Ricky Call
Chris Collins
Nick Crockett
Chase Fowler
Austin Freit
John Fritz
Kaylyne Halsey
Colleen Magelky
Ryan Summers
MELLOPHONE
Rachel Buttram
Taylor Hughes
Nick Miller
Ashleigh Pool
Melia Thompson
Martina Wilson
TENOR SAX
Dan Doran
Becca Molt
Travis Nowak
Alaina Sonksen
BARI SAX
Brian Dame
Riley Short
Jordan Shoults
BARITONE
James Bail
Jeff Fox
Sarah Hockley
Steven Landon
Matt Riga
Laura Rounds
J.J. Ryan
Austin Salsman
Noel Shoults
Eric Sinner
Michael Warner
Casey White
Stephen Wright
PERCUSSION
TRUMPET
TUBA
Remington Anderson
Katie Bird
Louis Brother
Devon Brown
Katie Chappell
Kali Crockett
Erica Dorhauer
Anne Holland
Brandon Jones
Tiffani Jones
McKenna Lawler
Kevin Marschke
Josh Ogden
Michele Patrickus
Austin Perez
Christy Robinson
Madison Stehle
Tristan Straw
Lucas Applegate
Landon Bishop
Emily Blackman
Caleb Crockett
Kyle Cunningham
Rachel D'Arcy
Erika Engelson
Dalton Gray
Daniel Hall
Jordan Hammerstone
Sam Knierim
Josh McDonald
Megan Prather
Jaren Risner
Elizabeth Sinner
Mitchel Summers
Joseph Tobin
Connor Uberroth
Gage Windsor
Ryan Eidson
James Hooker
Colt McCorkle
Tyler Nowak
Skyler Reeves
Chris Smith
Band Director Paul Baur checks the
formation during summer practice.
COLOR GUARD
Per fo r ma n c e S ch e d u l e
Sept. 7
Sept. 8
Sept. 15
Sept. 21
Sept. 22
Sept. 29
Oct. 5
Oct. 6
Oct. 12
Oct. 13
Oct. 19-20
Home Football Game
Mozingo Drumline Competition
Laurie Hillbilly Parade
Home Football Game
St. Charles West Warrior Festival
Lafayette Marching Festival
Home Football Game
Broken Arrow Marching Festival
Home Football Game
Mid-Season Camp
Bands of America Super-Regional
Alexis Asmus
Julie Bridges
Kendra Brown
Morgan Brown
Airiel Bures
Sarah Fain
Ally Garton
Alison George
Mehri Habibi
Jenna Jackson
Anna Kirkpatrick
Constance Losey
Sarah Lottman
Stephanie McQueen
Seth Miller
Tori Moore
Katie Moulder
Karissa Pirrie
Rachael Reed
Sam Roper
Elizabeth Smith
Jett Strand
Jovi Strand
Miranda Theis
Cassidy Vance
Christine Wilkening
Home of the Lakers
2012 Hogs
2012 Varsity Football Coaching Staff
Andrew
Nolting
Tight Ends
Defensive Ends
Shawn
Maschino
Offensive
Line
Steve
Bayless
Defensive
Line
Jeff
Shore
Head Coach
Quarterbacks
Travis
Ezard
Running
Backs
Lance
Foulk
Receivers
Defensive
Backs
Nick
Bruck
Linebackers
The Lineup
1
2
3
4
5
6
7
8
9
10
11
12
14
15
16
17
18
19
20
21
22
23
24
25
27
28
29
31
32
33
34
35
36
37
38
39
40
41
42
43
44
47
48
50
51
52
53
55
Landon Knopf
Mike Beliel
Luke Burris
Dylan Hymes
Cory Simpson
Jordan Strong
Jordan Knight
Aric Osborn
Charles Carpenter
Ty McDuffey
Ryan Elliott
Kullen Carlock
Stephon Elliott-Peterson
Tyler Cunningham
Sam Georgopoulous
Kris Paschel
Aspin Hill
Jordan Webster
Brendan Babbs
Shayne Cook
Elijah Ollison
Justin Bernabe
Jacob Wise
Cale Wirths
Mason Hadfield
Derek Beck
Kegan Ray
Michael Smythe
Carter Ford
Kyle Smith
Murphy Ward
Jacob Voorhees
Vlad Melnikov
Luis Vasquez
Jared Kilpack
Luke Wilson
John Payne
Jimmy Sanders
Mason Bennett
Ryan Harris
Matt Endsley
David Sheets
Tyler Scheig
CJ Santon
Kyle Rizer
Ben Parish
Shawn Martin
Josh Mejia
10
12
11
12
12
12
10
12
10
10
11
11
10
11
10
11
10
11
11
11
10
12
10
11
10
10
10
10
12
12
12
12
12
12
10
10
11
11
11
11
11
12
11
10
12
11
10
12
5'9"
5'10"
5'8"
6'0"
6'0"
5'8"
5'8"
5'9"
5'9"
6'1"
5'11"
6'2"
5'10"
6'2"
5'10"
5'7"
5'8"
6'0"
5'9"
5'11"
5'9"
5'7"
5'7"
6'0"
5'9"
5'9"
5'9"
5'8"
5'7"
6'0"
5'8"
5'9"
5'11"
5'7"
5'8"
6'0"
5'11"
5'8"
5'11"
5'5"
5'10"
5'9"
5'10"
5'10"
6'0"
6'0"
5'10"
5'8"
150
175
160
190
180
135
140
165
150
180
155
175
135
190
150
145
140
155
155
180
175
160
130
150
150
165
185
190
160
165
185
210
165
110
130
135
150
165
145
170
190
150
190
225
220
200
140
185
TB-LB
SE-DE
TB-LB
TE-DE
QB-DB
SE-DB
QB-DB
SE-DB
TB-LB
QB-DB
SE-DB
QB-DB
SE-DB
QB-LB
SE-DB
SE-DB
SE-DB
SE-DB
SB-DB
TE-LB
SB-DB
TB-DB
SE-DB
SB-DB
SB-DB
SB-DB
TB-LB
FB-LB
FB-LB
SE-DB
TB-DB
FB-LB
SB-DB
SE-DB
SB-DB
SE-DB
TB-LB
FB-LB
K
SE-DB
FB-LB
TB-LB
TE-DE
OL-DL
OL-DL
OL-DL
OL-DL
OL-DL
2012
56
57
59
61
62
64
66
67
68
70
71
72
73
74
75
76
77
78
79
80
82
83
85
86
87
88
Colby Rizer
Kahlan Enriquez
Shad Mustain
Henry Brownell
Shawn Frazier
Austin Waters
Alec Everett
Logan Sousley
Zach Burns
Alex Palomo
Colby Brauer
Jarrett Glissendorf
Ace Martin
Tyler Danuser
Cole Briscoe
Marc Wittrock
Joshua Lashley
Justin Murdock
Stephen Straw
Joey Ferreri
Chase Nugent
Alex Wilsman
Dylan Dodds
Trevor Casady
Eric Frandsen
Joey Ginnings
11
10
10
10
10
12
12
11
11
11
12
12
11
12
12
12
12
10
12
11
12
10
11
10
11
10
5'6"
5'10"
5'10"
6'3"
5'10"
5'10"
6'2"
5'9"
5'9"
5'10"
5'9"
6'0"
6'4"
5'11"
6'0"
5'9"
5'10"
5'10"
5'8"
5'11"
6'2"
6'4"
5'11"
5'4"
5'9"
6'0"
180
190
185
292
180
265
200
190
160
225
200
230
270
240
225
270
225
225
195
170
220
200
165
120
190
185
OL-DL
OL-DL
OL-LB
OL-DL
OL-DL
OL-DL
OL-DL
OL-DL
OL-DL
OL-DL
OL-DL
OL-DL
OL-DL
OL-DL
OL-DL
OL-DL
OL-DL
OL-DL
OL-DL
SE-DE
TE-DE
TE-DE
SE-DB
SE-DB
TE-DE
TE-DE
Varsity Football Schedule
Aug.
Aug.
Sept.
Sept.
Sept.
Sept.
Oct.
Oct.
Oct.
Oct.
24
31
7
14
21
28
5
12
19
26
Hillcrest
T
West Plains
T
Lebanon
H
Kickapoo
T
H
Parkview (Homecoming)
Rolla
T
Waynesville (Purple goes pink) H
Joplin
H
Glendale
T
District Game
TBA
7:15
7:00
7:00
7:00
7:00
7:00
7:00
7:00
7:00
7:00
JV Football Schedule
Aug.
Sept.
Sept.
Sept.
Sept.
Oct.
Oct.
Oct.
Oct.
27
4
10
17
24
1
8
11
15
Hillcrest
West Plains
Lebanon
Kickapoo
Parkview
Rolla
Waynesville
Jeff City
Helias
H
H
T
H
T
H
H
T
T
5:30
5:30
5:30
5:30
5:30
5:30
5:30
7:00
4:15
2
3
5
6
9
10
14
15
16
17
18
19
19
21
22
24
25
27
30
35
Michael Windsor
Trevor Smith
Austin Blain
Ethan Walters
Dalton Poe
Seth Crockett
Liam Kholer
Riley Shriver
Bryce Murray
Michael Terry
Michael Buscher
Troy Kenoche
Tristin Whetstine
Daniel Meier
Ethen Pineda
Tyler Nafzinger
Alec Burris
Ian Peter
Zach Endsley
Jordan Licardie
5'8"
5'7"
5'9"
5'6"
6'0"
5'10"
5'7"
5'9"
5'8"
6'2"
5'3"
5'10"
5'9"
5'9"
5'5"
5'11"
5'6"
5'6"
5'7"
5'9"
119
147
136
126
173
146
119
139
124
154
110
192
119
137
153
140
123
153
137
162
SE/CB
TB/FS
QB/FS
SE/CB
TE/DT
QB/LB
SE/CB
QB/DE
QB/CB
SE/FS
SE/CB
T/DT
SE/DB
SE/CB
SB/DB
SB/CB
SB/C
SB/LB
FB/LB
FB/LB
40
53
54
55
56
57
59
61
62
64
65
67
69
72
74
75
77
82
83
84
Carter Williams
Brandon Goodman
Nate Paschel
Joshua Keys
Mackenzie Topel
Colten Boots
Nate Simmerley
Terrance Saradia
Kody Helms
Jacob Emery
Forrest Chappell
Tyler Walsh
Michael Bank
Isaiah Hills
Cody Roberts
Louis Leonarduzzi
Bailey Parish
Kent Waldoch
Abe Morris
Corey Ginnings
5'8"
163
RB/LB
5'5"
147
G/DT
5'8"
158
G/DE
5'10" 239
G/DT
6'2"
233
T/DT
Team Manager
6'0"
225
T/DL
5'10" 236
G/DL
6'5"
315
T/DT
6'0"
174
G/LB
6'0"
260
T/DT
5'10" 250
OL/DL
5'6"
143
C/LB
6'0"
255
T/G
6'2"
240
T/DT
6'0"
211
G/DT
6'1"
193
C/NG
6'0"
186
TE/DE
5'10" 194
TE/DE
5'5"
126
SE/CB
Freshman Football Schedule
Aug.
Sept.
Sept.
Sept.
Sept.
Oct.
Oct.
Oct.
Oct.
27
4
10
17
24
1
8
11
15
Hillcrest
West Plains
Lebanon
Kickapoo
Parkview
Rolla
Waynesville
Jeff City
Helias
T
T
H
T
H
T
H
T
H
5:30
5:30
5:30
5:30
5:30
5:30
5:30
5:00
5:30
2012 Freshman Football Coaching Staff
2011 Freshman Win/Loss Record: 8-0
Allen Schwantes
Todd Nicklas
Jeff Knight
Welcome fans to the 2012
Laker Football season.
Head Coach Jeff Shore
leads the Camdenton
Lakers are Deep and
Lakers into his second year
Experienced!
as head coach. His first
year was a success, with the Lakers making their second Quarterfinal
appearance in the last two years. The Lakers were also District
Champs and ended the season with a record of 7-6.
Last year's team kept up the Laker tradition by playing tough,
hard-nosed football. This year's team looks to take last year's
experience to improve this season and make a run for the
Conference title and go deep into the playoffs. Let's take a
look at this year's players - starting with THE HOGS!!!
Seniors Jarrett Glissendorf, Kyle Rizer, Josh Lashley, and
Austin Waters are four returning starters for the HOGS. Other
seniors looking to earn a spot are Alec Everett, Colby Brauer,
Stephen Straw, Cole Briscoe, and Tyler Danuser. Juniors
Logan Sousley, Zach Burns, Ben Parrish, Alex Palomo, and
Ace Martin also look to compete for a spot on Friday nights.
The Lakers are deep and experienced when it comes to the skills
positions. We return starters from last season at running back,
fullback, tight end, and wide receiver positions. At slot back this
year will be Kullen Carlock, a junior who started last year as a
sophomore and will provide a great target for the Lakers this year.
At split end is junior Ryan Elliott. He looks to have a big year for
the Lakers this upcoming season. Other Lakers who will see some
time at these two spots are senior Aric Osborn and juniors Jordan
Webster, Brendan Babbs, Elijah Ollison, and Dylan Dodds. The
tight end position returns last year's starter Chase "Ralph" Nugent.
Chase is an all-around football player. He has excellent hands, speed,
and size. All of these help Chase block and catch and make plays for
the Lakers. He will build on last year's success and help lead the
Lakers into the 2012 season. Dylan Hymes is also a senior and will
see playing time when the Lakers use him in different offensive sets.
Juniors Eric Frandsen, Shayne Cook, and Tyler Scheig look to see
playing time at the tight end position.
The quarterback position will be filled by last year's starter
Cory Simpson. Cory had a very good 2011 season and is looking
to continue that success this year in his senior campaign. Cory
possesses the football savvy and skill it takes to play the quarterback
position -- including arm strength, speed and good presence in the
pocket. Cory will be handing the ball off to All-State running back
Murphy Ward. Murphy rushed for over 1700 yards last season.
This fine athlete is only two hundred yards away from the all-time
rushing title in Camdenton Football history. Also having a share of
carries is senior Justin Bernabe. Justin rushed for over 500 yards
last year. Justin brings quickness and speed and is very hard to
contain. Murphy and Justin are a great one-two punch for the
Lakers. Junior Luke Burris is also a very tough runner and will
take handoffs when these two are not on the field. At fullback,
senior Jacob Voorhees and junior Matt Endsley will take most
of the responsibility for helping with the rushing attack of the
Lakers - whether it is blocking or carrying the ball.
The Lakers look to have a very successful and high-impact offense
this year. Cory will spread the ball around to targets Nugent,
Carlock, and Elliot while the HOGS open up holes for Ward and
Bernabe.
The defense coordinator position was handed over to former Laker
Nick Bruck last season. He made some minor adjustments to the
defense that helped propel the Lakers into the post season. Key
positions left open by last year's seniors will be filled by young
talent coming up; it should be exciting to watch the Purple Haze
this year.
On the defensive line there are returning starters seniors Alec
Everett and Chase Nugent. Chase was an All-State defensive end
last year. He terrorizes offensive linemen and their backfields on
Friday nights. The other defensive spots will be filled by seniors
Marc Whitrock, Josh Lashley, Tyler Danuser, and Kyle Rizer.
Junior Colby Rizer, younger brother of Kyle Rizer, returns with
playing experience. You will see the Rizer brothers dominating
the line of scrimmage together. Other juniors looking to rotate onto
the field are Zach Burns and Logan Sousley. The defensive end
position will have All-State player Chase Nugent on one side and
on the other side, a number of players helping the Laker defense senior Mike Beliel and juniors Tyler Scheig and Eric Frandsen.
The inside linebacker position will have experience returning with
senior Jacob Voorhees and juniors Matt Endsley and Shayne Cook.
Our linebackers are tough and mean, making it hard on opponents'
offenses to score on the Purple Haze defense. Anchoring the outside
backers' position will be Kullen Carlock and Tyler Cunningham.
These two bring speed, size, and a nose for the football to help stop
opposing offenses. The secondary will have two players who gained
a lot experience last year during the playoffs. Senior Aric Osborn
and junior Ryan Elliott will help prevent passing games from getting
past the Laker defense. Some juniors looking to help provide some
assistance in the secondary are Jordan Webster, Elijah Ollison,
and Brendan Babbs. These three will be key to intercepting and
breaking up opposing teams' passes.
This year the Lakers open up at home with the Jamboree. Then the
Lakers take to the road playing three of their first four games away.
The opening regular season game will be against Hillcrest High
School in Springfield. The next week the Lakers take off again to
West Plains to take on the Zizzers. The season home opener will be
week three against the Lebanon Yellowjackets at Bob Shore Stadium.
The Lakers go back on the road to face another Springfield school --the Kickapoo Chiefs. Last year the Lakers lost a close heartbreaker
to the Chiefs and look to avenge that loss this year. Homecoming
will be against Parkview High School in week five. Then Lakers will
head east up I-44 to play the Rolla Bulldogs. Week seven, the rival
Waynesville Tigers roll into the JOD. The last two years the Lakers
and Tigers have played some close District Championship and playoff
games. The last home game of the year is against the Joplin Eagles.
This will be Senior Night to honor our seniors for all they have done
for the Laker program during their time in the purple and gold. The
last regular season game will be on the road to play the Glendale
Falcons in Springfield.
As always, the Laker coaching staff and athletes would like to thank
the parents of each player for their time, effort, and commitment
that you have put in throughout the years to give your child the
opportunity to play Laker Football. And to the faithful LAKER
NATION, thank you for all of your support. Ask any former Laker
Football player what one of their favorite memories was of their
senior season and, without a doubt, they always say the tremendous
fan support every Friday night. We look forward to seeing each of
you again this season. GO HOGS and GO LAKERS!!!
#55 Josh Mejia
#4 Dylan Hymes
"I remember all of the different traditions
that are done throughout the week. I am
ready to get back at Kirkwood after losing to
them two years in a row in the Quarterfinals.
I am also ready to beat Lebanon after two
years of losing to them."
#5 Cory Simpson
"Playing Camdenton Laker Football has been
like a dream come true for me. Memories of
watching State Championship teams and my
brother Kyle will last forever. Along with
the memories I have made watching former
teams, I have made many of my own. My
brother and I grew up watching the Lakers
and we made it a goal to play quarterback for
Camdenton. We both reached that goal and
I will remember every moment of it. All of
the coaches, teammates, and alumni will
stick with me forever. I am proud to be a
member of the Camdenton Laker Football
family."
#23 Justin Bernabe
"I remember when the whole football team
went to Chase Nugent's house to eat and we
went swimming in the river. There was that
awkward moment for all of us when a boater
came by and saw all of us swimming in our
boxers. Other than that, the Laker Football
experience has been awesome and it's an
experience that I will carry with me
throughout my life."
#32 Carter Ford
"I can't wait for my senior year of football.
I've been with this team all these years and
can't wait to see how the team has grown."
#33 Kyle Smith
"My experience with football has been one
of the best. It has meant a lot to me and
shows what I am capable of doing. My first
year of playing football was actually my
sophomore year. So far, it's been my favorite
year. My favorite moment out of the past
two years was playing Jeff City Jays on JV.
It takes teamwork to get as far as we did in
the past. I believe every individual has the
ability to go far and once everyone uses this
to an advantage, we can go anywhere.
Becoming State Champions is no easy task,
but it is very possible to get there. All I
really want to do is be as good as my older
brother was. I had to watch and learn a
few things from him. He made me believe
in my abilities and how far I can go. No one
person can make a difference, but as a team
almost all things can happen. My plan after
high school is to go to college and finish my
career in the military."
#34 Murphy Ward
"Football has served as the catalyst for
several amazing experiences and dynamic
emotions and sensations that without I
would be a completely different individual.
I would like to thank all of those precursors
that have paved my way in the phenomenal
program and all of the individuals who
have supported, pushed, revered, hated, or
encouraged me. No matter which side of the
spectrum they may be on, they have created
me. Thanks for the coaches who have served
as pseudo-fathers and for their foresight on
my latent skill. Hopefully I still have enough
skill to excel at the pedigree necessary for
our team's success. I would like to give an
acknowledgement to my mom who is my
number one fan and friend. Also, I want to
tell the rest of the family that I will not ever
forget their contributions and they are my
motivation. I hope this year we can again be
in contention in the race for State. I hope we
can make it to the Dome and exit victorious.
I understand there are dozens of games prior
to that point and I remain grounded; yet it is
necessary to have a vibrant dream. We have
several great tools and if they all work in
conjunction then our potential is limitless.
The main necessity is to band together and
fuel our joint effort with the cohesive quality
of teamwork, but still with a humble
confidence. For post season I want to say
the works of Caesar, 'Veni, Vidi, Vici' I came, I saw, I conquered; yet, we came,
we saw, we conquered."
"I can't say a whole lot about the season for
myself because of my injury, but what I can
say is I had the time of my life. Last year
was unfortunately my first year, but it was
still great and I plan on getting my knee
good and playing some football this season."
#64 Austin Waters
"When I was a freshman, I remember
working out every day after school with the
upper classmen. Eli Schmidt and Justin
Daughtry were probably my favorites. They
were going to be seniors the next year and
watching their work ethic made me work
harder that next year and I became the only
sophomore to win the award. Some of my
favorite moments of the past years have
been watching TJ Scott knock out the Joplin
quarterback my sophomore year. Then when
Eli Schmidt hit this kid from Parkway West
in the playoffs that same year, it was intense.
I heard the hit from the sidelines. Then in
W-Word, watching Levi Calvert pick off the
pass in the final seconds of the game. I lost
my voice screaming. Biggest thing I
remember most from my last two years of
football is Lebanon and Kirkwood beating
us. IT STOPS THIS YEAR!"
#66 Alec Everett
"I can't believe it's my senior season.
Time goes by so fast! I remember playing
in seventh and eighth grade. It was tough,
because I moved from a small town that
was known for baseball. I never really got
playing time until around my freshman year
after I started hitting the weight room. I
thank God for the support of my teammates
and family to keep pushing myself to get
better. I strongly believe this is our year to
do something special and I'm so proud to be
a part of it. There will never be anything like
putting on that purple jersey and playing my
heart out for all the screaming fans. It's not
just football, it's a brotherhood."
#35 Jacob Voorhees
"One of the greatest memories I have as a
Camdenton Laker Football player has to be
when I took my first step on the field Friday
night at the Bob Shore Stadium. It has to be
the best adrenaline rush ever when playing a
sport. All of the fans cheering and clapping
just to watch you play. I will always
remember my days as being part of the
Laker Football family and playing at
Bob Shore Stadium."
#71 Colby Brauer
"Playing Camdenton Laker Football has been
a great life experience. The brotherhood
developed by the team is awesome. We have
achieved great success the last two seasons.
This year, however, we are on a mission to
bring Camdenton Laker Football back to the
top where it belongs."
#72 Jarrett Glissendorf
"I moved here my junior year. In my time at
Camdenton playing football, I learned what
it takes to be a Laker. I learned that hard
work and dedication lead to success. Being
a Laker is important to me on and off the
field. My teammates made me feel welcome
and became more than teammates - we
became a family, a band of brothers. I will
always remember my years at Camdenton."
overhead is indescribable. My most
memorable moment is when JV played
the Jeff City Jays. We were down 6-28 at
half and we came back to beat them 30-28.
All the hard work at practices pays off on
Friday night."
#74 Tyler Danuser
"I remember when we were at the Parkview
Vikings game my sophomore year. Coach
Jeff Shore gave a speech. He said, 'When
Vikings would go to take over new lands
they would smash their own ships, never
expecting to retreat'. Then he pulled out a
toy ship and we all smashed it. After that,
we ran on the field and won 30-0."
"I remember when I was younger watching
my older brother play at Bob Shore Stadium
when he got his first interception and it was
returned for a touchdown. After seeing that,
it gave me something to look forward to and
to work for. But wearing that purple helmet
is the best thing that has happened to me in
high school. Being a Laker is the best
experience any high school student could
ever have. Your team becomes a family,
a family that cannot be broken up. The
opponents you face show how much you
have come together to play as a team to win.
You do not just play for you, you play for
your team. 'Everybody has a plan until they
get punched in the mouth'."
#75 Cole Briscoe
"Playing Laker Football has been one of
the most amazing experiences in my life.
Running out onto the field every Friday
night with thousands of fans yelling and
screaming at you as the fireworks explode
#77 Joshua Lashley
#79 Stephen Straw
"I'm really excited for my senior football
season. I think that as a team and as a senior
class we have a lot to prove. Last year we
had a slow start, but we made it to the
Quarterfinals. This year we want to win
State because people remember State
Champions, not Quarterfinalists. I also
really want to beat Lebanon badly this year.
Since seventh grade, our senior class has not
beat Lebanon and we play them at home this
year and with the new District system, we
have a chance to beat them twice. I think
that if we have the hard work, dedication,
and fan support we had last year, great things
will happen this year."
#82 Chase Nugent
"Football means everything to me! I love
every aspect of the game. The relationships
and brotherly bonds that I have made with
my teammates and coaches on the gridiron
are the ones I will never forget. One of the
most memorable moments would have to be
Coach Nolting's pump-up speeches before
each game my sophomore year. There was
one time when he ate a bar of soap. It was
pretty awesome, and it pumped everyone up.
The two quotes that are drilled in my head
are: 'Everybody has a plan until they get
punched in the mouth,' and 'Never be
satisfied with where you are. Always strive
to be the best you can be'."
#2 Mike Beliel
#6 Jordan Strong
#8 Aric Osborn
#36 Vlad Melnikov
#37 Luis Vasquez
#47 David Sheets
#51 Kyle Rizer
#76 Marc Wittrock
Photos by: Scott Shellhorn
Distributed by: Kelsey Adams Photography
Laker Seniors
Camdenton Laker Football
All-State Players
1965 Elbert Anderson
1969 Dan Cartwright
1st Team Tackle
1st Team Wide Receiver
1973
1977
1977
1977
1977
1978
Rusty Sallee
Chuck Blair
Jack Freeman
Jim Jackson
Chuck Miller
Jim Lewis
1st Team Running Back
1st Team Punter
2nd Team Running Back
1st Team Place Kicker
1st Team Defensive Tackle
1st Team Defensive Tackle
1980
1981
1982
1982
1982
1982
1982
1983
1985
1986
1986
1986
1986
1986
1986
1986
1986
1987
1987
1987
1987
1987
1987
1987
1987
1987
1987
1987
1988
1988
1988
1988
1988
1989
Manning Williams
Brien Jenkins
David Fisher
Jon Paul Kohler
Steve Metcalf
David Porter
Tim Ripley
John Rodriguez
John Ruder
Wayne Caldwell
Lance Dye
Bruce Harvey
Tim McDuffey
Par Pitts
Jeff Shore
Darren Spurgeon
Shon Watts
Brad Boles
Rod Brownell
Cory Craig
Lance Dye
Andy Everly
Travis Ezard
Shawn Maschino
Marty McGuire
Jeff Shore
Tom Sullivan
Doug Wilmouth
Lance Foulk
Jason Hulett
Robbie Ollison
Joey Tobin
Tom Williams
Allen Jefferies
2nd Team Quarterback
1st Team Wide Receiver
1st Team Defensive Nose Guard
1st Team Defensive Back
2nd Team Offensive Guard
1st Team Center
1st Team Offensive Tackle
2nd Team Place Kicker
1st Team Wide Receiver
2nd Team Linebacker
1st Team Wide Receiver
2nd Team Defensive End
1st Team Offensive Tackle
1st Team Offensive Guard
1st Team Quarterback
1st Team Defensive Nose Guard
1st Team Defensive Back
1st Team Linebacker
1st Team Running Back
1st Team Defensive Tackle
2nd Team Wide Receiver
1st Team Offensive Guard
2nd Team Wide Receiver
1st Team Defensive Back
2nd Team Defensive Back
1st Team Quarterback
1st Team Offensive Tackle
1st Team Place Kicker
1st Team Wide Receiver
2nd Team Quarterback
2nd Team Defensive Tackle
2nd Team Running Back
2nd Team Defensive Back
1st Team Wide Receiver
1990
1992
1992
1992
1993
1995
1995
1995
1995
1995
1996
1996
1996
1998
1998
1999
1999
1999
1999
1999
Allen Jefferies
Tate Turner
Jason Whittle
Jake Windsor
Wes Tull
Neil Box
Brian Colyer
Jeff Ford
Zach Franklin
Shawn Wade
Chris McGuire
J.W. Sweatt
Matt Terry
Josh Martin
Nick Bruck
Ryan Brodecker
Nick Bruck
Chris Hyde
Ryan McGuire
Jay Webb
1st Team Wide Receiver
1st Team Linebacker
1st Team Defensive End
2nd Team Defensive Back
2nd Team Defensive Tackle
1st Team Wide Receiver
2nd Team Linebacker
2nd Team Place Kicker
2nd Team Quarterback
1st Team Defensive Line
2nd Team Linebacker
2nd Team Running Back
1st Team Offensive Guard
1st Team Wide Receiver
2nd Team Linebacker
1st Team Offensive End
1st Team Linebacker
1st Team Offensive Line
1st Team Defensive Line
2nd Team Place Kicker
To submit a photo of your favorite All-State player email
Joi at [email protected]
2000
2001
2001
2001
2002
2002
2002
2002
2003
2004
2004
2004
2004
2004
2004
2004
2004
2005
2005
2005
Roger Kure
Kyle Arnold
Ryan Dickerson
Patrick McGrath
Ryan Dickerson
Will Drover
Mark Duggan
Patrick McGrath
Daniel Eidson
Daniel Eidson
Trevor Franklin
Charlie Gordon
Brandon Hayes
Luke Shaw
Forrest Shock
Dustin Smith
Mickey Turner
Dennis Chairs
Daniel Eidson
Channing Major
2005
2005
2005
2005
2005
2005
2005
2006
2006
2007
2007
2008
2009
2009
2010
2010
2010
2011
2011
2011
1st Team Wide Receiver
2nd Team Offensive Line
2nd Team Defensive Line
2nd Team Linebacker
2nd Team Defensive Line
2nd Team Running Back
2nd Team Defensive Back
2nd Team Linebacker
1st Team Punter
1st Team Punter
2nd Team Defensive Line
1st Team Offensive Line
1st Team Defensive Line
2nd Team Defensive Back
2nd Team Linebacker
2nd Team Offensive Line
1st Team Offensive End
1st Team Running Back
1st Team Punter
3rd Team Defensive Line
Luke Shaw
Forrest Shock
Austin Spradling
Mickey Turner
Mickey Turner
Jake Wackerman
Cole Walker
Clay Arnold
Channing Major
Derek Libby
Travis Sanford
Jake Kirtley
Clayton Melville
Cayden Shockley
Cayden Shockley
Chris Sullens
Derek van Kluyve
Murphy Ward
Michael Salts
Chase Nugent
1st Team Defensive Back
1st Team Linebacker
1st Team Defensive Line
1st Team Defensive Line
1st Team Tight End
1st Team Offensive Line
1st Team Offensive Line
1st Team Offensive Line
1st Team Defensive Line
1st Team Punter
2nd Team Defensive Line
1st Team Defensive End
2nd Team Offensive Line
2nd Team Defensive Back
1st Team Defensive Back
1st Team Punter
3rd Team Offensive Line
1st Team Running Back
2nd Team Linebacker
3rd Team Defensive End
Action photos provided by:
DLJonesPhotography.com
State Champions
2005
1999 1987
1995 1986
State Runner-Up
State Quarterfinalists
2011
2010
2004
1988 1980 1978
1983
1982
2008 2007 2005
2004 2002
District Champions
1996 1977
State
Semifinalists
2001
2000
1984
Ozark
Conference
Champions
2011
2009
2005
2004
2001
2000
1999
1998
1996
1995 1989 1986 1983 1980
1992 1988 1985 1982 1978
1990 1987 1984 1981 1977
Lady Laker Volleyball
Sarah Burns
"This year is going
to be a great year.
With ten seniors, we
have a very strong
team! I have played
with these girls for
six years now,
starting back in
the seventh grade.
We aren't just
teammates, we are friends. We spend a
lot of time with each other off the court,
too, which makes our bond on the court
a lot stronger. I love how much fun we
have. There isn't a practice or game that
goes by without a good laugh. Some of
my favorite memories are from practice.
Whether the whole team was taping
themselves or we were 'falling off the
bus' in the dreaded bus drill, I always
have a great time. I can't wait to make
more great memories this season as a
senior! I'm so grateful for these six
years playing volleyball and I am
looking forward to having an awesome
last year. I could not have ever done it
without the support of my family or most
importantly God who gave me the ability
to play this sport and placed me with an
awesome team!"
Kennedy Calton
"Every volleyball
player likes to think
they were blessed
with the best team however, I know no
one was blessed like
I was. My team
made my volleyball
experience out of
this world. We are
a huge group of best friends that turned
into a family along the way. Not only
do I cherish my memories with my team,
I also value the things I've learned.
Volleyball taught me to be very versatile.
Not one year from middle school ball to
my senior year have I played consistently
in one position. With that I learned that
as long as I have an open mind, I can do
anything as long as I work at it. I hope
to make the best of my last year and take
all my memories with me as I continue
my path of life."
Courtney Foulk
"It seems like
it's only been
a few years since
I was starting
kindergarten at
Dogwood, and it's
crazy to think that
my senior year is
finally here.
Playing volleyball
for the Lakers has
been an awesome experience. I am
thankful that God gave me the ability to
play sports and am even more thankful
for the opportunities He has given me to
learn life lessons through playing them.
To my teammates and coaches who have
spent countless hours in the gym pushing
me to improve, to every coach who ever
helped me in the weight room, to my dad
who has practiced with me even after the
gym was empty and supports me through
every high and every low, to my mom
who has made me numerous on-the-go
dinners and reminds me that volleyball is
just a game, to my sister who is one of
the biggest fans, and to the rest of my
friends and family who have supported
me, THANK YOU! You have shaped me
into the person I am today. Without your
support, I never would have been able to
make it this far. I am so excited to play
with my team this season. We have all
worked hard and we're ready to make
our mark on the court for the final time
together."
Morgan
Haas
"Senior
season is
what I've
been looking
forward to
ever since I
first picked up
a volleyball in
eighth grade. Coach Pfender got me
started with the sport and Coach
Gulshen is the one who perfected me
and gave me my confidence. My team
has become my family and support
system through my two season-ending
injuries the past two years. I am ready
to make this season unforgettable and
injury-free! I am ready to come out as
winners of our District and victors over
Lebanon and Helias! Let's play our
game and go get 'em girls."
Madi
Hayes
"I cannot
believe
it's senior
year
already!
Time has
definitely
flown by! I am so glad I got the chance
to play with such awesome girls and I
am hoping we finish off this season with
a bang. The memories my teammates
have given me will always stay with
me!"
Beth Kogan
"Where has the
time gone? It
seems like just
yesterday I was
a freshman often
finding myself
looking up to the
upper classmen for
advice. Now that I
am a senior, I hope
to live up to the standards set before me
and continue to raise the bar for those
who choose to follow. Different coaches
have different styles and teaching
methods and I believe that has helped
me become a more well-rounded player both
on and off the court. My experiences
through the years with all the different
coaches, camps, and games have helped
me become a better player mentally and
physically. I believe the most important
thing that I have learned is that no
matter who you are, you should never
let success go to your head or failure
get to your heart. For you can achieve
anything you set your mind to. With that
being said, I am looking forward to a
good season with a great group of girls
and the memories that are to come."
Courtney Loge
"Knowing that
my senior year is
already here is
mind blowing. I
remember starting
volleyball at
Camdenton in
seventh grade and
realized how much
I loved the sport.
When I was introduced into the setter
position I knew that was exactly the
position I wanted to strive for. The most
rewarding part about this position is
assisting the hitter to get a kill. In the
eighth grade I was determined to play
front row, so I asked Coach Pfender how
I would be able to and she said 'grow
a foot'. Those have always been the
truthful words I dread to hear, but I was
so driven to not let that get the best of
me. Freshman year I remember serving
a whole match against West Plains.
I didn't stop smiling the whole night.
My ultimate favorite moment would
have to be sophomore year on JV beating
Lebanon on their home court. That
was the most intense game I have ever
played. They won the first match,
we took the second. Then in the third
we were behind and came back.
Since seventh grade, our class has been
together through school ball and club
ball. We all are very good friends and
close teammates on the court. It is
very sad that this is the last season
I will be playing with all of these
amazing girls. I am looking
forward to an exciting and
memorable season with ten
seniors! After this year it would
be an amazing opportunity to
continue my passion and play
volleyball in college. I am very
grateful for my friends, family, and
coaches for always being there for
me. Please continue to support us
in the season we have all been
waiting for!"
Volleyball has had
such a positive
impact on my life
and I know that I
love the sport as
much as I do
because of my
amazing teammates.
The group of girls
that I have been
blessed to play with have not only been
the best teammates I could ask for, but
also the best friends. We have always
had each other's back, both on and off
the court. We have grown so close over
the past years. I am sad to think of this
being our last season together. Our team
has pushed each other to reach our
potential, encouraged each other when
it's easy to get down, and celebrated
together when the hard work paid off. I
would like to thank the senior volleyball
girls for the incredible years we have
shared together. You all really have
become a family to me. I look forward
to our final season together and showing
everyone the
greatness that
resides among
our team."
Megan Weber
"I can't believe
senior year is
already here!
It seems like just yesterday we were
nervous about going to seventh grade
tryouts with Coach Sullivan. The best
thing about the team this year is that we
have been together from the start. From
seventh grade to senior year and all of
the club teams in between, we've formed
an amazing bond with each other. I have
made many great memories with this
team through the years and am sad to
think that this is my last year playing for
Camdenton. I am very grateful for my
family, friends, and coaches for giving
me support over the years, and for
God for giving me that ability to play
volleyball. This year we are capable of
accomplishing many things and going
far, and I am ready to give it my all."
Abi Williams
"I have played
volleyball since
I was in seventh
grade, so it is a very
big part of my life.
I have learned many
good lessons from
volleyball, such as
how to deal with
failure as well as success, how to rely
on others and not just myself, and how
to love a group of girls as my family.
I thank God every day for every coach
I have ever had in the sport and the nine
girls that I call my family."
Allina Robie
"For so many years volleyball has
been such an enormous part of my
life. There have been a few rough
moments, but mostly just a lot of
laughter, joy, and pure silliness.
Senior photos provided by: Natalie Adams
synergy
syn·er·gy
[sin-er-jee]
1. The interaction of elements that when
combined produce a total effect that is
greater than the sum of the individual
elements. Lady Laker Volleyball
Varsity Roster
1
2
3
4
7
10
14
19
22
23
28
Madi Hayes
Megan Weber
Courtney Loge
Abi Williams
Courtney Foulk
Morgan Haas
Beth Kogan
Kennedy Calton
Allina Robie
Hannah Gehner
Sarah Burns
12
12
12
12
12
12
12
12
12
11
12
5'4"
5'8"
5'5"
5'6"
5'9"
5'10"
5'6"
5'7"
5'11"
5'8"
5'11"
Freshman Roster
5
6
9
11
12
15
33
Katelyn Bartels
5'4"
Hannah Sullens
5'4"
Kaelin Mosher
5'11"
Faith Manning
5'7"
Sidney Winn
5'5"
Madison Steingrubey 5'7"
Hannah Lowther
5'5"
Girls' Volleyball
Schedule
Aug.
Aug.
Sept.
Sept.
Sept.
Sept.
Sept.
Sept.
Sept.
Sept.
Sept.
Sept.
Sept.
Sept.
Oct.
Oct.
Oct.
Oct.
Oct.
Oct.
Oct.
Oct.
Oct.
Oct.
27
28
4
6
8
13
15
15
18
19
22
25
27
29
2
4
6
6
6
9
11
15
16
18
*Conference Games
Junior Varsity
Roster
16
18
20
21
24
25
27
31
32
35
36
Morgan Laufer
Abby Moulder
Jessica Schmidt
Kirstin Thompson
Josie Dinsdale
Schae VanderPloeg
Polly Dinsdale
Kayla Kuse
Kailey Lembke
Alison Carter
Brittany Kurtz
11
11
10
10
10
10
10
11
11
10
10
5'10"
5'9"
5'7"
5'7"
5'5"
5'8"
5'5"
5'5"
5'7"
5'6"
5'3"
Bolivar
Eldon
Logan-Rogersville
West Plains*
Branson Tourn. (V)
Kickapoo*
Helias Tourn. (9th)
Jeff City Tourn. (JV)
Nixa
Glendale*
Camdenton Tourn. (V)
Jefferson City
Hillcrest*
Waynesville Tourn. (JV)
Hickman
Joplin*
Nixa Tourn. (9th)
Lebanon Tourn. (JV)
Lebanon Tourn. (V)
Waynesville*
Lebanon*
Helias
Parkview*
Rolla*
H
H
T
T
T
H
T
T
T
H
H
H
T
T
H
H
T
T
T
T
T
T
H
T
9/JV will play in different gyms at same time
5:00
5:00
5:00
5:00
TBA
5:00
TBA
TBA
5:00
5:00
TBA
5:00
4:30
TBA
5:00
5:00
TBA
TBA
TBA
5:00
5:00
5:30
5:00
5:00
All-State Honors
Freshman
Coach
Stacy
Asante
Head
Coach
Austin
Warren
Junior
Varsity
Coach
John
McNabb
1986
2001
2002
2003
2005
2007
2008
2008
2009
2009
2010
2010
Sherri Gentry
Kelsey Wackerman
Kelsey Wackerman
Jill Wallace
Jessica Williams
Lindsey Hale
Bailey Lupardus
Brittney Sedillo
Haley Baker
Shelby Metzger
Haley Baker
Shelby Metzger
1st Team
2nd Team
1st Team
2nd Team
2nd Team
2nd Team
2nd Team
Hon. Men.
2nd Team
Hon. Men.
2nd Team
Hon. Men.
Lady Lakers Welcome New Head Coach Austin Warren
"I could not be more excited to step into the role of 'head
coach' for the Camdenton High School Volleyball program.
This team has the right tools to compete with the best teams in
the state. As always, there are very high expectations for this
year's team, but they are not afraid. I am very eager to get
started this season and make a strong run in the post season.
ample amount of playing time this season. We will spend
a large amount of practice time focusing on ball control,
speeding up our offense, and becoming a force at the net
by competing in competitive, game-like situations each day.
Coach McNabb, Coach Asante and I have a lot to look
forward to this year.
With a large senior class, we will rely heavily on all ten athletes
to lead and motivate underclassmen in the program. A solid
group of juniors and sophomores will lead the JV as the
experience will be needed for the future. The freshmen, with
limited numbers, will benefit greatly as all of them will see an
I could not ask for a better group of girls and coaches with
whom to work my first year. They are ready for the challenges
that lie ahead of us and compete hard each time we step on the
floor. This will no doubt be an exciting season for the Lady
Lakers on the volleyball court," shares Coach Warren.
V
A
R
S
I
T
Y
Team Photos by: Scott Shellhorn
V
A
R
S
I
T
Y
J
U
N
I
O
R
2008, 2004, 2001, 1985, 1982, 1981
District Champions
2008 Sectional Playoff Winner
2009, 2005, 2002
Ozark Conference Champions
2011 Win/Loss Records: Varsity: 13-14-6, JV: 21-10-4 ,
Freshman: 11-6
2012 Manager: Austin Moulder
FRESHMAN
Soccer 2012
E X C E LLE N C E!
The Laker Soccer program would like
to say thank you to all those who support
it both during the season and in the offseason. We would not be where we are
today without the support, dedication,
and hard work of our administration,
numerous parents, community supporters,
volunteers, and students. The Camdenton
Laker Soccer program, entering its
fourteenth season, is looking to establish
itself among the Conference and the
District. This is all possible in large part
because of the time and effort put in by
so many people who you will not see
roaming the sidelines or playing on the
field during a match.
Our main focus this year will be
"Excellence". This not only applies to
on the field play, but in all aspects of our
team. This phrase, and belief, will be
included in the way we conduct ourselves
on a day-to-day basis. Both at practices
and games we will expect nothing less.
In the classroom and in the community,
we will strive to excel. In our personal
lives, in regard to relationships and
achievements, we will aim for this to be
our focus. Our team will work each day
not only on soccer and the pursuit of a
District title, but also on making quality
decisions and life choices that will make
us successful young men.
Last season taught everyone in the
program lessons on hard work, dedication,
and togetherness. We believe that these
learned lessons will translate into
positives on the field this season and good
results will be the outcome. This year's
team looks very different from previous
seasons and the players are ready to play
and improve with each game.
The seniors from last season's team will
definitely be missed. Most of them had
spent four years in the program and have
had a huge impact on not only last season,
but on the entire program. They leave
some huge shoes to fill and will definitely
be missed both in the games and in
practice.
This year's senior class is very large in
number. It includes Connor Smith,
Kyler Moore, Brian Norris, Johnathan
Hyde, Ryan Hargus, Hunter McMahon,
Trent Ledbetter, Lance Toth, Caleb
Arnold, Juan Vasquez, Chris Bachtel,
Luc Ginoux, and Oscar Diaz. Each one
of these seniors has spent a lot of years
playing soccer and looking forward to
this season. Our varsity captains for
the season are Josiah Blansett,
Caleb Arnold, Brian Norris, and
Connor Smith. These captains will be
looked on to lead the team in every way
possible and be an example.
This year's varsity team returns some
starters from last year, but the plan is to
maneuver and shift a few players around.
This will create some position openings
that were not there last season. That
leaves many spots out there to be filled
this season by upcoming players of all
ages. The competition for those open
spots should intensify each practice, drill,
and moment on the field.
The junior varsity had a very successful
season last year as well. They finished
with a winning record again to make it
five years in a row that that has happened.
Much of their success will be counted on
to translate at the varsity level this season.
This season's coaching staff will look
a bit different than previous seasons.
Coach Ingold returns as the head coach
while Coach Stuart will serve as the
program's goalkeeper coach and
Camdenton alum Chris Byington will
direct the junior varsity.
We would love to see you out at a few,
if not all, of our games this season.
We really look to make some
improvements in a few areas and hope to
be competitive and ready to compete each
night. We have a very tough schedule this
season, but with enough focus, teamwork,
and preparation we feel as though we will
be able to come away with positive results
this season.
Head Coach Jason Ingold (center)
Assisted by: Chris Byington (left),
and Brent Stuart (right)
Boys' Soccer Schedule
8/28
8/30
9/4
9/7-8
9/11
9/13
9/14-15
9/17
9/18
9/18
West Plains*
Helias
Kickapoo*
Waynesville Tourn. (JV)
Glendale*
Waynesville*
Parkview Tourn.
Sedalia
Hillcrest*
Fair Grove (JV)
H
H
T
T
T
H
T
H
H
T
4:30
5:00
5:00
TBA
5:00
5:00
TBA
5:00
5:00
4:30
9/20-22 Bolivar Classic
9/25
Joplin*
T TBA
T 4:30
9/27
9/28-29
9/28-29
10/2
10/4
10/8
10/9
10/11
10/16
10/19-20
10/22
10/23
10/24
T
H
T
H
H
H
T
T
T
T
H
H
H
Stover (JV)
Laker Shootout
Sedalia Tourn. (JV)
Moberly
Lebanon*
Fair Grove (JV)
Parkview*
Jefferson City
Rolla*
Parkview Tourn. (JV)
Crocker
Hickman
Stover (JV)
5:00
TBA
TBA
5:00
5:00
5:00
5:00
5:00
5:00
TBA
5:00
5:00
5:00
Soccer photos provided by: DLJonesPhotography.com
2012 Varsity Soccer Team
00
1
2
3
4
5
6
7
8
9
10
Hunter McMahon
Tanner Moesch
Brian Norris
Dylan Bergthold
Caleb Arnold
Chris Bachtel
Lance Toth
Juan Vasquez
Oscar Diaz
Ryan Moffitt
Ryan Hargus
12
10
12
11
12
12
12
12
12
10
12
11
12
13
14
16
17
19
20
21
22
23
GK
GK
Midfield
Midfield
Defense
Defense
Defense
Forward
Forward
Midfield
Defense
Luc Ginoux
Trent Ledbetter
Josiah Blansett
Connor Hickman
Connor Smith
Johnathan Hyde
Kyler Moore
Cody Farrant
Brooks Green
Riley Paskach
Liam Gardner
12
12
11
11
12
12
12
11
10
10
11
Midfield
Midfield
Defense
Midfield
Midfield
Midfield
Forward
GK
Defense
Defense
Forward
Team managers: Bri Bullock and Grace Scheidemantle
2012 Junior Varsity Soccer Team
1
2
3
5
6
7
8
Tanner Moesch
Tristan Vieth
Parker Jones
Riley Paskach
David Schlenfort
Nick Weber
Christian Helvey
10
10
10
10
9
9
10
GK
Forward
Midfield
Defense
Midfield
Midfield
Forward
9
10
11
12
13
15
16
Ryan Moffitt
Joey Dutton
Josh Hitt
Brendon Harmon
Mac Burmeister
Luke Martin
Will Pierce
10
10
10
9
9
10
9
Forward
Midfield
Midfield
Defense
Defense
Defense
Midfield
17
18
19
20
23
Cody Farrant
11
Josiah Alkire
9
C.J. Borden
10
Brendan Galbreath 9
Cody Meyers
9
Forward
Midfield
Forward
Forward
Midfield
Caleb Arnold
"I remember when I started my
first practice on the Camdenton
soccer team my freshman year.
It has been one of the most
challenging things in my life.
It has prepared me physically
and has taught me many
important lessons about
teamwork and to never give
up. Going into my senior year,
I just hope I can be a good
example to all my teammates."
Chris Bachtel
"During my previous soccer
seasons as an underclassman,
I have enjoyed my time on
and off the field with my
fellow teammates. I
remember looking up
to the senior players; it
was something I did to
learn new tricks,
plays, etc. when I first
started my freshman
year. My favorite part
of the program would
have to be doing the
things we've never
done, to get to the
places we never have.
Along with beating
opponents, setting records, and
developing team bonds, I can't
wait to start my senior soccer
season and finish my high
school career on a high note."
Oscar Diaz
"The year I remember the most
was my sophomore year. It was
the year I improved the most.
That year was also very
memorable because it was the
year we won Districts. That
District Championship meant a
lot to the team, because the year
before that we lost the District
game. We watched them
celebrate and that experience
gave the team a goal and made
us better as individual players
and as a team because we didn't
want to experience a loss like
that again. But that wasn't the
only memory from that year.
There were a lot more
memories, like how much fun
the team had during bus rides.
Also, all the games we won.
Now, I am improving and
getting better as a player. For
my senior season, I want to win
rival games. I would like the
team to become better and try
to win a District
Championship."
its going to, in turn, help us out
this year. As juniors we saw the
mistakes that we made and,
hopefully, we will be able to
learn from them. Every year is
a fun year with Coach Ingold,
but I think this year is going to
be a great one!"
Ryan Hargus
Hunter McMahon
"Senior Year! Soccer has
created many emotions from
fun to hard work to pain and
exhaustion, but it has taught
me many life experiences.
My fondest moment was when
Robbie put a coffee bag in the
microwave and it caught on fire
at the Show-Me Games."
"I am totally pumped for this
upcoming year. I know we
struggled to come together as a
team last year, but I feel like we
ended up learning a lot from
our mistakes. One of my
favorite moments from last
year would be sleeping in a
doghouse before Districts with
Brian Norris
"I've learned a lot by playing
soccer at Camdenton; not
only about the sport but the
importance of trusting one
another on the team. One of
my favorite moments was my
first year playing. On our way
to an away game we stopped at
a gas station and Brett knocked
over a bottle of diesel gel and
told nobody about it. I'm really
looking forward to this season
because we have a chance to
redeem ourselves from last year.
These past couple years have
been a blast and I can't wait for
this season!"
Connor Smith
"Senior year is
heading fast at us and
so is our final soccer
season as high school
players. It has meant
so much to me being
a part of the squad for
four years, and it has
also meant so much
for Coach Ingold to
give me all of the
opportunities he has.
There are many
memories I have built up over
my years with the program,
such as the District victory over
Rolla my freshman year, and
the District final defeat against
Rolla (where we played better
than them the majority of the
game). I want to thank
Coach Ingold for all of his
encouragement throughout my
high school career and I hope
he is as happy with me as I
am with him. For the underclassmen, I wish every single
one of you the best of luck in
future performances so we shall
extend this program further and
further. And always remember
to never be satisfied."
Soccer Seniors
Johnathan Hyde
"Me not starting to play soccer
till my senior year, I thought it
might be weird; but since the
first day I got there, they treated
me like I was family. That's
something cool about the team it isn't just a team, it's a family."
Trent Ledbetter
"I cannot wait for this
upcoming season. I can
remember being a freshman
and having to get the balls out
of the creek. Climbing the
fence, ripping my shirt, and
completely covering my socks
in stick seeds will not be
missed. Since my freshman
year, I've heard Coach Ingold
telling the seniors that it's time
to prove themselves. Now that
I'm a senior, I can't wait to
prove ourselves and get as far
as we can. As a team, we had a
rough year last year, and I think
Cody Farrant. One of my worst
memories from last year would
be getting beat 6-0 to Rolla and
this year, I really want to
improve and have a better
showing come District time."
Kyler Moore
"The feeling that I get when
I play soccer is indescribable.
It is the greatest feeling in
the world. I spend each day
thinking about the best and
worst moments in my high
school career and every time
I do, I can't help but smile.
I remember the goal I scored
against Helias my sophomore
year because it helped our team
to beat them for the first time
ever. I am grateful for every
success and bump in the road
that soccer has provided for me,
and I will love every moment of
my high school soccer career
for the rest of my life."
Lance Toth
"My favorite moment was when
Brett Dog and Little Tyler found
boxers on the bus and put them
on Kael, the foreign exchange
student from freshman year."
Juan Vasquez - quote unavailable
THERE IS NO GLORY IN HARD WORK,
BUT WITHOUT HARD WORK THERE IS NO GLORY!
Let's start the year with a quiz: What animal can run farther
than a human? If you are thinking a cheetah, deer, horse,
or camel, you are not even close. That's because there is no
animal that can come close to equaling the endurance of man.
Man was built to run – period. So it is with cross country.
This year's group of fine young athletes has chosen to accept
the gift of endurance running and the sport of cross country.
We do so because of our love of running and the ultimate
challenge that comes with cross country racing.
In 2011 the boys' team qualified for the State Sectionals after
a five-year hiatus and we return six of our top seven runners.
They are led by seniors Jeremy Ryan, Connor Brady, and
Logan Gilbert. Jeremy and Connor are the top two runners
from last year and are both District medalists. All three
seniors have had the best summer running, in terms of
mileage, that we have had in the last ten years and it should
pay off big for them. It has been since 2005 that we have had
a team member make it to State and we are hoping to reverse
that trend with these seniors. We will also look to these
young men for leadership in guiding the younger runners
through difficult workouts and races. Juniors include
Sectional Qualifiers Kemper Virtue and Jacob Rabenold.
Kemper was injured the majority of last year and Jacob was
a "rookie" in just his first season. I am looking forward to
great improvements from these two. Sophomores Cole Roam
and Kyler Virtue return for their second year and are on
the cusp of breaking onto the varsity squad. Freshmen
Blake Jesse, James Hooker, Liam Kohler, and newcomer
James Bail will give us a solid foundation for the future.
All were solid middle school runners and have a great work
ethic. I believe that this will be the best boys' team that we
have had in a number of years and qualifying for State
Sectionals will once again be our priority.
Last year's girls' team had a record-setting year. They
finished fourth (highest ever) in the tough Ozark Conference
race, and became the first girls' team in school history
to qualify for State Sectionals! To top things off,
Faith Scheidemantle became the school's first State
individual State Qualifier. The 2012 edition will have their
work cut out for them as several runners have moved on.
However, the cupboard is not bare. Seniors Elvy Ramirez,
Kristina McDonald, Brigitta Reth, and Lexie Brewer will
provide a core group of runners who have a great deal of
experience and ability. Cross country is one of the most
difficult sports for girls and these seniors have committed
themselves to improving our program over the years. I am
looking forward to our last year together. The other returnee
from last year's squad is the previously-mentioned sophomore
Faith Scheidemantle. Faith had a great freshman campaign in
making it to State and setting a new school record of 19:45
at our home meet. Faith is a fine two-sport athlete and has
her sights set on Jefferson City again. Junior transfer
McKenzie Wright is a track athlete who also loves distance
running and should be a nice addition to our team. We have
six freshmen this year who look to help the team out by
pushing for varsity spots. They include Tessa Weber,
Charley Blair, McKayla Hines, Jordan Zedeker,
Alyssa Murray, and Emily Blackman. Tessa had a great
eighth grade campaign and set school records in cross
country, the mile, and 800 meter run.
We are very excited about this year's squad and I am looking
forward to spending time on the roads with them. I always
cherish the time with the kids, especially the seniors. As I
mentioned earlier, cross country is a tough and challenging
sport. But it's like I always tell them, "There is no glory in
hard work, but without hard work there is no glory."
XC
Senior
Boys
Connor Brady
2011 District Medalist
"Well, I suppose the last year comes around for
everyone at some point. It's thoughts like this that
allow me to smile in recollection of the fact that my long
successful running career happened just by chance. I owe
it to my 7th grade track coach Mrs. Pfender for showing
me my potential for the sport as well as Coach Weber for
persuading me to turn in my helmet and shoulder pads for
a pair of spikes and a stopwatch. To me, running is a
necessity for a healthy lifestyle that can be maintained
beyond the senior year of high school. This is why
I constantly try to lead and encourage my fellow
teammates to strengthen their abilities, just as my
righteous predecessors did for me. No matter how many
injuries or obstacles I ran into over the seasons, it was
this team's unique camaraderie that kept me running.
And now I just hope that this last year goes smoothly,
allowing me to access my full potential so that I can
know I did everything I could for this team in return for
all the fond memories it has given me. But, regardless
of the outcome, I know I'll have fun along the way.
For more inside jokes see Logan Gilbert's quote"
Logan Gilbert
2011 Academic All-Conference
"Sorry, I am out running!"
Seniors
Connor Brady
Lexi Brewer
Logan Gilbert
Kristina McDonald
Elvy Ramirez
Brigitta Reth
Jeremy Ryan
Jeremy Ryan
Academic All-Conference
2011 Sectional Qualifier and District Medalist
"Cross country had been one of the biggest parts of my
life the past three years of high school and I want to make
the last one the most memorable. Although this sport has
put me through some difficult challenges, it has taught
some very important lessons and I would not be the same
person without them. Coach Weber has played a major
role in influencing me during these challenges and I
have gained some very important qualities that include:
perseverance, confidence, dedication, cooperation,
integrity, courage, sacrifice, and hard work. One of my
most memorable moments as a cross country runner was
when I medaled at the District meet and qualified for
State Sectionals. This was one of my biggest goals and
the joy that came from achieving it was remarkable. I'm
looking to finish my final year as a cross country runner
at Camdenton with no regrets, knowing it will not come
easily."
2012 Cross Country Team Roster
Freshmen
Juniors
Jacob Rabenold
Kemper Virtue
McKenzie Wright
Sophomores
James Bail
Cole Roam
Faith Scheidemantle
Kyler Virtue
Emily Blackman
Charley Blair
McKayla Hines
James Hooker
Blake Jesse
Liam Kohler
Alyssa Murray
Tessa Weber
Jordan Zedeker
XC
Senior
Girls
Lexi Brewer
Elvy Ramirez
"Cross country is equally the greatest and most
memorable experience I am proud to have
accomplished in high school. The moments in
summer training, practice, and races will not soon be
forgotten. The companionship attained from enduring
the toughest of workouts together will forever be
cherished. The years have passed, and it is almost
overwhelming to look back at where I was and see
where I am now. I have grown both athletically and
as an individual. As I prepare for my senior year,
I cannot wait to gather more memories and miles
with the Laker Cross Country team!"
"As a freshman on the XC team I thought I was
just going to do it for one year then quit, but as I
completed that first year I just couldn't give up being
on the team. I had learned to love running. Even
though running can be very exhausting, at the end of
the day I am happy to be a runner. Now as a senior I
can't imagine it all coming to an end. The hard work
and dedication put out by me and my teammates have
paid off. If anyone would ask me if they should join
XC, I would definitely say yes! I am glad to be on
the Laker Cross Country team."
Brigitta Reth
Kristina McDonald
2010, 2011 District Medalist
"Waking up at 6:30 a.m. isn't a chore, it's a choice.
We have the guts and the mental capacity to run
further and faster than any hog. Running is a way
of life."
Cross Country Schedule
Sept. 1
Sept. 10
Sept. 15
Sept. 20
Sept. 29
Oct. 6
Oct. 11
Oct. 20
Oct. 27
Oct. 3
SWCCA
Lebanon (jv, v)
Joplin
Rolla
Laker Invitational
Ozark Conference
Waynesville
Districts
Sectionals
State
Spfd.
T
T
T
H
Spfd.
T
Jeff City
TBA
TBA
8:30
4:00
10:00
4:00
9:30
10:00
4:00
11:00
11:00
TBA
Academic All-Conference
"This is one experience I will not forget. Cross
country is not an easy sport, but it is well worth the
effort. I was never the best or fastest runner, but I
always tried my best. I plan on making this season
my best. After high school I plan on going to the
United States Naval Academy. Because of cross
country, I am confident in my abilities to make it
there."
Assistant Coach
Gary Thompson
Head Coach
David Weber
XC Coaches
Soccer photos provided by: DLJonesPhotography.com
2012 Softball - Together
The 2011 Camdenton Softball season was a
learning experience for many of the Lady
Laker Softball players. In 2011 the team
started four freshmen and a sophomore on
the varsity and the junior varsity started as
many as seven freshmen and had several
sophomores filling out the line-up. The
season was not only marked by inexperience,
but also by injuries as only two players,
freshman left-fielder Lyndsay Reeves and
freshman shortstop Makinley McCaffrey,
started every game. The experience gained
last year should serve this year's version of
the Lady Laker's Softball team well as they
work to improve upon last year's record.
Coach Calbert addressed expectations for the
season by saying, "In order to improve on
last year's 10-17 season, several things have
to occur: First, the Lakers must fill the
large void left by graduation, as they must
find replacements for Stevie Downen, an
All-Conference third baseman and Nikki
Jeffries, a four-year starter and AllConference and All-District catcher.
Second, the Lakers need to remain healthy
and take advantage of the experience that
was gained last year. Third, we need to stay
away from allowing opponents to have big
innings. I think we are definitely headed
in the right direction, as we have several
players who spent the off-season playing
travel ball; we have also had several players
attend open fields throughout the spring
and if you couple that with a busy summer,
we should be ready to take on the rigors of
our fall schedule."
While the team graduated two very
accomplished seniors, we do return several
players who have at least one season of
varsity starting experience. Senior pitcher
Brittany Vale returns and should handle the
bulk of this season's pitching duties,
sophomore Danielle Ballard is expected
to help Brittany with the pitching duties on
occasion. Senior Haylee Baker returns and
brings a lot of experience as a third baseman
and designated player. According to coach
Calbert, "Brittany appears ready to take
on her senior year and if she can remain
healthy will give us a lot of valuable
pitching experience in the circle, Haylee is
very valuable because of her ability to make
contact and she may be the team's best
bunter." Senior Candace Rushin will help
handle pitching chores and add experience
and depth to the Laker's Softball roster.
Junior second baseman Bailee Maher
returns as well and sophomores Danielle
Ballard, Hope Johns, Lyndsay Reeves and
Makinley McCaffrey all started as freshmen
last year and return ready to take on the
challenges of their sophomore season.
Reeves, an Honorable Mention AllConference outfielder, and McCaffrey
have both been playing a lot of travel ball
and appear ready to improve upon their
successful freshman year. According to
coach Calbert, "Danielle and Hope have
both shown a lot of growth throughout the
summer and we are expecting a big year
from both of these young ladies. And I
think that Mac, Lyndsay, and Danielle
Owens will have very successful seasons
given their experience from travel ball
and the hard work that they have all put
in during the spring and summer."
There will be a new assistant coach on the
field for the Lady Laker Softball team this
year as coach Jared O'Quinn joins the staff.
Coach Calbert addressed the addition to the
coaching staff by saying, "I am very excited
to have coach O'Quinn join our staff; he
has enjoyed great success coaching several
Softball photos provided by:
DLJonesPhotography.com
sports over his career and has a strong
background in both baseball and softball.
He will work with our outfielders and
coach first base, and I have no doubt that
he will help us a great deal." Coach Carrie
Boots will again assist on the varsity and
coach the junior varsity which finished 7-5
last season. Coach Calbert states that,
"Coach Boots does an excellent job of
working with our catchers and leading
the junior varsity; she is a hard worker,
has a lot of softball knowledge and great
enthusiasm for the game." High
expectations are held for several junior
varsity players as the team enters the 2012
season. Sophomore Danielle Owens has
played a lot of travel ball and worked hard
over the summer to hone her catching skills
as she works to fill the varsity catching role.
Sophomore Emily Baker and junior
Abi White both bring a lot of speed and
quickness to the team, and should see
extended varsity playing time. Sophomores
Morgan Righter, Katie Burns, Brooke
Hussey, MacKenzie McGuire, and Jordyn
Woods all return with a year of junior varsity
experience as well, and the expectation is
that they will help the team a great deal this
season. Sophomore Cheyan Collins is a
newcomer to the team and has shown
continued improvement as she gains experience.
The 2012 team also boasts a strong class of
incoming freshmen with Bailey Bilyeu,
Kelsei Davis, Morgan King, Brittany
Runyon, Madison Selby, Jordan Stanton,
and Brittany Ware all ready to enter their
first season on the team. According to coach
Calbert, "Bailey Bilyeu has a lot of softball
experience and should help the varsity
immediately. Madison Selby and Kelsei
Davis have also played a lot of softball and
will both definitely make us better as they
continue to improve. Brittany Runyon,
Morgan King, Jordan Stanton and Brittany
Ware will provide us with depth and
competition on the junior varsity and help
us to build for the continued success of the
softball program."
Coach Calbert concluded by saying, "I think
that it will be a season full of challenges;
we have strengthened the schedule by
adding Jefferson City, and we have some
key positions to fill, but I know that the
coaches and players are going to work as
hard as they possibly can to step up to the
challenges ahead of us and put together a
very successful 2012 campaign."
Varsity Team Roster
4
5
6
14
15
16
18
20
21
25
26
27
Emily Baker
Makinley McCaffrey
Bailee Maher
Abbi White
Haylee Baker
Candace Rushin
Hope Johns
Lyndsay Reeves
Danielle Owens
Bailey Bilyeu
Brittany Vale
Danielle Ballard
10
10
11
11
12
12
10
10
10
9
12
10
Utility
Infield
Infield
Outfield
Infield
Pitcher
Utility
Outfield
Catcher
Infield
Pitcher
Utility
Haylee Baker
"Softball has
been a very
influential part
of my life. I've
played softball
for about ten
years now.
Growing up with
these girls that share the same love for
softball as I do has given me the chance
to experience real friendship and
leadership. Leadership has been a huge
aspect for our team, knowing that you
can depend on all of our teammates, and
knowing that your teammates respect
you is nice. I won't ever forget the girls
who have taken me under their wing and
the leadership that was shown to me.
I want to thank all the girls who have
become my life-long friends, and thank
the coaches who have shown me how to
be not only the best player I can be, but
also the best person I can be. I love and
will miss all of you!"
Candace
Rushin
"Well, I've been
re-writing this
quote since my
sophomore year.
I would first like
to thank all of the
coaches I have
had throughout
my years playing softball from little
league to high school. I would also like
to thank my mother for running me back
and forth to practices when I was
younger and for being my cheerleader in
the stands every game. Softball has
been a big part of my life since I was in
4th grade. I have played with most of
this team since little league and have
become really good friends with most of
them. I will never forget the life lessons
my teammates and coaches have taught
me throughout my years of playing.
'Never let the fear of striking out keep
you from playing the game."- A
Cinderella Story."
Brittany Vale
"I have been
playing softball
since I was nine
years old. Eight
years is a long
time to be
playing that sport
almost every
weekend. It's
very time-consuming, but I can't
imagine doing anything else. The game
has been my life. I have met my best
friends playing softball. Our team is
like one big family. We are there for
each other no matter what! Last year
was my first year playing here. I was
very nervous trying out not knowing
anybody, but they took me in and now
I have made life-long best friends. We
have had some pretty good and funny
moments on the team. On the bus rides
to away games, jamin' out to music,
seeing who can get the most semi
honks, hollerin' at guys from the bus,
gas stations, pop rocks, gag gifts, our
team definitely enjoys the little things!
After high school, I plan to attend either
SBU or MSU and pursue my teaching
degree in special education and also
become a photographer. Even though
my softball journey will end after high
school, softball has made me who I am
today and I am grateful for my coaches,
family, friends, and teammates for
supporting me over the years."
Junior Varsity Team Roster
1
2
4
5
6
10
11
12
14
16
18
19
20
22
27
Brittany Runyan
Kelsei Davis
MacKenzie McGuire
Morgan Righter
Emily Baker
Madison Selby
Katie Burns
Jordyn Woods
Abigail White
Candice Rushin
Brittany Ware
Brooke Hussey
Morgan King
Cheyan Collins
Jordan Stanton
9
9
10
10
10
9
10
10
11
12
9
10
10
10
9
Outfield
Catcher
Infield
Infield
Infield
Utility
Infield
Outfield
Outfield
Pitcher
Outfield
Outfield
Outfield
Outfield
Infield
Softball Schedule
Aug.
23 Glendale*
Aug.
25 Buffalo Tourn.
Aug.
28 West Plains*
Aug.
30 Hillcrest*
Sept.
4 Richland
Sept.
6 Joplin*
Sept.
7-8 Capital City Tourn.
Sept.
10 Lebanon*
Sept.
11 Jefferson City
Sept.
13 Rolla*
Sept.
17 Waynesville*
Sept.
20 Kickapoo*
Sept. 21-22 Springfield Tourn.
Sept.
24 Parkview*
Sept.
27 Bolivar
Sept.
28 Dixon
T
T
T
H
T
H
T
H
H
T
T
H
T
T
T
T
4:30
TBA
4:30
4:30
4:30
4:30
TBA
4:30
4:30
4:30
4:30
4:30
TBA
4:30
4:30
4:30
*Conference Games
Jared O'Quinn
Rick Calbert
Carrie Boots
2012 Tennis Team
Freshmen
Jazmine Aufdenkamp
Amanda Baxter
Maisy Borden
Carleigh Emanuel
Ariana Ernst
Sophomores
Janelle Blackwell
Taylor Erickson
Jenifer Prather
Finessa Rassel
Juniors
Grace Bommel
Lydia Beanland
Ali Bradney
Danica Brewer
Emily Crickard
Maria Martin
Lindsey Morice
Sabrina Thompson
Kiana Wood
Seniors
Morgan Bigge
Kaitlin Blair
Jocelyn Camack
Millie Cowgill
Jordan Edwards
Megan Hoover
Emily Kincaid
Renee Kramer
Hailey Leighty
Daniela Lotze
Amy Nelson
Kasey Schaumburg
Martha Taylor
True Competitors
Head Coach Richey comments, "I considered it an extreme
privilege to have been given the opportunity to take over such a
stellar tennis program last season from one of the best tennis
coaches in the entire state. Coach Ted Houx has done a tremendous
job of molding all tennis players of the Camdenton R-III School
District into true competitors on the court throughout his tenure as
head coach. Now, in my second year as head coach, I remain
focused on continuing the winning tradition that former coach
Ted Houx began years ago. The 2012 varsity Lady Laker Tennis
squad will return many veterans. Seniors Jordan Edwards,
Daniela Lotze, Kasey Schaumburg and Martha Taylor will be
looked upon for leadership by the younger varsity players such as
sophomore Finessa Rassel and juniors Grace Bommel and
Kiana Wood. All of these players earned many varsity wins during
the 2011 season for the Lady Laker Tennis team. Outstanding team
leaders Lindsey Morice,
Danica Brewer, Maria Martin,
Amy Nelson, Jenelle Blackwell
and Jocelyn Camack will anchor
a solid Lady Laker junior varsity
team this season. This will no
doubt be an exciting season on the
hard courts for the 2012 Lady
Laker Tennis team. We hope that
you make it a point to come out
to the Laker Tennis complex and
Kirk
Ted
support your Lady Lakers!"
Richey
Houx
2011 Varsity regular season record: 10-6
2011 Waynesville Tournament Champions
2011 District Semifinalists
2011 Ozark Conference: 4th Place
Girls' Tennis Schedule
Aug.
23
Aug. 24-25
Aug.
28
Aug.
30
Sept.
4
Sept.
6
Sept.
10
Sept.
11
Sept.
13
Sept.
17
Sept.
18
Sept.
20
Sept.
24
Sept.
25
Sept.
29
Hillcrest
Glendale Tourn.
Joplin/Glendale
Lebanon
Bolivar
Waynesville
Sedalia
Rolla
Richland
Osage
Helias
Jefferson City
Fulton
Ozark Conference
Waynesville Tourn.
H
T
Spfd.
T
H
T
H
H
T
T
T
H
T
Spfd.
T
4:00
TBA
2:00
4:30
4:30
4:00
4:30
4:30
4:30
4:30
4:30
4:00
4:30
TBA
TBA
Jocelyn Camack
"Being a senior, I am looking forward to this season a lot.
I started as a junior, so I didn't have much experience
under my belt like most of the girls. However, my first
year was amazing. I can honestly say tennis is now one
of my favorite sports. I love the whole aspect of it. You
play as an individual,
yet you win as a
team, which makes
it a very chill sport,
but also a
competitive one."
Jordan
Edwards
"My school years
have gone by way
too quickly. I
cannot believe this
is going to be my
fourth year playing
tennis. The sport
is so much fun
to play and has
created so many
awesome memories. I will never
forget my freshman year. I
remember always wanting to play
doubles with Daniela. Every game day both Daniela and
I would run up to the coaches and beg them to let us play
together. Thankfully, they almost always said yes. Little
did I know that during our junior year, Daniela and I
would be doubles partners on the varsity team! Last year
was an amazing year. I hope this year will be even more
awesome! I truly cannot wait to see what this new season
brings!"
to play again and I love it. I've loved tennis for many
years, even before my brother Nathan (class of '09) got
into it. Though this is my last year in high school, I plan
to continue playing through college. I'm excited to be a
senior only because I'm a step closer to being an adult
and not having to get up at 6:30 a.m. every morning.
Oh, and I love cats."
Daniela Lotze
"This is my fourth
and final season
of playing high
school tennis.
It's hard to believe
how fast the time
has gone by and
to think that I'm
already a senior!
Tennis has
provided
countless
memories and has
been such a great
experience
throughout my
high school career.
Some of the memories
include Jordan and I,
freshman year, always begging to be partners. Most of
the time our nagging paid off. Last year we were lucky
enough to be doubles partners on varsity. I've always
had a blast being doubles partners with Jordan - from
our serious, intense matches to our goof off, have fun
matches. I am looking forward to my final season on the
tennis team and hope it is just as great, if not greater, than
the last. And this is for you Jordan, 'Pretty Princesses
Unite'!"
TENNIS SENIORS!
Megan Hoover
'This is my first year in tennis and so far it's been very
interesting and a little challenging. I thought it wasn't
going to be this hard. Being a senior is very exciting, but
scary at the same time because you're thinking about
what you're gonna do after high school and how you are
going to be out on your own. I'm really looking forward
to graduating because I'm ready to get away and start my
life."
Emily Kincaid
"This is not technically my first year in tennis, because
I played freshman year and quit for a lame reason. I
regretted it my sophomore and junior years, so I decided
Kasey Schaumburg
"Wait..What? It's senior year? Okay. Lemme grab my
inhaler and let's do this."
Martha Taylor
"Throughout my high school career, tennis has definitely
played a large roll in my life. I've never been much of a
sports person, but something about the game has always
and will continue to bring me a calm and relaxing state
of mind. Being on varsity the last three years has been
such an awesome experience for me. The amount of fun
and new friendships I have gained through tennis is
unfathomable and I am so excited to see what's in store
for my final season as a tennis player for Camdenton."
2012 Ladies' Golf Team
he Lady Laker Golf team is coming off a
successful match season that provided much
experience for new varsity golfers. They finished
their match season with an 11-3 winning record.
The ladies gained tournament 18-hole experience
in tournaments and placed 5th in the Ozark
Conference. Mackenzie Griffin placed 16th in the
State tournament in a storm shortened one-day
competition.
T
Providing experience and leadership for the 2012
team is returning Ozark Conference Champion,
Capital City Classic co-medalist, Helias
Tournament medalist, All-District varsity golfer,
and State tournament golfer Mackenzie Griffin.
Varsity senior golfers Hailli Myers and Felicia
Baltzell are also returning senior leaders. The golf
program continues to grow as we are fielding a
Coach
Jane Eidson
2010 District Champions
2010 Ozark Conference Champions
2010 Undefeated Match Season
Joni Purvis All-State
2008-10
team of sixteen golfers this season. With several
experienced golfers returning this year, the ladies
will be using a variety of lineups throughout the
season. The Lakers will host the Lady Laker
Invitational tournament at Old Kinderhook this
year and will have a bigger and more competitive
field of teams participating this season as this
tournament continues to grow. Lady Lakers
continue to play a very competitive tournament
schedule and have a busy match season. Practice
and play will be at our home courses of Lake
Valley Country Club and Old Kinderhook while
also playing matches at Deer Chase and The OaksTan-Tar-A. The Lady Laker Golf team appreciates
all the area golf courses who make them feel
welcome by allowing the team to practice and play.
Golf Schedule
8/23
8/28
8/29
9/4
9/6
9/10
9/13
9/17
9/18
9/20
9/24
TBA
Lebanon/Helias (L.V.)
H
4:00
Helias Invitational
T
8:30
Laker Invitation (Kinderhook)
H
9:00
Osage/Rolla/Waynesville (D.C.) H
4:00
H
4:00
Lebanon/Stover (The Oaks)
Sedalia Tournament
T 10:00
Jeff. City/Waynesville/Osage (K) H
4:00
Osage/Leb./Crocker (Dogwood)
T
4:00
Ozark Conf. Tourn.
Spfd. TBA
MSU Relays
Spfd. TBA
Capital City Invitational
T
9:00
District Golf
TBA TBA
my grandma, Terry Griffin,
for always being there every
day to support me and the
other girls. She truly is a
saint and we would lose our
heads without her and
Coach Jane watching over
us. This team is full of girls
who truly care about me
and I think that's the most
valuable trait this team has
formed. I love these girls,
my coach, and my grandma
for wanting me to succeed
and giving me the tools I
need to move on after high
school. I am blessed to have
them."
Felicia Baltzell
"As senior year approaches,
I find myself reflecting on how the
team has grown into what it is
today, and I with it. Starting out,
golf wasn't something I excelled
at by any means, but the more
experienced girls made me feel
comfortable about being a part of a
team as well as helping to improve
my game as an individual.
Although our team was small,
being part of a team was huge for
me. I learned how it feels to be
part of something that relies on
all of its components to work
efficiently. No one excluded. I
know I didn't play well on many
occasions, but the attitude and
effort that our whole team
displayed, no matter the game,
built the reputation of courteous
girls that the Lady Laker Golf team still is today.
Going into senior year I know there will be obstacles to
face, but I also know the strength I have to overcome
them. I definitely wouldn't be the same without my
experience with golf and Hailli Myers being there with
me every step of the way! Being a part of this team has
taught me how to tackle things patiently and be a part
of something bigger than myself. I'm proud to have
these skills to carry me through senior year and after
I graduate! But if worse comes to worse, I can vent my
frustrations through 18 holes!"
Mackenzie Griffin
"Now that my journey through high school is
almost coming to an end, I'm proud to say that golf has
made a place in my heart forever. I couldn't ask for
more lovely girls than the ones on the Lady Laker Golf
team. We have grown close and I know I can always
count on my teammates and Coach Jane's support.
I love all of them very much and I don't know what
I would do without them, because the sisterly bonds
continue after season is gone. I would also like to thank
Hailli Myers
"I would first like to
say I am extremely excited
to be close to finishing high school. Golf has been a
huge part of my high school experience. I started Lady
Laker Golf as a freshman with my friend Felicia and
our nervous feelings and high hopes to one day be on
varsity. Ever since freshman year, each year has been
progressively better. Last year when coach put me on
varsity, I was stoked. I seriously have the best team
anybody could ever ask for. Even as a younger member
of the team, the upper classmen were welcoming and
supportive. Our team has always been incredibly close,
last year especially. I wouldn't trade all the amazing
memories we all have made for anything in the world.
My team will always be known as 'the team with
personality'. I absolutely love all of my teammates.
I want to thank my Daddy for introducing me to a
sport I love so much. He has always been there for me
and has been honest and supportive. Love you Daddy.
I also want to thank Coach Jane. She has never given
up on me or anybody else on the team. She is an
amazing coach. This year is going to be awesome and I
don't want to see it end. Next year I will miss my team
immensely."
2012 Golf Team Roster
Juniors
Seniors
Felicia Baltzell
Mackenzie Griffin
Hailli Myers
Sarah Hockley
Anne Holland
Brianna Knopf
Laura Rounds
Sophomores
Katie Alford
Haylea Lane
Summer Reid
Taylor Searcy
Freshmen
Katie Bird
Kelsea DeCook
Payten Letterman
Ryne Myers
Amber Theobald
Sportsmanship Of Spectators
Ozark Conference Creed
The Ozark Conference is proud of the behavior and sportsmanship displayed by its players,
coaches, and spectators who:
* Value healthy rivalry, encourage spirited and fair play, and appreciate positive support
* Represent themselves, their teams, and their school with pride and poise
* Treat visiting teams and officials as guests, extending to them every courtesy
* Are modest in victory and gracious in defeat
The primary purpose of Ozark Conference interscholastic athletics is to promote the physical, mental,
moral, and emotional well-being and development of all involved through the medium of contests.
Ozark Conference Sportsmanship Standards
Ozark Conference players, coaches, and spectators will:
* Regard game officials as fair, accept their decisions as final, and treat officials with respect
* Respect the property of our school and other schools
* Cheer for their team
* Treat the opponent's coaches, players, and spectators with respect
* Show appreciation of good play by both teams
* Accept the decisions and judgments of the coaches
* Wear t-shirts/clothing that display positive language
* Remain off the playing field/court before, during, and after events
* Be modest in victory and gracious in defeat
* Maintain an atmosphere of good sportsmanship at all times
Ozark Conference players, coaches, and spectators will refrain from:
* Actions that will offend, embarrass, or intimidate any individual athlete
* Actions that will call attention to yourself
* Taunts, chants, noises, cheers, jeers, songs, profanity or motions
directed at the opposing team, coach, or school
* Using noisemakers
* Throwing objects
* Displaying signs of any type other than official school banners
Failure to comply with the Ozark Conference Sportsmanship Standards may result in your removal
from the site of competition and may result in further disciplinary action.
Camdenton R-III School District is a smoke-free campus.
Superintendent
Deputy Superintendent
Assistant Superintendent
Assistant Superintendent
Dr. Tim Hadfield
Dr. Brian Henry
Roma Lee France
Dr. Jim Rich
Principal
Director of Activities
Assistant Principals
Brett Thompson
Jeff Whitney
Dr. Paula Brown, Larry Lewis, Anne Wall
The Fall Sports Guide is created by the Camdenton R-III School District's Community Relations Department:
Coordinator Joi Dickemann, assisted by Susan Manton. The department would like to thank all athletic coaches,
administrators, staff members, photographers, and volunteer editors/writers for their cooperation in providing
information for this publication.