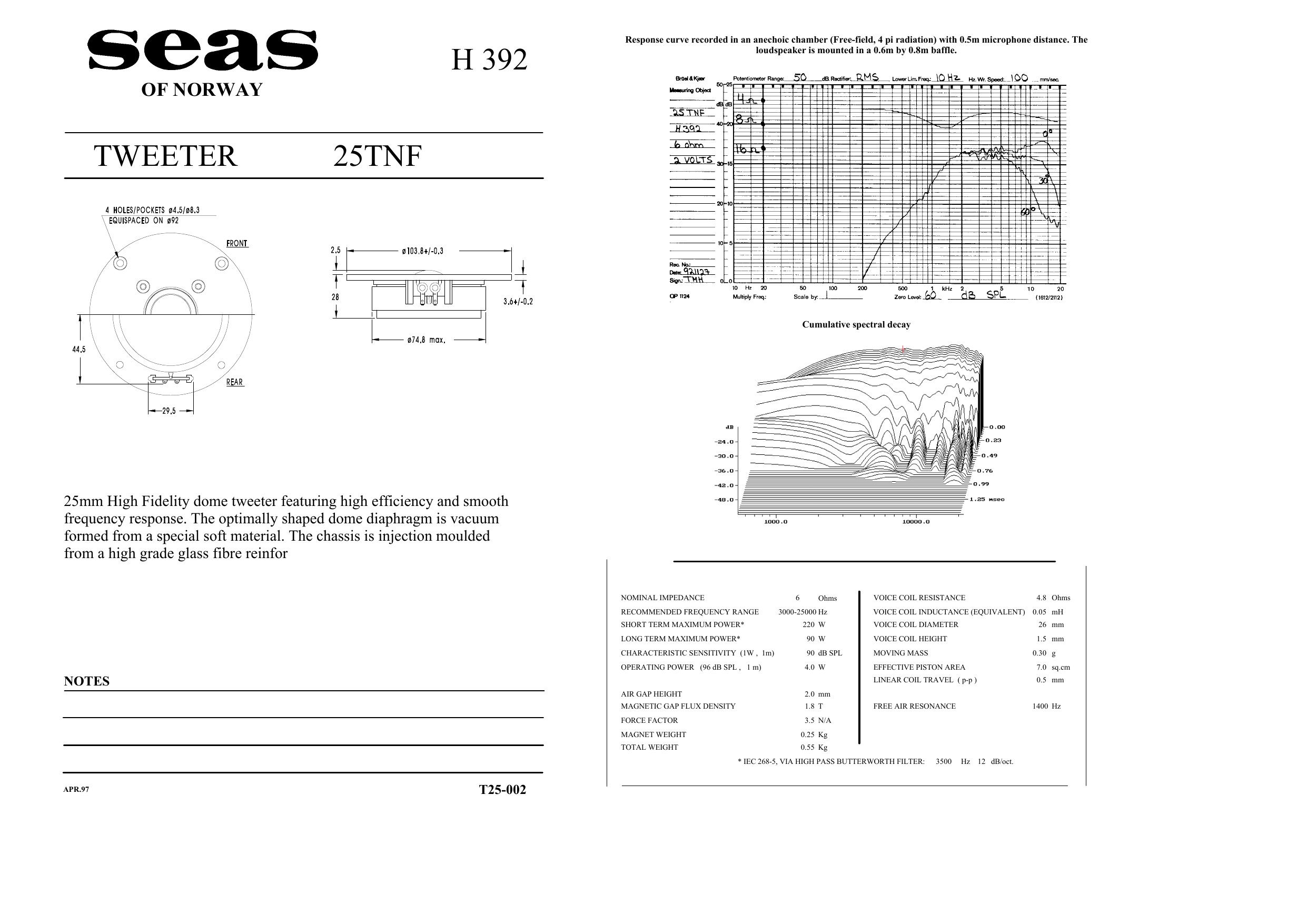 H 392
Response curve recorded in an anechoic chamber (Free-field, 4 pi radiation) with 0.5m microphone distance. The
loudspeaker is mounted in a 0.6m by 0.8m baffle.
OF NORWAY
TWEETER
25TNF
Cumulative spectral decay
25mm High Fidelity dome tweeter featuring high efficiency and smooth
frequency response. The optimally shaped dome diaphragm is vacuum
formed from a special soft material. The chassis is injection moulded
from a high grade glass fibre reinfor
NOMINAL IMPEDANCE
6
RECOMMENDED FREQUENCY RANGE
Ohms
3000-25000 Hz
VOICE COIL RESISTANCE
VOICE COIL INDUCTANCE (EQUIVALENT) 0.05 mH
SHORT TERM MAXIMUM POWER*
220 W
LONG TERM MAXIMUM POWER*
90 W
VOICE COIL HEIGHT
CHARACTERISTIC SENSITIVITY (1W , 1m)
90 dB SPL
MOVING MASS
OPERATING POWER (96 dB SPL , 1 m)
4.0 W
EFFECTIVE PISTON AREA
7.0 sq.cm
LINEAR COIL TRAVEL ( p-p )
0.5 mm
NOTES
AIR GAP HEIGHT
2.0 mm
MAGNETIC GAP FLUX DENSITY
1.8 T
FORCE FACTOR
3.5 N/A
MAGNET WEIGHT
0.25 Kg
TOTAL WEIGHT
0.55 Kg
T25-002
26 mm
VOICE COIL DIAMETER
1.5 mm
0.30 g
1400 Hz
FREE AIR RESONANCE
* IEC 268-5, VIA HIGH PASS BUTTERWORTH FILTER:
APR.97
4.8 Ohms
3500
Hz 12 dB/oct.

* Your assessment is very important for improving the work of artificial intelligence, which forms the content of this project