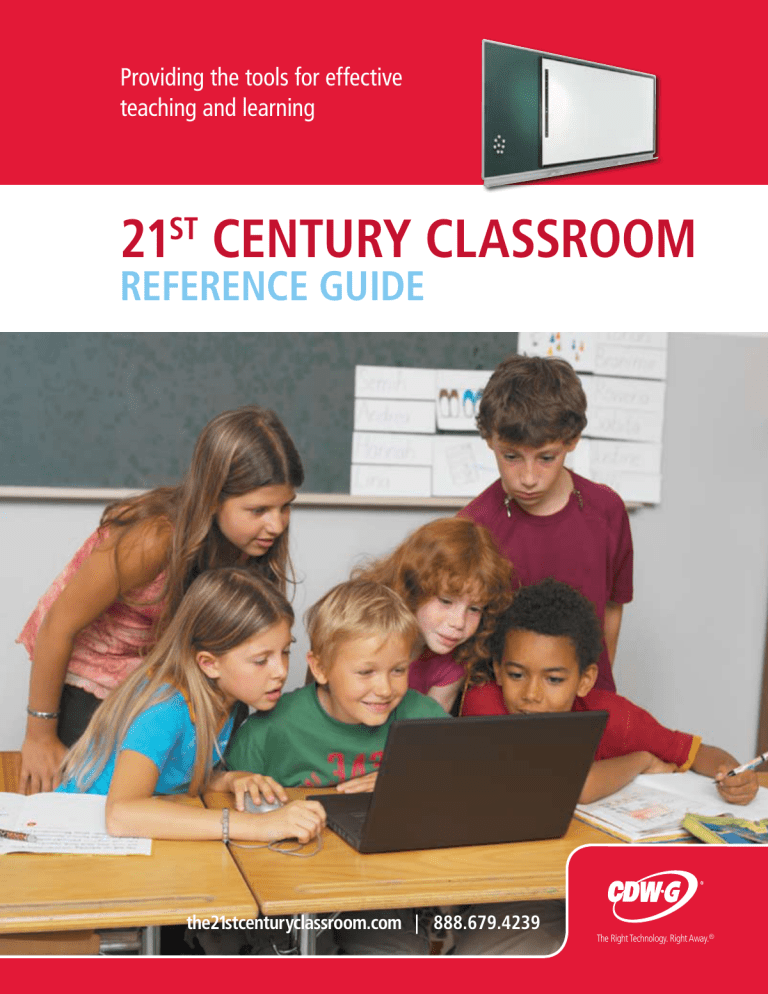 Providing the tools for effective teaching and learning
21 st
century classroom reference guide
the21stcenturyclassroom.com | 888.679.4239
The Right Technology. Right Away.
®
classroom
21
sT
CenTury Classroom referenCe GuIDe
TABLe Of CONTeNTS CHapTer
01
Planning Out Your 21st Century Classroom ................ 3
• 4 Reasons to Choose 21st Century Technology
• Glimpsing the New Classroom
• Milestones to a 21st Century Classroom
• Building Staff Support for Your Technology Plan
02
Launching Your 21st Century Classroom ................... 12
• The Right Tools for the Job
• Centralized Learning
• Tech Standards for Teachers
What is a CDW
•
G
RefeRenCe
GuiDe?
At CDW•G, we're committed to getting you everything you need to make the right purchasing decisions — from products and services to information about the latest technology. Our
Reference Guides are designed to provide you with an in-depth look at topics that relate directly to the IT challenges you face. Consider them an extension of your account manager's knowledge and expertise. We hope you find this guide to be a useful resource.
»
We are pleased to also offer the
CDW•G IT Investment Guide.
It includes products and information to help you meet your 21st century classroom objectives.
Planning out your 21
st
century classroom
Chapter 1:
4 reasons to Choose 21st Century technology
Glimpsing the New Classroom
Milestones to a 21st Century Classroom
Building Staff Support for Your tech plan
educators can easily find statistics that support the adoption of technology in the classroom. Some are obvious: Labor research firm Skillproof claims the number of job openings for
It professionals in the United States increased by 45.2 percent between 2005 and 2008. Some are less obvious: Internet activity has grown to include 1.7 billion users as of June 2009 (and that total only represents 25 percent of the world's population; so there's plenty of room for growth).
What's clear is that students need to be prepared for a different world than the one their parents grew up in. this means that teachers can no longer teach just the facts, says Dana W. Koch, director of global services for the Virtual high School, a nonprofit organization in Maynard, Mass. Students need to be taught how to learn in a new way.
4 reasons to choose
21st century technology
a 21st century classroom provides the tools to prepare students for this new future. Building a true 21st century classroom
(an educational space that addresses media integration, media literacy, and game-based and experiential/simulation-based learning) offers benefits that go far beyond superficial issues.
here are four long-term reasons the K–12 community needs to begin implementing 21st century classrooms today:
1. teaching effectiveness
the brain is a smart organ. In the late 1990s, scientists discovered that when they continually stimulated rats' brains with new and novel toys and activity wheels, their actions triggered a 27 percent increase in their glial cells — the miniature transistors (think liquid crystals) in the brain.
On the human side, researchers played an entertaining silent movie at the same time they asked people to listen to a taperecorded lecture. It turns out this "distracted" group returned information more easily and displayed more mental flexibility than the control group, which only had to listen to the lecture. the conclusion: Certain types of stimulation not only change the chemistry of the brain, but also can actually increase brain cells and dramatically boost intelligence. and that's why clinical psychologist Lee pulos advocates a "super-teaching" approach in classrooms that involves three large screens (in addition to the instructor and computer-controlled projectors) to illustrate the essence of each concept being taught.
Mary Cullinane, director of innovation and business development for Microsoft education, doesn't need a sterile lab to confirm these findings. as a former teacher, she knows technology allows educators to present information in more than one way and to change gears quickly when the students don't understand something.
"Before technology, I didn't have that freedom; it was 'here's how we're going to look at the lesson, and I hope you get it,'"
Cullinane says. "Now we can personalize the content and address it to the auditory learner, the tactile learner, the visual learner."
"the explosion of information makes it impossible for the teacher to have all the information at any given time to satisfy students'
www.the21stcenturyclassroom.com
3
ch
01 natural curiosity," adds Sonny Magaña, senior education strategist for promethean, an atlanta-based manufacturer of interactive learning technology. "this is no longer a top-down decisionmaking situation. and it's not a fad; it's a trend."
2. teacher retention
While most teachers view their profession as incredibly rewarding, it is not without its frustrations. Currently, 50 percent of teachers walk off the job in their first five years, according to Microsoft's
Cullinane. Interestingly enough, new classroom technologies may play a role in motivating teachers to stick around. a 21st century classroom removes much of the time-regulated tension and frustration that was built into a traditional day at school. Consequently, teachers feel more connected, supported and inclined to stick around, she says.
3. Price
the price tag for new education initiatives can often be overwhelming, but not so with 21st century classroom technologies. the important thing is to be able to show decisionmakers that the upfront investment will pay dividends now and in the future.
how affordable is it? Interactive whiteboards break down to pennies per student per day, Magaña's data shows.
Not to mention, as Cullinane points out, the price of technology can replace what districts pay to provide textbooks annually, so it's not new money added to the budget.
Schools can also get creative. Many educators are looking at ways to incorporate technology like the smartphones and Mp3 players students bring from home into the classroom.
4. community relations
the technology you utilize in your 21st century classroom will ultimately touch people beyond the walls of your classrooms. It will affect your local community. Districts that build 21st century classrooms help create a community that is more attractive to businesses, job creation and housing.
Looking to your community for support or input in the planning of your technology solutions is a good idea. For example, some schools survey the skills that local businesses need from graduates, and then consult that profile when planning everything from class schedules to teaching strategies — and technology.
In other districts, new technology initiatives can attract business, industry and foundation involvement from the local community.
Sometimes individual business leaders help decide which curriculum materials to offer, or come into the classrooms to teach, or they serve as evaluators on projects to determine how many credits students should receive for their work.
glimPsing the new classroom
What makes a K–12 classroom progressive or futuristic? Is it the teaching style, the amount of technology tools students use or something else altogether?
Some educational technology experts say that 21st century classrooms share one common trait: they foster a collaborative environment that fully integrates technology into the curriculum.
although classrooms are now being equipped with everything from interactive whiteboards to digital video cameras, many experts say the emphasis must be on teacher training — how teachers can best use technology to promote learning and integrate technology into the curriculum.
changing Instruction
While having the latest technology in the classroom is great, schools cannot overlook the value of professional development as a part of any technology initiative.
For example, some schools hire a full-time coach who helps teachers incorporate technology into their lessons. these coaches guide instructors through asynchronous online courses to help teachers explore creative ways technology can be used to strengthen curriculum and student performance.
What many schools and districts are realizing is that technology is simply a tool that serves the educational delivery system, not the other way around. technology enhances the learning experience, allowing teachers to create more collaborative lessons or smallgroup projects. today's students are growing up with technology; successful schools are adapting to their learning styles.
changing Focus
Surprisingly, financing technology doesn't seem to be a major roadblock for many schools. With help from federal or state grants and other resources, districts are finding money for needed equipment.
the universal challenge is convincing teachers that there is a benefit to transitioning from 19th century teaching to studentcentered learning. the educational process is moving away from a five-by-eight school day.
Increasingly, the learning process is seeping into students' homes and communities at other times of the day. this means that schools need to be equipped and prepared to embrace studentcentered learning opportunities wherever they happen.
a unique approach to learning is being piloted by 16,000 students in five states through project ChILD (Changing how Instruction for
Learning is Delivered), a K–5 interactive learning system developed by the Institute for School Innovation (www.ifsi.org) in tallahassee,
4
888.679.4239
Fla., that engages in research and development to enhance teacher performance through technology and active learning.
teachers form teams of three in which one specializes in reading, another in writing and a third in mathematics, explains Sarah
Butzin, the institute's president and executive director. each classroom focuses on a core subject and features six learning stations: a computer station for technology-based work; a textbook station for paper/pencil work; three activity stations for hands-on work, including video games; and a teacher station for small-group tutorials and individual assistance. after each lesson, students move from station to station at their own pace. teachers end up working with the same students for three years in a highly collaborative environment.
"how teachers use technology is what turns their classroom into a
21st century classroom," says Butzin. "We want to see kids using technology, not just watching teachers use it. If integrated into a rigorous, highly engaging environment, technology can create very powerful learning opportunities."
milestones to a 21st century classroom
Setting up students and teachers for success with new 21st century classroom tools is the result of a long process. here's a step-by-step look at bringing technology into the classroom.
1. create a strategic plan. For example, the albuquerque
(N.M.) public Schools' 2005–2010 Master tech plan established standards for infrastructure and computers across the nation's
25th-largest district. this common framework supports 21st century deployments.
2. seek diverse sources of funding. the School District of
Manatee County (Fla.) combines title 1, enhancing education through technology (e2t2) and other grant funds to finance
21st century investments. the district extended funds and financed a one-to-one project with a half-cent sales tax increase in 2004. partnering with area chambers of commerce to educate local voters about the benefits of one-to-one computing helped the district secure a "yes" on the sales tax referendum.
3. centralize oversight. albuquerque created an Information technology advisory Council (ItaC) to guide all projects exceeding $100,000. If a local school proposes a schoolwide digital projector deployment, ItaC assesses available technology, explores standards and handles the request for proposals. "ItaC enables growth not possible if decisions were made locally," reports CIO tom ryan. the council consolidates projects to achieve the best possible pricing.
4. Don't put the cart before the horse. Florence School
District (ariz.) boosted bandwidth and network capacity as the first step in a plan for a massive district deployment of one-to-one computers, whiteboards and digital projectors. albuquerque prioritizes investments by the following scale: infrastructure, computers, software and peripheral devices.
5. Do a test-drive. Florence invested in a small whiteboard and digital projector pilot in anticipation of full-scale implementation. tech enthusiasm spread like wildfire, says
Director of educational technology Nicole Steele. plus, when parents witness the benefits of these projects, they tend to lobby for additional funding.
6. Build faculty buy-in. "the rubber meets the road in the classroom," says tina Barrios, supervisor of instructional technology for Manatee County Schools. Leadership is critical:
Smart district leaders engage the unenthused by finding a hook to link tech to other priorities and creating school-level support teams. Florence hopes to build capacity, knowledge and interest in whiteboards through a peer-coaching model.
7. Develop a multipronged training plan. Manatee County's instructional tech department blends extensive summer, evening and online workshops with face-to-face, just-in-time modeling and mentoring. Specialists also help teachers develop lessons to optimize 21st century technology. "allocate at least 30 percent of the hardware investment to training," Barrios recommends.
ch
01
www.the21stcenturyclassroom.com
5
ch
01
8. assess, then assess again. Five years after its initial one-to-one project, Manatee County collaborated with the
University of South Florida and the Center for Curriculum renewal to evaluate success. the team completed classroom visits; interviewed teachers, students and administrators; and analyzed test data. the result: increases in enrollment in upper-level classes at the high school. the district also looked at interim qualitative benchmarks such as involvement by parents and teacher affinity with It.
9. tap into outside experts. City and university leaders join albuquerque's CFO, procurement officials and tech directors at monthly ItaC meetings. Outside experts offer a critical eye and information about their own best practices, says albuquerque's ryan.
10. estimate roi. educational return on investment (tied to factors such as increased engagement and motivation) is notoriously difficult to measure, says Manatee's Barrios. albuquerque attempts to gauge educational rOI by determining whether or not a tech project increases opportunities for teaching and learning. ItaC maintains a trim bottom line by focusing on the total cost of ownership over five years rather than the lowest possible acquisition cost.
BuilDing staff suPPort for your tech Plan
every school has staff members that are reluctant to change. they may only have a couple of years until they retire, are fresh out of college and adhering to the standards taught, or simply may not believe in the vision. here are some ways to tip them toward supporting the 21st century project:
• show them the value of technology in the classroom. they may see it as a time-consuming, money-wasting project, not as a valid learning tool. Show them examples of the benefits that other schools have seen, such as decreases in discipline incidents, more student enthusiasm and higher literacy skills.
Show them the interaction that occurs when students are engaged instead of listening to a lecture at the front of class.
• Point to student comfort with technology. how do kids learn today? they just do it. If they run into a new technology, they play with it until they master it. that's how they want to be taught. We need to use those vehicles they feel most comfortable with: the Internet, computers, e-mail, podcasts, video and audio. this is the technology that they engage every day.
• identify those early adaptors of technology and use
them as "champions" to assist in bringing around
those who are reluctant. peers have the easiest time assisting peers to do something that they aren't comfortable with. Set up a user group in the school to share ideas and give them a place and time to meet on a regular basis. Invite other
"experts" in to speak at these meetings.
• give teachers a reason and the knowledge of how to
use the technology. teach them how to use multiple sources from video, audio and the web to bring their subject matter to life. When they can see how it will improve their classroom and save them time, reluctant teachers will be more willing to jump onboard.
• encourage and praise those teachers who share
coursework with others. Nothing motivates educators more than seeing others using their work.
• Keep the lines of communication open. You may find some instructors who are not computer "experts" and are afraid their students know more about technology than they do. Guess what? they do! they grew up with computers. have teachers use this to their advantage. Guide them to get the students involved. Use tablets, slates or interactive whiteboards. they will learn more and help teach other students. as you can see, there are many different professional development opportunities to help build support for your school's technology plan. You will need to produce a professional development plan that works for your institution.
Buying and outfitting a classroom or school does not ensure adoption and/or use of new technologies. expectations need to be set as to the use of the technology in the classroom and how the professional development will be delivered to the staff. ◊
" how teachers use technology Is what turns theIr classroom Into a 21st century classroom."
— Sarah Butzin, president and executive director of the Institute for School Innovation
6
888.679.4239
Promethean Activboard 178
78" electromagnetic whiteboard
CDWG 1800971
$899.99
•
Electromagnetic movement-detection technology
•
Onscreen tools, such as protractors, can measure down to a single degree
•
Facilitates all possible connection options — USB, Serial, Bluetooth
®
— right out of the box
•
Comes with Activstudio software for Mac
®
or PC, along with thousands of resources and sample lessons
•
Includes Activboard 178, one ActivPen, one 5m USB cable, instructions booklet and wall brackets
Promethean Activexpression
Learner response system set of 32
CDWG 1399877
$2699.00
Activexpression was designed to work seamlessly with Activboard and Activslate in the classroom giving teachers the ability to engage all of their students. During lessons students contribute their thoughts and opinions. Teachers assess their knowledge and determine understanding of a topic. Results can be used for lesson planning and to evaluate progress.
Promethean Activexpression learner response system allows students to express themselves in a variety of ways; through words, phrases, symbols, and numbers and instantly share with the entire class.
PolyVision
®
eno
™
next-generation interactive whiteboard
78" wireless interactive whiteboard
CDWG 1651337
$1595.00
eno
™
combines a virtually indestructible and environmentally certified traditional whiteboard with interactive performance. With all technical components consolidated into a Bluetooth
®
-enabled stylus, worries about multiple points of failure are a thing of the past. The board is maintenance-free. The stylus is a next-day replacement.
•
Embrace simplicity — no cords, no cables
•
Invest wisely — no costly installation
•
Replace instead of repair
PolyVision Qwizdom
®
Q4 32
Remote Set with Q7 Presenter Tablet
Student response system
CDWG 1571897
$2433.99
The Q4RF student remote was designed with the student in mind. The durable Q4 has a large LCD screen which displays information such as answer choices, answer confirmation, battery life and even instant right/wrong feedback. Includes Q7
Presenter Tablet which allows presenter to control the presentation, annotate and interact with screen objects from anywhere in the room, and view private response data and speaker notes on the Tablet LCD.
Epson
®
PowerLite
®
1716
2700 lumens XGA projector
CDWG 1857193
$999.99
Sleek, compact design fits nicely in its convenient carrying case, so you can easily transport it to any destination.
•
USB Plug-and-play instant setup on your PC and optional wireless networking
•
Energy-efficient E-TORL
®
lamp — up to 4000 hours lamp life
•
Two-year limited parts and labor, 90-day lamp warranty, with Epson
®
Road
Service Program that includes overnight exchange
Epson PowerLite 1830
3500 lumens XGA projector
CDWG 1867000
$1349.99
Powerful sound and communication features, no added cost — built-in 10W speaker, built-in closed captioning decoder, RJ-45 LAN connection.
•
Message broadcasting — broadcasts customized images/alerts over the network for announcements or instructions
•
Easy Management
™
— Epson EasyMP
®
monitor and control software included
•
Lamp life: up to 2500 hours, 3500 hours in eco mode
•
Two-year limited warranty, 90-day lamp warranty, Epson Road Service Program and Epson PrivateLine
®
dedicated toll-free support
your CDW•G aCCount manaGer Can help you finD the riGht interaCtive WhiteboarD solution
7
CDW•G terms and conditions of product sales
THE TERMS AND CONDITIONS OF PRODUCT SALES ARE
LIMITED TO THOSE CONTAINED ON CDW•G'S WEBSITE AT
CDWG.COM. NOTICE OF OBJECTION TO AND REJECTION
OF ANY ADDITIONAL OR DIFFERENT TERMS IN ANY FORM
DELIVERED BY CUSTOMER IS HEREBY GIVEN.
Trademarks
CDW
®
, CDW•G
®
and The Right Technology. Right Away.
® are registered trademarks of CDW Corporation. All other trademarks and registered trademarks are the sole property of their respective owners.
Intel Trademark Acknowledgement
Celeron, Celeron Inside, Centrino, Centrino Inside, Core Inside,
Intel, Intel Logo, Intel Atom, Intel Atom Inside, Intel Core, Intel
Inside, Intel Inside Logo, Intel Viiv, Intel vPro, Itanium, Itanium
Inside, Pentium, Pentium Inside, Viiv Inside, vPro Inside, Xeon and Xeon Inside are trademarks of Intel Corporation in the U.S. and other countries. Intel's processor ratings are not a measure of system performance. For more information, please see www.
intel.com/go/rating
AMD Trademark Acknowledgement
AMD, the AMD Arrow, AMD Opteron, AMD Phenom,
AMD Athlon, AMD Turion, AMD Sempron, AMD Geode,
Cool 'n'Quiet and PowerNow! and combinations thereof are trademarks of Advanced Micro Devices, Inc.
HP Smart Buy
HP Smart Buy savings reflected in advertised price.
Savings may vary based on channel and/or direct standard pricing. Available as open market purchases only. Call your CDW•G account manager for details.
Windows Media
Windows XP installed with Windows Vista Certificate of
Authenticity and logo. Windows Vista media included. Customer has rights to both Windows Vista and Windows XP Professional.
Windows XP installed with Windows 7 Professional Certificate of
Authenticity and logo. Windows 7 Professional media included.
Customer has rights to both Windows 7 Professional and
Windows XP Professional.
Telephone Sales
Monday through Friday, 7:00 a.m. to 7:00 p.m. Central.
24x7 Support Numbers
Technical Support Toll-free: 888.810.2394
Customer Relations including Return Merchandise
Authorization (RMA)
Toll-free: 888.722.2394 or [email protected]
The articles contained in this publication represent the views of the authors and not those of the publisher.
©2010 CDW Government, Inc.
ISO Quality Policy
Together We Strive For Perfection
Epson
®
PowerLite
®
826W
2500 lumens WXGA projector
CDWG 1732416
$999.99
PC-free slideshows via USB thumb drive port.
•
RJ-45 connection for monitor and control
•
Message broadcasting — broadcasts customized images/alerts over the network (RJ-45)
•
Lamp life: up to 5000 hours, 6000 hours in eco mode
•
Two-year limited parts and labor, 90-day lamp warranty, with Epson
®
Road Service Program that includes overnight exchange
Mitsubishi XD221U
2300 lumens XGA projector
CDWG 1697798
$799.99
Project your voice and presentation audio with built-in 10-watt speaker and audio mixer.
•
With XGA (1024x768) resolution and 2000:1 contrast, your images will be bright and clear even with the lights on
•
Automatically recognizes either video or data input sources with no manual setup
•
Up to 4000 hours lamp life (low mode)
•
Three-year parts and labor, three-year ERA
1
with 24-hour replacement, one-year lamp warranty
1
Express Replacement Assistance includes next-business-day replacement
®
AVerMedia
®
AVerPen Starter Pack
Teach anywhere, learn everywhere
CDWG 1863065
$758.09
•
Multiple input function allows one teacher pen and up to six student pens to interact simultaneously
•
Group Response System allows for immediate feedback
•
Teacher pen can control computer from anywhere in the classroom
•
Seamless integration with AVerVision Document Cameras
Teacher Pen, 1 cradle, cable and accessories are included
8
888.679.4239
Acer Aspire
®
One D250-1990
Ultimate in mobile freedom
CDWG 1730420
$309.99
•
Intel
®
Atom
™
Processor N270 (1.60GHz)
•
Acer InviLink
™
802.11b/g
•
Memory: 1GB
•
160GB hard drive
•
10.1" WSVGA display with web camera
•
6-cell battery
•
Windows
®
XP Home Edition
Acer Veriton
®
L460G
Powerful and environmentally friendly
CDWG 1736114
$469.99
•
Intel
®
Pentium
®
Dual-Core Processor E5300 (2.60GHz)
•
Memory: 2GB
•
160GB hard drive
•
DVD±RW/DVD-RAM drive
•
Windows Vista
®
Business Edition
1
•
Windows 7 upgrade available
2
1
Windows XP Professional Downgrade disc included in box
2
Purchase an eligible Acer PC from 6/26/09 through 1/31/10 and get an upgrade to Windows 7 from Acer; shipping, handling and other fees apply; limited time offer; call your CDW•G account manager for details
Lenovo IdeaPad
™
S10e
Introductory mobile PC
CDWG 1764539
$338.99
•
Intel
®
Atom
™
Processor N270 (1.60GHz)
•
802.11b/g Wireless Card
•
Memory: 1GB
•
160GB hard drive
•
10.1" WSVGA display with camera
•
6-cell battery
•
Windows XP Home Edition
HP Smart Buy
HP Compaq Thin Client t5730w
Provides convenient access to server-based computing solutions
CDWG 1781027
$519.99
3
•
AMD Sempron
™
Processor 2100+ (1GHz)
•
Memory: 1GB
•
Windows XP Embedded
•
Three-year limited parts and labor warranty
3
See page 8 for HP Smart Buy details
YOUR CDW•G ACCOUNT MANAGER CAN HELP YOU FIND THE RIGHT WORkSTATION SOLUTION
9
AVL 5: Save money, gain control of your Adobe volume licenses and take advantage of additional licensing resources.
1
Call your CDW•G account manager for pricing and licensing options
Inspiration Software
®
Kidspiration
®
3
For K-5 learners, Kidspiration
®
develops thinking, literacy and numeracy skills using proven visual learning principles. In reading and writing, Kidspiration strengthens word recognition, vocabulary, comprehension and written expression. With visual math tools, students build reasoning and problem-solving skills. Across the curriculum, students express their creativity and thinking with pictures, words and numbers.
For students grades 6-12, CDW•G offers Inspiration 9, the essential tool to visualize, think, organize and learn
Adobe
®
Creative Suite
®
4 Design Premium
Give students the edge they need with industry-standard applications
Full version
1
CDWG 1556220 (Windows
®
)
CDWG 1556221 (Mac
®
)
$568.57
•
Puts full-featured, industry-standard applications for digital communication in the hands of students and teachers
•
New simpler ways of working let you do more in less time
•
Deliver rich creative experiences across print, web and mobile media
1
Adobe Volume Licensing (AVL) and additional upgrade paths are available; call your CDW•G account manager for details on qualifying products
M86 Security
™
MailMarshal
™
SMTP
(Email Gateway Security Software)
Call for PriCing
MailMarshal
™
SMTP offers a total e-mail content security solution that unifies antispam, e-mail threat protection, content security, policy enforcement and data leakage prevention.
•
Blocks spam, phishing, e-mail viruses, malware
•
Manages attachment send/receive permissions by file size and type
•
Detects key words and phrases using lexical analysis
•
Provides detailed activity and security status reports
•
Comprehensive inbound/outbound e-mail scanning prevents data leakage
•
Provides bandwidth cost apportioning and fault diagnostic systems
•
Context-sensitive e-mail archiving
10
888.679.4239
Microsoft
®
Office Professional Plus 2007
Share information and work across geographical or organizational boundaries.
Open License Academic
2
CDWG 1065855
$72.81
Microsoft
®
Office Professional Plus helps you and your organization work more efficiently and effectively with a new set of powerful tools for creating, managing, analyzing and sharing information. Its user interface makes Office
Professional Plus easier to use, and its graphics capabilities make creating great-looking, high-impact documents a snap.
•
Deliver better results faster
•
Work together more effectively
•
Get more out of your information
•
Control content, streamline processes
•
Accelerate performance with the power of integrated innovation
2
Purchase five licenses OR one processor license to qualify for the Microsoft Open License Academic program; media must be purchased separately; call your CDW•G account manager for details
Lexmark
™
T650n
Lexmark X543dn
Network-ready, monochrome laser printer
CDWG 1582092
$748.99
Network- and duplex-ready, color laser printer, copier, scanner and fax
CDWG 1604549
$498.99
1
$598.99 - $100 instant savings
•
Mfr. speed rating: up to 45 ppm
•
Print resolution: up to 1200x1200 dpi
•
Duty cycle: up to 200,000 pages per month
•
USB Direct Interface on operator panel for walk-up printing of PDFs and other image files
•
USB and Ethernet ports
•
One-year limited warranty
•
•
•
•
Mfr. speed rating: up to 21 ppm black and color
Print resolution: up to 1200x1200 dpi
Duty cycle: up to 35,000 pages per month
•
USB 2.0 and Ethernet ports
•
Lexmark high-yield toner cartridges help keep printing costs low
One-year limited warranty
1
After instant savings (offer valid through 1/31/10 while supplies last)
$100 instant savings
Brother
®
HL-5370DW
Wireless, network- and duplex-ready, monochrome laser printer
CDWG 1741506
$249.99
•
Mfr. speed rating: up to 32 ppm
•
Print resolution: up to 1200x1200 dpi
•
Duty cycle: up to 30,000 pages per month
•
Parallel, Hi-Speed USB 2.0, Wireless 802.11b/g and Ethernet connectivity
•
PCL
®
6 and BR-Script3 (PostScript
®
3
™
) emulations
•
One-year limited warranty
Xerox
®
Phaser
®
6180MFPN
Network-ready, color laser printer, copier, scanner and fax
CDWG 1288509
$799.00
•
Mfr. speed rating: up to 31 ppm black, 20 ppm color
•
Print and scan resolution: up to 600x600 dpi
•
Duty cycle: up to 60,000 pages per month
•
Parallel, USB 2.0 and Ethernet ports
•
PANTONE
®
Color and Adobe
®
PostScript 3 approved
•
One-year limited onsite warranty
HP LaserJet
®
P3005 Printer
Monochrome laser printer
CDWG 1063658
$548.99
•
Mfr. speed rating: up to 35 ppm
•
Print resolution: 1200x1200 dpi with HP FastRes 1200
•
Duty cycle: 100,000 pages per month
•
Parallel and USB 2.0 ports
HP Color LaserJet
CM2320FXi MFP
Color laser printer, copier, scanner and fax
CDWG 1539043
$898.99
•
Mfr. speed rating: up to 21 ppm black and color
•
Print resolution: up to 600x1200 dpi color
•
Optical scan resolution: up to 1200x1200 dpi
•
Duty cycle: up to 40,000 pages per month
•
USB 2.0 and Ethernet ports
your CDW•G aCCount manaGer Can help you finD the riGht printinG solution
11
launching your 21st century classroom
Chapter 2: the right tools for the Job
Centralized Learning tech Standards for teachers
a great amount of preparation goes into the successful launch of a 21st century classroom. Much of this preparation is because you are adjusting how learning is being done in the classroom; teaching students in a way that plays to their strengths. With this large hurdle out of the way, there are other items to tend to such as formalizing instructors' use of technology, consolidating your technology and choosing the correct teaching tools for your classrooms.
the right tools for the Job
the 21st century classroom relies on a wide range of technologies to aid teachers in connecting with students. how students learn has changed over the past decade, in large part because of the technology available at their fingertips. this rapid pace of change requires teachers to adapt as well. twenty-first century classroom technology adds much to the learning experience. a teacher can use notebooks in the classroom to enhance the curriculum by acclimating students to current technology.
Wireless Internet and network access provide flexibility to take work with you no matter where you are. this unfettered access also offers a connection to the world outside the classroom. add a wireless projector and an interactive whiteboard, and you have just moved from the past to the future. to help your school stay current with the options that are available, here are nine tools that are driving the 21st century classroom experience.
Tablet PCs
tablet pCs typically offer two options for user interaction, either utilizing the standard keyboard-and-mouse setup or via a stylus on the convertible touchscreen. they come with plenty of CpU horsepower, have rechargeable batteries, are lightweight and include multiple wireless options. this is a good option for greater functionality, such as allowing students to take handwritten notes
(thanks to standard handwriting recognition software).
Netbooks
Netbooks are the big thing in the portable market thanks to their tiny size and price tag. While netbooks have limited features compared to larger notebooks, they provide the basics that will meet the average student's needs. typical netbooks have between
1 and 3 gigahertz processing speeds; raM can fall between 1GB and 4GB; and many now have standard 160GB hard drives.
Wireless connectivity options are standard. Screen sizes vary from 7 to 10 inches. Many netbooks also feature several USB
2.0 ports, memory card readers and screen-mounted webcams. all in all, netbooks offer great, inexpensive features to enhance student learning.
Storage Carts
Storage carts offer secure, mobile storage for a classroom's worth of notebooks. Most can store and charge up to 30 computers at one time. Many carts include extra outlets to power external devices such as printers and projectors. Grommet
12
888.679.4239
holes in the back of the cart make for easy cord management.
Carts offer a great solution for schools that share notebooks across several classrooms.
Projectors
projectors are a key component in any 21st century classroom. today's portable projectors offer auto focus and refined resolution for sharp, crisp images. Many are wireless and come with standard network connections and software that lets teachers roam around the classroom with a wireless notebook while projecting images onscreen. projector software options allow teachers to display individual students' computer screens on the board for the class to view.
Setup is plug-and-play after you give the projector an Ip address and name and install the software.
Classroom Presenter
Classroom presenter, a tablet-based interactive system, lets teachers and students share data instantly on their computers. this freeware, created at the University of Washington, provides a unique environment that lets teachers display slides on their students' tablets and permits interaction with those slides.
Students can take quizzes, solve algebra formulas or diagram sentences, for instance. everything that the teacher does on his or her screen will be displayed on the students' screens. Classroom presenter works on small to large networks, can be used wirelessly and requires no special setup.
Interactive whiteboards
take your classroom to the next interactive level with a digital whiteboard. today's whiteboards come in several sizes and require a projector and a computer to operate. Whiteboard software allows vivid images, video and audio from the teacher's or student's computer to come to life for the entire classroom to interact with on the whiteboard.
wireless access Points
With everything going wireless, it only makes sense to use wireless devices in your classroom. Schools want to purchase access points that support the 802.11n standard and data rates of 600 megabits per second. as teachers and students stream video off of the Internet and conduct live web conferences with students around the world, they depend on these technologies every day. By combining quality access points with a wireless controller, the It department can manage hundreds of wireless access points with flexibility and ease.
antispyware
Spyware can really slow down a computer and potentially cause harm to your data — or worse. Between 2006 and 2007, the world saw a 185 percent increase in spyware threats. Schools should look for a bundled spyware and antivirus tool. protecting against spyware will reduce the number of students bringing their notebooks in for repair because of spyware-related sluggishness.
Many of today's bundled spyware suites allow It departments complete control over how the client behaves and can control scan times, prohibit uninstalls, view detailed statistics on spyware and virus data, and push installs and updates remotely.
Backup Software Solution
how important is your data? You know it's important, so be sure to consider an automatic online backup software solution that can synchronize folders and files between multiple systems.
No more reminding students and teachers to back up their work frequently.
Once the solution is set up, any designated file or folder will automatically back up to a server and synchronize with any other computers that have backup accounts. this can happen on your local campus network or at any location on the Internet.
centralized learning
For some schools, getting their hands on technology isn't the problem. these schools have plenty of notebook computers, interactive whiteboards, curriculum software and other 21st century classroom equipment. the problem is that schools are not consolidating all of these tools in one place to form a cohesive educational plan. they may have 21st century classroom technology available in their classrooms, but they do not have 21st century classrooms.
What's the difference? Location. Without a centralized location where teachers can fully integrate the technology into the learning process, the technology will not be integrated, and its value will be lost.
Veering off Track
Ideally, teachers are trained how to use all the various 21st century classroom technologies. Schools encourage teachers to attend training sessions; software vendors come into the school to work with teachers. Schools exert great effort and hard-to-come-by budget dollars to prepare teachers to use this technology. But when they return to the classroom, not all of the teachers are utilizing it.
Some teachers may not be comfortable setting aside pens, paper and books, no matter how much training they receive. as with
CH
02
www.THe21STCeNTuryClaSSroom.Com
13
CH
02 any new initiative, it is up to the schools to make it as easy as possible for teachers to help facilitate the adoption of technology in the classroom.
One problem that may come up is that teachers find the process of getting started with the technology to be off putting. For example, some schools require equipment to be signed out or moved from one location to another. the process of accessing the technology can sometimes become too onerous for teachers to want to bother with. It simply isn't convenient or expedient to move the technology from one classroom to another.
One solution to this problem might be to create a dedicated classroom for 21st century classroom technology, and ask the teachers to come to it instead of doling out the equipment to them. the technology is set up as a laboratory containing everything students need to do a presentation, a production, a research project and anything in between.
The right Course
at first blush, this approach eliminates a lot of distractions that might have previously bogged down the adoption process. having the technology ready to go at a predetermined location automatically improves time management. It also means teachers don't have to disrupt the lesson to return faulty cables, substitute notebooks or run other errands to the It department. and with all the technology at their fingertips every time instructors walk into the lab, these educators are much more likely to increase their own knowledge of the technology. as they broaden students' worlds, their own effectiveness at teaching increases.
Certainly from the students' standpoint, such a technology wonderland presents lessons in a fast-paced environment that complements how they learn. In turn, they're more attentive and ultimately soak up more knowledge.
Keeping the rhythm
Your school's 21st century learning lab is fully outfitted. You've got storage carts filled with notebooks; there's an interactive whiteboard, complete with an overhead projector and response pads for the students. the room is fully wireless, including a wireless printer, and students can look forward to working with a document camera with their projects. the next step is booking that room for a class. this process is also the beneficiary of technology. teachers can book time for their classes via the public calendars on Microsoft Outlook. this way, teachers can see what times are available whether they're at home or school, and request it. If someone has the time they want, they can put themselves on a wait list. With all of the technology in one location and an easy process in place to access it, let the learning begin!
tech standards for teachers
teachers need unique skills and knowledge to succeed in a technological environment. recognizing this, the International
Society for technology in education (ISte) created the National educational technology Standards for teachers (NetS
• t). these standards recognize the ongoing pedagogical shift away from the teacher as a provider of knowledge and expertise through static, text-based learning materials to the teacher as a facilitator of collaborative learning through a variety of media-rich, interactive and authentic educational experiences.
NetS
• t identifies critical professional behaviors and responsibilities that teachers must embrace to encourage their students' intelligent use of technology resources for learning. NetS
• t also guides teachers in changing the way they teach, the way they work and the way they learn in this increasingly connected and global digital society. effective teachers will apply these standards as they design, implement and assess learning experiences to engage students and improve learning. NetS
• t can also enrich teachers' professional practice and help them serve as positive models for students, colleagues and the community. all teachers should meet the following standards:
• facilitate and inspire student learning and creativity. teachers use their knowledge of subject matter, teaching and learning, and technology to facilitate experiences that advance student learning, creativity and innovation in both face-to-face and virtual environments.
• design digital-age learning experiences and
assessments. teachers design, develop and evaluate authentic learning experiences and assessments, incorporating contemporary tools and resources to maximize content learning in context and develop the knowledge, skills and attitudes identified in the National educational technology Standards for
Students, or NetS
•
S (see www.iste.org).
• model digital-age work and learning. teachers exhibit knowledge, skills and work processes representative of an innovative professional in a global and digital society.
• Promote and model digital citizenship and
responsibility. teachers understand local and global societal issues and responsibilities in an evolving digital culture and exhibit legal and ethical behavior in their practice.
• engage in professional growth and leadership. teachers continuously improve their professional practice, model lifelong
14
888.679.4239
learning and exhibit leadership in their school and community by promoting and demonstrating the effective use of digital tools and resources. the NetS
• t document also includes related teacher performance indicators describing performance expectations, scenarios of standards application in classroom settings and rubrics for assessing each standard and indicator.
Implementing the Standards
today's teachers need to take students beyond the walls of their classrooms and into a world of endless learning opportunities through the infusion of relevant content with up-to-date and emerging tools and resources. this classroom transformation is imperative for ensuring that digital-age students are empowered to learn, live and work successfully today and in the future. the essential conditions for this transformation are up-to-date professional growth opportunities, hardware and learning resources, and well-qualified, persistent technology leadership at the school and district levels.
ISte has collaborated with educators worldwide to identify factors that contribute to effective implementation of technology for teaching and learning. this compiled list describes the environment that schools and classroom teachers need if they are to successfully demonstrate their mastery of the standards and develop learning environments conducive to powerful applications of technology.
the nets
• t essential conditions for the effective use of technology are:
• Shared vision
• Empowered leaders
• Technical support
• Curriculum framework
• Implementation planning
• Skilled personnel
• Ongoing professional learning
• Student-centered learning
• Consistent and adequate funding • Engaged communities
• Equitable access • Support policies
• Supportive external context to provide teachers and other education professionals with opportunities to share resources and strategies, ISte has established a wiki at:
http://nets-implementation.iste.wikispaces.net. this resource includes videos of NetS
•
S in action, scenarios of successful strategies addressing each student standard, implementation examples by grade level and standard, lesson plans, resources for developing lesson plans, and rubrics shared by teachers and other educational technology professionals.
what's Next
In addition to the technology standards for students and teachers,
ISte has also developed additional sets of standards and resources specifically for administrators (NetS
• a), school-based technology facilitators and district-based technology leaders. the NetS
• a standards identify what school administrators should do to support integration of learning technologies in their schools and districts. the ISte technology Facilitation and technology
Leadership standards identify criteria for programs that prepare teachers to serve in leadership roles, and they are managed through the National Council for accreditation of teacher education (NCate). ◊
FOr MOre INFOrMatION, pLeaSe vISIt:
www.cdwg.com/k12education
See the above website for helpful tools to assist in implementing your 21st century classroom program, including:
• A checklist of the hardware, software and networking solutions deemed essential for a successful 21st century classroom program;
• A timeline guide listing important milestones to planning and implementing a new 21st century classroom program.
For more information on 21st century classroom technologies, please visit these websites:
www.the21stcenturyclassroom.com
www.edtechmag.com/k12
CH
02
www.THe21STCeNTuryClaSSroom.Com
15
CDW Government, Inc.
One CDW Way
230 N. Milwaukee Avenue
Vernon Hills, IL 60061
Your account number is Key Code
100106
Flyer 75467
Prepare your students for the future with the right technology.
When you need your technology and funding questions answered, you need CDW
•
G. Our dedicated account managers take the guesswork out of public sector purchasing by addressing your concerns, advising you on procurement decisions and customizing your technology solutions.
A team of highly trained Advanced Technology Specialists backs every
CDW
•
G account manager from assessment through installation to ensure your technology needs are met.
At CDW
•
G, we make it easy to invest in the future of your students by bringing you the latest technology for your 21st century classroom. Our extensive selection of expert solutions ensures you get the best products at highly competitive prices. Visit the21stcenturyclassroom.com to experience the complete interactive classroom solution.
And to help stretch your school's IT budget even further, CDW
•
G is pleased to offer you free resources and guidance on navigating the ARRA funding process.
CDW
•
G has developed three white papers for your reference:
"A Moment to Shine: Using Title I Recovery Act Funds for Educational Technology"
"Teaching with Technology: Integrating Technology into Classroom Curriculum"
"Bridging the Gap: Increasing Access to Education for Students With Disabilities"
Download the white papers at
CDWG.com/K12ARRA and learn more about ARRA funding options.
For more information, please call
888.239.8299 and talk with a dedicated account manager today.
The Right Technology. Right Away.
®
the21stcenturyclassroom.com 888.679.4239
©2010 CDW Government, Inc.
* Your assessment is very important for improving the work of artificial intelligence, which forms the content of this project