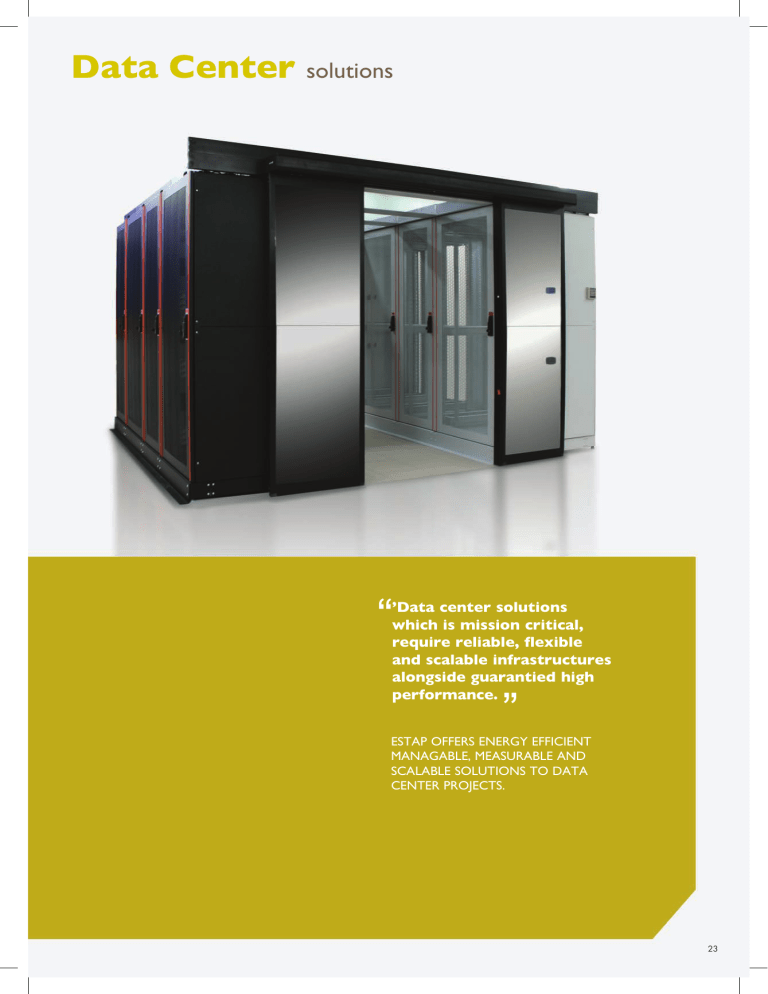 Data Center solutions
'Data center solutions
which is mission critical,
require reliable, flexible
and scalable infrastructures
alongside guarantied high
performance.
ESTAP OFFERS energy efficient
MANAGABLE, MEASURABLE AND
SCALABLE SOLUTIONS TO DATA
CENTER PROJECTS.
23
Data Center
solutions
MAIN FEATURES
DCMax data center server cabinets are designed to provide
hot corridor, cold corridor and its containment structure,
which has been widely used in enterprise datacenters.
Design criteria serves to provide:
• Maximum performance for cooling of IP20 and IP55 solutions
• Wide range of cabinet sizes and accessories
H=42/47U – W=600/800 mm – D=1000/1100/1200 mm
• Load capacity= 1500 kg. DCMax structure is suitable for carrying heavy loads and is seismic tested to 1000 kg
(BELLCORE GR-63-CORE ZONE 4, NEBS)
• Maximum inner space for servers
• Minimum environmental space requirement
• Professional cable management
• Heavy duty structure
• Compability with all vendors servers
• High technical performance, grounding continuity
• Power / energy management
• Controllable and reliable security with monitoring
• Aesthetic and professional design
19" OPEN FRAME CABLING CABINET, IP20
Estap System Rack cabinet series offers an ideal solution
for the data center which include high density cabling
and need effective cooling. Its heavy-duty structure
is suitable to house the component of the network
backbone.
24
HOT & COLD CORRIDOR APPLICATIONS
Estap datacenter cooling solution offers real and energy
efficient cooling with its wide product range such as
water chilled sidecoolers, in-row coolers, heat removal
units, cold corridor containment and so on.
Data Center solutions
LCD CONSOLES & KVM
The high quality KVM switch is ideal for use in small to middle sized server
rooms and provides direct connection to many servers.
Estap consoles with/without integrated KVM are a space saving and
functional solution for a comfortable connection to PCs, servers KVM
installations in a 1U rack-mounting area.
REMOTE MONITORING SYSTEM
Supplies real time monitoring and
management solution for data centers
to secure flawless operation with high
resilien.
POWER DISTRIBUTION UNITS (PDU)
Estap managed IP PDUs provide reliable power distribution
and monitoring of individual outlets to data centers, for both
Blade servers.
Designed for high density, mission critical server applications,
Estap IP PDU range offers an excellent solution to scale
electrical power budgets and fight against the inevitable rise of
electrical energy costs in the data center business.
25
Data Center
solutions
Data Center solutions
ESTAP
Data center
COOLING
SOLUTIONS
Estap data center IT cooling
solution ensures maximum
IT availability at minimum running
cost. The power usage effectiveness
in the data centers indicates
that approximately %30 of the
total incoming power is utilised
by cooling and cooling related
equipment.
FEATURES
Cold corridor
• Liquid / gas cooling
• High cooling capacity
• Easy mounting and maintenance
ESTAP DATA CENTER COOLING SOLUTIONS
Hot corridor
26
In Row coolers are utilised. To serve for cooling and/or
enhancing the cooling capacity of a cold corridor containment.
Heat rejection can be handled by an existing chilled water system:
The modular solution serve scalable cooling capacity growth.

* Your assessment is very important for improving the work of artificial intelligence, which forms the content of this project