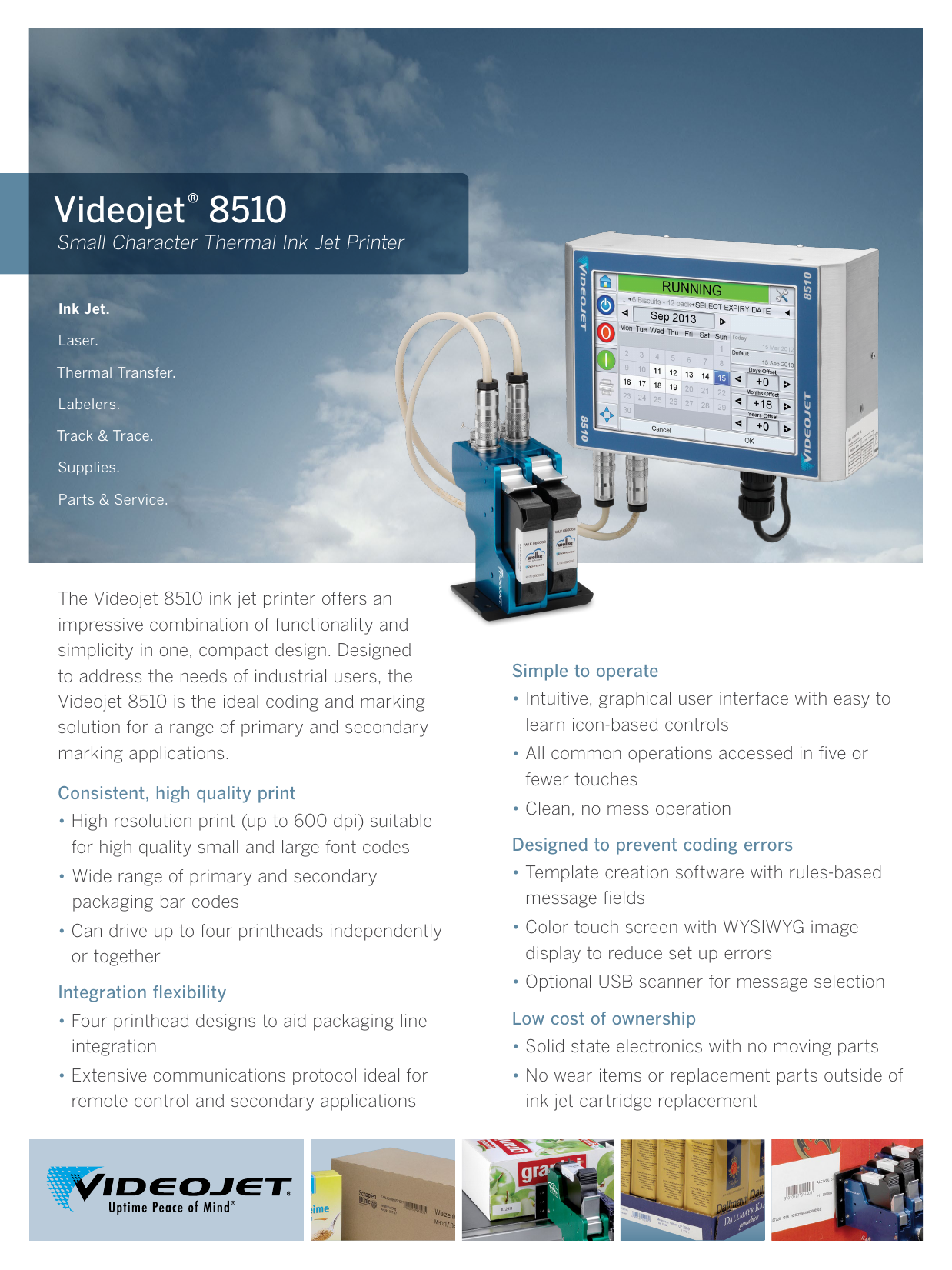 Videojet 8510
Small Character Thermal Ink Jet Printer
Ink Jet.
Laser.
Thermal Transfer.
Labelers.
Track & Trace.
Supplies.
Parts & Service.
The Videojet 8510 ink jet printer offers an
impressive combination of functionality and
simplicity in one, compact design. Designed
to address the needs of industrial users, the
Videojet 8510 is the ideal coding and marking
solution for a range of primary and secondary
marking applications.
Consistent, high quality print
•H
igh resolution print (up to 600 dpi) suitable
for high quality small and large font codes
Simple to operate
• Intuitive, graphical user interface with easy to
learn icon-based controls
•A
ll common operations accessed in five or
fewer touches
• Clean, no mess operation
Designed to prevent coding errors
•Wide range of primary and secondary
packaging bar codes
•T
emplate creation software with rules-based
message fields
• Can
drive up to four printheads independently
or together
•C
olor touch screen with WYSIWYG image
display to reduce set up errors
Integration flexibility
• Optional USB scanner for message selection
•F
our printhead designs to aid packaging line
integration
Low cost of ownership
•E
xtensive communications protocol ideal for
remote control and secondary applications
• No
wear items or replacement parts outside of
ink jet cartridge replacement
• Solid state electronics with no moving parts
Videojet® 8510
Small Character Thermal Ink Jet Printer
Ink Jet. Laser. Thermal Transfer. Labelers. Track & Trace. Supplies. Parts & Service.
Select Product Specifications
Data Interface
Line Speed / Resolution Capability
RS232, Ethernet, USB memory stick support, Text Communications
Protocols
250 fpm (75 mpm) at 600x240 dpi
Maximum resolution of 600x600 dpi
Controller Dimensions
9.6" (244 mm) long
3.6" (92 mm) wide
6.7" (170 mm) high
Maximum print resolution dependent on line speed
Printing Capabilities
Full downloadable font support using TrueType® fonts
Fixed, variable and merged text fields
Flexible date/time and shift code formats
Auto best before date calculations
Auto incrementing/decrementing text and counters
Multiple graphic formats supported (up to maximum print area)
Dimensions exclude printhead, accessory cables and power supply connections
Printhead Dimensions
Four printhead options are available with different dimensions to
meet line integration requirements. The following dimensions are for
the Standard Blue printhead:
4.5" (115 mm) long
4.3" (110 mm) high
2.4" (60 mm) wide (at rub plate)
Bar Codes
EAN8, EAN13, UPC-A/E, CODE 39, CODE128, EAN128, GS1 DataBar
(including 2D composite), DataMatrix, QR, PDF417
Dimensions exclude cartridge and cable connections
Red, Green, and Gold printhead dimensions vary in length and height from
Blue printhead
Print Cartridge
Maximum of four 12.7mm tall, 600 dpi print cartridges (stacked/stitched
or deployed independently)
Temperature Range
41°F to 113°F (5°C to 45°C)
Display
Electrical Requirements
8.4-inch TFT SVGA (800x800) full-color LCD and touch screen
WYSIWYG print preview
Full on-board diagnostics
Three levels of password protection or advanced configurable password
protection
Extensive language support (22 in total)
100-240 VAC 50/60Hz
Approximate Weight (Controller)
7.0 lbs (3.2 kgs)
Dimensions
244.00 mm
92.00 mm
(9.60")
(3.62")
34.00 mm
(1.30")
115.00 mm
(4.00")
(1.90")
29.00 mm
(1.10")
(2.40")
110.00 mm
(4.30")
102.00 mm
49.00 mm
50.00 mm
(2.00")
60.00 mm
(6.69")
41.00 mm
(1.61")
(2.40")
48.00 mm
(1.89")
60.00 mm
(7.37")
187.10 mm
170.00 mm
(4.50")
Standard Blue Printhead
800-843-3610 / www.videojet.com / info@videojet.com
Videojet Technologies Inc. / 1500 Mittel Blvd. / Wood Dale IL 60191-1073 / USA
Phone 630-860-7300 Fax 800-582-1343
©2012 Videojet Technologies Inc. — All rights reserved. Videojet Technologies Inc.'s policy is one of continued product improvement.
We reserve the right to alter design and/or specifications without notice. TrueType is a registered trademark of Apple Computer, Inc.
Part No. SL000537
8510-0512
Printed in U.S.A.

* Your assessment is very important for improving the work of artificial intelligence, which forms the content of this project