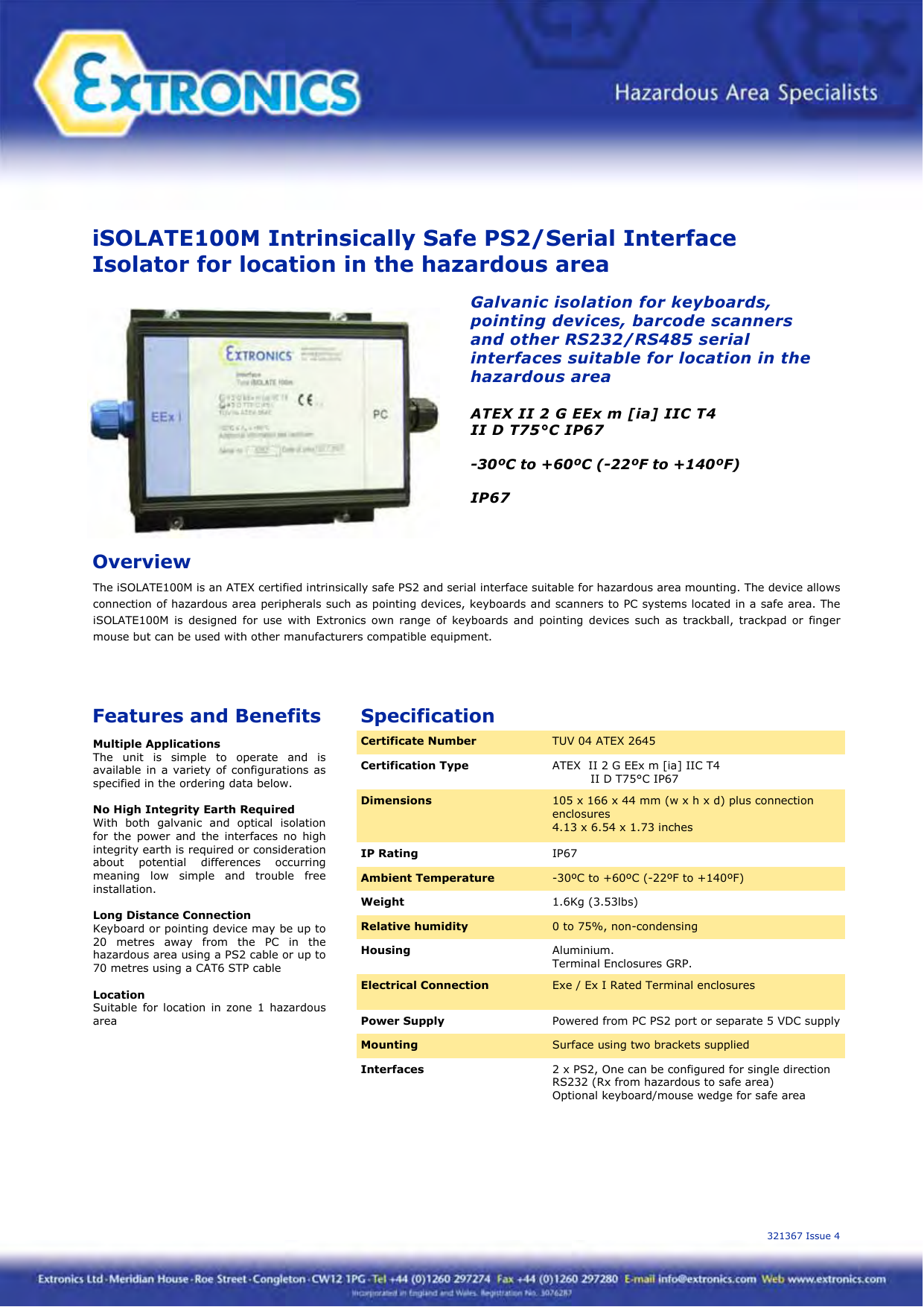 iSOLATE100M Intrinsically Safe PS2/Serial Interface
Isolator for location in the hazardous area
Galvanic isolation for keyboards,
pointing devices, barcode scanners
and other RS232/RS485 serial
interfaces suitable for location in the
hazardous area
ATEX II 2 G EEx m [ia] IIC T4
II D T75°C IP67
-30ºC to +60ºC (-22ºF to +140ºF)
IP67
Overview
The iSOLATE100M is an ATEX certified intrinsically safe PS2 and serial interface suitable for hazardous area mounting. The device allows
connection of hazardous area peripherals such as pointing devices, keyboards and scanners to PC systems located in a safe area. The
iSOLATE100M is designed for use with Extronics own range of keyboards and pointing devices such as trackball, trackpad or finger
mouse but can be used with other manufacturers compatible equipment.
Features and Benefits
Specification
Multiple Applications
The unit is simple to operate and is
available in a variety of configurations as
specified in the ordering data below.
Certificate Number
TUV 04 ATEX 2645
Certification Type
ATEX II 2 G EEx m [ia] IIC T4
II D T75°C IP67
Dimensions
105 x 166 x 44 mm (w x h x d) plus connection
enclosures
4.13 x 6.54 x 1.73 inches
IP Rating
IP67
Ambient Temperature
-30ºC to +60ºC (-22ºF to +140ºF)
Weight
1.6Kg (3.53lbs)
Relative humidity
0 to 75%, non-condensing
Housing
Aluminium.
Terminal Enclosures GRP.
Electrical Connection
Exe / Ex I Rated Terminal enclosures
Power Supply
Powered from PC PS2 port or separate 5 VDC supply
Mounting
Surface using two brackets supplied
Interfaces
2 x PS2, One can be configured for single direction
RS232 (Rx from hazardous to safe area)
Optional keyboard/mouse wedge for safe area
No High Integrity Earth Required
With both galvanic and optical isolation
for the power and the interfaces no high
integrity earth is required or consideration
about potential differences occurring
meaning low simple and trouble free
installation.
Long Distance Connection
Keyboard or pointing device may be up to
20 metres away from the PC in the
hazardous area using a PS2 cable or up to
70 metres using a CAT6 STP cable
Location
Suitable for location in zone 1 hazardous
area
321367 Issue 4
Ordering Information
iSOLATE100M
Please Specify [#1] - Type of configuration
Intrinsically Safe Keyboard Interface two PS/2 safe area to two PS/2 hazardous area
Intrinsically Safe Keyboard Interface PS/2 Keyboard Wedge
Intrinsically Safe Keyboard Interface PS/2 and RS232
Intrinsically Safe Keyboard Interface PS/2 and RS485
Accessories
PS/2 to USB converter
Keyboard/Mouse Extender
iSOLATE100M-[#1]-[#2]]-[#3]
EX01
EX02
EX03
EX04
USBCONV1
CE120
Copyright © Extronics Ltd 2008
The information contained in this document is subject to change without notice. Extronics cannot be held responsible for any errors or inaccuracies within this
document.

* Your assessment is very important for improving the work of artificial intelligence, which forms the content of this project