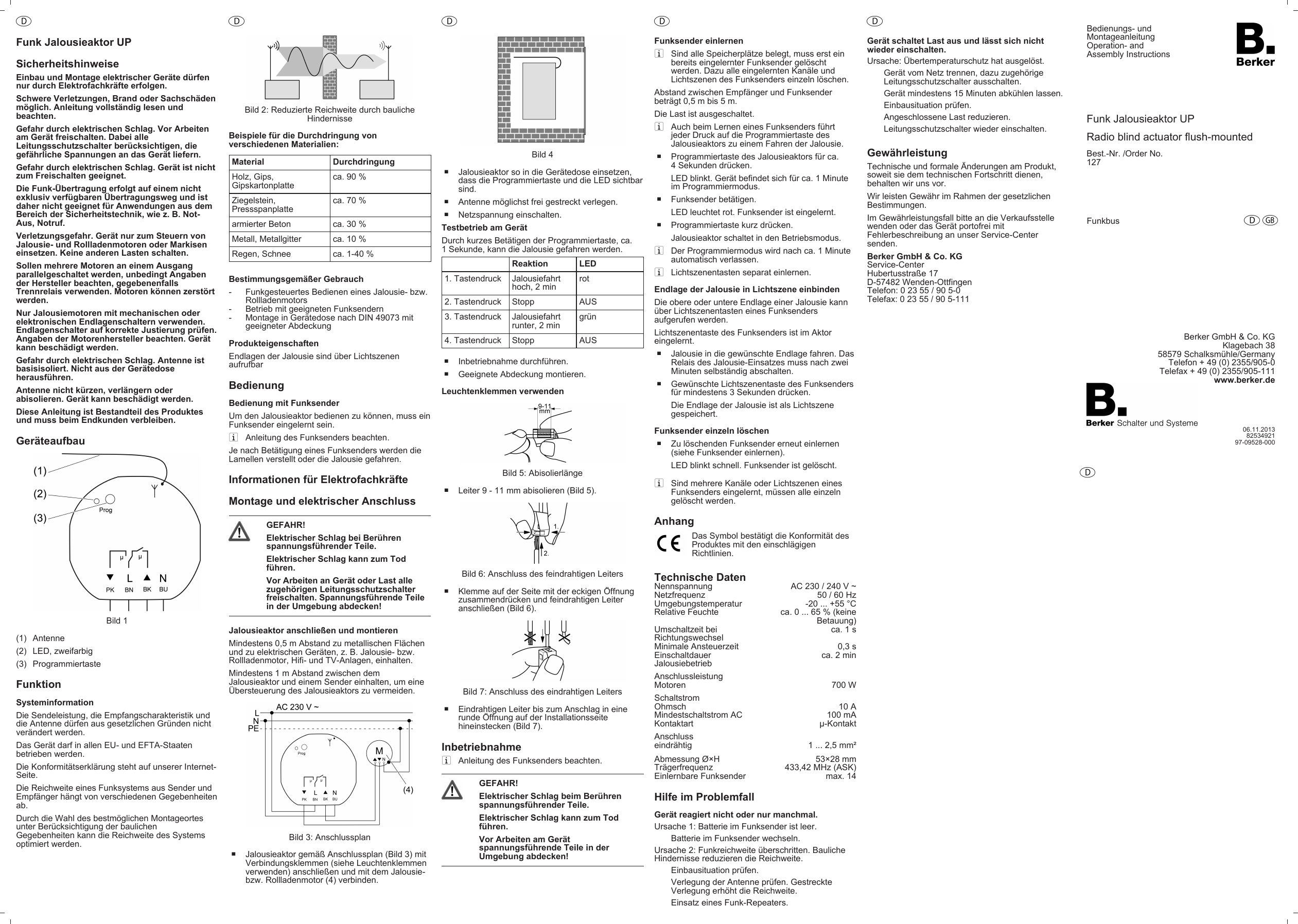 Funk Jalousieaktor UP
Sicherheitshinweise
Einbau und Montage elektrischer Geräte dürfen
nur durch Elektrofachkräfte erfolgen.
Schwere Verletzungen, Brand oder Sachschäden
möglich. Anleitung vollständig lesen und
beachten.
Gefahr durch elektrischen Schlag. Vor Arbeiten
am Gerät freischalten. Dabei alle
Leitungsschutzschalter berücksichtigen, die
gefährliche Spannungen an das Gerät liefern.
Gefahr durch elektrischen Schlag. Gerät ist nicht
zum Freischalten geeignet.
Die Funk-Übertragung erfolgt auf einem nicht
exklusiv verfügbaren Übertragungsweg und ist
daher nicht geeignet für Anwendungen aus dem
Bereich der Sicherheitstechnik, wie z. B. NotAus, Notruf.
Verletzungsgefahr. Gerät nur zum Steuern von
Jalousie- und Rollladenmotoren oder Markisen
einsetzen. Keine anderen Lasten schalten.
Sollen mehrere Motoren an einem Ausgang
parallelgeschaltet werden, unbedingt Angaben
der Hersteller beachten, gegebenenfalls
Trennrelais verwenden. Motoren können zerstört
werden.
Nur Jalousiemotoren mit mechanischen oder
elektronischen Endlagenschaltern verwenden.
Endlagenschalter auf korrekte Justierung prüfen.
Angaben der Motorenhersteller beachten. Gerät
kann beschädigt werden.
Gefahr durch elektrischen Schlag. Antenne ist
basisisoliert. Nicht aus der Gerätedose
herausführen.
Antenne nicht kürzen, verlängern oder
abisolieren. Gerät kann beschädigt werden.
Diese Anleitung ist Bestandteil des Produktes
und muss beim Endkunden verbleiben.
Geräteaufbau
Bild 2: Reduzierte Reichweite durch bauliche
Hindernisse
Beispiele für die Durchdringung von
verschiedenen Materialien:
Material
Durchdringung
Holz, Gips,
Gipskartonplatte
ca. 90 %
Ziegelstein,
Pressspanplatte
ca. 70 %
armierter Beton
ca. 30 %
Metall, Metallgitter
ca. 10 %
Regen, Schnee
ca. 1-40 %
Bild 4
o
Jalousieaktor so in die Gerätedose einsetzen,
dass die Programmiertaste und die LED sichtbar
sind.
o Antenne möglichst frei gestreckt verlegen.
o Netzspannung einschalten.
Testbetrieb am Gerät
Durch kurzes Betätigen der Programmiertaste, ca.
1 Sekunde, kann die Jalousie gefahren werden.
Reaktion
LED
Bestimmungsgemäßer Gebrauch
Funkgesteuertes Bedienen eines Jalousie- bzw.
Rollladenmotors
Betrieb mit geeigneten Funksendern
Montage in Gerätedose nach DIN 49073 mit
geeigneter Abdeckung
1. Tastendruck
Jalousiefahrt
hoch, 2 min
rot
2. Tastendruck
Stopp
AUS
3. Tastendruck
Jalousiefahrt
runter, 2 min
grün
Produkteigenschaften
Endlagen der Jalousie sind über Lichtszenen
aufrufbar
4. Tastendruck
Stopp
AUS
Bedienung
o
o
Inbetriebnahme durchführen.
Geeignete Abdeckung montieren.
Leuchtenklemmen verwenden
Bedienung mit Funksender
Um den Jalousieaktor bedienen zu können, muss ein
Funksender eingelernt sein.
i Anleitung des Funksenders beachten.
Je nach Betätigung eines Funksenders werden die
Lamellen verstellt oder die Jalousie gefahren.
Bild 5: Abisolierlänge
Informationen für Elektrofachkräfte
o
Leiter 9 - 11 mm abisolieren (Bild 5).
Montage und elektrischer Anschluss
GEFAHR!
Elektrischer Schlag bei Berühren
spannungsführender Teile.
Elektrischer Schlag kann zum Tod
führen.
Vor Arbeiten an Gerät oder Last alle
zugehörigen Leitungsschutzschalter
freischalten. Spannungsführende Teile
in der Umgebung abdecken!
Funksender einlernen
i Sind alle Speicherplätze belegt, muss erst ein
bereits eingelernter Funksender gelöscht
werden. Dazu alle eingelernten Kanäle und
Lichtszenen des Funksenders einzeln löschen.
Abstand zwischen Empfänger und Funksender
beträgt 0,5 m bis 5 m.
Die Last ist ausgeschaltet.
i Auch beim Lernen eines Funksenders führt
jeder Druck auf die Programmiertaste des
Jalousieaktors zu einem Fahren der Jalousie.
o Programmiertaste des Jalousieaktors für ca.
4 Sekunden drücken.
LED blinkt. Gerät befindet sich für ca. 1 Minute
im Programmiermodus.
o Funksender betätigen.
LED leuchtet rot. Funksender ist eingelernt.
o Programmiertaste kurz drücken.
Jalousieaktor schaltet in den Betriebsmodus.
i Der Programmiermodus wird nach ca. 1 Minute
automatisch verlassen.
i Lichtszenentasten separat einlernen.
Endlage der Jalousie in Lichtszene einbinden
Die obere oder untere Endlage einer Jalousie kann
über Lichtszenentasten eines Funksenders
aufgerufen werden.
Lichtszenentaste des Funksenders ist im Aktor
eingelernt.
o Jalousie in die gewünschte Endlage fahren. Das
Relais des Jalousie-Einsatzes muss nach zwei
Minuten selbständig abschalten.
o Gewünschte Lichtszenentaste des Funksenders
für mindestens 3 Sekunden drücken.
Die Endlage der Jalousie ist als Lichtszene
gespeichert.
Funksender einzeln löschen
o Zu löschenden Funksender erneut einlernen
(siehe Funksender einlernen).
LED blinkt schnell. Funksender ist gelöscht.
i Sind mehrere Kanäle oder Lichtszenen eines
Funksenders eingelernt, müssen alle einzeln
gelöscht werden.
Anhang
Das Symbol bestätigt die Konformität des
Produktes mit den einschlägigen
Richtlinien.
Bild 6: Anschluss des feindrahtigen Leiters
o
Klemme auf der Seite mit der eckigen Öffnung
zusammendrücken und feindrahtigen Leiter
anschließen (Bild 6).
Technische Daten
Nennspannung
Netzfrequenz
Umgebungstemperatur
Relative Feuchte
Bild 1
(1) Antenne
(2) LED, zweifarbig
(3) Programmiertaste
Funktion
Jalousieaktor anschließen und montieren
Mindestens 0,5 m Abstand zu metallischen Flächen
und zu elektrischen Geräten, z. B. Jalousie- bzw.
Rollladenmotor, Hifi- und TV-Anlagen, einhalten.
Mindestens 1 m Abstand zwischen dem
Jalousieaktor und einem Sender einhalten, um eine
Übersteuerung des Jalousieaktors zu vermeiden.
Systeminformation
Die Sendeleistung, die Empfangscharakteristik und
die Antenne dürfen aus gesetzlichen Gründen nicht
verändert werden.
Das Gerät darf in allen EU- und EFTA-Staaten
betrieben werden.
Die Konformitätserklärung steht auf unserer InternetSeite.
Die Reichweite eines Funksystems aus Sender und
Empfänger hängt von verschiedenen Gegebenheiten
ab.
Durch die Wahl des bestmöglichen Montageortes
unter Berücksichtigung der baulichen
Gegebenheiten kann die Reichweite des Systems
optimiert werden.
Bild 7: Anschluss des eindrahtigen Leiters
o
Eindrahtigen Leiter bis zum Anschlag in eine
runde Öffnung auf der Installationsseite
hineinstecken (Bild 7).
Inbetriebnahme
i Anleitung des Funksenders beachten.
Bild 3: Anschlussplan
o
Jalousieaktor gemäß Anschlussplan (Bild 3) mit
Verbindungsklemmen (siehe Leuchtenklemmen
verwenden) anschließen und mit dem Jalousiebzw. Rollladenmotor (4) verbinden.
GEFAHR!
Elektrischer Schlag beim Berühren
spannungsführender Teile.
Elektrischer Schlag kann zum Tod
führen.
Vor Arbeiten am Gerät
spannungsführende Teile in der
Umgebung abdecken!
Umschaltzeit bei
Richtungswechsel
Minimale Ansteuerzeit
Einschaltdauer
Jalousiebetrieb
Anschlussleistung
Motoren
Schaltstrom
Ohmsch
Mindestschaltstrom AC
Kontaktart
Anschluss
eindrähtig
Abmessung Ø×H
Trägerfrequenz
Einlernbare Funksender
AC 230 / 240 V ~
50 / 60 Hz
-20 ... +55 °C
ca. 0 ... 65 % (keine
Betauung)
ca. 1 s
0,3 s
ca. 2 min
700 W
10 A
100 mA
µ-Kontakt
1 ... 2,5 mm²
53×28 mm
433,42 MHz (ASK)
max. 14
Hilfe im Problemfall
Gerät reagiert nicht oder nur manchmal.
Ursache 1: Batterie im Funksender ist leer.
Batterie im Funksender wechseln.
Ursache 2: Funkreichweite überschritten. Bauliche
Hindernisse reduzieren die Reichweite.
Einbausituation prüfen.
Verlegung der Antenne prüfen. Gestreckte
Verlegung erhöht die Reichweite.
Einsatz eines Funk-Repeaters.
Gerät schaltet Last aus und lässt sich nicht
wieder einschalten.
Ursache: Übertemperaturschutz hat ausgelöst.
Gerät vom Netz trennen, dazu zugehörige
Leitungsschutzschalter ausschalten.
Gerät mindestens 15 Minuten abkühlen lassen.
Einbausituation prüfen.
Angeschlossene Last reduzieren.
Leitungsschutzschalter wieder einschalten.
Gewährleistung
Technische und formale Änderungen am Produkt,
soweit sie dem technischen Fortschritt dienen,
behalten wir uns vor.
Wir leisten Gewähr im Rahmen der gesetzlichen
Bestimmungen.
Im Gewährleistungsfall bitte an die Verkaufsstelle
wenden oder das Gerät portofrei mit
Fehlerbeschreibung an unser Service-Center
senden.
Berker GmbH & Co. KG
Service-Center
Hubertusstraße 17
D-57482 Wenden-Ottfingen
Telefon: 0 23 55 / 90 5-0
Telefax: 0 23 55 / 90 5-111
Bedienungs- und
Montageanleitung
Operation- and
Assembly Instructions
Funk Jalousieaktor UP
Radio blind actuator flush-mounted
Best.-Nr. /Order No.
127
Funkbus
Berker GmbH & Co. KG
Klagebach 38
58579 Schalksmühle/Germany
Telefon + 49 (0) 2355/905-0
Telefax + 49 (0) 2355/905-111
www.berker.de
06.11.2013
82534921
97-09528-000
Radio blind actuator flush-mounted
Safety instructions
Electrical equipment may only be installed and
fitted by electrically skilled persons.
Serious injuries, fire or property damage
possible. Please read and follow manual fully.
Danger of electric shock. Always disconnect
device before working on it. At the same time,
take into account all circuit breakers that supply
dangerous voltage to the device.
Danger of electric shock. Device is not suitable
for disconnection from supply voltage.
The radio communication takes place via a nonexclusively available transmission path, and is
therefore not suitable for safety-related
applications, such as emergency stop and
emergency call.
Risk of injury. Use the device only for controlling
Venetian blind and roller shutter motors or
awnings. Do not use it to switch other loads.
For parallel connection of several motors to an
output it is essential to observe the
corresponding instructions of the manufacturers,
and to use a cut-off relay if necessary. The
motors may be destroyed.
Use only venetian blind motors with mechanical
or electronic limit switches. Check the limit
switches for correct adjustment. Observe the
specifications of the motor manufacturers.
Device can be damaged.
Danger of electric shock. The antenna has basic
insulation. Do not lead it through the appliance
box.
Do not shorten, extend or strip the antenna.
Device can be damaged.
These instructions are an integral part of the
product, and must remain with the end customer.
Example of penetration of various materials:
Material
Penetration
Wood, Plaster,
Plasterboard
approx. 90%
Brick, Chipboard
approx. 70%
Reinforced concrete
approx. 30%
Metal, Metal grid
approx. 10%
Rain, Snow
approx. 1-40%
Figure 4
Intended use
Radio-controlled operation of a Venetian blind or
roller shutter motor
Operation with suitable radio transmitters
Installation in appliance box according to DIN
49073
Product characteristics
End positions of the Venetian blind can be called up
via light scenes
Operation
Operation with radio transmitter
A radio transmitter has to be taught in order to be
able to operate the venetian blind actuator.
i Observe the instructions for the radio
transmitter.
Depending on how a radio transmitter is operated,
the slats are adjusted or the Venetian blind is moved.
Information for electrically skilled
persons
Fitting and electrical connection
Device components
DANGER!
Electrical shock when live parts are
touched.
Electrical shocks can be fatal.
Before carrying out work on the device
or load, disengage all the
corresponding circuit breakers. Cover
up live parts in the working
environment.
o
Insert the venetian blind actuator in the
appliance box in such a way that the
programming button and the LED are visible.
o Lay the antenna stretched out freely if possible.
o Switch on mains voltage.
Testbetrieb am Gerät
The Venetian blind can be moved by pressing the
programming button briefly (for about 1 second).
Reaction
LED
1rd buttonpress
Venetian blind
moves up,
2 min
red
2rd buttonpress
Stop
OFF
3rd buttonpress
Venetian blind
moves down,
2 min
green
4th buttonpress
Stop
OFF
o
o
Using the lamp terminals
Figure 5: Stripping length
o
Figure 1
Strip 9 - 11 mm of the cable (Figure 5).
The icon confirms the conformity of the
product to the relevant guidelines.
Figure 6: Connection of the fine-wire cable
o
Push the terminal together on the side with the
square opening and connect a fine-wire cable
(Figure 6).
Figure 7: Connection of the single-stranded cable
o
Figure 3: Connection diagram
o
Connect venetian blind actuator in accordance
with connection diagram (Figure 3) with
connection terminals (see Using connection
terminals), and connect with the venetian blind
or roller shutter motor (4).
Push the single-stranded cable into the round
opening on the installation side up to the stop
(Figure 7).
Commissioning
i Observe the instructions for the radio
transmitter.
DANGER!
Electrical shock when live parts are
touched.
Electrical shocks can be fatal.
Before working on the device, cover up
live parts in the working environment.
Figure 2: Reduced range due to structural obstacles
Deleting radio transmitters individually
o Teach the radio transmitter to be deleted again
(see Teaching a radio transmitter).
LED blinks quickly. The radio transmitter has
been deleted.
Appendix
Function
System information
By statute, the transmitting power, the reception
characteristics and the antenna cannot be changed.
The device may be operated in all EU and EFTA
countries.
The declaration of conformity can be viewed on our
website.
The range of a radio system from the transmitter to
the receiver depends on various circumstances.
The range of the system can be optimised by
selecting the optimal installation location, taking into
account the structural circumstances.
Integrating the end position of the Venetian blind
into a light scene
The upper or lower end position of a Venetian blind
can be called up via light scene buttons of a radio
transmitter.
Light scene button of the radio transmitter has been
taught in the actuator.
o Move Venetian blind to the desired end position.
The relay of the Venetian blind control must
switch off automatically after two minutes.
o Press desired light scene button of the radio
transmitter for at least 3 seconds.
The end position of the Venetian blind has been
saved as a light scene.
i If several channels or light scenes of a radio
transmitter have been taught, they all must be
deleted individually.
Connecting and mounting the venetian blind
actuator
Maintain a distance of at least 0.5 m from metal
surfaces and electrical devices, e.g. Venetian blind
and roller shutter motors, hi-fi and TV systems.
Maintain a distance of at least 1 m between the
venetian blind actuator and a transmitter in order to
prevent overmodulation of the Shutter actuator.
(1) Antenna
(2) LED, two-colour
(3) Programming button
Perform commissioning.
Mount the cover.
Teaching a radio transmitter
i If all memory slots are occupied, a radio
transmitter which has already been taught must
first be deleted. To do this, delete all taught
channels and light scenes of the radio
transmitter individually.
The distance between the receiver and the radio
transmitter is from 0.5 m to 5 m.
The load is switched off.
i When a radio transmitter is being taught, the
Venetian blind is likewise moved each time the
programming button of the Venetian blind
actuator is pressed.
o Press the programming button of the Venetian
blind actuator for approx. 4 seconds.
The LED blinks. The device is in programming
mode for approx. 1 minute.
o Press radio transmitter
LED lights up red. The radio transmitter has
been taught.
o Press the programming button briefly.
Venetian blind actuator switches to the operating
mode.
i The programming mode is exited automatically
after about 1 minute.
i Teach light scene buttons separately.
Technical data
Rated voltage
Mains frequency
Ambient temperature
Relative humidity
Switch-over time for
direction change
Minimum actuation time
Switch-on time, Venetian
blind operation
Connected load
Motors
Switching current
Ohmic
Minimum switching
current AC
Contact type
Connection
single stranded
Dimensions Ø×H
Carrier frequency
Teachable radio
transmitter
AC 230 / 240 V ~
50 / 60 Hz
-20 ... +55 °C
approx. 0 ... 65 % (No
moisture condensation)
approx. 1 s
0.3 s
approx. 2 min
700 W
10 A
100 mA
µ contact
1.0 ... 2.5 mm²
53×28 mm
433.42 MHz (ASK)
max. 14
Troubleshooting
Device does not respond, or only sometimes.
Cause 1: battery in the radio transmitter is empty.
Change the battery in the radio transmitter.
Cause 2: Radio range exceeded. Structural
obstacles reduce the range.
Check the installation situation.
Check routing of antenna. Laying the antenna
stretched out increases the range.
Using a radio repeater.
The device switches the load off and cannot be
switched on again.
Cause: overheating protection has tripped.
Disconnect device from mains, also switch
associated off circuit breakers.
Let device cool down for at least 15 minutes.
Check the installation situation.
Reduce the connected load.
Switch circuit breakers on again.
Warranty
We reserve the right to make technical and formal
changes to the product in the interest of technical
progress.
Our products are under guarantee within the scope
of the statutory provisions.
If you have a warranty claim, please contact the
point of sale or ship the device postage free with a
description of the fault to the appropriate regional
representative.