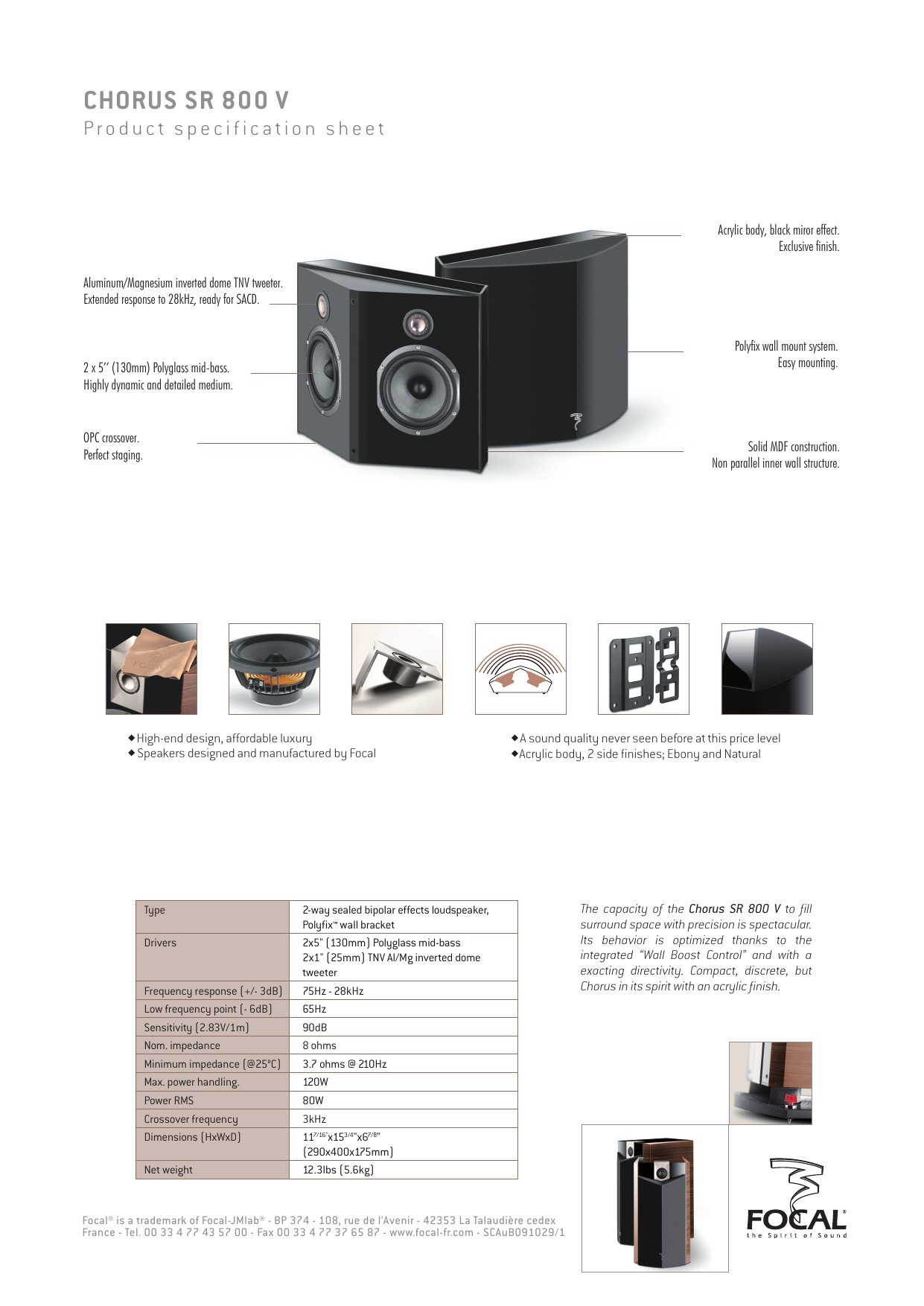 Chorus SR 800 V
Product specification sheet
Acrylic body, black miror effect.
Exclusive finish.
Aluminum/Magnesium inverted dome TNV tweeter.
Extended response to 28kHz, ready for SACD.
Polyfix wall mount system.
Easy mounting.
2 x 5'' (130mm) Polyglass mid-bass.
Highly dynamic and detailed medium.
OPC crossover.
Perfect staging.
Solid MDF construction.
Non parallel inner wall structure.
 High-end design, affordable luxury
 Speakers designed and manufactured by Focal
Type
Drivers
Frequency response (+/- 3dB)
Low frequency point (- 6dB)
Sensitivity (2.83V/1m)
Nom. impedance
Minimum impedance (@25°C)
Max. power handling.
Power RMS
Crossover frequency
Dimensions (HxWxD)
Net weight
 A sound quality never seen before at this price level
Acrylic body, 2 side finishes; Ebony and Natural
2-way sealed bipolar effects loudspeaker,
Polyfix™ wall bracket
2x5" (130mm) Polyglass mid-bass
2x1" (25mm) TNV Al/Mg inverted dome
tweeter
75Hz - 28kHz
65Hz
90dB
8 ohms
3.7 ohms @ 210Hz
120W
80W
3kHz
117/16"x153/4"x67/8"
(290x400x175mm)
12.3lbs (5.6kg)
Focal® is a trademark of Focal-JMlab® - BP 374 - 108, rue de l'Avenir - 42353 La Talaudière cedex
France - Tel. 00 33 4 77 43 57 00 - Fax 00 33 4 77 37 65 87 - www.focal-fr.com - SCAuB091029/1
The capacity of the Chorus SR 800 V to fill
surround space with precision is spectacular.
Its behavior is optimized thanks to the
integrated "Wall Boost Control" and with a
exacting directivity. Compact, discrete, but
Chorus in its spirit with an acrylic finish.

* Your assessment is very important for improving the work of artificial intelligence, which forms the content of this project