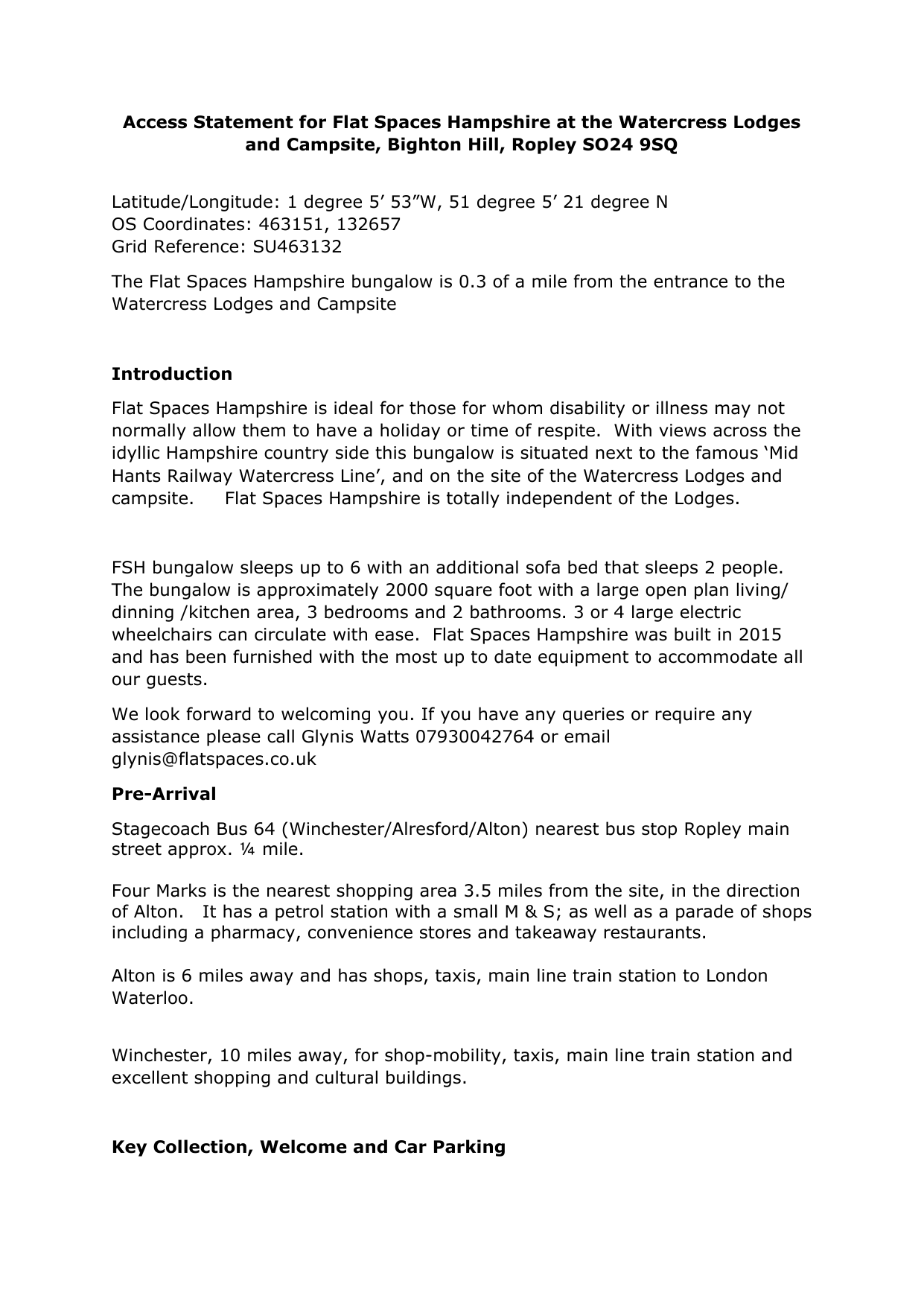 Access Statement for Flat Spaces Hampshire at the Watercress Lodges
and Campsite, Bighton Hill, Ropley SO24 9SQ
Latitude/Longitude: 1 degree 5' 53"W, 51 degree 5' 21 degree N
OS Coordinates: 463151, 132657
Grid Reference: SU463132
The Flat Spaces Hampshire bungalow is 0.3 of a mile from the entrance to the
Watercress Lodges and Campsite
Introduction
Flat Spaces Hampshire is ideal for those for whom disability or illness may not
normally allow them to have a holiday or time of respite. With views across the
idyllic Hampshire country side this bungalow is situated next to the famous 'Mid
Hants Railway Watercress Line', and on the site of the Watercress Lodges and
campsite.
Flat Spaces Hampshire is totally independent of the Lodges.
FSH bungalow sleeps up to 6 with an additional sofa bed that sleeps 2 people.
The bungalow is approximately 2000 square foot with a large open plan living/
dinning /kitchen area, 3 bedrooms and 2 bathrooms. 3 or 4 large electric
wheelchairs can circulate with ease. Flat Spaces Hampshire was built in 2015
and has been furnished with the most up to date equipment to accommodate all
our guests.
We look forward to welcoming you. If you have any queries or require any
assistance please call Glynis Watts 07930042764 or email
glynis@flatspaces.co.uk
Pre-Arrival
Stagecoach Bus 64 (Winchester/Alresford/Alton) nearest bus stop Ropley main
street approx. ¼ mile.
Four Marks is the nearest shopping area 3.5 miles from the site, in the direction
of Alton. It has a petrol station with a small M & S; as well as a parade of shops
including a pharmacy, convenience stores and takeaway restaurants.
Alton is 6 miles away and has shops, taxis, main line train station to London
Waterloo.
Winchester, 10 miles away, for shop-mobility, taxis, main line train station and
excellent shopping and cultural buildings.
Key Collection, Welcome and Car Parking
•
•
•
The key will be provided by our local Flat Spaces Ambassador who will be
at the property. The FS Ambassador will familiarise guests with the
layout of the property, and explain the special features and equipment.
There are 3 tarmac parking spaces outside the front door of the property.
Flat access from the parking via a paved area to the front door.
This area is well lit at night by motion sensor lights.
Entrance to Property
•
•
•
The front door is over 1.83m wide.
The entrance is well lit by a lamp on a timer.
The floor covering inside the entrance is tiled.
After 3.75m the surface changes to laminate flooring. This covers the
whole of the open plan kitchen/lounge/dining area.
Entrance Area
•
•
•
•
The entrance area is 2.8m wide
Fire Extinguisher
Coats Hooks at 2 different heights
A smoke detector.
Open Plan… Kitchen/Lounge/Dining
•
Leading from the entrance area to the open plan kitchen/lounge/dining
area 9.72m x 9.11m
•
Kitchen
N & C Accessible kitchen with an integrated, left side hinged door opening
oven.
Mid shelf .8m and controls 1.09m from the floor.
Integrated into height adjustable work surface:
Electric induction 4 ring hob.
Sink & draining board.
Free standing microwave.
Below the fixed height work surface there is,
Floor standing, 3 shelf fridge,
Dishwasher,
Washing Machine,
Four drawers and corner cupboard with turntable carousel.
Cordless kettle
Glasses, crockery, and cutlery for 8 place settings supplied.
Cooking utensils.
The kitchen is evenly lit with LED lights and natural day light.
Smoke detector & fire blanket.
Flooring is laminate.
•
Dining Area
A large 3.09m x .8m height adjustable table is situated between the
kitchen and lounge.
Set around the table there are 8 chairs with padded seat and back without arms. (All moveable)
Lighting is natural day light and ceiling mounted LED spot lights
Flooring is laminate.
•
Seating area/Lounge
There are 2 sofas arranged in an L shape. One 3 seater and one 2 seater
sofa-bed plus a single chair all with non-feather cushions.
Furniture can be moved.
Inward opening double doors (1.62m wide) onto the patio.
There is a widescreen digital television with remote control, subtitles, and
a DVD player.
Lighting is natural daylight, LED stop lights as well as table lamps.
Flooring is laminate.
Bedrooms
•
•
•
•
•
•
Bedroom 1, (4.93m x 4.93m) with a king size double bed. Individual
weight limited 133kg, combined weight limit 241 kg.
Double doors from the living area (1.63m).
Bedside tables and lamps. Built in wardrobe with hanging and shelf space.
Television. OpeMed Hoist.
Ceiling Hoist – guests to provide their own slings.
Bedroom 2, (4.93m x 4.83m) with 2 single Medley Ergo Profiling Electric
beds.
Single door from the living area width (.9m)
Bedside tables and touch lamps.
Built in wardrobe with hanging and shelf space.
OpeMed Hoist. Wall mounted television.
Dressing table.
Inward opening double doors opening onto the patio. 1.62m wide.
Bedroom 3, Door Width .9m (4.39m x 3.34m) with 2 single beds with
bedside tables and lamps. Built in wardrobe with hanging and shelf space.
En-suite wet room, with shower, toilet and basin.
Furniture can easily be moved or rearranged.
Lighting in all bedrooms is natural daylight and at night overhead LED
stop lights and bedside table lights.
Flooring is laminate.
All bedrooms have bedding & towels included.
Shower-rooms and Toilets
•
Bedroom 1 & 2 are linked by an En-suite Wet Room (4.83mx3.56m)
Equipped with OpeMed Ceiling Hoist running from bedroom 1 via the ensuite bathroom over the bath and Clos-o-mat toilet to bedroom 2.
The bath is deep ( ) and includes a removable arms that extends over the
bath.
Double doors (1.83m).
Height adjustable Clos-o-mat toilet, Pressalit rise and fall basin with single
mixing tap, with integrated shelf system, mirror and shaving point.
Tilting Shower Chair and changing bench included (manufacturer to be
confirmed)
Level access shower and wall mounted moveable shower seat.
Second toilet with lift and lower hand rails.
Lever Taps.
Grab rails.
Non slip tiled flooring.
Garden
•
•
•
We have a large paved patio area which can be accessed over a flat
threshold from the double door off of the lounge area and bedroom 2. The
patio area continues around the side of the building to the parking area.
Table, chairs, sun umbrella & BBQ.
The patio area is not fenced in.
Wonderful views of the rolling Hampshire country side, Steam Engines on
the Watercress Line and the miniature railway.
Additional Information
•
•
•
All internal door handles 1.10m
Wardrobe door handles .8m
Trouser hook .9m (second bathroom)
Free WiFi.
•
•
Assistance dogs are welcome but strictly not allow on any furniture. Own
bedding/basket/feeding bowls must be provided.
All areas in the bungalow have good colour contrast between the floor,
doors and walls. Doors a doorframes are wood and walls are white in
colour.

* Your assessment is very important for improving the work of artificial intelligence, which forms the content of this project