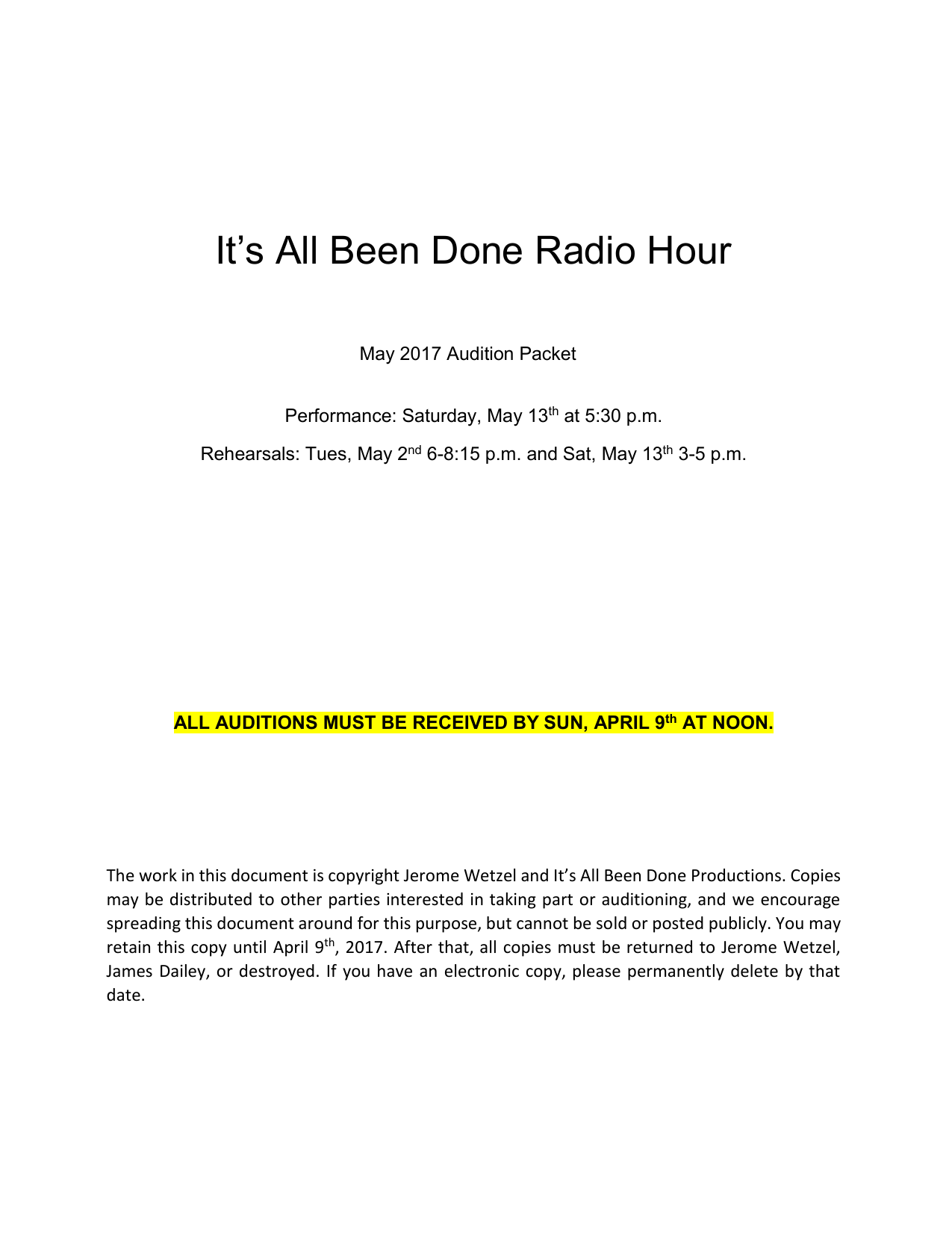 It's All Been Done Radio Hour
May 2017 Audition Packet
Performance: Saturday, May 13th at 5:30 p.m.
Rehearsals: Tues, May 2nd 6-8:15 p.m. and Sat, May 13th 3-5 p.m.
ALL AUDITIONS MUST BE RECEIVED BY SUN, APRIL 9th AT NOON.
The work in this document is copyright Jerome Wetzel and It's All Been Done Productions. Copies
may be distributed to other parties interested in taking part or auditioning, and we encourage
spreading this document around for this purpose, but cannot be sold or posted publicly. You may
retain this copy until April 9th, 2017. After that, all copies must be returned to Jerome Wetzel,
James Dailey, or destroyed. If you have an electronic copy, please permanently delete by that
date.
Overview:
It's All Been Done Radio Hour is a monthly show approximately eighty minutes long, performed
live in front of an audience and broadcast in podcast form.
We will be performing at MadLab theatre in Columbus, OH. The Tuesday rehearsal will be
conducted in the director's house in the Galloway, OH area, and the final Saturday rehearsal will
take place at MadLab.
The show will be considered 'PG-13' rated, with swearing and adult content occasionally
included, but not constant. Participants under 18 must have their parent's permission to
perform.
We're looking for people to bring their own takes to the roles. The success of this project will
rise and fall based on the cast, so we want people who really breathe life into the parts and
make the show better than what's on the page (mainly sticking to the script, though improv is
fine in rehearsal and in auditions).
If your part is well received, it could turn into a recurring role or you may be offered other roles
in the future, so there is opportunity for advancement. You may audition for multiple roles, and
as often as you like. There is no cap to the number of shows you can participate in.
Currently, only a nominal ticket price is charged, so no pay is offered. Should the show ever turn
a profit, anyone still involved will get a portion of the proceeds to be determined based on
amount earned, tenure with the show, and number of people eligible for pay. Costs to host the
podcast, upgrade equipment, and rent venue (if applicable) will be taken out before profit is
earned.
At the end of the day, we are a fun group who just want to enjoy ourselves. We do take these
performances seriously, but rehearsals will be minimal, so we're looking for those who will be
prepared and work without a ton of direction. If this is something you'd like to be a part of, we'd
love to have you.
To Audition:
Please upload an audio or video file online and either email as an attachment or send links to
actors_nightmare@hotmail.com Please state in the recording what role you are auditioning for,
and provide at least 30-60 seconds of sample dialogue, either from the script, improv-ed incharacter, or both.
You may audition for as many parts as you like, and/or provide multiple auditions for the same
role with different voices or approaches. You may also include voices that do not fit currently
offered parts for consideration in future scripts. The more options you give us to work with, the
better.
While most characters are written as either male or female, they can usually be re-written for
the right applicant. Please audition for any part that interests you. A major benefit of voice
acting is that appearance, age, gender, and other physical characteristics are not taken into
consideration when casting parts, so please don't hesitate to send any audition you like.
Any characters and story included in It's All Been Done Radio Hour, whether created by you or
by us, become the exclusive property of the production unless otherwise pre-arranged with
Jerome Wetzel in written form.
If you have not auditioned for us before, in the initial email please include: your first and last
name, stage name if different, statement of parental/guardian permission (if under 18), phone
number, whether that # accepts texts, preferred email address, statement of availability as it
pertains to the performance and rehearsal listed above or any restrictions on such, and a list of
parts you're interested in. Also, 1- 2 paragraphs giving your performance history and/or why
you'd like to be involved is encouraged.
Communication with the cast will be primarily by email. Scripts will be written in Final Draft, but
will be distributed in Word-friendly or PDF format. Paper copies to be used at rehearsal and
performance will be provided by the production.
There is no dress code for the performance. We encourage business casual or better, but you
can perform in t-shirts and jeans if that makes you feel more comfortable. We will by no means
ask you to wear a costume, but if you'd like to dress for your part, you are welcome to do so.
Parts available this month:
(Given that we have not released which segments will be in our show, these parts could be in any of our stories, and
names and details in the audition scenes have been changed to obscure plot spoilers. They should still give you a basic
understanding of the character, though. If you have any questions or would like further clarification, email
jerome@itsallbeendoneradiohour.com)
Murphy – Irish, working-class, man or woman, bickers a lot with one particular co-worker. Don't be afraid
to get cartoonish with the accent. (Page 5)
O'Toole – Irish, working-class, man or woman, eager, helpful assistant. Don't be afraid to get cartoonish
with the accent. (Page 6)
Alex – A guy who makes bumper stickers and enjoys flirting crassly. (Page 7)
Lucy – A CEO who tries to do damage control when her company screws up. Think Portia di Rossi in Better
Off Ted. (Page 8)
***The roles below are for a segment set in Italy a couple hundred years ago. We're going for over-thetop stereotypes.***
Gino – Italian orphan who thinks he's bigger and tougher than he really is. Could be boy or girl. (Page 9)
Josefina – Italian orphan who is shrewd and helpful, when she wants to be. Could be boy or girl. (Page 9)
Raffaele – Italian, the inventor of the modern pizza, brilliant and arrogant. (Page 11)
Leonardo – This role could be male or female. Raffaele's assistant, who is encouraging, but not particular
smart on his (or her) own. (Page 11)
MURPHY AUDITION SCENE
MURPHY
Boss, the saw blade is too dull! It's holdin' up the line!
STAN
Boss, worse, the power is on the fritz!
MURPHY
The saw blade is more urgent!
STAN
No it isn't! We need to stop the power from going out!
MURPHY
We can't cut anything without swapping the saw blade.
STAN
But if the power goes out, the saw won't work anyway
MURPHY & RILEY
(argue)
FOREMAN
Hold it. HOLD IT!
MURPHY & STAN
Sorry, sir.
FOREMAN
These are both problems that need addressin' right away. Murphy, do we have a spare saw blade?
MURPHY
No, boss.
FOREMAN
All right. Then we need to sharpen it.
MURPHY
The sharpener isn't working, either.
FOREMAN
Why not?
STAN
It's broken. I'd deal with it, but the power…
FOREMAN
How the blazes did we get this far without a backup plan?
MURPHY
Well, you see, sir. Remember the really bad storms we had about a week ago? Lightening struck the
building and fried the sharpener.
FOREMAN
Of course I do, Murphy.
MURPHY
And then our blade supplier put us on back order instead of delivering the last shipment.
FOREMAN
He put us on back order?
MURPHY
Yes, boss.
O'TOOLE AUDITION SCENE
O'TOOLE
Aye, sir. What can I help ye with?
FOREMAN
Get me some of those bendable steel sheets, a bucket, and a torch and meet me at the fuel line.
O'TOOLE
Only take a second, sir.
FOREMAN
Good. Hurry.
O'TOOLE
(beat)
Here you go, sir.
FOREMAN
All right. Help me with this.
O'TOOLE
Aye, sir, but I don't understand... Oh, I see it now. But that shouldn't... Ah, I wouldn't have thought of
that. But what are you... Genius, sir!
FOREMAN
O'Toole?
O'TOOLE
Yes, sir?
FOREMAN
Kindly shut up, will ye?
O'TOOLE
Of course, sir.
FOREMAN
Almost... there we go. Now just help me apply this, and hand me that, and...
O'TOOLE
Wow! It's holding! I wasn't sure that would work.
FOREMAN
Neither was I, O'Toole. Hold it all together for a minute until it dries, then we'll test it.
BIG BOSS
Foreman! Is it fixed yet?
O'TOOLE
Almost, but we've got to let it set.
BIG BOSS
I didn't ask you, and I need it now.
O'TOOLE
But sir!
FOREMAN
Whew! It works.
STAN
It's back on!
O'TOOLE
You shoulda seen the foreman, Stan! He was amazin'!
ALEX AUDITION SCENE
CONNIE
Hello, Alex.
ALEX
Well, hello lady!
CONNIE
I do not like your tone.
ALEX
What's the matter with my tone?
CONNIE
It's too sexual.
ALEX
But you...
CONNIE
Alex, tell us about the business you started.
ALEX
Oh, well, I have a bumper sticker start-up. We make all sorts of political slogans and jokes and such, as
well as the typical Honor Student ones you see for local schools.
CONNIE
Fascinating. Tell me, Alex. Do you prefer to bump or stick her?
ALEX
Well, I have been known to do a little bump and grind in my day!
CONNIE
Gross. Don't be crass. How sticky are your stickers, Alex?
ALEX
Very sticky!
CONNIE
Would they be good for bondage?
ALEX
Why? You into a little S&M, CONNIE?
CONNIE
If by S&M you mean sewing and making macramé, then yes.
ALEX
No, I meant... well, kinky stuff, you know?
CONNIE
I would never!
ALEX
But you just asked about bondage?
CONNIE
I do a lot of scrap booking, and I need good bonding in my books. Get your mind out of the gutter.
ALEX
Listen, you took it dirty first.
CONNIE
I would never!
LUCY AUDITION SCENE
LUCY
Good afternoon. I am Lucy Palmer, CEO of CalPharma. Today, I am here to assure you of the good work
our company is doing for Bakersfield, for America, and for the world.
Now, admittedly, we have had some rocky times lately. One of our nationally available drugs did turn out
be tainted. There was an explosion in our Greenville plant. And mutations in Saskatchewan have been
attributed to radiation seepage from our waste dump in the area.
But I can assure you, all of those have been dealt with in the most efficient and environmentally
conscious manner possible. There is nothing to fear from CalPharma, and no indication that there will be
any other such accidents in the near future.
Now, there are rumors that we are only in business because we have bought off two-thirds of Congress
and have replaced the president with an android version of himself that we control.
But I say to you today, with all honesty and transparency, that nothing we have done is illegal. We are
only looking out for the people who we share this wonderful planet with, and we will only work to make
things better for everyone.
GINO AND JOSEFINA AUDITION SCENE
GINO
Halt!
PAT
Aw, aren't you just adorable!
GINO
Who goes there? I do not recognize you.
PAT
Stand aside, child. I am in search of pizza.
JOSEFINA
Pizza?
PAT
Yes, it's a food. Bready and cheesy and tomato-y.
GINO
We know what a pizza is!
PAT
Excellent! Please lead me to it!
GINO
No!
PAT
What do you mean no?
JOSEFINA
Excuse Gino, please. He fancies himself a palace guard.
PAT
And who are you, dear, cooperative girl?
JOSEFINA
I am Josefina. And I am sorry to say that we cannot take you to the pizza.
PAT
Why not?
JOSEFINA
Senor Raffaele, the greatest pizza maker in all of Italy, is hard at work.
PAT
Ooo! The greatest pizza maker? This I must try!
GINO
You may not!
PAT
Get out of the way, child.
GINO
(growls)
PAT
And now it's growling! Good lord!
JOSEFINA
Pardon, but Gino does not like being referred to as an 'it.' He is a he.
GINO
(grunts affirmation)
PAT
I have some candy in my pocket and I will give it to you if you point me towards the kitchen.
GINO
(instantly excited)
Candy! Yes please!
JOSEFINA
I believe that we have a deal. The kitchens are just down this hallway there, turn left, you can't miss it.
GINO
Candy! Candy!
RAFFAELE & LEONARDO AUDITION SCENE
RAFFAELE
Leo! Leo! How many times do I have to tell you? Gentle with the basil! Gentle!
LEONARDO
Sorry, Master Raffaele. I will do better!
RAFFAELE
See that you do! This pizza must be perfect! Not one tomato out of place!
LEONARDO
Of course.
PAT
Are you the pizza maker?
RAFFAELE
Excuse me?
LEONARDO
Yes! This is Raffaele Esposito, the greatest pizza maker in all of Italy!
PAT
I'll be the judge of that.
RAFFAELE
Send him away from my sight at once, Leonardo!
PAT
Raffaele and Leonardo! Are you Teenage Mutant Ninja Turtles?
LEONARDO
(interrupting)
I'm sorry, but you must leave now. Master Raffaele must concentrate! He is having trouble!
RAFFAELE
Silence, Leonardo! Do not tell him our troubles!
LEONARDO
Right. Of course.
PAT
What seems to be the problem?
RAFFAELE
Oh, all right. I've hit a creative roadblock anyway. I must make the perfect pizza, but everything I try
comes out wrong!
PAT
Well, what do you have so far?
LEONARDO
A brilliant concept!
PAT
Brilliant? Really?
LEONARDO
Oh yes! Master Raffaele wants to make his pizza resemble the flag of Italy! Red and white and green!
RAFFAELE
Yes. I have the tomato and the basil, but I just cannot think of something white! I've tried everything, and
none of it tastes good on my pizza!
PAT
Everything?
LEONARDO
Everything! Egg whites, garlic, milk, sugar, lily petals...
PAT
Why don't you leave that section just cheese?
RAFFAELE
Cheese?
LEONARDO
Don't be stupid! No one puts cheese on a pizza!
RAFFAELE
(thoughtfully)
Cheese... It has never been done! But...
LEONARDO
Master Raffaele, please no! We cannot take such a big risk on such an important task!
RAFFAELE
Silence, Leonardo! It is my risk to take, and I've made a career of taking risks! Fetch me some mozzarella
at once!
LEONARDO
ButRAFFAELE
No buts! At once, I say!