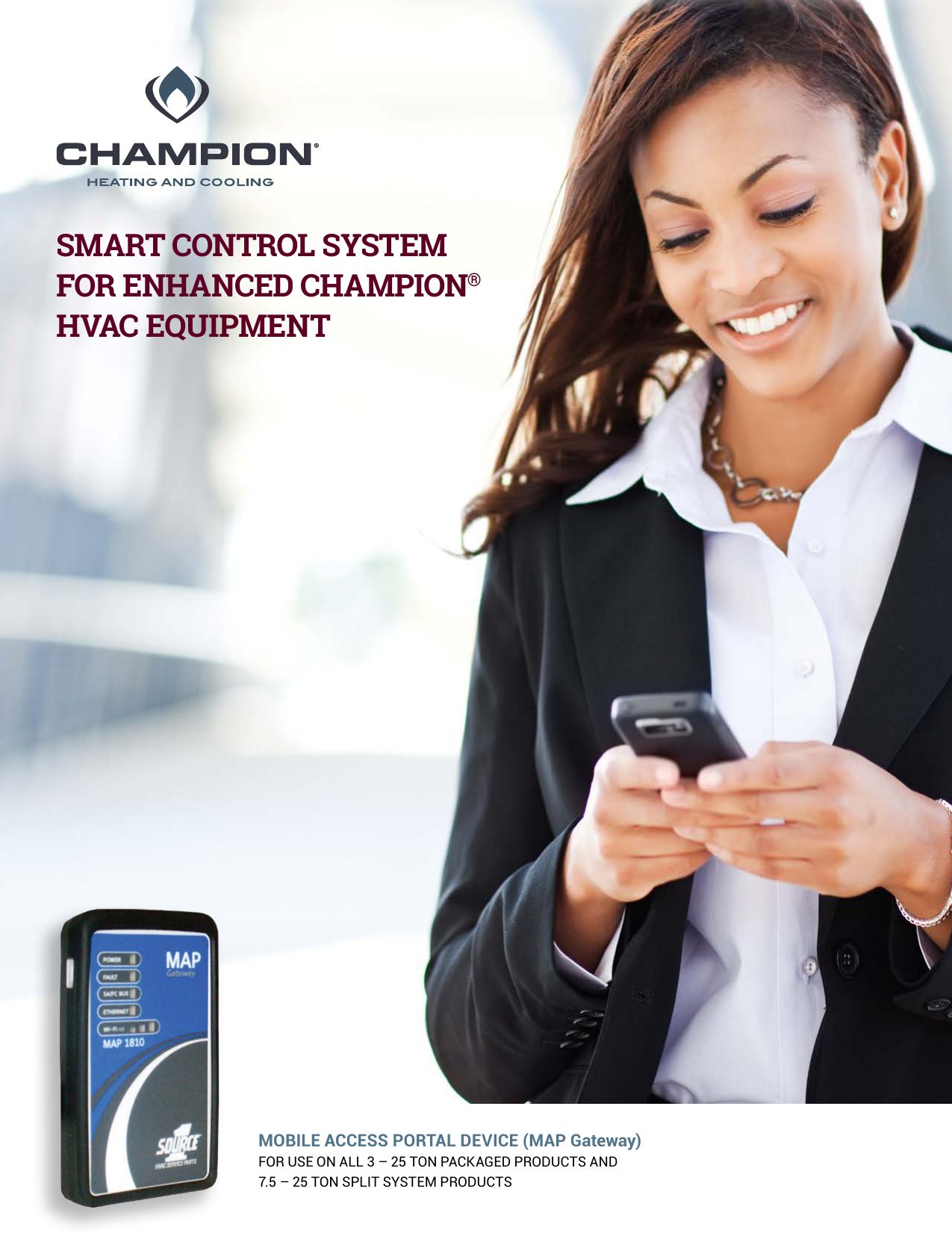 SMART CONTROL SYSTEM
FOR ENHANCED CHAMPION®
HVAC EQUIPMENT
MOBILE ACCESS PORTAL DEVICE (MAP Gateway)
FOR USE ON ALL 3 – 25 TON PACKAGED PRODUCTS AND
7.5 – 25 TON SPLIT SYSTEM PRODUCTS
Smart Equipment™ is the key that unlocks the performance inside today's Champion® HVAC
equipment. Now with the optional Mobile Access Portal (MAP) Gateway, you can access Smart
Equipment™ data from anywhere using a smartphone, tablet, laptop or remote PC.
Get easy access to unit control
with the MAP Gateway
Convenient Ethernet and Wi-Fi®
connectivity — and more
The MAP Gateway is a pocket-sized portable web
server that turns the screen of your PC or mobile
device into the local unit's display. It has a user-friendly
look and feel that makes interacting with building
automation equipment controls as simple as possible.
With included Wi-Fi® support, your mobile device can
access the MAP Gateway up to 100 feet (30 meters)
indoors or 300 feet outside. Through the wired Ethernet
port, you can connect remotely from anywhere over
the Internet. Apply the optional Smart Equipment™
communication card to a series of units and remote
access is not only available on one unitary Smart
Equipment™ equipped product, but with many on
a common network. With optional Fault Detection
and Diagnostics (FDD), contractors can configure,
commission and troubleshoot packaged units faster.
FDD provides advanced fault detection through
patented algorithms.
Stationary MAP Gateway device supports
web-browser access from anywhere
Because the MAP device's built-in web server supports
HTML5-based browsers, no special app software is
needed to view and edit equipment controller configuration parameters, setpoints, schedules and alarms.
The MAP Gateway can be connected to the Unit Control
Board by a supplied RJ-12 cable. This allows the user
to access the single-point Wi-Fi® signal sent out by the
MAP Gateway device. An RJ-12 cable is also provided
that will allow the user to connect to a BAS network. An
RJ-45 cable can be inserted into an additional port on
the MAP Gateway device to connect to Ethernet.
Offered in two convenient configurations:
• Wireless portable model — Carry it in your pocket
The MAP Gateway easily fits in your tool bag or
pocket and comes with a lanyard for hassle-free
carrying to the site.
• Stationary model — Mount it on a wall
Place a MAP Gateway on a wall, closet or anywhere
an Ethernet hardwire connection is available to
access single unit controllers or a network of
controllers over the Internet with your web browser.
In addition to a local connection, the MAP Gateway
gives you three other entry points for communication:
On the roof: Use the portable MAP Gateway to
communicate with mobile devices up to 300 feet
(91 meters) away, use the SA/FC bus to access a
single product or all the devices on the bus. The
simple connectivity makes startup, commissioning
and troubleshooting a breeze.
On a wall: Connect the stationary MAP
Gateway device to a network sensor in
an office, hallway or stairway.
Worldwide access: Use the Ethernet port to
connect remotely with a secure HTTPS link
over the Internet.
Get a head start with simpler communication
Offering the flexibility of many-to-one, multi-client connectivity, the MAP Gateway gives you access to any
Smart Equipment™ enabled device on a connected BACnet® Master-Slave/Token-Passing (MS/TP) fieldbus.
Plus, you get the flexibility of choosing a MAP Gateway model that fits the way you want to work.
MAP GATEWAY MODEL
Portable Unit
(model S1-YK-MAP1810-0P)
POWER
PORTS
Optional 100 – 240 VAC
power supply
USB
Powered RS-485 (field bus port)
Powered micro USB port
Optional external power supply
Stationary Unit
(model S1-YK-MAP1810-0S)
Includes 100 – 240 VAC power
supply with 15 VDC output (for
connecting to line current; may
vary based on region)
Powered RS-485 (field bus port)
Powered micro USB port
RJ-45, 8-pin (Ethernet)
MOUNTING
Includes protective
shell with lanyard
for portable use.
RJ-12 (for RS-485 Field
Controller (FC)-Sensor/
Actuator (SA) bus interface)
USB
RJ-45, 8-pin (Ethernet)
RJ-12 (for RS-485 Field
Includes mounting
bracket with locking
screw for permanent
mounting to a wall or
DIN rail.
Controller (FC)-Sensor/
Actuator (SA) bus interface)
Optional external power supply
Always leading, never compromising, Champion® heating and cooling equipment is built to meet commercial
and home comfort challenges. Want to know more? Contact your Champion® Distributor.
The Champion brand of Johnson Controls, Inc. ©2017 Johnson Controls, Inc.
5005 York Drive, Norman, OK 73069 www.ChampionHomeComfort.com Subject to change without notice.
PUBL-7730-C-0217. Supersedes: PUBL-7730-B-1115. All rights reserved. 
* Your assessment is very important for improving the work of artificial intelligence, which forms the content of this project