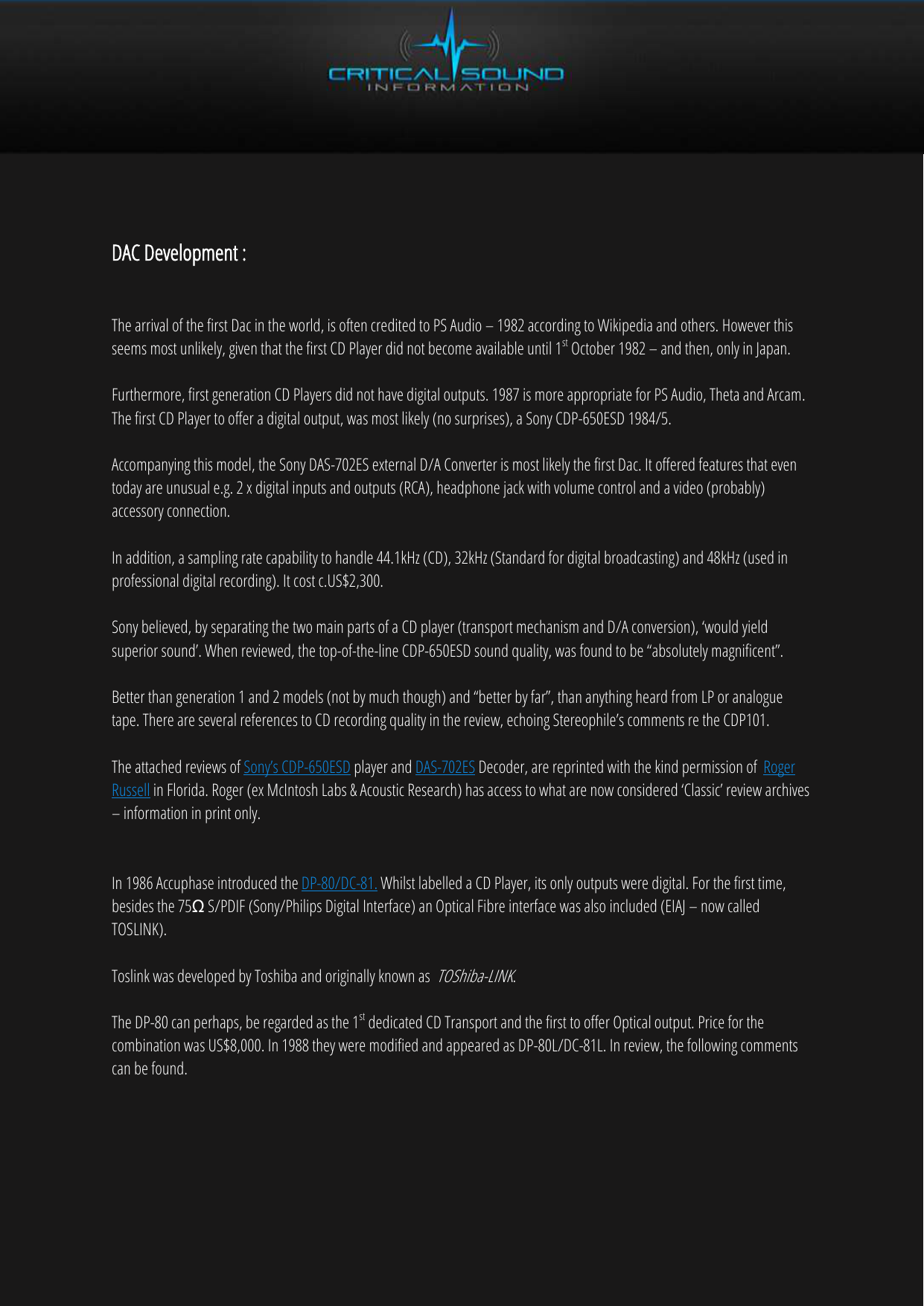 DAC Development :
The arrival of the first Dac in the world, is often credited to PS Audio – 1982 according to Wikipedia and others. However this
seems most unlikely, given that the first CD Player did not become available until 1st October 1982 – and then, only in Japan.
Furthermore, first generation CD Players did not have digital outputs. 1987 is more appropriate for PS Audio, Theta and Arcam.
The first CD Player to offer a digital output, was most likely (no surprises), a Sony CDP-650ESD 1984/5.
Accompanying this model, the Sony DAS-702ES external D/A Converter is most likely the first Dac. It offered features that even
today are unusual e.g. 2 x digital inputs and outputs (RCA), headphone jack with volume control and a video (probably)
accessory connection.
In addition, a sampling rate capability to handle 44.1kHz (CD), 32kHz (Standard for digital broadcasting) and 48kHz (used in
professional digital recording). It cost c.US$2,300.
Sony believed, by separating the two main parts of a CD player (transport mechanism and D/A conversion), 'would yield
superior sound'. When reviewed, the top-of-the-line CDP-650ESD sound quality, was found to be "absolutely magnificent".
Better than generation 1 and 2 models (not by much though) and "better by far", than anything heard from LP or analogue
tape. There are several references to CD recording quality in the review, echoing Stereophile's comments re the CDP101.
The attached reviews of Sony's CDP-650ESD player and DAS-702ES Decoder, are reprinted with the kind permission of Roger
Russell in Florida. Roger (ex McIntosh Labs & Acoustic Research) has access to what are now considered 'Classic' review archives
– information in print only.
In 1986 Accuphase introduced the DP-80/DC-81. Whilst labelled a CD Player, its only outputs were digital. For the first time,
besides the 75Ω S/PDIF (Sony/Philips Digital Interface) an Optical Fibre interface was also included (EIAJ – now called
TOSLINK).
Toslink was developed by Toshiba and originally known as TOShiba-LINK.
The DP-80 can perhaps, be regarded as the 1st dedicated CD Transport and the first to offer Optical output. Price for the
combination was US$8,000. In 1988 they were modified and appeared as DP-80L/DC-81L. In review, the following comments
can be found.
" I hope you realize the pain it causes to say this, (it) was better than that produced by my Linn Troika/Ekos/Sondek player, in
that it was equally musical while allowing the virtues of CD—silent backgrounds and stable imaging—to shine forth. From my
experience in JGH's listening room, I suspect that it even begins to approach LP played on the Versa Dynamics (US$8,000)
player. Dac Musicality v Vinyl
The original models were Martin Colloms' "continuing primary reference", as noted in Stereophile's review of the Wadia Digital
1000 Decoding Computer. At this point in time, state of the art replay in his Reference system, was considered to be "attained
by a well-installed Goldmund Reference Turntable system" - £20,000.
The abovementioned Wadia in review, rated ahead of the Accuphase pairing - getting close to perhaps the very best Vinyl
playing system available in the world, at the time. The results (for CD/Dac replay towards the end of the 80's), again do not
coincide, with the generally accepted view, that Vinyl replay was far superior to CD.
The Wadia after all only cost US$4,950.
Sony were correct in thinking, that by separating the two main functions of a CD Player, better sound quality could be obtained.
If the above opinions are to be given any credence, then it stands to reason, any decent Dac or Player today, far surpasses that
of the Goldmund performance.
Dac and CD Player progress, has been tracked and monitored, in the 'Colloms Sound Quality Ratings' system, ever since.
Progress Examples to follow.