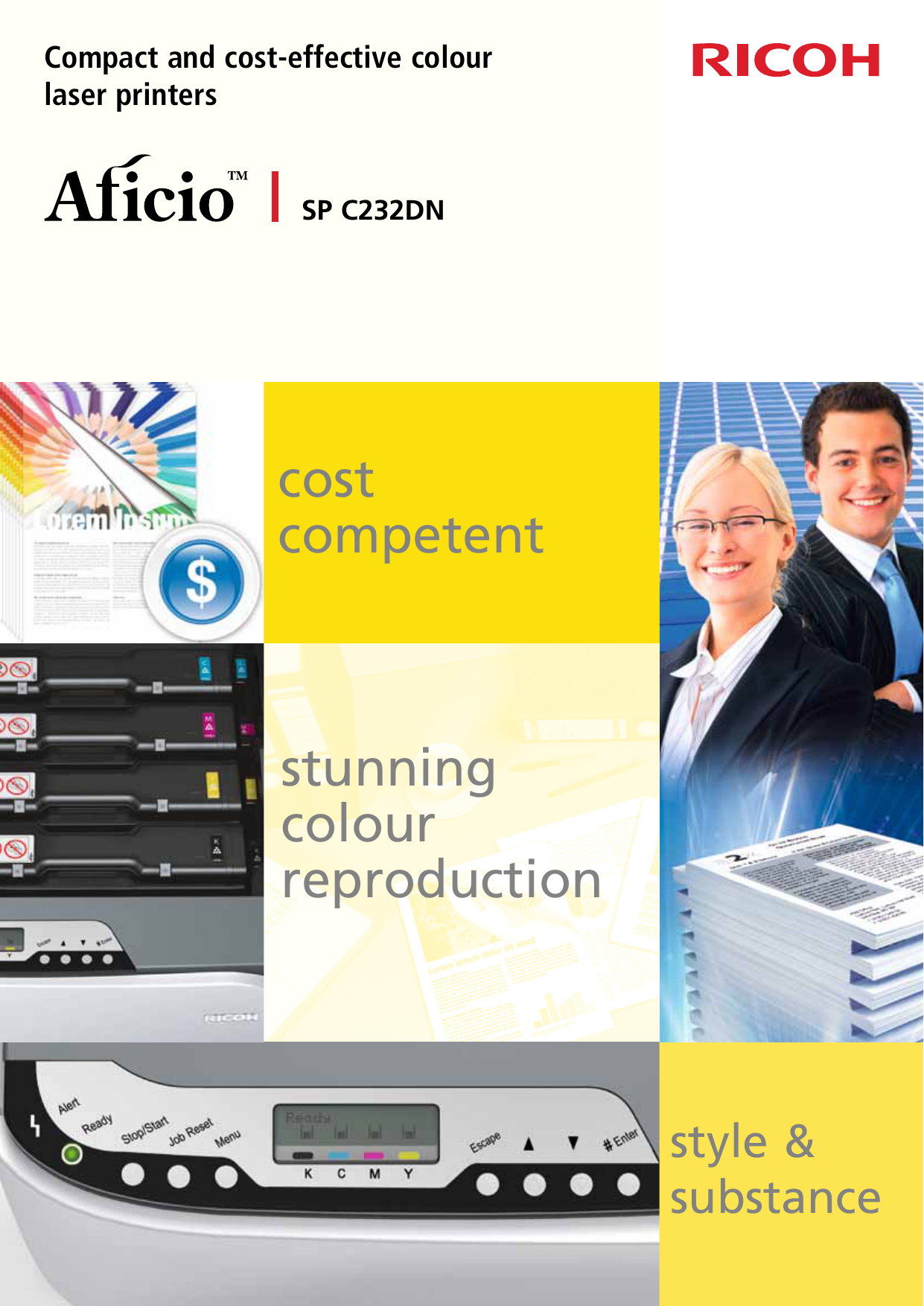 Compact and cost-effective colour
laser printers
SP C232DN
cost
competent
stunning
colour
reproduction
style &
substance
Reap the benefits of low-cost laser colour
Cost effective and maximum functionality
The Aficio™SP C232DN colour laser printer is perfect for small businesses or
small offices. It offers a small footprint, fast first print speed and low Total Cost of
Ownership. Enjoy the lowest cost per page in this printer class with Ricoh's new
long yield toner cartridges.
• 20 colour pages per minute.
• Low Total Cost of Ownership.
• Long yield cartridges.
• Small footprint.
• Standard network connectivity.
Designed to fit your desktop and your budget
Save space
The small footprint of the Aficio™SP C232DN make them
hardly noticeable. They will sit on a small corner of your
desktop, quietly and reliably going about their business. Day
in, day out. The only time you will notice them is when you see
their results: crisp colour prints of the highest quality.
Save time
These devices are built to perform efficiently. Switch on, and
they are up and running within 14 seconds. They race along
at a speedy 20 pages per minute. No fuss. Quiet. Reliable. Just
what you want from a small office desktop printer. And with
an optional 500-sheet tray, their input capacity checks in at an
impressive 751 sheets.
Save money
The Aficio™SP C232DN offers the lowest cost per page in their
segment. This is possible with Ricoh's innovative long yield
toner cartridges. You will find they just run on and on, thus
reducing the overall cost of your consumables.
Easy set up and operation
Their new operating panel with its clear, 2-line LCD enhances set
up and operation. Printer status is visible at a glance. And settings
can be changed in a few seconds through the user-friendly Status
Image Monitor.
Easy maintenance
Supply replacements are performed from the front of the
printer. The All-in-One cartridge and drum can be replaced
quickly and easily, with just one hand. You will not even have
to put your coffee cup down. The short and simple paper pass
virtually eliminates paper jams. Should one happen, just open
up the front of the printer.
Easy on the environment
The Aficio™SP C232DN is designed with respect for the
environment in mind. Their short warm-up time results in
frequent use of the energy saver mode – the device then
consumes as little as 15 W. The Aficio™SP C232DN offers
auto-duplex printing for further paper savings.
Specifications
SP C232DN
GENERAL
Technology: Print speed: B/W: Warm-up time: First print speed: B/W: Dimensions (W x D x H): Weight: Power source: Power consumption: Energy saver mode: Duty cycle: PAPER HANDLING
4-drums tandem method, laser beam
scanning, electro-photographic printing,
single-component toner development
Full colour: 20 prints per minute
20 prints per minute
Less than 48 seconds
Full colour: Less than 14 seconds
Less than 14 seconds
400 x 450 x 320 mm
Less than 23 kg
220 - 240 V, 50 - 60 Hz
Maximum: 1.3 kW or less
15 W or less
30,000 pages per month (up to 3 months)
CONTROLLER
Processor: Printer language/resolution: Memory: Drivers: Fonts: CPU 300 MHz
PCL5c, PCL6, PostScript® 3™¹: 600 x 600
dpi/1,200 x 600 dpi equivalent/2,400 x 600 dpi
equivalent
Standard: 128 MB
Maximum: 640 MB
PCL5c, PCL6, PostScript® 3™¹: Windows®
2000/XP/Vista/Server 2003/Server 2008
Macintosh OS X (Native) v.10.2.8 - 10.5
PCL/PostScript® 3™¹: 80 fonts
Standard: 1 x 250-sheet paper tray
1-sheet bypass tray
Maximum: 751 sheets
Maximum: 150 sheets
Paper trays: A6 - A4
Bypass tray: A6 - A4
Optional tray: A4
Paper trays: 60 - 160 g/m²
Bypass tray: 60 - 160 g/m²
Duplex tray: 60 - 105 g/m²
Plain, recycled, application, glossy, thick, thin,
label, colour, pre-printed, pre-punched,
letterhead, bond paper; card stock; envelopes.
Optional tray: plain, recycled, thin, colour,
pre-printed, pre-punched, letterhead paper.
CONSUMABLES
Toner: Waste toner bottle: C, M, Y: 6,000 (long yield) - 2,500 (short yield)
pages*
K: 6,500 (long yield) - 2,500 (short yield)
pages*
25,000 prints per bottle
The SP C232DN ship with a 1,000-sheet starter kit.
* IEC24712 declared chart, ISO/IEC 19798 colour measurement.
OPTIONS
Internal options: 256 MB memory
External options: 1 x 500-sheet paper tray
CONNECTIVITY
Network protocol: Supported environments: Interface: Paper input capacity: Paper output capacity: Paper size: Paper weight: Media: TCP/IP, AppleTalk, IPX/SPX
Windows® 2000/XP/Vista/Server 2003/
Server 2008
Macintosh OS X (Native) v.10.2.8 - 10.5
Novell® Netware 4.x or later
Standard: Ethernet 10 base-T/
100 base-TX
USB 2.0
PictBridge
¹ The SP C232DN does not run genuine PostScript® but an emulation.
Ricoh has designed these products
to meet EC ENERGY STAR guidelines
for energy efficiency.*
All brand and/or product names are trademarks
of their respective owners.
Specifications and external appearance are
subject to change without notice. The colour
of the actual product may vary from the colour
shown in the brochure. The images
in this brochure are not real photographs and
slight differences in detail might appear.
RICOH HONG KONG LIMITED
Macau Branch
21/F, One Kowloon, 1 Wang Yuen Street, Kowloon Bay, Hong Kong
Alameda Dr. Carlos d'Assumpcao, 249,
Edf. China Civil Plaza, 17 Andar (K, L), Macau.
Tel: (853) 2833 0066
Fax: (853) 2833 0055
RCL/SPC232DN/0709
Copyright © 2009 Ricoh Europe PLC.
All rights reserved. This brochure, its contents
and/or layout may not be modified and/or
adapted, copied in part or in whole and/or
incorporated into other works
without the prior written permission of Ricoh
Europe PLC.