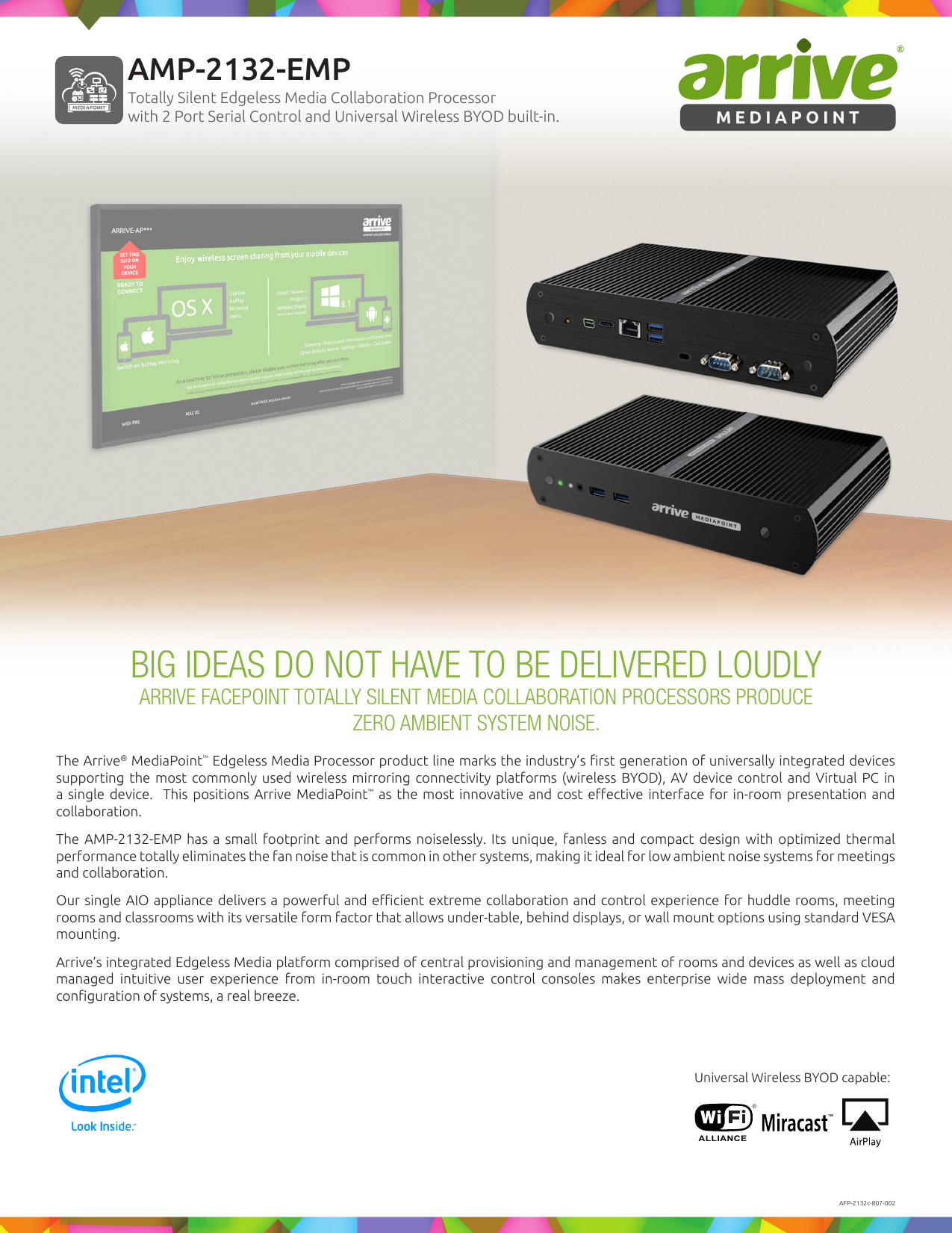 AMP-2132-EMP
Totally Silent Edgeless Media Collaboration Processor with 2 Port Serial Control and Universal Wireless BYOD built-in.
BIG IDEAS DO NOT HAVE TO BE DELIVERED LOUDLY
ARRIVE FACEPOINT TOTALLY SILENT MEDIA COLLABORATION PROCESSORS PRODUCE
ZERO AMBIENT SYSTEM NOISE.
The Arrive® MediaPoint™ Edgeless Media Processor product line marks the industry's first generation of universally integrated devices
supporting the most commonly used wireless mirroring connectivity platforms (wireless BYOD), AV device control and Virtual PC in
a single device. This positions Arrive MediaPoint™ as the most innovative and cost effective interface for in-room presentation and
collaboration.
The AMP-2132-EMP has a small footprint and performs noiselessly. Its unique, fanless and compact design with optimized thermal
performance totally eliminates the fan noise that is common in other systems, making it ideal for low ambient noise systems for meetings
and collaboration.
Our single AIO appliance delivers a powerful and efficient extreme collaboration and control experience for huddle rooms, meeting
rooms and classrooms with its versatile form factor that allows under-table, behind displays, or wall mount options using standard VESA
mounting.
Arrive's integrated Edgeless Media platform comprised of central provisioning and management of rooms and devices as well as cloud
managed intuitive user experience from in-room touch interactive control consoles makes enterprise wide mass deployment and
configuration of systems, a real breeze.
Universal Wireless BYOD capable:

™
ALLIANCE
AFP-2132c-807-002
AMP-2132-EMP
Arrive MediaPoint®
Totally Silent Edgeless Media Processor
Key Features
Key Specifications1
FF Wireless Presentation
FF Software Application
• Connect iPads, iPhones, Android and Windows 8.1
devices wirelessly
• No software apps to download to personal devices
• Simply connect & share media wirelessly
• Supports multiple devices simultaneously
FF Secure Virtual Room PC
• Embedded Arrive MediaPoint™ edition software
application running on next generation Intel
processing platform with integrated SSD storage
based on an administrator accessible Microsoft
Windows Embedded OS platform.No software apps to
download
• Arrive ControlPoint software app license included for
control user interface
• Requires Arrive OnePoint Edgeless Media Server
software for scheduling and central management,
FF 2x HD output (Mini-Display and Mini-HDMI ports)
• Provision applications such as Microsoft Office & web
based tools centrally
• Access apps from the device using a convenient touch
control console
FF Central Room Control System
FF 2x RS232 port serial control
• Provision EM based direct control over RS-232 devices
• Unlimited control from TCP/IP connections to AV and
other in-room equipment.
FF Enterprise-wide Room Resource Management
• Provision enterprise-wide scalable media collaboration
using central provisioning & management.
• Integrates seamlessly w/ displays & third party device
controls
• Silent & fan-less with low profile design
• Mounts on walls or behind displays
FF 4 x USB 3.0
FF Supports Wireless BYOD with simultaneous Apple iOS,
Android, Windows 8.1 screen mirroring
FF Virtual Desktop (VDI) Ready
FF Standard VESA mount kit included
Please refer to product specification sheet for more technical
details.
1
Ordering Information1:
Model No
AMP-2132-EMP
Description
SKU
Arrive MediaPoint 2132 EM Processor. Totally Silent Edgeless Media Collaboration
Processor with 2 Port Serial Control and Universal Wireless BYOD built-in.
®
™
AMP-2132-001-001
Design and specification subject to change without any prior notice.
1
Support Information:
AMP-2132-CFS-1
Standard initial 12 months CarePoint Foundation Service Support (CFSS). Refer to CFSS-1 section of Ver.
CFSS-ASAP-0101-15.
AMP-2132-CFU-2
Extended 24 months CarePoint Foundation Service Support (CFSS) upgrade. Available during initial
purchase only. Refer to CFU-2 section of Ver. CFSS-ASAP-0101-15.
AMP-2132-CFS-3
Extended 36 months CarePoint Foundation Service Support (CFSS). Refer to CFSS-3 section of Ver. CFSSASAP-0101-15.
AMP-2132--ASAP
CarePoint Advanced Support Action Program (ASAP) - Advance Hardware Replacement Warranty. Refer to
ASAP section of Ver. CFSS-ASAP-0101-15.
Warranty Information
Please visit http://carepoint.arrivesys.com/warranty for updated information on warranty.
AMP-2132-807-003
Arrive Systems, Inc.
6737 Katella Avenue
Cypress, CA 90630, USA
info@arrivesys.com
+1-888-502-0715 (USA/Canada Toll Free)
Copyright © 2015 Arrive Systems, Inc. All rights reserved. All trademarks and copyrights, whether
acknowledged or otherwise, are owned by their respective owners and are registered in the U.S.
and/or other countries. Arrive® does not claim ownership of any trademark other than the Arrive®,
Arrive InfoPoint™, Arrive RoomPoint™, Arrive FacePoint®, Arrive ViewPoint™, Arrive CloudPoint™, Arrive
MediaPoint™, Arrive AirPoint™, Arrive NetPoint™, Arrive TouchPoint™, Arrive ControlPoint™, Arrive
CablePoint™, Arrive EyePoint™, Arrive VoicePoint™, Arrive SoundPoint™,Arrive OnePoint™ and Arrive
Edgeless Media® trademarks. Specifications are subject to change without notice. All images are provided
for reference use only, are graphically generated and representative for promotional purposes. Finished
goods, packaging and products will be provided with user interface designs and graphic elements
including packaging design elements that may vary from the images shown in this document. E&OE.

* Your assessment is very important for improving the work of artificial intelligence, which forms the content of this project