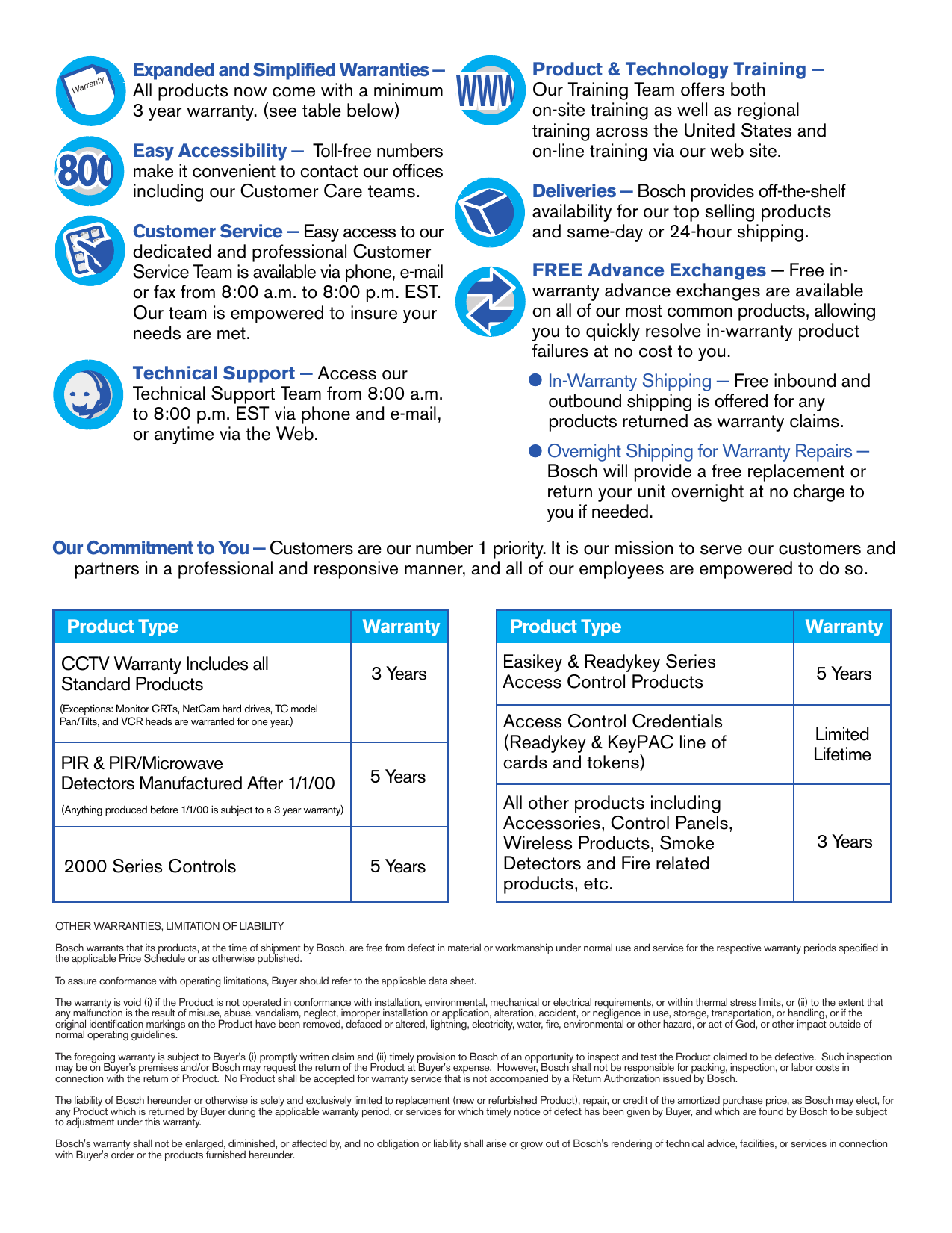 rra
Wa
nty
Expanded and Simplified Warranties —
All products now come with a minimum
3 year warranty. (see table below)
WWW
Easy Accessibility — Toll-free numbers
make it convenient to contact our offices
including our Customer Care teams.
3 DEF
2 ABC
1
O
4GHI
7 PRS
*
5 JKL
6 MN
Y
8 TUV
0
9 WX
#
Customer Service — Easy access to our
dedicated and professional Customer
Service Team is available via phone, e-mail
or fax from 8:00 a.m. to 8:00 p.m. EST.
Our team is empowered to insure your
needs are met.
Technical Support — Access our
Technical Support Team from 8:00 a.m.
to 8:00 p.m. EST via phone and e-mail,
or anytime via the Web.
Product & Technology Training —
Our Training Team offers both
on-site training as well as regional
training across the United States and
on-line training via our web site.
Deliveries — Bosch provides off-the-shelf
availability for our top selling products
and same-day or 24-hour shipping.
FREE Advance Exchanges — Free inwarranty advance exchanges are available
on all of our most common products, allowing
you to quickly resolve in-warranty product
failures at no cost to you.
In-Warranty Shipping — Free inbound and
outbound shipping is offered for any
products returned as warranty claims.
Overnight Shipping for Warranty Repairs —
Bosch will provide a free replacement or
return your unit overnight at no charge to
you if needed.
Our Commitment to You — Customers are our number 1 priority. It is our mission to serve our customers and
partners in a professional and responsive manner, and all of our employees are empowered to do so.
Product Type
CCTV Warranty Includes all
Standard Products
Warranty
3 Years
(Exceptions: Monitor CRTs, NetCam hard drives, TC model
Pan/Tilts, and VCR heads are warranted for one year.)
PIR & PIR/Microwave
Detectors Manufactured After 1/1/00
5 Years
(Anything produced before 1/1/00 is subject to a 3 year warranty)
2000 Series Controls
5 Years
Product Type
Warranty
Easikey & Readykey Series
Access Control Products
5 Years
Access Control Credentials
(Readykey & KeyPAC line of
cards and tokens)
Limited
Lifetime
All other products including
Accessories, Control Panels,
Wireless Products, Smoke
Detectors and Fire related
products, etc.
3 Years
OTHER WARRANTIES, LIMITATION OF LIABILITY
Bosch warrants that its products, at the time of shipment by Bosch, are free from defect in material or workmanship under normal use and service for the respective warranty periods specified in
the applicable Price Schedule or as otherwise published.
To assure conformance with operating limitations, Buyer should refer to the applicable data sheet.
The warranty is void (i) if the Product is not operated in conformance with installation, environmental, mechanical or electrical requirements, or within thermal stress limits, or (ii) to the extent that
any malfunction is the result of misuse, abuse, vandalism, neglect, improper installation or application, alteration, accident, or negligence in use, storage, transportation, or handling, or if the
original identification markings on the Product have been removed, defaced or altered, lightning, electricity, water, fire, environmental or other hazard, or act of God, or other impact outside of
normal operating guidelines.
The foregoing warranty is subject to Buyer's (i) promptly written claim and (ii) timely provision to Bosch of an opportunity to inspect and test the Product claimed to be defective. Such inspection
may be on Buyer's premises and/or Bosch may request the return of the Product at Buyer's expense. However, Bosch shall not be responsible for packing, inspection, or labor costs in
connection with the return of Product. No Product shall be accepted for warranty service that is not accompanied by a Return Authorization issued by Bosch.
The liability of Bosch hereunder or otherwise is solely and exclusively limited to replacement (new or refurbished Product), repair, or credit of the amortized purchase price, as Bosch may elect, for
any Product which is returned by Buyer during the applicable warranty period, or services for which timely notice of defect has been given by Buyer, and which are found by Bosch to be subject
to adjustment under this warranty.
Bosch's warranty shall not be enlarged, diminished, or affected by, and no obligation or liability shall arise or grow out of Bosch's rendering of technical advice, facilities, or services in connection
with Buyer's order or the products furnished hereunder.