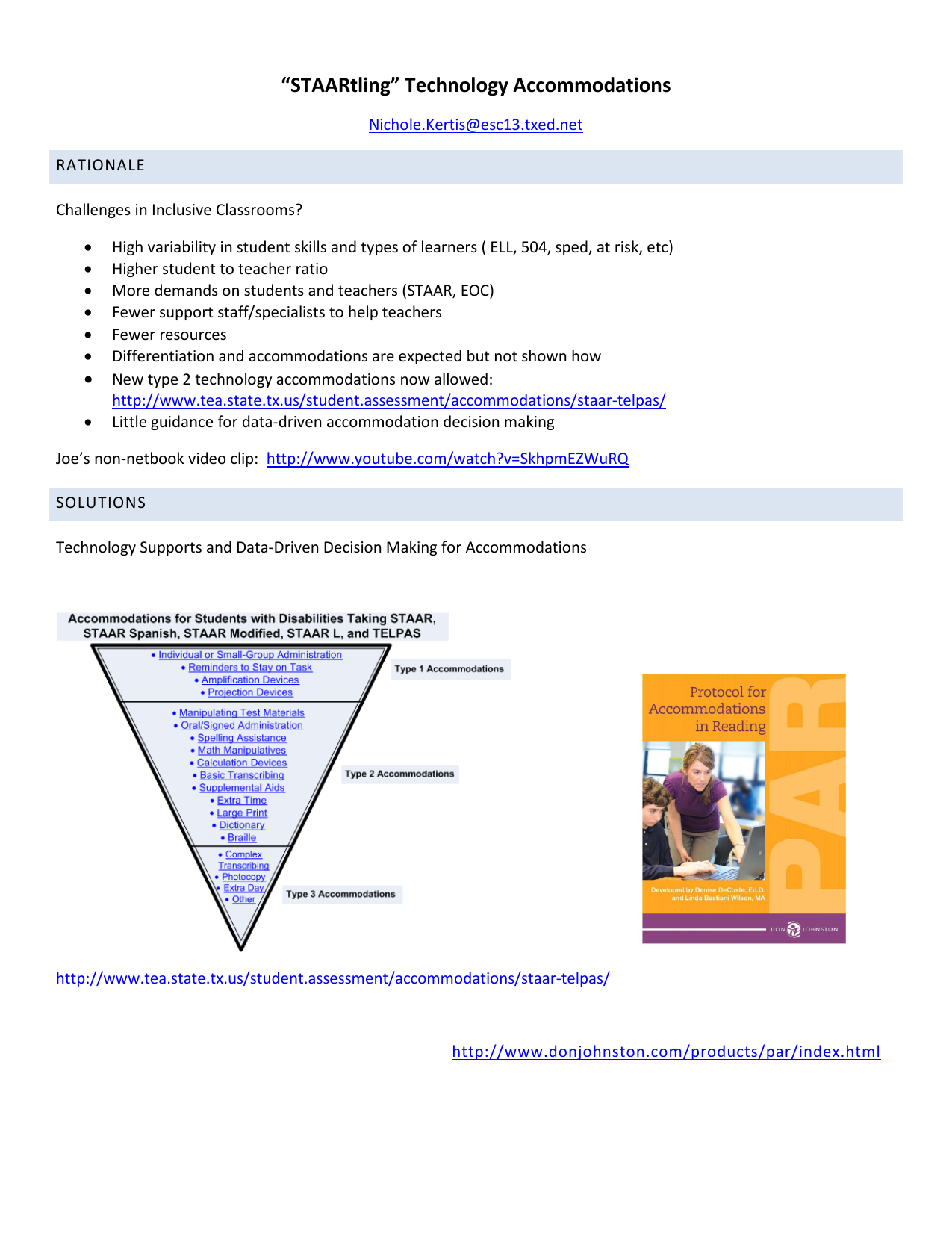 "STAARtling" Technology Accommodations
Nichole.Kertis@esc13.txed.net
RATIONALE
Challenges in Inclusive Classrooms?
•
•
•
•
•
•
•
•
High variability in student skills and types of learners ( ELL, 504, sped, at risk, etc)
Higher student to teacher ratio
More demands on students and teachers (STAAR, EOC)
Fewer support staff/specialists to help teachers
Fewer resources
Differentiation and accommodations are expected but not shown how
New type 2 technology accommodations now allowed:
http://www.tea.state.tx.us/student.assessment/accommodations/staar-telpas/
Little guidance for data-driven accommodation decision making
Joe's non-netbook video clip: http://www.youtube.com/watch?v=SkhpmEZWuRQ
SOLUTIONS
Technology Supports and Data-Driven Decision Making for Accommodations
http://www.tea.state.tx.us/student.assessment/accommodations/staar-telpas/
http://www.donjohnston.com/products/par/index.html
READING PROFILE
Baseline Data on Expected Outcomes for Reading
1. Word Identification
2. Listening Comprehension
3. Silent Reading Comprehension
Essential Question: "What's preventing student from reading on grade level?"
Compare student performance across these 3 components and make decisions about instruction and the use of
accommodations and/or assistive technologies. AT decisions should emphasize instruction/skill building while providing
compensatory strategies for accessing the general curriculum.
Reading materials must match students' independent reading level, which is the lowest score on the profile.
READING ACCOMMODATIONS & TECHNOLOGY
READABILITY
Readability
•
•
•
•
Test document's readability- Flesch-Kincaid in MS Word- Enable readability statistics in MS Word
http://www.gilsmethod.com/test-documents-readability-word-2010
Test document's readability- Flesch-Kincaid- stats online http://www.readability-score.com/
Perform advanced Google searches by readability levels(basic, intermediate, advanced)
http://www.google.com.au/advanced_search
Get 3 different reading levels using online auto summarizers and adjusting levels or ex: Wikipedia "Olympics" >
Select "Simple English" from language options on left side of website page > Copy and paste into web-based
auto summarizers "Text Compactor" or "Tools 4 Noobs"
o http://textcompactor.com/
o http://www.tools4noobs.com/summarize/
o
http://www.litcharts.com/ provides condensed outlines and summaries of classic literature; color code
the themes addressed and symbolism within a particular work; useful study aids for struggling readers
READING ACCOMMODATIONS & TECHNOLOGY
ACCESS TO GRADE LEVEL MATERIALS
Access to enrolled grade level materials via
(read with your ears; make difficult books more accessible and acceptable)
•
Text readers: text- to- speech software = computerized voice and highlighting of text
o Free
o

WordTalk

MyStudyBar

Add Speak to the Quick Access Toolbar in MS Word



Install free text-to-speech plug-ins for web browser
install free Read&Write for Google Docs to Chrome browser
install Bookshare Web Reader extension from within Google Chrome Store
Commercial Products

o
•
http://www.wordtalk.org.uk/Home/
http://aim.cast.org/experience/decision-making_tools/tutorials/aim_products_chart
Apps- iPad
 Settings > General > Accessibility > Speak Selection- On & Highlight Words –On
 Apps for Students with Dyslexia and Reading Disabilities
 Bookshare's Read2Go app (eligibility criteria)
 Voice Dream Reader Text to Speech + Lite version
 Others_____
Audio recordings or audio books: text read aloud by human readers; files inserted= talking Word docs/books
o Free
 Audacity- free digital sound/voice editor and recorder http://audacity.sourceforge.net/

Insert Voice Comments/Sound Recorder into MS Word document:
InsertVoiceEx1.wma
Start button > "sound recorder " in search box > create shortcut on desktop > make recording > save audio file >
drag or insert into the Word document > save changes. Students double click on the icon to listen to the talking
document.

o
http://www.makeuseof.com/tag/easy-listening-pleasures-10-websites-free-audio-book-downloads/
Apps-iPad
 OverDrive Media Console http://itunes.apple.com/us/app/id366869252?mt=8
 Audible app
 Learning Ally Audio app
 Others______
READING ACCOMMODATIONS & TECHNOLOGY
VOCABULARY
Vocabulary Supports
Connections over definitions

MS Word
o WordTalk – plug in for MS Word has talking synonym support

Web-Based
o
Visuwords: www.visuwords.com/
o
Inspiration/Kidspiration/Webspiration
o
OneLook Dictionary Search- searches for vocabulary in variety of ways (words related to ___, phrase)
http://www.onelook.com/
o
o
o

Kids Dictionary List (definitions explained with language that is on their level)
http://reference.yourdictionary.com/dictionaries/kids-dictionary.html
Photographic Dictionary- visual dictionary http://photographicdictionary.com/a
Electronic Pocket Dictionary
o

Wordsmyth online dictionary suite- beginner, intermediate and advanced
Franklin Speaking Language Master or Franklin Children's Talking Dictionary and Spell Corrector
Apps
o
Create a personalized dictionary using "Contacts" app, easy to add a photo & the name is the vocab
word
o Merriam Webster Dictionary app Voice Search, and Speak Selection are nice supports
READING ACCOMMODATIONS & TECHNOLOGY
GRAPHIC ORGANIZERS
Graphic organizing tools to support reading comprehension
•
MS Word Smart Art and Templates
•
Lucid Chart http://www.lucidchart.com/pages/education/K12
•
Inspiration- webspiration
•
Commercial Literacy Software Suites
http://aim.cast.org/experience/decisionmaking_tools/tutorials/aim_products_chart
•
App Inspiration Maps http://www.inspiration.com/ipad
READING ACCOMMODATIONS & TECHNOLOGY
DATA DRIVEN DECISIONS
Protocol for Accommodations in Reading (PAR)
Developed by Denise DeCoste and Linda Bastiani Wilson
What?
•
•
•
A formative assessment tool used to determine the student's optimal reading accommodation
Process to compare performance across reading accommodations
Intended to help educators make more objective decisions about reading supports in situations where the benefit of one
method over another is unclear
• For more info, free webinar, and free download of the PAR Manual and materials go to:
http://www.donjohnston.com/par
3 Basic Steps
ACCESSIBLE INSTRUCTIONAL MATERIALS (AIM)
"PRINT DISABILITIES"
The Legal Connection
IDEA 2004 requires State and Local Education Agencies to ensure that textbooks and related core instructional
materials are provided to students with print disabilities in specialized formats in a timely manner.
(CFR Sec 300.172)
Texas Assistive Technology Statewide Network's (AIM) Resource Page
http://www.texasat.net/default.aspx?name=resources.aim
•
•
•
TX Roadmap for AIM
Top 10 Questions to Ask Publishers… re: AIM
What ARD Committees Need to Know: Making Decisions About AIM !
Texas Resources for Acquiring AIM through grant with TEA
Where to begin?
•
•
•
•
PLAAFP
Consideration of AT & PAR
AIM Navigator http://aim.cast.org/experience/decision-making_tools/aim_navigator
AIM Explorer a free simulation that combines grade-leveled digital text with access features common to most
text readers and other supported reading software (text-to-speech (synthetic and human), text highlighting, etc.
WRITTEN PRODUCTIVITY PROFILE
DATA DRIVEN DECISIONS
Written Productivity Profile (WPP)
Developed by Denise DeCoste
http://www.montgomeryschoolsmd.org/departments/hiat/resources/wpp.shtml
Baseline Data on Writing Performance
Student writes and types (for comparison) four different things:
•
•
•
•
the alphabet
a dictated sentence
a copied sentence
an independently composed sentence
Spelling analysis, writing traits analysis, oral expression skills, and comparisons of handwriting and typing speeds
under these different conditions are completed so that the data helps inform decisions about instruction and the use of
accommodations and/or assistive technologies.
Essential Question: "What's preventing student from writing on grade level?"
Writing Tools Continuum
Handwriting
Organization
Spelling
Elaboration
Speed
Worksheets
Note-taking
Assistive
Pens
Paper
Webs and
Diagrams
Dictionary
Thesaurus
Tape
Recorder
Labels /
Stamps
AT
Notebook
or Copies
Paper
Outlines
Hand-held
Dictionary /
Spell
Checker
Electronic
Thesaurus /
Dictionary
Computer
Tape or
Digital
Recorder
Light Notetaking Pen
Raised Line,
Note-Taking or
Colored Papers
1 Word
Processor
Tape
Recorder
3 Voice
Recognition
Computer
Computer
Computer
Interactive
Outlines /
Notes
Computer
1 Word
Processor
Outlines
Portable
Word
Processor
Word
Processor
with
Thesaurus
2
Inspiration
or Draft
Builder
2 Word
Prediction
(CoWriter)
Word,
Acorbat or
OmniForm
(no speech)
Tape
Recorder
Test Talker
(speech)
Iris Pen II
Computer
1 Word
Processing
1 Spell
Checker in
Word
Processor
3 Voice
Recognition
2 Word
Processing
with Word
Prediction
2 Stand
Alone Spell
Checker
with Speech
and Auto
Correct
3 CoWriter
with
Flexible
Spelling
Key
Computer
Tasks
Low Tech Tools
Mid Tech Tools
High Tech / Software
Word
Processor
Mimio or
SmartBoard
notes
WRITING ACCOMMODATIONS & TECHNOLOGY
SPELLING
Spelling Accommodations
http://www.tea.state.tx.us/student.assessment/accommodations/staar-telpas/
Why Word Prediction?
Word-prediction programs provide correctly spelled word choices, decreasing the spelling demand placed on students
during the writing phase and allowing students to compose at a level commensurate with their oral expressive language
ability.
Word Prediction Teaching Routine
WRITING ACCOMMODATIONS & TECHNOLOGY
SPELLING
Why Text-to-Speech?
Students, hearing the computer read what they wrote, can listen for mistakes and more successfully revise and edit,
making sure that what they have written is exactly what they intended to communicate.
Text-to-Speech Teaching Routine
Why Speech-to-Text?
For students who have such poor spelling that word prediction and spell check features don't work, or for students who
traditionally respond orally receiving assistance from a scribe, S-T-T offer a more independent solution.
Speech-to-Text Teaching Routine
Criteria and Evaluation for Student's Potential Use of Speech Recognition
These evaluation and criteria items on the form may provide a basis for determining if participation in a trial or training and
practice using speech recognition would be beneficial for a student.
Technology Options
Description
Free Software
Cost
Free
MyStudyBar
Type 2 Spelling Accommodations
Word
Prediction
Text-to-Speech/
w/
MultiLanguage
X
LetMeType
(read aloud-TTS
not integrated)
X
Balbolka
Speechto-Text
Uses
Windows 7
S-T-T
Dictionary,
Spell Check
X
Lingoes-talking
dictionary &
spell check
LetMeTypeFeedb
Read&Write for Google
Docs
Overview Video!
http://www.youtube.com/wat
ch?v=ohNZhfU8B4&feature=plcp
Word Talk
Add WordTalk toolbar to
MS Word 2007/2010
Speak Selected Text in
Read & Write is a free Google Chrome Web
App that increases the accessibility of the
text of documents in your Google Drive
account. After installing the app you will see
a Read & Write tab appear at the top of your
browser window whenever you have a
document open in Google Drive. Clicking that
Read & Write tab will open a menu of
accessibility options.
Some of the accessibility options include a
picture dictionary and a talking dictionary.
A free Windows text-to-speech plugin for
Microsoft Word. It will speak the text of the
document and will highlight it as it goes. It
contains a talking dictionary and a text-tomp3 converter.
Free
X
X
Free
X
Talking spell
check
Built-in feature of MS Office 2010; add to
Built-
X
Office 2010:
quick access toolbar (unlike WordTalk, Speak
It doesn't let you pause or control playback
settings)
In
Speak with Multilingual
TTS built into MSWord
Note: Won't work in XP, but does in
Windows 7
BuiltIn
X
multilingual
SpeakingTranslator
Web-based translator and text-to-speech
functionality
Free
X
Multilingual
Talk Typer
A free site that will transcribe your speech
for you. To use the site just visit it, click on
the microphone icon, and start talking. You
can copy the transcript and paste it
anywhere you like. (works best in Chrome)
Free
X
X
BuiltIn
(could also layer in
built-in/free text-tospeech to be able to
listen back and check
for errors in
dictation/recognition)
X
BuiltIn
Free
"""
X
Speech Recognition in
Windows 7
Speech Recognition Mac
OS X
eType
Click-n-Type
Convert spoken words to written text. You
can say commands that the computer will
respond to, and you can dictate text to the
computer. Note: Windows XP does not
support speech recognition in 2007 Microsoft
Office programs. Note: Pair with the text-tospeech features of WordTalk or Speak
Selected Text in Word so students can revise.
Same as above.
Web-based, free word completion,
dictionary/thesaurus & translation software
On-screen keyboard, word prediction and
completion, speaks back the letters being
typed (intended for students unable to use
traditional keyboard due to motor difficulty)
Free
X (read aloudTTS not
integrated)
X
X
multilingual
Limited TTS
Tar Heel Typer
SpeakIt! Google Chrome
Plug-In
Speechify Google Chrome
Plug-In
Commercial Software
(LEA May Have?)
Read&Write Gold
Kurzweil 3000
WYNN Scan and Read
SOLO
• Co-Writer
•
Snap&Read
This internet application is designed to give a
voice to children who may not be able to
express themselves with a traditional pencil.
The Tar Heel Typer project serves as an
"alternative pencil" for these children. To
begin, go to "Start Page" and select the
configuration that best matches the ability of
the user.
Text-to-speech support for web content.
Once installed, right click highlighted text and
choose SpeakIt from drop down menu.
With Speechify you can search the internet
using Google Chrome using speech input
Description
Comprehensive literacy software solution
helps with reading, writing, studying and
research.
Suite of powerful reading, writing, testtaking, and study skill tools that makes
curriculum accessible to all students.
Literacy software tool designed to enhance
success for individuals with reading
challenges and writing difficulties.
Literacy suite of the most popular assistive
technology accommodations, including a text
reader, graphic organizer, talking word
processor, and word prediction.
Accessible toolbar that reads any text on-screen
as it floats over any application.
Free
X
X
Free
X
Free
Cost
$295
(IEP)
$1395
$375
w/out
OCR;
$995
$773;
$290;
$129/
$499 site
X
Word
Predictionreads aloud
Text-to-Speech/
w/ MultiLanguage
Speech-toText
X
X
X (uses
Windows STT)
small word
prediction
list
X
X
X
X
X
X
X
X
X
eDictionary,
Spell Checkreads aloud
X
SpeakQ/WordQ
Dragon Naturally
Speaking
Fully integrating word prediction, text-tospeech, and voice recognition, or WordQ can
stand alone with prediction and text-tospeech
Speech recognition software.
Tazti
Speech recognition software
Electronic Pocket
Dictionary such as
Franklin's Talking
Dictionary and Spell
Corrector
Interactive speaking dictionary. The automatic
phonetic spell corrector turns "nolij" into
"knowledge" while an animated handwriting
guide demonstrates print and cursive styles.
Includes a rhyme finder, five word-building
games, and a vocabulary word list that can be
created by the user
RWF Talking Dictionary
Software
Includes the following features.
•
•
•
Livescribe Smart Pen
$199;
$149
X
X
X
$100
Educat.
disc
$39.99
X
X
$59.99
X
X
X
$20.95
X
250,000 source words and a powerful
thesaurus.
Speaks source words, definitions,
synonyms, spell check alternatives etc.
Spells hard to understand source words,
synonyms, spell check alternatives etc.
Livescribe smartpens allow educators/students to
easily capture and synchronize daily written and
verbal instructions. Turns anything into an
interactive activity-record, watch and listen.
Pencasts let students revisit instruction as many
times as needed to build memory or
comprehension.
Educator
discount
Normal=
4GB
$140
Records audio
synchronized to text=
record, listen, watch
Records audio
synchronized
to pen notes=
record, listen,
watch
Used to create
interactive
personal word
walls/dictionary
iPad Apps
Speak Selection and
Highlight Text
iPad 3 has built-in speech
recognition integrated
with keyboard
PaperPort Notes
Knowtilus Pro ??
Voice Dream Reader
Typo-HD
AppWriter
does not need wifi or 3G
iWordQ
Description
Cost
Settings>General>Accessibility>Speak
Selection-turn ON. iPad3 has option to turn
ON "Highlight Text."
Hold finger on text on documents, websites,
etc., and pop up options will include "speak"
Any time you have option to enter text via
keyboard, you can also use speech
recognition from within the keyboard
Built
Into
iPad
X
Free
PaperPort Notes is a digital note taking tool
for the iPad with integrated Dragon Dictation
speech-to-text, audio, annotation, etc
Web Browser+Text Editor+Text to
Speech+Translator+Sketcher: all the tools
you'll need while browsing, reading, writing,
sharing and (re)searching the Web in your
iPad
Free
X
Can use built-in
"speak selection"
with this
Can use built-in
"speak selection"
with this
X
ML
Extracts text from almost anything you
want to read, best available TTS,
highlights text as it reads aloud, full
multilingual capabilities
Uses a powerful word prediction engine and
a sophisticated spelling error model to help
you write. Integrated synthetic voices let you
inspect the word predictions before selecting
them, and check your text before emailing or
pasting it into other applications
seamlessly integrated text-to-speech,
context- based word suggestions/predictions,
OCR and the special Dyslexie-font
In Writing mode, a simple text editor is used
for writing with the support of word
prediction, abbreviation-expansion and
speech feedback features. Spell-check and
Word
Prediction
4.99
4.99
14.99
Text-to-Speech/
w/ MultiLanguage
Speech-toText
eDictionary,
Spell Check
X
X
Doesn't
misspell; iOSbuilt-in "Define"
X
ML
X
X
X
ML
19.99
X
X
X with iPad3
24.99
X
X
X with iPad3
X
iReadWrite
(no wifi needed)
Clicker Docs
Abilipad
Word Web Dictionary
(works with safari disabled)
dictionary access is included. Use speech
recognition with an iPad 3. Has Reading
Mode as well.
Support features in iReadWrite include:
Text-to-speech
Word Prediction
Phonetic Spell Checker
Homophone and Confusables Checker
Dictionary
Picture Dictionary
Customizable Background and Text Colors
Choice of Voices and Fonts
Importing and Sharing documents
Differentiated writing support that offers
text-to-speech, word prediction, and topicspecific word banks. Customizable.
Combines the functionality of a notepad with
word prediction, text-to-speech and a
customizable keyboard. Offers image/picture
supports to help generate ideas for writing.
English dictionary and thesaurus: fast
19.99
X
X
?? with iPad 3
X
25.99
X
X
?? with iPad3
X
19.99
X
X
free
X
searching, spelling suggestions, definitions,
usage examples, synonyms, related words and no adverts. An offline audio version is
Merriam-Webster
Dictionary.com app
(works offline)
Contacts
Notability
AudioNote
available separately.
offers voice search – to let you look up a
word without having to spell it – along with
synonyms and antonyms, example sentences,
free
X
Speak selection
works
Can use to create personal
dictionary/frequently misspelled word list.
Name= vocab word, easily upload photo/pic,
and TTS can be accessed by typing content
into "notes" section
Free/
Built-In
X
Use "notes" to type
info + "speak
selection"
Apps that mimic the functionality of the
LiveScribe SmartPens. These apps will
.99
4.99
Records audio
synchronized to text=
Offers voice
search
X
X
Records audio
synchronized
Used to create
interactive
SoundNote
Complete Class Organizer
record audio while in a lecture. The app
will sync the audio to where you write,
type, or draw on the iPad.
People/Others in District Who Can Help:
•
•
Assistive Technology- Instructional Technology
Occupational Therapy- Special Educators
4.99
4.99
record, listen, watch
to pen notes=
record, listen,
watch
ESC XIII:
Nichole.Kertis@esc13.txed.net
512-919-5246
personal word
walls/dictionary
WRITING ACCOMMODATIONS & TECHNOLOGY
NOTE TAKING
Note Taking
Students with learning disabilities, dyslexia, ADHD, and others who have difficulty listening and writing at the same time can take notes at their ability level and
be able to record the entire discussion and listen back as many times as necessary. Use your pen/computer/app's built-in microphone to record audio while you
take notes. These tools keep track of what you write/type while you record so that you have audio context for your notes. To play back the part of the
recording that's associated with the note, click on the writing/drawing/doodle or audio icon.
Description
Recorder Locale
Uses:
Livescribe
Audacity
smartpen, a ballpoint pen with
an embedded computer and
digital audio and handwriting
recorder used with specialized
paper
Digital Recorder is inside the Pen
free digital audio editor
and recording application
records what it writes for later
uploading to a computer, and
synchronizes those written
notes with any audio it has
recorded
OneNote 2010 (part of MS
Office) *Mac
Tab-based planner and note
taking software; Captures
text, images, video and
audio notes.
Digital Recorder is a free
downloadable computer
software program
Digital Recorder is built-in to
Microsoft OneNote 2010
To record audio/voice
files which can be used in
a myriad of ways
To record audio, typed text,
images, and video in 1
document with toolbar and
functionality similar to MS
Word
Apps
Emulates an Interactive
White Board. Create
handy tutorials and
interactive lessons
(recorded and captured)
Digital Recorder is in the
iPad app
Ex:
 ShowMe App
 Educreations App
To record audio, drawings,
text, similar to interactive
white board
Uses:
Livescribe
1. Reading/Listening
Support
Student Use: Notetaking
support; 24/7 repeated
exposure
Teacher Use: Lesson Capture;
create talking documents on
special paper; capture student
voice files alongside the
transcription by para/teacher;
2. Language Tasks
Captures generated or recited
oral language data samples;
fluency;
prosody;
articulation, etc
3. Alternative to
Handwriting
capture thoughts out loud,
replay, and try to write
independently;
Audacity
OneNote 2010 (part of MS
Office) *Mac
Similar uses as on left
Apps
Students Use: listen to
Similar uses as on left
recorded books and other
materials on grade level.
Teacher Use: create
talking tests and
assignments by recording
your voice and pairing
with the paper copy of
test, or imbedded into an
electronic test.
Captures generated or
Similar uses as on left
Similar uses as on left
recited oral language
data samples;
Fluency
prosody;
articulation, etc
Practice dictation and
Similar uses as on left
Similar uses as on left
speech recognition prerequisite skills
*Record audio while taking notes in notebook view on Mac*
http://mac2.microsoft.com/help/office/14/en-us/word/item/b624a96d-9d54-4513969b-332f2bf1424c
Methods of Measuring Effectiveness of Accommodation/Technology Tool for Writing Difficulty
(Word Processor/iPad/Word Prediction/Speech-to-Text/whatever else…)
Date
4-11
Activity/Task/
TEK
Pen pal email
Without
Accomms:
Traditional
Accommodation:
Technology/AT:
*Method of Measuring
Outcome/Data:
Comments
Paper pencil or
email
X
Ex: Oral responses to
scribe; sentence stems
Ex: Speech-ToText & Word
Prediction
# of sentences produced
Ex: teacher-directed use,
student initiated use,
refused, etc
Baseline = refuse, outburst
Mod prompts, teacherdirected use of accomm
Initial use, provided 3
demonstrations, max
prompts needed for
annunciation/speech rate
0
?-3
X
X
1
X
2
*Quantitative:
Total words written
Percentage of legible words
# of correctly spelled words
#of complete sentences
# of words in sentences
#of sentences in a paragraph
# of correct word sequences
Time spent on writing task/speed
*Qualitative
Level of student motivation for writing in general
Level of student motivation for review and editing
Completing task independently
Complexity of word choice, sentence structure, etc.
STAAR 7 T H WRITING
PUTTING IT TOGETHER
STAAR Grade 7 Writing
Sample Prompt for Expository Writing
2011 Release
READ the following quotation.
A famous businessman once said, "Players win
games; teams win championships."
THINK carefully about the following statement.
Sometimes you can accomplish good things by yourself but better things with other people.
WRITE an essay explaining whether it is better to work by yourself or with a group.
Be sure to —
•
Clearly state your controlling idea
Instructional or Differentiation Strategy
brainstorm, draw, determine graphic
organizer, etc
•
Graphic organizers, story board, sticky
notes, listen to yourself read it over –read to
others
•
insert smart art/graphic organizers, insert
voice comments, speech recognition, word
prediction, etc.
organize and develop your explanation effectively
Instructional or Differentiation Strategy
•
Technology Tool
MSWord/OneNote,Windows7, iDevices:
Tech Tool
Story board with PowerPoint, view Word doc in
Outline format, SmartArt's graphic organizers,
listen back with Text-to-Speech (ex:Word
Talk)etc.
choose your words carefully
Instructional or Differentiation Strategy
Tech Tool
Thesaurus, word wall, franklin spell check,
etc
Word has synonym finder, but doesn't read
aloud. WordTalk has talking synonym finder.
Readability statistics data can guide word
choice. Contacts app for personal dictionary.
use correct spelling, capitalization, punctuation, grammar, and sentences
Instructional or Differentiation Strategy
Editing checklists (triangle foldable)
Read back silently or to someone
Tech Tool
Spell and grammar checkers. WordTalk
talking word processor- easier to hear
mistakes being read aloud; good for revision,
etc.