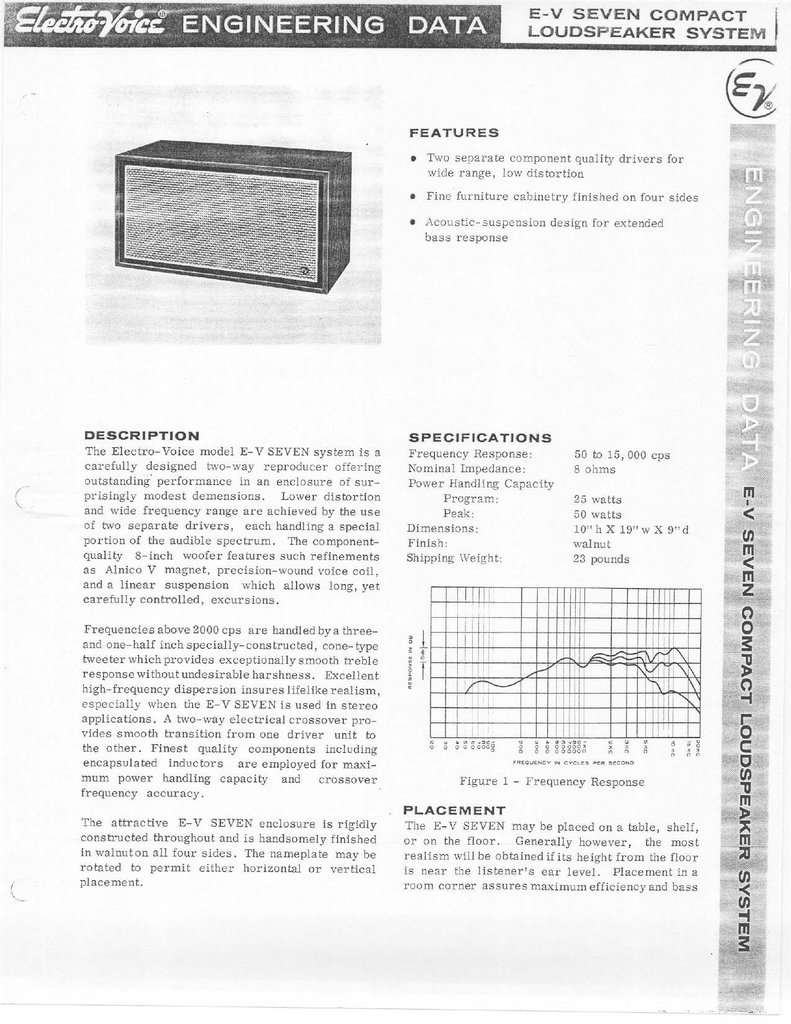 DESCRIPTION
The Electro-Voice model E-V SEVEN system is a
carefully designed two-way reproducer offering
outstanding performance in an enclosure of sur-
prisingly modest demensions. Lower distortion
and wide frequency range are achieved by the use
of two separate drivers, each handling a special
portion of the audible spectrum, The component-
quality S-inch woofer features such refinements
as Alnico V magnet, precision-wound voice coil,
and a linear suspension which allows long, vet
carefully controlled, excursions.
Frequencies above 2000 cps are handled bya three-
and one-half inch specially-constructed, cone-type
tweeter which provides exceptionally smooth treble
response without undesirable harshness. Excellent
high-frequency dispersion insures lifelike realism,
especially when the E-V SEVEN is used in stereo
applications. A two-way electrical crossover pro-
vides smooth transition from one driver unit to
the other. Finest quality components including
encapsulated inductors are employed for maxi-
mum power handling capacity and
frequency accuracy.
The attractive E-V SEVEN enclosure is rigidly
constructed throughout and is handsomely finished
in walnuton all four sides. The nameplate may be
rotated to permit either horizontal or vertical
placement.
Crossover
E-V SEVEN COMPACT
LOUDSPEAKER SYSTEM |
FEATURES E.
* Two separate component quality drivers for ie
wide range, low distortion 815
ue
e Fine furniture cabinetry finished on four sides ES
® Acoustic-suspension design for extended de
bass response ue
mu >
Loge, Es
ja
Ve
a.
=.
cu
SPECIFICATIONS Gr
Frequency Response: 50 to 15, 000 cps Ne
Nominal Impedance: 8 ohms a
Power Handling Capacity : m
Peak: 50 watts ee
Dimensions: 10"h X 19"w X 9" d AN
Finish: walnut т
Shipping Weight: 23 pounds 5
oe ah
Amel iy
—| 546 a —
RESPONSE IM DE
= = ë +
ad = ес
3 a о 0
FREQUENCY
|
Е
ñ
JH Y
«В «В — E ul
3000723 = x
90000 0 E
de Si
Ted
a
o
a
i
CYCLES PER SECOND
Figure 1 - Frequency Response
PLACEMENT
The E-V SEVEN may be placed on a table, shelf,
or on the floor. Generally however, the most
realism will be obtained if its height from the floor
is near the listener's ear level. Placement in a
room corner assures maximum efficiency and bass
reproduction, since the room walls are made an
integral part of the system, acting as the sides of
a large horn. The E-V SEVEN performs equally
well placed in a horizontal or vertical position and
the nameplate may be rotated Lo accommodate either
placement,
The above comments apply also to stereophonic
placement. Additionally, however, the two systems
should be far enough apart to permit listeners to
sit at the apex of a thirty- to forty-degree angle,
as illustrated. A distance of six to eight feet be-
tween stereo speakers will, in most rooms, pro-
vid "tural separation. Placing the loudspeakers
tu. close together or listening at too great a dis-
tance will destroy the stereo effect, and the sound
heard by the listener will be essentially mono-
phonic. Extreme spacing between speakers or
listening at too shorta distance will produce exag-
gerated and unreal separation. In long rooms, the
loudspeakers should be placed along one of the
short walls facing into the long room dimension.
This improves bass reproduction and provides good
stereo listening over most of the room.
"HOLE IN THE
MIDDLE"
$ >.
a TO =
= 40
A BEST
0 > LISTENING
et POSITION
SOUND BECOMES
MOMAURAL AT
GREATER DISTANCES
Figure 2 - Placement for Stereo
AMPLIFIER CONNECTIONS
The E-V SEVEN has a nominal impedance of eight
ohms. Connections should be made between the
Part No. 531419 E ELECTRO-VOICE, INC. / Buchanan, Michigan
leftterminal (T1) and the amplifier 8-ohm terminal;
the right terminal (T2) should be connected to the
amplifier" common' terminal (sometimes referred
toas "QO" or ""C"), Connections should be made with
No. 158 or larger wire; common zip- or lamp-cord
is quite satisfactory. If the speaker leads are to
be run behind a molding strip or under a carpet,
300-chm TV twin lead should be used.
ADJUSTMENT OF
BALANCE CONTROL
The E-V SEVEN is equipned with a continuously-
variable balance control to adjust the high-frequency
response of the system to varying acoustical en-
vironments. The "normal" position, indicated on
the control, should be correct in most instances.
Acoustically "hard" or "live" rooms may require
a retarded setting of the control to compensate for
the greater amount of high-frequency reflection.
In "soft" or 'dead" rooms with carpeting, soft
furniture, and draperies, an advanced setting of
the control will normally be required. The best
guide to setting the control properly is a familiarity
with the sound of live music. That position of the
control which provides the musical balance most
satisfactory to you is correct.
CUSTOMER SERVICE
Your E-V SEVEN system has been packed to pro-
vide protection well in excess of shipping require-
ments of the Interstate Commerce Commission.
If shipping damage does occur, contact the dealer
from whom the unit was purchased or the carrier
and request inspection and further instructions.
The E-V SEVEN is guaranteed indefinitely against
defects in original workmanship and materials. If
your system becomes damaged or develops faulty
operation from unusual conditions of use, write to
the Electro-Voice Service Department requesting
return authorization and shipping instructions. Be
sure to mention the make and model number of the
other components used in your system.
27 CHMS
++ WOCFER
3 MFD,
18 CHMS
YELLOW
+ TWEETER
п С COM
ñ BLACK
= COM
Figure 3 - Schematic Diagram
6/65
Litho in U.S.A.

* Your assessment is very important for improving the work of artificial intelligence, which forms the content of this project