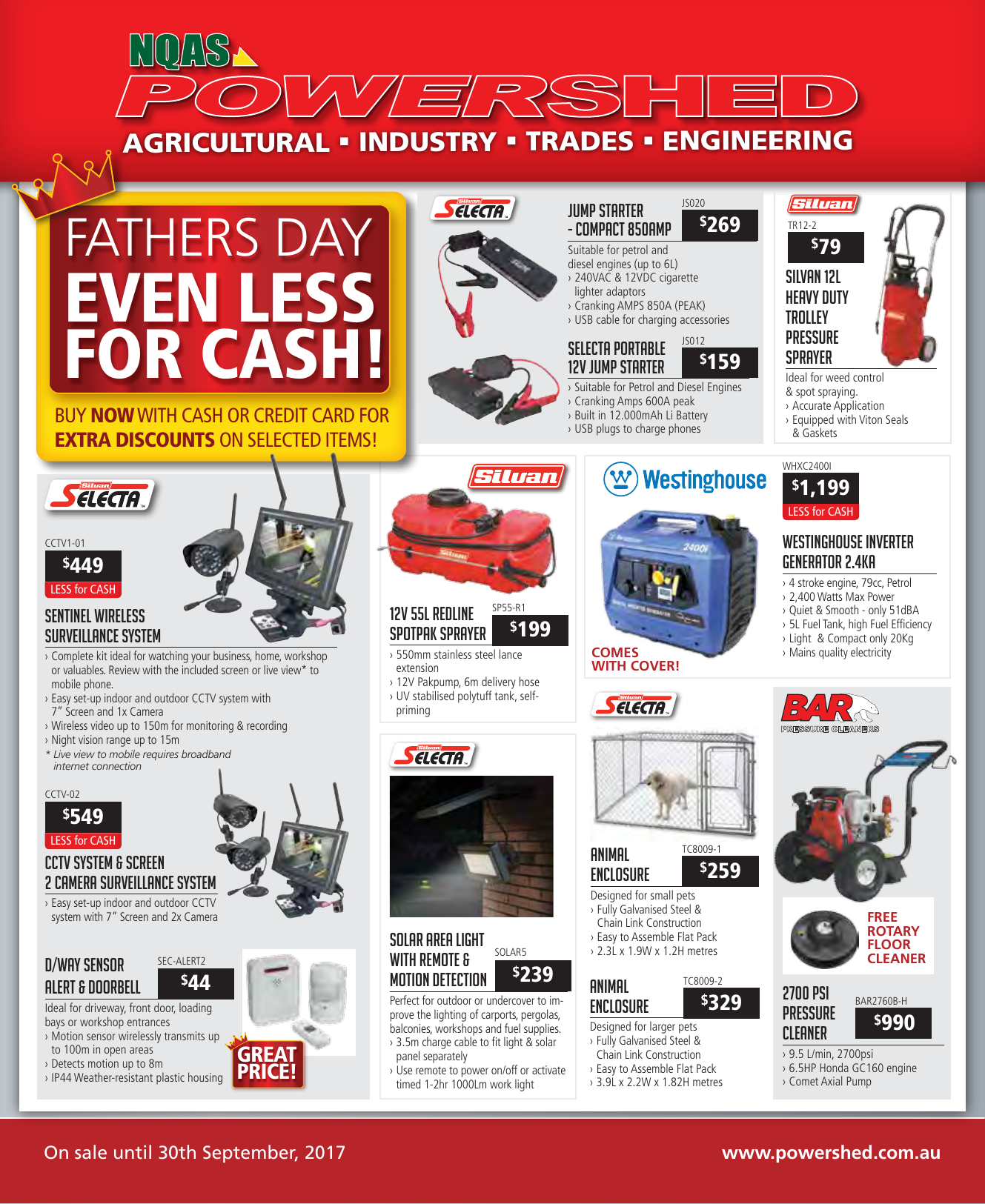 AGRICULTURAL § INDUSTRY § TRADES § ENGINEERING
JUMP STARTER
- COMPACT 850AMP
FATHERS DAY
JS020
$269
Suitable for petrol and
diesel engines (up to 6L)
›240VAC & 12VDC cigarette
lighter adaptors
›Cranking AMPS 850A (PEAK)
›USB cable for charging accessories
EVEN LESS
FOR CASH!
SELECTA PORTABLE
12V JUMP STARTER
JS012
$159
›Suitable for Petrol and Diesel Engines
›Cranking Amps 600A peak
›Built in 12.000mAh Li Battery
›USB plugs to charge phones
BUY NOW WITH CASH OR CREDIT CARD FOR
EXTRA DISCOUNTS ON SELECTED ITEMS!
TR12-2
$79
SILVAN 12L
HEAVY DUTY
TROlLEY
PRESSURE
SPRAYER
Ideal for weed control
& spot spraying.
›Accurate Application
›Equipped with Viton Seals
& Gaskets
WHXC2400I
$1,199
LESS for CASH
WESTINGHOUSE INVERTER
GENERATOR 2.4KA
CCTV1-01
$449
›4 stroke engine, 79cc, Petrol
›2,400 Watts Max Power
›Quiet & Smooth - only 51dBA
›5L Fuel Tank, high Fuel Efficiency
›Light & Compact only 20Kg
›Mains quality electricity
LESS for CASH
SP55-R1
SENTINEL WIRELESS
SURVEILLANCE SYSTEM
12V 55L REDLINE
SPOTPAK SPRAYER
›Complete kit ideal for watching your business, home, workshop
or valuables. Review with the included screen or live view* to
mobile phone.
›Easy set-up indoor and outdoor CCTV system with
7" Screen and 1x Camera
›Wireless video up to 150m for monitoring & recording
›Night vision range up to 15m
›550mm stainless steel lance
extension
›12V Pakpump, 6m delivery hose
›UV stabilised polytuff tank, selfpriming
$199
COMES
WITH COVER!
* L ive view to mobile requires broadband
internet connection
CCTV-02
$549
LESS for CASH
ANIMAL
ENCLOSURE
CCTV SYSTEM & SCREEN
2 CAMERA SURVEILLANCE SYSTEM
›Easy set-up indoor and outdoor CCTV
system with 7" Screen and 2x Camera
D/WAY SENSOR
ALERT & DOORBELL
SOLAR AREA LIGHT
WITH REMOTE &
MOTION DETECTION
SEC-ALERT2
$44
Ideal for driveway, front door, loading
bays or workshop entrances
›Motion sensor wirelessly transmits up
to 100m in open areas
›Detects motion up to 8m
›IP44 Weather-resistant plastic housing
GREAT
PRICE!
On sale until 30th September, 2017
SOLAR5
$239
Perfect for outdoor or undercover to improve the lighting of carports, pergolas,
balconies, workshops and fuel supplies.
›3.5m charge cable to fit light & solar
panel separately
›Use remote to power on/off or activate
timed 1-2hr 1000Lm work light
TC8009-1
$259
Designed for small pets
›Fully Galvanised Steel &
Chain Link Construction
›Easy to Assemble Flat Pack
›2.3L x 1.9W x 1.2H metres
ANIMAL
ENCLOSURE
FREE
ROTARY
FLOOR
CLEANER
TC8009-2
$329
Designed for larger pets
›Fully Galvanised Steel &
Chain Link Construction
›Easy to Assemble Flat Pack
›3.9L x 2.2W x 1.82H metres
2700 PSI
PRESSURE
CLEANER
BAR2760B-H
$990
›9.5 L/min, 2700psi
›6.5HP Honda GC160 engine
›Comet Axial Pump
www.powershed.com.au
LUBRICATION EQUIPMENT | REFUELLING | HOSE STORAGE | FLUID MANAGEMENT | VEHICLE SERVICING
5060AN
14512
407010N2
$396
$99
LESS for CASH
PIUSI IN LINE
ELECTRONIC DIESEL FUEL METER
›Suited to practically all operating conditions
due to its sturdy and durable casing and
sealed electronic card and versatility.
›Maximum flow rate of up to 120 L/min
›Accurate to ± 1%
›Suitable for use with diesel fuel only
alemlube QUICK RELEASE
GREASE COUPLER
450g trigger
ACTION
grease gun
›Works with all grease gun types
- pneumatic, manual and battery
›1/8" BSP thread
›Maximum working pressure
of 10,000psi (690 bar)
›Fits all metric and SAE
specification grease nipples
›Delivers up to 1.1cc
of grease per stroke
›8,500psi pressure
›4 year warranty
454110N
8828N2
501AL
$183
$66
LESS for CASH
LESS for CASH
$1,597
Hi Speed Refuelling
Drum Pump
Suitable for the transfer of
diesel fuel, petrol, light oils
up to SAE30 and kerosene
›Transfer up to 110 L/min
with up to 1.1L per rotation
›Supplied complete with 2.6m of
UV and fuel resistant hose, spout,
in built spout holster, 3-piece
downtube, HD bung adaptor
GREAT
GIFT
IDEAS
OIL TRANSFER KIT
WITH METER
Suitable for engine, gear,
diff and hydraulic oils
›3:1 ratio pump, 3m x 1/2"
ID hydraulic hose and
electronic resettable meter
›Transfer up to 15 L/min
›3/4" BSP (f) material outlet
›1/4" BSP (f) air inlet
›Up to 110mL on
the downstroke
›Ideal for transferring
engine, gear, diff
and hydraulic oils
in busy vehicle
service workshops
› Includes Reike adaptor
›Zinc alloy impellers
make the pump suitable
for the transfer of diesel
fuel, unleaded petrol
and low viscosity oils
›Delivery rates of 18 L/
min or 0.26L per rotation
LESS for CASH
LESS for CASH
ALEMLUBE 20L OIL
DRUM PUMP & HOSE
ALEMLUBE ROTARY
ACTION DRUM PUMP
$399
$39
660AN
alemlube AIR & WATER
HOSE REEL
SAW100
$232
›16m x 10mm ID PVC hose
›Automatic and positive
latching
SQDN200L-Z1
$1,149
G10SR4BP
200L DIESELPRO
DIESEL TRANSFER UNIT
FRAGRAM 5"
ANGLE GRINDER
$65
›Disc Size 125mm
›Well balanced design for easy operation
›rated power input 850W
›2 stage safety switch
›No load speed 11,000rpm
›compact and lightweight
FRAGRAM
IMPACT DRILL
900W
12V oil change pump kit
PF48
12VOLT DIESEL POWER KIT
B9642
$139
75
SEPTONE TRUCK WASH - 20L
ATTW20
$69
$349
›45 L/min open flow, 22 Amp max
›Suction foot screen filter
w/ hosetails & clamps
›Automatic shut-off nozzle with hose
swivel
›4m of 3/4" I.D. delivery hose
B8642
›Chuck size 13mm
›Powerful motor for extra torque,
rated power input 900W
MCOP1592
›Hammer action
›Ergonomic rubber
$
inlay handle
›No load speed 2,800rpm
›Compact and lightweight
2
$59
›Ideal for quick and easy oil
changes on lawn mowers,
ATV's, cars, lawn mowers,
tractors and small engines
›Supplied with pump and
suction hoses
›3 L/min max transfer rate
LESS for CASH
›Diesel grade polyethylene tank
›45 L/min, 12V pump and auto
shut-off trigger
›Lockable pump cover and filling cap
PF27
MCOP1593
$118
$179
STD TRACTOR SEAT
BLACK WRAP AROUND
TRACTOR SEAT
BLACK SUSPENSION
›Heavy duty 4mm
thick base plate
›95mm high
density cushion
›Heavy duty 2mm
vinyl covering
›Heavy duty 4mm
thick base plate
›95mm high
density cushion
›Heavy duty 2mm
vinyl covering
TW22 TRUCK
WASH & WAX
- 20L
75
$
ATWW20
HITACHI 100MM (4")
ANGLE GRINDER
BONUS PACK
›730W / 10,000RPM
›Compact size
HITACHI 380MM
LASER
DRILL PRESS
B16RM
$715
LESS for CASH
›12 speed sections
›Patented x-y laser guide
›750W motor
›Cast iron table
›*1yr warranty
14 INCH DROP SAW
›2400W motor for heavy
duty applications
›Cuts left and right at 45°
›Spark diversion guard
CC14SF
$407
protecta
pink hand
cleaner 4l
US
BON
6 x eels
Wh
29
$
IHPP4
Portable diesel
transfer unit for
utes, UTVs and
trucks
SOLAR-6W
$73
6W solar power
trickle charger
›For 12V battery maintenance & USB device charging
›Includes cable connectors with alligator clips,
cigarette lighter plug and USB device connection
SQDN100-P1
$539
400L EURO
DIESELPOWER UNIT
SQDS400-7
$1,369
›40 L/min open flow diesel pump
›Hose & gun stores under the lockable cover,
padlock included
›Tie down points & level indicator›
›4m hose & auto shut off trigger
PF52
$47
TYRE INFLATOR
HEAVY DUTY
›Working Range 0-140psi
(0-9.5 Bar)
›Max air supply 200psi
(13.5 bar)
›1/4" BSP inlett
SELECTA 200L
DIESELPOWER
TANK UNIT
100L DIESEL POWER ECONOMY
Economic unit for easy refuelling in the
paddock or work site.
›40 L/min, 12V self priming pump and
auto shut-off trigger
›UV Stabilised diesel grade
polyethylene polytuff tank
SOLAR POWER TRICKLE
CHARGER 3W
SQDN200-7
$959
›Ideal for maintaining
batteries in ATV's, tractors,
trucks, lawn mowers, classic
cars, boats and pumps.
›Safely keeps batteries charged.
›Diesel grade polyethylene tank
›40 L/min, 12V pump and auto
shut-off trigger
›4m of 3/4"delivery hose with
swivel and crimped fittings
PORTABLE RECHARGEABLE
WORK LIGHT
ATV / MOWER
LOADING RAMPS
Ideal for car maintenance,
camping, off road work or
in a workshop.
›Magnetic base and
adjustable carry handle
›1,000+ Lumens from 5 LEDs
LIGHT-21
›Up to 4 hours running time
$
›Lithium battery with
240V and 12V chargers
›450kg capacity per pair
›Safety strap and
lip to avoid slippage
›Folds in half for
easy storage
$38
LED SOLAR
OUTDOOR LIGHT
Up to 7 hours of illumination.
Ideal for sheds, front gates, pathway,
carports and fuel supplies
›Solar panel with swivel mount SOLAR-2
(included) allows for easy sun
$
alignment (post not included)
›12W LED flood light (max 1000 Lumens)
›IP65 water resistant
219
ATV-03
89
SOLAR-3W
$199
Making life on the land easier
since 1928
Your Guarantee of Quality
For superior, quality agricultural
ground-engaging tools and
accessories, choose Agpoint.
LESS for CASH
Great cash
prices for
Century
batteries!
CB123-1286
Choose a Century Ultra High
Perfomance Severe Service battery.
www.centurybatteries.com.au
ratchet tie down strap
› 9m x 50mm
15
$
95
RTD055PL
BRANCH DISC SPECIALS ON NOW!
Special Pricing on 24" / 26" / 28" discs.
LED LIGHT BAR 234W
3PK MAGNETIC WARNING LED
› Large Spot Beam
› Rechargeable Lights
369
$
LIGHT-20B
129
$
WL003
3
All BAR pressure cleaners
use Comet quality
Italian pumps, which
have been designed and
manufactured for over
50 years.
FREE
ROTARY
FLOOR
CLEANER
$1,498
2500 PSI
PRESSURE CLEANER
HP20651-H
$804
›11 L/min, 2500psi
›6.5HP Honda GX200 engine
›c/w heavy duty 2750 Psi gun,
900mm split lance, 7.5 metres of
hose and 4 quick connect nozzles
BAR 2" FIRE FIGHTING
PUMP 6.5HP 580LPM
›580 L/min, 2500psi
›6.5HP Honda GX200 engine
›Head 65m
›Suction Lift 7m
BAR4013-H
FREE
ROTARY
FLOOR
CLEANER
ELECTRIC 2173 PSI PRESSURE CLEANER
›9L/min, 2175psi
›Comet Brass Pump Head
›c/w Gun, Lance,
12m Hose
›240V 2800rpm
BAR2565-H
$2,499
4000 PSI HONDA POWERED
PRESSURE CLEANER 13 HP
›15 L/min, 4000psi
›13HP Honda GX390 engine
›Ergonomic 2 wheel scoop frame
›c/w heavy duty 5000 Psi gun, 900mm
lance, 15 metres of hose & 4 quick
connect nozzles
KT1800-EXTRA
$985
LESS for CASH
HEAVY DUTY COMPRESSORS
PETROL AIRMAC
COMPRESSOR
T20P
$2,189
›Tradesmans choice
LESS for CASH
›5.5hp Honda Petrol Engine
›70L
AIRMAC
COMPRESSOR 16 CFM
›No.1 Best Seller
›3.2hp / 100L
›Electric
FIREPIT01
$249
T20
$1,695
Contents
not included
LESS for CASH
KINCROME STEEL FIRE PIT & DRINKS COOLER
›Doubles as a Fire pit and a Drinks Cooler
›3mm Gauge solid steel construction
›All pits designed to suit standard hot plates and
also setup for universal rotisseries (not included)
K13202
BONUS !
Free
Cover!
BONUS !
Free
Cover!
$279
1/2" MINI AIR IMPACT WRENCH
WESTINGHOUSE PORTABLE GENERATORS
›4 stroke engine
›Copper wound alternator
›Large fuel tank
›Low oil shutdown
›Steel roll frame
›Digital VFT meter
›12V DC socket
›Lightweight compact composite body
- 1.3Kg - compact 160mm length
›968Nm 'nut busting' torque
›Powerful 'twin hammer' mechanism
›Forward / reverse
›3 forward speed/torque settings
BONUS !
Free cover
& wheel kit
with generators!
K13203
$295
PRO MODELS
1/2" STUBBY AIR IMPACT WRENCH
WHXC7000
$1,518
LESS for CASH
4
8.8 KVA
5,500 running watts
7,000 starting watts
WHXC8500EPRO
$2,153
LESS for CASH
10.6 KVA
6,750 running watts
8,500 starting watts
›Lightweight compact composite
›Design allows for use in tight spaces
›949Nm 'nut busting' torque
›Powerful 'twin hammer' mechanism
›Forward / reverse
›3 forward speed/torque settings
3380231
$107
CASTROL RX SUPER 20L
›15W-40 multigrade,
heavy duty diesel
engine oil.
API CI-4 plus.
WELDING ELECTRODES
CIGWELD WELDSKILL 180
CIGWELD WELDING HELMETS
› 16TC 3.25mm 5kg pack $67 (16TCX3.25MM)
› 12P 3.25mm 5kg pack $66 (12PX3.25MM)
› 12P 2.5mm 2.5kg pack $48 (12PX2.5MM)
› Inverter Welder
› Cigweld Racer Helmet 454321
› Auto Oz Flag Helmet 454324
› Auto Tribal Helmet 454322
$330
W1008180
93ea
$
Includes a chemical
measuring jug stored
safely beneath the lid
M99-75
Boomless
Nozzle
Included
M99-75 Boomless
Nozzle Included
12V TRUKPAK 200L
SPRAYER KIT
$1,189
›200L Trukpak tank, brass mounting inserts in base
›Aquatec USA 14L/min open flow,
4 Bar/60psi max pressure
›TPA spraygun, 6m of hose
›M99-75 Boomless Nozzle Included
SILVAN 15L
KNAPSACK SPRAYER
RP70N-S10B
TK200-S10B
KN15D-1
$79
The Silvan 15Lt Backpack Sprayer ideal
for Weed & Pest Control
-spot spraying
›500mm spray gun with stainless
steel lance. Lockable spray lance
trigger
›Quality Viton diaphragm
›Flat fan and adjustable nozzle
›Left or right side pump handle
RAKPAK PLUS 70L 14L/M
$949
70L Tank with internal baffle, anti spill
barrier around the lid quad bike sprayer kit
›Aquatec USA 14L/min mas 45psi pump
›Spotjet Spraygun, 6m hose
›Tie down ratchet straps
CP-61800
$149
12V 100L REDLINE
SPOTPAK SPRAYER
SP100-R2
$369
›Ideal for weed control & spot spraying
›100L UV stabilised polytuff tank, selfpriming 12V Pakpump, 6m delivery hose
›5.3 L/min open flow, 60psi
12V 25L REDLINE
SPOTPAK SPRAYER
$299
REDLINE 25L RECHARGEABLE
SPOTPAK TROLLEY SPRAYER
›4 pressure settings
›Supplied with 3 different
nozzles: adjustable brass,
adjustable plastic & flat fan plastic
›Three stage filtration
›S pray Gun with 550mm
stainless steel lance adj.
nozzle and 6m hose
›2.5L/min open flow
›240 volt charger supplied
$219
›550mm stainless steel
lance extension
›12V rechargeable battery
›240 volt wall charger
›6m delivery hose
›UV stabilised polytuff tank,
self-priming
SP25-TR2
KNAPSACK 15L PRO
SERIES PISTON
SP25-B
GREAT
GIFT
IDEAS
Quality, service, reliability
and longevity.
NQAS Powershed is proud to be
associated with Howard products
AUTHORISED HOWARD DEALERS
PROSERPINE • MACKAY • BUNDABERG
PORTABLE KEY SAFE
$56
LOCK-K1
LESS for CASH
TELWIN 30 AMP BATTERY
$440
CHARGER
TWLEADER400
5lT HD OIL STABILIZER
00005-OS
$74
5
SECURE02
DIAPHRAGM PUMPS
Used throughout Australia for orchard,
vegetable, broadacre & other applications.
Self Priming, no c/valve, splined
Comet
BP125/20
Pump
›110 L/min
CBP12520
open flow
$
›290psi max
pressure
CBP06020
$899
Comet BP60/20
Pump
›58 L/min open flow
›290psi max pressure
KBC800 Pictured
ECONOPAK KIT PACK 800L
10M GAL. BOOM, HOSE REEL
$6,391
KBC600
$4,675
›6m galvanised manual fold boom
›20m hose reel with Triam 44 spray gun
›58L/min (2000kPa) pump
ECONOPAK 400L ,6M GAL. BOOM,
60/20 PUMP, HOSE REEL
1,349
PUMP 45psi 11.3LTM 12VDC
The 2088 series diaphragm pump is an ideal
choice for higher flow applications such as
boom spraying and fluid transfer.
›Viton valve material
›Santoprene diaphragm material
›On/Off demand Pressure switch Intermittent
duty rating
›1/2" BSP Male
KBC400
$4,235
›6m galvanised manual fold boom
›20m hose reel with Triam 44 spray gun
›58L/min (2000kPa) pump
REDLINE SPRAY GUN
GREAT
PRICE!
361-2088
$299
SELECTA LED 5 WATT
RECHARGEABLE SPOTLIGHT
382-052
›Tough polycarbonate lens
›Powerful lightweight lithium
battery for 2hr+ run time
›280 Lumens
$22
6FT
131RS6GSS
›Portable centrifugal water pump
›115L/Min open 114kPa/40psi
›3 metres suction lift
›4 Stroke, 33cc capacity
›Steel skid frame, hot dipped galvanised
skid for extra durability and superior
corrosion resistance
›Honda 5.5HP engine driven Comet
BP60/20 Diaphragm pump (58L/
min open flow or max 2000kpa) with
regulator and spare outlets
›100m of 1/2" O.D hose with kink
resistant nylon tubing
6
Designed for 12V
sprayers running
at least 3L/min
at 30 to 60psi.
Includes extra nozzle
for one-sided
spraying ~ 3.5m swath
GARAGE CREEPER
$199
› 44 inch Alum
LESS for CASH
K120020
$149
›Suited to large acreage applications including
field clearance, firebreaks, private roadsides or
where major cutting and clearing is required
›40 - 130mm cutting height
›75HP gearbox
$25,795
$399
M99-65
SILVAN 131 HEAVY DUTY galvanised
SLASHER WITH SPRING STEEL ROTOR
B170V-300CR
LBA-115
BOOMLESS NOZZLE
KIT ATV 1 JET
Monitor farm gates, driveways, sheds,
garages, livestock, fuel supplies, machinery
and tools.
› 1 2MP Camera
› 6 0° Field of view lens
›M
otion Activated with fast response time
down to 0.6 seconds
›D
ay/Night operation. Night vision up to
15m using no-glow infra-red for covert
operation
$46
$5,390
SLED 300L COMPACT
L03H4-38R147
HONDA 60/20
$8,799
Remote ReeL
$199
SPOT-5W
› S uitable replacement for
many 12 Volt & Hand Sprayers
› Stainless Steel Lance with adjustable nozzle
SELECTA PUMP
COMPACT 4 STROKE
SECURE06
V60 Motion
Activated
SECURITY Camera
KBC800
›10m galvanised manual fold boom
›20m hose reel with Triam 44 spray gun
›58L/min (2000kPa) pump
ECONOPAK 600L, 6M GAL. BOOM,
60/20 PUMP, HOSE REEL
c/w Free camera
mounting bracket
Valued at $10!
SILVAN BREVIGLIERI B170 ROTARY HOE
- 3 METRES WITH CRUMBLE ROLLER
›170HP multispeed gearbox with rear
PTO (1000 RPM)
›250 - 300cm working widths
›6 blades per flange, side gear drive,
slip clutch
›CE safety guards, floating front hitches
›2 year manufacturer's warranty
KINCROME 20L WET/DRY VACUUM
KP702
1250 Watt Motor
$99
Stainless Steel Tank
SHREDDER
W/UNIVERSAL KNIVES
BNG230/01
$13,651
›The Nobili BNG series mulchers are a multipurpose machine ideal for a variety of mulching
applications for tractors up to 150 HP.
›2300mm working width for
70-150HP tractors.
›Offset - 400mm.
›Attachment - Category I or II three point
linkage, floating top link.
25 PCE HEX KEY SET
›Kincrome
$29
AF/MM
LESS for CASH
Wallet
HKW25C
DDP-552A
$219
410-52
$89
SPRAYGUN ATOMISER PLUS
SLF1000-D
SLED FIRE FIGHTING UNIT 3,990
1000L HONDA/DAVEY HOSE REEL
SQF400D-1
$
›The Selecta Davey 1100 Litre fire fighting
unit is fitted to a heavy duty skid, has a
fire fighting hose reel and 425L/mi
›Honda 5,5HP GX160 Engine/Davey Pump
›Max Head 60 metres
12v SMOOTHFLO PUMP
›Constant flow technology, 7 L/min open
flow &120psi max pressure, pulsation free
›Retro fits to most 12V sprayers
›Viton valves and Santoprene diaphragms
›This spray gun comes with adjustable
spray lever that changes spray from
straight stream to conical mist.
›1/2" BSP M inlet and hose swivel
$3,299
FIRE FIGHTING
SQUATPAK 400L GX160+H/REEL
DDP-550
$389
GREAT
GIFT
IDEAS
›Honda Davey fire fighting pump 425L/min
open flow (580kPa / 80psi)powered by
the GX160 5.5HP Honda engine
›Pressure Rate: 5.52 bar
AQUATEC
12 VOLT PUMP
5503 20L/M 60PSI
WP16-6
›Ideal for use where higher volume is
required such as boomless nozzle spraying
and larger boom spraying (6 metres plus).
›Viton valves and Santoprene diaphragms
$189
SILVAN RECHARGEABLE KNAPSACK SPRAYER
361-8000
›Contoured for comfort against your back.
Adjustable padded straps and back rest
›1.5 L/min (open flow)
›6 volt single speed pump with rechargeable
battery and charger
›Up to 5 tanks of spraying per charge
FIRE FIGHTER SQUATPAK
400L SELECTA POWER
SQF400S
$2,140
›6.5HP Selecta Power fire fighting engine
with high pressure,twin impeller
fire fighting pump 250L/min
›20m hose and fire fighting nozzle
FIRE FIGHTING
SQUATPAK
400L GX160
$215
PUMP 60PSI
6.8LPM 12VDC
›Ideal for use where higher volume is
required such as boomless nozzle spraying
and larger boom spraying (6 metres plus).
›Viton valves and Santoprene diaphragms
SQF400D
$2,849
›Honda Davey fire fighting pump 425L/min
open flow (580kPa / 80psi) powered by
the GX160 5.5HP Honda engine
›Pressure Rate: 5.52 bar
PCART-2
$149
PF49
410-53
69
12V SUBMERSIBLE
DIESEL & WATER
TRANSFER PUMP
$
$129
JETPRO SPRAY GUN
Silvan ergonomic design professional spray
gun, to make spraying less tiring.
›Max. pressure rating of 4000kPa (600psi)
›Variable spray pattern from straight stream
to conical mist
›18L/min
4FT
PICKING CART SMALL TROLLEY pOLY
$440
155SF1G
›Tray Size W 435mm x L790mm
›Size W 435mm x L 1000mm x H 835mm
›2 x fixed, 2 x castor 120mm non marking
wheels
6FT
$550
155SF2G
WOOD5
$75
TC3080PL
$249
ATV-18
TILT TRAILER
LOADING RAMPS
625KG PAIR
›Light duty poly tray tilt trailer ideal for
towing behind ride on mowers
›Injection moulded 235 litre poly tray
›Max load capacity 150kg
›Overall Length 2.26m x 280mm wide.
›Curved design increases clearance
›Long tip on end ramp with ribs for
grip
RAIN-X TRIGGER PACK 473ml
› Glass treatment trigger pack
$15
800002250
$349
WASHER FLUID ADDITIVE 500ML
Rain‑X® technology
$16
enhances driving visibility
RX11806D
HEAVY DUTY FIREWOOD RACK
ALL STEEL GALVANISED CARRYALL
›1170mm (h) x 1270mm (w) x 390mm
(d) assembled
›Robust powder coated steel frame
›Provides excellent ventilation for
seasoning your firewood
›Easy assembly
›4' or 6' wide models with Cat. I TPL
linkage
›Replaceable bolt-on checker plate floor
›All round farm use for carrying
various items such as fertiliser, fencing
equipment, firewood, tools, etc.
SLIME TYRE KITE
Smart Emergency
Tyre Kit
5017S
46
$
7
SX-500GALHOP
600L THREE POINT
LINKAGE SPRAYER
K06N-60
$3,950
›UV stabilised, impact resistant
Polytuff tank
› 58L/min capacity pump
›High pressure pump (2000kPa / 290psi)
› Four outlet, one lever control valve
with manual pressure adjustment
›Galvanised heavy duty frame
7L/Min 200L
TRUKPAK SPRAYER
WITH ECONOREEL
$1,099
›Aquatec 7L/min or 120PSI max
›12V pump constant flow pump for no
pulsation spraying
›30m of 10mm I.D. Ag Hose,
Professional PA Spray gun
HOWARD NUGGET 6FT
GALVANISED SLASHER
WITH 75HP GEARBOX
ECO REEL 30MX10MM HOSE
ATOMISER GUN
SITREX 4 WHEEL
HAY RAKE
HR-RP4
$1,799
Linkage Hayrake suitable for raking,
turning and spreading hay crops, grain
crops, stubble and sugar cane debris.
›Rake Type - Right Hand,
›No. of Wheels - 4, Tines per wheel - 40
›Finger Wheel Dia - 1400mm
›Working Width - 2.6m
Portable diesel transfer units
for utes, UTVs and trucks
where transfer of diesel to
your skid steer, excavator,
tractor or truck is required.
SQDN400L-Z1
$1,299
LESS for CASH
RONDINI FERTILIZER SPREADER
1000L /1200KG CAPACITY
The oscillating spreader is designed
for precise application of fertiliser
and seed at medium to low rates.
›Capacity 1000L,
Width of throw 6-14m
›Heavy duty construction
›Manufactured from non-corrosive UV
stabilised impact resistant polyethylene.
NQAS POWERSHED BRANCHES
CAIRNS
21 Spoto St - 4047 4800
INNISFAIL 37 Charles St - 4061 1002
TULLY
5 Hort St - 4068 1020
The SP150 trailed ATV spreader is
ground driven and designed for
spreading fertiliser on sporting fields,
lawn and pasture.
›144L capacity, 2-6m throw
›Adjustable draw bar with 5 height
positions 15mm diameter tow pin.
Quality, service,
reliability
and longevity.
SPRAY LEVER CHANGES
THE SPRAY PATTERN
$4,995
ECONOMY TRAILED SPREADER
›338L capacity
›3 spreading patterns
›PTO shaft
›Up to 14m spread
›Spreading disc with 4 rotor blades
able to be set in 5 positions
$299
RON-SQTF1000
$1,520
SX 500 GALVANISED
Linkage Spreader
TK200-S7-1
180G03010C
Suitable for air, water or
agricultural chemicals
›Powder coated steel,
›2.5m of 10mm ID hose for inlet
›Lockable hub with locking pin
›30m of 10mm AG Hose
SP150
$930
400L DIESELPRO
DIESEL TRANSFER UNIT
›Diesel grade polyethylene tank
›45 L/min, 12V pump and auto shut-off trigger
›Lockable pump cover and filling cap
HS-NUG180S2GC
$4,400
The Nugget is a tough, general
purpose slasher with a genuine
HOWARD pedigree. Nuggets are
ideal for a general clean up of grass
and lighter saplings.
›Working Width 1.83m
›30-75Hp
MASCHIO G SERIES
3.5 METRE ROTARY
HOE WITH CRUMBLE ROLLER
›Duo Cone Seals
›Gear Lateral Drives in Oil Bath
›High Clearance between rotor and top cover
›Working Width 3.12m
›200-250Hp
›Multi Speed Gearbox
ONE ONLY AT
THIS PRICE!
EX MACKAY
$37,995
MG-G-350C
ONLY AVAILABLE FROM
AUTHORISED HOWARD DEALERS
PROSERPINE • MACKAY • BUNDABERG
PHONE ORDERS WELCOME
INGHAM 127 Lannercost St - 4776 1755
AYR
103 Graham St - 4783 5570
HOME HILL
20-24 Sixth Ave - 4782 2812
PROSERPINE 1 Dobbins Lane - 4945 1400
MACKAY
1 McLennan St - 4952 2133
BUNDABERG 1A, 22 Commercial Ave - 4153 1113
Please note that some items are not stocked in all stores and will be ordered when required. Some products may be subject to freight costs where applicable. All prices are inclusive of GST. Prices are valid only while stocks last and are subject to change without notice. For remote
deliveries please quote your preferred transport company and account number. NQAS Powershed is happy to deliver products, however, any costs incurred shall be at the customers expense. Actual products may differ from images shown as images are for illustration purposes only.