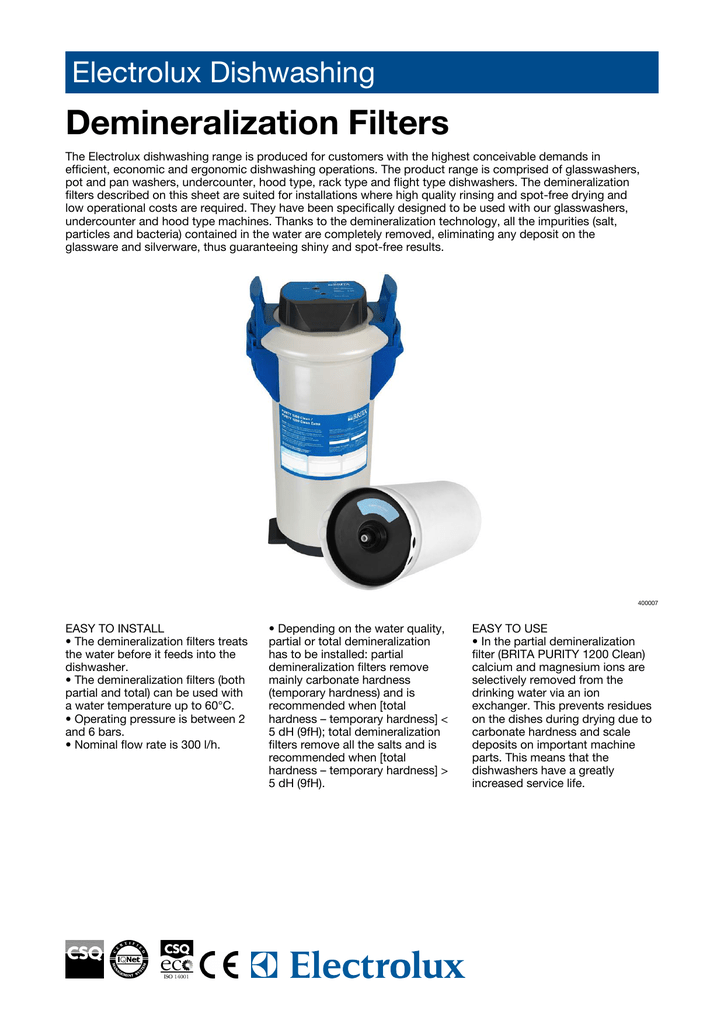 Electrolux Dishwashing
Demineralization Filters
The Electrolux dishwashing range is produced for customers with the highest conceivable demands in
efficient, economic and ergonomic dishwashing operations. The product range is comprised of glasswashers,
pot and pan washers, undercounter, hood type, rack type and flight type dishwashers. The demineralization
filters described on this sheet are suited for installations where high quality rinsing and spot-free drying and
low operational costs are required. They have been specifically designed to be used with our glasswashers,
undercounter and hood type machines. Thanks to the demineralization technology, all the impurities (salt,
particles and bacteria) contained in the water are completely removed, eliminating any deposit on the
glassware and silverware, thus guaranteeing shiny and spot-free results.
400007
EASY TO INSTALL
• The demineralization filters treats
the water before it feeds into the
dishwasher.
• The demineralization filters (both
partial and total) can be used with
a water temperature up to 60°C.
• Operating pressure is between 2
and 6 bars.
• Nominal flow rate is 300 l/h.
• Depending on the water quality,
partial or total demineralization
has to be installed: partial
demineralization filters remove
mainly carbonate hardness
(temporary hardness) and is
recommended when [total
hardness – temporary hardness] <
5 dH (9fH); total demineralization
filters remove all the salts and is
recommended when [total
hardness – temporary hardness] >
5 dH (9fH).
EASY TO USE
• In the partial demineralization
filter (BRITA PURITY 1200 Clean)
calcium and magnesium ions are
selectively removed from the
drinking water via an ion
exchanger. This prevents residues
on the dishes during drying due to
carbonate hardness and scale
deposits on important machine
parts. This means that the
dishwashers have a greatly
increased service life.
Electrolux Dishwashing
Demineralization Filters
EASY TO MAINTAIN
• The use of demineralised water
dramatically increases the life of
the unit and reduces the need for
descaling.
• Fast and easy filter cartridges
replacement.
EASY ON THE ENVIRONMENT
• Developed and produced in an
ISO 9001 and ISO 14001 certified
factories.
• CFC free packaging.
TOTALDEMI
864015
PARTDEMI
864017
288
255
550
18
288
255
550
18
TECHNICAL DATA
External dimensions - mm
width
depth
height
Net weight - kg.
Internet: http://www.electrolux.com/foodservice
Subject to change without notice
2009-06-19
IOB010
• The total demineralization filter
(BRITA PURITY 1200 Clean Extra)
thanks to his three layers ion
exchangers' structure, guarantees
elimination of all salts in the water,
preventing them from being
deposited on glasses and cutlery.

* Your assessment is very important for improving the work of artificial intelligence, which forms the content of this project