Electrolux Dito 601198 User manual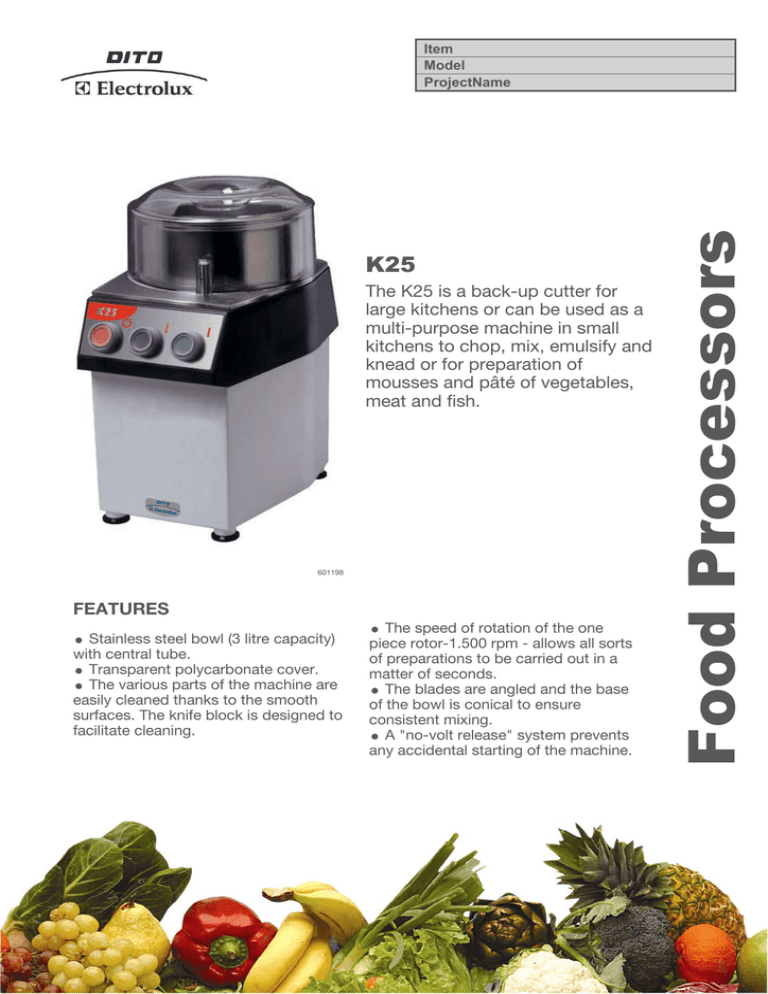 K25
The K25 is a back-up cutter for
large kitchens or can be used as a
multi-purpose machine in small
kitchens to chop, mix, emulsify and
knead or for preparation of
mousses and pâté of vegetables,
meat and fish.
601198
FEATURES
Stainless steel bowl (3 litre capacity)
with central tube.
V Transparent polycarbonate cover.
V The various parts of the machine are
easily cleaned thanks to the smooth
surfaces. The knife block is designed to
facilitate cleaning.
V
The speed of rotation of the one
piece rotor-1.500 rpm - allows all sorts
of preparations to be carried out in a
matter of seconds.
V The blades are angled and the base
of the bowl is conical to ensure
consistent mixing.
V A "no-volt release" system prevents
any accidental starting of the machine.
V
Food Processors
Item
Model
ProjectName
Specifications
MODEL
External dimensions - mm
width
depth
height
Capacity
Chopping capacity - kg/cycle
condiments
Mincing capacity - kg/cycle
meats
Preparation mayonnaise/sauces - kg/cycle
mayonnaise
Power - kW
installed-electric
Net weight - kg.
Supply voltage
K25
601198
216
297
371
3, Litre
1
0.8
1
0.37
12.4
220...240 V, 1N, 50
Included accessories
CODE
653487
653146
DESCRIPTION
3 LITRE S/S BOWL FOR CUTTER-MIXER
SMOOTH BLADE ROTOR
1
1
Optional accessories
CODE
653487
653047
653512
653146
DESCRIPTION
3 LITRE S/S BOWL FOR CUTTER-MIXER
CUTTER EQUIPMENT-S/S BOWL+LID+ROTOR
POLYCARBONATE LID FOR VEGETABLE CUTTERS
SMOOTH BLADE ROTOR
✓
✓
✓
✓
Installation drawings
XXX
I
198
371
601198
216
297
MODEL
I - Electrical connection
K25
601198
220...240 V, 1N, 50
Food Processors
www.dito-electrolux.com
ABA010
The manufacturer reserves the right to modify and make improvements to the products without
giving prior warning. Dimensions, illustrations, technical data, weights, etc. are given as an
indication only.

* Your assessment is very important for improving the work of artificial intelligence, which forms the content of this project