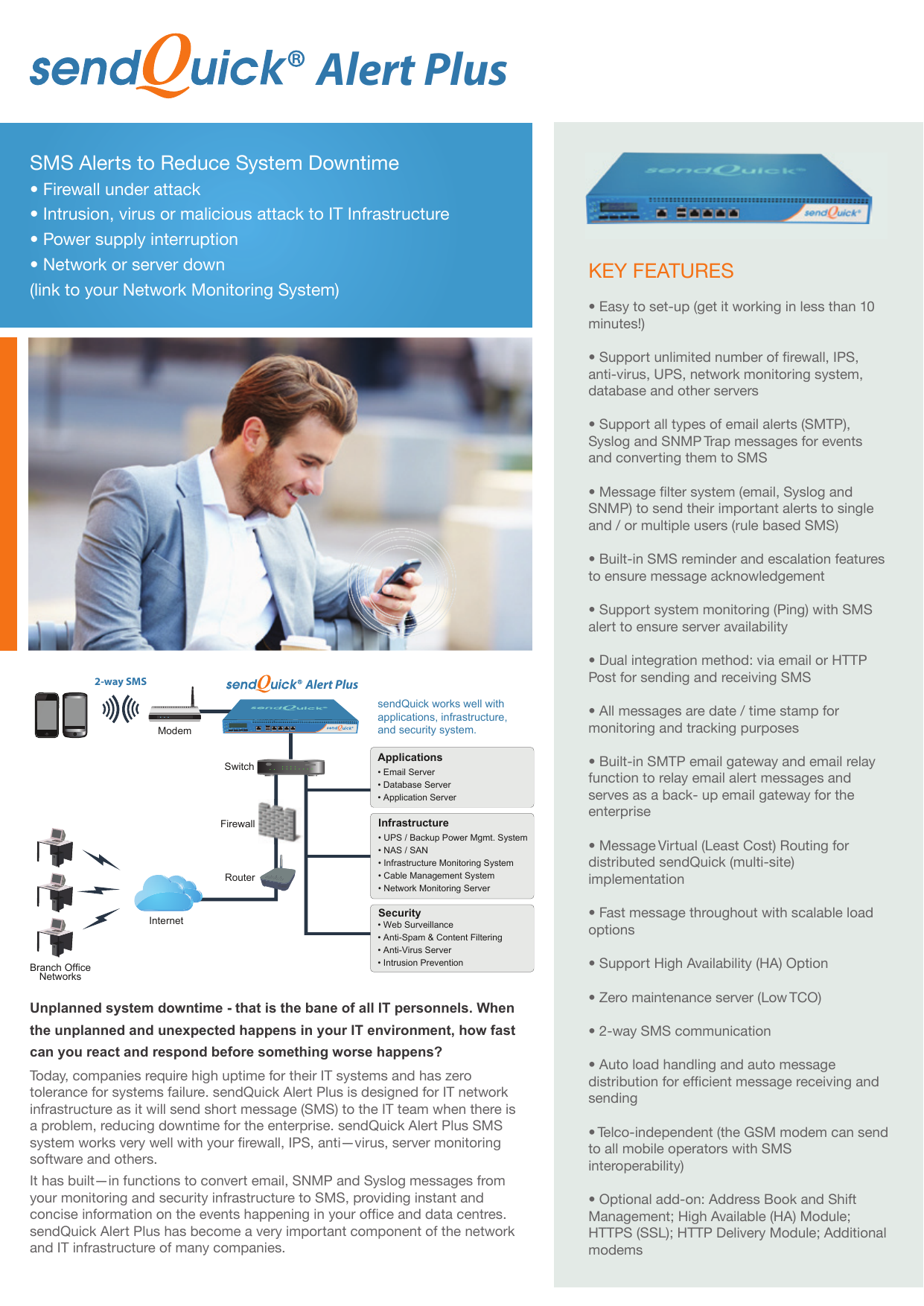 Alert Plus
SMS Alerts to Reduce System Downtime
• Firewall under attack
• Intrusion, virus or malicious attack to IT Infrastructure
• Power supply interruption
• Network or server down
(link to your Network Monitoring System)
KEY FEATURES
• Easy to set-up (get it working in less than 10
minutes!)
• Support unlimited number of firewall, IPS,
anti-virus, UPS, network monitoring system,
database and other servers
• Support all types of email alerts (SMTP),
Syslog and SNMP Trap messages for events
and converting them to SMS
• Message filter system (email, Syslog and
SNMP) to send their important alerts to single
and / or multiple users (rule based SMS)
• Built-in SMS reminder and escalation features
to ensure message acknowledgement
• Support system monitoring (Ping) with SMS
alert to ensure server availability
2-way SMS
Alert Plus
sendQuick®
Modem
Switch
Firewall
Router
Internet
Branch Office
Networks
• Dual integration method: via email or HTTP
Post for sending and receiving SMS
sendQuick works well with
applications, infrastructure,
and security system.
Applications
• Email Server
• Database Server
• Application Server
Infrastructure
• UPS / Backup Power Mgmt. System
• NAS / SAN
• Infrastructure Monitoring System
• Cable Management System
• Network Monitoring Server
Security
• Web Surveillance
• Anti-Spam & Content Filtering
• Anti-Virus Server
• Intrusion Prevention
Unplanned system downtime - that is the bane of all IT personnels. When
the unplanned and unexpected happens in your IT environment, how fast
can you react and respond before something worse happens?
Today, companies require high uptime for their IT systems and has zero
tolerance for systems failure. sendQuick Alert Plus is designed for IT network
infrastructure as it will send short message (SMS) to the IT team when there is
a problem, reducing downtime for the enterprise. sendQuick Alert Plus SMS
system works very well with your firewall, IPS, anti—virus, server monitoring
software and others.
It has built—in functions to convert email, SNMP and Syslog messages from
your monitoring and security infrastructure to SMS, providing instant and
concise information on the events happening in your office and data centres.
sendQuick Alert Plus has become a very important component of the network
and IT infrastructure of many companies.
• All messages are date / time stamp for
monitoring and tracking purposes
• Built-in SMTP email gateway and email relay
function to relay email alert messages and
serves as a back- up email gateway for the
enterprise
• Message Virtual (Least Cost) Routing for
distributed sendQuick (multi-site)
implementation
• Fast message throughout with scalable load
options
• Support High Availability (HA) Option
• Zero maintenance server (Low TCO)
• 2-way SMS communication
• Auto load handling and auto message
distribution for efficient message receiving and
sending
• Telco-independent (the GSM modem can send
to all mobile operators with SMS
interoperability)
• Optional add-on: Address Book and Shift
Management; High Available (HA) Module;
HTTPS (SSL); HTTP Delivery Module; Additional
modems
COMPLEMENT YOUR SYSTEMS
sendQuick Alert Plus server is ideal for your IT / security infrastructure
or datacentre. It will complement your infrastructure system like:
• Router
• Intelligent switch
• Firewall
• Intrusion Prevention System
• Anti-virus server
• Network monitoring systems
• lnfrastructure monitoring systems
• Security monitoring systems
• Back-up power management system (UPS)
• Cabling management systems
• Environment management systems
• Network Access Storage (NAS)
BENEFITS
• Instant alert on SMS, reducing down-time
• SMS is delivered anytime, anywhere (even when you are overseas!)
• Get SMS reply from your support team for acknowledgement
• Selective SMS alert (with filter) for important events
• SMS is store & forward, with reliable delivery (network dependent)
• Send multiple SMS for each alert to different people
• Support unlimited applications, devices and servers (good ROI)
Complement Your
Network and IT
lnfrastructure
sendQuick® Alert Plus provides
instant and concise SMS alerts
on the events happening in your
office and data centres.
HARDWARE SPECIFICATIONS
• Intel® CPU
• Hardened Linux OS
• 4GB RAM
• 500GB HDD
• 1U rack mountable [432(W) x 275(D) x 43(H) mm]
• 4 x 10/100/1000BT NIC card
• 2G/3G modem with WCDMA 850/1900/2100 Mhz
• Estimated weight: 4.3kg
• 4 x USB, 1 x RS232, 1 x VGA
• Certification: CE, FCC, UL RoHS
SMS ALERT APPLICATIONS
SOFTWARE SPECIFICATIONS
sendQuick Alert Plus server will alert your IT staff and reduce the
downtime in your IT infrastructure
• SMS when your firewall is under attack
• SMS when there is an intrusion
• SMS when there is virus or malicious attack
• SMS when any network or server is down
(from your network monitoring software)
• SMS when power supply interruption
(from your back-up power management system or UPS)
• SMS when there is a change in environmental conditions
• SMS when you need to be informed of events!
• sendQuick® Alert Plus software
• Apache web server
• Email server
• PostgreSQL database server
• Web interface server
VM
• 2 Core CPU
• 4GB RAM
• 250GB HDD
Optional add-on available
USERS
• Banks / insurance / financial institutions
• Healthcare (Hospitals, clinics, healthcare services)
• Education Institutions (Schools, Universities, others)
• Government
• Pharmaceuticals / Biotechnology
• Telecoms / Internet Service Providers
• Travel related companies
• Hotels and service based companies
• Multinational corporations / factories
• All companies concern with security and system uptime
+65 6280 2881
info@talariax.com
www.talariax.com
www.facebook.com/sendQuick
www.linkedin.com/talariax-pte-ltd
Authorised Distributor/Reseller
76 Playfair Road #08-01 Singapore 367996
Copyright © 2002-2017TalariaX Pte Ltd. All Rights Reserved.
sendQuick product name is a registered trademark of TalariaX
Pte Ltd, a company incorporated in the Republic of Singapore.
Pentium and Celeron are service names, trademarks or
registered trademarks owned by their respective owners.
Microsoft, Microsoft Exchange Microsoft Outlook, Outlook,
Outlook 2007 are registered tradenames and trademarks of
Microsoft Corporation. IBM, Lotus, Lotus Notes, Domino are
registered tradenames and trademarks of IBM Corporation. All
other trademarks mentioned in this document are the property
of their respective owners.

* Your assessment is very important for improving the work of artificial intelligence, which forms the content of this project