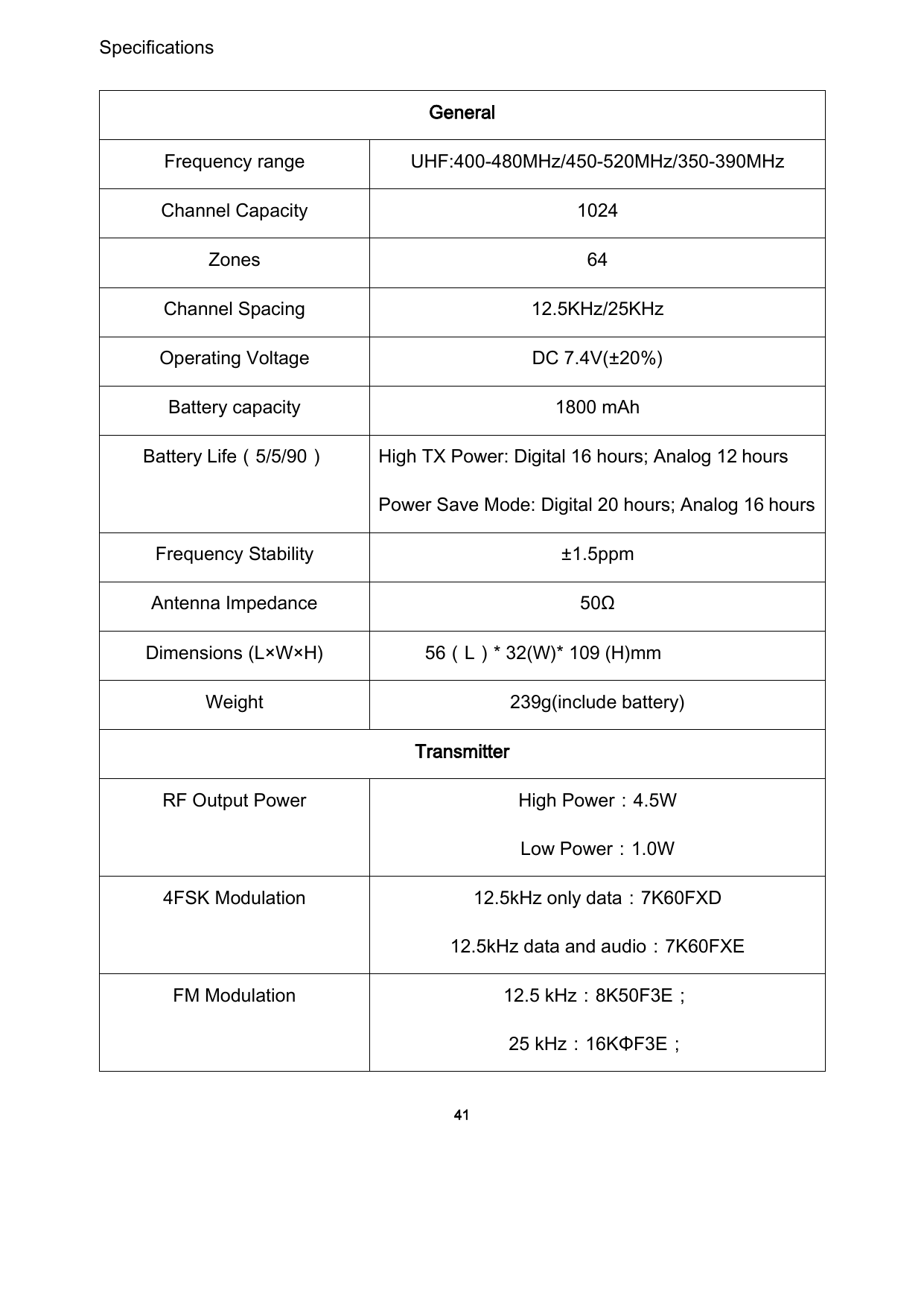 Specifications
General
Frequency range
UHF:400-480MHz/450-520MHz/350-390MHz
Channel Capacity
1024
Zones
64
Channel Spacing
12.5KHz/25KHz
Operating Voltage
DC 7.4V(±20%)
Battery capacity
1800 mAh
Battery Life(5/5/90)
High TX Power: Digital 16 hours; Analog 12 hours
Power Save Mode: Digital 20 hours; Analog 16 hours
Frequency Stability
±1.5ppm
Antenna Impedance
50Ω
Dimensions (L×W×H)
56(L)* 32(W)* 109 (H)mm
Weight
239g(include battery)
Transmitter
RF Output Power
High Power:4.5W
Low Power:1.0W
4FSK Modulation
12.5kHz only data:7K60FXD
12.5kHz data and audio:7K60FXE
FM Modulation
12.5 kHz:8K50F3E;
25 kHz:16KΦF3E;
41
Modulation Limiting
+/- 2.5kHz @ 12.5kHz;
+/- 5kHz @ 25kHz
FM Noise
-40dB
Conducted Emission
-36 dBm≤1GHz/-30 dBm≥1GHz
Adjacent Channel Power
≤-60dB
Audio Response
+1/-3 dB
Audio Distortion
3%
Digital Voice coder Type
AMBE+2TM
Receiver
Digital Sensitivity
5% BER:0.25 uV
Analog Sensitivity
0.25 uV (12 dB SINAD)
Intermodulation
60dB
Adjacent Channel Selectivity
60 dB
Spurious Response Rejection
60 dB
FM Noise
-40dB
Audio Response
+1/-3 dB
Audio output power
1.5W
Audio Distortion
3% (Typical)
Conducted Spurious Emission
-57dBm
Environmental Specifications
Operating Temperature
-20℃—+60℃
Storage Temperature
-30℃—+85℃
42
Humidity
MIL-STD-810C/D/E/F Standard
Vibration & Shock
MIL-STD-810C/D/E/F Standard
Dustproof & waterproof
IP54
Statement
Our Company tries to make an accurate and complete manual. If you have any
question, you can contact us and we will give you an answer. All the above
specifications and designs are subject to change without prior notice due to
continuous development.

* Your assessment is very important for improving the work of artificial intelligence, which forms the content of this project