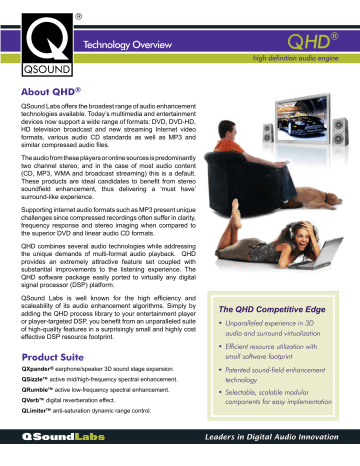 Technology Overview
®
HD
Q
high definition audio engine
About QHD®
QSound Labs offers the broadest range of audio enhancement
technologies available. Today's multimedia and entertainment
devices now support a wide range of formats: DVD, DVD-HD,
HD television broadcast and new streaming Internet video
formats, various audio CD standards as well as MP3 and
similar compressed audio files.
The audio from these players or online sources is predominantly
two channel stereo, and in the case of most audio content
(CD, MP3, WMA and broadcast streaming) this is a default.
These products are ideal candidates to benefit from stereo
soundfield enhancement, thus delivering a 'must have'
surround-like experience.
Supporting internet audio formats such as MP3 present unique
challenges since compressed recordings often suffer in clarity,
frequency response and stereo imaging when compared to
the superior DVD and linear audio CD formats.
QHD combines several audio technologies while addressing
the unique demands of multi-format audio playback. QHD
provides an extremely attractive feature set coupled with
substantial improvements to the listening experience. The
QHD software package easily ported to virtually any digital
signal processor (DSP) platform.
QSound Labs is well known for the high efficiency and
scaleability of its audio enhancement algorithms. Simply by
adding the QHD process library to your entertainment player
or player-targeted DSP, you benefit from an unparalleled suite
of high-quality features in a surprisingly small and highly cost
effective DSP resource footprint.
Product Suite
QXpander ® earphone/speaker 3D sound stage expansion.
QSizzle™ active mid/high-frequency spectral enhancement.
QRumble™ active low-frequency spectral enhancement.
QVerb™ digital reverberation effect.
The QHD Competitive Edge
• Unparalleled experience in 3D audio and surround virtualization
• Efficient resource utilization with small software footprint
• Patented sound-field enhancement technology
• Selectable, scalable modular
components for easy implementation
QLimiter™ anti-saturation dynamic range control.
Leaders in Digital Audio Innovation
QHD®
QHD Applications
Feature Set Description
QXpander®
QXpander is QSound Labs' patented stereo soundfield expansion algorithm.
QXpander accepts any ordinary stereo signal and produces an output signal
with dramatically widened stereo imaging and enhanced realism. It even
produces a stunning synthesized 3D soundfield from mono to stereo!
QXpander requires no extra speakers or special encoding of input signals and
provides excellent results in low-power or limited bandwidth systems. QXpander
employs purpose-specific algorithms for maximum spatial impact on regular or
narrow geometry speakers as well as headphones.
Home
Entertainment
Stereos
Automobile
Music Players
TVs
Computers
QSizzle™
An adaptive mid to high-frequency spectral enhancement, QSizzle restores a natural
sounding sonic punch to highly compressed audio formats like mp3.
Hardware Partners
QSizzle selectively adds upper spectrum energy according to the real-time
characteristics of the input signal. The result is lively, sparkling highs without the
strident, harsh side-effects of simple frequency boosters.
• AKM
QRumble™
• Motorola
The low-frequency counterpart to QSizzle, QRumble also adds energy in a selective fashion, bringing substance and warmth to the low end of the spectrum without
overloading on loud passages.
• Pixelworks
QVerb™
• Texas Instruments
3D acoustic environment simulation enables users to place their music in the sonic
context of choice, with presets for stadium, concert hall, club and more.
• VeriSilicon
QLimiter™
• Genesis Microchip
• ST Microelectronics
• Zoran
A high-efficiency, anti-saturation dynamic range controller, QLimiter handles any
combination of signals and extreme effects settings, eliminating output distortion with
surprisingly little CPU bandwidth.
QHD®
Expansion
Global Controls
LEFT
IN
RIGHT
IN
QXpander®
QVerb
Global Controls
QSizzle™
QRumble™
LEFT
OUT
QLimiter™
Effects
Global Controls
RIGHT
OUT
Contact Us
QSound Labs, Inc.
400 - 3115 - 12th Street NE
Calgary Alberta Canada T2E 7J2
Tel: +1-403-291-2492
Fax: +1-403-250-1521
Email: [email protected]
Visit our website for a complete list of
regional sales representatives in your area.
QVerb™
www.qsound.com
Example
Implementation
QHD Technology Overview v2.2_QS710
QSound, microQ, mQFX, QHD, QSizzle, QRumble, QXpander, Q3D & the QSound Logo are trademarks of QSound Labs, Inc. Other trademarks are the property of their respective owners.
Copyright ©2007 QSound Labs, Inc. All rights reserved. Subject to change without notice.

* Your assessment is very important for improving the work of artificial intelligence, which forms the content of this project