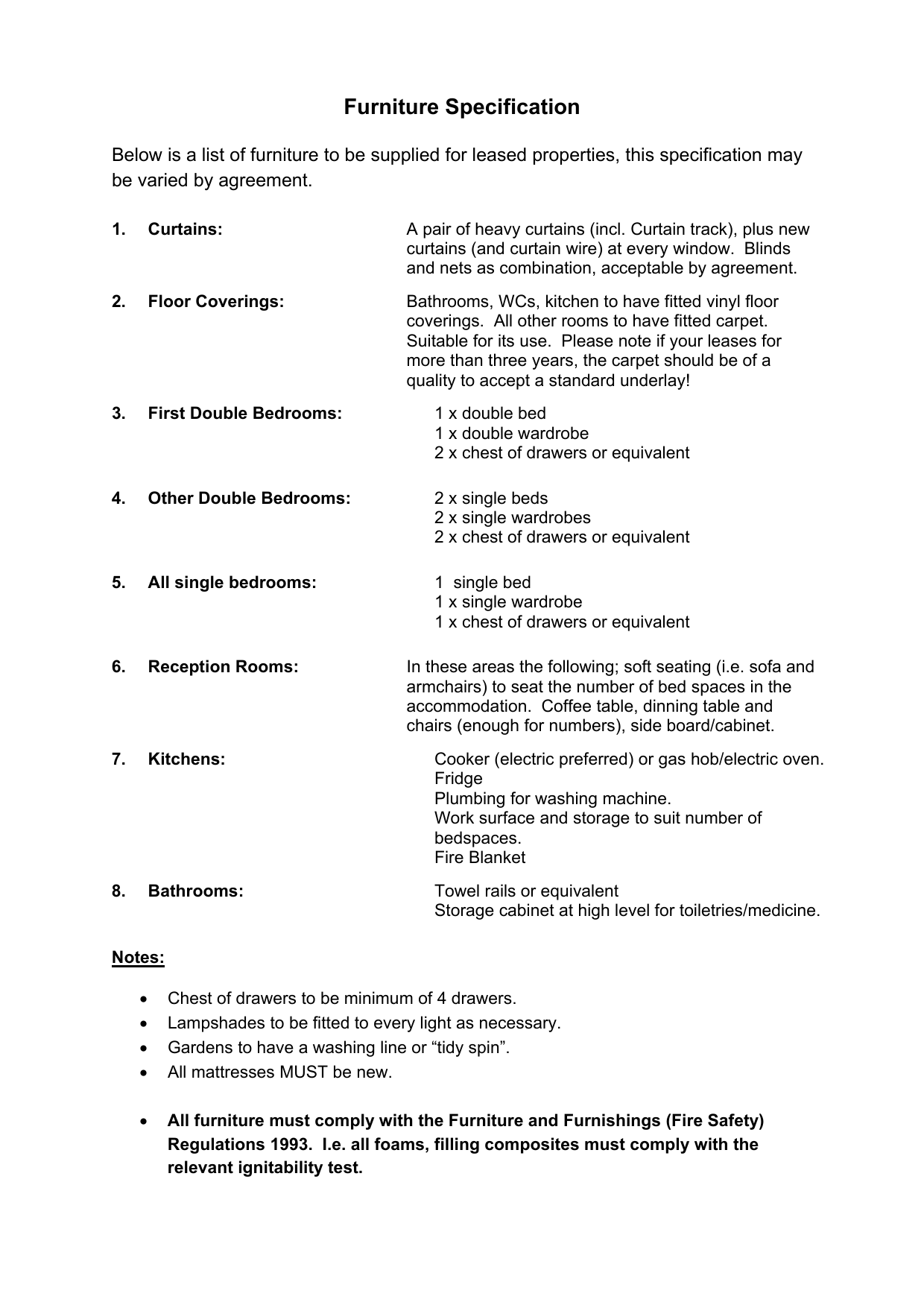 Furniture Specification
Below is a list of furniture to be supplied for leased properties, this specification may
be varied by agreement.
1.
Curtains:
A pair of heavy curtains (incl. Curtain track), plus new
curtains (and curtain wire) at every window. Blinds
and nets as combination, acceptable by agreement.
2.
Floor Coverings:
Bathrooms, WCs, kitchen to have fitted vinyl floor
coverings. All other rooms to have fitted carpet.
Suitable for its use. Please note if your leases for
more than three years, the carpet should be of a
quality to accept a standard underlay!
3.
First Double Bedrooms:
1 x double bed
1 x double wardrobe
2 x chest of drawers or equivalent
4.
Other Double Bedrooms:
2 x single beds
2 x single wardrobes
2 x chest of drawers or equivalent
5.
All single bedrooms:
1 single bed
1 x single wardrobe
1 x chest of drawers or equivalent
6.
Reception Rooms:
7.
Kitchens:
Cooker (electric preferred) or gas hob/electric oven.
Fridge
Plumbing for washing machine.
Work surface and storage to suit number of
bedspaces.
Fire Blanket
8.
Bathrooms:
Towel rails or equivalent
Storage cabinet at high level for toiletries/medicine.
In these areas the following; soft seating (i.e. sofa and
armchairs) to seat the number of bed spaces in the
accommodation. Coffee table, dinning table and
chairs (enough for numbers), side board/cabinet.
Notes:
•
•
•
•
Chest of drawers to be minimum of 4 drawers.
Lampshades to be fitted to every light as necessary.
Gardens to have a washing line or "tidy spin".
All mattresses MUST be new.
•
All furniture must comply with the Furniture and Furnishings (Fire Safety)
Regulations 1993. I.e. all foams, filling composites must comply with the
relevant ignitability test.

* Your assessment is very important for improving the work of artificial intelligence, which forms the content of this project