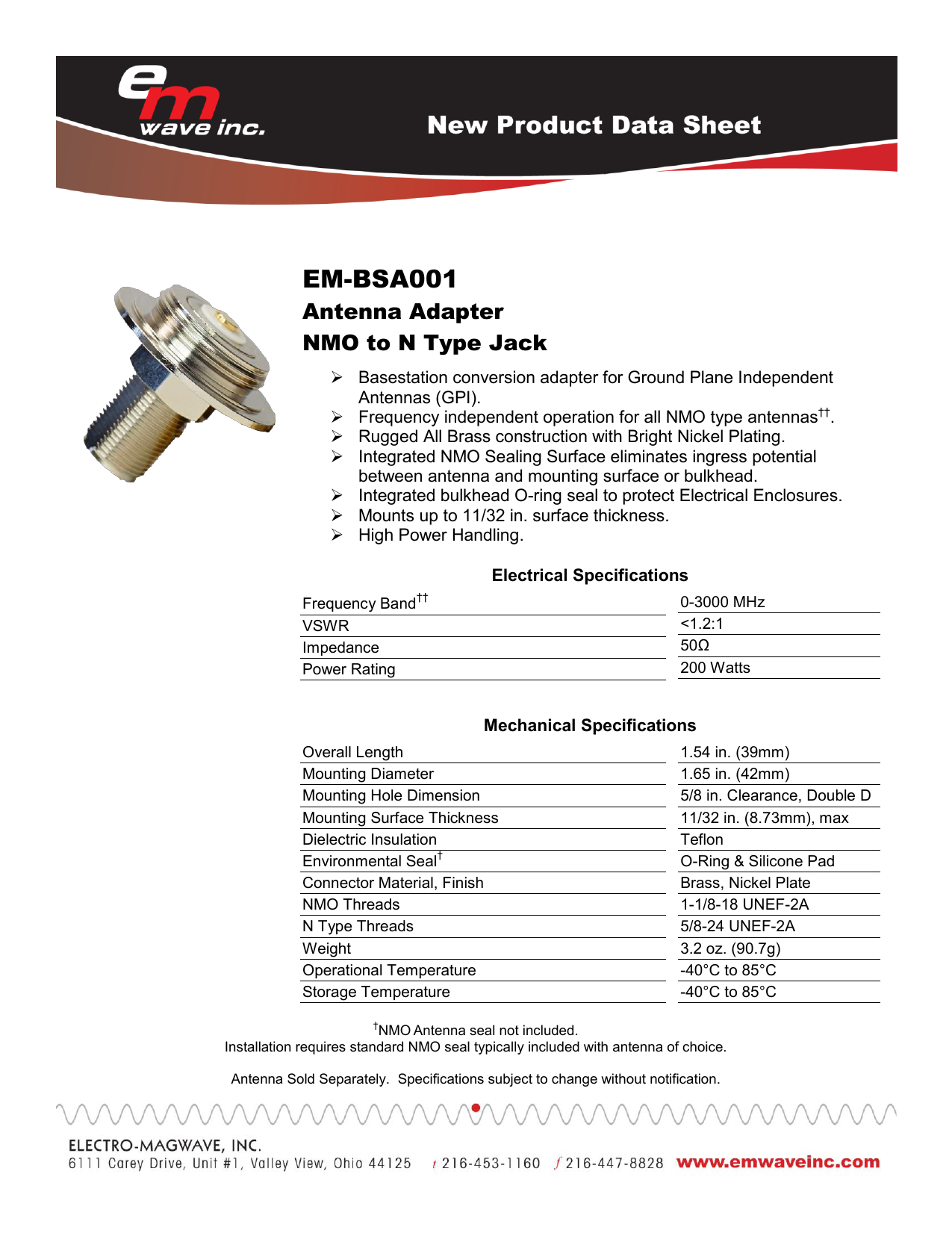 EM-BSA001
Antenna Adapter
NMO to N Type Jack
 Basestation conversion adapter for Ground Plane Independent
Antennas (GPI).
 Frequency independent operation for all NMO type antennas††.
 Rugged All Brass construction with Bright Nickel Plating.
 Integrated NMO Sealing Surface eliminates ingress potential
between antenna and mounting surface or bulkhead.
 Integrated bulkhead O-ring seal to protect Electrical Enclosures.
 Mounts up to 11/32 in. surface thickness.
 High Power Handling.
Electrical Specifications
Frequency Band
VSWR
Impedance
Power Rating
††
0-3000 MHz
<1.2:1
50Ω
200 Watts
Mechanical Specifications
Overall Length
Mounting Diameter
Mounting Hole Dimension
Mounting Surface Thickness
Dielectric Insulation
†
Environmental Seal
Connector Material, Finish
NMO Threads
N Type Threads
Weight
Operational Temperature
Storage Temperature
1.54 in. (39mm)
1.65 in. (42mm)
5/8 in. Clearance, Double D
11/32 in. (8.73mm), max
Teflon
O-Ring & Silicone Pad
Brass, Nickel Plate
1-1/8-18 UNEF-2A
5/8-24 UNEF-2A
3.2 oz. (90.7g)
-40°C to 85°C
-40°C to 85°C
†
NMO Antenna seal not included.
Installation requires standard NMO seal typically included with antenna of choice.
Antenna Sold Separately. Specifications subject to change without notification.

* Your assessment is very important for improving the work of artificial intelligence, which forms the content of this project