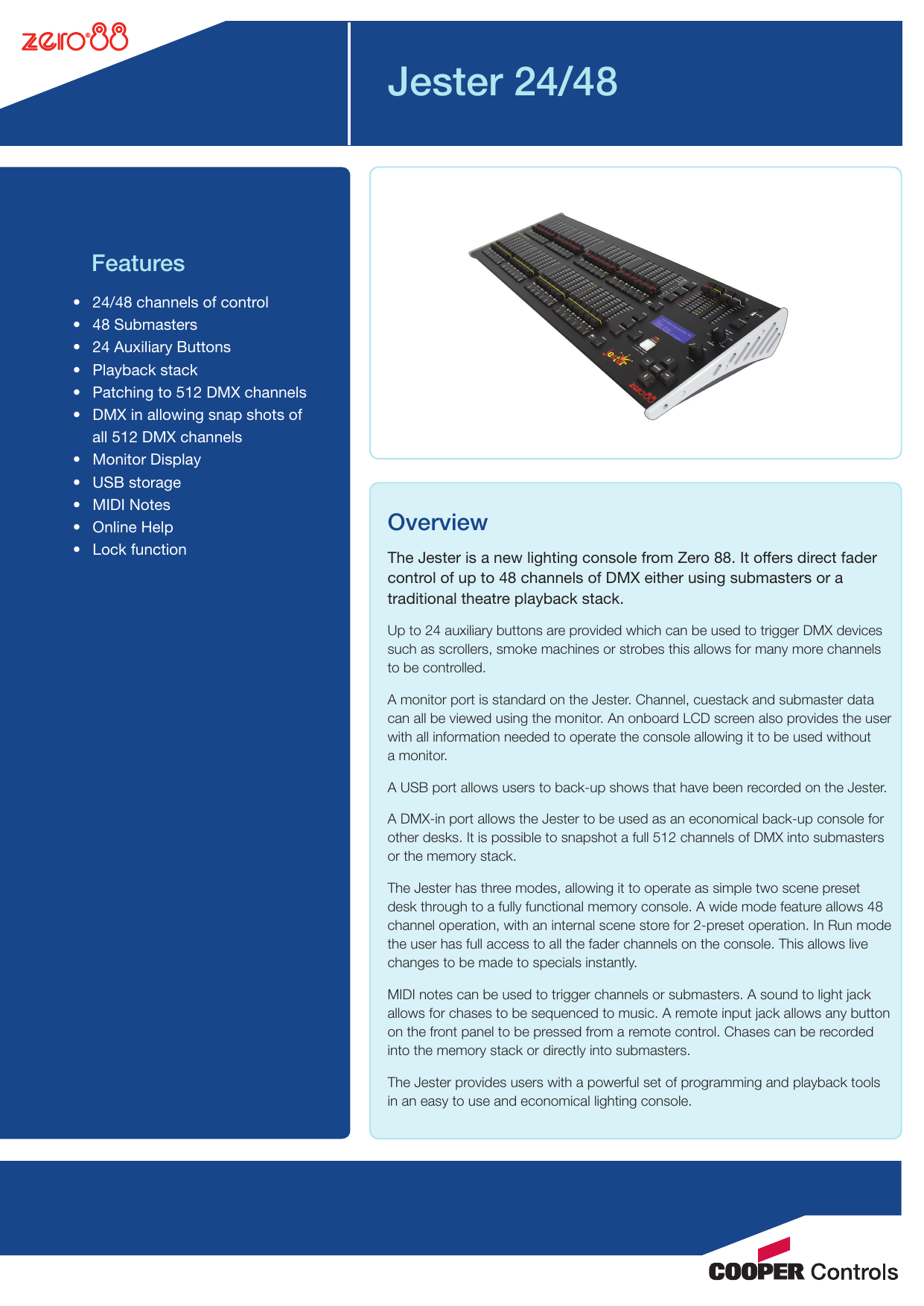 Jester 24/48
Features
•
•
•
•
•
•
•
•
•
•
•
24/48 channels of control
48 Submasters
24 Auxiliary Buttons
Playback stack
Patching to 512 DMX channels
DMX in allowing snap shots of
all 512 DMX channels
Monitor Display
USB storage
MIDI Notes
Online Help
Lock function
Overview
The Jester is a new lighting console from Zero 88. It offers direct fader
control of up to 48 channels of DMX either using submasters or a
traditional theatre playback stack.
Up to 24 auxiliary buttons are provided which can be used to trigger DMX devices
such as scrollers, smoke machines or strobes this allows for many more channels
to be controlled.
A monitor port is standard on the Jester. Channel, cuestack and submaster data
can all be viewed using the monitor. An onboard LCD screen also provides the user
with all information needed to operate the console allowing it to be used without
a monitor.
A USB port allows users to back-up shows that have been recorded on the Jester.
A DMX-in port allows the Jester to be used as an economical back-up console for
other desks. It is possible to snapshot a full 512 channels of DMX into submasters
or the memory stack.
The Jester has three modes, allowing it to operate as simple two scene preset
desk through to a fully functional memory console. A wide mode feature allows 48
channel operation, with an internal scene store for 2-preset operation. In Run mode
the user has full access to all the fader channels on the console. This allows live
changes to be made to specials instantly.
MIDI notes can be used to trigger channels or submasters. A sound to light jack
allows for chases to be sequenced to music. A remote input jack allows any button
on the front panel to be pressed from a remote control. Chases can be recorded
into the memory stack or directly into submasters.
The Jester provides users with a powerful set of programming and playback tools
in an easy to use and economical lighting console.
Jester 24/48
Ordering Information
Specifications
Jester 12/24 - Desk mount: 00-108-00
Jester 12/24 - 19" Rack mount:
00-128-00
n
n
n
n
Jester 24/48:
00-109-00
n
n
Supplied Accessories
n
n
n
Power Supply
Operating Manual (on CD)
n
n
n
n
n
n
n
n
Control Channels: Up to 512
Channel Faders: 48
Preset Master Faders: 2
Fade Time Controls: 1 (Split Up/Down times can be programmed)
Sequence Speed Control: 1
Sequence Master Fader: 1
Grand Master Fader: 1
Blackout Button: 1
Flash Buttons: 48
Power Supply: External 100-240 Volts 50/60Hz
DMX Output: 1 Universe
DMX Input: 1 Universe
DMX to USITT DMX-512 1990 Protocol
Dimensions: 88mm(H) x 711mm(W) x 279mm(D)
Weight: 6.5Kg (14.3lb)
Operating environment: +5ºC to +40ºC
Humidity: 5% to 95% Non condensing
(H)
(D)
(W)
88mm(H) x 711mm(W) x 279mm(D)
Voltage
100V
3 220 - 240V NON CE n3 Standards
n
3 277V
110 - 127V n
n
3 347V
n
n
230V CE
This product conforms to one or more of the above standards.
Please contact your local Cooper Controls representative for further information.
Zero 88
Cooper Controls Ltd, Usk House, Lakeside Close,
Llantarnam Park, Cwmbran, NP44 3HD, UK.
Tel : +44 (0) 1633 838088 Fax : +44 (0) 1633 867880
E-mail : enquiries@zero88.com web : www.zero88.com
E&OE. Cooper Controls reserves the right to make changes to equipment and prices without prior notice.
© Cooper Controls Ltd. Issue 1 – October 2008.

* Your assessment is very important for improving the work of artificial intelligence, which forms the content of this project