X1 MID-TOWER GAMING CASE X4 MID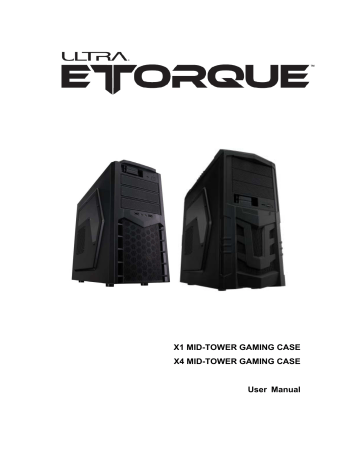 X1 MID-TOWER GAMING CASE
X4 MID-TOWER GAMING CASE
User Manual
Table of Contents
1. Contents
2. Installation instructions
2.1 Side Panel Disassembly 3
2.6 Power Supply Installation 8
2.8 Removing the Top of the chassis X4 8
1. Contents
1.1 Accessory X1 & X4
- Installation Guide x 1 (X1, X4)
- Screw Bag x 1 (X1, X4)
- HDD rail (X1 * 2pcs, X4 * 4pcs)
- 5.25" to 3.5" Drive Bay Cover (X1 only)
- Cable Tie x 9 (X4 only)
Remove the thumb screws from the rear side of the case and pull the side panel rearwards.
To close again place the side panel into the guide rails and push it forwards with care, then screw in the two thumb screws on the rear side.
3
Install the I/O panel that comes with your motherboard package.
Secure the standoffs on the motherboard tray.
Install the motherboard in proper location and secure it with provided screws.
NOTE: CPU, RAM and any peripheral installation are not included in this manual. Please refer to your motherboard manual for related mounting instructions and troubleshooting.
4
From the interior of the case, use a firm device of your choice to push the 5.25" drive bay cover out.
Take out the plastic holding clips from both sides of the drive cage by turning the unlocking mechanism to the left.
Insert the 5.25" device into the drive bay.
Match the ODD drive holes with the drive cage.
Insert the plastic clips and turn it clockwise to lock it in place.
5
2.4 2.5" HDD/SSD Installation
Remove the 2.5" SSD hard drive tray by pushing the tray tab to the right to release the tray.
Place 2.5" SSD hard drive into the hard drive box. Close the box.
Slide the 2.5" SSD hard drive box into the chassis.
Find the 4-Pin Molex on the power supply and connect it to the backplane. Connect the backplane to motherboard with SATA cable.
6
2.5 3.5" HDD Installation
X1 only:
Placing the hard drive in the drive cage and secure with the provided screws.
X4 only:
Find the HD rails in the accessory box, and fix them in both sides of the 3.5" drive. Insert the drive and rails into chassis.
7
Place the power supply and secure it with the provided screws.
2.7 Side Panel Fan Installation
Place the fan in the side panel and secure with the provided screws.
2.8 Removing the Top of the chassis : X4 only
Remove the thumb screws on the back of chassis to open the top.
Up to 2 x 120mm fans or 240mm radiator can be installed on the upper part of chassis.
8
2.9 Front I/O Installation Guide
Please refer to the following illustration of front I/O connector and your motherboard user manual.
USB 3.0
USB 2.0
HD Audio
9
Streak Products, Inc. • www.ultraproducts.com
© 2013 Streak Products, Inc.
Ultra® is a registered trademark and Ultra ETORQUE™ is a trademark of
Streak Products, Inc.
8300 West Flagler Street, #121-106, Miami, FL 33144
All other trademarks listed are the property of their respective owners.
Streak Products is not responsible for typographical or photographic errors.
TECHNICAL SUPPORT (888) 222-5487
WARNING: Keep out of reach of children-contains sharp edges that may harm children.
10
* Your assessment is very important for improving the workof artificial intelligence, which forms the content of this project