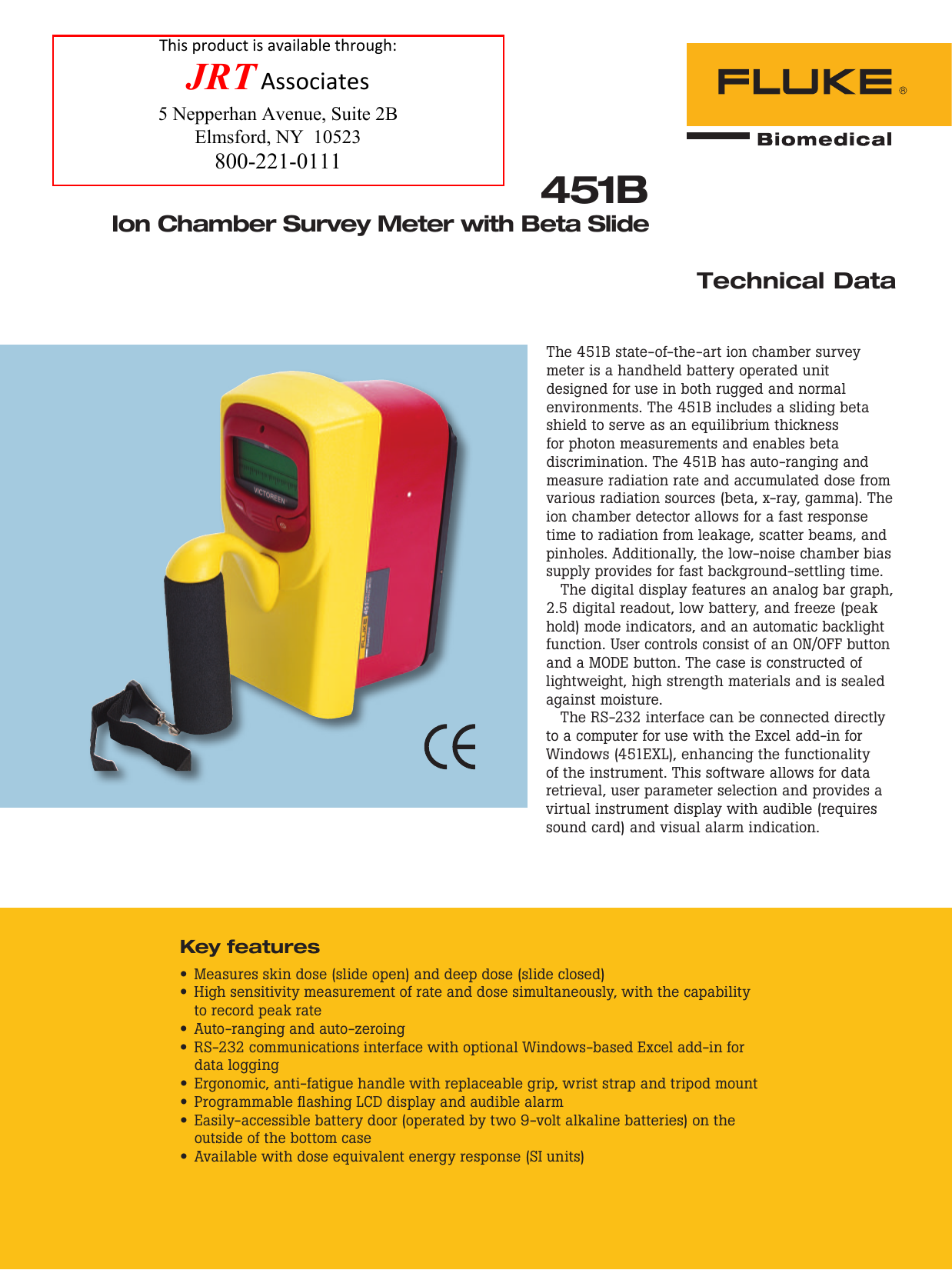 This product is available through:
JRT Associates
5 Nepperhan Avenue, Suite 2B
Elmsford, NY 10523
800-221-0111
451B
Ion Chamber Survey Meter with Beta Slide
Technical Data
The 451B state-of-the-art ion chamber survey
meter is a handheld battery operated unit
designed for use in both rugged and normal
environments. The 451B includes a sliding beta
shield to serve as an equilibrium thickness
for photon measurements and enables beta
discrimination. The 451B has auto-ranging and
measure radiation rate and accumulated dose from
various radiation sources (beta, x-ray, gamma). The
ion chamber detector allows for a fast response
time to radiation from leakage, scatter beams, and
pinholes. Additionally, the low-noise chamber bias
supply provides for fast background-settling time.
The digital display features an analog bar graph,
2.5 digital readout, low battery, and freeze (peak
hold) mode indicators, and an automatic backlight
function. User controls consist of an ON/OFF button
and a MODE button. The case is constructed of
lightweight, high strength materials and is sealed
against moisture.
The RS-232 interface can be connected directly
to a computer for use with the Excel add-in for
Windows (451EXL), enhancing the functionality
of the instrument. This software allows for data
retrieval, user parameter selection and provides a
virtual instrument display with audible (requires
sound card) and visual alarm indication.
Key features
• Measures skin dose (slide open) and deep dose (slide closed)
• High sensitivity measurement of rate and dose simultaneously, with the capability
to record peak rate
• Auto-ranging and auto-zeroing
• RS-232 communications interface with optional Windows-based Excel add-in for
data logging
• Ergonomic, anti-fatigue handle with replaceable grip, wrist strap and tripod mount
• Programmable flashing LCD display and audible alarm
• Easily-accessible battery door (operated by two 9-volt alkaline batteries) on the
outside of the bottom case
• Available with dose equivalent energy response (SI units)
451B
Detector
Ion chamber
End users
•x-ray manufacturers
•state inspectors
•government agencies
•police and fire departments
•emergency response and HAZMAT teams
•nuclear medicine labs
•hospital radiation safety officers
•nuclear power workers
Radiation detected
beta, x-ray, gamma
Specifications
Radiation detected
Alpha
> 7.5 MeV
Beta
> 100 keV
Gamma
> 7 keV
Operating ranges,
response time
0
0
0
0
0
Accuracy
Within 10 % of readings between 10 % and 100 % of full scale indication on any range,
exclusive of energy response
Detector
Chamber (cc volume air
ionization)
349 cc
Chamber wall (phenolic)
246 mg/cm2
Chamber window (mylar)
6.6 mg/cm2
Beta slide
440 mg/cm2
Automatic features
mR/h to 5 mR/h (8 sec)
mR/h to 50 mR/h (2.5 sec)
mR/h to 500 mR/h (2 sec)
R/h to 5 R/h (2 sec)
R/h to 50 R/h (2 sec)
Auto-zeroing, auto-ranging, and auto-backlight
Power requirements
Two 9 V alkaline, 200 hours operation
Warm-up time
One minute
Display LCD analog/
Analog
digital with backlight
Modes
Environmental
Typical energy
dependence
100 element bar graph 6.4 cm long. Bar graph is divided
into 5 major segments, each labeled with the appropriate
value for the range of the instrument
Digital
2.5 digit display is followed by a significant zero digit
depending on the operating range of the instrument. The
units of measurement are indicated on the display at all
times. Digits are 6.4 mm (0.25 in) high. Low battery and
freeze indicators are also provided on the display
Integrate mode
Operates continuously 30 seconds after the instrument
has been turned on. Integration is performed even if the
instrument is displaying in mR/h or R/h
Freeze mode
Will place a tick mark on the bar graph display to hold on
the peak displayed value. The unit will continue to read
and display current radiation values
Temperature range
-4 °F to 158 °F
Relative humidity
0 % to 100 % (at 140 °F)
Geotropism
<1%
Nitrogen gamma rays are 110 % to 120 % of indicated readings as determined at the
University of Lowell
16
Dimensions (WxDxH)
10 cm x 20 cm x 15 cm (4 in x 8 in x 6 in)
Weight
1.11 kg (2.5 lb)
2 Fluke Biomedical 451B Ion Chamber Survey Meter with Beta Slide
451B typical energy dependence
Ordering
Information
1.2
1.1
Models
1
Indicated/Actual
0.9
451B-RYR Ion Chamber
Survey Meter with Beta Slide
and standard chamber
Side
Slide - Closed
0.8
0.6
451B-DE-SI-RYR Ion Chamber
Survey Meter with Beta Slide
and dose equivalent chamber
0.5
Optional accessories
Slide - Open
0.7
451EXL 451 Assistant for
Excel, includes RS-232 interface cable
0.4
0.3
190HPS Single Unit
Carrying Case
0.2
10
100
Effective (keV)
1000
10000
62-103 Check Source,
137
Cs, 10 µCi. Flat disc,
1-inch diameter
450UCS Check Source,
238
Uranium, 0.064 µCi,
impregnated, 2 in x 2 in
yellow card
Fluke Biomedical.
Better products. More choices. One company.
About Fluke Biomedical
Fluke Biomedical is the world's leading manufacturer of quality biomedical test
and simulation products. In addition, Fluke Biomedical provides the latest medical
imaging and oncology quality-assurance solutions for regulatory compliance.
Highly credentialed and equipped with a NVLAP Lab Code 200566-6 accredited
laboratory, Fluke Biomedical also offers the best in quality and customer service
for all your equipment calibration needs.
Today, biomedical personnel must meet the increasing regulatory pressures,
higher quality standards, and rapid technological growth, while performing their
work faster and more efficiently than ever. Fluke Biomedical provides a diverse
range of software and hardware tools to meet today's challenges.
Fluke Biomedical
6045 Cochran Road Cleveland, OH 44139-3303 U.S.A.
Fluke Biomedical Europe
Science Park Eindhoven 5110 5692EC Son, The Netherlands
For more information, contact us:
In the U.S.A. (800) 850-4608 or
Fax (440) 349-2307
In Europe/M-East/Africa +31 40 267 5435 or
Fax +31 40 267 5436
From other countries +1 (440) 248-9300 or
Fax +1 (440) 349-2307
Email: sales@flukebiomedical.com
Web access: www.flukebiomedical.com
Fluke Biomedical Regulatory Commitment
As a medical test device manufacturer, we recognize and follow certain quality
standards and certifications when developing our products. We are ISO 9001 and
ISO 13485 medical device certified and our products are:
• CE Certified, where required
• NIST Traceable and Calibrated
• UL, CSA, ETL Certified, where required
• NRC Compliant, where required
This product is available
JRT Associates
3 Fluke Biomedical 451B Ion Chamber Survey Meter with Beta Slide
through:
800-221-0111
©2007-2010 Fluke Biomedical. Specifications subject to change without notice. Printed in U.S.A. 11/2010 3095534C D-EN-N
Modification of this document is not permitted
without written permission from Fluke Corporation.